Portland, Oregon: The Cancellation of Pokerlandia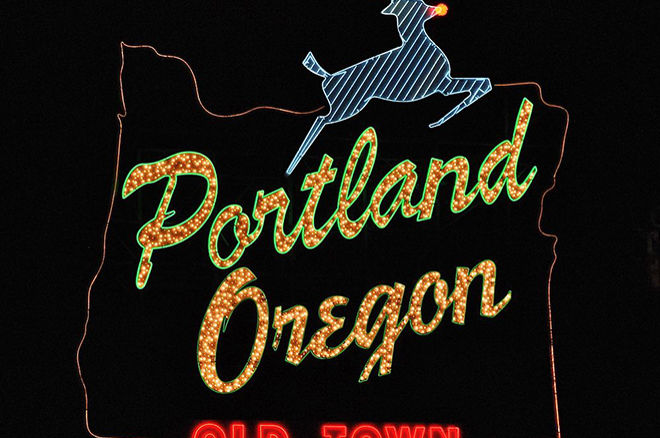 Imagine a city where there was never any rake, a tournament started every couple of hours and you could get a seat in a $1/$2 cash game at multiple venues. That's been the situation in Portland, Oregon's poker clubs for the past several years.
Players have been honing their chops and building up bankrolls only to take off to play in Las Vegas, Los Angeles and elsewhere across the country. Lisa Meredith, a regular in one of the local pub games, came in third in this year's WSOP Millionaire Maker for $500,000.
One club had a weekly schedule of guaranteed tournaments that added up to a third of the Venetian's weekly guarantees and three different clubs in town had $100,000 guarantee tournaments in the weeks leading up to the WSOP.
If it sounds too good to be true, it probably is. In mid-July, a letter went out from the City of Portland reiterating the rules under which the clubs operated. An investigation by the Oregon Bureau of Labor and Industries (BOLI) into a complaint lodged by a dealer who had worked at PDX Poker Club led to the letter.
Social gaming clubs are prohibited from making money on poker games under state and city laws. Under previous interpretations of the laws, the clubs could charge for entry into the club (between $5 and $15), but all money paid for tournament entries went into the prize pool. The word's been spreading, even reaching the point where Carlos Welch - the notoriously nitty Twitch streamer - had been considering taking in the scene, mentioning Portland in an interview with Andrew Brokos in July.
@apokerplayer @NextLevelBurger Good to know. Portland is very likely my next stop. I hear they pay substitute teachers very well.

— Carlos Welch (@HipHop101Trivia) July 16, 2016
David Long, a long-time poker player on the East Coast before moving back to Portland describes it like this: "From a player's perspective, [Portland] is the best value in poker anywhere. No rake. No juice. A single daily cover charge for a day's worth of tournaments and cash games. However, this value largely exists at the expense of 'volunteer' dealers who subsist on tips. Players never really questioned, or didn't realize, how this could be."
Dealers in Portland have been unpaid volunteers making money—much like dancers in Portland's many, many strip clubs—from tips paid by players who cashed in the tournaments. It's an informal, backdoor form of rake. The cash games (known locally as "shootouts") are ostensibly one-hour chip chop tournaments to get around rules prohibiting bets of more than $1 in value (tournament chips have no value!). At the heart of the BOLI complaint was the fact that the rigid scheduling and staffing requirements needed for dealers in large tournaments strain the pretense of a "volunteer" workforce.
The Portland poker scene has had two large clubs (and a dozen or so smaller ones) for several years: Encore (which changed its name to PDX Poker this spring) and Final Table. Encore regularly held tournaments that maxed out its 16 tables. Final Table can handle about 300 players. This spring, the Portland Meadows horse racing track opened up a new room with 26 tables. But two days after receiving the notice from the city in July, Encore shut its doors for good and posted a notice offering all of their tables, chairs and equipment for sale.
For the past month, the other clubs have operated more or less as usual. Two weeks after Encore's closure, a regularly-scheduled monthly tournament drew 235 players nearly doubling the $20,000 guarantee, and the prize pool of a weekly $10,000 guarantee the next day went over $17,000. Players and club operators were waiting for the other shoe to drop. That shoe showed this past week and it was some clown-sized footwear.
On August 16, an article appeared in the Portland Tribune. The piece had been in the works for more than a week, and included quotes from a couple representatives for poker clubs, a lawyer representing a club, a lawyer who intends to file a class-action lawsuit against Encore on behalf of its former dealers (both lawyers are also players) and a representative of the city, as well as portions of the letter. The next day, a segment aired on Portland-based KGW-TV's evening news show. That article's title flatly asserted that the poker rooms were "illegal" (despite having been in open operation with city inspections for more than five years), an interpretation apparently based on the opinion of Tom Rask, a local attorney. It just so happens that Rask represents the operators of card rooms in La Center, Washington—thirty miles to the north of Portland—the nearest venues for poker until the opening of the Portland clubs.
Zach Elwood, the author of Reading Poker Tells and a regular player in the $2/$5 and $5/$10 shootout/cash games in Portland, said he wonders "how much the Washington casinos and Spirit Mountain [At 75 miles from Portland; it's the nearest tribal casino] have to do with this recent crackdown."
"I've heard they've spent a lot of money trying to destroy Portland-area card rooms so it wouldn't surprise me if that's who was really behind this latest push to get rid of the rooms," Elwood said.
Washington state gambling statutes preclude no-limit hold 'em cash games; the number and variety of tournaments in Portland far outstripped anything that had been available before the card rooms opened. In addition to the challenge from the Portland rooms, the older venues are facing the imminent opening of the Ilani Casino Resort on the opposite side of Interstate 5 from La Center.
Poker players, being poker players, point fingers at who is to blame. A contentious series of posts on the NW Poker Facebook group blame the dealers who complained to BOLI for potentially bringing down the quasi-legal house of cards.
Chadd Baker, the owner of Portland Players Club since 2011, said that it may have been inevitable.
"Even I felt uncomfortable when I brought in Gavin Smith and had $20,000-plus in my responsibility," Baker said. "I love poker but it really needs to be regulated on that level."
The latest twist in the story came August 30, when a post on the NW Poker Facebook forum announced that Zhenya "John" Ogai, the 38-year-old owner and operator of Encore Club for nearly six years, and arguably the most influential person in Oregon poker, had passed away the previous Thursday.
Chris Vetter, a friend of Ogai's and the director of the Save Oregon Poker political action committee, was quoted in the Portland Tribune as saying Ogai was "a brilliant entrepreneur," but that the lawsuit and issues with regulators had "made him stressed out."
Lead image courtesy of Steve Morgan/Wikimedia Commons