Doyle Brunson Undergoes Another Successful Cancer Surgery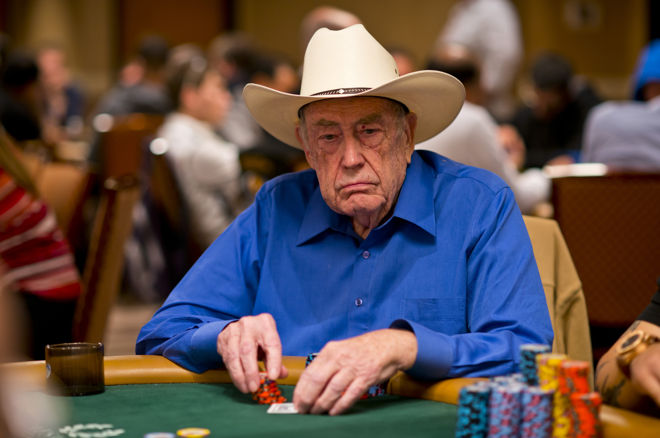 The legendary Doyle "Texas Dolly" Brunson went under the surgeon's knife earlier this week to remove a cancerous growth from his face.
Brunson, a 10-time World Series of Poker gold bracelet winner and member of the Poker Hall of Fame, took to Twitter on Monday and informed his army of 422,000 followers that the surgery to remove squamous carcinoma had been successful.
Cancer #6 gone. Squamous carcinoma gone bye bye. Just another scar on an already scarred up face.#Mosetreatment #luckyman #tyJesus

— Doyle Brunson (@TexDolly)
Squamous cell carcinoma is a cancer of the squamous cells, which are the main part of the epidermis of the skin, although they also occur in the lining of the lungs and digestive tract. This form of cancer is responsible for 90 percent of cases of head and neck cancer, and is most common in patients in their 70s.
In February 2015, Brunson revealed that he was scheduled for the 12th major surgery of his life after doctors discover four tumors on his head. At the time, Brunson tweeted "Simple or not, this will be my 12th major operation. Gonna play poker now because I always heard [you] get lucky right before [you] die."
The post made by Brunson's daughter, Pam Brunson, was less tongue-in-cheek. She wrote, "I've been hesitant to update about my Dad's cancer on Facebook because I just can't take negative and rude comments about my Dad on social media (especially health related). I realize most of you are truly concerned... so... here goes... We got back from Phoenix and the cancer hospital last night. They found three more areas of concern on his head and biopsied them... That's four total. We know one is melanoma. Waiting to get the results of the others. They ran all kinds of tests to see if the cancer has spread to major organs and we are waiting for the test results. He has surgery to remove the growth and any lymph node, etc., March 2nd. Praying everything is okay. I hope all of this testing is overkill. I'm really worried and scared. It's been a tough year for my Dad."
Three years earlier, Brunson was diagnosed with the same squamous cell carcinoma, which was removed by surgeons, but this type of cancer has a high recurrence rate, as shown in Brunson's case.
Brunson's first major cancer scare came in 1963 when he was only 30 years old. Brunson discovered a knot on his neck, which was soon diagnosed as cancer. Doctors had removed a black mole a year prior to this discover, but the cancer had spread, and when it did not respond to radiotherapy or chemotherapy, Brunson was informed that there was no case history of anyone with this affliction living longer than three months.
Louise Brunson, Doyle's wife, was three months pregnant at the time of this grim prognoses, and was told that her husband probably wouldn't live long enough to see the birth of their child. However, after seeking a second opinion, doctors at the M.D. Anderson Cancer Center in Houston attempted to perform surgery only to discover the cancer had vanished.
"He called it spontaneous remission, and said he and his colleagues had seen such an occurrence only a few times," Brunson wrote in his autobiography The Godfather of Poker.
Now 82 years old, Brunson shows no signs of slowing down despite his health problems and is often found playing high-stakes cash games in Las Vegas. Brunson has shied away from tournament poker of late, and his last WSOP cash came in 2013 when he finished 409th in the WSOP Main Event.
Want to stay atop all the latest in the poker world? If so, make sure to get PokerNews updates on your social media outlets. Follow us on Twitter and find us on both Facebook and Google+!