Update on Doyle Brunson's Cancer Prognosis; Surgery Scheduled for March 2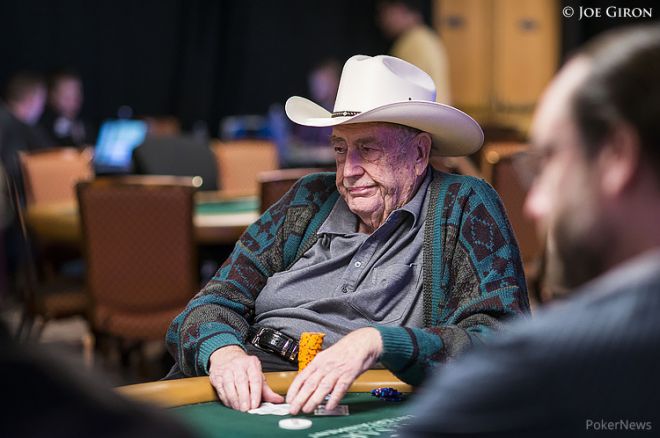 On Feb. 5, poker legend Doyle Brunson revealed on Twitter that he had his third melanoma, the most dangerous form of skin cancer, confirmed by doctors. Brunson explained that it was in the early stages, and would require a simple operation.
"Simple or not, this will be my 12th major operation. Gonna play poker now because I always heard [you] get lucky right before [you] die," Brunson joked in a tweet.
The news inspired what has become an annual deception that the 10-time World Series of Poker bracelet winner had passed away, something Jean-Robert Bellande dispelled on Feb. 9 when he tweeted a picture of Brunson, who is now 81 years old, playing poker at Aria.
On Tuesday, Feb. 17, Brunson was at the doctor once again, and his daughter Pam Brunson was kind enough to update the poker world on her dad's condition via Facebook:
"I've been hesitant to update about my Dad's cancer on Facebook because I just can't take negative and rude comments about my Dad on social media (especially health related). I realize most of you are truly concerned... so... here goes... We got back from Phoenix and the cancer hospital last night. They found three more areas of concern on his head and biopsied them... That's four total. We know one is melanoma. Waiting to get the results of the others. They ran all kinds of tests to see if the cancer has spread to major organs and we are waiting for the test results. He has surgery to remove the growth and any lymph node, etc., March 2nd. Praying everything is okay. I hope all of this testing is overkill. I'm really worried and scared. It's been a tough year for my Dad."
As Brunson stated, this isn't the first time he's had a cancer scare. Back in 2012, he was diagnosed with Squamous cell carcinoma, a form of skin cancer he described as a "slow growth that is usually OK, but it's still something you'd rather not hear."
That one paled in comparison to his scare back in 1963, which came a year after he married his wife Louise, who was three months pregnant at the time. It was then that Brunson discovered a knot on his neck, which doctors soon discovered was cancer.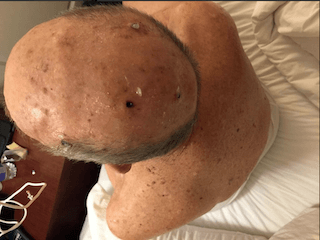 "When the doctors opened up my neck, they exposed a melanoma that stemmed from a black mole doctors had removed a year earlier in San Angelo," Brunson wrote in his autobiography, The Godfather of Poker. "The melanoma didn't respond to radiation or chemotherapy ... in the end, they agreed unanimously that nothing more could be done, explaining to Louise that there was no case history of anyone with such an affliction living longer than three months."
As he's done his entire life, Brunson defied the odds. Doctors told him he wouldn't live long enough to see his baby born, but after seeking a second opinion at M.D. Anderson Cancer Center in Houston, doctors went to perform surgery only to discover the cancer had miraculously disappeared.
"He called it a spontaneous remission, and said he and his colleagues had seen such an occurrence only a few times," Brunson wrote.
He went on to add: "My doctor warned me about becoming too optimistic. 'Melanoma is like a deadly rattlesnake that can lay dormant in the bloodstream for 10 or 15 years, then strike again at any time or place,' he told me. 'I don't want you to think you're completely out of the woods.'"
In the five decades since that scare, Brunson has amassed more than $6.1 million in tournament earnings, and countless millions more playing cash. Here's hoping "Texas Dolly" can defy the odds yet again.
Get all the latest PokerNews updates on your social media outlets. Follow us on Twitter and find us on both Facebook and Google+!
Executive Editor US, PokerNews Podcast co-host & 2013 WSOP Bracelet Winner.