Five Thoughts: The Banker Returns, New WSOP Payouts, and More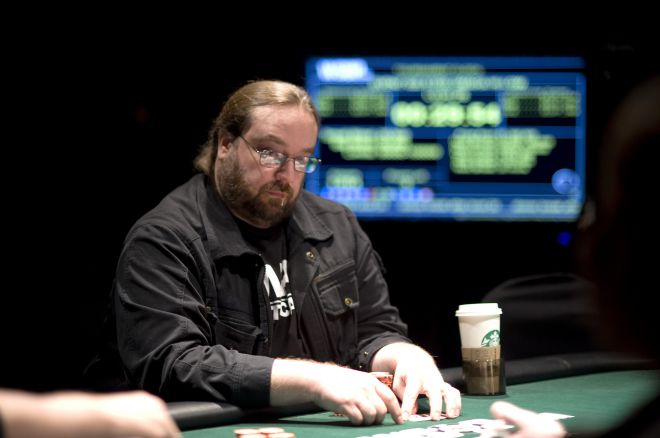 When the $1 million BIG ONE for ONE DROP was first announced in 2011, I was excited. The seven-figure buy-in, albeit ridiculous, wasn't what did it for me though; even poker reporters quickly became desensitized to large amounts of money.
That is, until we looked at our respective bank accounts.
No, after covering a handful of six-figure buy-in tournaments and hearing stories of nosebleed side games, the thought of upping the ante to a million-dollar entry fee didn't seem that crazy. Rather than ogle at the money, I fixed my eyes on one of the "confirmed" names.
Andy Beal.
From what I had read about Beal in The Professor, the Banker, and the Suicide King by Michael Craig, I thought him to be a very private person. He wasn't interested in sitting down in front of an ESPN camera to spin tales about playing for ungodly stakes against Phil Ivey, Beal just wanted to do it. The challenge drove him, not the prospective fame.
There would be cameras everywhere for the ONE DROP, and not just from poker outlets, a million-dollar buy-in would attract mainstream media attention. It was also strange to see his name because he preferred to play heads-up limit hold'em. No-limit hold'em tournament poker was, and still is, the most popular format and one that Beal could practice anywhere, but the Banker seemed like the type to stay in his lane.
Still, the idea of actually covering Beal in a bracelet event was enough to get my juices flowing.
I've always thought that Beal's story served as a bridge between the old guard (commonly referred to as the "live pros") and the new guard (the online era). His epic battles against "The Corporation," most notably his $16.6 million loss to Ivey, are, in my opinion, the last surviving threads to the "Wild West" days of poker. There were no guns at the table when Beal came to town in the early- and mid-2000s, and having taken place in casino poker rooms I would hope there was no cheating in the games, but there is something nostalgic about a man from Texas traveling west to the desert to play mano-a-mano for millions of dollars.
It's not just about the money. We've seen stupid amounts of money fly around the virtual felt, especially when Viktor Blom and Tom Dwan were at their peaks. To me, it's just more romantic to read a story or hear someone describe the big games Beal found himself in. We could all watch the biggest Blom/Dwan pots live, or on a hand replayer.
There was more imagination to a character like Beal, who I had never even laid eyes on before (although the same could be said for Blom, at the time). Google Images helped me visualize the Banker, but I wanted to watch him at the table. I wanted to see him in his element.
As you know by now, Beal never made it to Las Vegas for the inaugural BIG ONE for ONE DROP. I never had a chance to see him in action. So, naturally, I was excited to see that he was purportedly back in Sin City once again last week.
1. The Banker is Back
According to poker pro Kyle Loman and Todd Brunson, Andy Beal returned to Las Vegas on Friday night for an early-morning session Saturday morning. Loman reported on his Twitter account that the two were in for $5 million a piece, and at the end Brunson had all of the chips.
According to Loman, Doyle Brunson was in attendance for part of the session.
Stayed up all night now gonna stay up all day so I can have bankers hours. Feel respectable and stuff.

— Todd Brunson (@ToddBrunson)
We came to a nice steak house without a reservation. Big line. They asked if we were celebrating anything. I said yes I won 5 mil yesterday

— Todd Brunson (@ToddBrunson)
With most of The Corporation disbanded, we are left to wonder who pooled the money to play in such an allegedly large match. Sure Doyle and Todd might have a good chunk of change together, but firing off $5 million between two people for one session seems a bit nuts. Even Beal is capable of running hot one night and winning it all.
It's a shame there wasn't a Ted Forrest-like Suicide King that came and crashed the game. Ivey is in Melbourne for Aussie Millions (was this planned?) and Forrest himself would need to win two more bets from Mike Matusow and actually get paid in order to hop into the action.
Where is the professional poker player Dan Bilzerian when you need him?
I wonder if Loman's Twitter updates will deter Beal from returning any time soon. His tweets have put Beal's name on the front page of every major poker news outlet, rubbing salt into his alleged $5 million wound. That's not to say that Loman did anything wrong or that he is intentionally killing action for the Brunson's, it just is what it is.
Like I said, the Banker isn't playing $50,000/$100,000 to get his mug on the cover of PokerNews.
If Beal returns to Las Vegas anytime soon, let's hope there is another intrepid reporter on hand to send us some details. The Banker is an absolutely fascinating character, and I'll take even the tiniest tidbits of action to wet my appetite.
2. You Get $15,000! And You Get $15,000! And You Get $15,000!
On Tuesday, the World Series of Poker announced an altered payout structure for the 2015 Main Event. The WSOP's flagship event will no longer carry a $10 million first-place prize, instead guaranteeing that 1,000 players* will receive a minimum of $15,000.
*If by some stroke of bad luck, or the Nevada legislature actually passes some insane piece of legislation, the Main Event doesn't get 5,000 players, then the WSOP won't pay 1,000 players. Don't count on this.
The WSOP provided the following payout table, based upon the number of players (6,683) in the 2014 Main Event:
| Place | Prize |
| --- | --- |
| 1st | $8,000,000 |
| 2nd | $4,663,527 |
| 3rd | $3,500,000 |
| 4th | $2,750,000 |
| 5th | $2,000,000 |
| 6th | $1,500,000 |
| 7th | $1,250,000 |
| 8th | $1,100,000 |
| 9th | $1,000,000 |
| 10th-12th | $550,000 |
| 50th | $142,500 |
| 100th | $50,000 |
| 500th | $20,850 |
| 693rd | $16,750 (last year's last paid place) |
| 694th-1,000th place | $15,000 |
Paying 1,000 players is very beneficial for the vast majority of the people who will be competing in the Main Event. While they will have their eyes set on the top prize, dreaming of holding the bracelet high in the sky with mountains of millions of dollars piled in front of them, most amateurs in the tournament will have never inked a five-figure "payday." Likewise, while the amount of online qualifiers will be again lower than in previous years, there will still be plenty of players who will satellite in for much less than $10,000 and are looking for a nice return on their initial investment.
It's easy to become desensitized to money with all of these super high rollers — we discussed this in brief earlier — but $15,000 is a huge chunk of money to a lot of people.
Spreading out the money more evenly to more players will also create more return customers, who believe they will be able to cash once again next year. They will also have a story to tell their buddies in their respective home games, creating a grassroots, user-powered marketing campaign.
The majority definitely benefits from these changes.
The only problem I have is the funky final table payouts. Along with the 1,000-player guarantee, it looks as if the final table has a $1 million guarantee (based upon the table provided). The jump from 10th place to ninth place is $450,000, which seems excessive, particularly when the next three pay jumps are a combined $500,000. The massive difference between 10th and ninth will certainly create an interesting bubble dynamic — not only will they be playing for a spot at the final table in November, but a large chunk of change as well — but why not simply create a mathematically-driven payout structure with 694-1000 (or whatever percentage of the field that is) getting the same amount of money?
Is the value of having an $8 million first-place prize enough to play with the payouts from sixth to 12th? I think that, just as it's beneficial to flatten out the first payouts, it's equally beneficial to have a standard payout structure for the final table and the final table bubble.
It's hard to make everything right in one go-round, especially when you're trying to balance so many different things and match expectations from previous years, but it looks like the WSOP got it right for the most part.
3. Trevallion Wins Aussie Millions $25K Challenge; $100K Challenge Final Table Set
The 2015 Aussie Millions has been in full swing for a few weeks now, but the action is heating up. Last weekend the AU$25,000 Challenge came to a close, and it was Alex Trevallion who defeated Tobias Reinkemeier heads up to win AU$645,150 and the title.
The two made a heads-up deal, leaving AU40,000 on the table to play for, and the Aussie scooped it up along with the gold ring. The score is Trevallion's largest by far – the next biggest is $27,806.
Reinkemeier earned AU$614,850 for second place.
| Place | Player | Prize (AU$) |
| --- | --- | --- |
| 1 | Alex Trevallion | $645,150 |
| 2 | Tobias Reinkemeier | $614,850 |
| 3 | Pratyush Buddiga | $335,000 |
| 4 | Stephen Chidwick | $250,000 |
| 5 | Thomas Muehloecker | $195,000 |
| 6 | Steve O'Dwyer | $156,000 |
| 7 | Raiden Kan | $125,000 |
| 8 | Rahul Byrraju | $100,000 |
| 9 | Connor Drinan | $75,000 |
The event attracted 104 entries, creating a total prize pool of AU$2,496,000. Steve O'Dwyer continued his heater and his early push for 2015 Player of the Year honors with a sixth-place finish, while Pratyush Buddiga (third) is also on a hot streak of his own.
Buddiga finished seventh in the PCA Main Event ($203,420), first in a high roller at ARIA in December ($543,683), and third in the APPT ACOP Super High Roller in November ($844,571). In these four events alone, the former Spelling Bee champion has nearly $1.9 million in cashes. Impressive.
Also at the final table was Stephen Chidwick, who finished fourth for AU$250,000. Chidwick continues to crush whenever he has no association with #TeamMedia.
The AU$100,000 Challenge has reached a final table at Crown Melbourne, but the action has been suspended until Sunday to allow the finalists to compete in the Main Event. Ole Schemion is the overwhelming chip leader, followed by Jason Mo and Erik Seidel, who now has an astonishing four cashes in the AU$100,000 Challenge.
Final Table Seat Draw
| Seat | Player | Chips |
| --- | --- | --- |
| 1 | Erik Seidel | 1,083,000 |
| 2 | Scott Seiver | 545,000 |
| 3 | Richard Yong | 554,000 |
| 4 | Justin Bonomo | 833,000 |
| 5 | Ole Schemion | 1,888,000 |
| 6 | Alex Trevallion | 291,000 |
| 7 | Dani Stern | 656,000 |
| 8 | Jason Mo | 1,150,000 |
All eight players are guaranteed a minimum of AU$310,000, with AU$1,870,000 reserved for first place.
The event attracted 70 entries, creating a total prize pool of AU$6,860,000. Seidel's success in this tournament is remarkable, and it's always a delight to see Schemion at a major final table. The young German is creative, aggressive, and very few poker players have exploded on the scene like he did in 2012 without quickly flaming out. With a first-place finish, Schemion would nearly match the $1,474,671 he earned for winning the 2012 Partouche Poker Tour Main Event.
4. GSSS II Wraps Up in New Jersey
The second installment of the Garden State Super Series wrapped up on Sunday on partypoker.com and BorgataPoker.com in New Jersey, and in total the series attracted more than 5,000 unique players and paid out nearly $1.5 million between its events, qualifiers, and free rolls. Here are some other numbers from the series:
5,021 unique players participated in GSSS II events, qualifiers, and freerolls
1,297 unique players participated in multiple GSSS II events
439 unique players participated in 10 or more GSSS II events
85 unique players participated in 30 or more GSSS II events
5 unique players participated in 60 or more GSSS II events
2,087 unique players cashed in events, qualifiers, and freerolls during GSSS II
16 unique players cashed for $5,000 or more
4 unique players cashed for $10,000 or more
$3,116 was awarded in freerolls during GSSS II
The action on the final Sunday would've been even more impressive had it not been for an internet service provider issue and a security safeguard at Borgata. Director of Poker Jeffrey Haas discussed those issues here.
Despite all of the issues, GSSS II cleared the $1 million guarantee by nearly 50 percent. Of the more than 1,000 unique players who were able to cash during the series, 160 of them banked a minimum of $1,000.
Over on WSOP.com/888 Poker, the shared liquidity seems to be paying dividends. According to Online Poker Report, total prime time traffic has increased since the merger of these two sites. For the moment, this combined player pool is the largest available.
While not perfect, it's great to see New Jersey continue to show signs of growth as 2015 gets underway. State-by-state legislation isn't coming at a fast and furious pace, and the "compact" between Delaware and Nevada has amounted to virtually nothing other than a poor precedent, so it's important that the Garden State continues to function at a high level. In addition, all of the issues that New Jersey operators are facing will serve as teaching moments as other states start to welcome online gaming.
5. Stick 'Em Up
On Tuesday, the Washington Post reported a story about a Fairfax SWAT Team raiding a poker game in the suburbs of Washington D.C. According to the report, $150,000 was seized from the game's host, and eight of the 10 players were charged with the Class 3 misdemeanor of illegal gambling.
There were no guns present, the players didn't resist arrest, and the story mentioned nothing about drugs or other illegal activity.
Fairfax police declined comment, saying that the case is still under investigation.
Way to put those tax dollars to work, Fairfax. One witness described the scene as something out of a moving, describing the assault rifles and yelling. Why is this necessary? What's the point? Clearly these people are breaking the law by hosting illegal gambling activities - they were taking a small 1.5% rake - but why do we need to send in a SWAT team? Why can't a patrolman knock on the door and hand out citations?
The State Police in Pennsylvania are upping the ante, performing raids to stop people from running Super Bowl grid pools.
What is this world coming to? Seriously. These are two of the most disheartening stories I've read (about gambling) in recent history. What a waste of time, money, and effort. Your community is not a better place because the high-stakes cash game down the street is no longer operational. The streets aren't safer because some bozo down the block can't sweat 9-5 like a moron on Sunday.
I understand the need for legislation and regulation on a macro level, but these mom-and-pop busts are utterly useless and stupefying.
/rant.
Get all the latest PokerNews updates on your social media outlets. Follow us on Twitter and find us on both Facebook and Google+!