Five Thoughts: PCA Wrap Up, Ronaldo Talks Poker, GSSS II Kicks Off, and More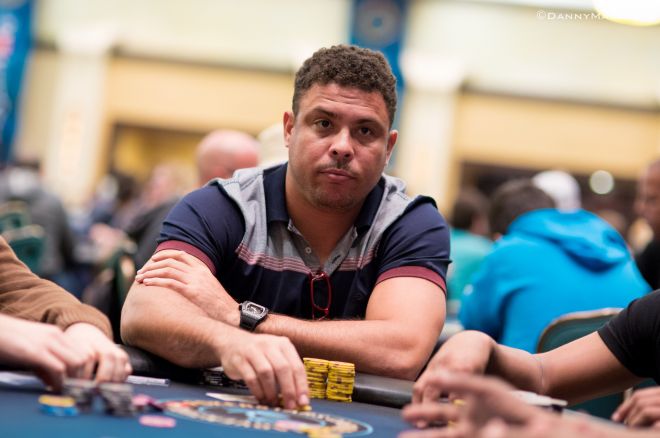 The year 2015 is well underway, and the first major poker festival, the PokerStars Caribbean Adventure (PCA), is already done and dusted. The PCA Main Event attracted 816 players, 215 fewer than 2014, so we are already 0-1 on our yearly predictions.
If you missed the 2015 predictions and want to bookmark it and laugh at me throughout the next 351 days, head here.
While the PCA Main Event saw a significant loss in numbers, the $100,000 Super High Roller (50 unique players) and the $25,000 High Roller (200 unique players) were both massive. The Latin-American Poker Tour Bahamas Main Event also smashed expectations with 532 unique players.
One of the reasons that there were fewer players in the PCA Main Event this year is that it didn't carry a $10 million guarantee like it did in 2014. Another reason could be player fatigue. Traveling to the Bahamas from anywhere except North America can be both annoying and time consuming, and the amenities at The Atlantis can get old after your fifth or sixth stint at the resort. Don't get me wrong, very few places beat Paradise Island in January, but I can understand why the numbers could dip after 11 years at the same property.
There is also the upcoming Aussie Millions, where several top professionals traveled to directly, skipping de island life. Dan Smith, Philipp Gruissem, Fabian Quoss, and Tobias Reinkemeier are among the players who went straight Down Under.
PCA produced some very interesting champions in the three major events, including a former EPT winner who now has more than $9 million in career live tournament earnings.
1. O'Dwyer Rules
Hailing from Las Vegas, Ireland (if you don't believe me, check Hendon Mob), Steve O'Dwyer is a man on fire. The American turned Irishman closed out 2014 with a win in the 2014 APPT Asia Championship of Poker High Roller, earning $1.8 million, and added another seven-figure score to his résumé at the start of the PCA.
O'Dwyer defeated Roger Sippl heads up to win the $100,000 Super High Roller, earning nearly $1.9 million. This is his third seven-figure score — he also earned $1.6 million for winning the Season 9 EPT Grand Final Main Event — and O'Dwyer now has more than $9.1 million in career live tournament earnings.
Although he ranks 37th on the all-time money list (first in Ireland), O'Dwyer will be the first person to tell you that he hasn't pocketed all of the money.
At PCA, O'Dwyer did note that he is interested in his all-time ranking, but that it's "not about the money." He is just content to compete against the best players in the world.
O'Dwyer is an interesting cat who has crushed the poker circuit since the start of 2011. Prior to 2011, he had never cashed for more than $314,803 (2009), and since then he's averaged slightly more than $1.7 million per year, including 2015. O'Dwyer skipped the World Series of Poker (WSOP) in 2014 to play online poker outside of the United States — he didn't even make the trek over the pond to play in the WSOP Main Event.
2. Schulz Wins the Main; First-Timer Wins High Roller
Prior to the 2015 PCA, Kevin Schulz's largest cash was for $267,792 when the Chicago native finished fourth in a $5,000 no-limit hold'em event at the 2012 WSOP. Two of the players who finished ahead of him were the aforementioned Dan Smith and 2012 PCA Main Event runner-up Kyle Julius.
With six players remaining on the final day of the PCA Main Event, Schulz was guaranteed to top that figure as the minimum cash was $285,740. He ended up smashing it, picking off a bluff from Diego Ventura in the final hand of the tournament to win the title and nearly $1.5 million.
On the final hand, Ventura moved all in on a completed board of
. Schulz quietly called, prompting Ventura to reveal the
, which Schulz had beat with the
for a pair of kings.
"I felt really comfortable here, really calm," Schulz told Remko Rinkema after the win. "I think that actually helped me that I've actually played for big money before."
Schulz seemed very grounded after the win. Much like Martin Jacobson at the WSOP Main Event, he left the whooping and hollering for his friends on the rail, most notable Faraz Jaka. When asked if he would be firing a few bullets into upcoming super high roller tournaments, Schulz was quick shoot down the suggestions.
"Those guys are playing for a little too much," Schulz offered, smiling.
One player who isn't afraid to play for big amounts is Ilkin Garibli. A native of Azerbaijan, Garibli was in the Bahamas on holiday with his family when his friends persuaded him into playing at the PCA. Having never played in a live tournament before — he is a cash-game player — Garibli opted to hop into the $25,000 High Roller.
Talk about hitting the ground running.
Garibli, who studied banking and finance in London, is used to playing for big money. When asked about being guaranteed more than $221,000 at the final table, he was more focused on taking the top prize.
"The pay jumps between sixth and seventh don't really affect me that much," he told the PokerStars Blog. "So I'm going for the big money. I hope that can happen."
Well, it did happen. Garibli ended up chopping heads up with Joe Kuether, and both players were guaranteed more than $1 million. However, instead of just flipping for the trophy and the SLYDE watch, the two battled for 2.5 hours. Garibli was victorious, cracking Kuether's
with the
.
"It still hasn't kicked in," Garibli said in his post-win interview, shyly shuffling chips with his right hand. "After a few drinks with my friends later on I'll probably understand what happened — or when I fly home."
There was no winner's interview for Kuether, whose last victory came in a $5,000 side event at the 2014 PCA, but this is his first career seven-figure score. The Wisconsin native also finished fifth in the $10 Million Guaranteed Seminole Hard Rock Poker Open in August, and now has more than $3.7 million in lifetime career tournament earnings.
A little delayed bc I haven't had any cell service but thank you so much everyone for the support. I really appreciate it!!

— Joe Kuether (@jkuether3)
ICMYI there was also this gem from Joe Stapleton at the PCA:
3. Ronaldo Talks Poker
Ronaldo Luís Nazário de Lima, known simply as Ronaldo, is one of Brazil's most iconic footballers. In his professional career, he scored 247 league goals and 62 goals for the Brazilian national team. In 1998, he helped his side and nearly won the World Cup, receiving the golden ball. Brazil did win in 2002.
The football icon was scheduled to fly to Switzerland to award the Balón de Oro to fellow Ronaldo, Cristiano Ronaldo, but he was unable to make the trip and join Thierry Henry on stage because he went deep in the PCA Main Event. Day after day, Ronaldo continued to bag a stack and reschedule his flight to Zurich. Eventually, he had to skip the trip altogether.
Ronaldo nearly reached the final table of the PCA Main Event, falling in 26th place and earning $42,000. Ironically, he was sent to the rail by fellow countryman Eugenio Mattar.
"It's amazing to be here and it's amazing to play poker in a place like this one," Ronaldo told PokerNews. "I have started to play poker when I was at Inter Milan back in 1999... we used to play when we were in a hotel, waiting for a game to start. Since then, I have never stopped."
Ronaldo is not only an ambassador for poker in the sports world, but he also represents the emerging Brazilian market. Brazil's population has crossed 200 million, and there is a definite thirst for both live and online poker.
"Poker is still growing," Ronaldo says, "and I think it has the potential to become like football."
Perhaps number nine is being a bit ambitious with this claim — football trumps religion in Brazil — but it is very encouraging to know that one of the country's icons is a huge fan of poker and is promoting it on a national scale. Not everyone can perform a Maradona and strike a cracker past a keeper, but anyone can check-raise the likes of Phil Ivey, Daniel Negreanu, or even Ronaldo.
The 38-year-old Brazilian is also contemplating a comeback in the United States after buying a minority stake in the Ft. Lauderdale Strikers. The Strikers are a second-tier team in the NASL, but any American promotion for Ronaldo could subsequently allow him to promote his love for poker in the U.S. as well.
4. Garden State Super Series II Kicks Off in New Jersey
The second installment of the Garden State Super Series (GSSS II) kicked off this past weekend on both partypoker.com and BorgataPoker.com in New Jersey. The 69-tournament series carries an overall guarantee of $1 million, and culminates on Jan. 25 with the low ($50), mid ($200), and high ($1,000) main events. Combined, the three tournaments carry a guarantee of $250,000.
Satellites for all GSSS II events are running now.
Day 1 of GSSS II generated more than $140,000 in combined prize pools, and "connisaurusrex" banked a five-figure score in GSSS II Event #1 High, outlasting 358 entrants in the six-max tournament to win $13,515. "Juaari" finished runner-up, earning $9,577.50.
The GSSS II Event #2 High attracted a total of 344 entrants, clearing the $25,000 guarantee by 24 percent ($31,304). The winner was "markc", who earned $4,351.06.
The Garden State Super Series rolls on this week, featuring several different variants of poker at diverse buy-in levels. For a full look at the schedule, head here.
Also in NJ, the WSOP.com Winter Poker Classic wrapped up on Sunday with a $200 buy-in, $25,000 guaranteed Main Event. The tournament attracted 92 entries, generating a total prize pool of $38,850, and "JingboSlice" pocketed the top prize of $11,655. A player named "juice" finished runner-up for $7,770.
Be sure to check back to PokerNews this Monday for the "New Jersey Online Briefing" from Jason Glatzer.
5. Mississippi and Washington Getting in the Mix
To no surprise, California is once again engaged in talks to legalize online poker in the Golden Bear State, but now there are bills circulating in both Washington and Mississippi to legalize online gaming.
Back in 2006, Washington took a hard stance against online wagering, it a Class C felony punishable by a $10,000 fine and/or five years in prison to play online poker. The law was challenged in 2010, but upheld. At the time, several online poker sites stopped operating in the state.
The temperature has obviously changed in Washington, so much so that Rep. Sherry Appleton prefiled a poker-only bill that doesn't include a "bad actor" clause. Beyond the economic merits of passing gaming legislation, the bill also highlights the increased safety that comes with a regulated market:
"To better protect the people of Washington from potential danger from, and to maintain oversight of the systems used to carry out internet poker, the legislature finds it to be in the interest of the people to establish a regulatory framework by which entities, as authorized by the Washington state gambling commission or a tribal regulator, may offer poker games to players within Washington state over the Internet."
The bill also contains language supporting potential multi-state agreements and mobile gaming.
Down in Mississippi, on the heels of a state study on online gaming, Rep. Bobby Moak introduced legislation named the Mississippi Lawful Internet Gaming Act of 2015. Like the bill in Washington, Moak's proposed legislation would allow for liquidity agreements, even outside the United States.
If passed, individuals caught playing on unregulated gaming sites could face a fine of up to $10,000 and/or 90 days in prison.
Washington (7 million) and Mississippi (3 million) rank 13th and 31st, respectively, in population in the United States, and while neither is the white whale (California, 38.8 million), they represent progress. Less than a decade ago Washington was ready to get rid of online gaming completely, and Mississippi has had a Republican governor since 2004. If these two states can get onboard with the prospects of online gaming, then anything is possible.
Be sure to stay tuned to PokerNews for any further developments.
Get all the latest PokerNews updates on your social media outlets. Follow us on Twitter and find us on both Facebook and Google+!