10 Poker Predictions for 2015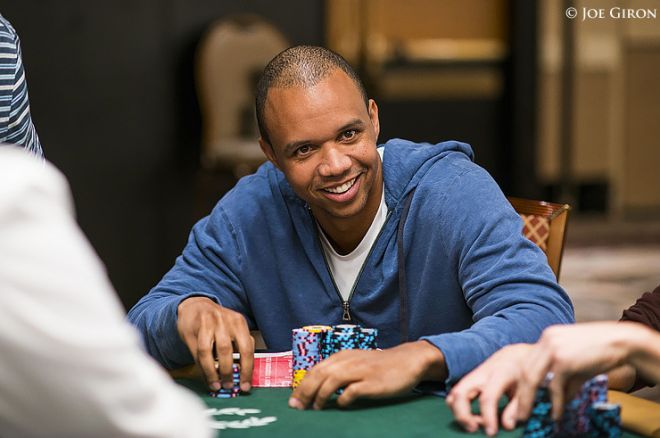 Happy New Year!
In lieu of our regularly scheduled programming (AKA Five Thoughts), it's once again time to make a few predictions. In 2014, after smashing eight softies over the centerfield wall in the previous year, we really upped the ante. In turn, we only hit on two of our 10 predictions.
Ouch.
Here are the two we got right:
A "Well-Known" Pro Will Win the World Series of Poker Main Event (We defined "well-known" as a top 100 player in the GPI 300, and

Martin Jacobson

was ranked No. 66 at the start of the big one.
No U.S. State will legalize online poker
And all the ones we swung and missed on:
The PokerStars Caribbean Adventure and Aussie Millions main events will attract 2,000 players combined (1,699)

Ryan Riess

will record a $500,000 score at PCA or Aussie Millions (no cashes)
The Seminole Hard Rock Poker Open will, once again, meet the $10 million guarantee ($2.5 million short)
A Spaniard will win a European Poker Tour main event (COME ON, SPAIN)
A German will win the Big One for ONE DROP part deux (is

Dan Colman

of German descent?)

Ole Schemion

or

[Removed:17]

will win a WSOP bracelet (Yan wasn't even 21 yet!)

Griffin Benger

will earn $1.5 million live tournament cashes ($1,322,404!)
Russians will win four or more bracelets at the 2014 WSOP (1)
The Benger prediction is brutal because we increased the prediction from $1 million to $1.5 million in order to account for inflation and the increase of high roller and super high roller tournaments. That being said, Benger wasn't even close to seven-figures until he binked the PokerStars Shark Cage and pocketed, you guessed it, $1 million.
This year we're going to continue to be bold, but a bit less reckless. No more age mix-ups or complete Hail Mary's. On to the predictions!
1. 95 Different Players Will Cash for $1 Million in Live Tournaments
According to Hendon Mob, 58 different poker players accrued at least $1 million in live tournament cashes in 2009. Unsurprisingly, that number has increased every single year this decade, landing at 86 in 2014.
Year
Players With $1 Million in Cashes
Top Casher
Amount
2014
86
Dan Colman**
$22,389,481
2013
79
Ryan Riess*
$8,440,813
2012
70

Antonio Esfandiari

**
$19,078,808
2011
62

Pius Heinz

*
$8,830,087
2010
61

Jonathan Duhamel

*
$8,987,310
2009
58

Joe Cada

*
$8,574,649
*Won the WSOP Main Event
**Won the BIG ONE for ONE DROP
Since 2011, the year big buy-in tournaments really started to take off, the amount of players with seven figures in cashes has increased by an average of eight per year. By my math, that would put 2015 at 94. I pushed that up ever-so-slightly to 95, but I nearly went wild and predicted a total of 100 because 15 players were less than $100,000 away from $1 million in 2014.
Beyond the big buy-in tournaments, there are more and more events each year, giving players more opportunities to accumulate cashes and climb the ladder. Likewise, even though there is no BIG ONE for ONE DROP, there will be the $111,111 High Roller at the WSOP this summer.
2. Phil Ivey Will Not Be One of Them
Phil Ivey hasn't cashed in an event since the 2014 WSOP. He's been pretty MIA outside of his attempts to clear his name on Showtime. This seems easy on the surface because Ivey cashed for only $151,892 and fell off the map completely in 2011, but in 2013 and 2014 he earned more than $7 million combined. I feel like I'm a bit of a dog for this one — all he needs to do is win or finish runner-up in one big buy-in event — but Ivey seems to enjoy Cabo and may not be indulging in as many bracelet bets this summer.
3. David Peters Will Cash for $1.5 Million
What a brutal beat for David Peters on the bubble of the $100,000 Super High Roller at the 2015 PokerStars Caribbean Adventure. For those of you that missed it, Peters called a three-bet shove from Sorel Mizzi holding the
, and Mizzi rolled over the old
. The flop produced a queen, as did the turn, and Peters was unable to hit a two outer on the river to survive.
When I think of Mr. Peters, I think of endless gray Under Armour hoodies. Seriously, look at page two of his photos on PokerNews. Gray. Under. Armour. Forget Kevin Durant, the next time UA wants to make a big splash they need to hit up Peters on Twitter.
The next thing I think of is how close he's come to huge scores over the last few years. Peters has eight top 15 finishes in WSOP events this decade with only one six-figure score and no victories. He also finished seventh in the Season IX World Poker Tour World Championship, fifth in the Season XI WPT World Championship, and fifth in the 2014 Estrellas Poker Tour High Roller.
This bubble bust out at the PCA is excruciating — had he won the hand, he would've been third in chips with nearly 50 big blinds.
As of right now, his highest career cash is for $355,093, but he is constantly deep in everything and is due to bink a big one.
4. The PCA Main Event, Aussie Millions Main Event, WPT World Championship, WSOP Main Event, and WSOP Europe Main Event Will All Grow From 2014
Call me an optimist, but I'm seeing an overall positive trend in the poker world. Each of these events has its own private window to operate, and I think the move to Berlin for the WSOP Europe Main Event could result in an absolutely massive turnout. I will admit that I am making this prediction with my heart and not looking at any numbers. Call me a feel player.
For reference, this is what we have to beat:
| Event | Entrants |
| --- | --- |
| 2014 PCA | 1,031 |
| 2014 Aussie Millions | 668 |
| Season XII WPT World Championship | 328 |
| 2014 WSOP Main Event | 6,683 |
| 2013 WSOP Europe Main Event*** | 375 |
***I believe it's more accurate to keep this in Europe rather than use WSOP Asia-Pacific
5. A Sixth Player Will Win the Triple Crown
Five players have won an EPT title, etched their name onto the WPT Champions Cup, and earned a WSOP bracelet: Gavin Griffin, Roland De Wolfe, Jake Cody, Bertrand "ElkY" Grospellier, and Davidi Kitai. No one has achieved the feat since 2012, when Kitai won his first of two gold bracelets.
Because there have been so few, the EPT title is the hardest leg to capture, but there are several EPT champions that are one leg away:
Jason Mercier

(WPT)

Brandon Schaefer

(WPT)

Carter Phillips

(WPT)

Martin Finger

(WPT)

Maxim Lykov

(WPT)

Rob Hollink

(WPT)

Mohsin Charania

(WSOP)

Andrey Pateychuk

(WSOP)

Roberto Romanello

(WSOP)
Schaefer is a longshot because he basically came out of retirement to win his bracelet in 2012, but the rest of this lot are very solid.
There are a plethora of big names who are an EPT title away, including Ivey, Daniel Negreanu, JC Tran, Michael Mizrachi, Andy Frankenberger, Joe Hachem, and many more. Again, it is much more difficult to capture an EPT title because they are so infrequent, but these are some great names to bank on as well.
6. Ole Schemion or [Removed:17] Will Win a WSOP Bracelet
Is Yan going to be 21? Anyone?
Who cares! There are bracelet events in Schemion's backyard. He may win them all.
7. A Woman Not Named Vanessa Selbst Will Win GPI Ladies Player of the Year Honors
To no surprise, Vanessa Selbst captured the Global Poker Index Ladies Player of the Year award in 2014. Selbst has won the award all three years, the first two years in a landslide, but in 2014 Sam Cohen gave her a run for her money.
Cohen cashed 17 times in 2014 — only a dozen of these count for POY purposes — earning a combined $210,645. The Florida native actually had a lead on Selbst in the POY race as well, but the female all-time money leader won another bracelet in the summer and finished 14th in the EPT Prague Main Event.
There are very few tournament players on the planet that are better than Selbst, so I don't predict that a woman will come out of the woodwork Schemion-style and light the world on fire, but there are a ton of talented women in poker that can put together a terrific campaign. Likewise, Selbst doesn't put in a great amount of volume - if she did, she'd never lose this award ever — which leaves room for a new winner in 2015.
8. America Will Win the Global Poker Masters
Speaking of the GPI, is anyone going to bet against Colman here? Sure the Germans have Schemion, Finger, Danzer, and Rettenmaier, a fearsome foursome, but Colman is the hottest player on the planet. He also bleeds red, white, and blue!
'MERICA!
On a more serious note, the Canadian squad is actually very scary. Ami Barer and Andrew Chen are supreme players not often noticed because they are both very quiet individuals, and Sorel Mizzi and Mike McDonald have been crushing tournament poker at the highest levels for several years. Of all eight teams, they're the one I'd wager on to win the tournament... but not with my heart.
U! S! A! U! S! A! U! S! A!
9. Online Poker Will Be Legal in More Than Three States in the USA
Another natural transition! The land of the free and the home of the brave will see another state regulate and legalize online poker in 2015. From what I've read from Matthew Kredell and the other great writers on the legal beat, California seems to be a shoe in. There are always complications, however, and this is a very long process, so I'm not counting any eggs before they hatch.
Pennsylvania is also a dark horse as it continues to investigate the pros and cons of online gaming. The state legislature launched a study to examine their own land-based operators and neighboring New Jersey as it continues to grow, and any positive conclusions could lead to the Keystone State becoming a legitimate player.
Of course, this prediction can go completely to hell if Sheldon Adelson can push RAWA through the federal government. While this may be unlikely, it is unwise to doubt multi-billionaires when they are motivated.
10. PokerStars Will Deal a Real Money Hand in the United States
Amaya Gaming didn't spend $4.9 billion to maintain the status quo. Amaya wants to break into the American market as soon as possible, and I have a sneaking suspicion that it will do so in 2015.
For news, updates, and more follow PokerNews on Twitter and Facebook.