Turning Point Showdown: Bill Smith and the 1985 WSOP Main Event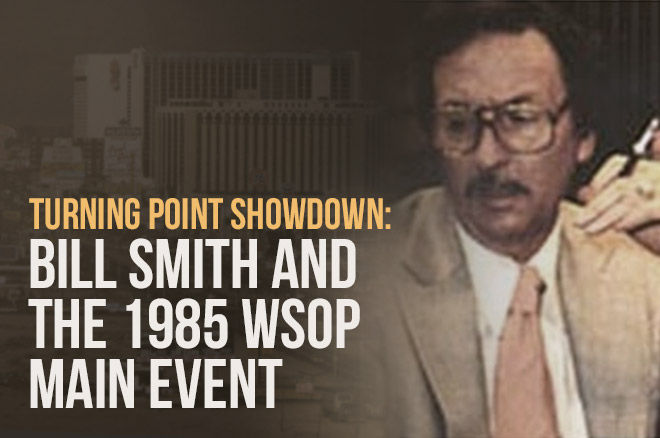 Poker in the 1970s and 1980s was still an "old school" game led by Texas road gamblers. These rounders drove across Texas and other southern states from smoky back rooms to seedy bars looking for a game with high stakes and a few suckers. Beginning in 1970, Texans like Doyle Brunson, Johnny Moss, Jack Straus, and Thomas "Amarillo Slim" Preston brought their brand of poker to fellow Texan Benny Binion's World Series of Poker and often dominated the field.
Playing poker for a living was seen as anything but glamorous, and the number of high-stakes tournaments was pretty small compared to today. But the popularity of the game was growing. The 1985 WSOP would feature the last duel between old school Texas road gamblers and stands out as a bit of a turning point for the game. In the coming years, players from other parts of the country and world like Phil Hellmuth, Johnny Chan, Dan Harrington, and Huck Seed would make their mark in the annual tournament series.
That 1985 tournament marked a turning point for the game with two old school warriors, Bill Smith and Poker Hall of Fame member T.J. Cloutier, battling it out for the biggest prize in poker. While he is not as well-known as some of those early rounders, Smith has an interesting back story and remembered by many of his contemporaries as a force at the table.
Never Without His Budweiser
Born in 1934 in Roswell, New Mexico, Smith was a natural fit for the growing game of poker and began traveling for action after serving in the Navy during the Korean War. He reached the pinnacle of his tournament career in 1985, topping a field of 140 players to earn the bracelet and championship after winning the heads-up match against Cloutier. The win earned him a whopping $700,000, $1.54 million in today's dollars. Smith also earned two other Main Event final tables -- finishing fifth in 1981 and 1986, but never matched that poker glory of 1985.
Friends and players in the poker world remember Smith as a man of extremes -- indulging heavily in alcohol yet maintaining an impressive level of skill at the table.
"I never saw him playing without his beer -- Budweiser," World Poker Tour commentator Mike Sexton said. "And when he had a few beers, he was as tough as anyone! When sober or when he had too many beers, he was considered a bit of a live one. He was very good -- a bit more aggressive than most in those days. The guy wasn't afraid to make a big bluff. He had a lot of heart."
Sexton and other players remember Smith as a likable guy to most with quite a bit of gamble in him. Never a complainer when he lost a pot, Sexton said that was normal for the players from the Texas games. And unlike the hoodie-clad young guns of today's poker world, Smith was a dandy at the table. Most remember him wearing a fine suit at the tables with a cigarette on an old-fashioned holder hanging from his mouth. With his dapper look, Smith looked more like an accountant at the felt than a poker world champion.
There was one other addition always part of his card room ensemble as Sexton notes: "Of course, he always had his beer."
Beating Cloutier for the Title
Old school poker player and Houston native Carl McKelvey remembered Smith from many games in Texas and at the WSOP. Though from New Mexico, Smith spent a considerable amount of time living in the Dallas area and at card games throughout the Lone Star State. After making his splash at the WSOP, he moved to Las Vegas and could often be found at the bar at the Horseshoe, a drink and cigarette nearby as slot machines chirped in the background.
Finding a photo of this WSOP champion is no easy task. Despite his slick appearance and major success, friends say he was camera shy, but not shy about bluffing and betting. His 1985 Main Event would seal his legacy in the poker world, but two other final table appearances add even more to his poker résumé. Throughout Smith's life, his love for alcohol was a major part of his game — even heads up at the WSOP.
"In 1985, Dale Suttles, from Lubbock, Texas, won a satellite to the Main Event," McKelvey recalled. "Bill was living in Dallas at the time and was playing nickel chips at the Horseshoe. Dale knew Bill from playing with him in Lubbock and asked him to play the ticket. Of course the rest is history. However, Dale confided that he would take half the credit because before entering the last table, he escorted Bill to the bar and told the bartender to line up 10 shot glasses and fill them with cognac. According to Dale, he made sure Bill had the right amount of alcohol -- not unlike a horse trainer."
The heads-up battle between Smith and Cloutier in 1985 ended fairly quickly, recalled Sexton, when the two men, who had played together frequently in Dallas, got all their chips in preflop. Smith's pocket threes beat his opponent's ace-three for the championship, successfully completing a comeback from an almost 2-1 chip disadvantage. The $700,000 in prize money was the largest amount ever awarded at the WSOP at the time.
"It was commonly known that Bill played maybe a bit too tight, but with the right amount of alcohol he was a monster," McKelvey said. "After all, he pushed all of his chips with two threes to beat T.J. for the title."
A Weapon and a Weakness
In those early days, Cloutier says the two men were friends and Smith even introduced him to his wife. Playing together considerably throughout Texas -- from Lubbock to Dallas to Corpus Christi — Cloutier says he staked Smith in some games around "Big D." Alcohol proved to open up his game and his aggression, but could also lead to his downfall.
"When he was halfway drunk, he was fabulous -- as good as anyone who played the game," Cloutier said. "He was well-respected in poker by the old-timers. When he drank too much, he just gave away chips."
After only a little more than a decade of major tournament poker, Smith passed away at Nellis Federal Hospital in Las Vegas in 1996 at age 61, survived by a wife, two sons, and a daughter. The death was a result of complications related to years of alcoholism, Cloutier said. In the two decades the men had been friends, he said Smith never worked in any other job beyond a poker table.
In his short tournament career, Smith amassed an impressive total of over $1 million, when tournament entries were miniscule compared to today's WSOP and World Poker Tour events. Some of his noted finishes include: 1981 WSOP Main Event, fifth ($37,500); 1986 Amarillo Slim's Super Bowl of Poker $1,000 Limit Hold'em, first ($100,000); 1986 WSOP Main Event, fifth ($51,300); and the Diamond Jim Brady $500 Hold'em, first ($53,600).
Unfortunately, many pros believe his alcohol vice may have cut his career short -- proving to be both a weapon and a weakness.
"I think it's a very impressive tournament record," said Sexton. "And all the guys I know from the Dallas area say he was as tough as anybody in the cash games -- until he had a few too many beers."
And despite his winnings, much of his cash disappeared. A 1986 Houston Chronicle article about the WSOP Main Event noted of his championship: "Smith won the series and, with it, $700,000. By this May [of 1986], he had lost it." That year, the Chronicle noted that he was scouring the Horseshoe searching for someone to back $4,000 of his entry into the Main Event. He found it and won $52,000.
As the WSOP cranks up each summer, Smith is one player whose picture is absent from the gallery of champions. Several players have questioned why it is missing, and WSOP officials have said it has to do with legal clearances.
"We had trouble finding someone to clear the use of his image, is all I know," said WSOP Media Director Nolan Dalla. "Usually the player or relatives must sign a release. I'm not sure of if the person wanted money or perhaps they just could not find the right person to clear this, but it was decided to leave him out, which is a shame. Bill Smith has no relatives that we know of. I think someone at Harrah's was able to contact a distant relative of his about five or six years ago, but I admit we now no longer have the contact."
One memory sticks out in Sexton's mind about Smith. He had just won his bracelet and was heading back to Texas -- ready to splurge.
"Bill chartered a private jet back to Dallas and said, 'Every poker player should experience this one time — becoming world champion and taking a private jet back home.'"
In the coming years, the WSOP would grow to epic proportions with ESPN cameras, thousands-deep player pools, and massive payouts that those early players could never have predicted. And while he may have won only that single bracelet and battled alcohol, Smith affirmed his name among the game's greats.
Sean Chaffin is a freelance writer in Crandall, Texas. His new book, RAISING THE STAKES: True Tales of Gambling, Wagering and Poker Faces, is available as an eBook and in paperback at Amazon.com. If you have a gambling or poker story idea, email seanchaffin@sbcglobal.net. Follow him on Twitter at @PokerTraditions.
Want to stay atop all the latest in the poker world? If so, make sure to get PokerNews updates on your social media outlets. Follow us on Twitter and find us on both Facebook and Google+!