Locked Up: Erik Audé Bets and Bluffs in a Pakistani Prison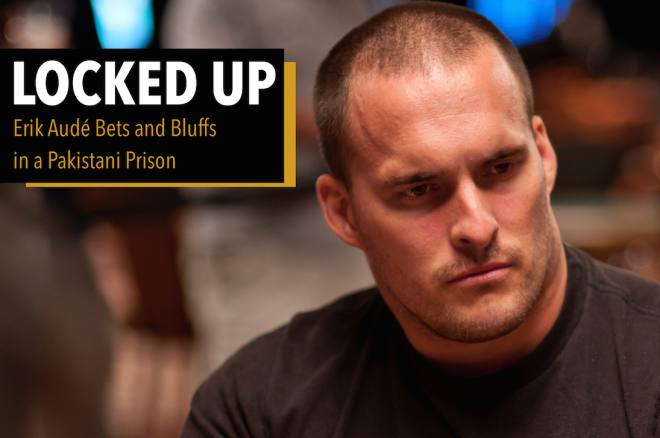 Editor's Note: PokerNews caught up with Erik Audé at the 2012 World Series of Poker. His tale of survival and learning the game is quite unique to the poker world. We caught back up with him for a more detailed account from his time in a prison in Pakistan to competitive poker to his work as an actor and stuntman.
Most poker players have a pretty standard tale about how they started playing. Maybe their father taught them as they sat around the kitchen table playing for nickels. Maybe they played with friends in high school or college then moving on to $5 tournaments online. Winning a little bit of cash here or there fueled many players' love of the game.
Erik Audé's story is much, much different. His poker induction came in games in a dingy prison in Pakistan. Born in Beverly Hills, Audé grew up playing football and his brawny physique and good looks helped launch an acting career as he also worked as a personal trainer. Always a fan of the spotlight, small roles began falling his way almost immediately after high school, from soap operas to major films, including an appearance in the 2000 comedy Dude, Where's My Car? with Ashton Kutcher and Sean William Scott. When he wasn't on set or at auditions, Audé was pumping iron and training clients at a local gym. Things couldn't have been better for a young man looking to build a career in the cut-throat world of Hollywood.
In the days after 9/11, Audé had been training a client named Rai. Their sessions at the weight racks went well and the two became friends. Rai told Audé that he imported leather goods from the Middle East, and asked his friend to make a trip for him to Turkey. He would pay Audé a substantial amount of money for his efforts, and in turn the trip would help Rai avoid import taxes. Figuring it was worth the risk, the young actor jetted off to Turkey to complete the mission. That first job and a subsequent trip to Sweden were successes. Audé never had any reason to doubt his friend's motivations, and the cash was certainly nice. In early-2002, Audé was back on a plane for Islamabad, Pakistan, when another courier backed out.
To say Pakistan was not the best place to be for an American after 9/11 is an understatement. While jogging through the city, Audé nearly started a riot after flirting with some Pakistani women on the streets of Islamabad. After the incident, he returned to his hotel room and waited for his contact, ready to get out of the country. A few days later, the leather goods were in his suitcase and he was soon in line for a security check at the airport. Still thinking he was just bringing back some leather goods for Rai, Audé had no real reason to be nervous. Things changed as security personnel took an interest in his luggage.
"Are you smuggling narcotics?" a security officer asked as he rummaged through the case.
The truth was quickly revealed -- he had been tricked into smuggling more than just leather goods. Hidden in the case was 7.9 pounds of opium — and Audé knew he was in big trouble.
Prison Life
Life in a Pakistani prison was hell on earth. He would serve his time at the Adyala Jail in Rawalpindi, built in the late '70s and early '80s. Torture and beatings were a regular part of Audé's time in the dank, overcrowded prison. He was forced to use his fists to survive, especially early in his time at the prison as the inmates looked to brutalize the lone American in their midst. After being thrown into the prison, he faced a three-day round of torture that left him bruised and bloodied.
"You either needed to adapt to the situation quickly or you weren't going to make it long," he says about the prison before leading into talking about the episode of National Geographic Channel's Locked Up Abroad about his story, aptly titled From Hollywood to Hell. "People were starving, fighting each other. It was way over crowded. The show focused on me fighting a lot, but that wasn't the case over the majority of the time I spent there. I was kept isolated for my protection. What I did mostly was read, exercise, and learn the legal system and languages."
And his ability to smuggle in contraband, with the help of corrupt guards, soon eased the antipathy other prisoners felt toward him. His haul included food, a VCR with hundreds of movies, a cell phone, and even a laptop computer, on which he wrote scripts and kept a journal.
Audé was in prison 11 months before facing trial. The verdict was crushing -- seven years for smuggling opium. What kept him going?
"A couple things I would bounce back and forth from," he says. "Knowing that I was innocent. Anger toward my friend who set me up. Sometimes it was just a girl that I knew back home that I wanted to get back to."
Whatever the reason, Audé was determined not to let prison get the best of him. He occupied his time by working out with homemade weights. Other chores were also part of his routine, including cleaning up the yard and his cellblock, growing a garden, organizing construction of a water well for his cellblock (running water had previously been available only an hour a day in the cells). He also began teaching himself the local language so he could communicate better, which would soon come in handy during prison poker games.
"On my alone time at night, I taught my self Urdu by making myself flashcards from a blank piece of paper and pounding these words into my head with repetition," Audé says. "I had time, and I didn't waste it."
Catching Cards in a Jail Cell
As he languished in prison throughout 2002 and 2003, Audé was determined to stay busy -- to make the best of his situation, to fight boredom, and so that he wouldn't go crazy. The odds of his mere survival were long, and Audé figured keeping some sort of schedule would not only help pass the time, but also provide motivation to keep living.
The Californian began teaching prisoners to read in their own language and some to learn English, and he was allowed to travel throughout the prison to reach his students. The reasons prisoners found themselves there varied widely and the populace included murderers and other criminals, politicians, and people arrested for seemingly petty crimes, such as being caught out after dark or dropping trash outside a holy building.
"It could've just been a guy for corruption or not paying for a soda," Audé says. "You can get arrested for any reason in Pakistan and if you're broke, you're going to jail."
As he continued to pray for the day of his release and work to get his sentence reduced, Audé found another way to occupy some of his time -- poker. He had played a handful of times with friends back home, but never seriously and never Texas hold'em. His time in prison changed that.
"I was placed on death row because it was probably the safest place to keep me at the time," he remembers. "There were other prisoners there, and they played Texas hold'em poker a lot. A man named Murad spoke a little English and he would end up becoming my friend. He taught me how to play. We'd buy in for five Pakistani rupees [worth about a nickel], and play with chips and worn down playing cards. Tournament poker was the preferred style of play because not too many people had enough money to play a cash-style format. The money would be used to buy food -- chicken, yogurt, drinks, etc. — and we-d play for that."
Locked up in a foreign country, his freedom gone, and his life in the balance on a daily basis, poker become part of his salvation -- and a means to put some much-needed nourishment in his stomach.
"People in that prison were always hungry, so winning some chicken or good food was a treat, and they would play their assess off," Audé says. "Other times we would just play for the money if we couldn't get enough players to pitch in for the 100 rupee chickens. But it was a great way of killing time."
Games were usually in one of the prisoners' cells on the floor since there were no chairs or tables in the prison. Sitting on blankets or rugs on the floor was very normal. When tournaments became larger on a few occasions, players would sit outside on mats and balance out the "tables" as players busted out.
"It was very unorganized most of the time, but somehow we made it work," he says.
Freedom, Poker, and Hollywood
In 2004, after more than two and half years in prison, Audé was released just prior to Christmas following an appeal by former New Mexico governor Bill Richardson and a written confession by Rai (whose real name was Razmik Minasian) that Audé had no knowledge of the opium smuggling scheme.
Soon he was back in Los Angeles, thrilled to be home and see his family. And while he had his freedom back, when Audé first got of prison he had absolutely nothing to his name except the clothes on his back. Playing poker for three years in jail, and his acting skills, proved helpful in getting back on his feet. In the U.S. only a couple of days, a friend was able to get him three days of work on the movie War of the Worlds. Another friend gave him $100 to help him out.
"I hated taking his money, but I had no choice at the time because I needed it," he recalls. "After my first day of working on the set, I was stuck in traffic and I saw the sign for a local casino. I pulled into the casino figuring I'll do the only thing that I was ever good at in prison. 'I'll play with 50 bucks and see what I can do with it.' I sat down at a $40 no-limit table, and quickly moved to a $100 no-limit table. I left the next day from the casino straight to work with $1,700. I came back that night and turned $300 into $1,200. I had my own car a week later, my own place a week after that, and haven't looked back since."
Since his release, Audé has taken advantage of his freedom and skills at the table he learned in prison. He's had a few cashes in the WSOP since 2009, including a 10th-place finish in 2012 in a $5,000 no-limit hold'em event for $53,728 (he was eliminated when his set of kings ran into a set of aces).
In recent years, Audé's acting and stuntman work has really picked up, too. He's worked with C. Thomas Howell, Eric Roberts, Kevin Sorbo, Jake Busey, and other actors. This summer, he worked in New Jersey coordinating stunts for a movie called Fight Valley with UFC fighters Holly Holms, Miesha Tate, and Cris Cyborg. This year, he's also worked on several television shows including TNT's The Last Ship, CBS' NCIS, Amazon's Hand of God, NBC's Days of Our Lives, a pilot titled Luke, worked in a Weather Channel reenactment called Tornado Alley, and numerous other gigs.
"I've been crazy busy and have even had to turn down quite a lot of work -- a great problem to have in this industry," Audé says. "Over the last few years, the biggest movie I was fortunate enough to be apart of was by far American Sniper where I played the character Thompson and did my own stunts.
"I'll always have my foot in this business," he adds. "I love acting and stunts."
And when not on sets or reading scripts, Audé can be found at the poker table.
"Other than when I'm working, I play poker at least twice a week," he says. "From time to time, backers will put me in tournaments and let me be their horse. And I've been pretty profitable for them. I used to play a lot more, but acting, stunts, and my true passion of being involved with the Hollywood industry has slowed down my poker. But I'm still more involved with the game than most. I attend every charity tournament I'm invited to. I bring other celebrities and players to help support and we all have a good time for a good cause."
Over the years, Audé has also invested in several successful restaurants and bars and is now part-owner in seven establishments. The newest is a gourmet burger bar in Sherman Oaks on Ventura Boulevard called Tipsy Cow, and he says diners "fall in love with our burgers."
Looking back, it's amazing how far he's come -- from a violent, third-world prison on the other side of the world to successful actor and businessman. Rather than be bitter and angry, Audé prefers to focus on the successes he's had since those bad decisions that changed his life forever.
"I just try to stay happy and at peace," he says. "I'm not Superman or indestructible. I was just an idiot kid thrown into a horrible situation and I had no choice but to fight for simply being an American. I wish none of this had happened. All I can hope is that my situation will prevent others from falling for the same scheme."
He adds this: "Always try to look at the bright side -- be happy."
Follow Erik Audé on Twitter, @erikaude.
If you liked this poker tale, check out Sean Chaffin's new book, RAISING THE STAKES: True Tales of Gambling, Wagering & Poker Faces, available as an eBook and in paperback at Amazon.com. The book features some crazy tales of gambling and poker from underground casinos to cockfights in Puerto Rico. If you have a gambling or poker story idea, email seanchaffin@sbcglobal.net, or follow on Twitter @PokerTraditions.
Want to stay atop all the latest in the poker world? If so, make sure to get PokerNews updates on your social media outlets. Follow us on Twitter and find us on both Facebook and Google+!