Erik Audé: From Hollywood To Hell To WSOP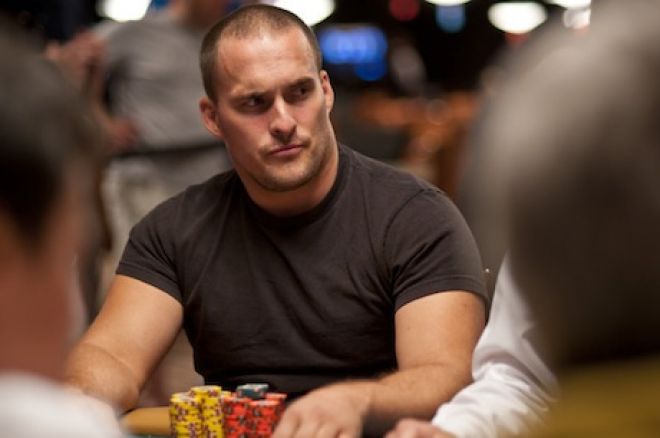 "I wasn't gonna be anybody's bitch!"
This isn't just another story about a Hollywood actor playing in a World Series of Poker event. You may recognize Erik Audé from his roles in Dude, Where's My Car and Van Wilder, but his most compelling work is in an episode of Locked Up Abroad, except this wasn't a movie — it was real life. A series on the National Geographic television channel, it takes viewers inside the firsthand accounts of people who have been imprisoned in foreign countries for drug smuggling.
In 2002, Audé was attempting to transport leather goods from Pakistan into the United States. He was stopped and searched in Islamabad International Airport. Unbeknownst to him, the merchandise concealed 3.6 kilos of opium. He was arrested and sentenced to seven years in a Pakistani prison, a virtual death sentence for an American. The episode recounts the torture he endured at the hands of the prison guards, and the violence he faced from fellow prisoners.
We spotted Audé playing in Day 2 of Event #50: $5,000 No-Limit Hold'em and spoke to him at break.
How's the tournament going so far?
I actually woke up late for it yesterday. I was planning on playing the Daily Rio Deep Stack, but it was like 2:40 and at the last second I decided to play the $5K. I got about 270,000 in chips right now [top ten in chips at the time].
Is this your first time playing in the WSOP?
No, I played two years ago and cashed in an event. I'm friends with a lot of the players. I know the Mizrachi brothers and Chino [Rheem]. I hung out with them to celebrate the night Mike won the $50K [$50,000 Poker Players Championship]. I stay with Tony Hachem anytime I'm in Australia. I also know Kristy Gazes really well.
Do you have any upcoming projects?
I just wrapped up shooting for A Killer Of Men. Joe Reitman is in it too.
Let's talk about Locked Up Abroad. They usually have actors re-enact the events, but you actually played yourself.
They were after me for like six years to go on there and tell my story. I actually hated the show. The actors were horrible and I didn't wanna be lumped in with the rest of the people from past episodes cause they were all guilty. I got them to agree to let me play myself in it. The show kind of made me look like "The Terminator" (a scene is re-enacted where he takes on several prisoners at once in a fight). I mean, when I went into that prison, I wasn't gonna be anybody's bitch. I was lucky that most Pakistanis are small people. [Laughs]
How did you get started in poker?
Well, in prison. I read a lot of books, including a Texas hold'em book. I really wanted that to come out in the show, but they had to condense a 13-hour interview into 45 minutes. I became friends with another prisoner who was on death row, his name was Murad and he showed me how to play too. [Audé, overcome with emotion, paused for a moment before continuing]. I'm sorry. He was one of my best friends. I owe so much to him. One night he shared his meal with me. He didn't tell me it was his last meal before being executed the very next day.
Audé finished 10th in Event #50. Read about his run in the PokerNews Live Reporting Blog and follow PokerNews on Twitter for up-to-the-minute news.