All Mucked Up: 2012 World Series of Poker Day 34 Live Blog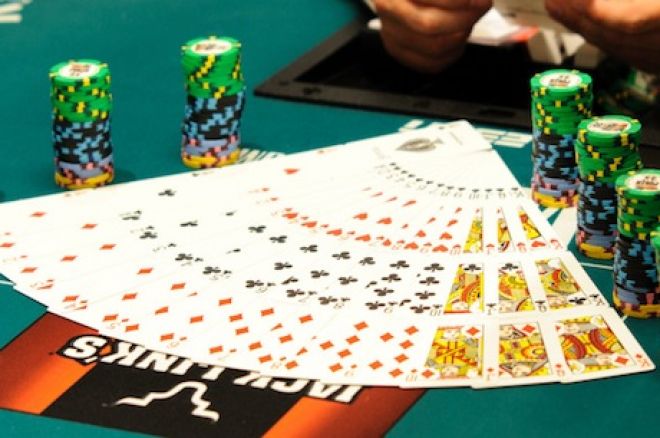 All Mucked Up is a live blog of all the stuff you want to know at the 2012 World Series of Poker, besides hand histories and bad beats. Well, we might add a few in here, everyone loves a good bad beat story — unless it happened to you. Check back often for polls, soundbites, celebrity sightings, and who knows what else!
$1,500 Madness
We caught some pics of the queue for Event #53: $1,500 No-Limit Hold'em this morning. This is the biggest queue we've seen yet. After missing out on yesterdays Ladies Event, all the men in Las Vegas seem to be refreshed, reinvigorated and ready to play today - but not one of them thought to register yesterday!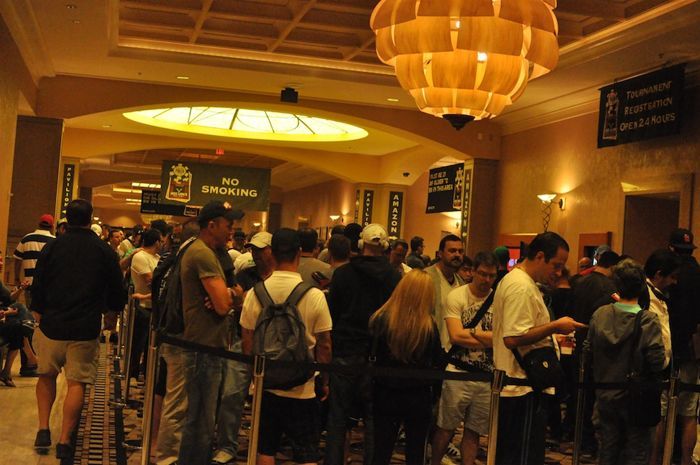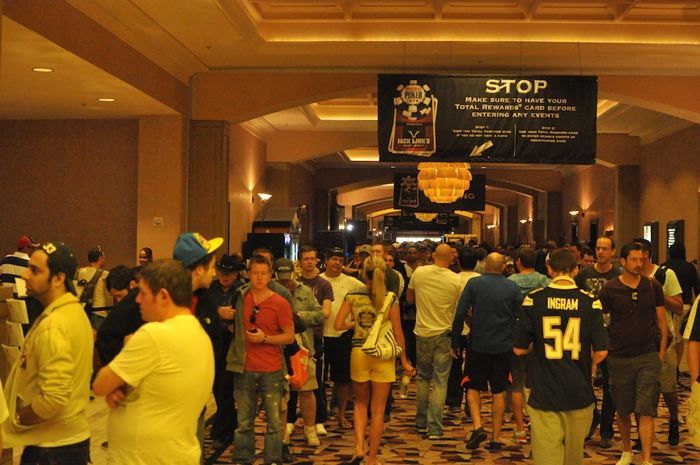 The other possibility is that a lot of people have been slow rolling the poker world and are going to sign up for the One Drop this morning! Lets hope that's the case (even though it's sold out shhhh)! Either way it's one of the all time biggest WSOP queue's, confirmed by Brent Hanks.

The Last Satellite
All roads lead here, the final satellite for Event #55: $1,000,000 The Big One for One Drop - No-Limit Hold'em. Among all the hopefuls and super satellite luck boxes are some big name pros, all desperate to play in the biggest ever World Series Of Poker Event. Below we can see Brian 'Stinger' Hastings, who wanted to buy in but didn't register in time, Justin Bonomo, who actually has his name down to provide commentary on the event along side Olivier Busquet, and Issac 'ike' Haxton.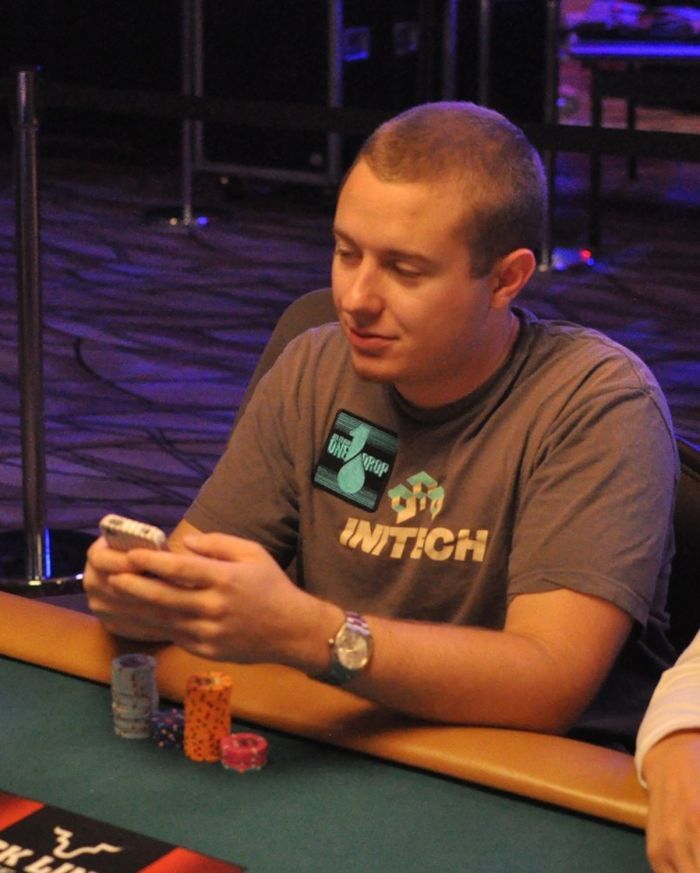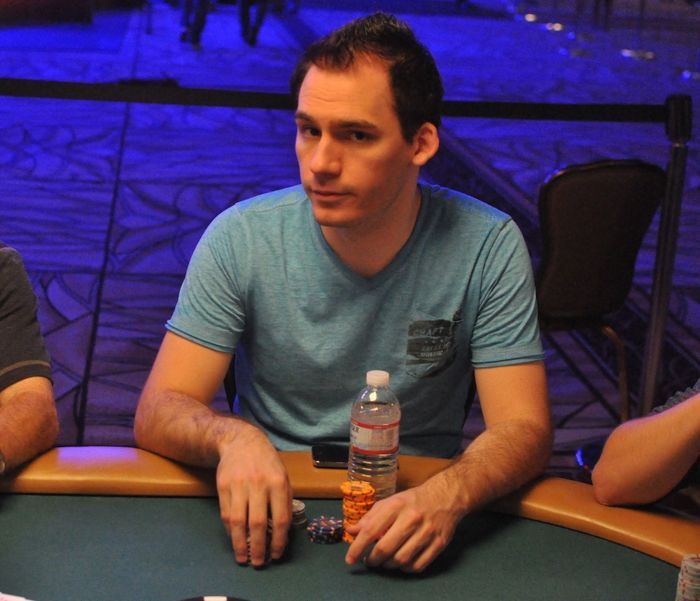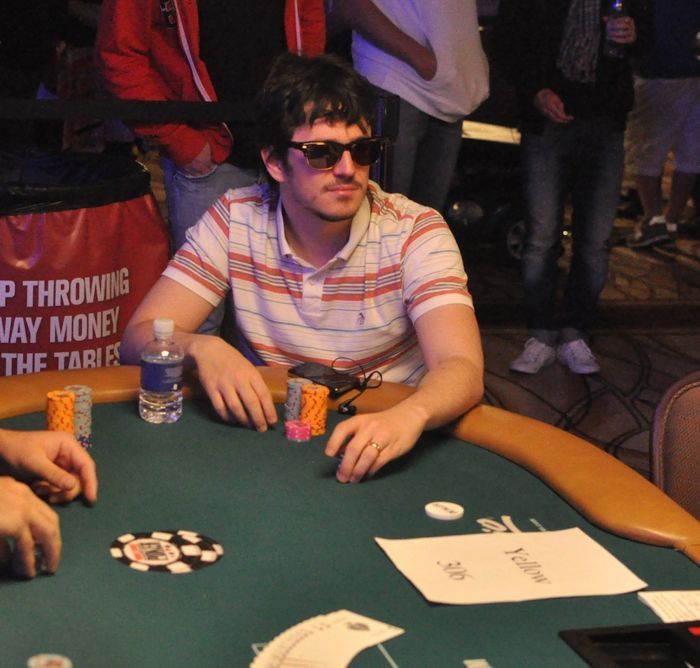 For some players the grind never ends. Jason Mercier and Bertrand 'ElkY' Grospellier are on the official On Drop list already and have paid their money, but have still entered the 25K Satellite today. Why? They can still win the million! It's just another big event to these guys!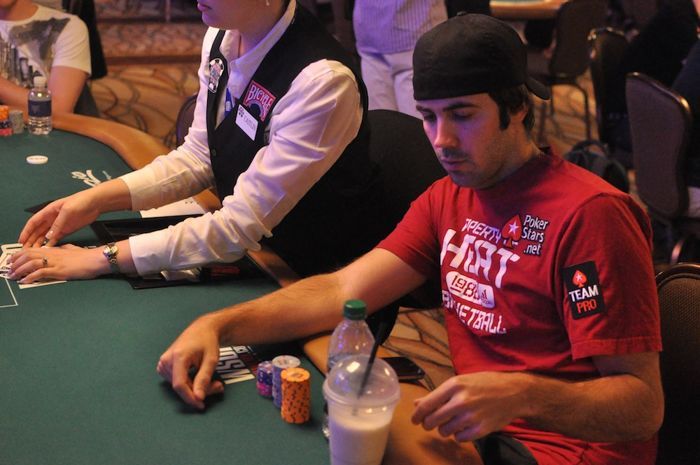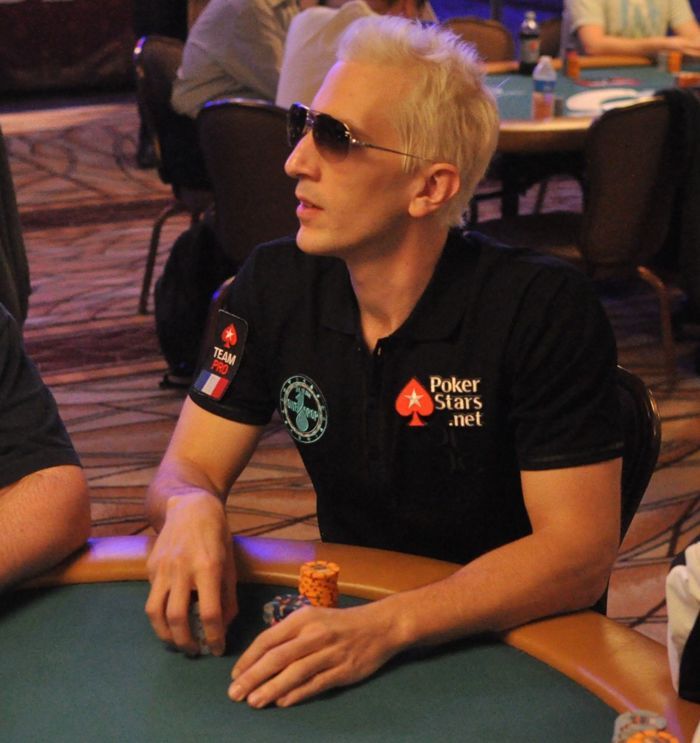 We'll keep you posted on how the Satellite unfolds.
---ReadMore---
Chillin' With My Gnomies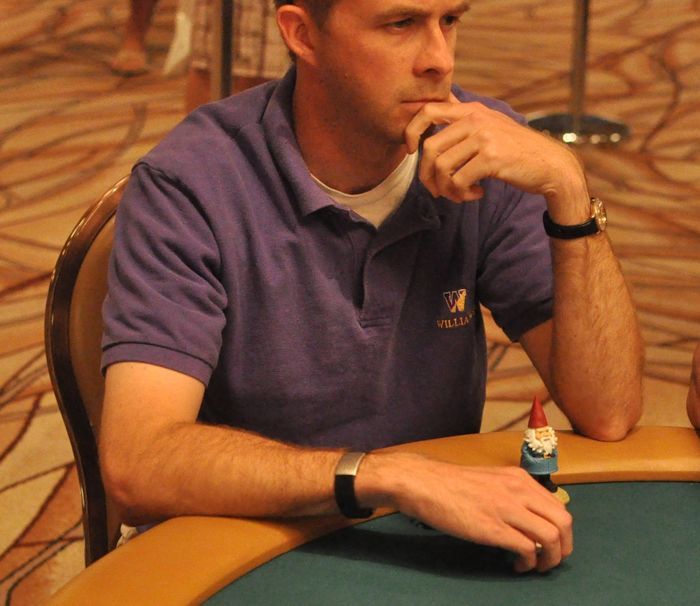 In this special edition of the Card Protector Chronicles, we bring you this guy's card gnome from Event #53: $1,500 No-Limit Hold'em. We pretty much just wanted to use the 'Chillin' with my gnomies' heading...
I Got Da Jakies On...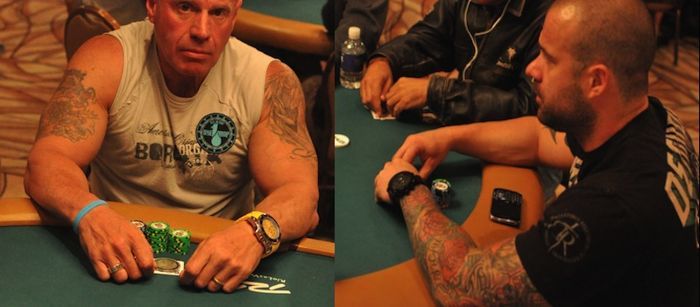 Today's who wore it better: Tattoo's and big watches. Which player above makes the combo work better in your opinion, Will Failla or Erik Cajelais? Also, if you don't get the reference, 'I got da jakies on' is a Luke 'fullflush' Schwartz quote from a very funny interview with Pokernews where Luke refers to his Jake&Co watch as his 'Jakies'.
Our PokerNews Hero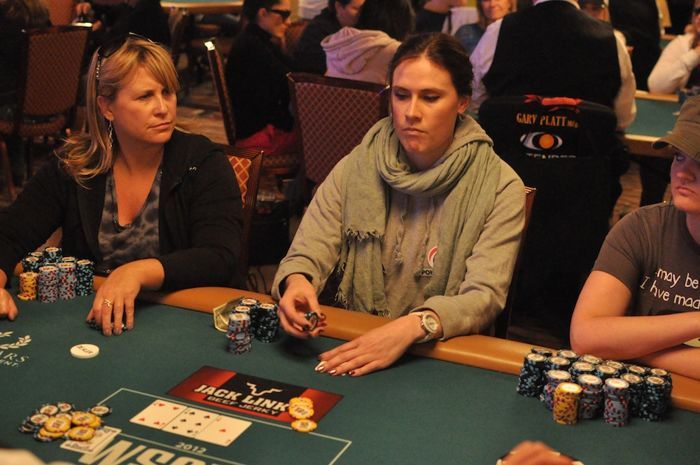 PokerNews reporter Sarah Grant is going deep in today's Event #51: $1,000 Ladies No-Limit Hold'em Championship. Before the start of the day, she told us she was 'happy to be in the money'.
"I'm free-rolling on my $1,000 investment so I can relax and just have fun today".
Even if she is relaxed and having a good time, her pokerface is still inscrutable. Good luck Sarah!
Elsewhere in the Ladies Event, there are still two men fighting their way to the final table. Right now they're both at the same table, sticking together to stop all the ladies ganging up on them... we'll keep you posted on the 'last man standing'.
The French Connection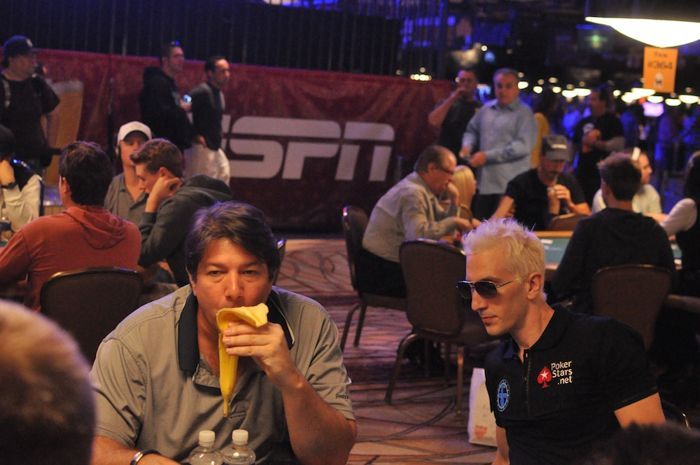 David Benyamine takes a break from conversation with his fellow Frenchman Bertrand 'ElkY' Grospellier to pose playfully with a banana for PokerNews. Elsewhere in the 25k Satellite , we see Gus Hansen showing his face for a chat with Matt Glantz. We're not sure yet whether Hansen is going to play the satellite, he's in the building which would suggest he is going to be late registering. The big names just keep rolling in,and the latest news is that the registration period has been extending from level 4 to level 6 today!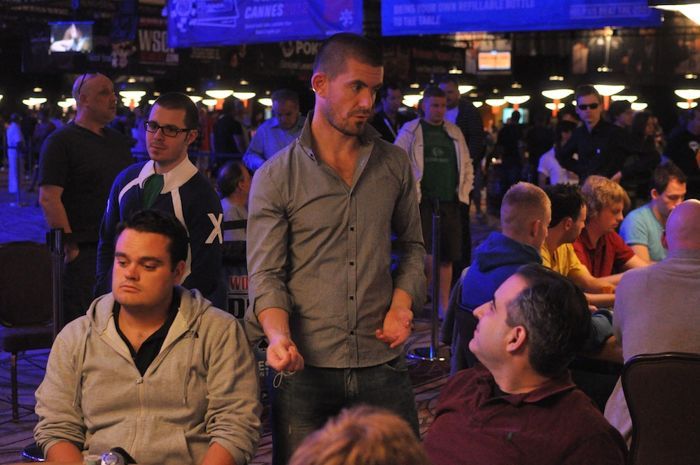 All This Excitement
Today's a strange day in our schedule. After stopping day the sportsbook this morning, we realized that we have no odds to check since there are no final tables today! Far from being quiet however, the Rio is even busier than usual with a huge field for the $1,500 No-Limit Hold'em and a huge rail for the 25 One Drop Satellite. There are some guaranteed sleepless nights tonight before tomorrow, when the One Drop and several other final tables will be held.
One person who's not having trouble sleeping is this gentleman. There's something about that couch though, we've already seen Jennifer Tilly and Gus Hansen having short naps on it, with absolutely no regard for their dignity or personal safety.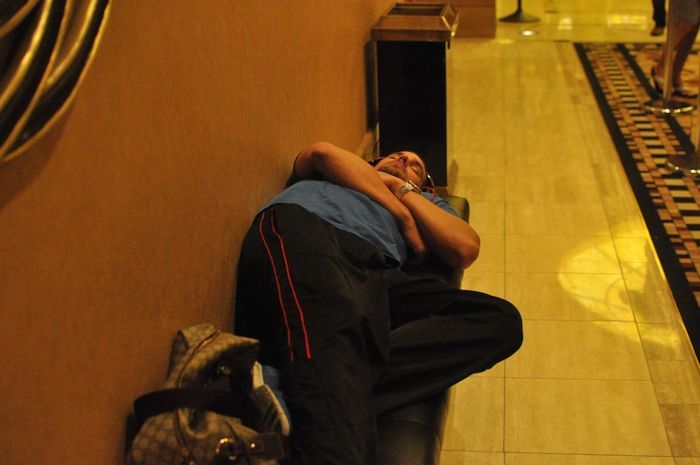 Tweet Of The Day: Day 34
Check out this great tweet from Blair Hinkle from day's Event #53: $1,500 No-Limit Hold'em. If this is true, it's up there with the most baller poker plays of all time!

Last Man Standing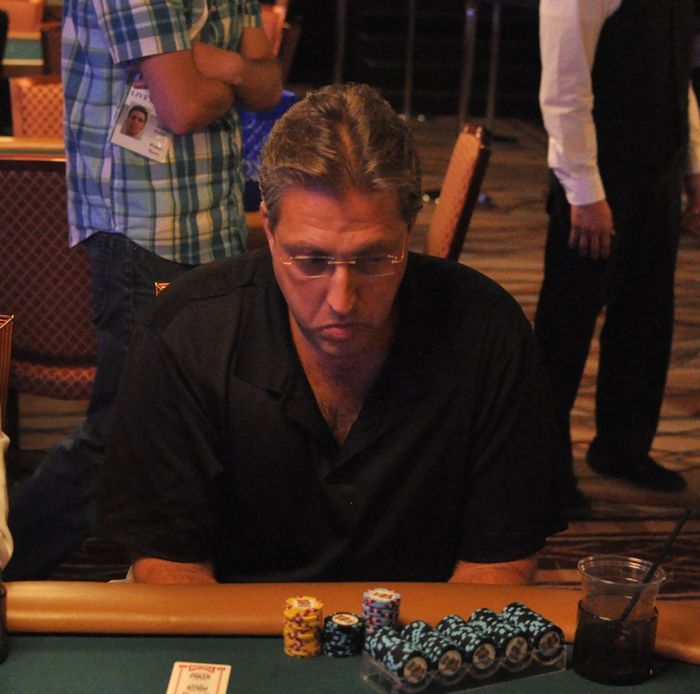 At last, we're down to one in the ladies event... one man that is. Ariel Soffer is the last man standing, and has about 40k with average at around 50k. Who knows what would happen if Soffer went on to win the event: a lot of women have been angry with men's participation in the tournament, god knows how angry they would be if one actually shipped it... We'll keep you posted, and try to catch up with the last man standing to find out why he decided to played the ladies event yesterday..
Dinner Break Update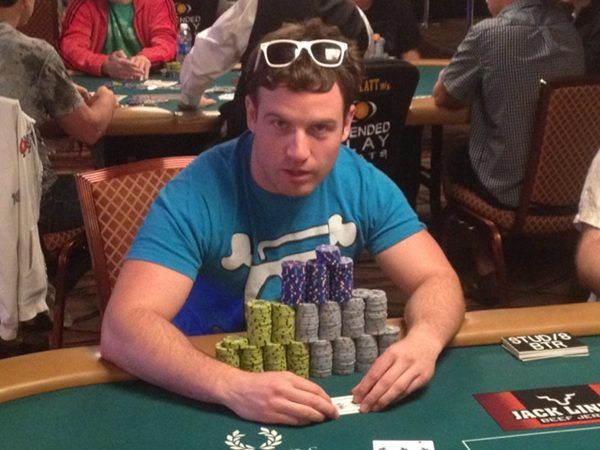 Check out Dan O'Brien's chip stack from Event #53: $1,500 No-Limit Hold'em! Meanwhile, in the Amazon room, Gus Hansen is also storing away some chips for a rainy day, only in his unique, far messier fashion.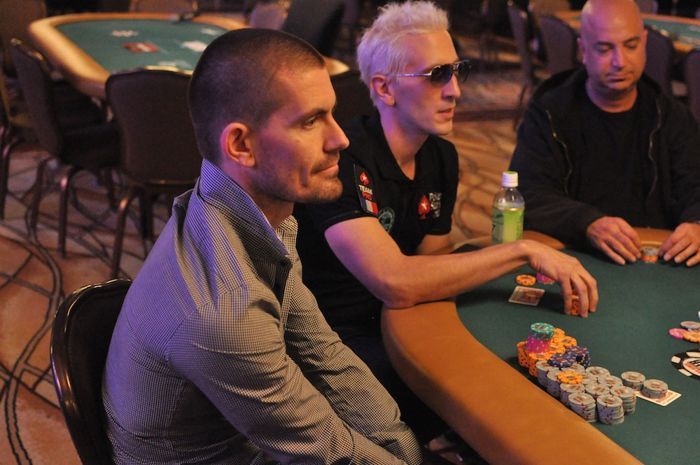 Elsewhere in the 25k One Drop Satellite, we see Viktor 'isildur1' Blom late registered and seems to be running up a fine stack, despite Justin Bonomo's best efforts. Viktor wants a piece of that 43 million prize pool, and every online grinder who loves railing the huge games would consider any such boost to is bankroll a bonus.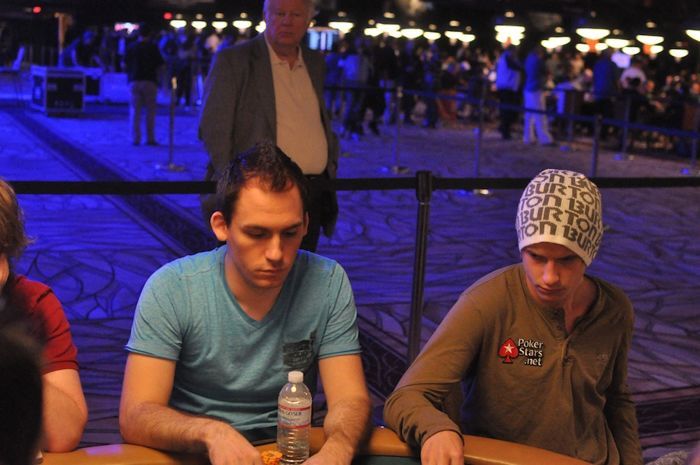 Finally, while many players take time on dinner break to go for dinner with friends or catch up on their horses in other events, we think this man has the right idea catching an hours sleep on the now-world famous Rio nap-couch. That's what we'd do if we didn't have work...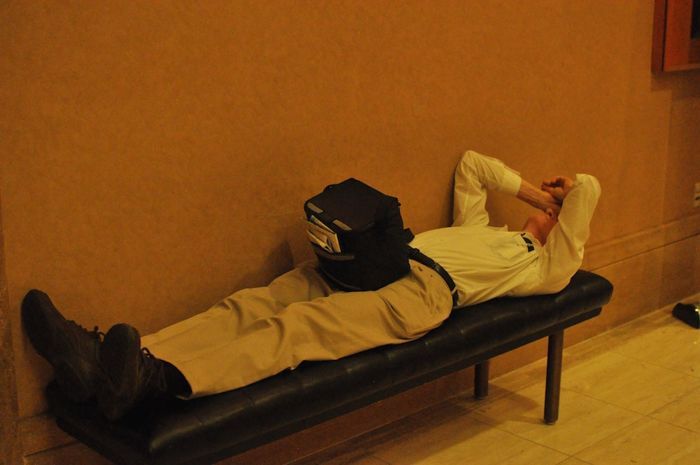 What's Up Doc?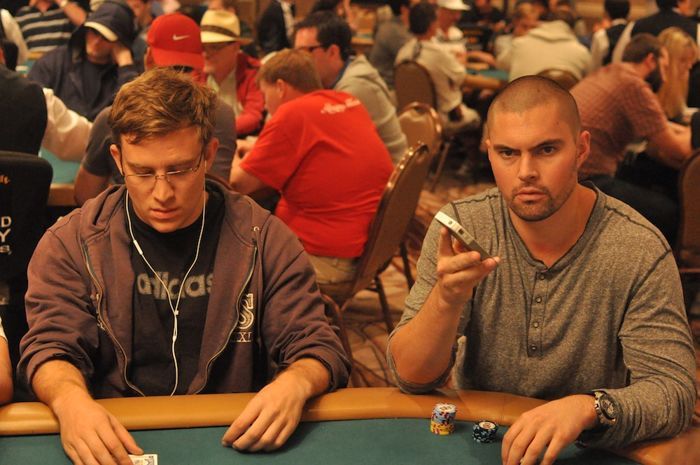 Strolling through the Amazon room, we snapped a pic of CardRunners Pro Gareth Chantler all in for his tournament life. David 'Doc' Sands doesn't appreciate the Muck paparazzi though, check out the look on his face!
Catching up With Kerstetter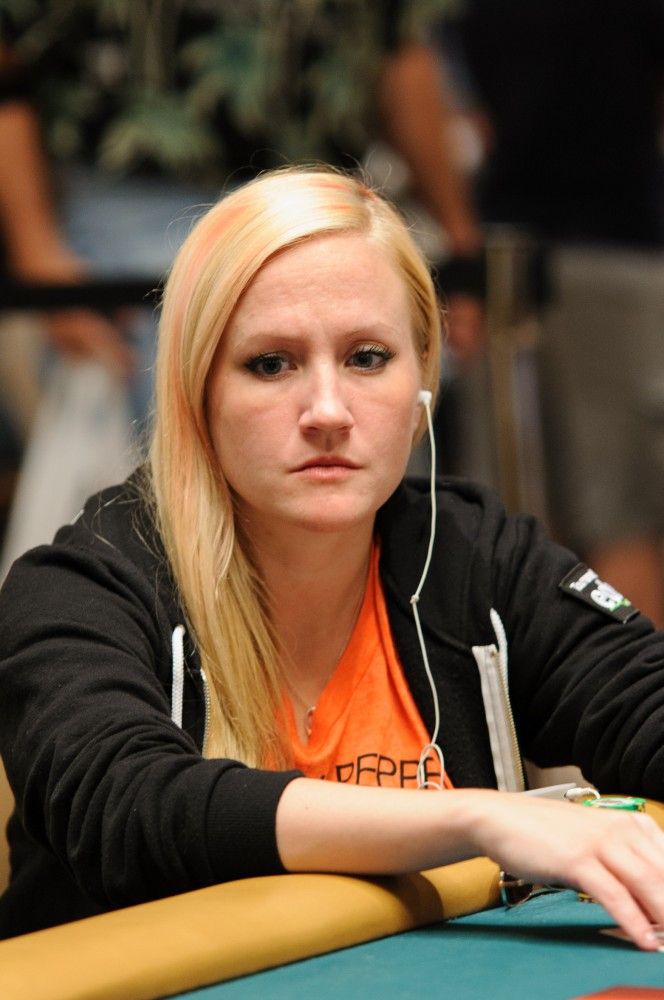 Only 25 players remain in Event 51: $1,000 Ladies No-Limit Hold'em Championship. Some of the notables still alive are Leo Margets, Stacey Lynn, and New Jersey native Jamie Kerstetter. The tournament is currently on a one-hour dinner break. We caught up Kerstetter for a quick chat.
How are you feeling about your position heading into break?
I feel pretty good. I got about 20 big blinds. I only had 10 to start the day.
Are there any players you've played with before at your table?
No, a lot of the good players have been knocked out already, but there are two Europeans at my table who are very active.
How did you get into poker?
In college, I'm a lawyer but stopped to pursue poker full-time.
Kerstetter is making a name for herself this summer. She recently signed on with the poker-training site Tournament Poker Edge as an instructor and won the $600 Venetian Omaha Hi/Lo event for $26,530 earlier this month.
Gandalf In The Brasilia
Well, not exactly, but kind of looks like him. What do you guys think?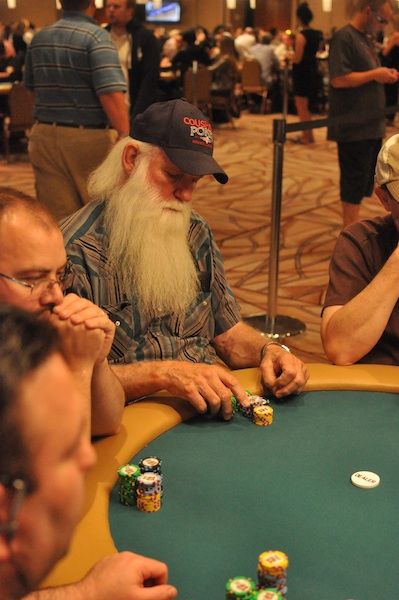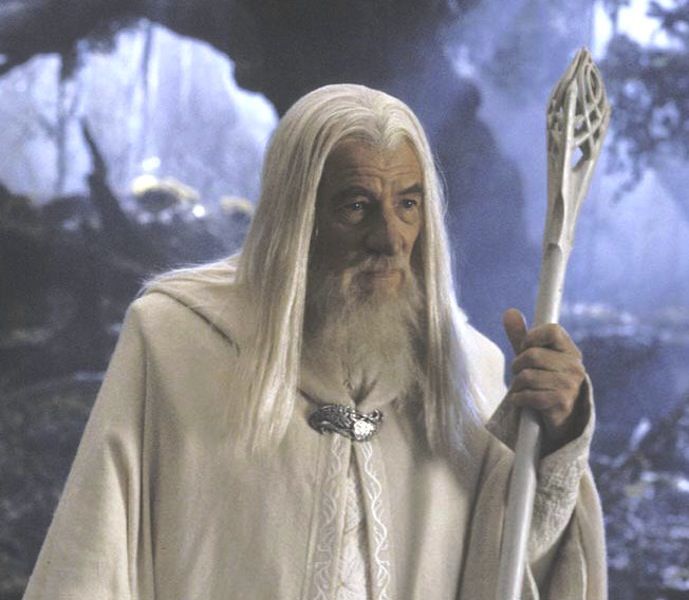 Poll
Does He Look Like Gandalf?
Fashion Faux Pas Of The Day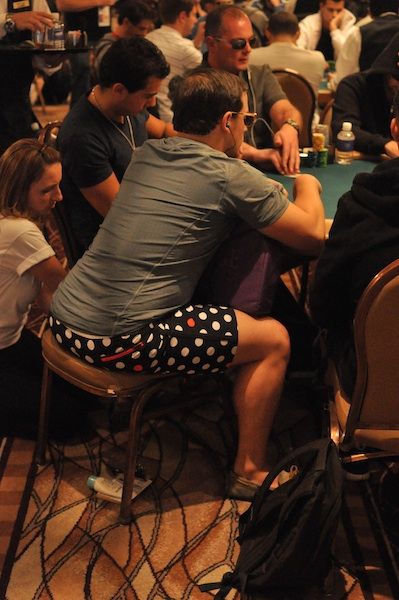 We spotted Matthew "ADZ124" Marafioti, in Event 53: $1,500 No-Limit Hold'em, sporting polka dot shorts. We'd give him a pass if the selection was based on comfort, but that's one tight game of twister going on there.
Love Bird On The Rail
There's 24 players left in Event 51: $1,000 Ladies No-Limit Hold'em Championship. One of the remaining contenders is Angela Moed, who's fifth in chips at the moment. We spoke to her husband Michael Moed who is anxiously sweating her from the rail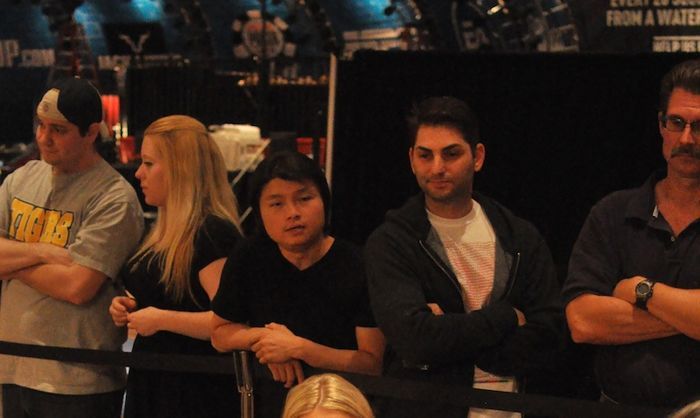 "I'm more nervous now than she is," said Moud.
Was your wife into poker when you met?
I taught her how to play. I play a lot. This is her first year at the WSOP. She's played three events so far. She bubbled the money in a $1,500 No-Limit Hold'em event earlier on a bad beat and I thought she'd never recover.
Did you have any tips for her at the start of the day?
I told her, 'you can't win it today. Get as many chips as you can. Get to the end of the day. You play better than most of the ladies left here.'
Stay tuned as we'll continue to monitor the event.
Final Table of One Drop Satty
The $25,300 One Drop Mega Satellite is down to the final table. Nine players remain. First place gets a seat into the One Drop, second place gets $1million along with a spot on the alternate list, and third place gets $400,000. With notables like Gus Hansen, Shaun Deeb, and Team PokerStars Pro Bertrand "ElkY" Grospellier still in, you'd expect a big rail, and that's exactly what we have.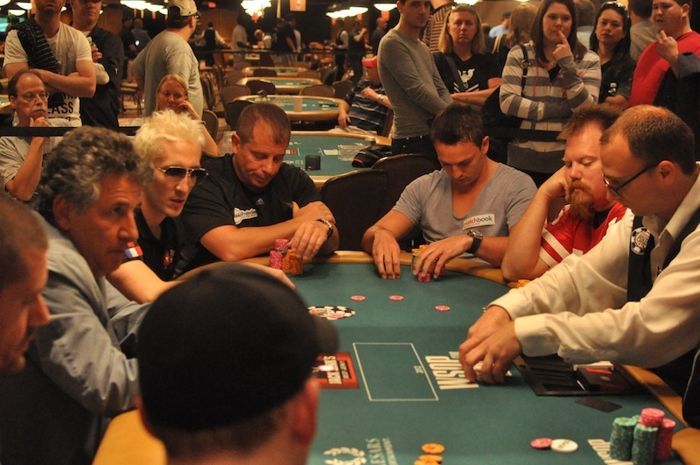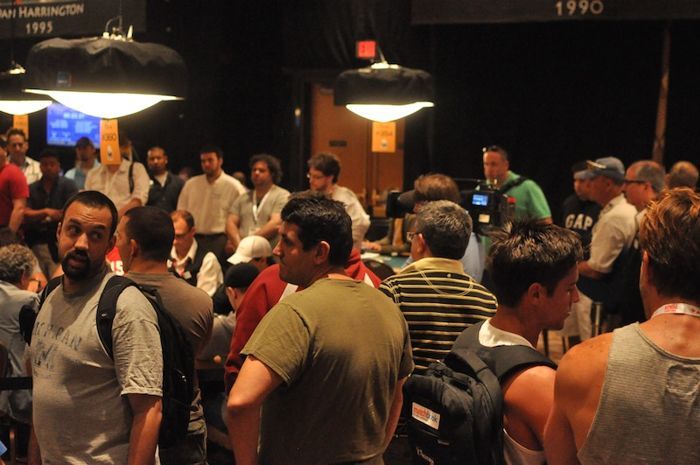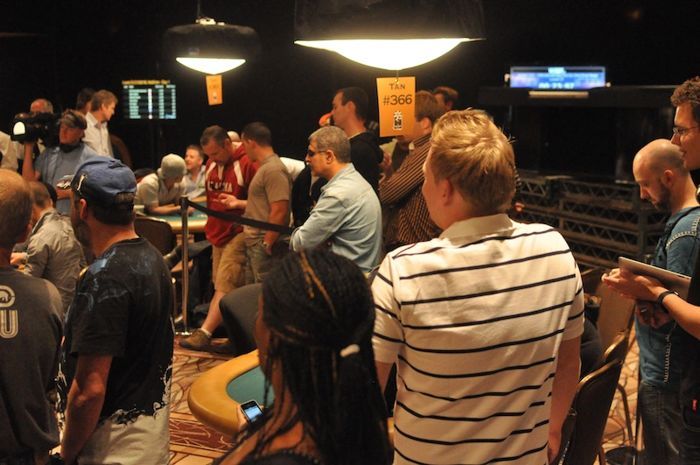 We encourage everyone to get involved with "The Muck." See something you think is Muck worthy Send it to the muck@pokernews.com. We accept all media including photos and videos.