All Mucked Up: 2012 World Series of Poker Day 32 Live Blog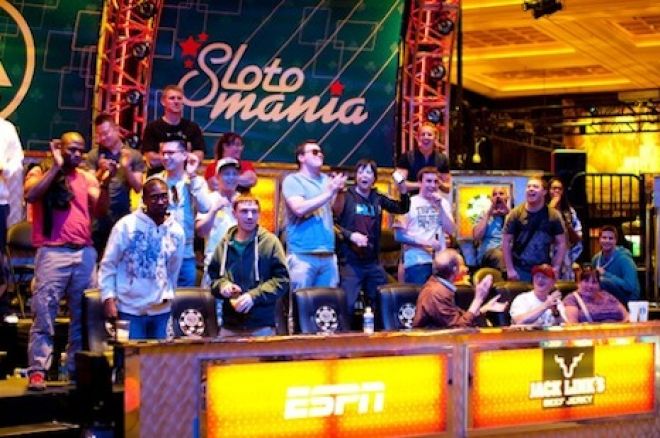 All Mucked Up is a live blog of all the stuff you want to know at the 2012 World Series of Poker, besides hand histories and bad beats. Well, we might add a few in here, everyone loves a good bad beat story — unless it happened to you. Check back often for polls, soundbites, celebrity sightings, and who knows what else!
May The Odds Be Ever In Your Favor
The odds are in, and if you're aMichael Mizrachi fan the news is not good. In Event #45: $50,000 Poker Players Championship, Mizrachi is going off at 1/1 odds. The worst we've seen so far for any player. However, if you're a Bruno Fitoussi supporter, you can get your man going off at 30/1 odds. Also at the final table is Andy Bloch, who is making his second $50,000 Poker Players Championship final table. Bloch is among the chip leaders and is going for 3/2 at the Rio Sportsbook. Here is the full list:
Bill Chen:9/2
Luke Schwartz: 4/1
Andy Bloch: 3/2
Stephen Chidwick: 3/1
Michael Mizrachi: 1/1
Chris Klodnicki: 7/4
Bruno Fitoussi: 30/1
Roland Israelashvili: 10/1
There are two other events playing down to the finish today, the first is Event #47: $1,500 Pot-Limit Omaha Hi-Low Split 8-or-Better. Chip leader Charalampos Lappas is going at 3/2 odds. Also in the mix is Timothy Finne, who is making his second final table table appearance. Finne is going at 4/1 odds and Steven Loube who is going at 3/2 odds. Here is the full list:
Steven Loube: 3/2
Paul Taylor: 12/1
Timothy Finne: 4/1
Cameron McKinley: 3/1
Sonu Sharma: 7/1
Charalampos Lappas: 3/2
Viatcheslav Ortynskiy: 50/1
Paul Ewen: 9/1
Roch Cousineu: 7/2
Kyle Carlston: 15/2
The other event finishing up today is Event #48: $3,000 Limit Hold'em. Still in the running is Chad Brown, going at 7/1, Jonathan Duhamel, going at 12/1, and Justin Bonomo, going at 15/1, all good bets for great players. Here's the full list:
Paul Berende: 5/2
Kenny Hsiung: 7/2
John Virtue: 4/1
Cary Marshall: 5/1
Mitchell Davis: 13/2
Jonathan Cohen: 8/1
Chad Brown: 7/1
Matthew Woodward: 11/1
Stephen Hung: 11/1
John Myung: 12/1
Robert Hwang: 12/1
Jonathan Duhamel: 12/1
David Longood: 14/1
Dwyte Pilgrim: 17/1
Justin Bonomo: 15/1
Brandon Young: 20/1
Baothang Nguyen: 23/1
Joseph Kuether: 35/1
Jason Manger: 45/1
Vladimir Shchmelev : 50/1
The most ridiculous bet of the day goes to Vladimir Shchmelev who is going at 50/1. He still has about 4 big bets left, and in poker, a game where anything can happen, you cannot count him out just yet. If Shchmelev can get lucky and run good, then he has a good shot at winning the event. There is still a few minutes to hop on over to the Rio sportsbook, so if you want to place bets, but you may have to run. Get there fast and place your bets now!
Eastgate in the House
Today is the first time we've seen 2008 Main Event Champion Peter Eastgate. Eastgate is at a table with Layne Flack and Allen Kessler in Event #50: $5,000 No-Limit Hold'em.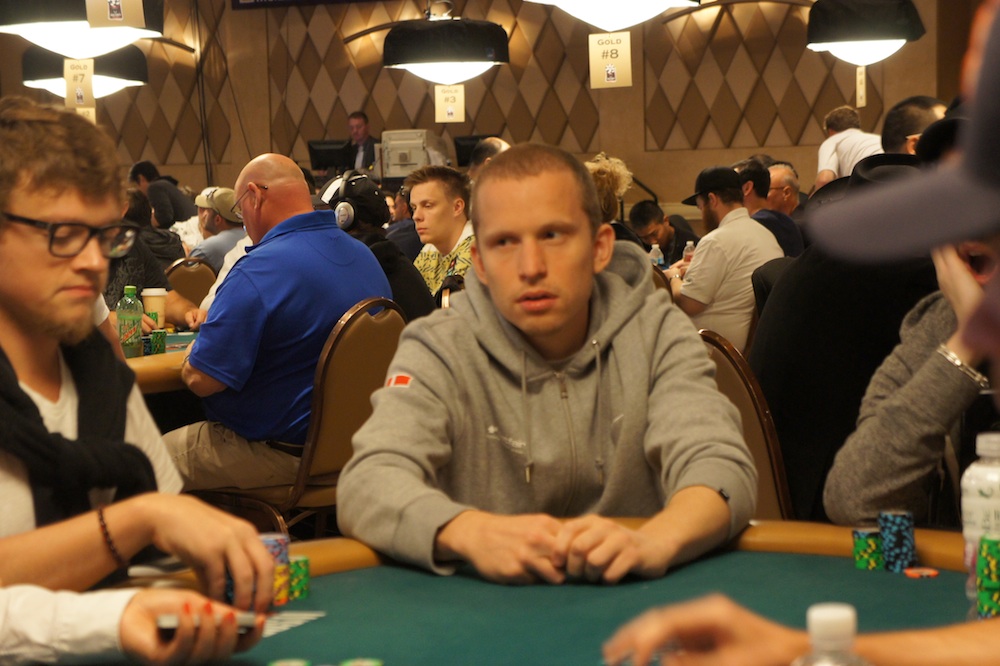 Flack and Eastgate have an interesting table dynamic going on right now. When we walked by the table, it sounded as if Flack was needling Eastgate about his stint on High Stakes Poker.
"So you quit High Stakes Poker yeah?" Flack asked. "Didn't seem like you we're doing that well. How much did you lose?"
"Only $75,000," Eastgate responded.
"Only $75,000? That's not that much. It helps when the deck just hits you in the face," Flack said.
We'll try to catch up with Eastgate when we see him and ask him what life outside of poker has been like.
No Wonder He's 1/1
On one of the first hands of the day, Michael "The Grinder" Mizrachi scooped a huge pot and eliminated Bill Chen and Bruno Fitoussi. No wonder his odds in the sportsbook are 1/1.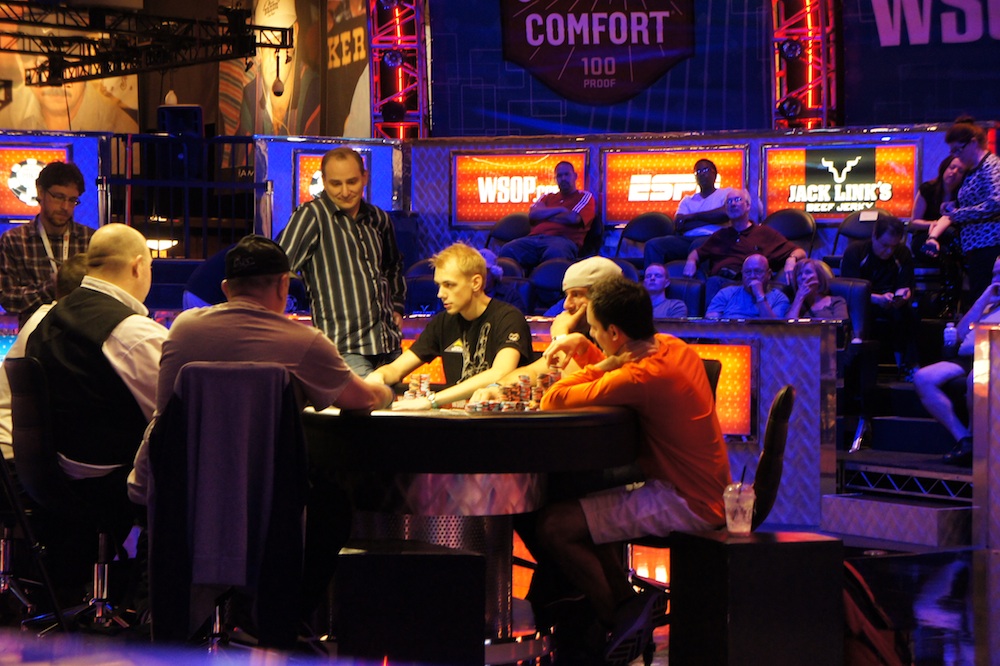 We took a little stroll through the Amazon room to take a look at the rail. Notables watching the final table included Allen Cunningham, who left to register for an event.
The rail is notably smaller than when Phil Ivey made his final table, but there is still only a few empty seats left in the stands.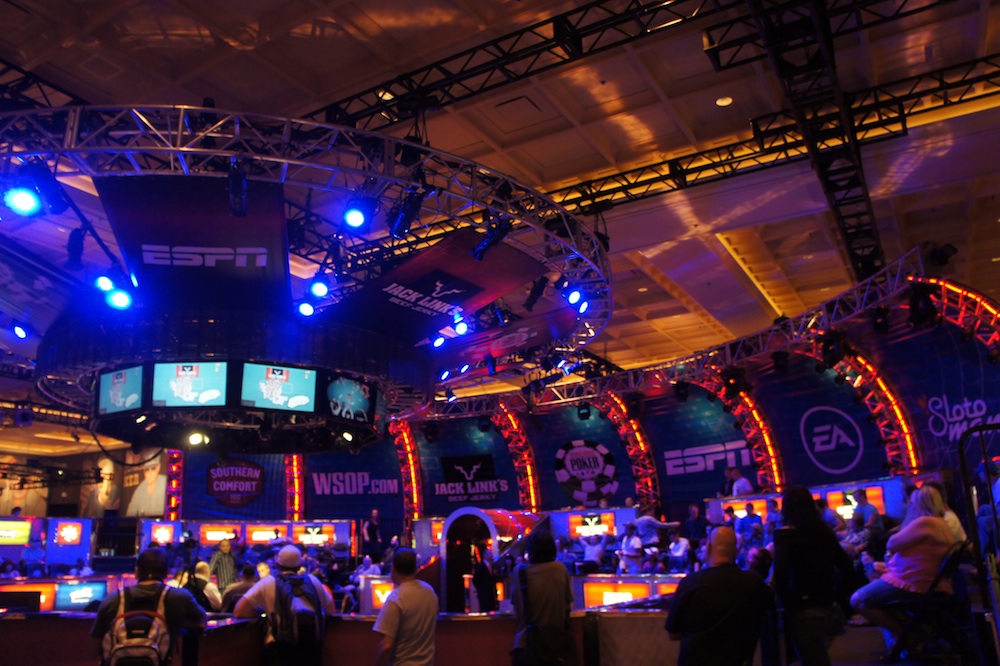 It's still early though, and there are 6 players remaining, so the rail may grow even larger, and have a more concentrated fan base once some players are eliminated.
Having "The Grinder" once again in a position to win the $50k Poker Players Championship prompts one question though: If he wins again, does he get his name on the trophy twice?
The Ladies of Event #50: $5,000 No-Limit Hold'em
Since Event #51: $1,000 Ladies No-Limit Hold'em Championship is coming up tomorrow, we decided to tease the event a little bit with a few of the women who are currently playing in Event #50.
First up we saw Ebony Kenney. Kenney was originally a model before she began playing poker, but has made a name for her self with several live cashes totaling over $100,000.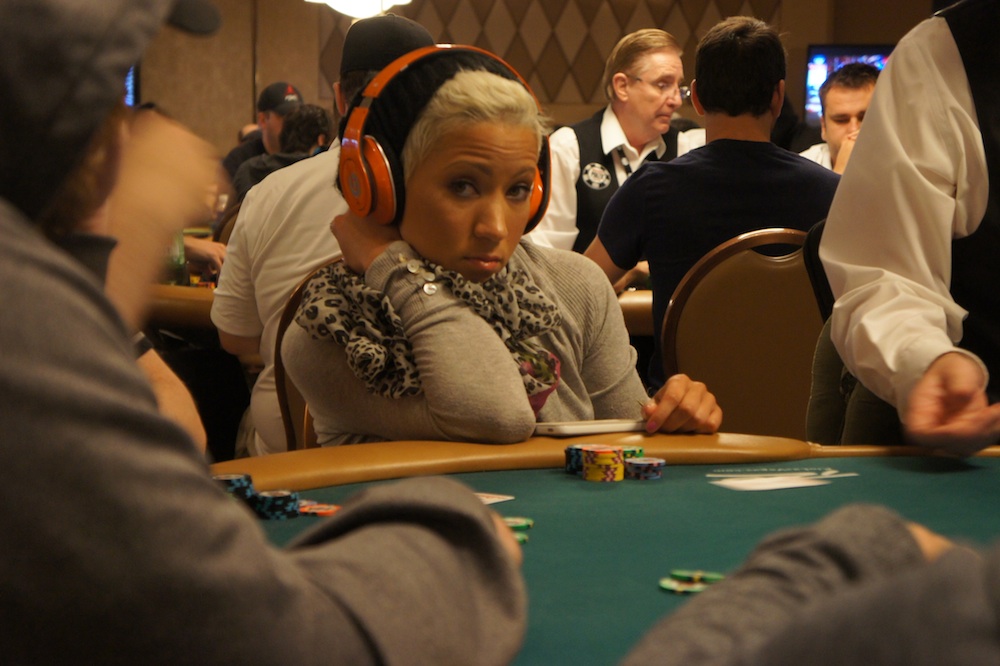 Next we saw Team PokerStars Pro Ana Marquez. Marquez has several cashes from the European Poker Tour, as well as multiple World Series of Poker cashes, including last year's Ladies Event. In total, she has nearly $250,000 in live tournament earnings.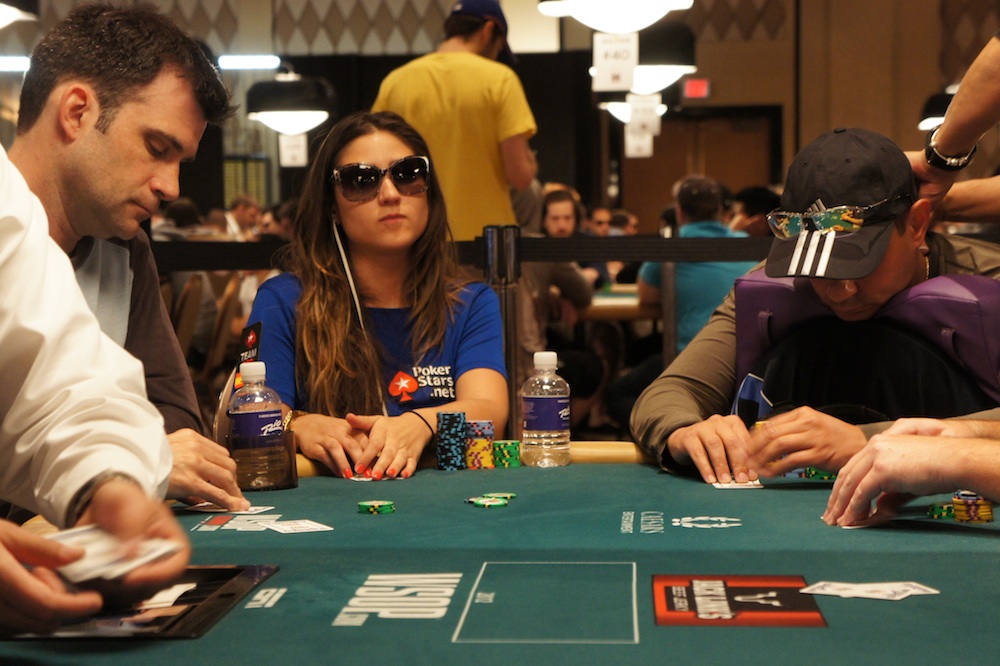 We also found Leo Margets in the field. Margets is well known for her deep run in the Main Event in 2009 where she finished in 27th place. In total, her live tournament earnings are over $700,000.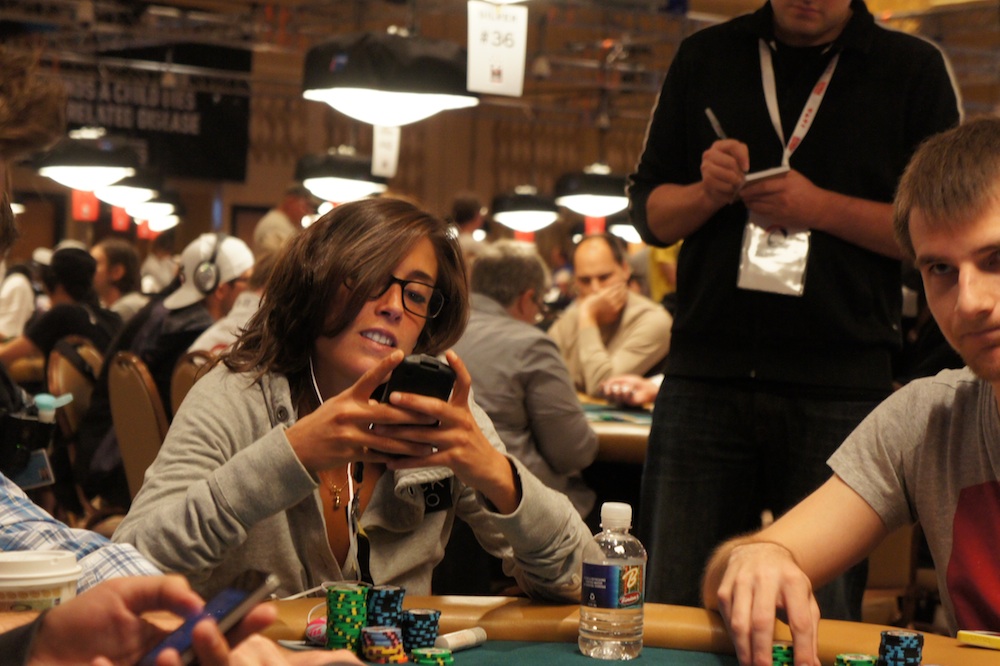 Then, all at once we found Jennifer Tilly, Xuan Liu, and Lauren Kling all at the same table. Tilly already has a World Series of Poker Bracelet from a ladies event. In 2005, Tilly won the ladies event and pocketed $158,335 for her victory. Tilly is more well known for her acting career, where she stared in such films as Chucky's Bride. Tilly's poker prowess shouldn't be over looked though as she has nearly $700,000 in tournament earnings.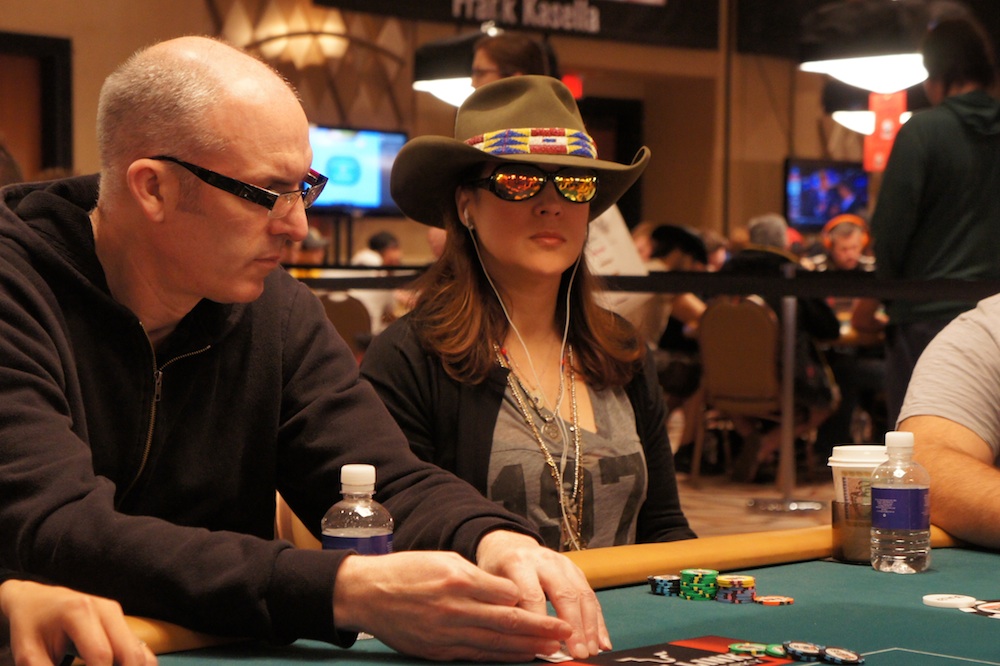 Xuan Liu is the number one earner that we saw in the Event #50 field today, thanks in part to her two final tables at the EPT. Liu aslo has a final table at this year's World Series of Poker, where she finished 6th in Event #4: $1,500 Seven Card Stud Hi-Low Split 8-or-Better, and pocketed $29,985. Liu's live tournament earnings total more than $1.2 million and she truly is a force to be reckoned with.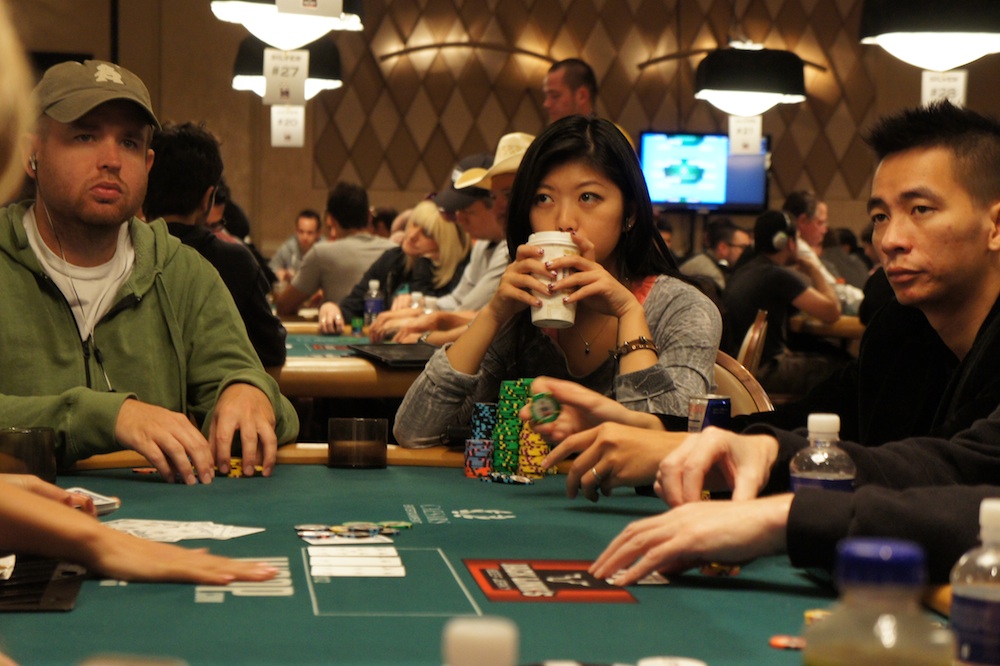 Lauren Kling is another beastly poker player in the field today. She has racked up several cashes in this year's World Series of Poker, cashing in four separate $1,500 events. In total, she has cashed for over $25,000 at this year's series alone. We had an interview with Kling a few weeks back where she discussed the success of women at this year's World Series of Poker. Kling has a total of $223,382 in live tournament earnings over her career.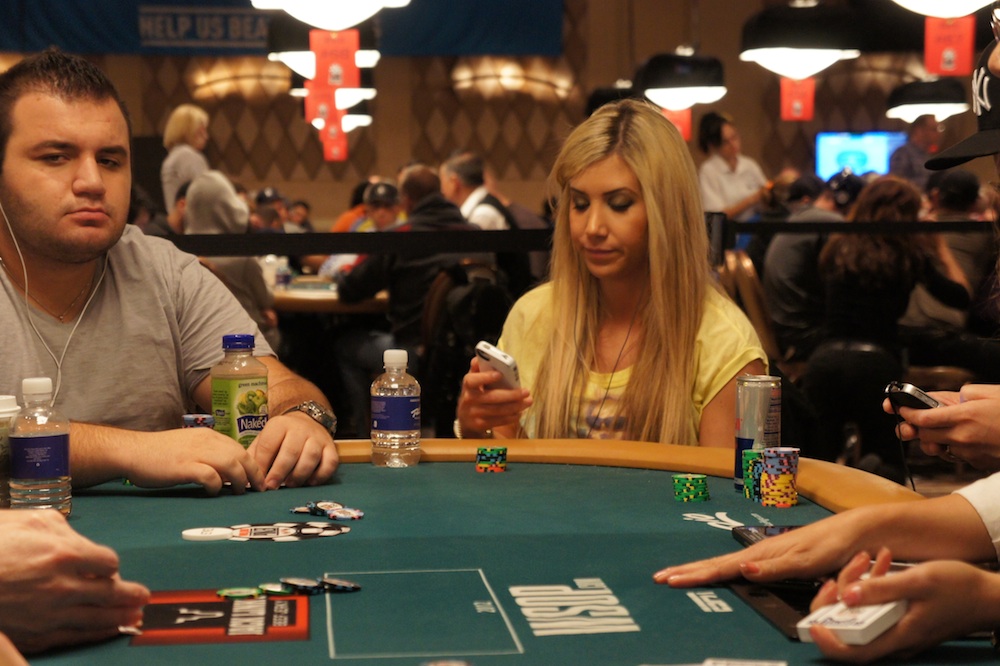 When you add it all up, there's nearly $3.5 million in live tournament earnings between these women alone. It looks as if this year's ladies event will shape up to be a tough one. Also playing in the event are PokerNews' very own Kristy Arnett , Danielle Barille, and Lynn Gilmartin. Arnett already has one cash this series, and hopes to make it two tomorrow. Stay tuned, and we'll update you with more and more as we find out who's going to play the ladies event, and who is going to choose to sit out.
Gator Boots and the Pimped Out Gucci Suits
These shoes belong to Joe Gualtieri. Gualtieri recently finished 6th in Event #46: $2,500 No-Limit Hold'em for $110,775. It's not uncommon to wonder what people buy when they win that much money, for Gualtieri, we saw something that we didn't see when he was playing in Event #46. A pair of pimped out gator boots.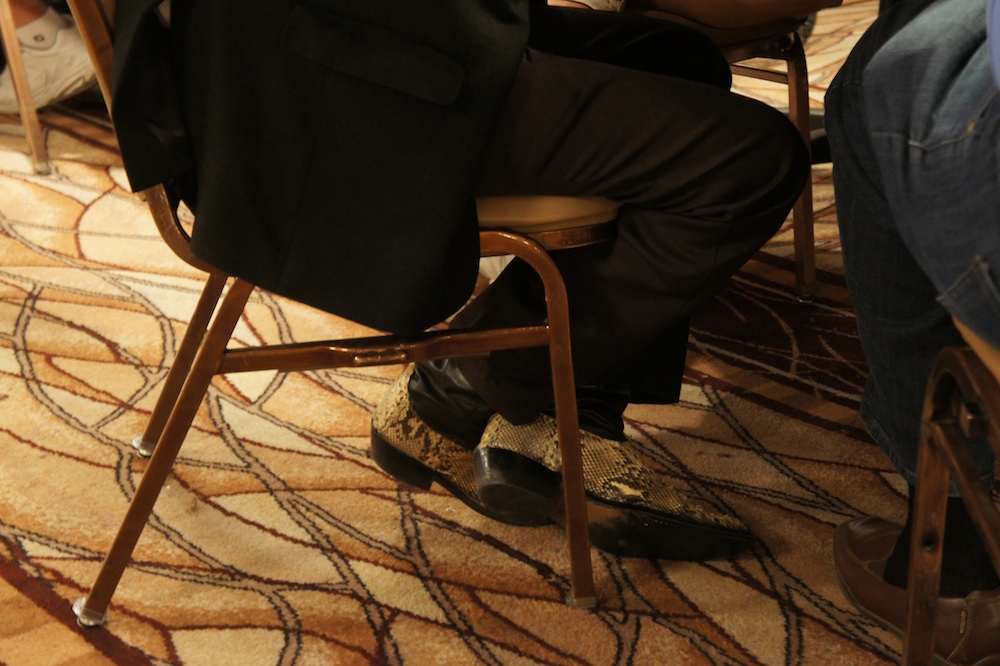 We did a little research, and for an authentic pair of gator boots, it would run you somewhere between $2,300 and $7,000 for a higher end pair. Today, Gualtieri is using a little more of his profits to play in Event #50: $5,000 No-Limit Hold'em. Maybe if he wins this one, he can get that pimped out Gucci suit.
Gavin Smith's Drink of Choice
Yesterday, we asked readers what they thought Gavin Smith's drink of choice was for the day. Today we're back to bring you the answer.
It has vodka: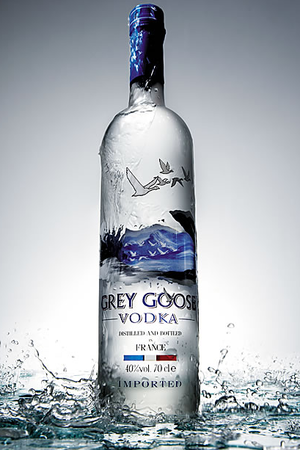 It has grapefruit: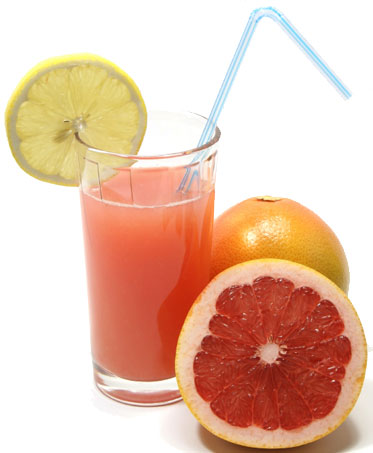 That's right. It's a Greyhound. If you guessed right, like nearly 60% of the readers did, then good for you! We'll be sure to bring you more fun polls and trivia games as the series goes on.
The Big One
With July 1st fast approaching, all the talk is of the 1,000,000 buy-in Event #55: The Big One for One Drop - No-Limit Hold'em. Jason Mercier tweeted something interesting today - a picture of himself handing over the one million in cash at the registration in the Rio! Check it out!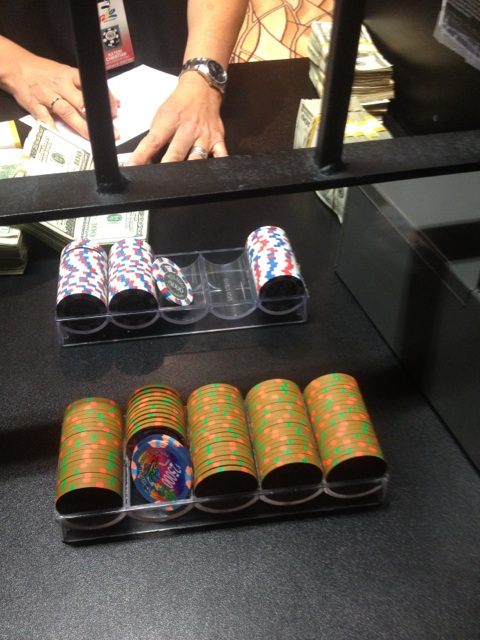 Lightning Strikes Twice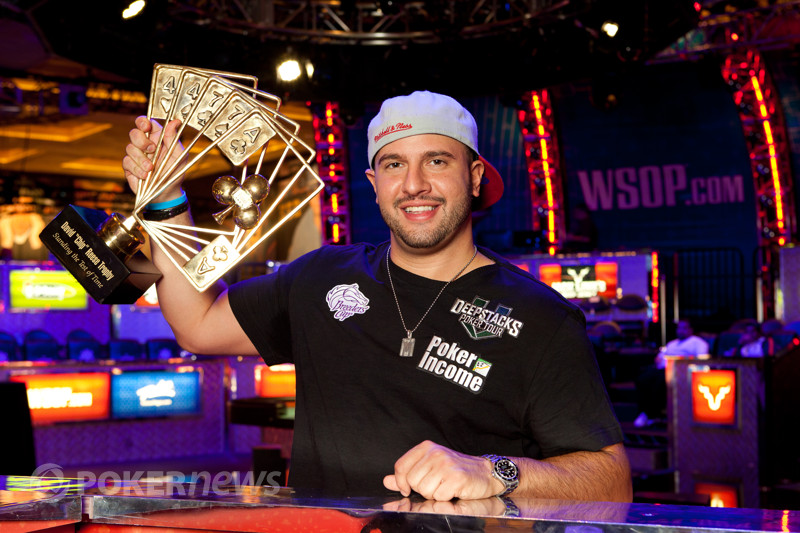 While a 50k buy-in might pale in comparison to next weeks One Drop, The 50k Players Championship is a big deal and Michael 'The Grinder' Mizrachi has won his second in three years.
Watching on from the rail for The Grinders victory was his twin brother Eric, his younger brother Donnie and his older brother Robert, who also played in the 50k event.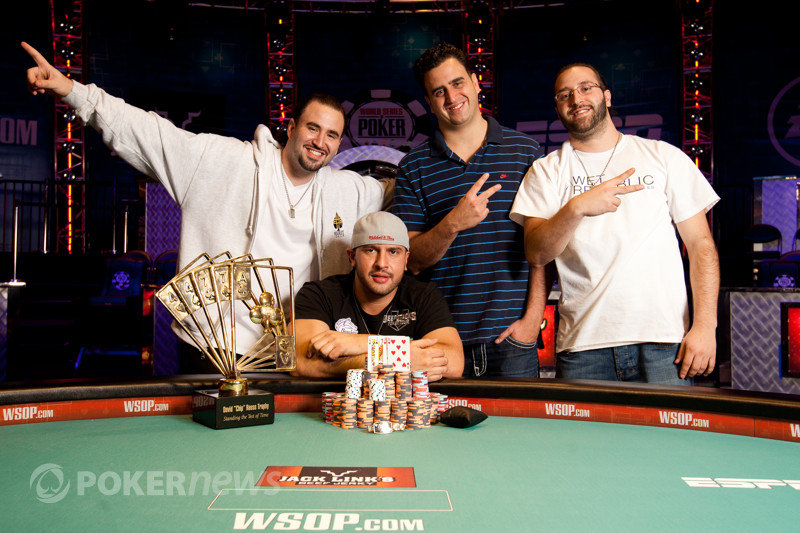 The 1.45 Million win moves The Grinder up to fourth in the all time money winners list, leap frogging Phil Hellmuth in the process. The only people still ahead of him are Phil Ivey, Daniel Negreanu and Erik Seidel.
We'll see in the next few days if this win will inspire Michael Mizrachi to become the 46th player to register for Million Dollar The One Drop...
Update...
Minutes after we posted the last piece, we see this on twitter...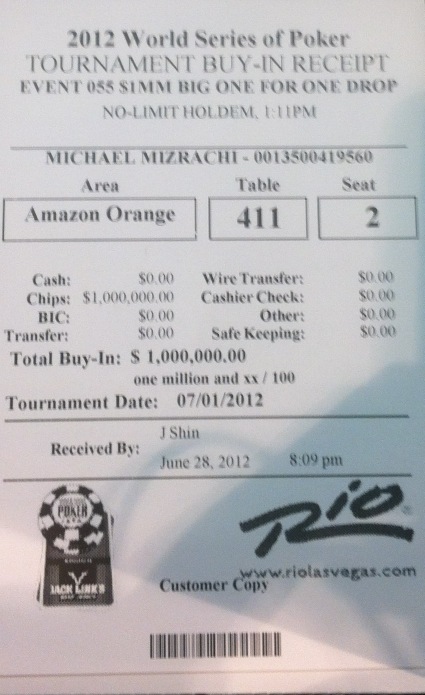 Mizrachi's in the One Drop, and we're at 46... Who will be next? We'll keep you updated.
Cheong In Twenty Years?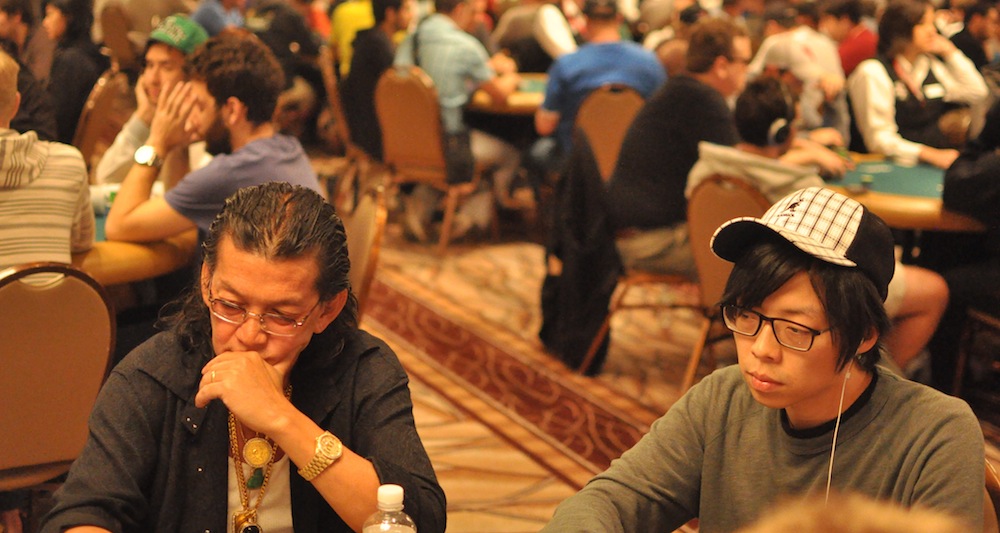 While doing our rounds through the brasilia room, scoping out all the big name pros who turned out for Event #50: $5,000 No-Limit Hold'em, we overheard some rail bird talk next to Joseph Cheong and Scotty Nguyen's table. The railbirds were discussing the dynamic between Cheong and Nguyen, and saying that "Scotty is Cheong in twenty years time".
While that might be taking it a bit far, the two players will certainly be aware of each other and Scotty we're sure would rather not have an experienced young pro like Choeng on his left. We're watching out for the interesting old school/new school clash going on, but all the rail want to see is Choeng donning some bling and ordering a few brewskis before the night is up.
Nothing but Wizards
It seems that Randy 'NanoNoko' Lew's prediction of the Final Table of Event #49: $1,500 Ante Only No-Limit Hold'em having a higher proportion of great players than the other tournaments is coming true. We saw this tweet from Galen Hall:

And snapped some pics of the biggest name players at the table this afternoon.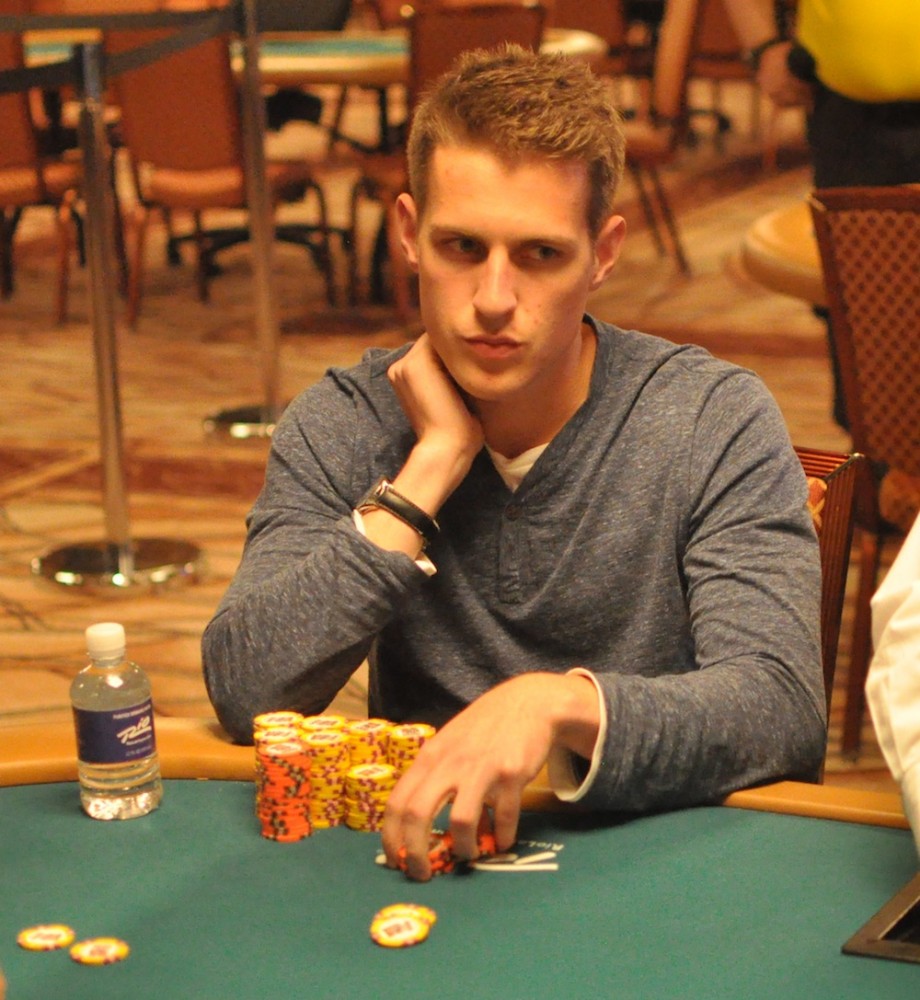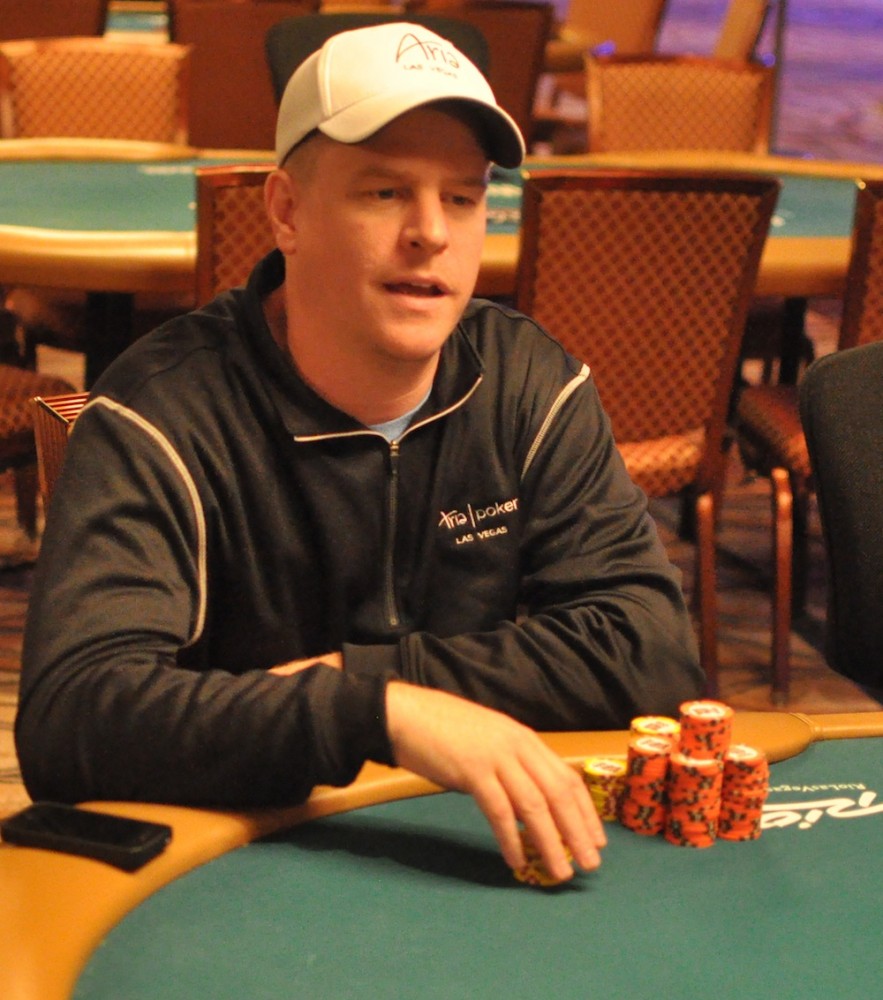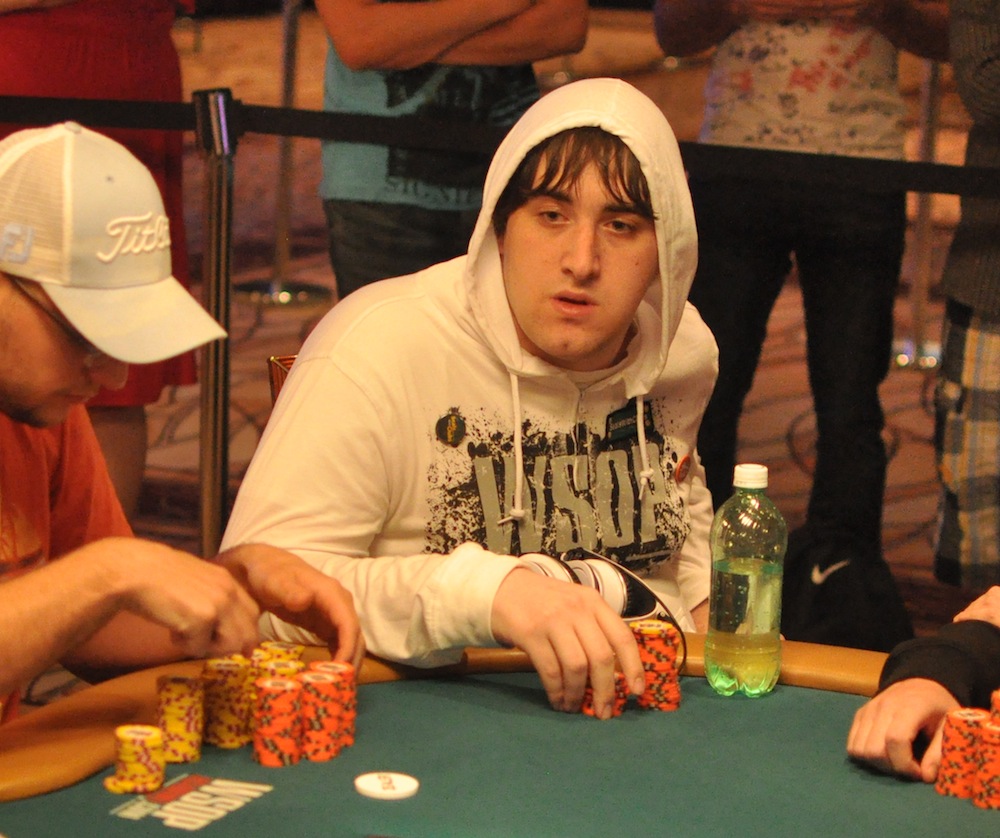 Ante Up: With Timex
We caught up with Mike 'Timex' McDonald, shown above, on his break from Event #49: $1,500 Ante Only No-Limit Hold'em to ask him how he liked the ante only structure.
"It's honestly the most fun I think I've ever had playing live poker. I'm not just saying that because I'm going so deep. There have been tournaments that I've won but I've enjoyed this one way more. It just makes for interesting poker, and new situations."
"Now, as we start to go short handed and approach the final table, I honestly don't know what the strategy should be. At 9 handed I had some idea, and I was just limping a lot and trying to make more hands and then bluff people when I thought it might work."
Timex has Brian 'Stinger' Hastings on his rail after he busted Event #50: $5,000 No-Limit Hold'em.
Busto 88<TT, time to crack a few beers and watch @MikeMcDonald89 FT the ante only! #silverlining

— Brian Hastings (@brianchastings)
We'll keep you updated on the atmosphere as the event narrows down to a final 9 before culminating tomorrow.
How To Relax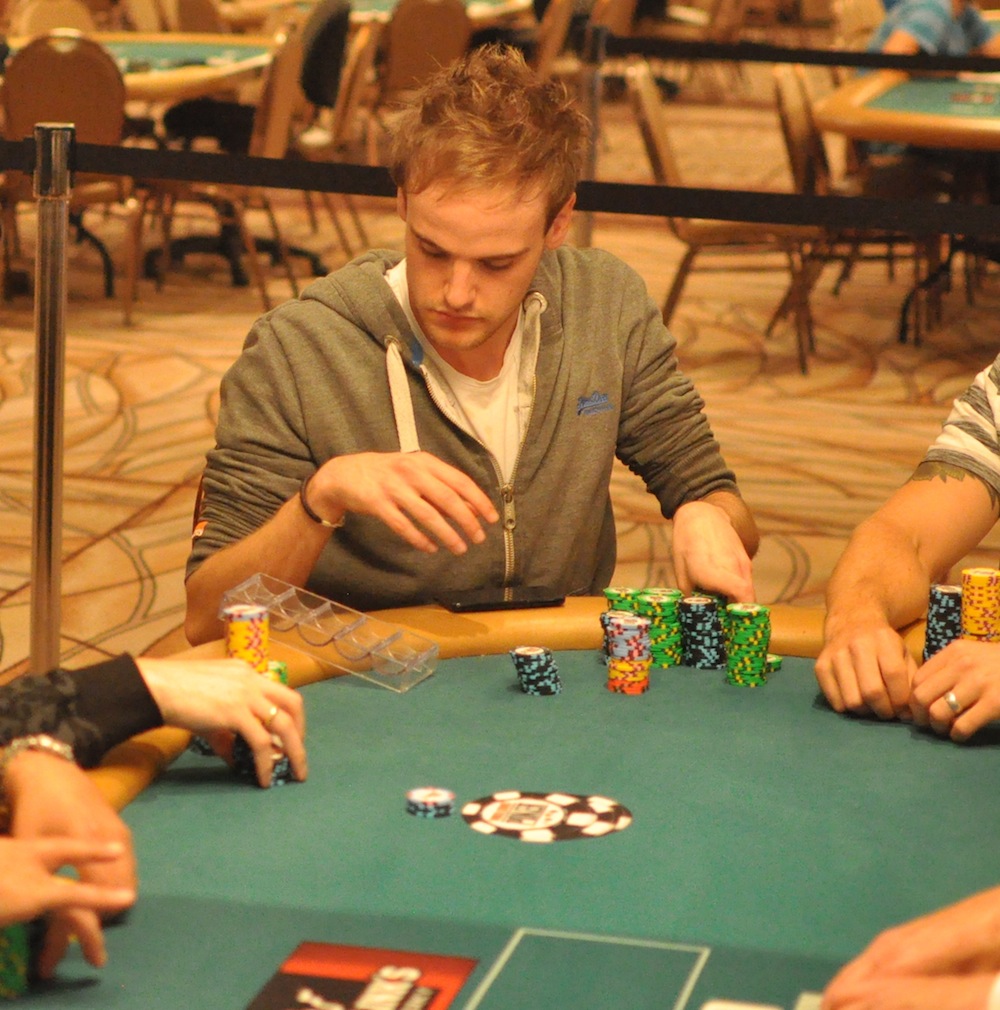 One aspect of being a poker player that is more important than people think is knowing how to relax and wind down. Pius Heinz knows exactly how to do this, and after a full 12 hours at the tables he's now having a few beers to finish off the day.
Was down to 8k at 300/600 started drinking beer and im up to 35k 30 min later #notacoincidence

— Pius Heinz (@MastaP89)
Doing it wrong is Justin 'Stealthmunk' Schwartz who is firing up some high stakes sit'n'go's online to wind down after his two days straight of poker...
Lots of heroes at the FT from a super soft field. Short day at the office so firing up a 525 sng to stay sharp. I Hate posting blinds tho.

— stealthmunk (@stealthmunk)
Outfit Of The Day: Day 32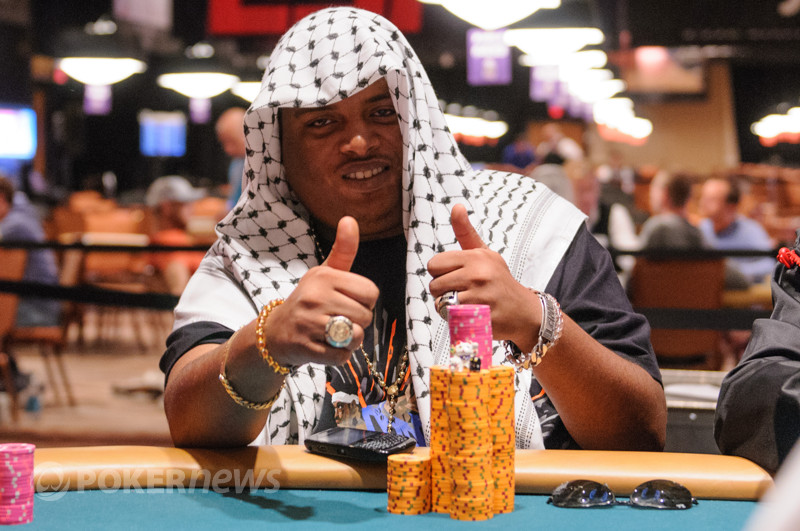 Check out the outfit Dwight Pilgrim was wearing today at the Final Table for Event #48: $3,000 Limit Hold'em, looking for all the world like a middle eastern prince.
The Big One: Part 2
Tom Marchese has just booked his place in Event #55: $1,000,000 The Big One for One Drop - No-Limit Hold'em. He tweeted this picture of his buy-in - looks noticeably less than what Jason Mercier tweeted earlier though... double check that brick please!!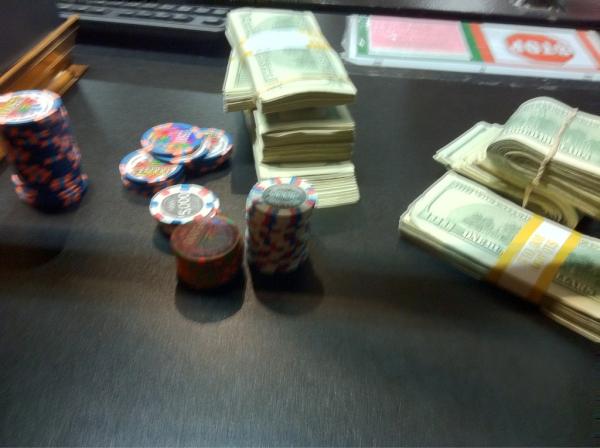 The One Drop: Cash Game Edition
Fittingly, there appears to be a huge cash game going on in Aria tonight. Check out this tweet from Frank Kassela.
Million dollar buy-in No Limit Holdem game @ariapoker at $2k/$4kblinds with $8k straddle and theres a list long enough to start 2nd game WTF

— Frank Kassela (@fkassela)
No wonder the Rio is so quiet tonight! We'll make sure to catch up with Kassela tomorrow and get the scoop! Very likely that this new influx of action is caused by the arrival of the one and only Tom 'durrrrr' Dwan, but we can't say for sure...
We encourage everyone to get involved with "The Muck." See something you think is Muck worthy Send it to the muck@pokernews.com. We accept all media including photos and videos.