All Mucked Up: 2012 World Series of Poker Day 30 Live Blog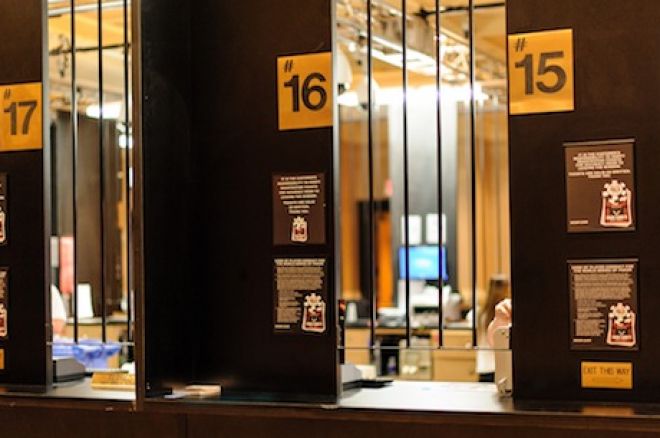 All Mucked Up is a live blog of all the stuff you want to know at the 2012 World Series of Poker, besides hand histories and bad beats. Well, we might add a few in here, everyone loves a good bad beat story — unless it happened to you. Check back often for polls, soundbites, celebrity sightings, and who knows what else!
May The Odds Be Ever In Your Favor
Another day, another dollar we always say. So we took our morning stroll down to the Rio sports book to grab the odds for today's one and only tournament that's finishing out, Event #44: $1,000 No-Limit Hold'em. Leading the pack is Thomas Conway, who is going off at 3/1 odds. On the bottom rung is Paul Sokoloff who is going for 15/1. Also in the mix is the last woman standing Anke Berner who is going for 6/1.
Thomas Conway: 3/1
Nelson Robinson: 4/1
Darren Rabinowitz: 5/1
Patrick Karschamroon: 6/1
Francisco Azares: 6/1
Anke Berner: 6/1
Keven Stammen: 6/1
Niel Mittelman: 7/1
Jaspal Brar: 15/2
Kevin Elia: 17/2
David Forster: 13/2
Jason Everett: 10/1
Rocco Palumbo: 10/1
Travell Thomas: 12/1
Mario Delis: 18/1
Paul Sokoloff: 15/1
Also playing today is Event #45: $50,000 Poker Players Championship, which will come to it's exciting conclusion tomorrow, and we'll bring you all the odds from that. Event #46: $2,500 No-Limit Hold'em will also have odds posted tomorrow, as it is scheduled to finish. Starting today is Event #47: $1,500 Pot-Limit Omaha Hi-Low Split 8-or-Better and Event #48: $3,000 Limit Hold'em. Stay tuned to All Mucked Up and the live reporting blog for all the exciting action.
Tom Tweets: Day 30
We promised yesterday to bring you a little insight fromthe hand we posted from Tom Dwan's twitter yesterday, so here is what Durrrr had to say about the hand in a response to a tweet he got:
"@whimsicalcookie: is he ever bet/3-betting a worse K for value there? Or is your K9 basically a bluff catcher?" Only bluffs or fh. Calls jx

— Tom Dwan (@TomDwan)
Looks like Dwan might have made a mistake in the hand, but how often does that happen? Hopefully Dwan shows up soon at the World Series of Poker because there is only a limited number of events left. Surely, we'll be seeing him in the Big One for One Drop $1,000,000 buy-in. We'll keep you posted and let you know when he shows up.
The Worst Eight Games
Yesterday we promised to bring you answers from the players on what their worst game in the eight-game mix was, and today we will weave them in throughout the day. For our first two players we have Dan Shak and Matt Glantz.
Matt Glantz told us that he doesn't have a worst game in the mix, he just plays all the games about the same.
Dan Shak on the other hand explained that his worst game is probably No-Limit Hold'em, something that surprised us a bit considering his continued success at the game.
Readers were spot on with Matt Glantz, but were a little off with Shak, as a majority of the readers believed his worst game was 2 - 7 Lowball. Next up, we'll bring you the responses from Bertrand 'ElkY' Grospellier and John D'Agostino, so stay tuned.
Also, last night in All Mucked Up we mentioned that a very controversial hand was going on in the $50,000 Poker Players Championship. After nearly an hour, the situation got worked out, and the floor made a ruling. The hand is sure to be one of the most controversial and talked about hands for weeks to come. We weren't able to bring you the entire hand in All Mucked Up, but to get a concrete summary of what happened, check out the piece the PokerNews Staff wrote up.
Fashion Faux Pas of the Day: Day 30
We saw this gentleman in Event #47: $1,500 Pot-Limit Omaha Hi-Low Split 8-or-Better wearing a very questionable hat with a very questionable logo.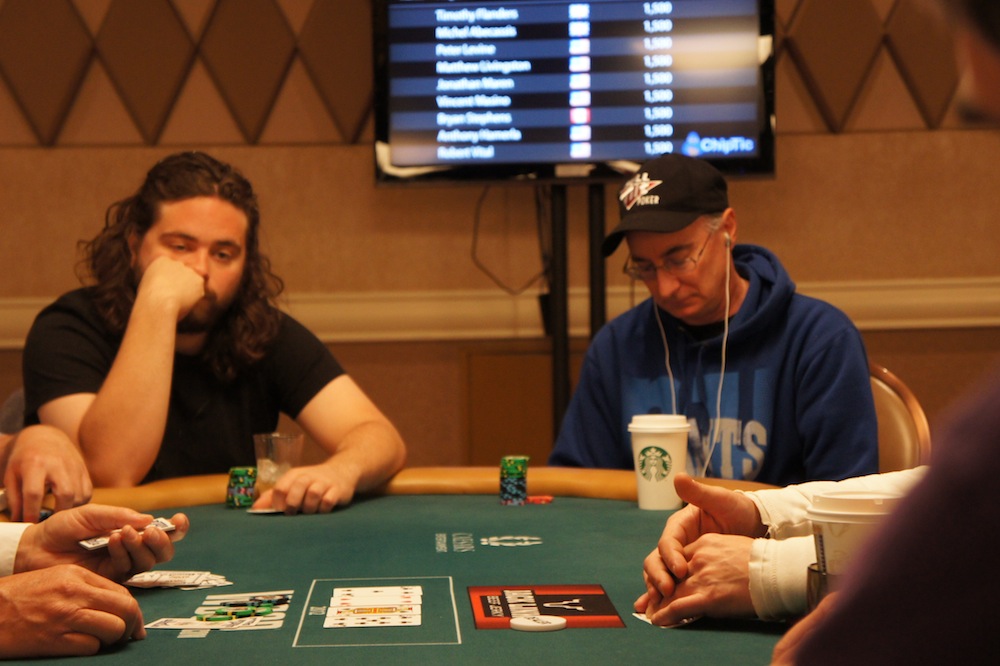 Sorry sir, but where have you been for the last year?
We don't know if he was wearing the hat as a sarcastic gesture or if it was the only hat he had, but we do know that he was getting a bunch of very awkward looks from his tablemates. If we were him, we'd take the hat off, burn it, and then burn it again.
We might even have to award this hat the "Fashion Faux Pas of the Series Award." We foresee some epic slowrolls in his future.
How Much Bling Is Too Much?
We continued our stroll around the Brasilia room where we also found this gentleman also in Event #47: $1,500 Pot-Limit Omaha Hi-Low Split 8-or-Better. The man was wearing a black and red hoodie complete with gold printed designs as well as golden tassel pull strings.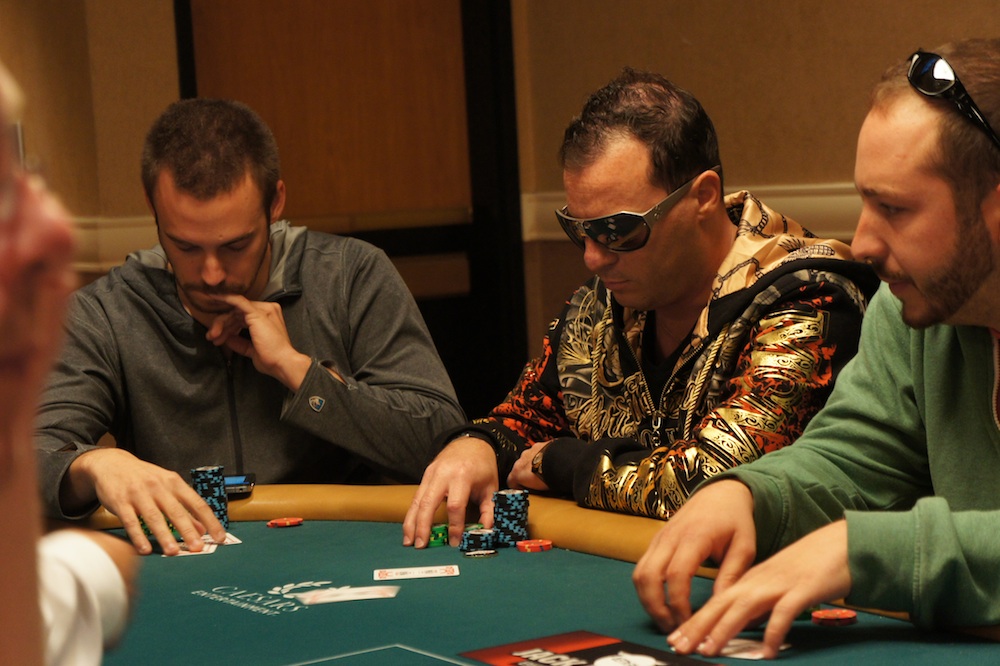 While many have criticized Dwyte Pilgrim for having too much bling on at the table, this gentleman may have just outdone him with this hoodie. There may not be any such as too much bling, but this gentleman is definitely toeing the line with this hoodie.
Pot-Limit Omaha Hi-Low Split 8-or-Better Strategy with Max Pescatori
We got a chance to talk to Max Pescatori who was on break in Event #47: $1,500 Pot-Limit Omaha Hi-Low Split 8-or-Better. We asked him for some tips for any amateurs playing in the event.
"First of all play the event so that I have a better chance to win," Pescatori said. "But really, be careful about putting money in the pot without a chance to win the high. Many people don't understand that Omaha Hi-Low Limit hands don't translate to Pot-Limit."
We asked Pescatori what some of the biggest mistakes that people make are in the tournament."People chase too much with
," he explained. "They are chasing for the low when they don't have any value to win the high hand. Just hoping for half the pot. You can't scoop a pot with no value to win high hand. That is unless you are in a hand with three people and you know they are both chasing a high."
We also asked Pescatori what his first few levels were like and how his table draw was. "I'm actually just going to start right now," he said. "Usually I start later because it's difficult to play from noon to one AM every day.
"Generally I start at 4 PM," he continued. So we asked him why he decided to show up at 2 PM today. "Today is a triple chance. You have a good chance to get more chips and you can afford to get cooler and still be ok."
Pescatori gave some great tips for anyone planning to play this event, or an event like it, so we'll try and get some more tips and tricks from pros who are playing the event on the next tournament break.
Hallway Naps: Jennifer Tilly Edition
In today's edition of Hallway Naps we found Jennifer Tilly taking a nap in the hallway during the break of Event #47: $1,500 Pot-Limit Omaha Hi-Low Split 8-or-Better.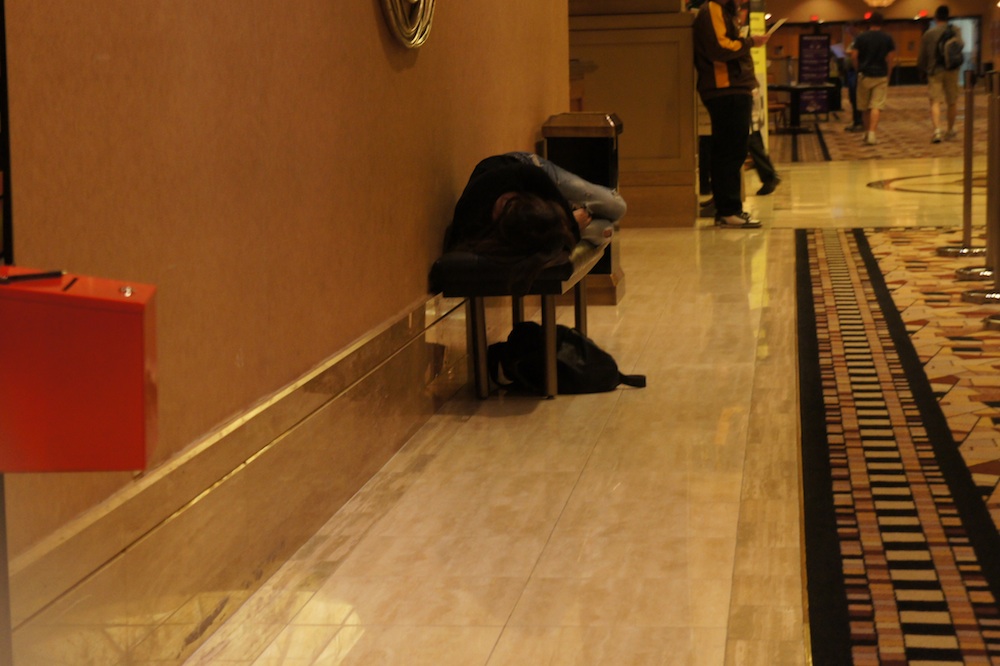 Tilly must be tired from having to hang out with Phil Laak all the time.
Napping during tournament breaks is becoming more and more of a regular occurrence as for the past few days we've caught Gus Hansen napping, and even on occasion, doing some weird type of yoga like stretches. We'll let you know who else we see napping in the hallways, as well as who snores and who doesn't.
The Worst Eight Games - Part 2
We promised to bring you answers from the pros on what their worst game in the eight-game mix was, and we're back with two more answers from two more pros.
John D'Agostino told us that his worst game is No-Limit Hold'em. Readers were way off on this one, and over 50 percent of pollies thought his worst game was Razz.
When we asked Bertrand 'ElkY' Grospellier what his worst game was he told us, "F***** Razz," in his thick French accent. Readers were a little closer on this one, as Limit Hold'em and Razz we're both close on the polls.
When we come back with The Worst Eight Games, we'll bring you the final two answers from Shaun Deeb and Joe Cassidy.
Wind-Up Merchant
In the midst of all the foreboding tweets warning men not to enter Event #51: $1,000 Ladies No-Limit Hold'em Championship, Justin 'stealthmunk' Schwartz tweeted his 'intention' to play, and quoted his generous markup. Safe to say Daniel Negreanu won't be buying a piece this summer, nor will Doc Sands...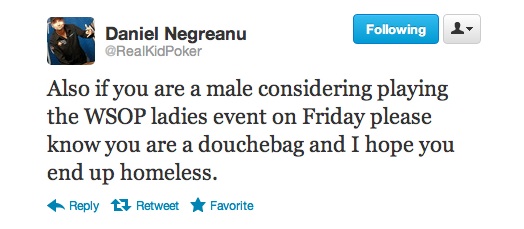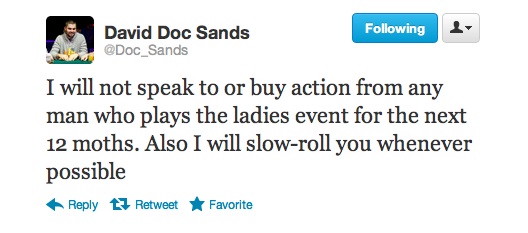 Top Ten Most Thought Out World Series of Poker Hands
Brandon Adams held a crowd sourcing contest on twitter the other day for his followers to help him find the most thought out World Series of Poker hands. Requirements were that the follower linked the videos and sent them to his email address. Extra points were awarded for hands with 100+ big blinds and extra thought going into turn and river decisions. Here is a few of the tweets about the contest:



The #1 hand was a hand from the 2009 Main Event Final Table where Phil Ivey bluffs the pants of Steve Begleiter.
Worth mentioning is also this hand from the $40,000 buy-in event where Isaac Haxton runs into Vitaly Lunkin's slow played aces. In the hand you can hear Scott Seiver call out for Haxton's one time, and you can even see Seiver high stepping across the feature table stage with excitement at the end of the hand.
To see the complete list, make sure you check out Brandon Adam's twitter page.
Is There Anything He Can't Do?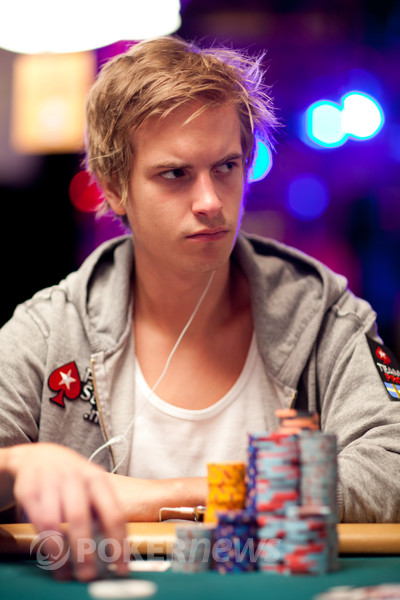 Viktor 'Isildur1' Blom is going deep in Event #45: $50,000 The Poker Players Championship. So what, he's a pro right? Actually, last week was the first time Isildur had played most of these games. Check out these tweets by Negreanu about his learning curve...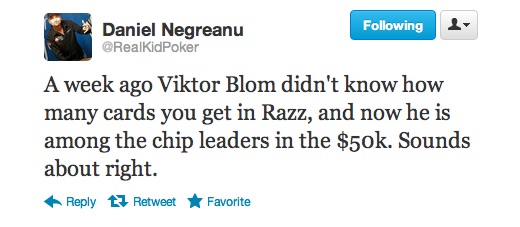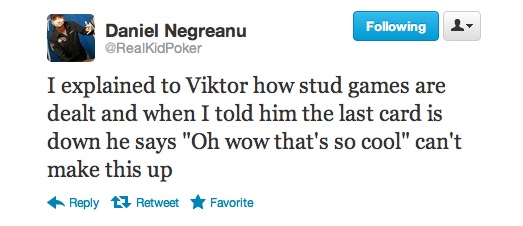 A Tale Of Two Phils: Part 3472
Seem's like everywhere we look this summer it's Phil Ivey and Phil Hellmuth in fierce competition for one event or another. Today they're both going deep in Event #45: $50,000 The Poker Players Championship. With their early evening break drawing to close, we see Hellmuth in deep meditation at his seat, while Ivey is talking to Michael 'The Grinder' Mizrachi and one of the Rio tournament directors over some ruling.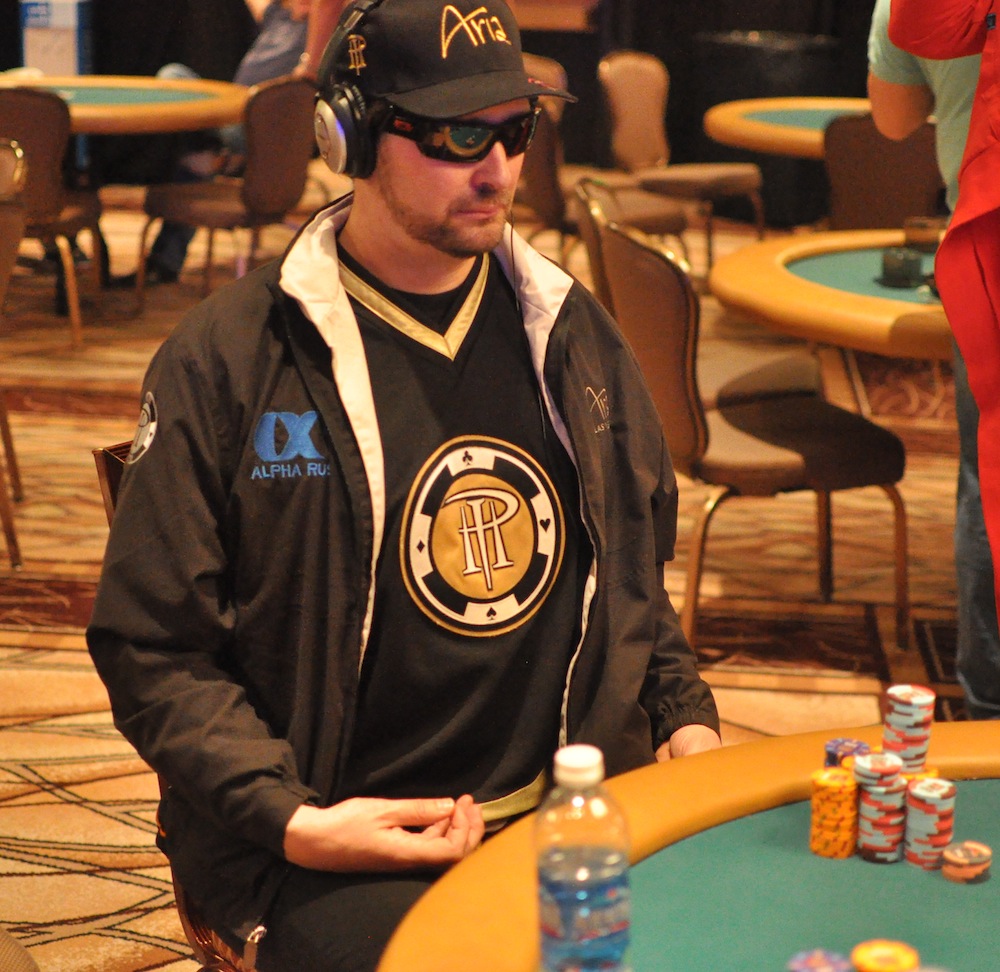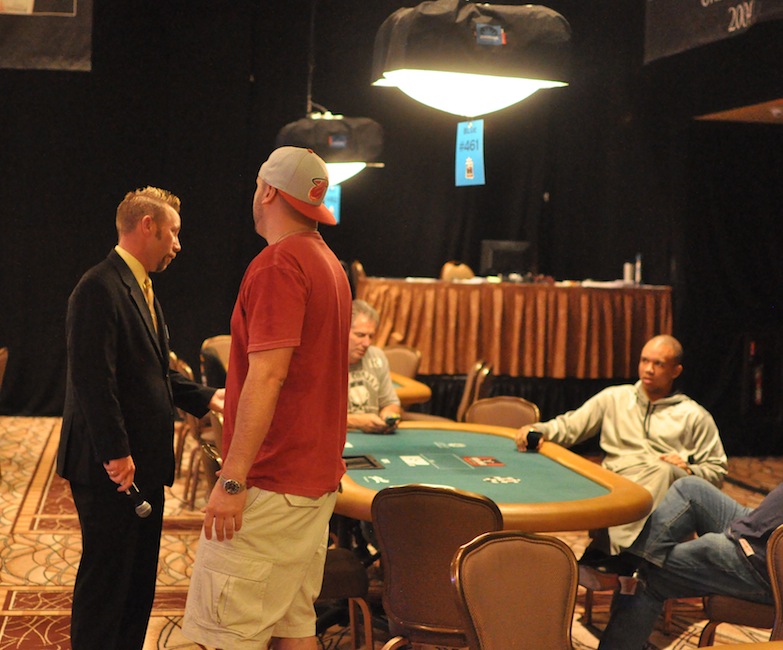 We'll keep hanging around the Amazon room and keeping you informed as this event reaches its climax in the next few days.
Inspiring Tales of the World Series of Poker - Larry Duplantis
There is an interesting story brewing in Event #46: $2,500 No-Limit Hold'em.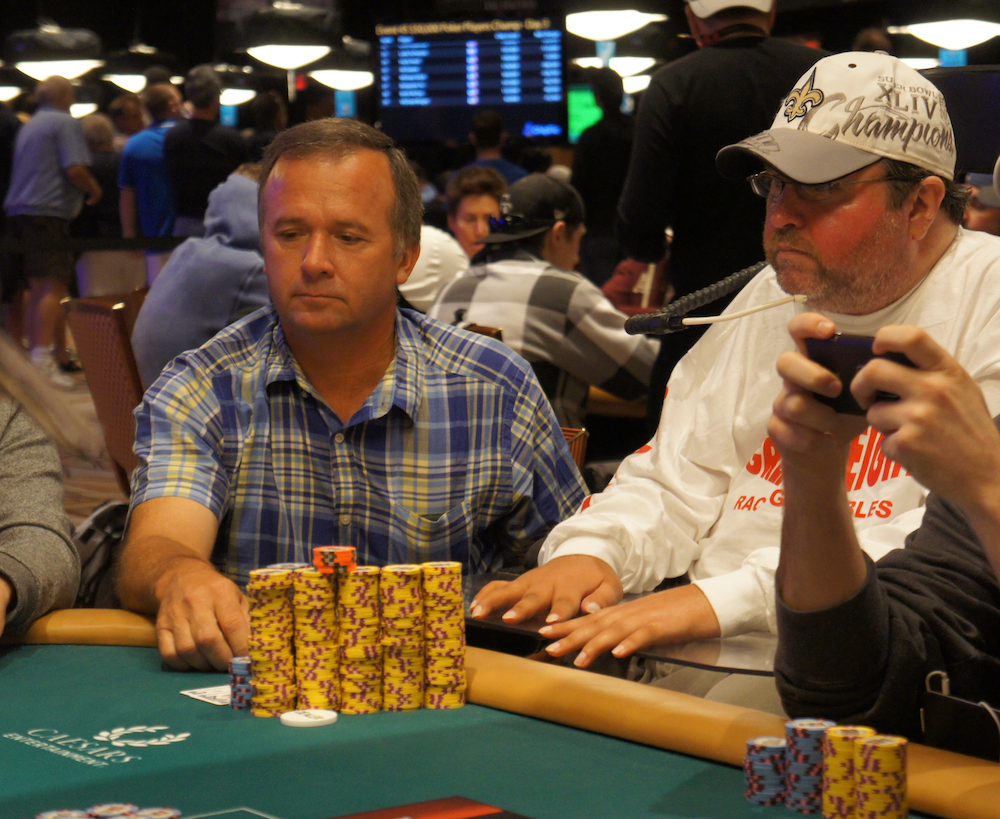 The gentleman pictured about is Larry Duplantis, and his helper. From what we've been able to make out, Duplantis cannot function certain parts of his body, making it difficult to play poker. But this hasn't hindered his game much, or even slowed down the action any as fas as we can tell. His helper has been helping him by showing him his cards, as well as moving his chips, but remains mostly silent during action.
Duplantis announces the size of his bets, as well as folds, calls, and raises. Truly, this inspiring tale from the World Series of Poker has more behind it, but we wont be able to find out more until Duplantis is on break and we can speak to him ourselves. Currently, Duplantis has a ton of chips in Event #46 and is poised to make a deep run, so expect more updates as the story unfolds. We'll post an update as soon as we find out more about him.
So... How Much Do You Have?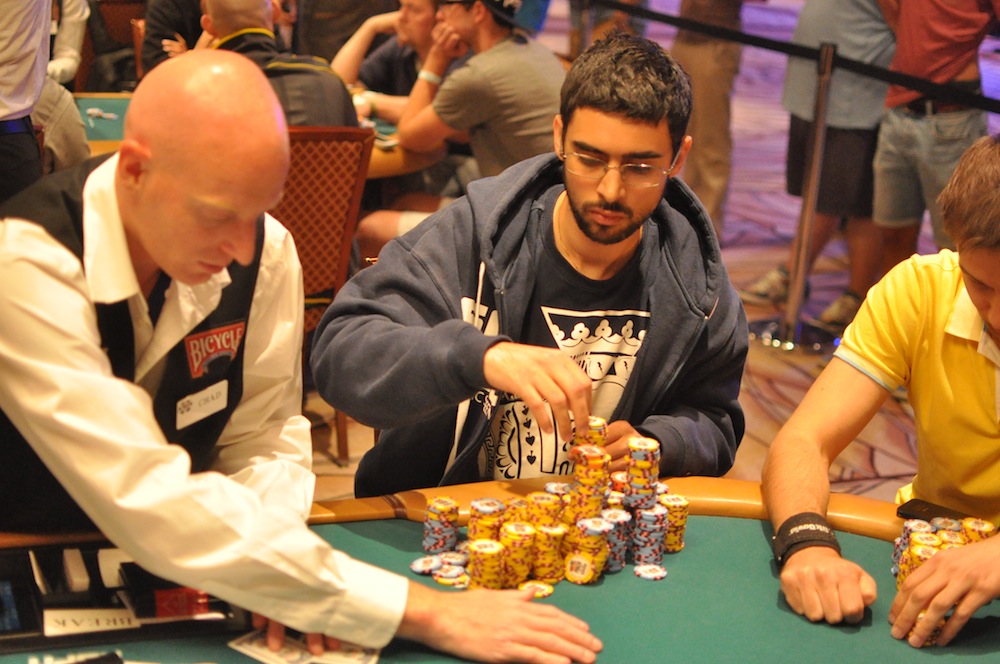 Check out this messy chipstack from the $2,500 No-Limit Hold'em Day 2. Some players like to stack their chips in tens, some in twentys, some in little castles and some just stack them by color. This gentlemen isn't too worried about the standard stacking rudiments, and has simply put them in the order that he won them.
Guess Who's Back!
According to Tom Dwan's latest tweet he's just landed in Vegas. He's been in Macau playing nosebleed cash games. We'll be sure to talk to Dwan once we find him.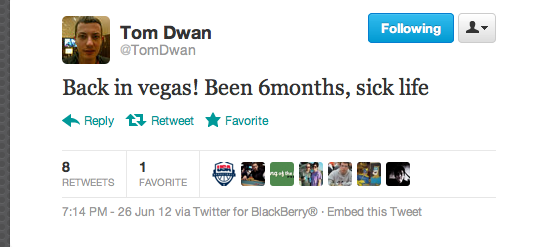 Going for Two?
We spotted three players in Event 48: $3,000 Limit-Hold'em that have already won a WSOP bracelet this year.
Here's Ylon Schwartz who won Event 27: $1,500 H.O.R.S.E.
Here's Ronnie Bardah who won Event#40 $2,500 Limit Hold'em.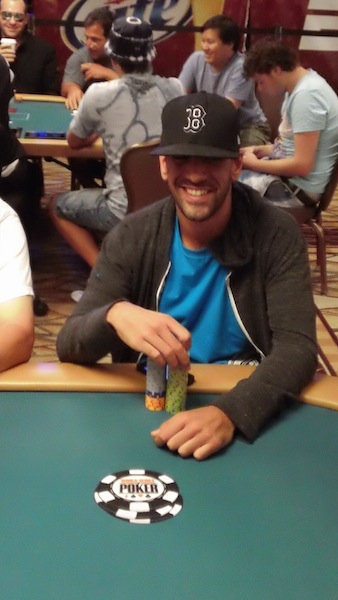 Here's Brian Meinders Event#25: $1,500 Limit Hold'em Shootout.
Prop Bet: Day 30
Check out this funny Prop Bet Matt Waxman just posted on twitter.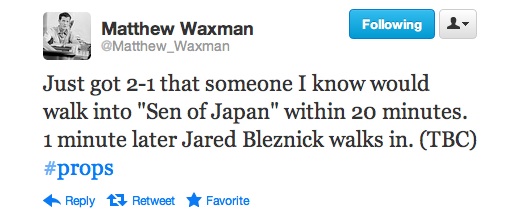 On a side note, we've been trying to catch up with Jared Bleznick for weeks, but he seems to be everywhere we aren't.vNow thinking we should make a substantial bet on not seeing him for the rest of the Series..
Anyone In The Rio?...
Brandon Cantu just issued this challenge on twitter, seeing if anyone wants to play him HU tonight at any stake. We'll try track down Cantu and see if anyone takes him up on this tonight.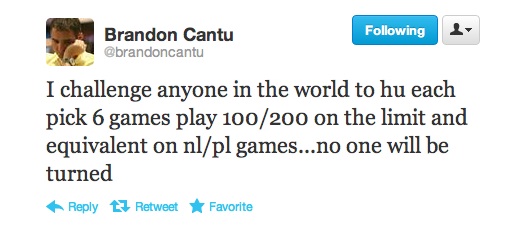 Castle Building With The Champion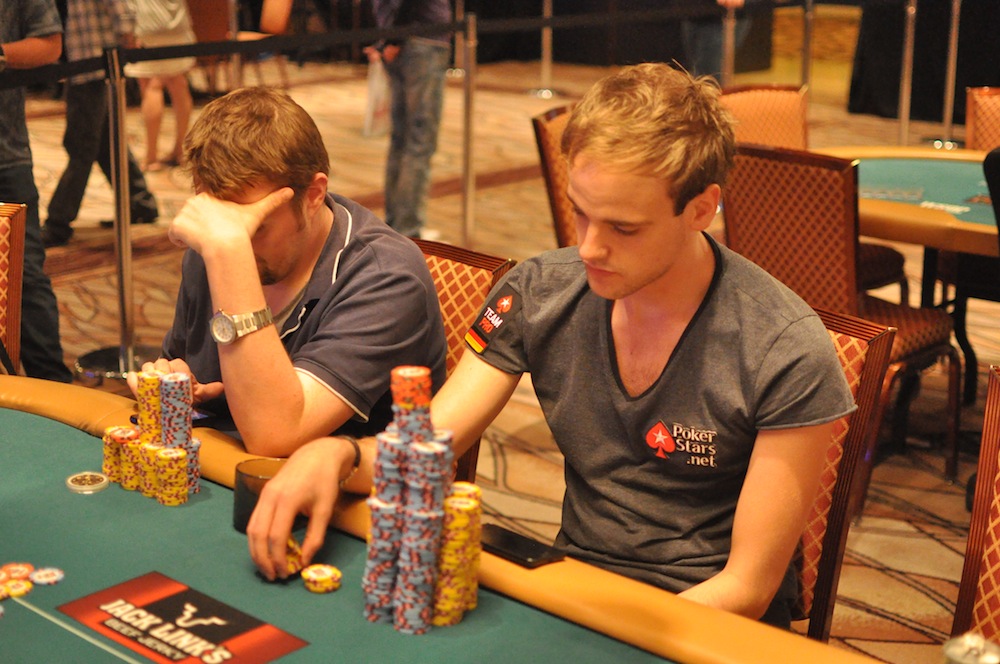 Last years Team PokerStars Pro Pius Heinz is running pretty good and building up a big stack in Event #46: $2,500 No-Limit Hold'em. Heinz, the reigning World Series Of Poker Main Event Champion, is a good friend of PokerNews, featured on Last Weekend's Podcast.
Inspiring Tales of the World Series of Poker – Part 2 Larry Duplantis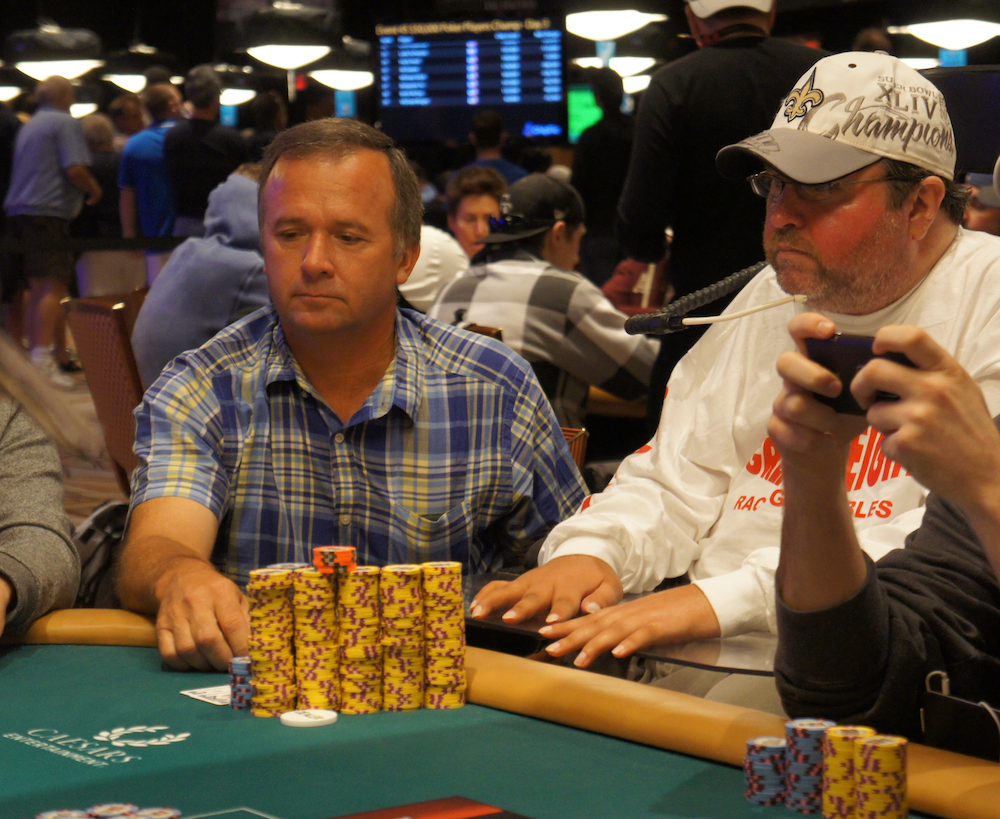 We blogged earlier in the day about Larry Duplantis, who despite his physical disability is making a run in Event: 46 $2,500 No-Limit Hold'em. Duplantis and his friend, Huey Hulin, hail from Saint Martinsville, Louisiana.
We caught up with them at break for a chat.
Is this your first WSOP event?
Yes, this is also my first time ever in Vegas. I won my seat in my hometown pub league. Last year we played for a seat it the Main Event ($10,000 buy-in) but this year we decided to give away four seats to four $2,500 events. The other four guys are friends from the same league. I didn't wanna come out here alone.
How long have you've been playing poker?
Since I was 18 so it's been over 20 years.
Are there concerns of other players seeing your hole cards when Hulin shows them to you?
We got it down. Fortunately I've had a lot of corner seats and that helps. Hulin chimed in; it's also easier when he has a lot of chips, to help cover. If I'm in seat five or something then there are people on both sides so we have to be more careful.
We'll be sure to keep tabs on Duplantis as the tournament progresses.
Dress For Success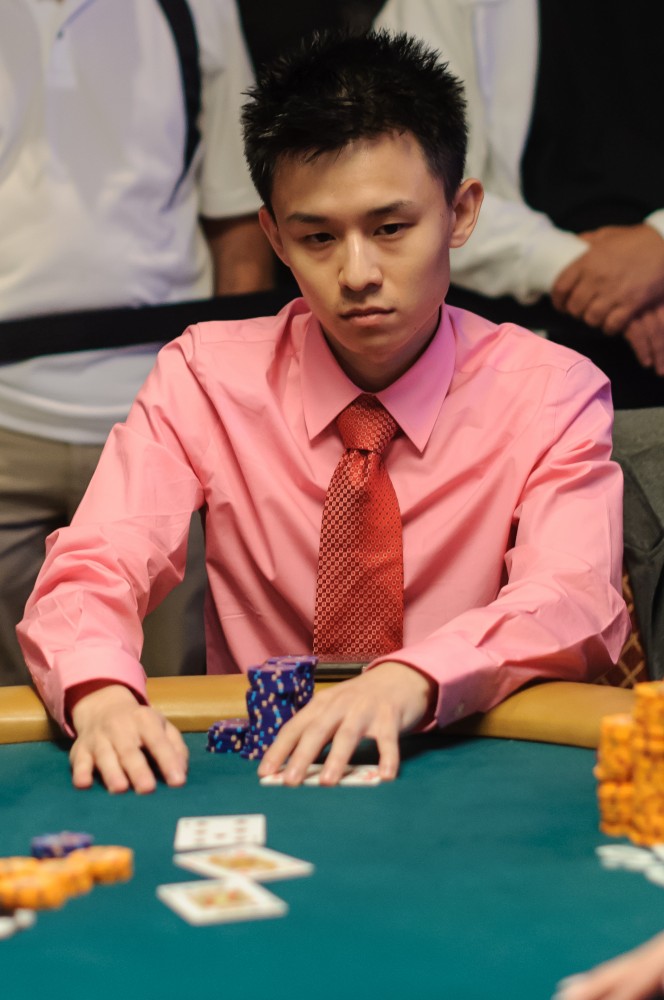 We caught up with Ben Yu at break of the$50,000 Poker Players Championship for a quick chat. Only 28 players remain in this star-studded field.
We've noticed you like to dress in a shirt and tie at the tables.
Well, honestly it was to get coverage. Which seems to be working since you guys are talking to me right now (laughs). When I dress good I feel good and that helps me play well. Although when I play good I usually run bad, funny how that works.
Who are some players that you don't want to have on your left in this tournament?
That's a major flaw going into these games. I respect them, but you can't do that (worry about who's on your left). You'll be at a psychological disadvantage. I've spent the weeks leading up to this playing $5Ks and $10Ks with a lot of these same players. I had Ivey (Phil) to my left and I said to myself 'I need to play tighter' but then I realized how stupid that is. I'm gonna keep sticking it in and play my game regardless.
What's your least favorite game in the Eight Game Mix?
All of them, but honestly I'd have to say Triple Draw. It takes forever to complete a hand and there's too much gamble in it.
Railbird Report
The rail at the $50,000 Players Poker Championship continues to grow. Only 26 players remain. We'll do our best to catch up with some of the notables at break.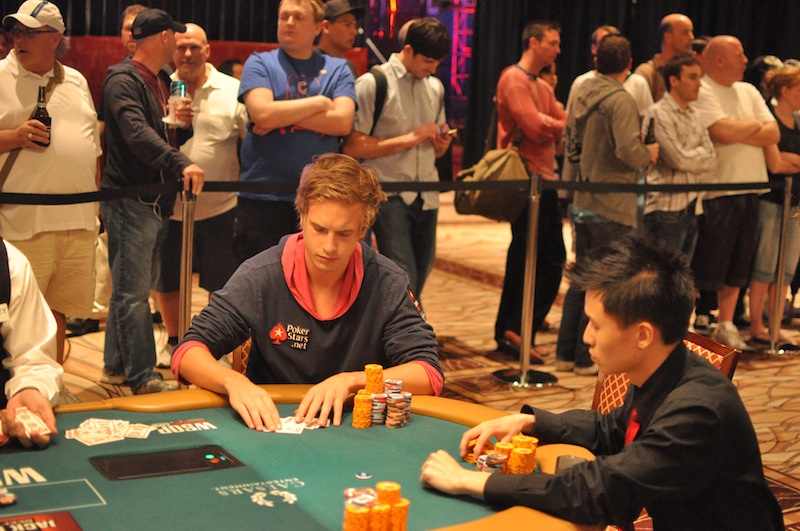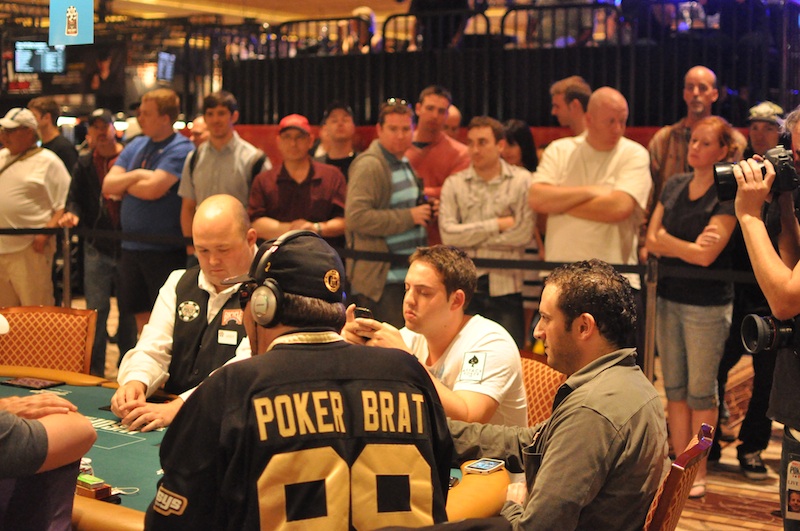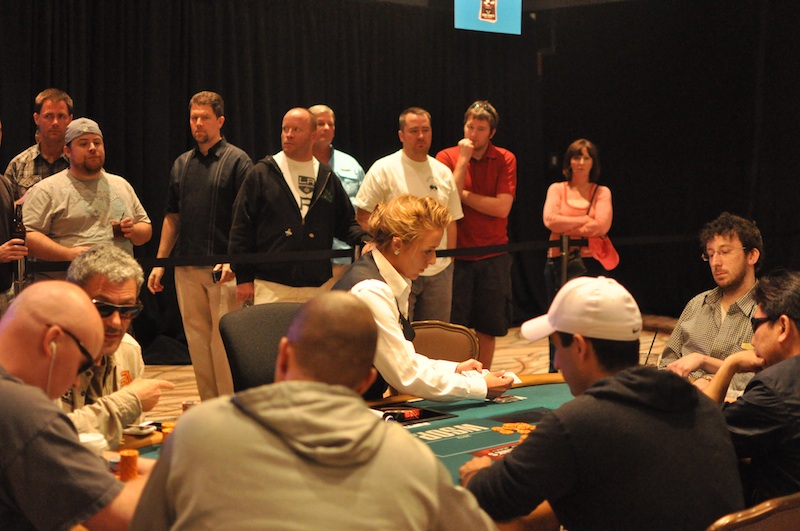 The Man In Black
We're not talking about Johnny Cash. We spotted these two in the Amazon room.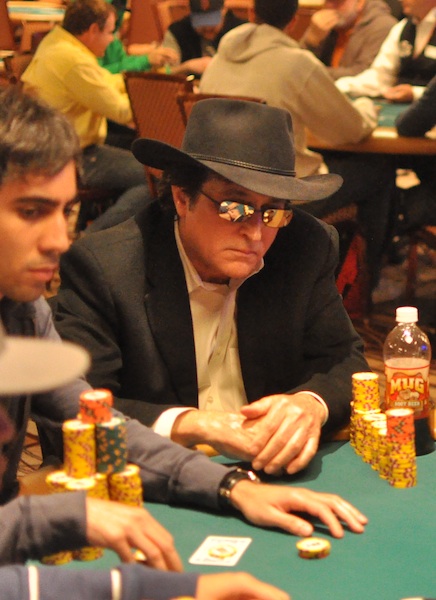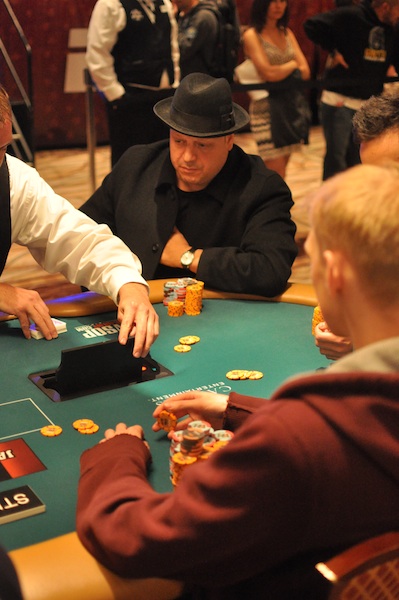 Poll
Who Wore Black Better?
Check Mate
While moseying through the Rio Poker Kitchen we came across—of all things—impromptu chess matches. Several players were huddled around observing and talking strategy. No wagering was involved but the group all seemed to be having a great time. We were privy to the intricacies of castling and Bobby Fischer references. No sign of Fischer yet, but we're still searching.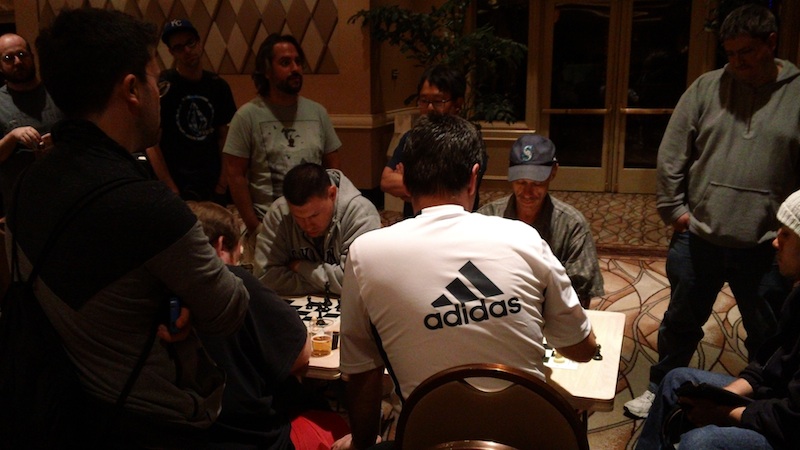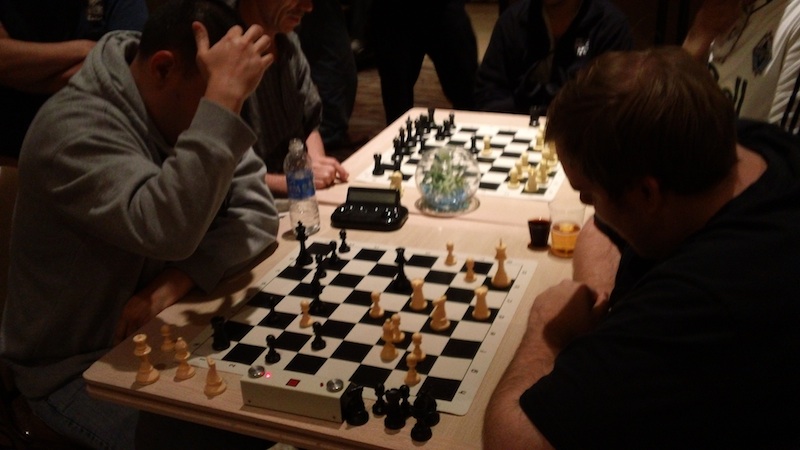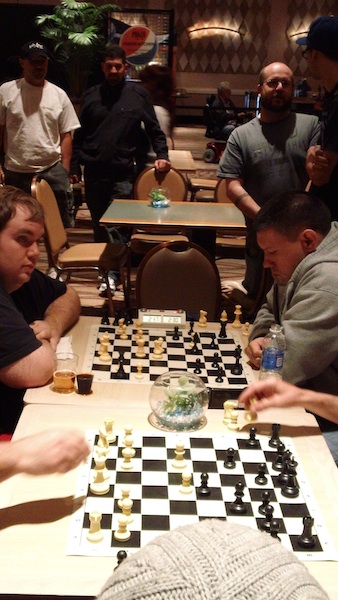 It's All In The Eyes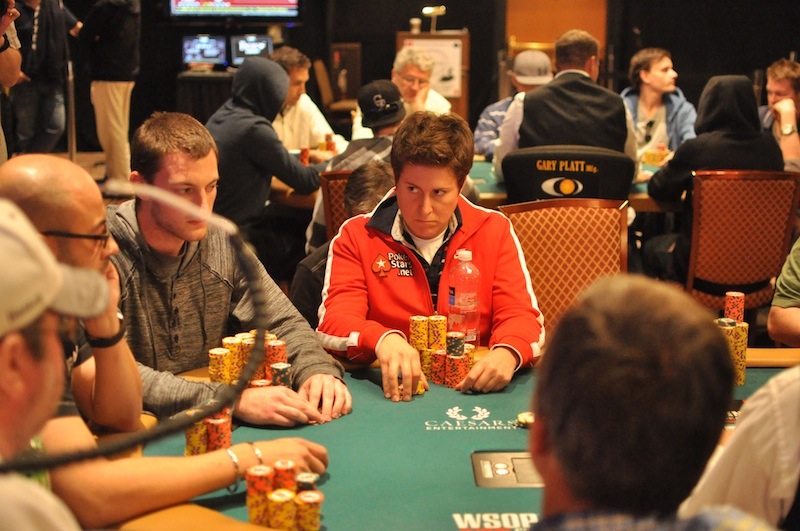 We came upon this scene in Event 46: $2,500 No-Limit Hold'em. Team PokerStars Pro Vanessa Selbst had her sights set squarely on the two gentlemen on her right. Did we just stumble upon a potentially big three-way pot? There was a raise followed by a three-bet and the action was on Selbst. Was she contemplating a cold four bet? You could sense the tension in the air. Nobody moved. Nobody spoke. Moments passed. It took us awhile, but it dawned on us, Selbst wasn't event in the hand. She was just observing to get information for future spots. The attention to detail is just one of the many attributes that makes her so great.
We encourage everyone to get involved with "The Muck." See something you think is Muck worthy? Send it to the muck@pokernews.com. We accept all media including photos and videos.