All Mucked Up: 2012 World Series of Poker Day 29 Live Blog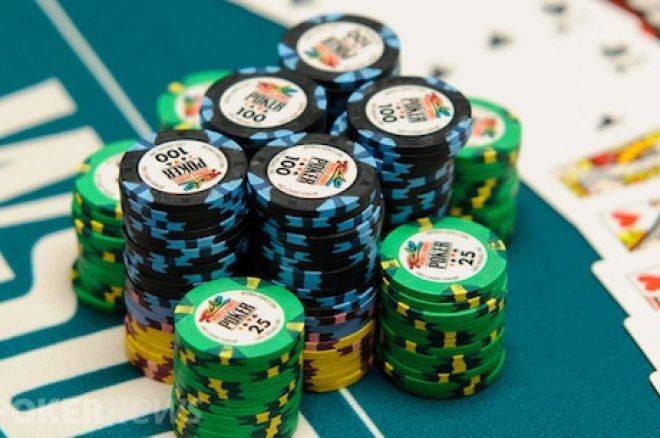 All Mucked Up is a live blog of all the stuff you want to know at the 2012 World Series of Poker, besides hand histories and bad beats. Well, we might add a few in here, everyone loves a good bad beat story — unless it happened to you. Check back often for polls, soundbites, celebrity sightings, and who knows what else!
May The Odds Be Ever In Your Favor
We made our daily run to the Rio sportsbook this morning to get the odds for the final 20 in Event 43: $1,500 No-Limit Hold'em
Michael Morgousky @ 19/2
Mark Ketteringham @ 11/1
Daniel Zeihen @ 22/1
Francois Dur @ 12/1
Zach Clark @ 4/1
Jesse Yaginuma @ 9/1
Adam Foster @ 16/1
Carl Diveglia III @ 17/1
Tom Alner @ 26/1
John Nelson @ 11/2
Cary Marshall @ 16/1
Randy Lew @ 15/1
Jared Rosenbaum @15/1
Andres Sanchez @17/1
Henry Lu @ 11/1
Balazs Botond @7/2
Michael Judge @20/1
Hovan Nguyen @ 21/1
James Mackey @5/1
Neil Cahnning @ 4/1
Heads Up Match Resumes
Jackie Glazier and Greg Ostrander are resuming their heads up match in Event 41: $3,000 No-Limit Hold'em. Glazier comes into the match with a 3-1-chip lead. She has a chance to be first woman to win an open World Series of Poker event since Team PokerStars Pro Vanessa Selbst in 2008.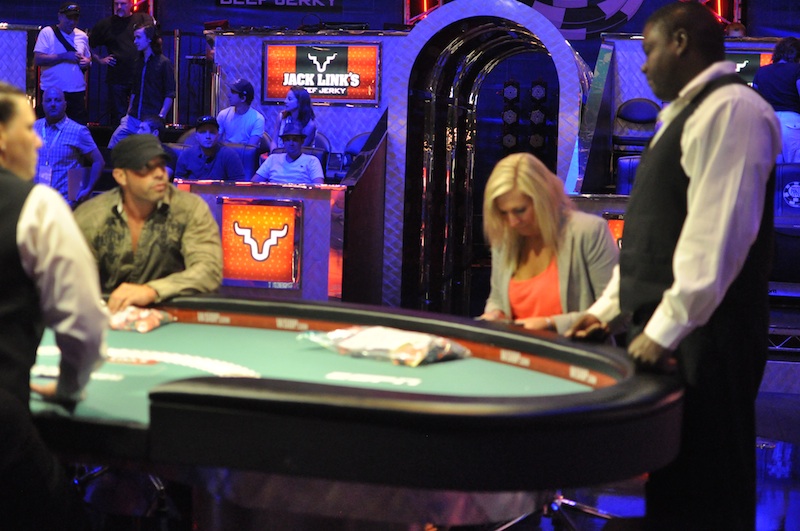 The heads up match was cut short last night when both players decided to restart today. However, Glazier would've have preferred to finish it last night.
"I didn't wanna break. I should've have agreed to it. I think someone got in Greg's ear to resume today."
Regardless of the restart, Glazier says she's prepared, "I went in the steam room, showered, and I'm ready."
Glazier supporters are well represented today, complete with an Aussie flag draped over the rail. When asked if the support helps, Glazier said, "Definitely, how can it not?"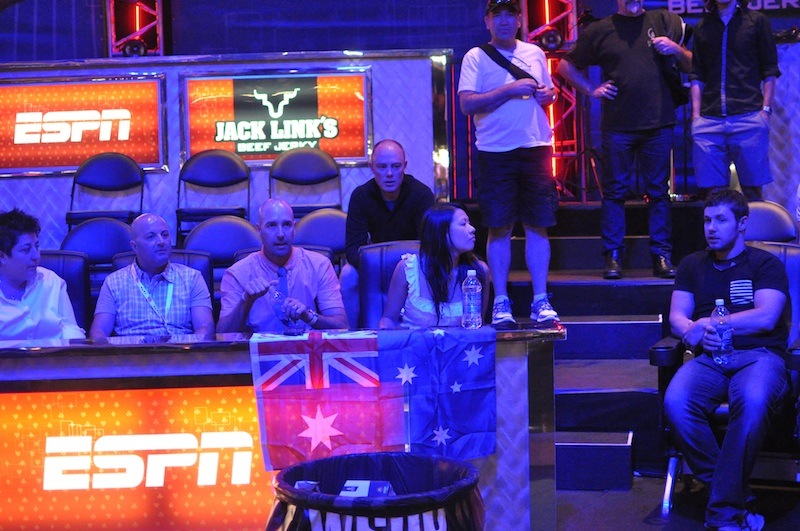 Gavin Smith may join David Tuchman in the booth today for the online stream. Smith did some work in the booth last night.
Jennifer Tilly In The Building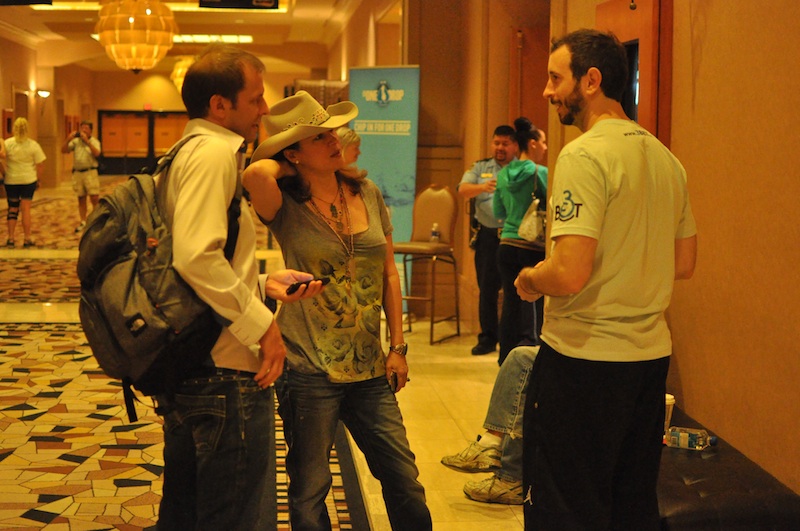 We found Jennifer Tilly in the hallways of the Rio having a chat with Brian Rast. We spoke with Tilly to get the latest on her and Phil Laak.
"We just drove in yesterday from LA. I was in New York doing a play on Broadway, Phil was in Macau playing cash games," Tilly said.
Tilly hasn't played much poker over the last four months, citing "a big hit in cash games." She's looking forward to playing some WSOP events.
"I'll be playing everything I can, I think there's a shorthanded event coming up. I really like six-max, and I can't wait till the Main Event."
Euro Cup
Only four teams remain in the Euro Cup: Spain, Portugal, Germany, and Italy. We found a Spanish club team and Portuguese jersey in the Brasilia today, both nations face off in the semi-finals, which begs the question: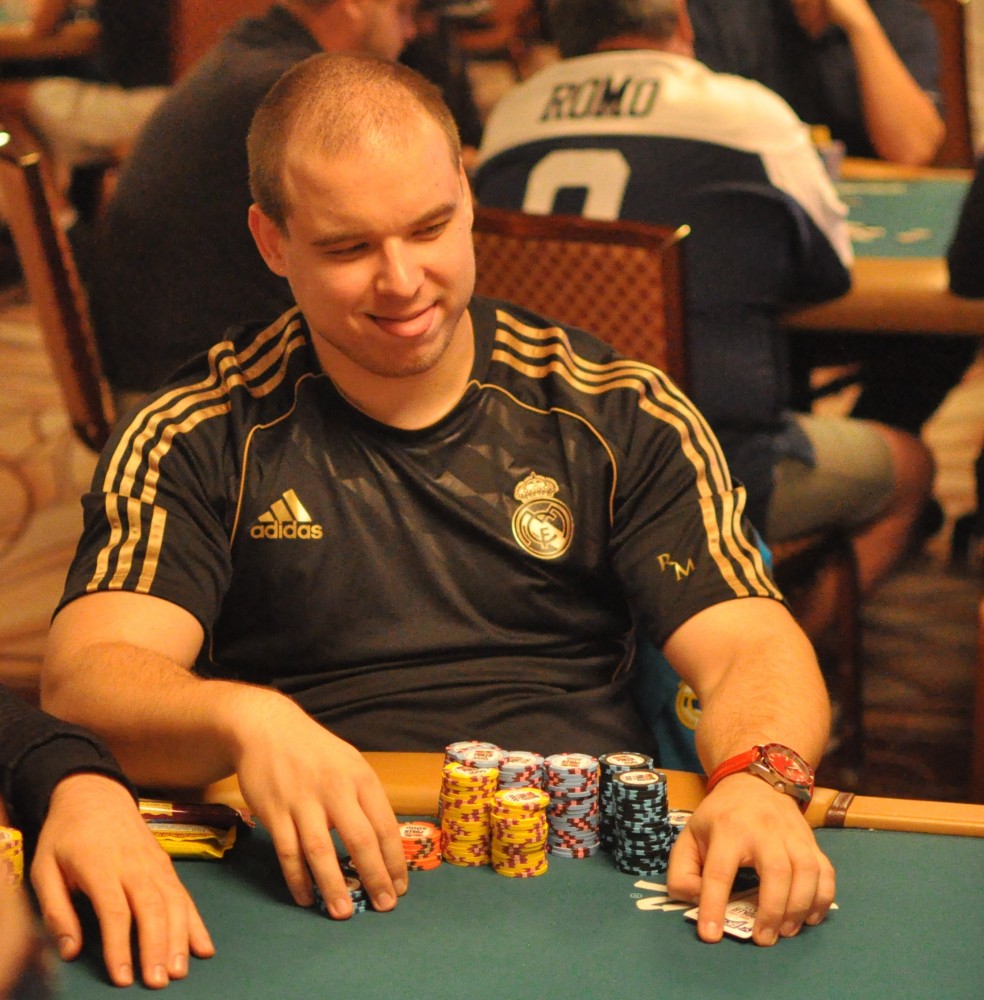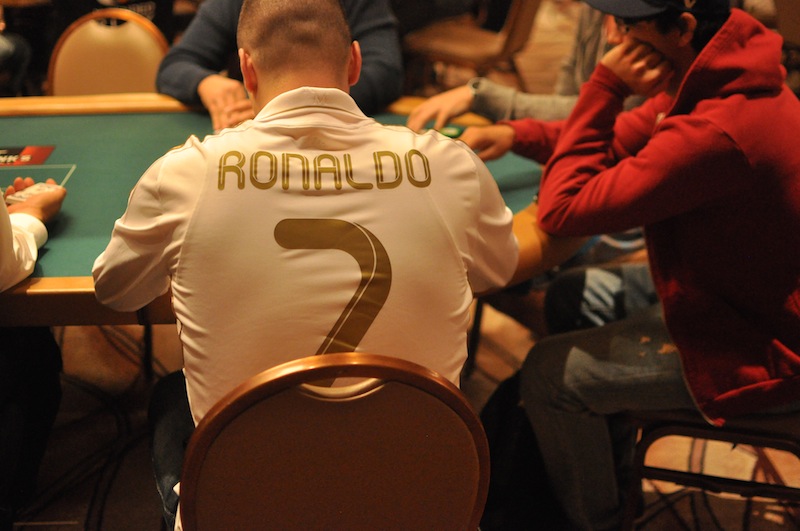 Poll
Which Country Will Win Semifinal Match?
Bloufit Versus Whioutfit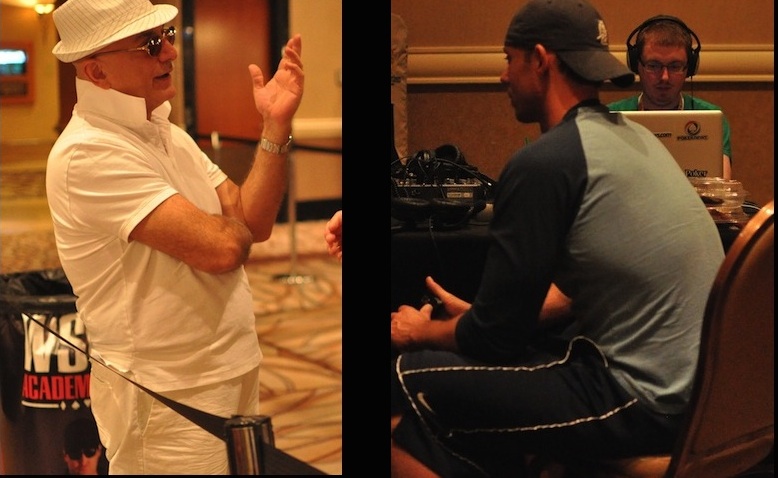 If you've been keeping up with the Muck, then you know our fascination with peoples outfits. Here we have a gentleman in all white, and poker player Matt Berkey in all blue.
Poll
Which Outfit Is Better?
Tom Tweets of the Day
We've been trying to bring you interesting poker tweets from Tom Dwan when we get them. In the early morning hours of today, Tom finally graced us with a a couple of hands he played in Maccau. We'll post the hand today, and we'll follow up with a little insight from Dwan tomorrow.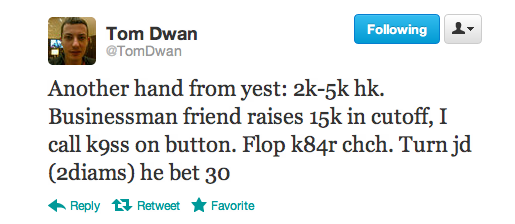 Poll
Is Tom's Call A Bad One?
Main Event November Niners Represent
We were perusing the Amazon room looking at tables in Event #44: $1,000 No-Limit Hold'em when we found this gem.
At the table is 2009 Main Event Winner Joe Cada seated right next to 2008 Main Event Runner-Up Ivan Demidov.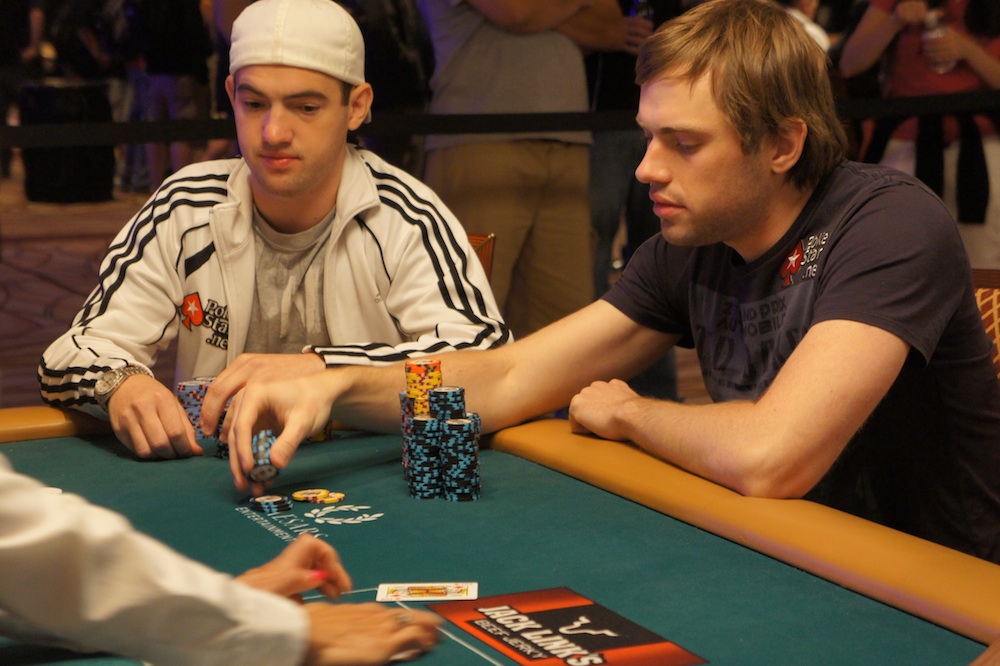 On the other end of the table is 2010 Main Event 9th place finisher Soi Nguyen.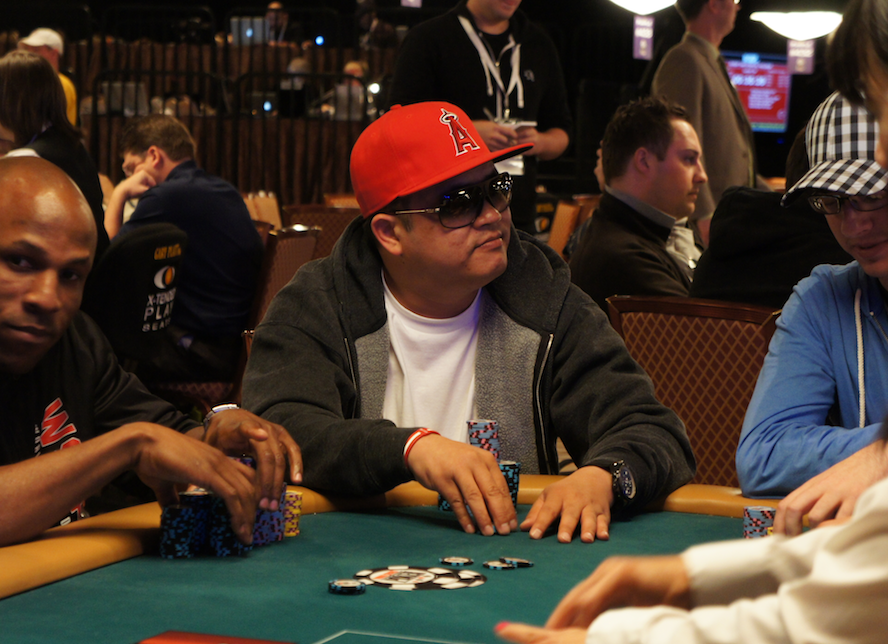 Together, the three players have amassed more than $18,000,000 in total tournament cashes. Quite a feat for just three players. We'll see if we can catch up with them on break to see what it feels like to be playing at the same tables as one another.
Least Favorite Discipline Of Eight Game Mix
It's day two of Event 45: $50,000 Poker Players Championship. It's an eight game mix consisting of: Limit 2-7 Triple Draw, Limit Texas Hold'em, Limit Omaha Eight or Better, Razz, Limit Seven Card Stud, Limit Stud Eight or Better, No Limit Texas Hold'em, Pot Limit Omaha.
We asked several players which of the eight games is their least favorite.
Poll
What Is John D'Agostino's Least Favorite Game



Poll
What is Team PokerStars Pro Bertrand "ElkY" Grospellier's Least Favorite game.



Poll
What Is Shaun Deeb's Least Favorite Game?



Poll
What Is Joe Cassidy's Least Favorite Game?
We'll get more reactions from other pros and post the results tomorrow.
WSOP - 1000th Bracelet Winner, and 1000th Event
We had a chance to speak with World Series of Poker Media Director Nolan Dalla who gave us an interesting statistic about this years series.
Turns out that Greg Ostrander, who won Event #41: $3,000 No-Limit Hold'em is the World Series of Poker's 1000th bracelet winner.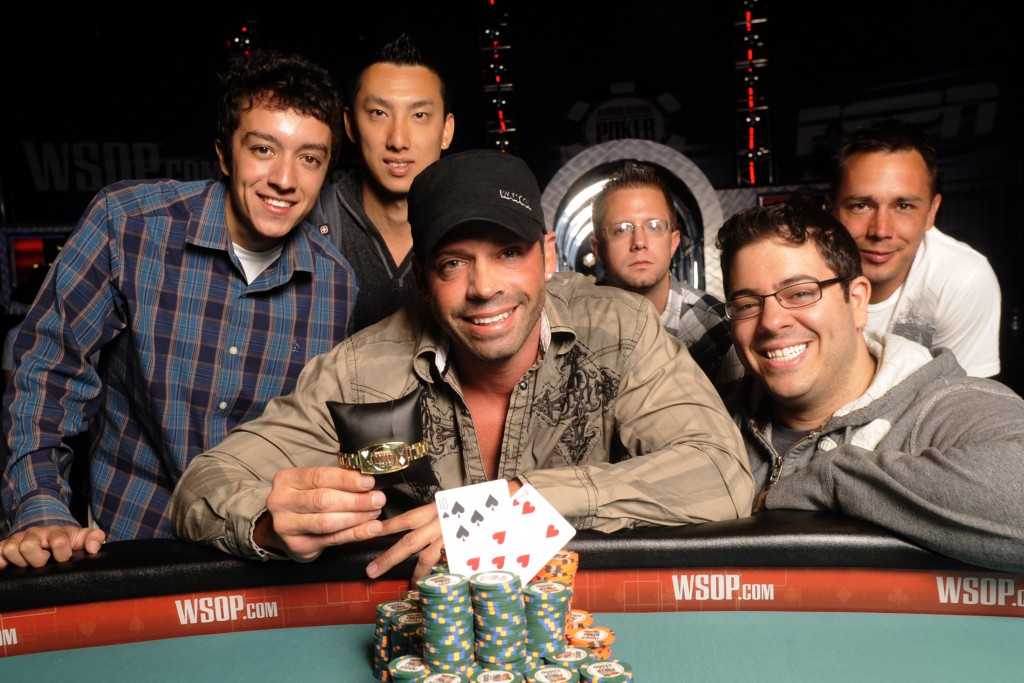 But, Event #41 was not the 1000th event. Due to a few years where doubles events were played, and two bracelets were given out, Event 47: $1,500 Pot-Limit Omaha Hi-Low Split 8-or-Better is actually the 1000th event.
Either way it's an amazing to think that there are less than 1000 people in the world with World Series of Poker Bracelets.
Car Pic Of The Day
We're always on the lookout for cool and unique cars in the Rio valet parking lot. We came across this Fikser Karma: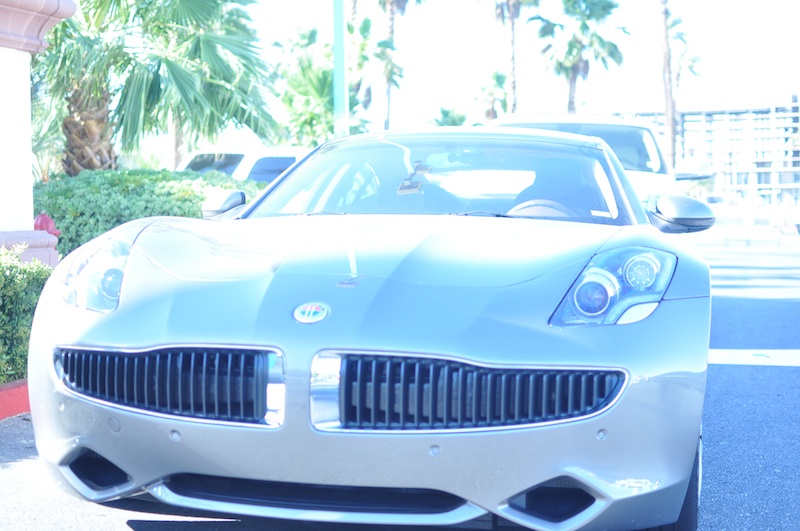 What's On Your Head: Day 29
It's been a while since we've shared a genuinely cool hat, but today we finally found one. A gentleman inEvent #44: $1,000 No-Limit Hold'em was wearing a Perry the Platypus hat from the Disney cartoon Phineas and Ferb.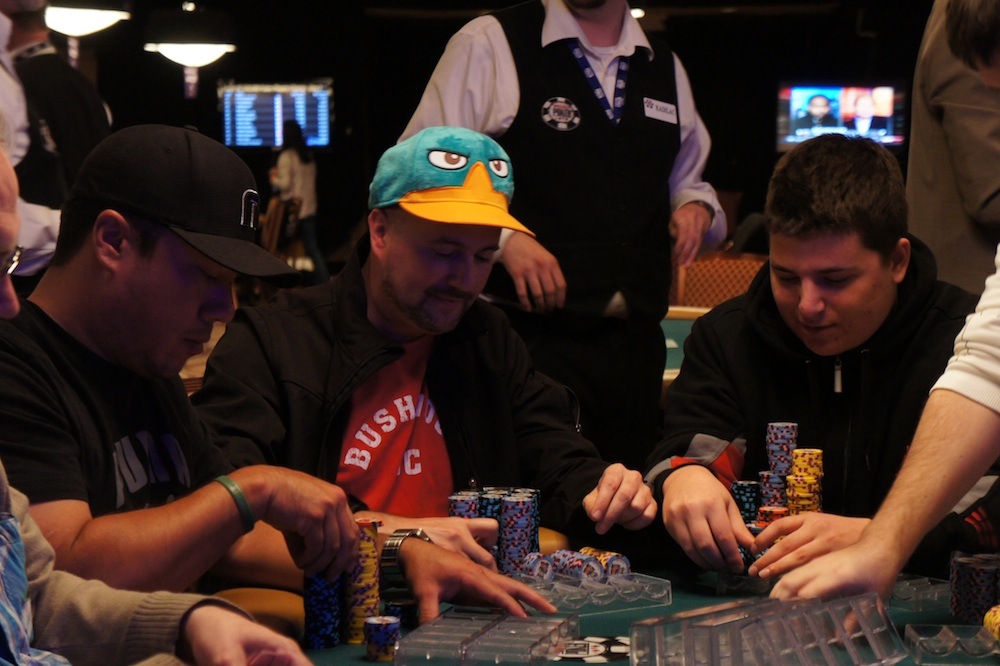 We're going to award him hat of the day, plus all the hat of the year points that go with it just for being original.
Final Table Party
We spotted Pratyush "FenwayKing" Buddiga on his way to rail Balazs Botond on the final table ofEvent 43: $1,500 No-Limit Hold'em.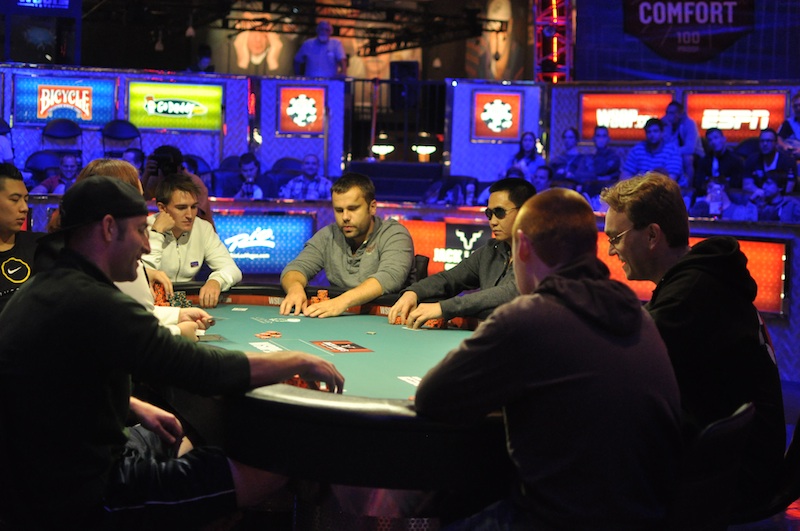 We hurriedly snapped this picture of FenwayKing (minus the top of his head) carrying a tray of beers on his way to the Thunderdome (feature final table in the Amazon room).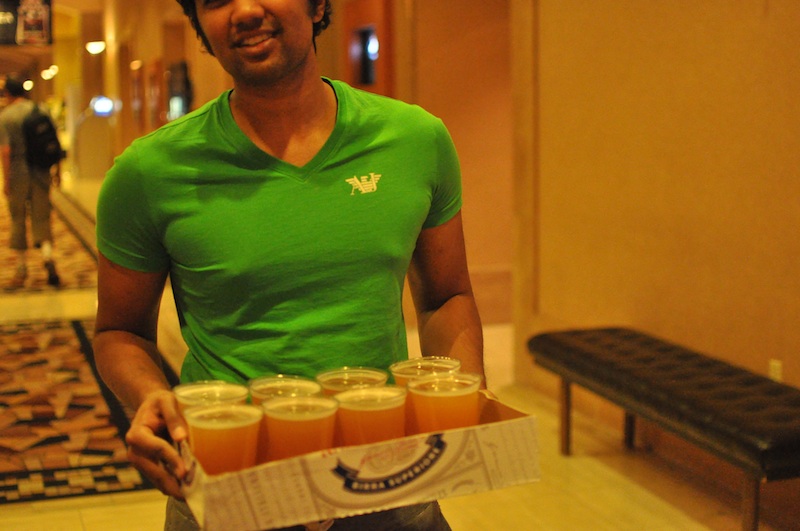 Dinner Break in the Poker Players Championship
We caught up with Dan Shak and Matt Glantz who were taking their dinner break in the $50,000 Poker Players Championship and we got some insight from them about the tournament. We asked both players what it is about this tournament that draws them in, and what they like about it.
"It's all the best players in the world," Shak said. "I'm in it for the challenge. When you win a $1,500 it's exciting and everything, but the field is so big, and there is so many players. In a field like this, every table is full of good players. And obviously, the final table is going to be one of the toughest. If you win, you certainly prove yourself to be one of the best poker players around."
Matt Glantz explained that the Poker Players Championship is his biggest event of the year.
"This is like the Main Event for me," Glantz said. "There is so many players who wait all year for the Main Event, but it's just not an attainable goal. This is the biggest tournament of the year for me with the prize pool."
We also asked the two what their best and worst games are in the eight game mix.
"Well Dan's best game is pot-limit omaha, today," Matt Glantz joked after a recent hand Shak won against Jason Mercier.
"I really like Stud 8, Omaha 8, and Razz," Shak said.
"I don't have a best game," Glantz said.
Poll
What is Dan Shak's Worst Game?
Poll
What is Matt Glantz' Worst Game?
Lastly, we got a chance to ask Glantz how his day two is going. After making the final table of the Players Championship last year, and coming in as the day one chip leader, he has a lot to follow up on.
"I'm still in the top ten," Glantz said. "I just want to win. I'm at the toughest table right now with Ivey and Negreanu though."
Cash Game Watch: Day 29
We wandered by the high-limit cash area this afternoon to check out the action. We saw Barry Greenstein and Victor Ramdin playing chinese, as they so often are this World Series. Also spotted, sweating Victor Ramdin over his shoulder, was 2005 Main Event winner Greg 'Fossilman' Raymer. It's Raymer's birthday today, perhaps Ramdin is giving him a chinese free-roll as a gift...
I'll Lay you...
"I'll lay you..." is a common term said many times at the World Series of Poker when making prop bets, but I don't think we've ever had to use it in this fashion: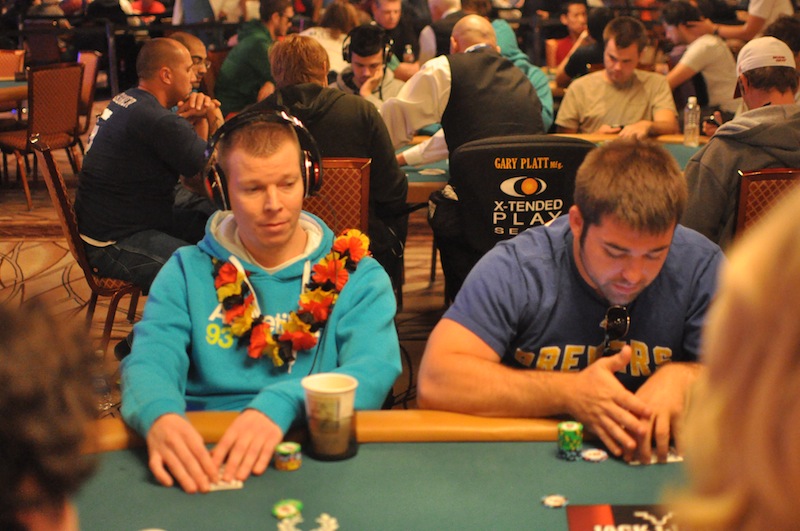 It appears this gentleman in Event #46: $2,500 No-Limit Hold'em just got leied, but we're not talking about odds anymore.
Who Wore It Better?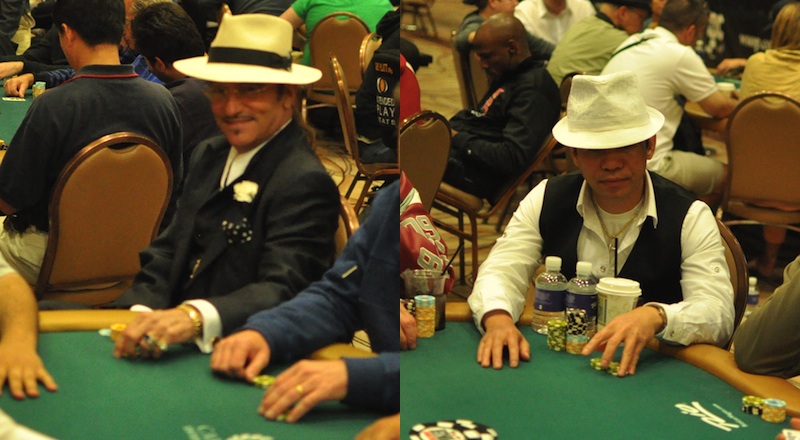 After snapping the pic of Fossilman in the chinese cash game, we took a spin through the Rio Deep Stack in the Pavilion room, on the look out for any interesting characters. We spotted the infamous 'Duke Of Fremont' playing in the huge tournament, as well as another gentleman similarly suited up!
Speaking of the Duke Of Fremont, we saw this riveting tweet from him earlier this afternoon, describing a near-impossible bad beat!
I am on table white 101 deep stack @WSOP . Three all in 6/3, 5/9, & A/Q. Flop 9/9/?. 5/9 won, incredible! http://t.co/DxX1NtAB

— The Duke Of Fremont (@DukeOfFremont)
Overheard in the Brasilia Room
"It always smells like Woodstock after breaks," one dealer said to another.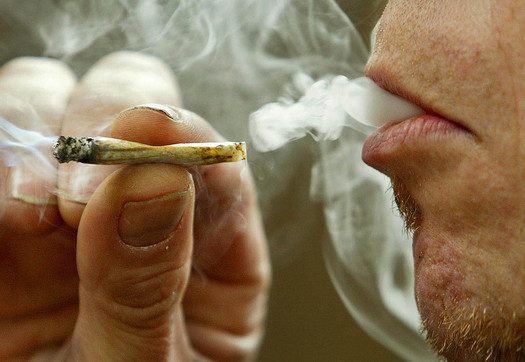 Suited Up: Day 28
Maybe poker players really are changing their ways. Maybe dressing like a hoodlum, degen, or hobo are in the days of the past. Maybe it's time for poker players to start suiting up.
Ben Yu and Tony Dunst sure think so. If you ever come down to the Rio and see either of the two men play, they are always in dress shirts, ties, and most of the time, slacks.
Poll
Who Wears A Suit Better?
Copy Cat: Volume 2
Earlier in the Series we found two people sitting next to each other with the exact same jacket on. Today we spotted this pair who aren't too far off, and they even have matching navy baseball caps. Imagine the embarrassment...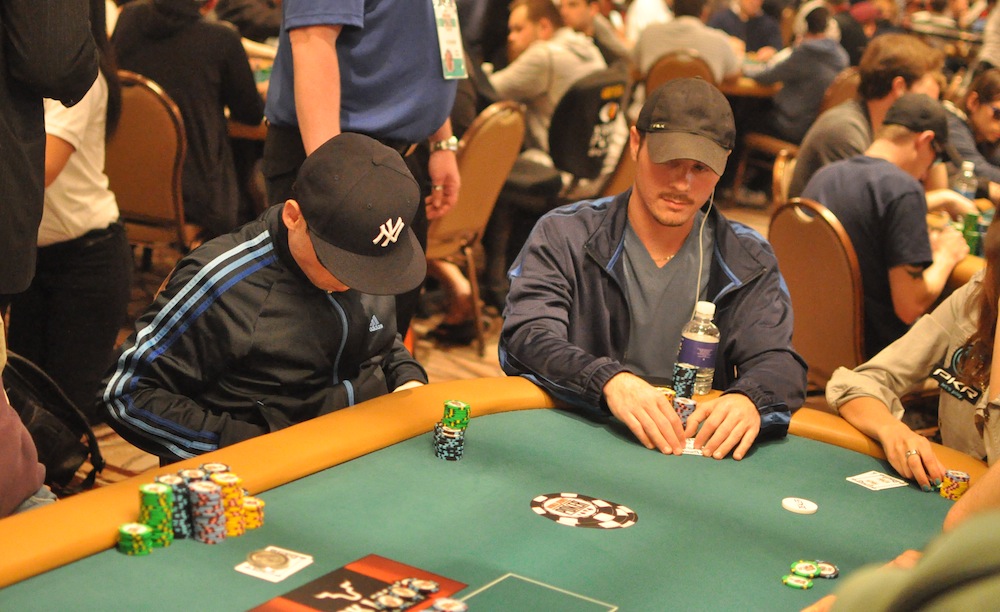 Castle... Re-Building
Check out this sweet chip stack Jordan Young just tweeted! It's about 200bbs in Event #46: $2,500 No-Limit Hold'em.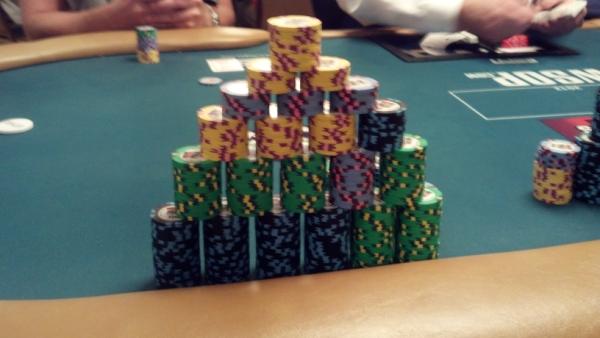 Sadly, by the time we had raced over there, Young had a job on his hands to rebuild his castle after a big pot. Himself and Galen Hall share a joke below.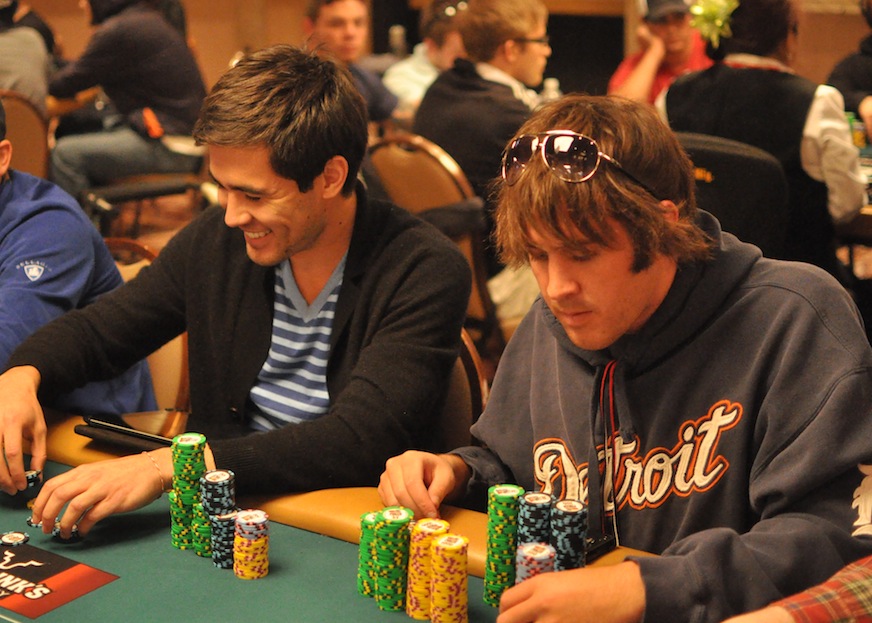 Get going Jordan, night's almost out!
Must Be Cold Up There!
Continuing with the theme of well organized chip stacks, we caught a glimpse of this guy's neatly arranged castle, with all the chips even lined up perfectly. Right atop the mountain sits his mascot Polar Bear.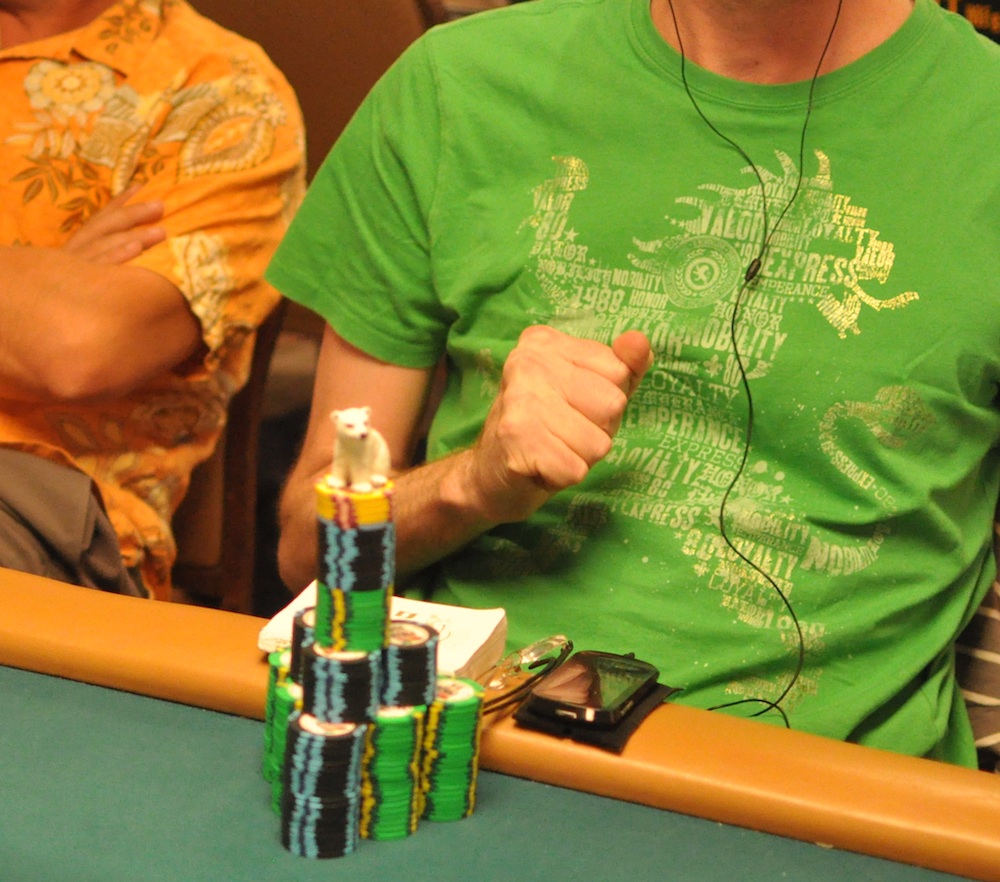 Make Yourself At Home...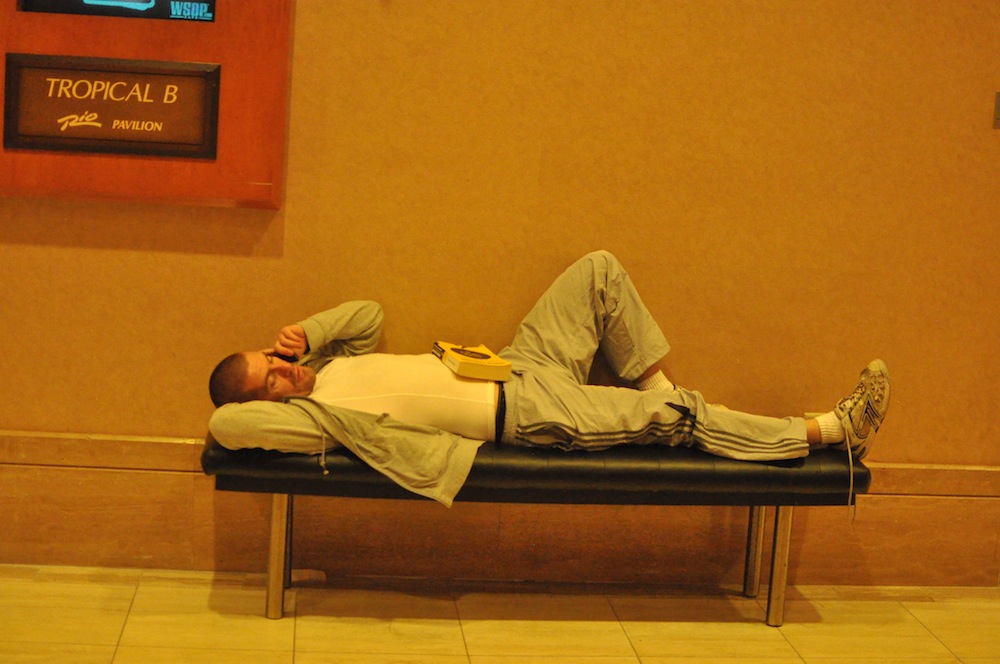 This isn't the first time we've spotted Gus Hansen making himself at home in the Rio. Today he's personifying the term 'flaking out' right in the hallway outside the Amazon. Taking a phone call in Danish, Gus is lying down, stretching and doing yoga and he doesn't care who knows it. It's good to have The Great Dane back at the WSOP.
Bit Of A Ruckus
People are all talk about an incident in the Brasilia room where Will Reynolds confronted Annie Duke. It seems the debate got fairly heated, with Galen Hall tweeting this picture of Reynolds standing up and talking to Duke.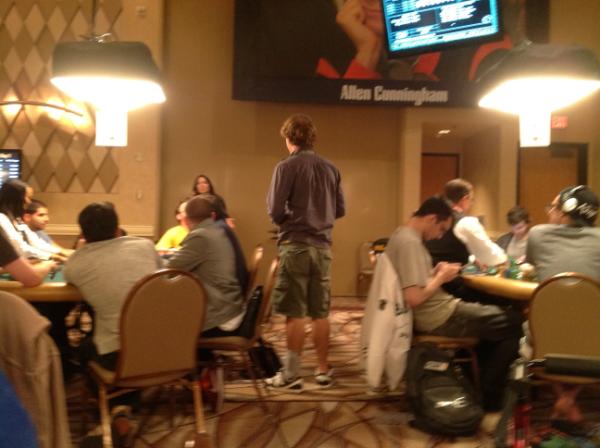 Annie Duke has long since busted and is nowhere to be seen now...
The Ivey Factor
Finally, after all these years, we discovered what makes Phil Ivey so intimidating... He's up higher than everyone else.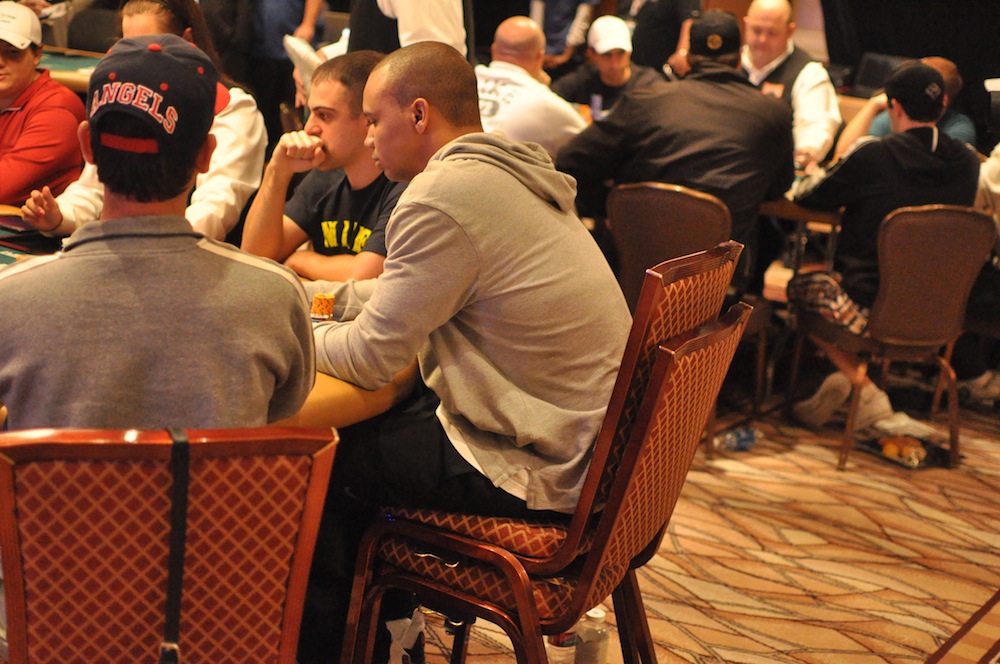 The Big Match-up
With the end of the day fast approaching, we managed to get this hasty shot of the Phil Ivey vs Viktor 'Isildur' Blom match up that has the rail salivating in Event #45: $50,000 The Poker Players Championship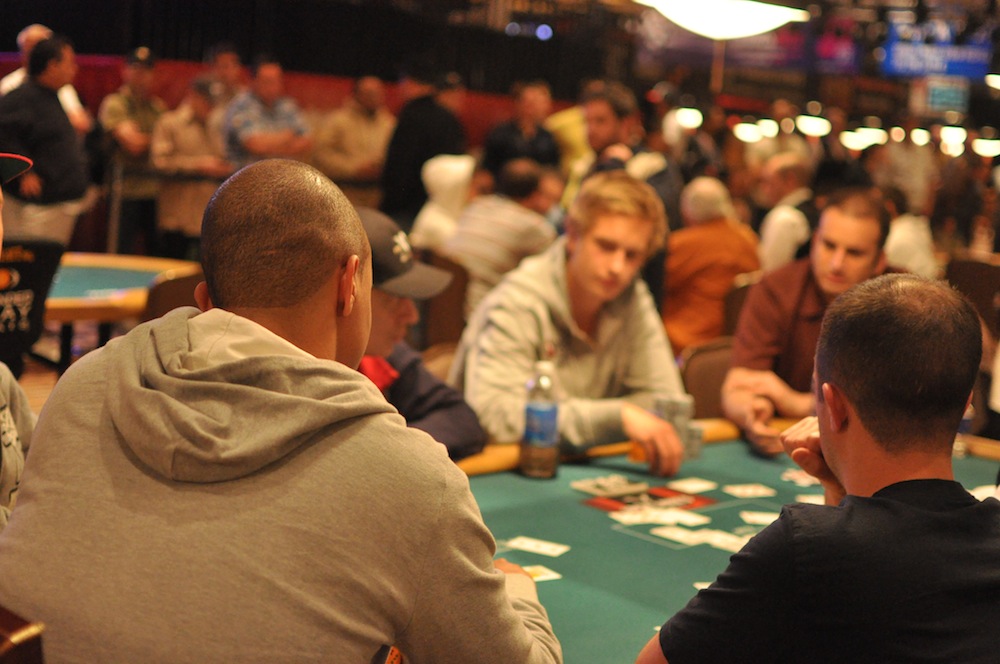 While the rail want to talk about the big match-ups for tomorrow, all the players can talk about is the huge hand that took place during one of the PLO levels, where we understand 3 players were all-in and nobody agreed on the ruling. The hand took 45 minutes to straighten out, and still nobody's happy with the final decision. Right now, Chad Brown is standing outside the PokerNews office debating the ruling passionately with some friends. We'll link you to the full write up of what happened just as soon as it's online.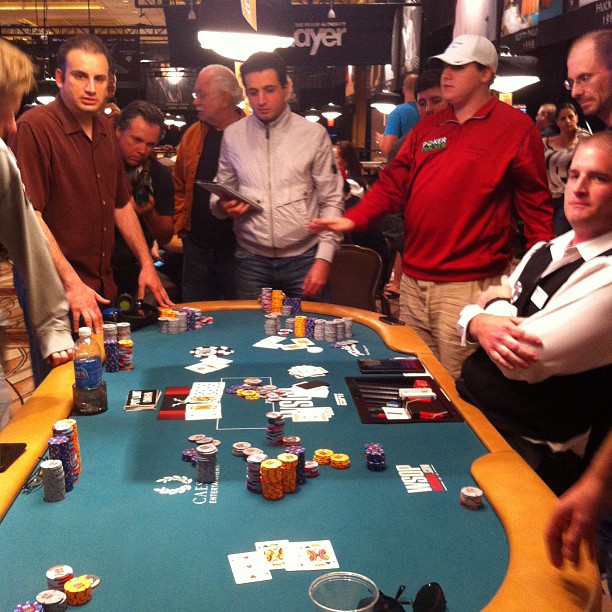 Here's a picture of Viktor 'isildur1' Blom during the debate, the only player seated, waiting patiently for a resolution.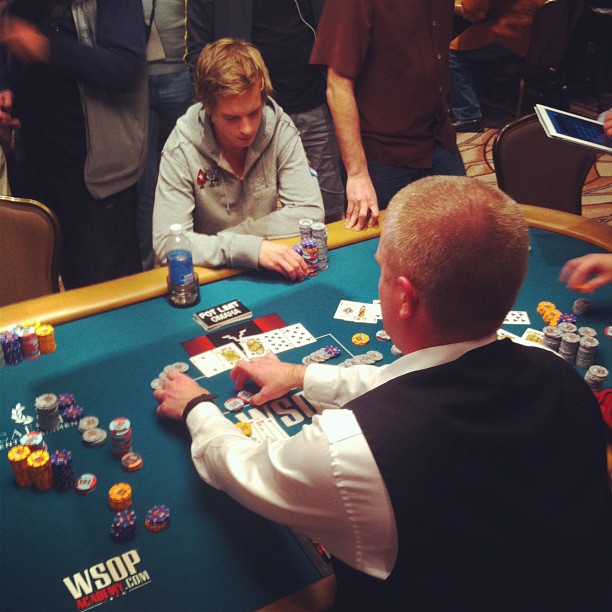 We encourage everyone to get involved with "The Muck." See something you think is Muck worthy? Send it to the muck@pokernews.com. We accept all media including photos and videos.