All Mucked Up: 2012 World Series of Poker Day 28 Live Blog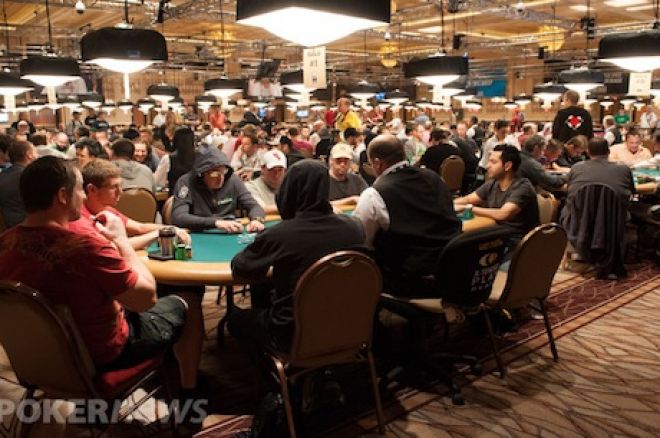 All Mucked Up is a live blog of all the stuff you want to know at the 2012 World Series of Poker, besides hand histories and bad beats. Well, we might add a few in here, everyone loves a good bad beat story — unless it happened to you. Check back often for polls, soundbites, celebrity sightings, and who knows what else!
May The Odds Be Ever In Your Favor
Bright and early this morning we dropped into the Rio sportsbook to get the odds for he big final days today. First we'll take a look at the notables in Event #42: $2,500 Omaha/Seven Card Stud Hi-Low 8 or Better
Jeff Lisandro 3/1
Brandon Guss 24/1
Timothy Frazin 24/1
Allen Bari 22/1
Perry Friedman 4/1
Daniel Ratgan 14/1
Oleksii Kovalchuk 10/1
Bryan Devonshire 8/1
Yural Bronshtein 7/1
Dale Philips 15/1
Tim Burt 17/1
Mark Gregorich 15/1
Wing Wong 20/1
Norman Chad 13/2
Michael Krescanko 7/1
Thomas Schneider 5/1
George Danzer 13/2
And with an outside chance
Charles Kassin 90/1
Anthony Bellino 70/1
Also available in the Rio sportsbook are odd for Event #41: $3,000 No-Limit Hold'em. There are still plenty of runners, so we'll just list the favorites and notables below.
John Kelly 8/1
Jackquiline Glazier 5/1
Dylan Hortin 8/1
Joseph Chaplin 5/1
Elio Fox 17/2
Greg Otrander 10/1
Peter Nguyen 12/1
Kevin Schaffel 13/1
Also worth a mention are Morten Mortensen at 12/1 for his great name and Shannon Shorr at 40/1 for his nice tweet.
Shout out to all the members of the poker media that work so hard covering these #WSOP tournaments!

— Shannon Shorr (@ShannonShorr)
Cash Game Watch: Day 28
Some of the big name pros have been skipping the events the last few days to check out the big cash games, including Phil Hellmuth:
Although I missed a WSOP tourney (Saturday) to play "Roll your own" Chinese poker 24 hrs straight w @ShaunDeeb, I did have a lot of fun!

— phil_hellmuth (@phil_hellmuth)
Today we have a heads up from Doyle Brunsen that a huge game might be going down. We'll keep our ears to the ground and try to bring you the scoop about where the game is at, who's playing and what game they'll be playing just as soon as we find out..
Supposed to be a giant cash game today. Thinking about skipping 50K tourney. #whattodo?

— Doyle Brunson (@TexDolly)
Celebrity Look-Alike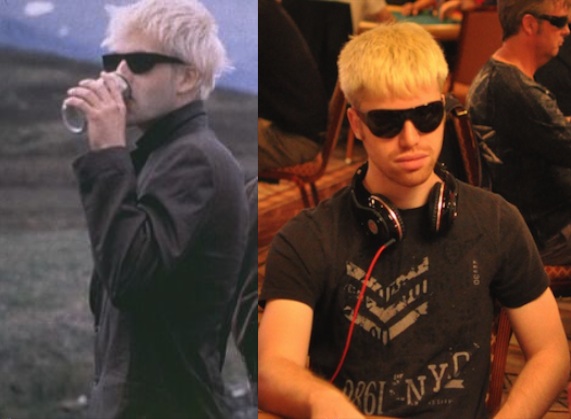 And we're off! The first look-alike of the day is in. We've featured this player before in a 'Who Wore It Better?' between himself andElky. Today we realized who he looks like - Sickboy from the 1996 British classic Trainspotting. What do you think?
Poll
Does This Player Look Like SickBoy?
The Card Protector Chronicles
The Card Protector Chronicles has been gotten a lot of positive feedback in the last few days (with a sample size of one person), so we cast our eyes about the Amazon room and the overspill from Event #44: $1,000 No-Limit Hold'em to see what we could find. Surprise, surprise word has leaked out that we're on the look out for Card Protectors and people are anxiously eyeing us as we walk by, making sure their little mascots are in plain view.
First up is 'The Rare Chiposaurus', a name this man has given to his prehistoric mascot, and one he was excited to get printed on PokerNews.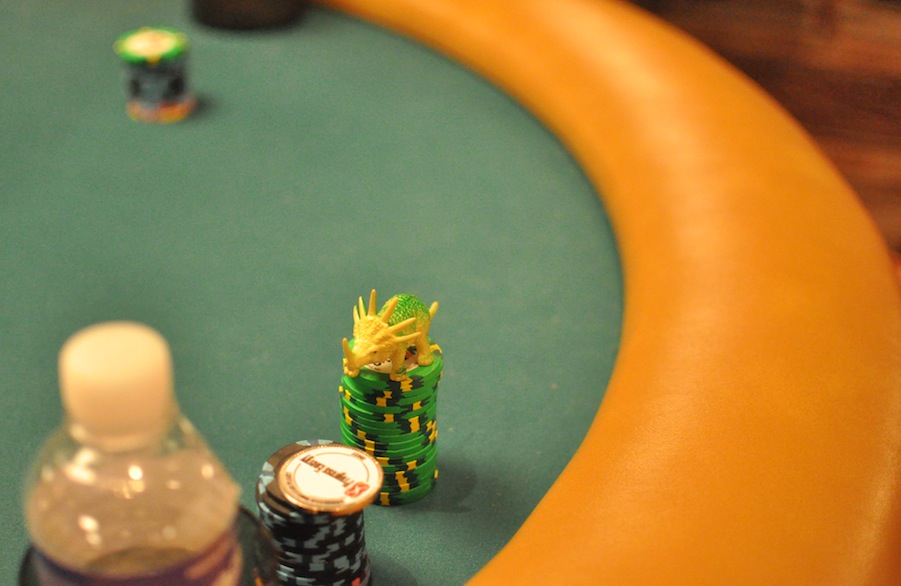 Here we have a furry mouse, a slightly unorthodox card protector in that it's a small teddy bear, but effective none the less.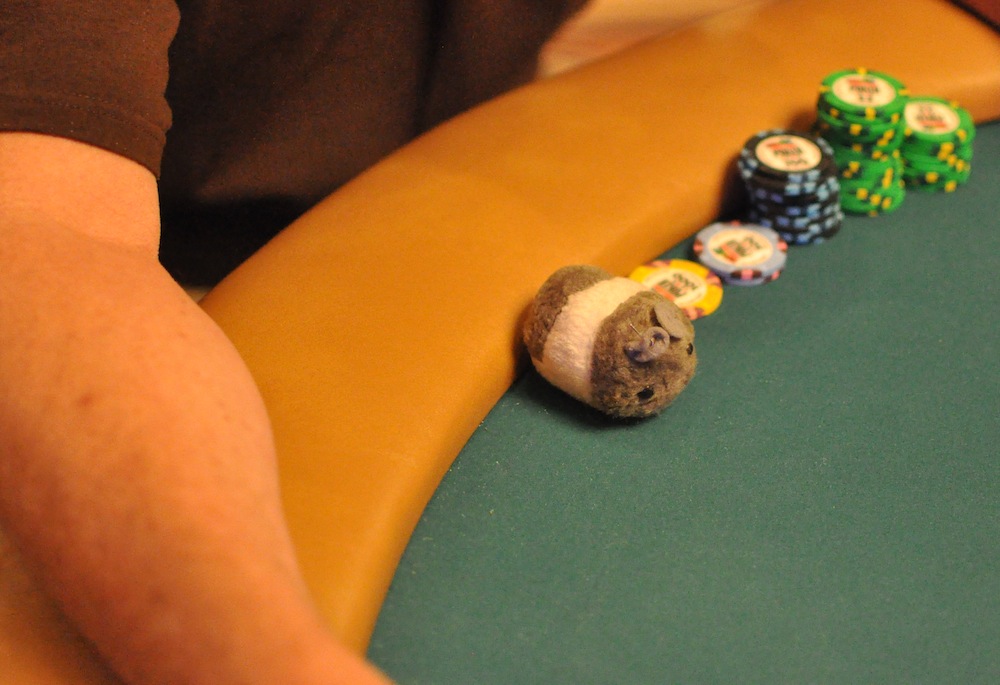 This man took a patriotic stance and went with a carved wooden eagle.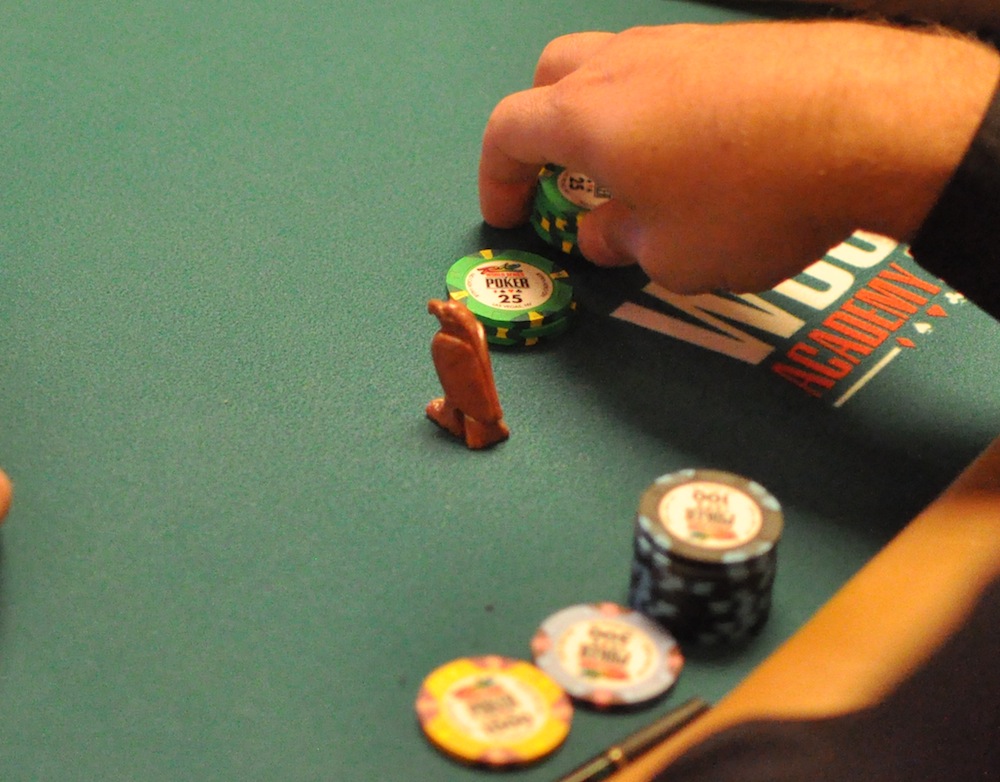 Finally we have the Bear card protector, and not the first Bear we've seen this series. This man was prepared and made sure his Bear was facing us for when he took the picture - getting sneaky pics is getting tougher and tougher by the day in the Rio!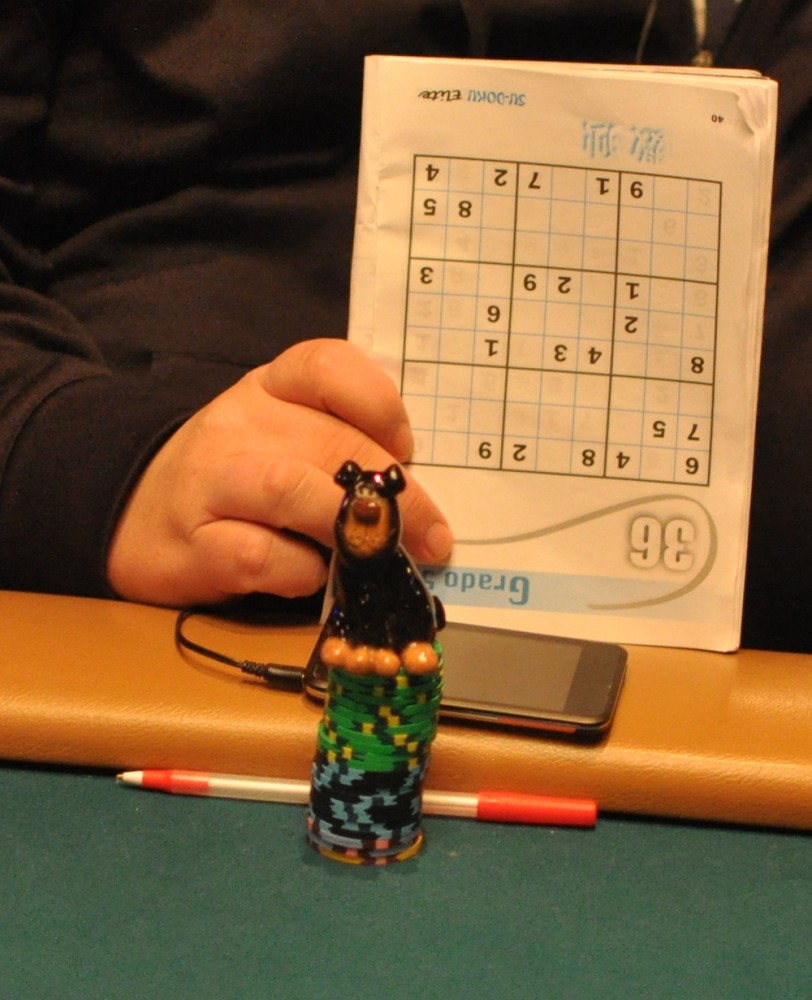 Stay tuned for more sweet card protectors.
Another Victim!
Anyone who's spent significant time in the Rio knows all about the aggressive tactics of the hall-side vendors. Dan O'Brien's tweet about the oxygen bar is getting a lot of love on twitter today!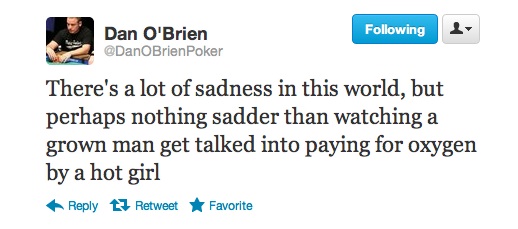 Sports Sunday
The NBA and NHL seasons are over and the NFL season is still a few months away, but the Euro Cup and MLB are in full swing. We came across several players representing their sports team today.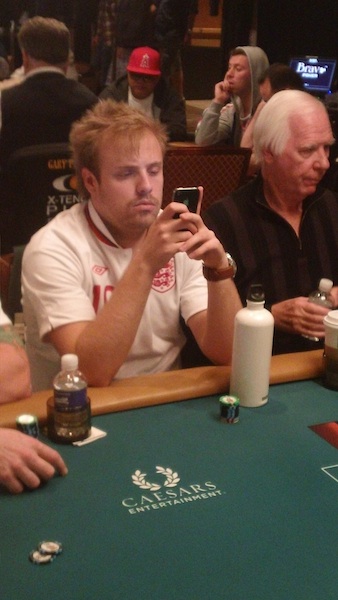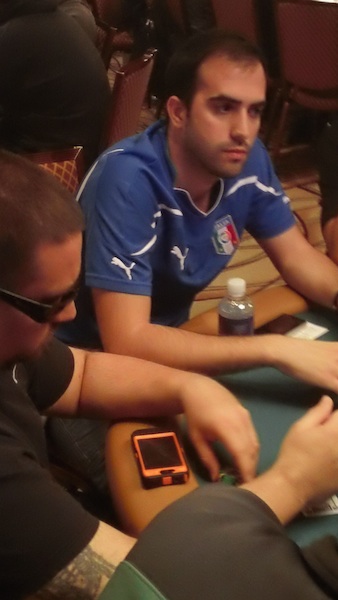 Italy beat England on penalties in today's quarterfinal match. That's the sixth time in England's history they've been knocked out of a international tournament via penalties.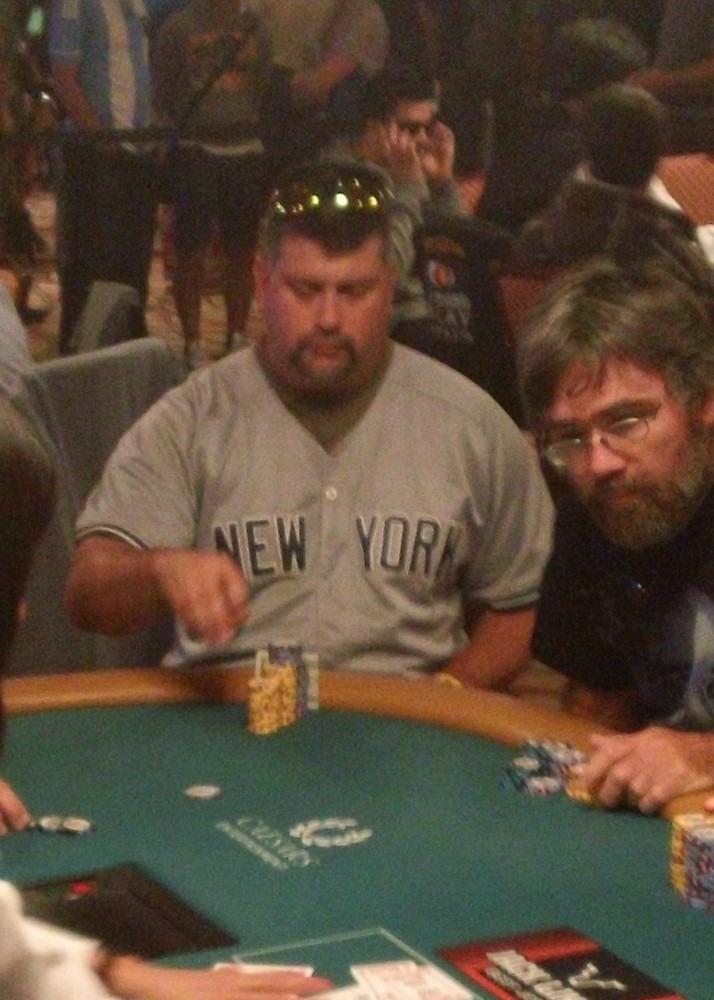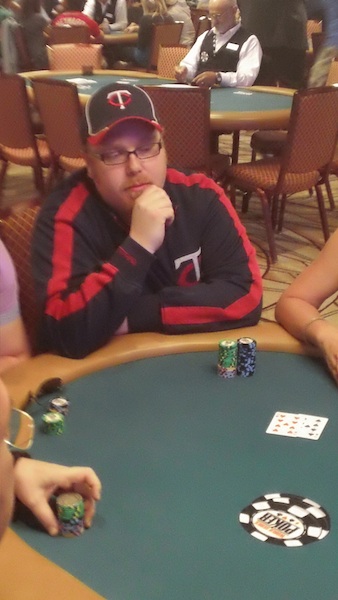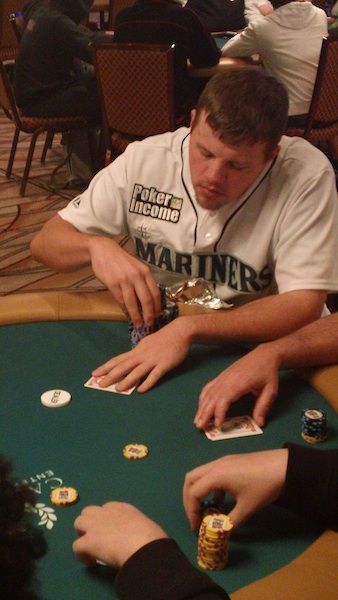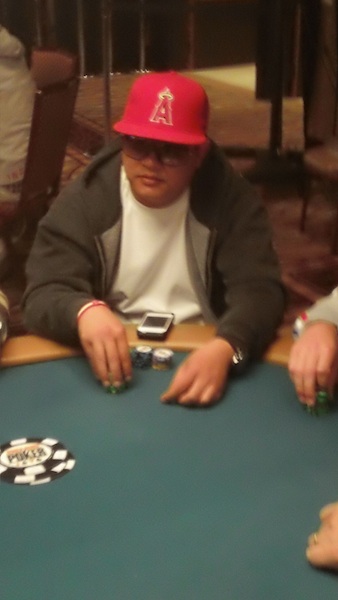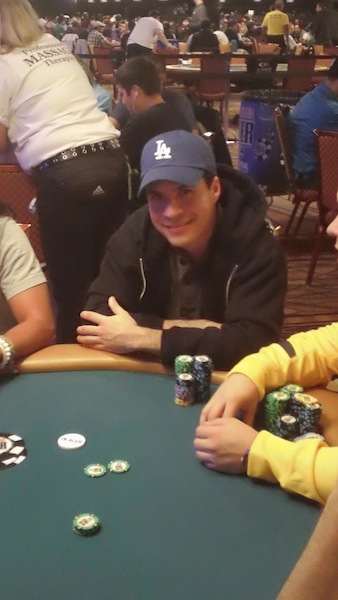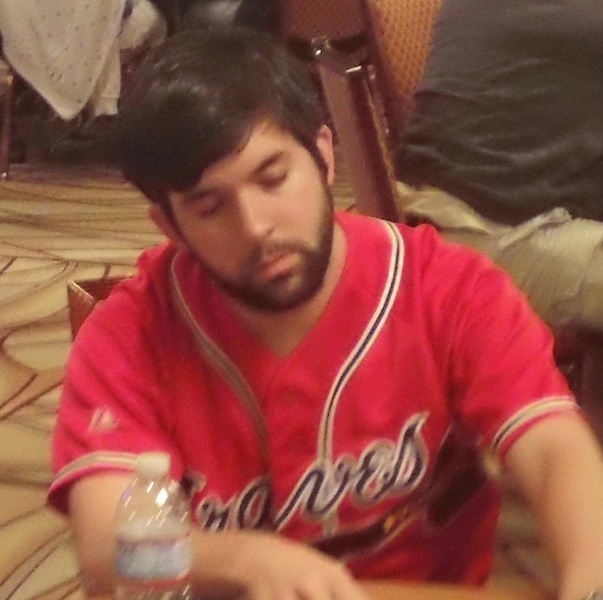 Poll
Which Team Will Win The World Series?
Fashion Faux-Pas: Day 28
Check out this retina burning outfit from the field of Event #44: $1,000 No-Limit Hold'em. The more you study the picture the more you can see where the bloke was coming from – I mean, he's got the blue, the orange and the white on each individual item of clothing, but there's just too much going on for it to be a comfortable combination.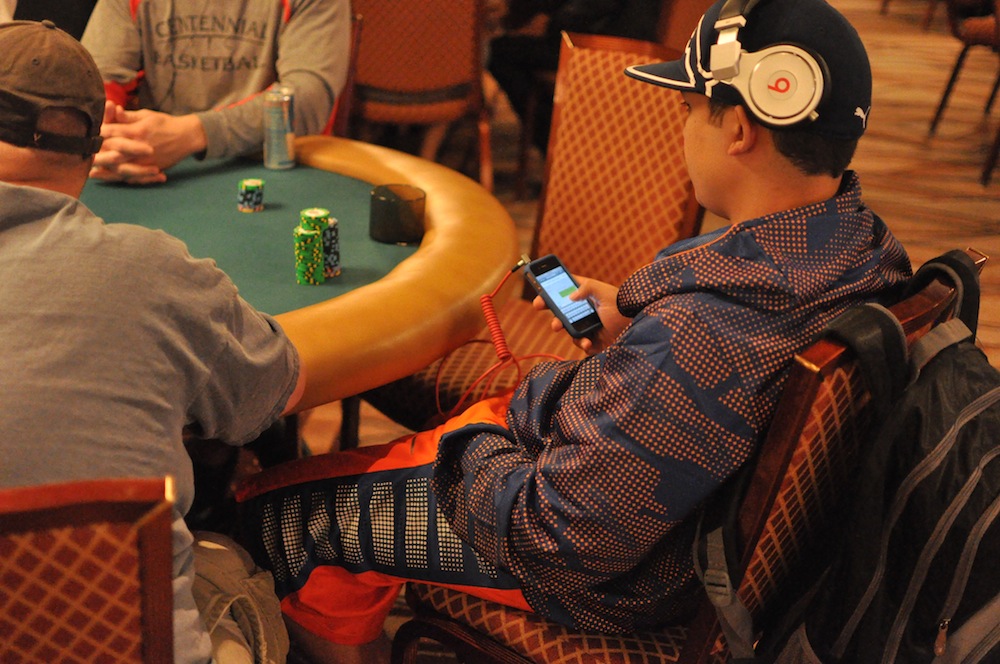 H.O.R.S.E. Play
We caught up with WPT commentator Mike Sexton, as he was getting ready for the start of today's Event 45: $50,000 Poker Players Championship. Although Event 45 is an Eight Game Mix, we rattled off some names to Sexton and asked him he would rather play them in the basketball game HORSE or the card game.
I'm Just A Girl: Part 3
In this series we ask female poker players the lame lines they're subjected to at the table by their male tablemates. We caught up with Cherish Andrews andMaria "Maridu" Mayrinck.
Andrews is coming off a fourth place finish in WSOP Event #31, earning $210,083. What lame lines does she hear?
"I get, 'Oh, did your boyfriend teach you poker?'" Also, "well at least my chips are going to a cute girl like you."
There are some advantages however.
"In the lower buy-ins, like the 1k and 1.5K events most people don't recognize me so they don't know I can play," Andrews said.
How about Maridu?
"I've had a lot of douche bags this year," Mayrinck said. "I had one guy yell at me when I took a pot off of him on the bubble."
When asked if she gets guys hitting on her at the table, Mayrinck replied, "They know not to go there with me."
The Big Papa
Thankfully, The Godfather Of Poker has not made good on his threat of not playing the 50k today in favor of some cash games. He just turned up to the Amazon room on the stroke of 5pm and is getting a lot of attention, delaying him from beginning the event. The event organisers were asking people to let Doyle Brunson get to his seat, and ushering people away, but in typical appreciative fashion Brunson said 'Don't be ridiculous' and kept signing autographs until the crowd had dissipated.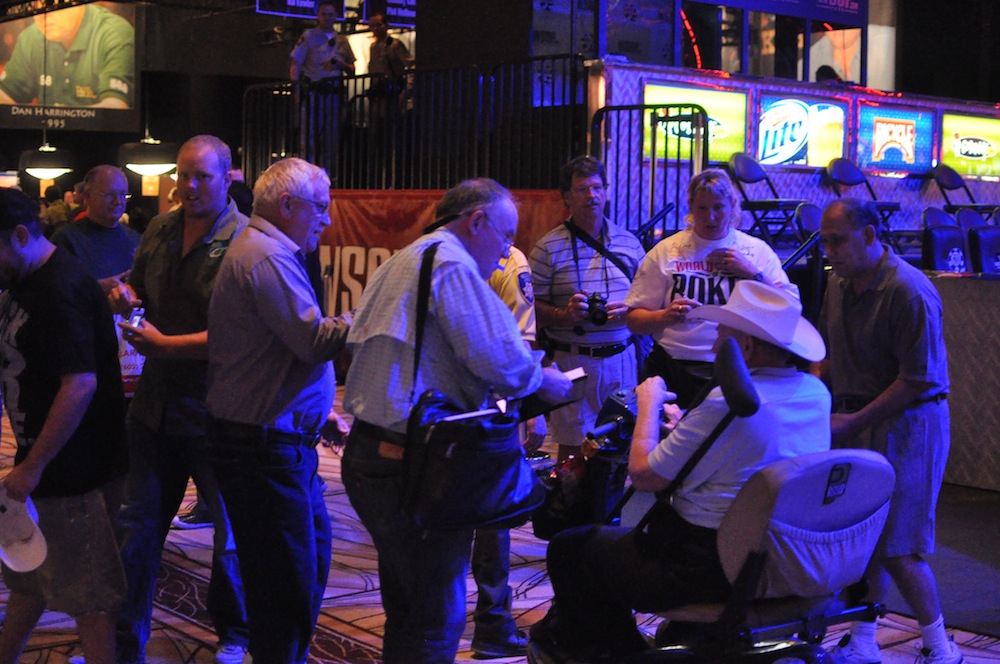 The Amazon room is more packed than we've seen yet this summer. At the time of writing we can't even get near the rail, but now that the players have sat down and the cards are up in the air we're going to go on the prowl with our trusty Nikon and snap some pics of some of the tougher table draws.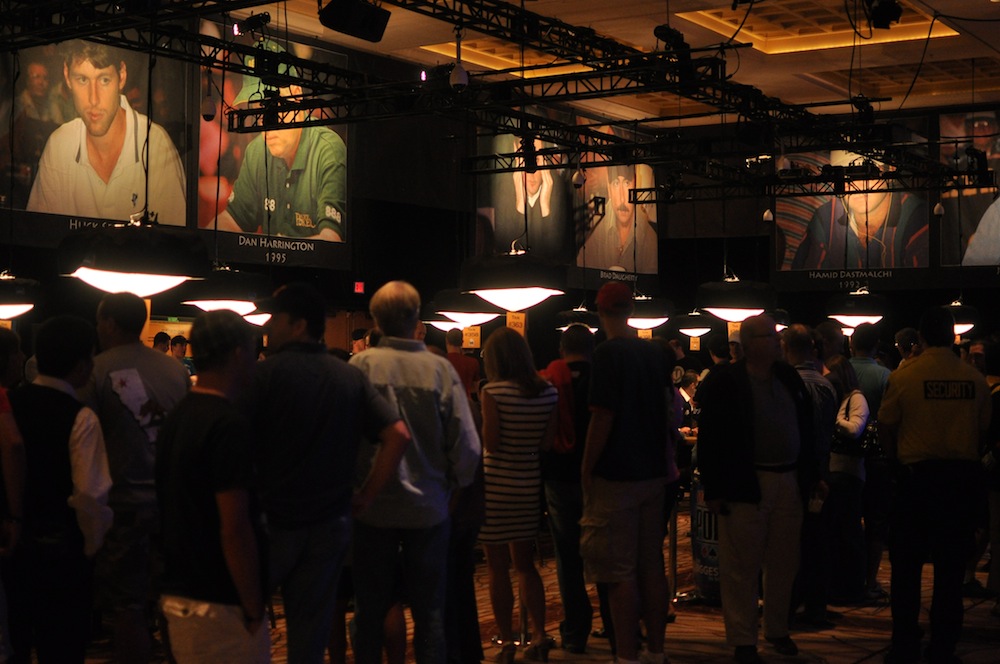 Doyle Is Here But...
We just saw this tweet from Matt Glantz again talking about the mystery big cash game going on in town... sounds like something our readers might want to hear about! We'll try catch Matt on break from the 50k 8-Game and shake him down for information!
Just received text from a friend who is skipping the 50k due to an enormous cash game in town... 'Just sent in 150k bluff guy rebluffed me'

— Matt Glantz (@MattGlantz)
The 50k Eight-Game Mix
This is it, the one we've all been waiting for. The rail is fittingly dense for the highest buy in event of the World Series so far. We'll try to cover it as throughly as we can tonight. We'll get you started with a few interesting table draws.
First up we have Mike Matusow, Bertrand 'Elky' Grospellier and Huck Seed all at one table. That combination is sure to bring about some interesting table talk.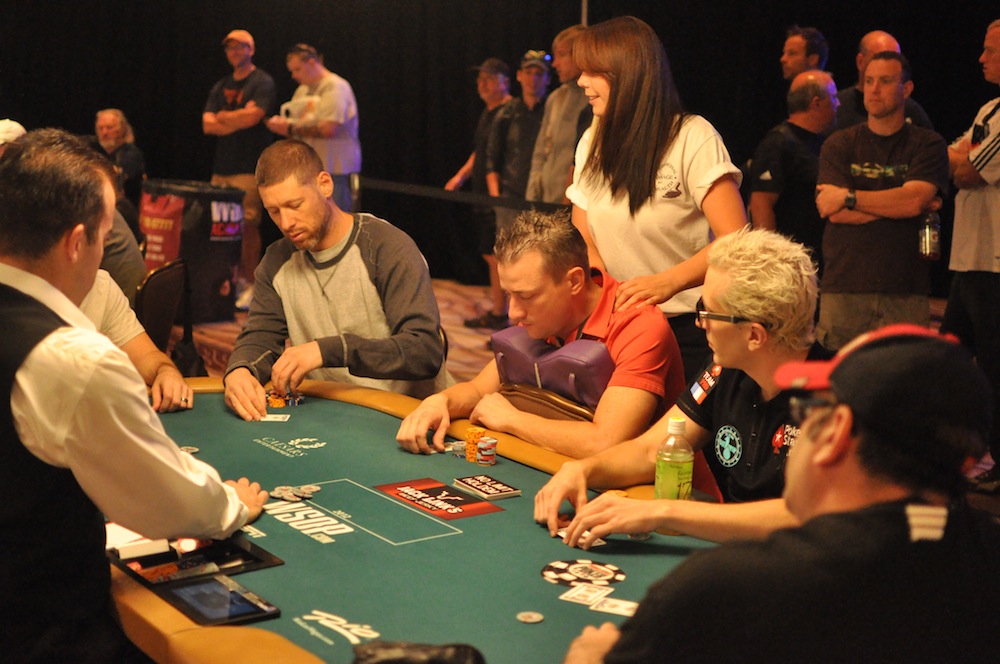 Elsewhere, Viktor 'Isilur1' Blom has been seated next to Scott Seiver. Seiver has consistently brought out the talkative side in all his tables so far, but may not know where to start with the silent assassin that is Isildur1. We'll keep an eye on that table and see how the atmosphere is. We'll also be giving generous odds on Seiver drinking shots with Blom before the night is out, so swing by the PokerNews office if you want to take us up on that.
Finally, we saw this interesting match between Brian 'Stinger' Hastings and Doyle Brunson brewing. This is a true old school vs new school encounter, although, as always, there's no guarantee the old schools knows the new schools name...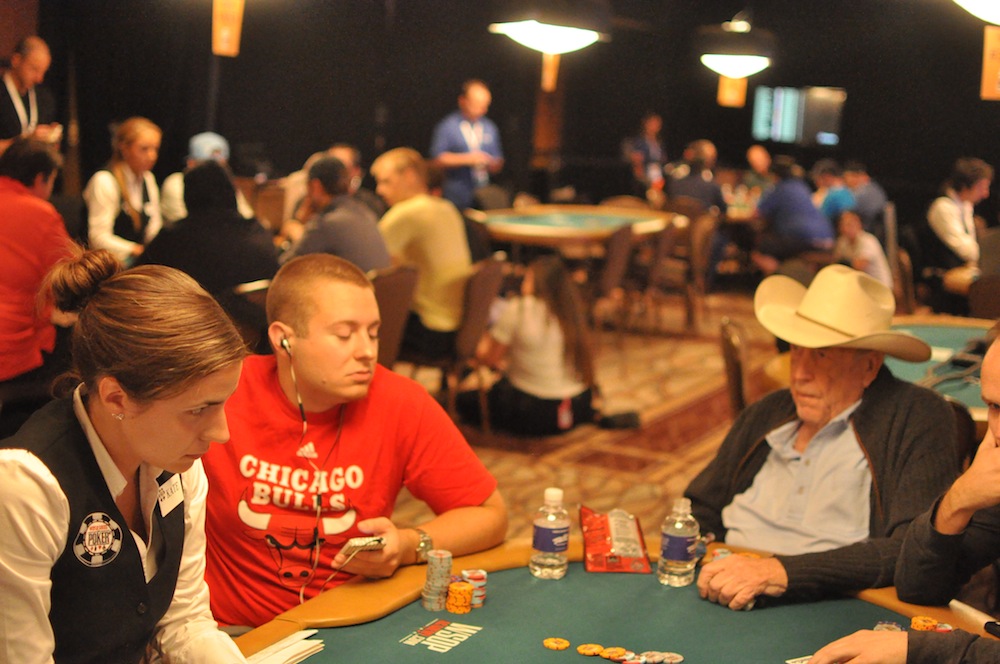 Norman Chad In Beast Mode In WSOP Event #42
ESPN commentator Norman Chad is currently the chip leader of Event 42: $2,500 Omaha/Seven Card Stud Hi-Low 8-or-Better. There are 11 players left fighting for the $228,014 prize and the bracelet. We caught up with Chad at break.
What are your feelings right now, so close to the final table?
I'm thrilled. I came in 12th last year and I count that as a final table (laughs).
Would this be your first "real" WSOP final table?
It would be my first final table anywhere in the world.
Of the two games in this event which do you feel you're better in?
Almost equal, maybe Stud a little more than Omaha, it's the only two games I really play and am good at it.
If you were to win the $228,014 payday how much of that would go to the ex-wives?
They don't speak to me. They all left me a long time ago, there's no alimony, they were all happy just to get out of there as quickly as possible, so it's all mine.
Chad is also getting plenty of twitter love as well.
@NormanChad update: 22 left in #wsop42 Jeff Lisandro chip ldr 355k, Norman in ........ 3rd! w/ 224k. Resume 2pm folo http://t.co/ELZhqlgx

— Lon McEachern (@lonmceachern)
Gus Hansen Spotted In Poker Players Championship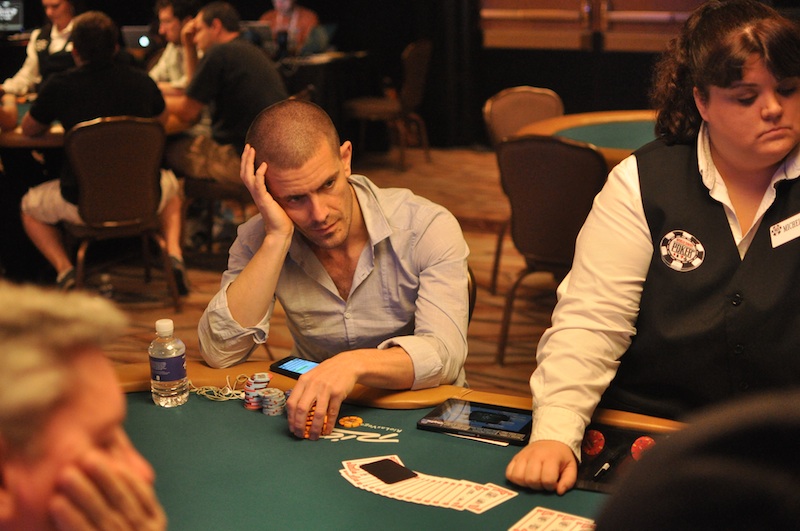 This is Gus Hansen's first appearance in this year's WSOP. Apparently, Hansen doesn't roll out of bed for anything less than a$50,000 buy-in. We'll be sure to keep tabs on him throughout the day.
Naoya Kihara - The Japanese Champion
Naoya Kihara recently won his first bracelet in Event #34: $5,000 Pot-Limit Omaha Six Handed. What's he doing now? Well Kihara has decided to enter Event #45: $50,000 Poker Players Championship.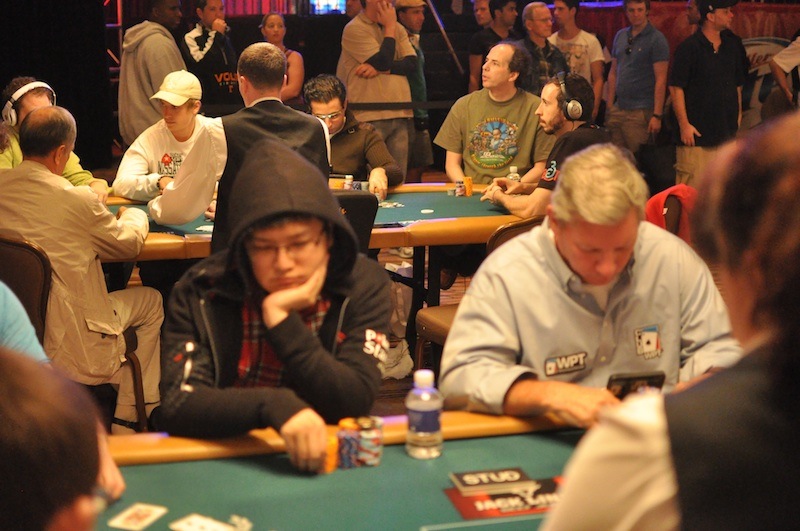 $50,000 is a lot of money to risk on one tournament, so Kihara must be trying to prove that he has what it takes to hang with the big boys. We don't know if he is playing backed, or if he satellited into the event, but we'll try to catch up with him on break to see if he can give us some insight. We do know that Kihara has a lot of confidence in his game, stating that he was the best Japanese player after winning Event #34. Currently, he is seated with Gus Hansen and Mike Sexton, so this tournament will be a true test of his skills.
Sounds From The Rail - The Brits
As you may have read, the British rails are the rowdiest. They sing, they drink out of shoes, they get kicked out. We wanted to give you a little taste of what it's like to be on the rail with the Brits, who are currently supporting JP Kelly in Event #41: $3,000 No-Limit Hold'em.
Sitting on the rail in support of Kelly is James Akenhead and Jake Cody. We'll try to catch up with Kelly now as he's dinner break to see if he has anything good to say about his amazing rail.
Fashion Patrol
Joan Rivers would have a field day with these two.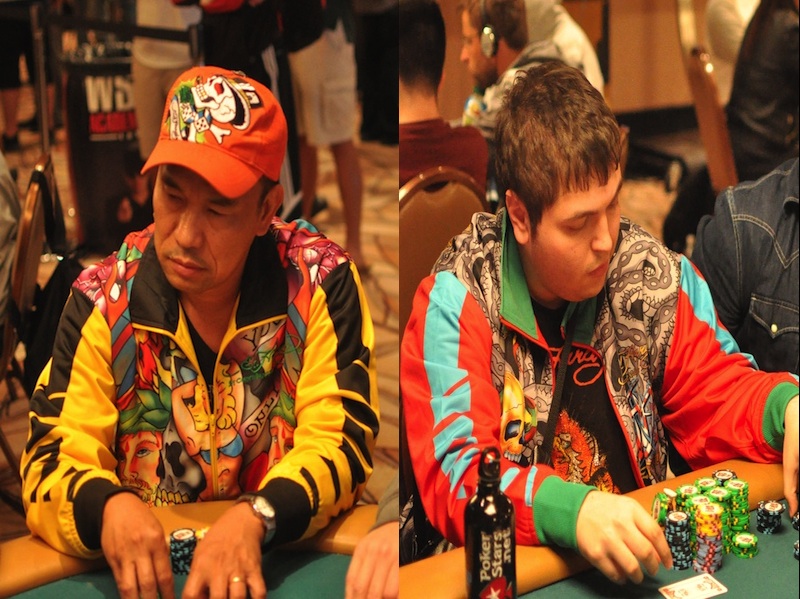 Poll
Whose Outfit is Louder?
Eighty-Sixed
The rail has really quieted down after the dinner break in Event #41: $3,000 No-Limit Hold'em. We got a chance to talk to a couple of security guards down here at the rail who gave us the low down on what happened.
"We didn't ask anyone to leave but one gentleman," he told us. "And he is no longer allowed at the Rio or any of the other 11 properties."
We asked the security guards what the man had done to get eighty-sixed. "He was just being loud, belligerent, screaming during hands," they told us. "We had to escort him out the other day, and that's it. You only get one warning." We talked briefly about the origins of the term eighty-sixed yesterday.
We asked them how often they actually eighty-six people from the casino. "Hardly ever," he told us. "In fact, this might be the first time i've ever had to do it."
We asked if they also asked the rest of the rail to leave as well. "No, we only asked one gentleman to leave," he told us. "But when you remove the ring leader, the rest will follow."
There is no more fun and games on the rail of Event #41.
Chris Moorman, Throwing His Own Party
Chris Moorman is one of the few Brits left on the rail in Event #41. At his feet were two trays of just about 20 drinks, which we assume was meant for the majority of the rail who just left: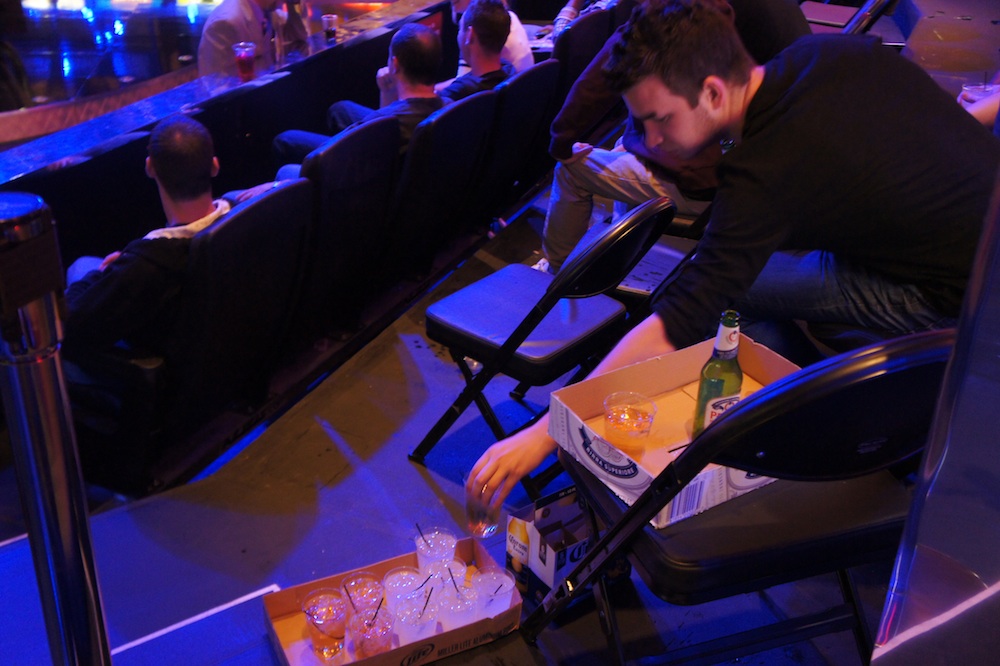 Moorman, and two other Brits, seem to be trying to finish off the drinks by themselves. We'll see if they can do it, and catch up with Moorman when we can to see how he's feeling.
Who Is Uncle Ron: Day 28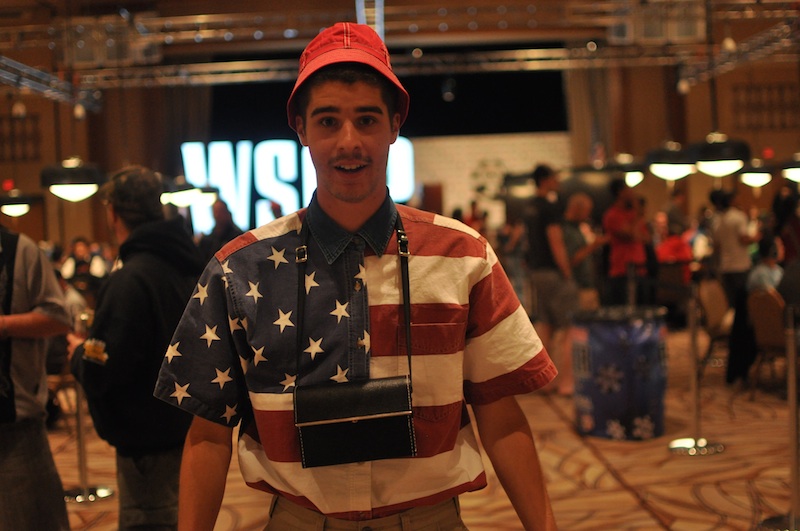 Uncle Ron strikes again. Mason Hinkle, the younger brother of poker playing siblings Grant and Blair Hinkle, was spotted today in the Brasilia room, decked out in patriotic attire.
Uncle Ron also insisted on a custom picture.
"Let me take a picture of you while you're taking a picture of me," Uncle Ron said.
We obliged.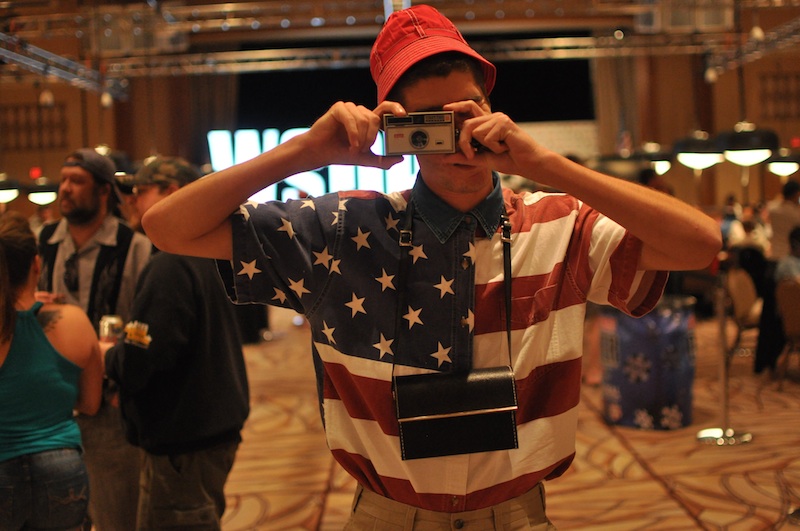 Prop Bets: Day 28
We caught up with Maria 'Maridu' Mayrinck while she was taking a break in the hallway earlier today. She let us in on a little prop bet she made with a friend.
"Well, I was playing in the $1,000, and I was doing alright, I flopped quads once and had a bunch of chips, but I was out by level three," she explained. "So I went over and was talking with my friend, and he wanted me to play in the $235 deep stack with him, just for fun. So I was like of course yeah. And we made a $1,000 last loner to sweeten the deal a little bit and he was out in the first level.
"And me, I was just sitting there playing like a maniac. Oh
? Raise! Oh reraise? Rereraise. And all of a sudden I had a bunch of chips, and I looked up at the prize pool and it's 50k for first place! So then I decided, I could actually win this. It's time to get serious."
Mayrinck may not be having the best series, but if she ships the Rio Deepstack, she may be able to get a little something going for her. We'll update you on her progress when we find her again.
While The Man Is Away, The Girls Will Play
We just spotted Maya Antonius in Event #44: $1,000 No-Limit Hold'em. Maya is the wife of lady killerPatrik Antonius, who is currently mixing it up in the $50,000 Poker Players Championship.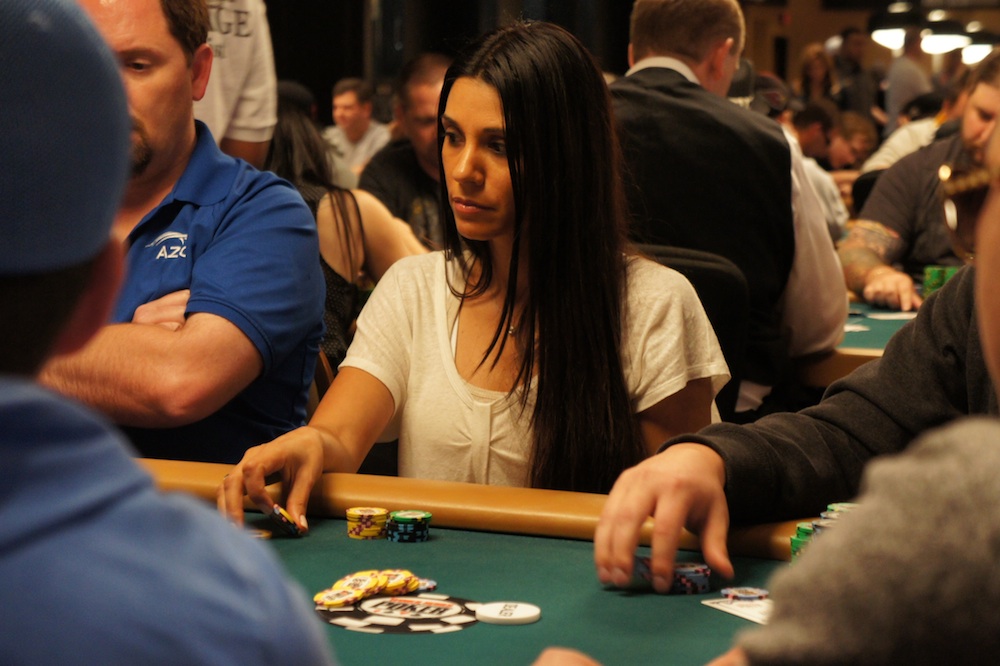 When we last saw her, Maya was alive with a healthy stack in the event, and we'll be sure to keep an eye on her in case she makes a deep run.
Poker is Boring!
We got a hold of this one on twitter, but apparently, tournament poker is no fun for Gus Hansen who was seen taking a nap on the floor in the $50,000 Poker Players Championship.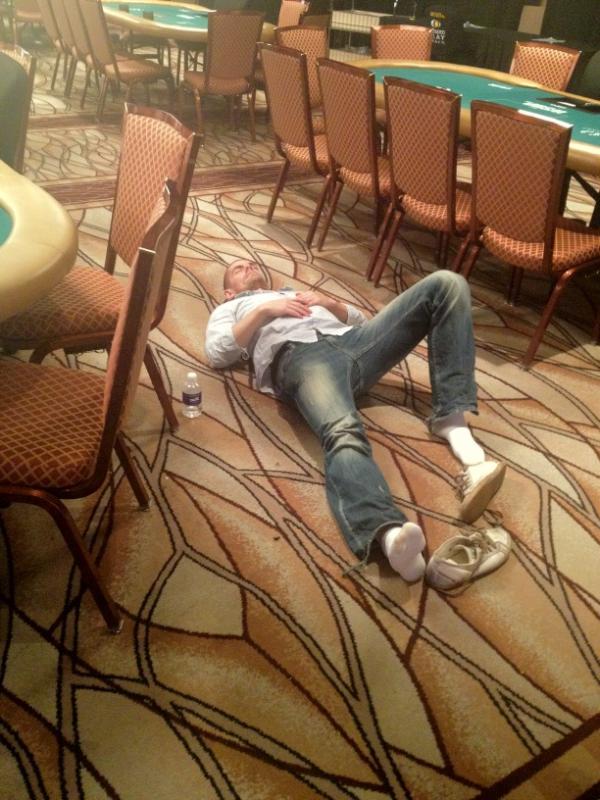 This is the first event that we've seen Hansen play this year, so maybe he's just not in shape for tournament poker anymore. Either way, we hope that he's at least keeping his shoes on at the table. No one wants to smell those Gus.
A Good Show For The Ladies
Jackie Glazier is currently heads-up in Event #41: $1,500 No-Limit Hold'em, and while the brits may have left, Glazier's rail is electric. They are extremely supportive and cheering loudly, cheers that can be heard through the whole Amazon room.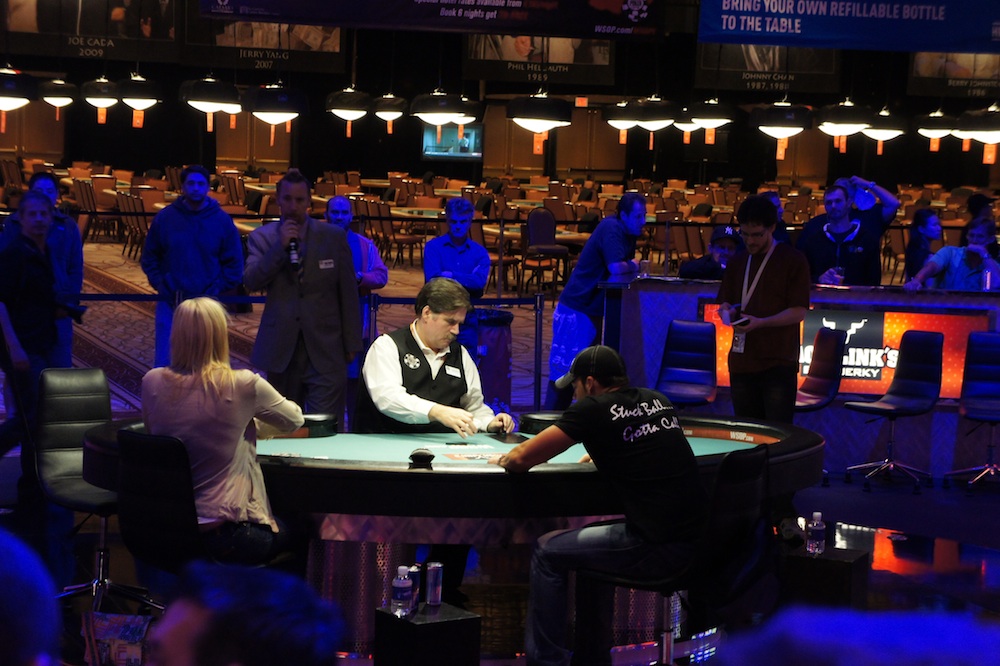 Glazier currently has a commanding chip lead and is an odds on favorite to become the first woman to win an open event since Vanessa Selbst in 2008. Her rail has been singing songs such as "Hey Jackie, you're so fine, you're so fine you blow my mind. Hey Jackie!!"
On the other side of the table, Greg Ostrander's rail is much more passive. They are quiet, only cheering ocassionally, and not with the force or passion of Glazier's rail.
We'll try to get an interview with Glazier should she win the event, and with the momentum she has from being the chip leader and her rail, it may not be long until we see our next woman bracelet holder. The two players have decided to bag and tag for the night, so we'll most likely catch up with the winner of Event #41 tomorrow.
We encourage everyone to get involved with "The Muck." See something you think is Muck worthy? Send it to the muck@pokernews.com. We accept all media including photos and videos.