All Mucked Up: 2012 World Series of Poker Day 27 Live Blog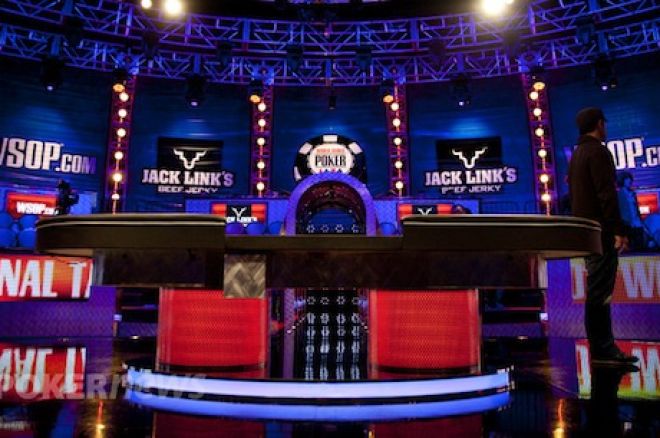 All Mucked Up is a live blog of all the stuff you want to know at the 2012 World Series of Poker, besides hand histories and bad beats. Well, we might add a few in here, everyone loves a good bad beat story — unless it happened to you. Check back often for polls, soundbites, celebrity sightings, and who knows what else!
May The Odds Be Ever In Your Favor
Another morning means another stroll down to the Rio sportsbook where we gathered the odds for the two events who will be playing down to a winner today. Event #39: $10,000 Pot-Limit Omaha has Andrew Brown leading the way currently, and he's going off at 3/2 odds. Trailing Brown is Sammy Farha going for 7/2, and near the bottom of the pack is Jason Mercier, who was going off at 8/1.
Jason Mercier – 8/1
John Kabbaj – 24/1
Sammy Farha – 7/2
Andy Seth – 8/1
Jan-Peter Jachtmann – 9/2
Micah Smith – 23/1
Ville Wahlbeck – 20/1
Nikolai Yakovenko – 9/1
Benjamin Sage – 4/1
Steven Silverman – 7/1
Joe Kushner – 8/1
Adam Kornuth – 8/1
Andrew Brown – 3/2
The other event finishing off today is Event #40: $2,500 Limit Hold'em Six Handed. Only ten players remain in the event includingTerrence Chan going for an absurd 2/1, and Sorel Mizzi who was going off at 3/1. Mizzi and Chan are second and third in chips respectively.
Hans Minocha - 13/2
Marco Johnson - 18/1
Rep Porter - 13/1
Joep van den Bijgaart - 7/2
Ronnie Bradah - 20/1
Sorel Mizzi - 3/1
Chad Brown - 8/1
Terrence Chan - 2/1
Vincent Gironda - 7/5
Brent Wheeler - 7/1
To keep tabs on any players that you may have bet on, make sure you check out our live reporting blog for up to the minute updates.
The Card Protector Chronicles - Day 27:
We're 27 days in to the World Series of Poker and we're just getting started. So far we've seen a bunch of ridiculous card protectors and it only keeps getting better. We've got a new batch for you today straight from Event #43: $1,500 No-Limit Hold'em.
The first card protector we saw this morning was this donkey, who appears to be smoking a pipe of some sort. We wonder what that is supposed to imply.

Immediately after finding the donkey, we stumbled across the creepiest little frog. Now, this is the second frog we've seen already, but there's something about the eyes on this one that just make us cringe.

It went from amphibian to reptile, as next we found a man using a gold alligator as a card protector.

The last one was the best, and is pretty self explanatory, but it boggles our mind why someone would want to use a cooking dog as a card protector.

We'll be sure to update with more and more ridiculous card protectors as the World Series of Poker goes on as there is sure to be plenty more.
All Dogs Go To... The Rail?
Jason Mercier is currently deep in Event #39: $10,000 Pot-Limit Omaha. On the rail is his fiance who also brought along their little dog.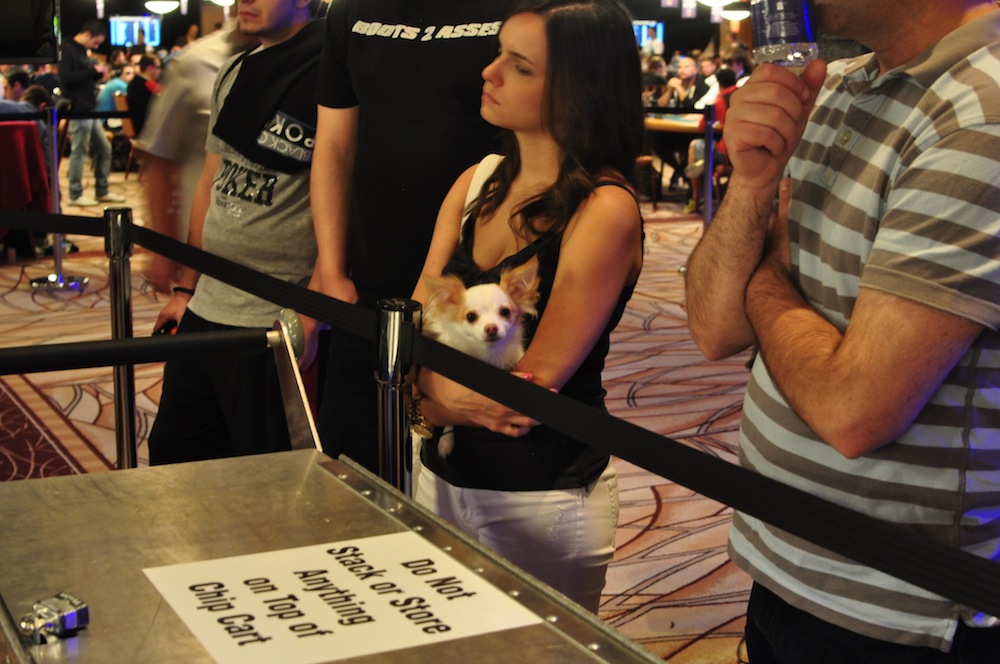 This isn't the first instance of having a dog in the Rio. Earlier in the series,Liv Boeree had brought her dog to a tournament as well. We're not exactly sure if this violates any rules, but we'll try to find out.
Keeping Cool in the Amazon Room
It's no secret that temperature fluctuation is one of the biggest problems for a poker player. Sometimes it's too cold, sometimes it's too hot. How is a poker player supposed to deal with that?!
Well, we think we may have found the answer. Or at least this man did: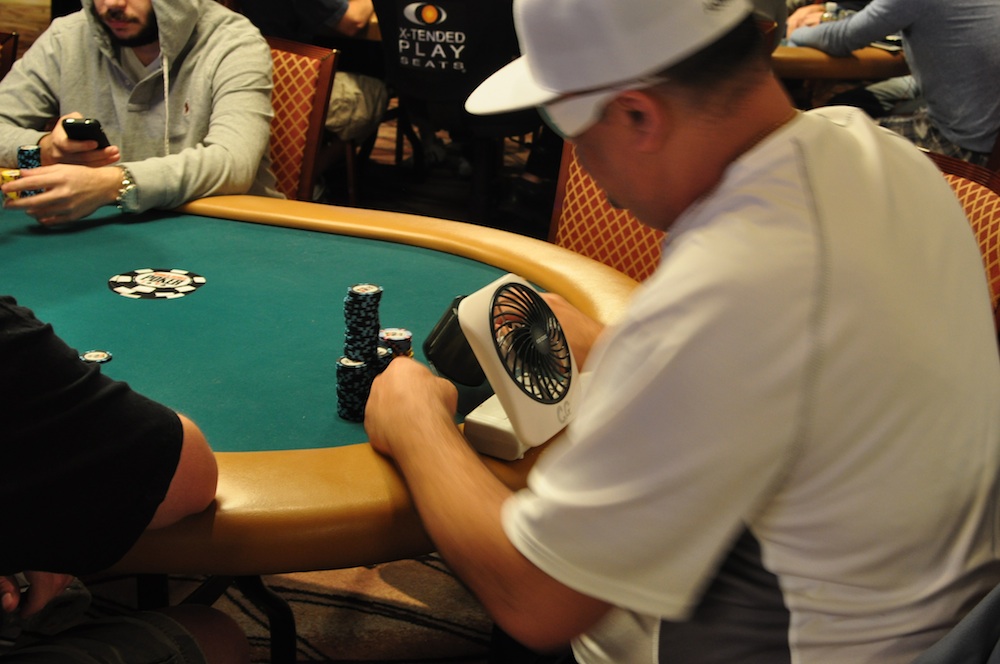 Simple as that. The man brought his own personal fan into the Rio to help keep himself cool. Now, all he needs is a blanket, so when it get's too cold, he can bundle himself up.
Former November Niners Making a Splash
Former November Niners from the past 5 years have really been making a splash at the 2012 World Series of Poker. Among them, Ylon Schwartz won his first bracelet, Dennis Phillips came second in the seniors' event, Phil Ivey has made five final tables, Joe Cada was heads-up for a bracelet, and much more.
Today, we caught John Racener (2010) and Scott Montgomery (2008) seated right next to each other in Event #41: $3,000 No-Limit Hold'em.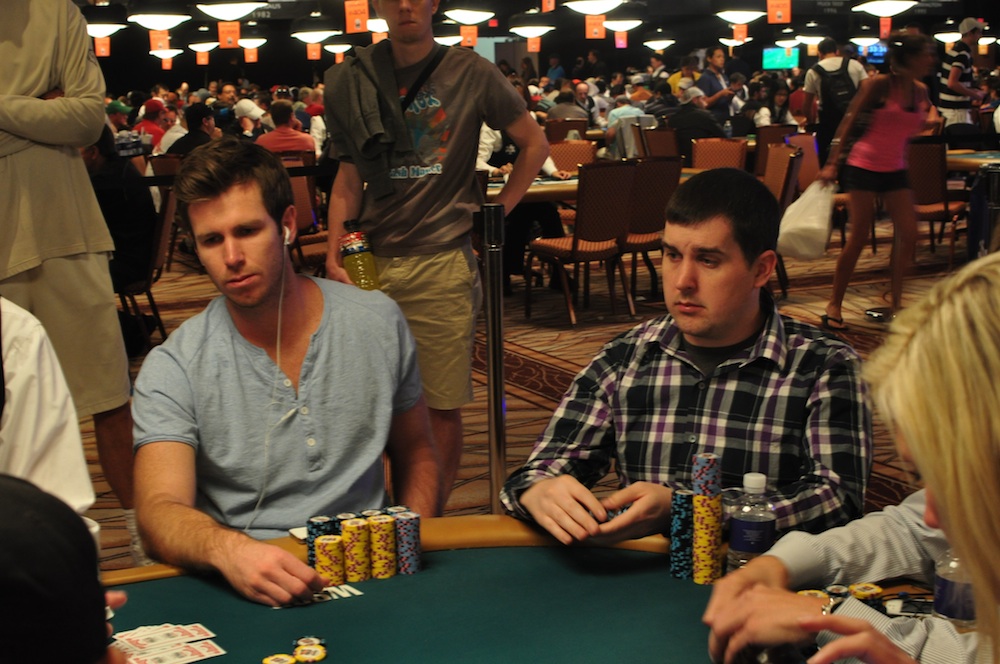 Moments after we snapped this photo, Montgomery doubled up through Racener.
It's been great seeing all the former November Niners making big splashes once again, and surely, we will see more of them make even more deep runs.
Fashionista of the Day
We saw this stylish gentleman in Event #41: $3,000 No-Limit Hold'em wearing a purple jacket and matching scarf.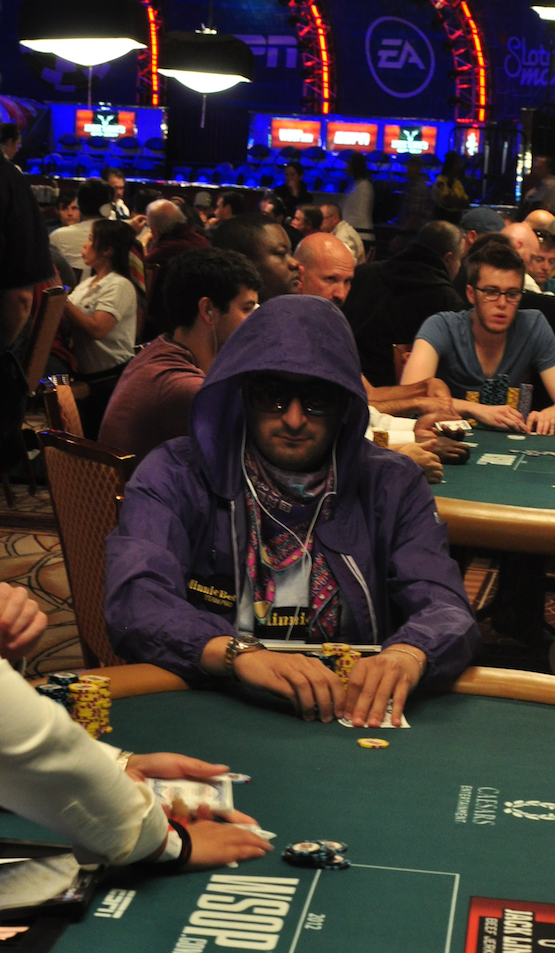 His outfit sort of reminded us of Grimace, a McDonalds character, so we had to take a picture.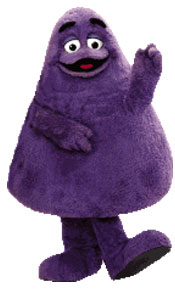 A Lesson On Old School, With Doyle Brunson
You may have heard the term "eighty-sixed" before, but did you ever know where the expression came from?Doyle Brunson gave a lesson today on where the term comes from and what it actually means. Check out his tweet:
Everybody understands what getting 86ed is getting barred from a casino. The term comes from the "old days". 8 miles out, 6 ft down.#badboys

— Doyle Brunson (@TexDolly)
Overheard in Brasilia
"Are you Erik Seidel's kid?"
"Not That I know of."
"Well you look like him."
Prop Bets: Day 27
Weeks ago we told you about a prop bet between Allen Kessler and Matt Savage. Well turns out Matt Savage ended up losing that bet and was forced to wear an "Allen 'Chainsaw' Kessler" t-shirt yesterday. We weren't able to get a pic of Savage in the t-shirt, but Allen was wearing one himself today: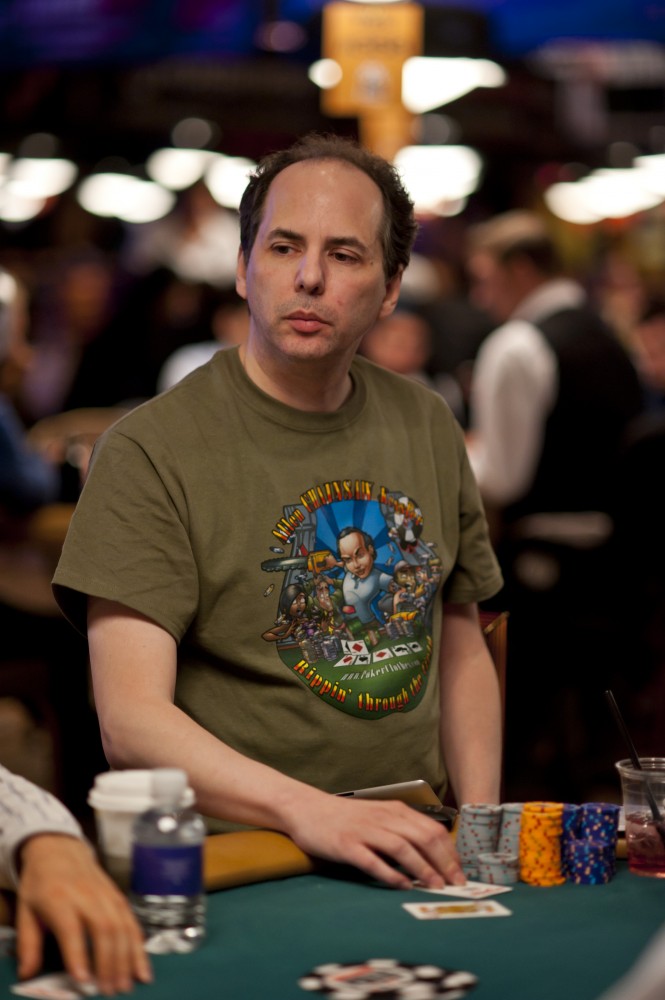 Fashionista of the Day: Part 2
We caught this gentleman in Event #43: $1,500 No-Limit Hold'em wearing shades, a clean white dress shirt, and a pink scarf.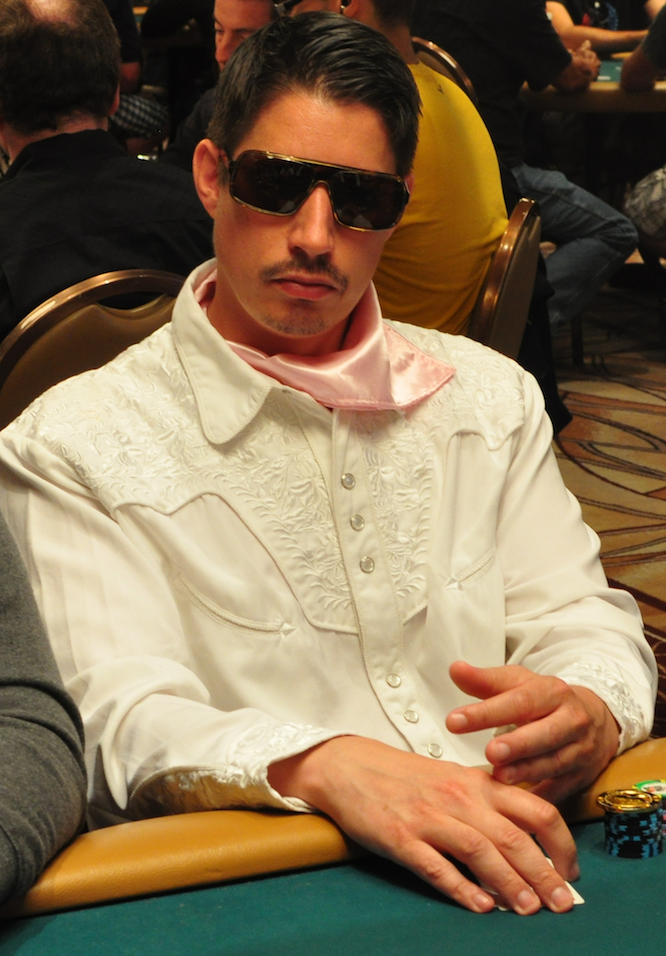 We also thought he was quite fashionable today, so we decided to see who you thought the most fashionable player was today. Let us know in the poll below.
Poll
Who's The Most Fashionable Today?
Cash Game Watch: Day 27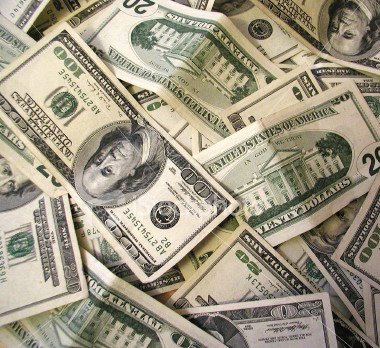 We heard rumors of a big cash game down in the Rio snake pit, and boy were the rumors true. Currently,Brian Rast, Sammy Farha and four others are playing a 100/200/400 game of PLO in the Rio snake pit. Rast looks to have close to $150,000 in front of him while Sammy has somewhere around $40,000. The pots are big, and the money is flying, so if you want to see some action, come check out the rail at the Rio snake pit.
What's On Your Head: Day 27
It had been a while since we'd seen a worthy hat. Of course, Kennii Nguyen is still alive in Event #41: $3,000 No-Limit Hold'em, but we wanted to find something new. Something with a story behind it.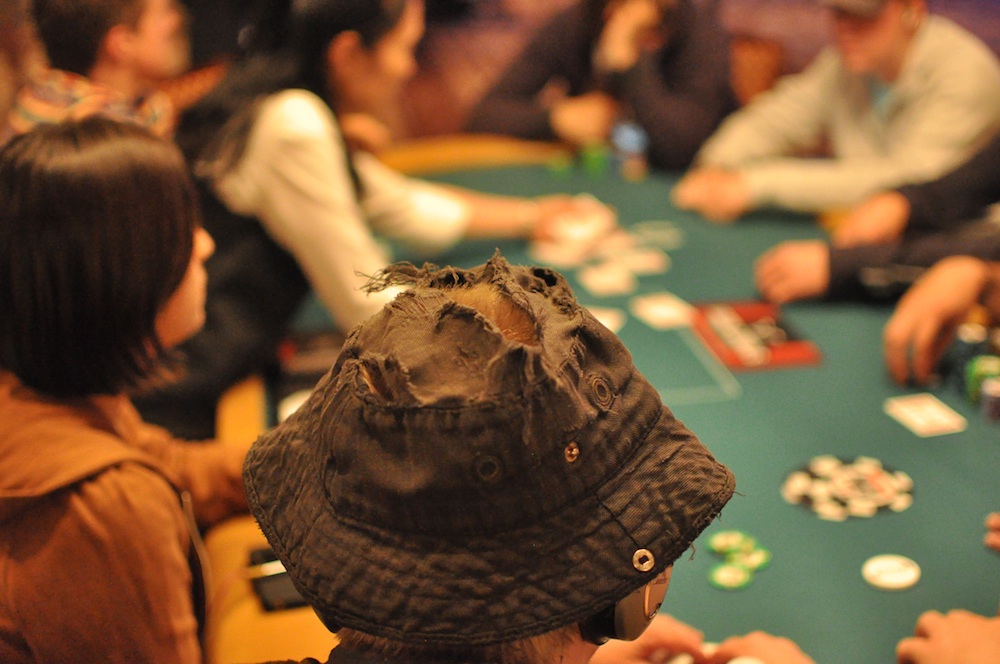 We missed a majority of the conversation about the hat, but from what we can gather, the man was telling the table how he was almost mauled by a bear, or some other animal, while wearing the hat. Of course now, after surviving an animal attack, the hat has become his lucky one.
Whether it's true, or a lie, it's an interesting story at least.
Strategy Tips With Ylon Schwartz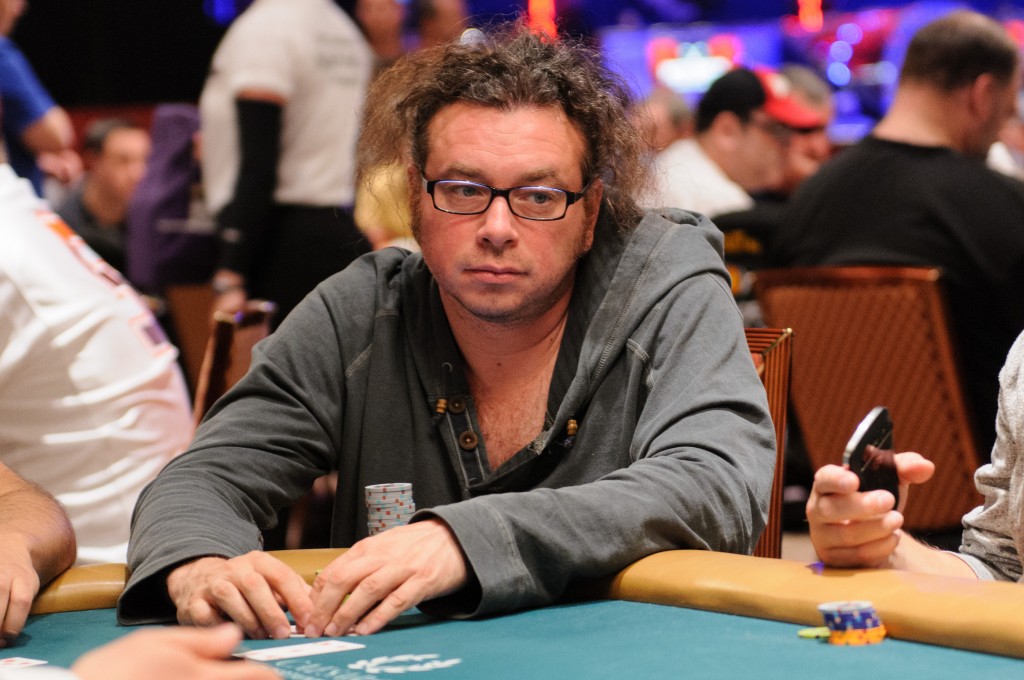 We caught up with recent bracelet winner Ylon Schwartz to ask for some basic strategy tips and mistakes that he constantly sees players making. This is what he had to say:
"There is probably too much limping going on," Schwartz said. "There's too much cold calling in call positions. To amateurs, position is pretty much irrelevant.
"What I mean is that, there is a lot of calling against early position raisers with marginal hands," Schwartz continued. "There is a lack of observance in relation to what's going on at the table. The people who are playing are sort of out of touch with reality. They have no clue what's going on around them."
We'll keep trying to catch up with pros and provide you with tips and tricks from some of the best in the business.
Evening Grind
We spotted David Tuchman at Starbucks in the Rio. In addition to providing play-by-play for WSOP final table online streams, Tuchman covers the NFL and NASCAR for SKY Sports as well.
Tuchman had just finished the play-by-play for event #39. It was overheard he had predicted the heads up match could last as little as 20 minutes. He was close. It was over in three hands.
We asked him what his plans were for the rest of the WSOP.
"I'll be here the rest of the way," Tuchman said. "I'll be playing the Main Event."
We'll be keeping up with Tuchman throughout the series. He's spoken to us before, providing insight to the $3,000 No-Limit Hold'em Shootout final table.
White Suit Saturday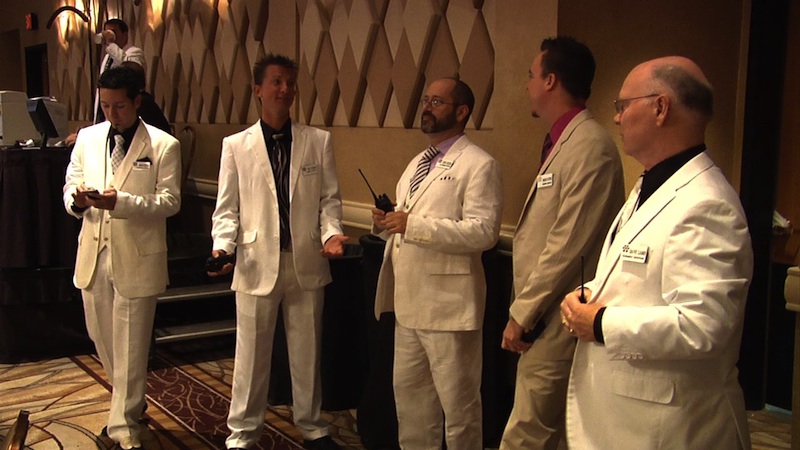 The Rio staff is decked out in white suits today. The WSOP, "White Suits Of Poker," tradition started a few years ago.
We asked Rio floor manager, Bob Smith, why the white suits?
"Pimping ain't easy! It's fun. It creates controversy," Smith jokingly said.
Cash Game Watch: Part 2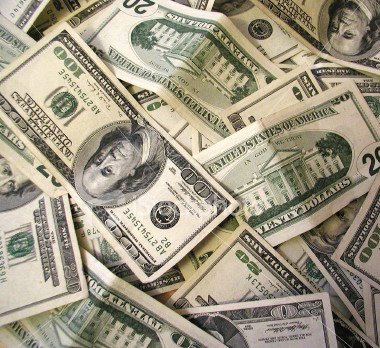 Karina Jett was waiting on a $50/$100 Stud 8/b seat to open when she indulged us in a story in her earlier session.
"This dealer was yelling at the table," a shocked Jett said. "Then a player yells back, 'we're not at your home, I am not your husband and these (pointing at his tablemates) are not your children!'"
It was reported earlier that Sammy Farha was in a 100/200/400 game of PLO with Brian Rast, but it appears Farha is not playing at the moment. JC Tran is at the table however. We'll be keeping tabs to report any developments.
Playing To The Beat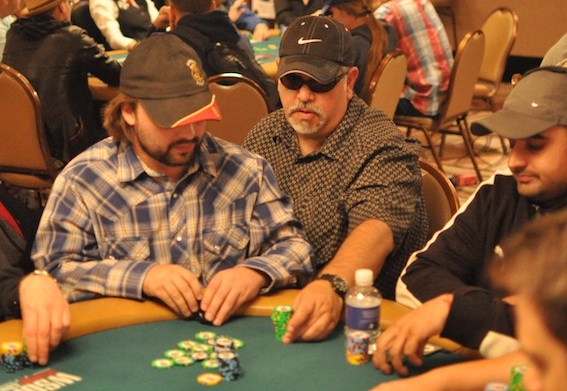 Cory Wilkins may not see the action at his table but he's in perfect harmony with the beat on the felt. With the assistance from his friend, Mike Saulnier, Wilkins is playing in his first WSOP event.
"I act as his eyes," Saulnier said. "I tell him what cards he has and when the action is on him."
When asked if he's given insight into the dynamics of the table, Wilkins said, "There's a fine line. I don't wanna have any ethical situations come up."
"Say seat one makes a big bet and he's shuffling his chips in a certain way, I don't tell Cory that," Saulnier said.
Blind since birth, Wilkins can still detect tendencies and behavior at the felt.
"I can pick up on things like that, I can hear the way people shuffle their chips," Wilkins said.
"He's a sophisticated player with a tremendous memory," Saulnier said. "He remembers details of hands from six months ago."
A San Diego native, Wilkins started playing poker six years ago and for the last seven months has been playing fulltime. Wilkins is also an accomplished musician and the recipient of three LA Music Awards including, Rock Album of the Year for San Diego Summer, Breakthrough Album of the Year, and Male Vocalist of the Year.
Celebrity Look-Alike
This player in Event 42: $2,500 Omaha/Seven Card Stud Hi-Low 8-or-Better reminded us of former pitching great Greg Maddux.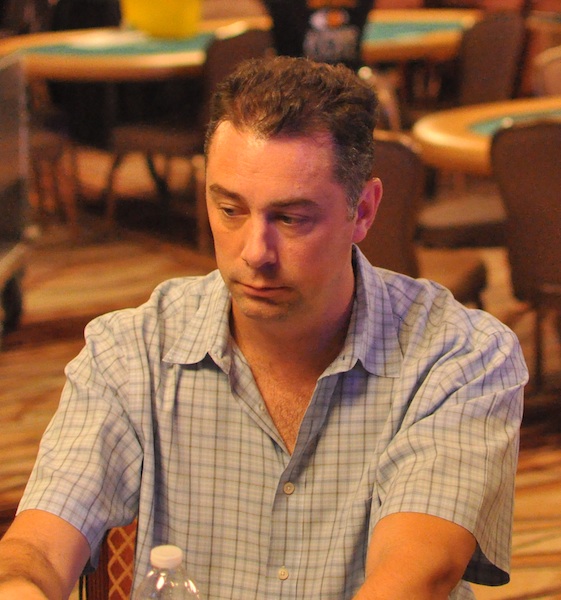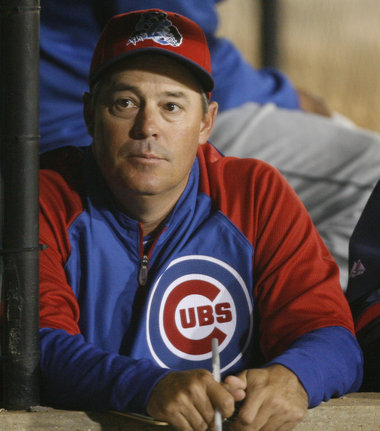 What do you guys think?
Poll
Does He Resemble Greg Maddux
QQQQ>JJJJ
It's past 1:00am here in the Rio, and although the halls are bare we came upon this scene at the QuadJacks radio booth.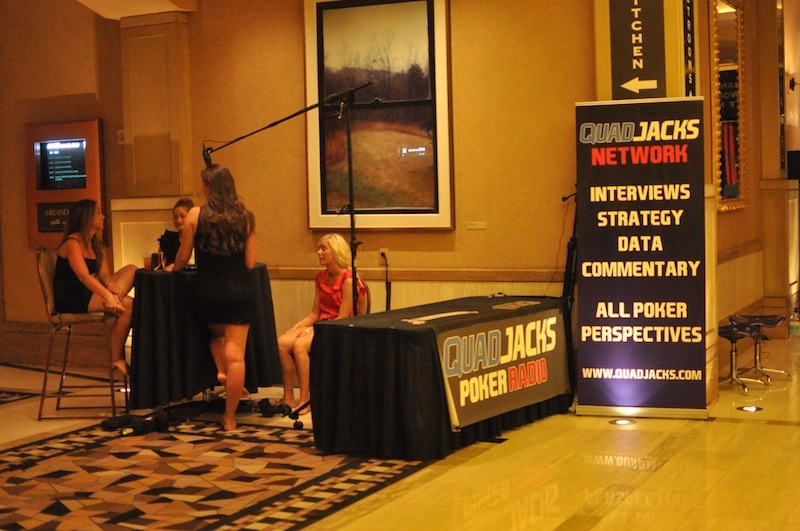 Just a few feet away are four males having a drink at the Blue Moon bar, but they have yet to make a move at the ladies. Seems like they're more interested in exchanging bad beat tales. C'mon guys, ante up and play!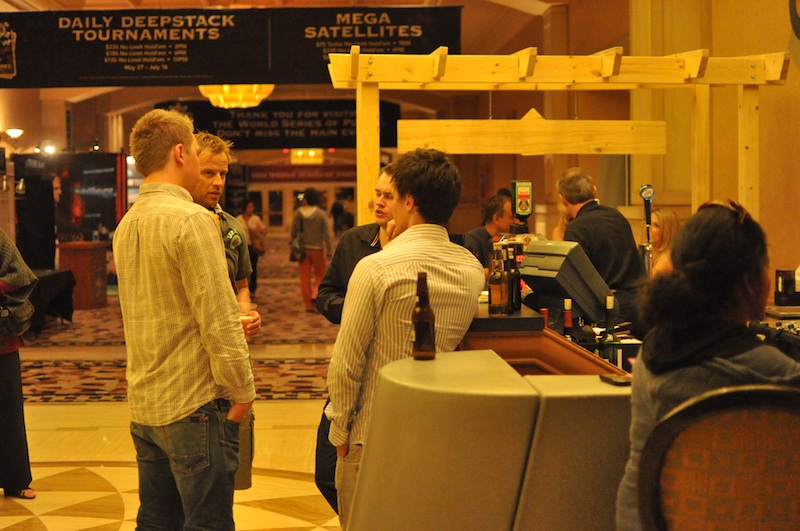 Hairdo Of The Night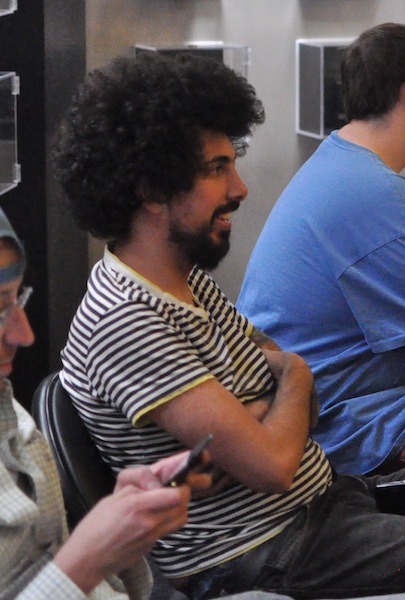 We spotted this guy on the rail. That's one nice fro sir.
Does It Help?
We spotted this lady in the $1,500 No-Limit Hold'em event. Some players will go to great lengths to hide any physical tells they may give off, even at the expense of comfort.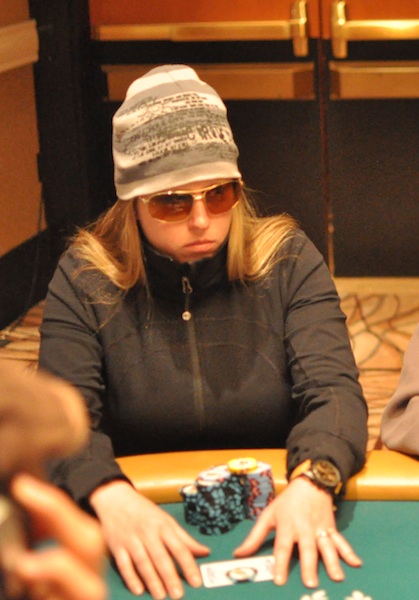 Poll
Does Her Attire Help Conceal Tells
We encourage everyone to get involved with "The Muck." See something you think is Muck worthy? Send it to the muck@pokernews.com. We accept all media including photos and videos.