All Mucked Up: 2012 World Series of Poker Day 25 Live Blog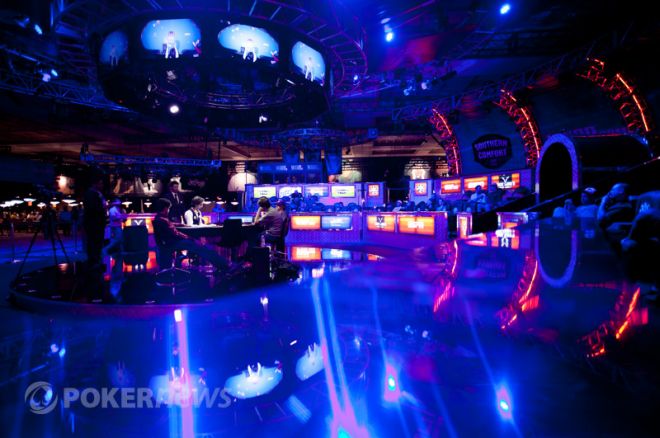 All Mucked Up is a live blog of all the stuff you want to know at the 2012 World Series of Poker, besides hand histories and bad beats. Well, we might add a few in here, everyone loves a good bad beat story — unless it happened to you. Check back often for polls, soundbites, celebrity sightings, and who knows what else!
May The Odds Be Ever In Your Favor: Day 25
Here's what the odds are on today's final table today of Event 36: $3,000 No-Limit Hold'em Shootout, according to the Rio sports book:
Craig Mccorkell @ 4/1
Jeremiah Fitzpatrick @ 4/1
Antonio Esfandiari @ 4/1
Roberto Romanello @ 4/1
Joe Tehan @ 4/1
Athanasios Polychronopoulos @ 4/1
Sardor Gaziev @ 4/1
Alessandro Longobardi @ 4/1
Jonathan Lane @ 4/1
Thiago Nishijima @ 4/1
Due to this tournament being a shootout all players have similar chip counts, thus the odds are the same for all players.
David Tuchman's Thoughts On Shootout Final Table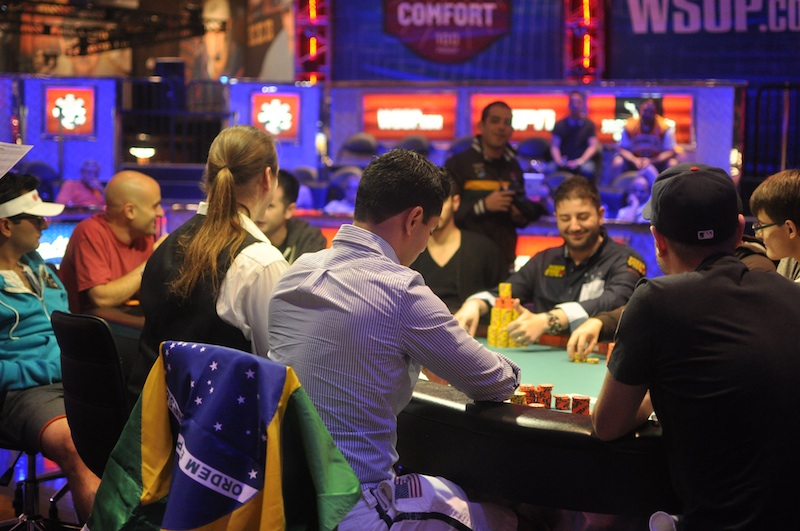 Event 36: $3,000 No-Limit Hold'em Shootout is under way. Antonio Esfandiari and Joe Tehan are two of the bigger names featured at this final table. David Tuchman will be in the commentator booth calling the action. We caught up with Tuchman to get his thoughts.
"All eyes are on Antonio (Esfandiari)," Tuchman said. This final table will have a "different dynamic" with all the players having "virtually having the same amount of chips."
Tuchman says "the pay jumps from 9th to 1st" will make for an interesting final table. "I like the shootout structure. There's not the same ICM considerations as there would be at a freezeout final table, but you still take it into consideration."
Amit "amak316" Makhija will be joining Tuchman in the commentator booth as well. We'll do our best to catch up with amak316 to get his thoughts on the action.
Like A Boss
Eric Baldwin has made a prediction for the winner of the $1,500 No-Limit Hold'em event. Check out his tweet: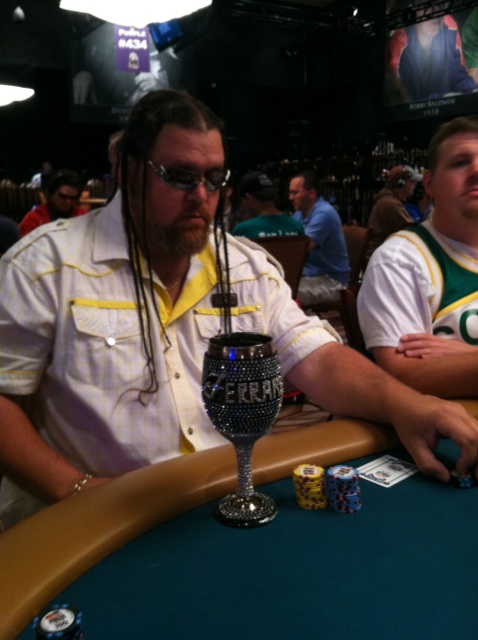 We spotted this player yesterday, but now others are noticing him as well. It's hard not to when u bring, what appears to be, a diamond encrusted chalis to the felt.
Sick Rail Bro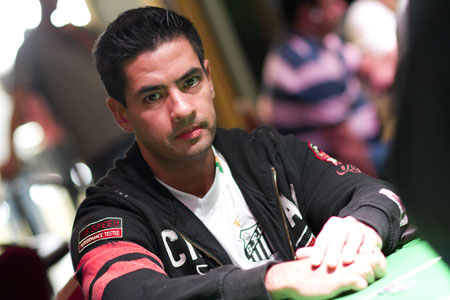 Brazilian poker pro Thiago Nishijima is currently at the $3,500 No-Limit Hold'em Shootout final table and he has fellow countryman Team PokerStars Pro Andre Akkari in his rail.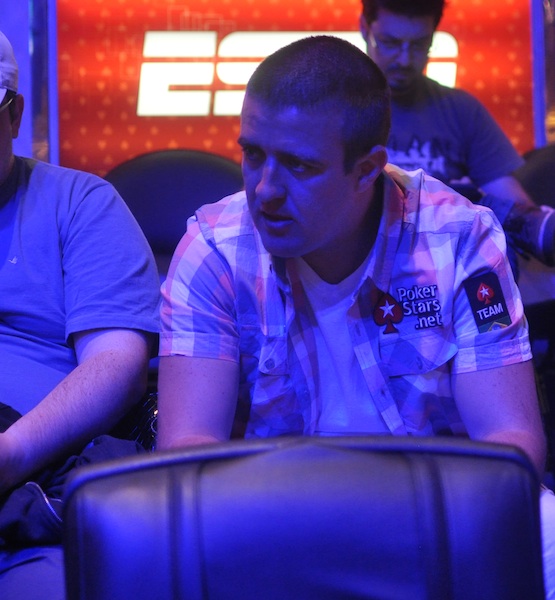 We asked Akkari if he gave Nishijima any tips before the start of the match.
"I haven't talked to him, he got here late (laughs), Akkari said. "He's really good. He's already won a WCOOP bracelet. He has more than $2million in winnings."
Rafael Nadal Joins Team PokerStars
If you haven't heard, superstar tennis player Rafael Nadal has joined Team PokerStars. We'll be getting reactions from the pros on PokerStars' latest addition.
We've reported that Team PokerStars Pro Andre Akkari has been playinga lot of tennis lately. We spoke to him to get his reaction.
"I never talked to him, but he's an idol," Akkari said. " He's amazing."
Here's some tweets from other Team PokerStars Pros:
Welcome to pokerstars @RafaelNadal ! Pretty exciting stuff. I look forward to meeting u on the felt!

— Jason Mercier (@JasonMercier)
Welcome to @PokerStars #NadalPoker i am 100% to play both w you, poker and tenis, as doubles of course! Kkkkk

— andre akkari (@aakkari)
Amak316's Analysis Of Shootout Final Table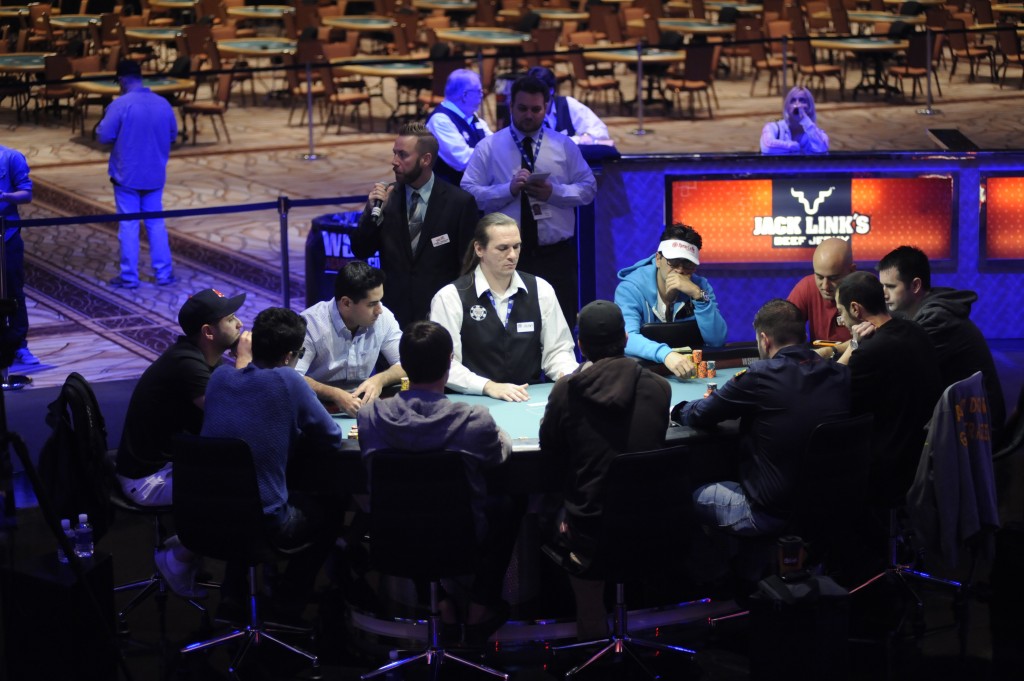 As reported earlierAmit "amak316" Makhija is doing commentary for the final table of Event 36: $3,000 No-Limit Hold'em Shootout. We spoke to amak316 at the break to get his thoughts on the play thus far.
"Interesting so far. It's only been two hours. Players are feeling each other out. John (Jonathan Lane) has the big chip lead and the others are grouped together. John is not using his chip lead like he should. He's not as aggressive as he could be. It's surprising with John and Jeremiah (Fitzpatrick) having the most chips since they're the most inexperienced players (at the final table). John's gotta be the favorite at this point. Antonio (Esfandiari) is playing well too."
World Cup Poker
There's an international flavor to today's final table of the $3,000 No-Limit Hold'em Shootout tournament. Craig McCorkell, from the UK, has one of the loudest rails, which includes Chris Moorman. They've been chanting and cheering with every pot that McCorkell scoops. Not to be outdone, Brazilian Thiago Nishijima's rail is just as loud. The atmosphere would make one think it's a World Cup soccer match.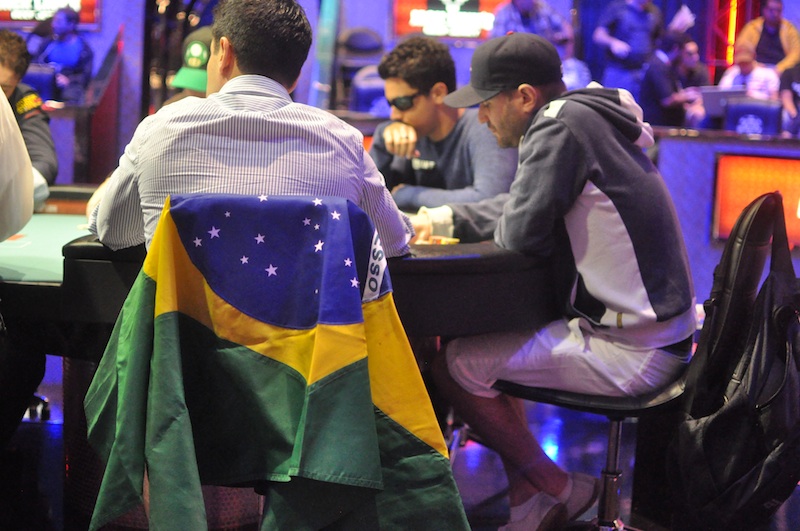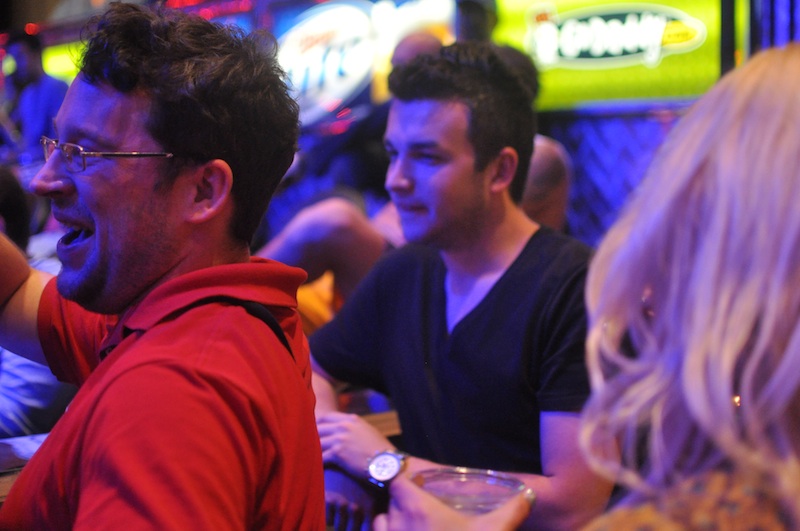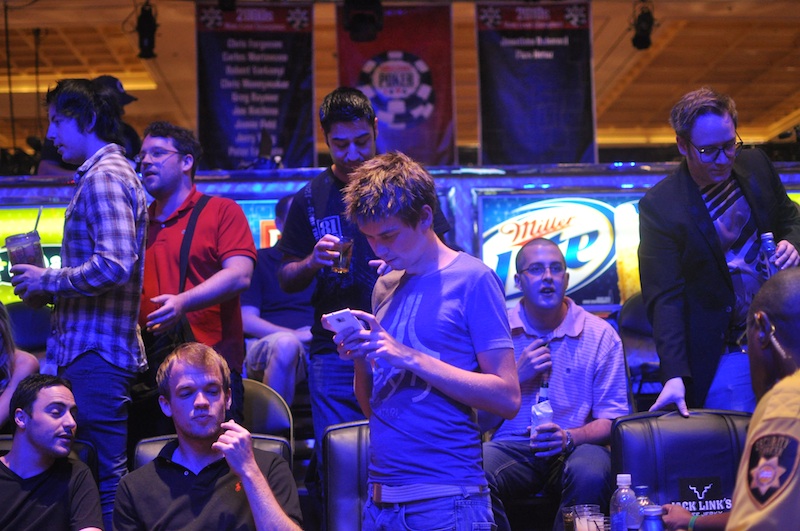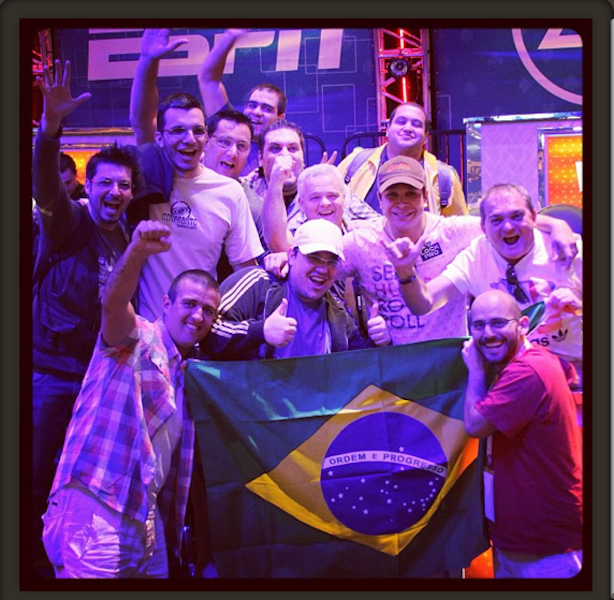 Sights In The Amazons
Moseying through the Amazon we ran into some interesting sights in Event 38: $1,500 No-Limit Hold'em.
You have something on your chin sir.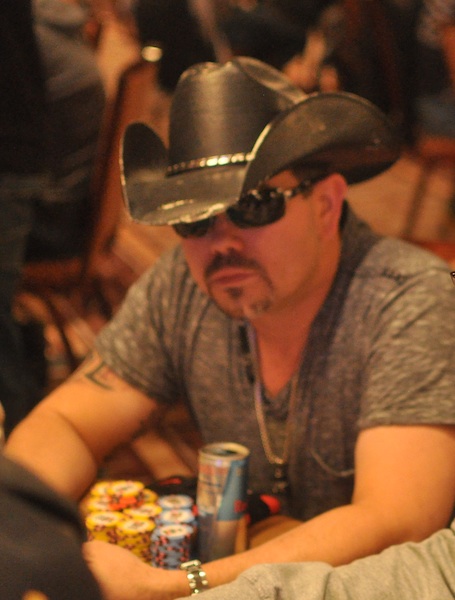 I'll be your Huckleberry.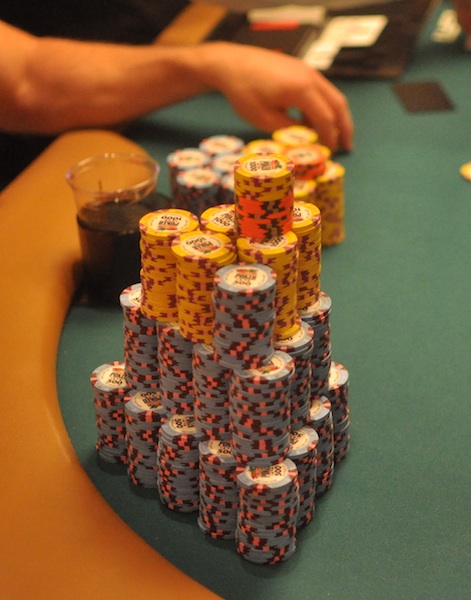 We're building castles.
God Save The Queen
The party continues for the British rail in Event 36: $3,000 No-Limit Hold'em Shootout. We were there just as Craig McCorkell doubled up when his
held versus Alessandro Longobardi's
. Here are some reaction shots to go along with evidence of the alcohol infused celebration.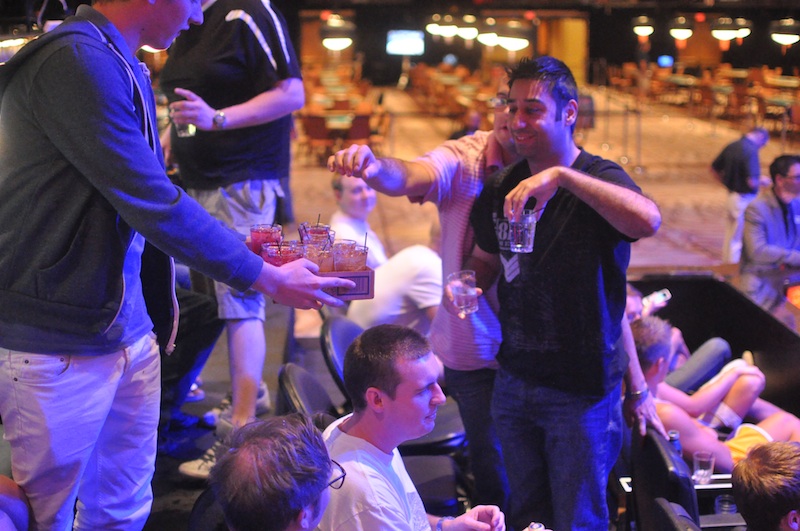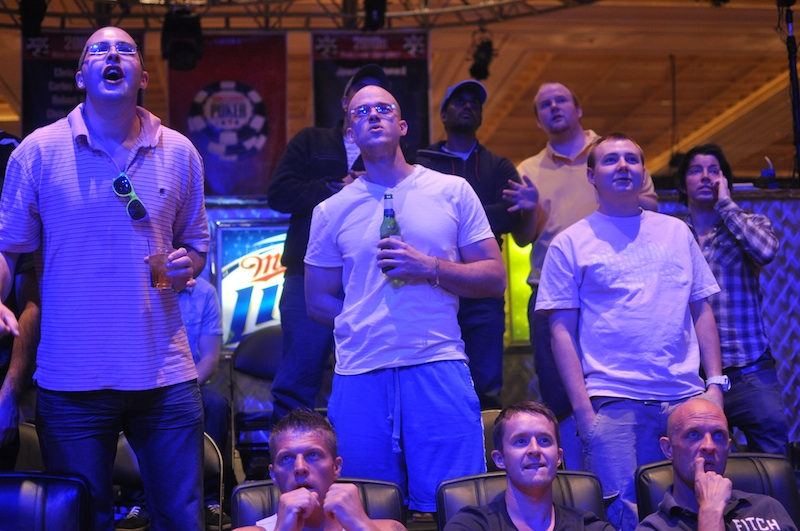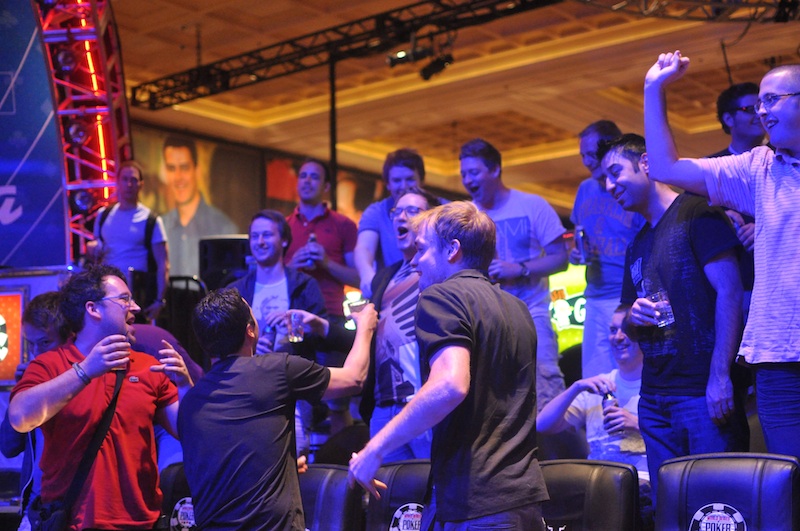 We're being treated to England's finest football chants in the stands of the Final Table. Some lyrics include:
"Go on Corky, go on corky"
"We're all going to Stoney's, we're all going to Stoney's, La Da Da Da – Hey!"
"Craig McCorkell is our friend, is our friend, is our friend, Craig McCorkell is our friend, Da Da Dada"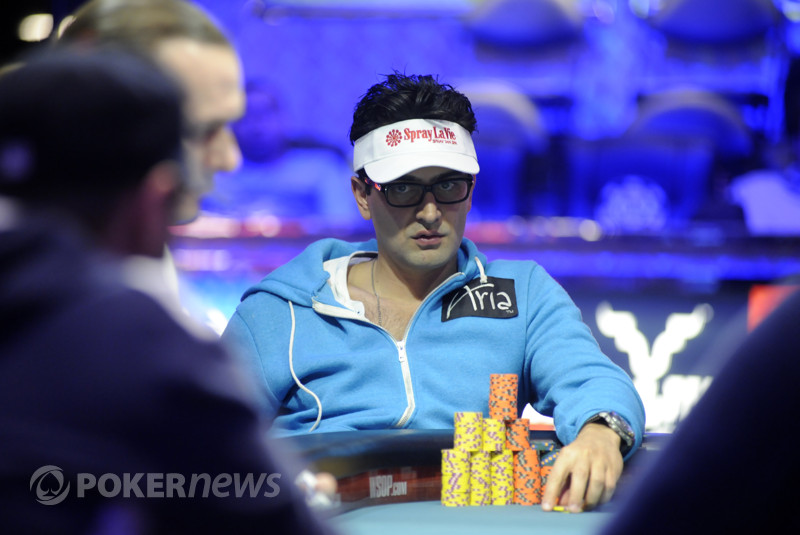 There's a lot of heckling of Antonio Esfandiari going on too. At one point, in the middle of an "Antonio, woah" chant, Antonio stood up and yelled back "Is that all you've got?", to which one spectator called "For my next trick, I'll pull a rabbit from my a*se!"
This spurred on a volley of abuse directed Antonio's way:
"Are you a dealer in disguise, are you a dealer, you a dealer, are you a dealer in disguise?"
"He's got a visor on his head, on his head, on his head"
"We're playing tennis in the morning, we're playing tennis in the morning…"
You get the idea…
Trouble At Final Table
Security have taken a hard line with the English railbirds at the final table of Event 36: $3,000 No-Limit Hold'em Shootout. The security came up to the stands and started to remove some of the spectators, and proceeded to escort them from the Amazon room and check their passports. The noise has been reaching a crescendo just before security got involved. Here are some photo's of Security intervening and arguing with the fans.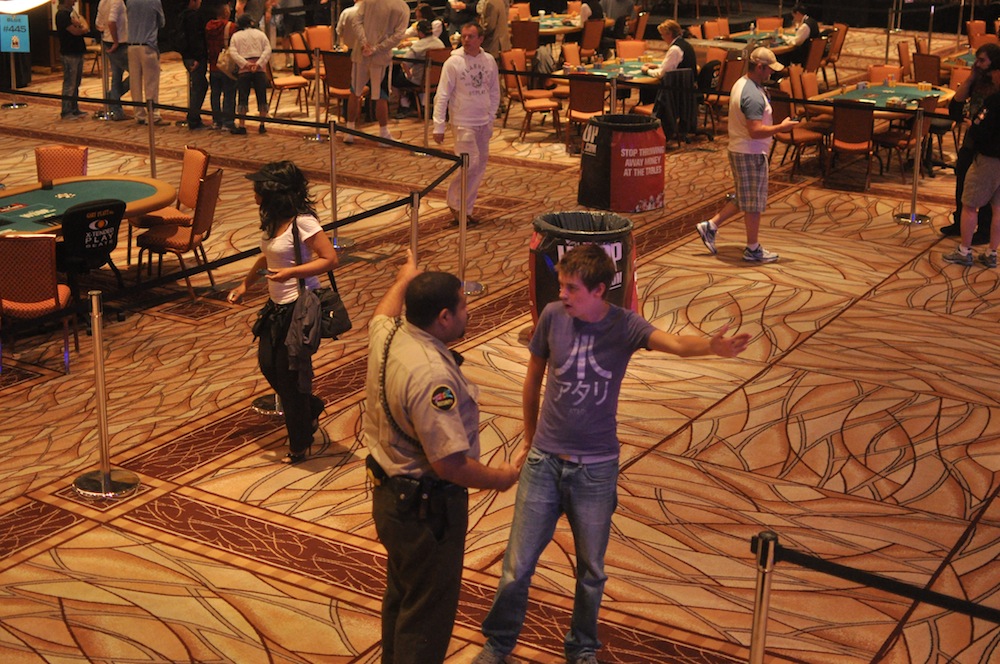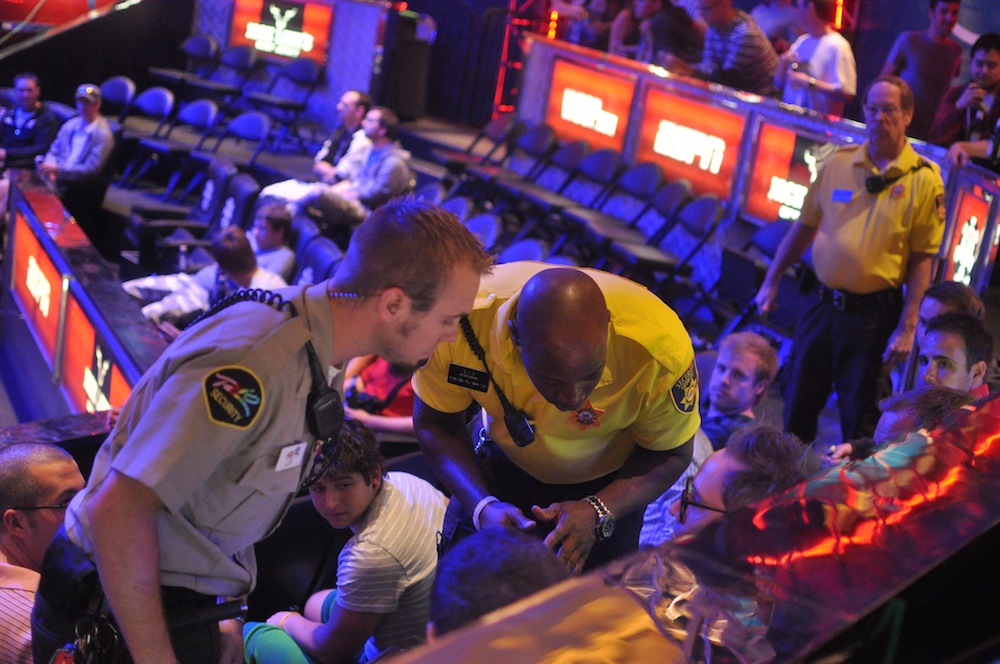 We caught up with some of the fans, who seemed very sober and coherent, just after their friends had been told to leave. Here's what they had to say.
"They didn't tell us what we had done wrong. We're just cheering and stamping, we were told this afternoon that it was encouraged."
"One of our mates is pretty drunk, but it's not against the rules, he was just singing and dancing"
"I think it's ridiculous. They're not letting anyone bring beer up here now [Author can confirm this is true]. We're just trying to improve the atmosphere but they aren't used to it at all, and they're scared what could happen"
"We can't even see the hole cards, what are we meant to do just sit here in silence? It would be pretty boring to sit here for eight hours. I'm surprised they're like this, we didn't break any rules"
Who Wore It Better?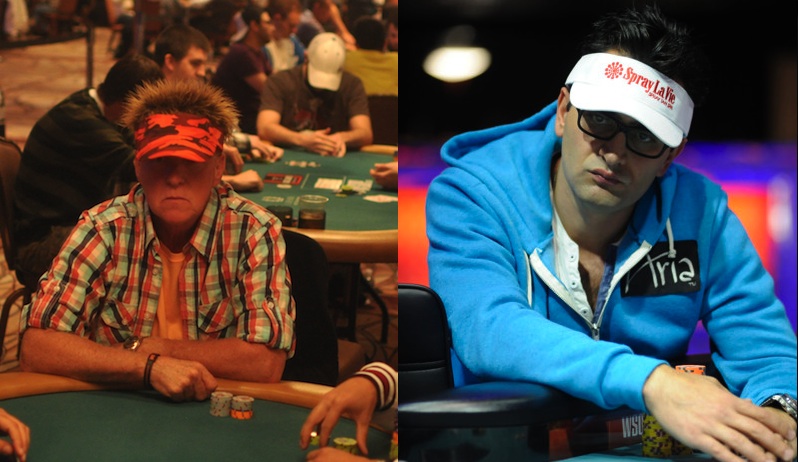 Antonio Esfandiari's visor is getting a lot of attention this evening. We saw this other Visor on the far side of the amazon room and wanted to know which you thought was sweeter.
Sweet License Plates
It's been a while since we've featured a cool poker license plate in the muck, and there is a reason for that: It's just too hot to go outside! However, with things a little slow during Dinner break of the 10k PLO, we carefully picked out our thinnest, whitest t-shirts and walked the outline of the car park in search of some gems: Today, we got lucky. Check out these poker related cars.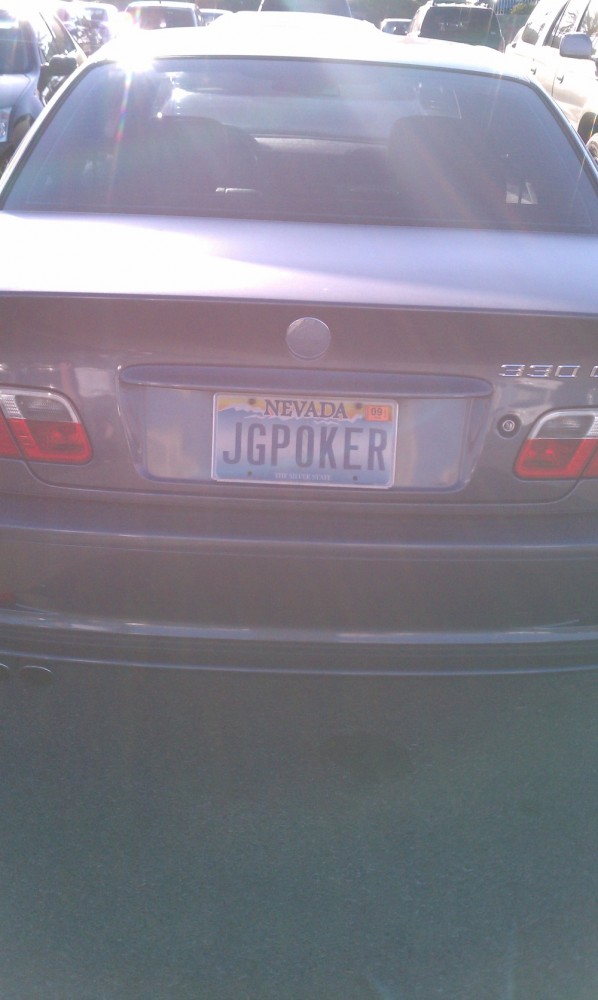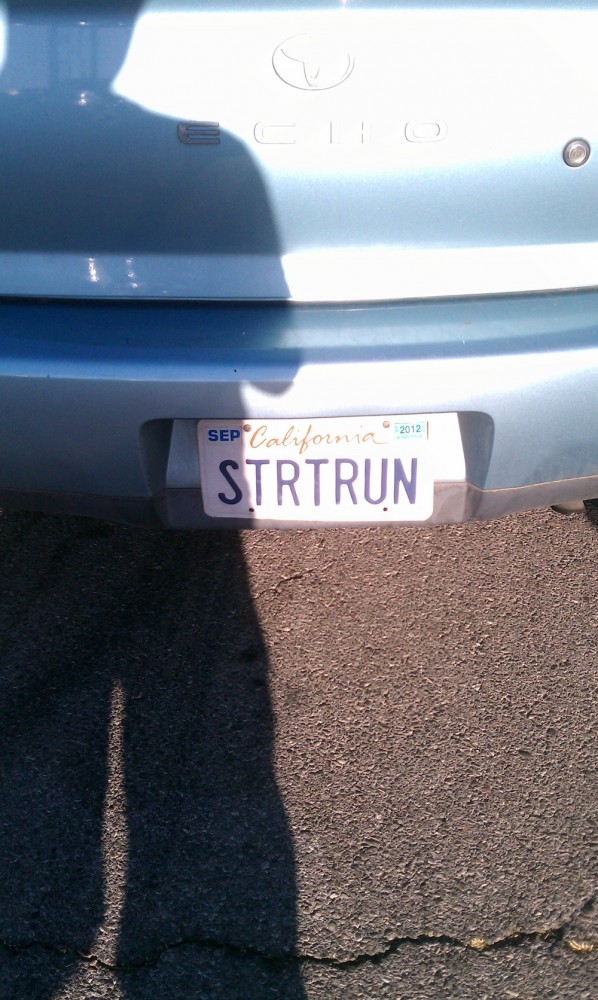 The First Amendment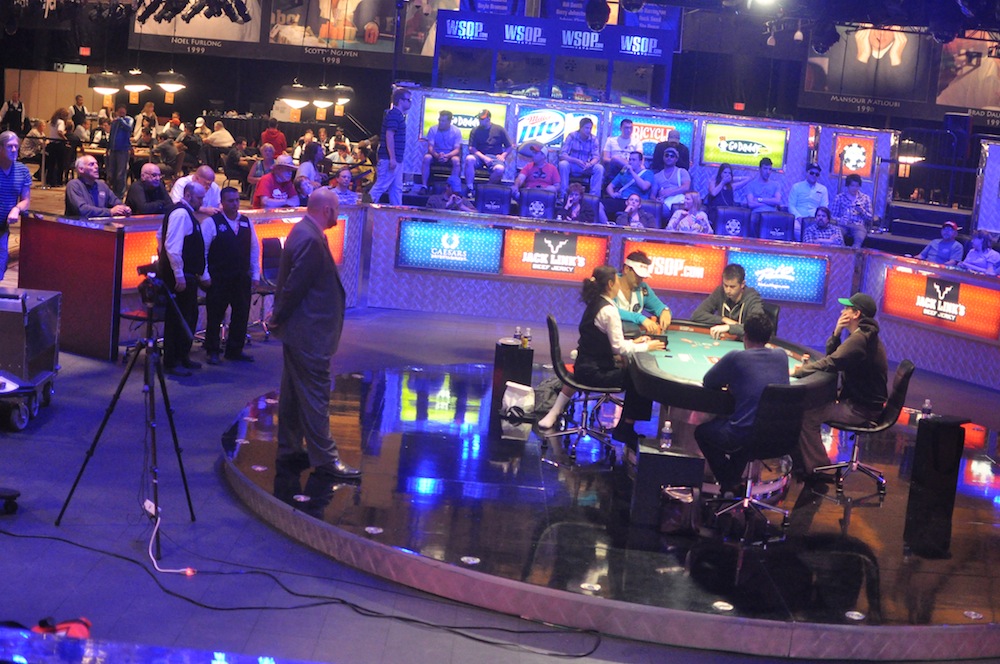 The WSOP railbird rules have been changed this afternoon. Where as previously there were no specific rules about drinking alcohol out of shoes, the rest of this year is going to be different. When the announcer after the dinner break of the EVENT final table, we outlined some new rules as such:
"No throwing anything, no kicking anything, no destroying anything, no pouring beer into your shoe or your neighbor's shoe".
This rule has the potential to change the face of live poker as we know it.
The Optimal Angle
The other day we saw a man leaning in his chair at such an extreme angle that we had to post it here and question the man's sanity. Today we think we've found a man who found the right balance between relaxing in your chair, but not taking your life in your hands.
Props to Carlos Mortensen, shown here in the 6-max Limit Hold'em.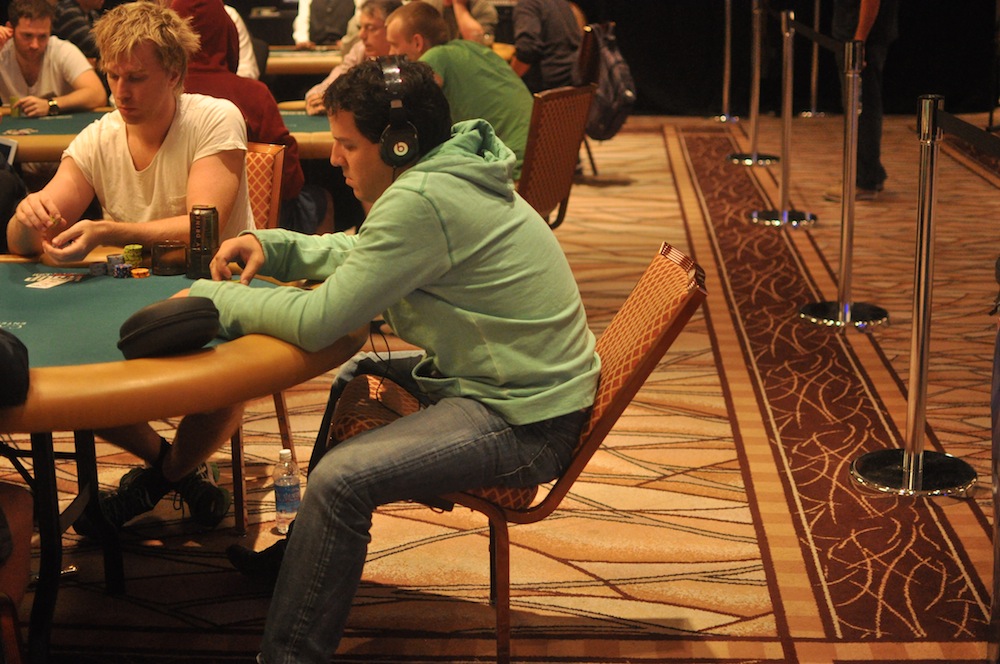 The Card Protector Chronicles
Check out today's wtf card protectors. The first is like the small monopoly dog figurine, and the second... looks like some sort of triple knut/oddly shaped knuckle duster. Well, whatever works...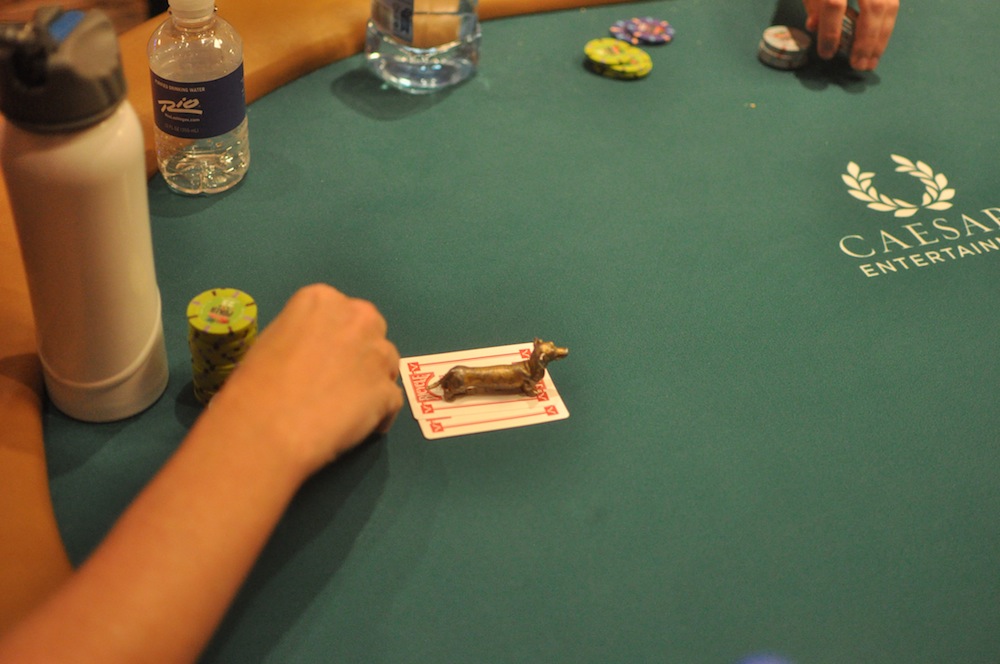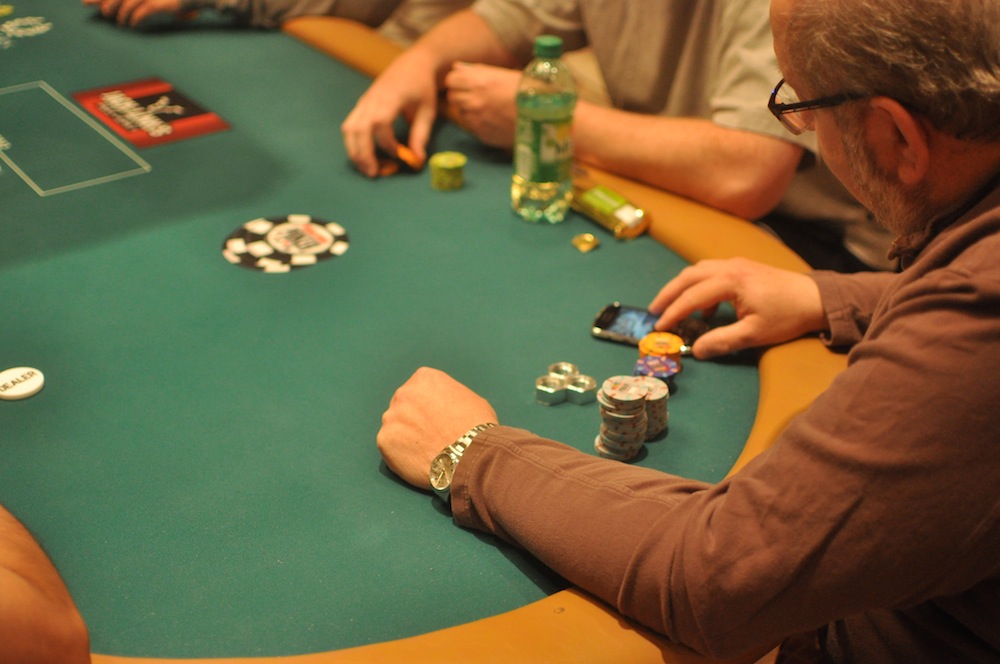 Lets go F*cking Mental!!
The crowd went wild here in the Amazon room after Craig McCorkell doubled up in a big all in pot here at the final table of Event 36: $3,000 No-Limit Hold'em Shootout before taking down the tournament two minutes later. We'll try to catch Craig for a First Five in a few minutes, for now enjoy this picture of the scenes here.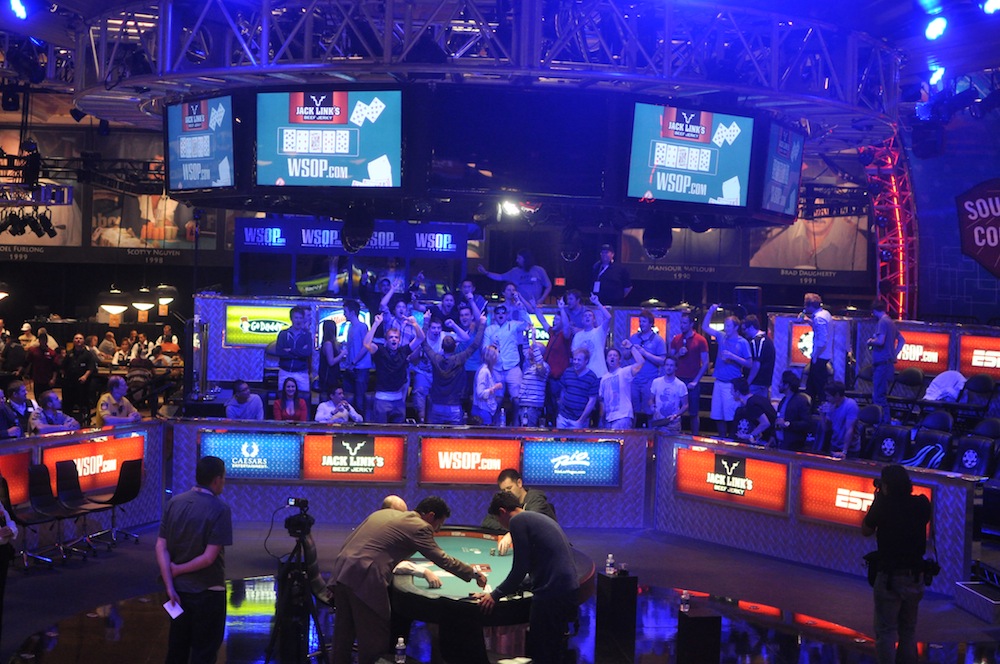 Mortensen's Frustration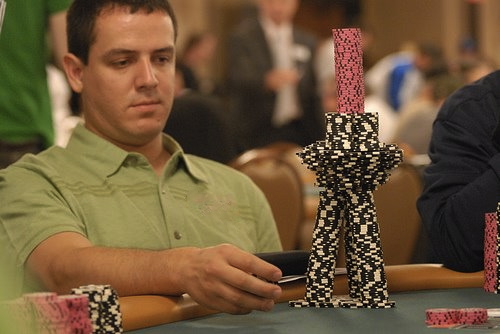 Carlos Mortensen is never content with just stacking his chips by color or in even stacks and always wants to create something aesthetically pleasing. He probably finds the activity soothing, helping him stave off the dreaded monkey-tilt that so many players suffer from during the 7 week long World Series Of Poker.
However, despite his best efforts, in Event #40: $2,500 Limit Hold'em tonight he simply doesn't have enough chips to construct too interesting a stack. It looks as if that (and the fact that he's playing Limit Hold'em) has the tilt brewing...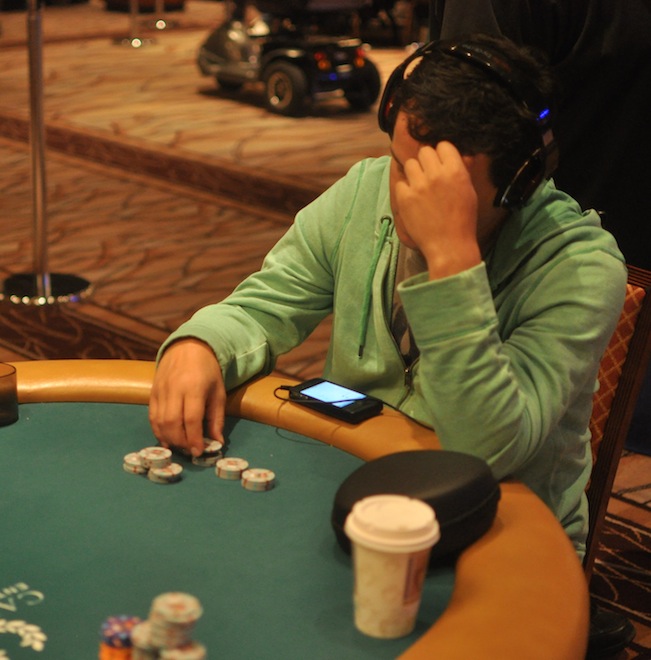 Cash Game Watch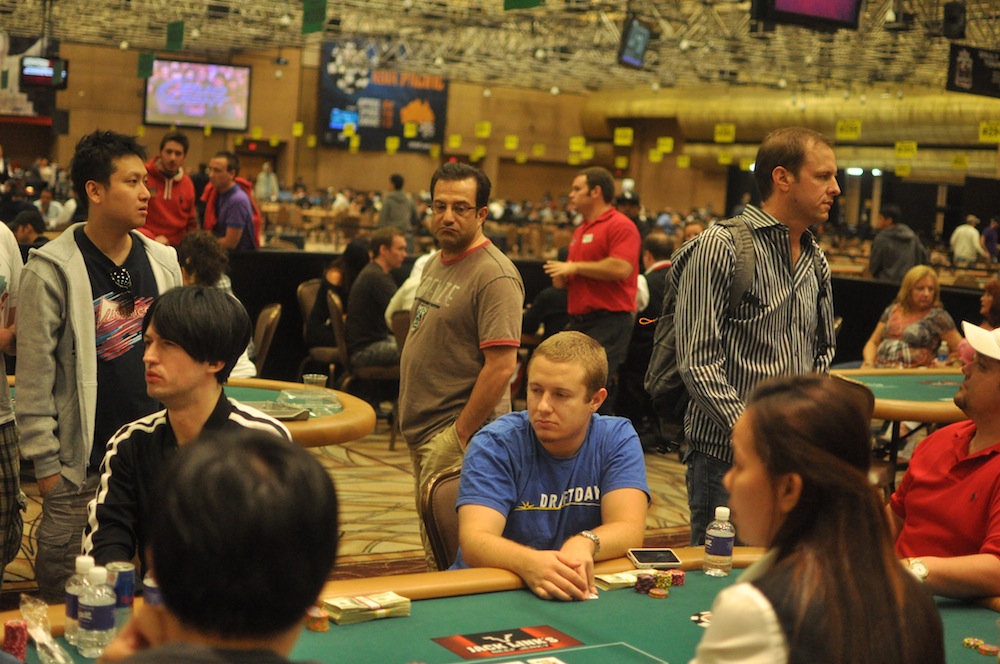 We swung by the Pavilion room at 1am tonight to check out the cash game action and see saw Brian 'Stinger' Hastings sitting playing PLO. Stinger played Event #39: $10,000 Pot-Limit Omaha already today, but obviously hadn't had his fill of PLO for the day. We'll keep you posted on who else sits in the game, and how late it goes tonight.
We encourage everyone to get involved with "The Muck." See something you think is Muck worthy? Send it to the muck@pokernews.com. We accept all media including photos and videos.