All Mucked Up: 2012 World Series of Poker Day 22 Live Blog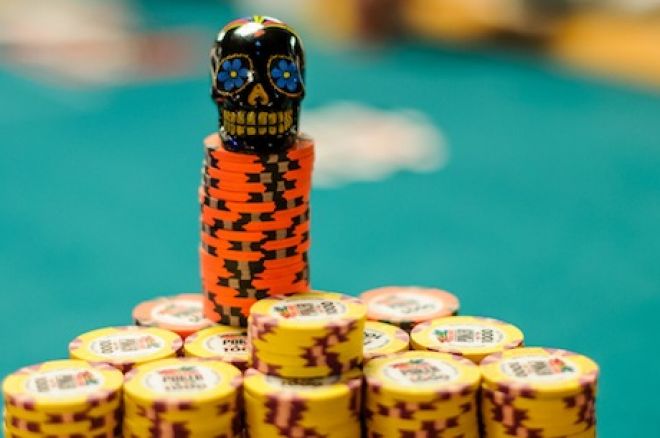 All Mucked Up is a live blog of all the stuff you want to know at the 2012 World Series of Poker, besides hand histories and bad beats. Well, we might add a few in here, everyone loves a good bad beat story — unless it happened to you. Check back often for polls, soundbites, celebrity sightings, and who knows what else!
The Morning Grind
Today should be a fun day here at the Rio, with lots of big name sightings before noon. We spotted Vanessa Selbst, Aaron Jones, Andrew 'LuckyChewy' Lichtenberger, Mike Sexton and Chance Kornuth.
With Event #34: $5,000 Pot-Limit Omaha / Six Handed bringing in all the big names today, players seem to be anxious to begin, with all the usual late-showers turning up in good time for the event! I guess PLO really is the most fun game to play.
10k H.O.R.S.E. Odds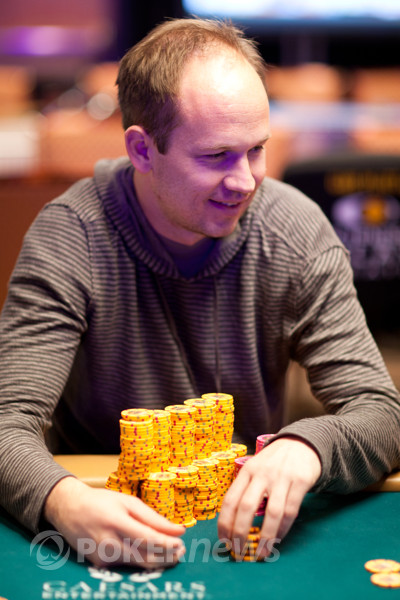 This morning we swung by the sports book in the Rio to check out the odds on Event #32: $10,000 H.O.R.S.E. There were no real surprises as we looked down the list, with John Monnette the favorite at 2/1.
Phil Hellmuth followed close behind at 7/2, as he hunts for bracelet #13. Also in with a shout are David Bach at 4/1,David Bakes Baker at 9/2 and Matt Waxman at 5/1.
The Rio sports book also gives Phil Ivey an outside chance at 15/1. We're pretty sure you could get better personal odds around the World Series Of Poker, with lots of pros backing Ivey heavily to win a bracelet in every event he plays.
Elsewhere, 2009 Main Event winner and current Event #31 chip leader Joe Cada is a strong favorite to win the $1,500 No-Limit Hold'em Event. He's 2/1 with just 19 players left.
Early (Rail) Birds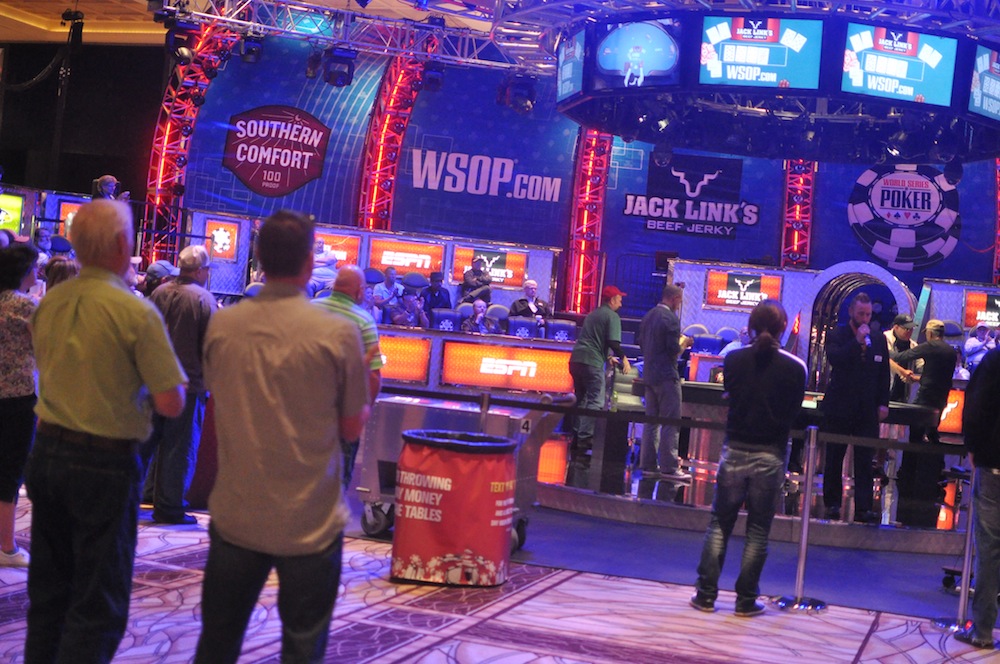 We walked by the Final Table of Event #29: $1,000 Seniors No-Limit Hold'em Championship at 12:15 this morning to find the rail absolutely jammed with Railbirds of all ages. Just as we snapped this picture, Hoyt Corkins was eliminated in 4th place for a $199,000 payday. All the players stood up, shook his hand, and saw him off in the typical, friendly fashion that this event has become known for.
This is the busiest rail we've seen this early in the morning and we're in for an exciting day as Bob Phelps,Allyn Jaffrey Shulman and Dennis Philips, sporting his trademark red Saint Louis cap, battle it out for the top prize, and a gold bracelet.
Look-Alike?
While walking by the final two tables for Event 31: $1,500 No-Limit Hold'em this afternoon we had to do a double take. Sitting next to JC Tran is Michael Aron, 3rd in chips right now, and we think he's the splitting image of Brian 'sbrugby' Townsend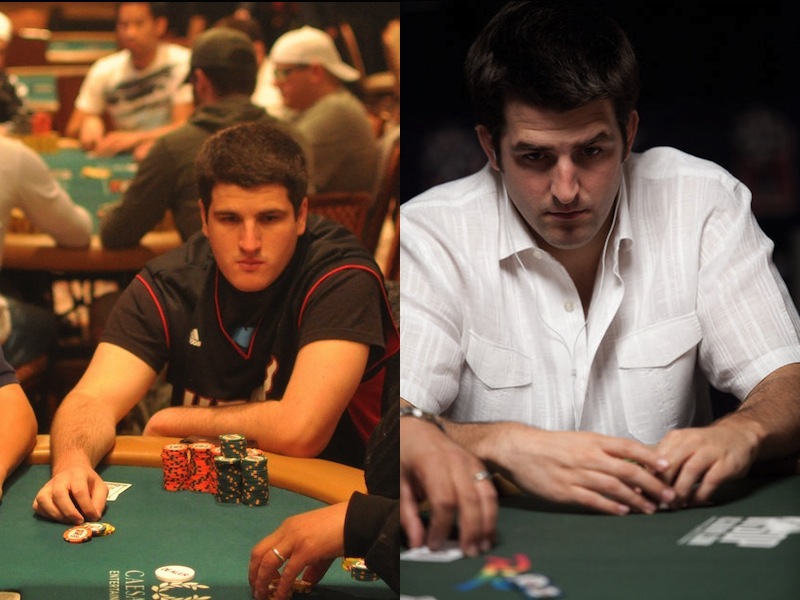 Poll
Does Michael Aron Look Like Brian Townsend?
Tennis Prop Bet: Day 22
The other day we met up with Lex Veldhuis to ask him about his twitter tennis prop bet challenge, and who he might play. He talked about Brandon Adams, and mentioned that he knows Andre Akkari plays a lot. Today we met up with Andre Akkari to see where he's at with tennis, and whether he might consider playing Veldhuis in a prop bet.
"I've never played with Lex before" Akkari tells us. "He playedPatrik[Antonius] not long ago is that right? And they were very close?"
Your PokerNews hero informs Akkari that it was Brandon Adams who played Patrik, and that Patrik won.
"Oh yes, Brandon Adams looks like a very good player. Patrik is semi-professional and Brandon played well against him, so I wouldn't want to play Brandon I don't think. I'm a relative beginner compared to Brandon".
"I don't know the level that Lex is at, I would have to watch him play. I play here in Las Vegas a lot with friends. I play with the girls from PokerNews too".
"I think I might play Lex though. You should set up the match" Laughs Andre, before bidding us adieu.
Outfits Of The Day
We spotted these two outfits while meandering through the remaining field for Event 33: $1,000 No-Limit Hold'em.
First up we have a man who knew exactly what he was doing when he got dressed this morning. Here, himself and his neighbor have a chuckle when they see us hovering nearby trying to snipe a pic of his fabulous suit and leather hat combo.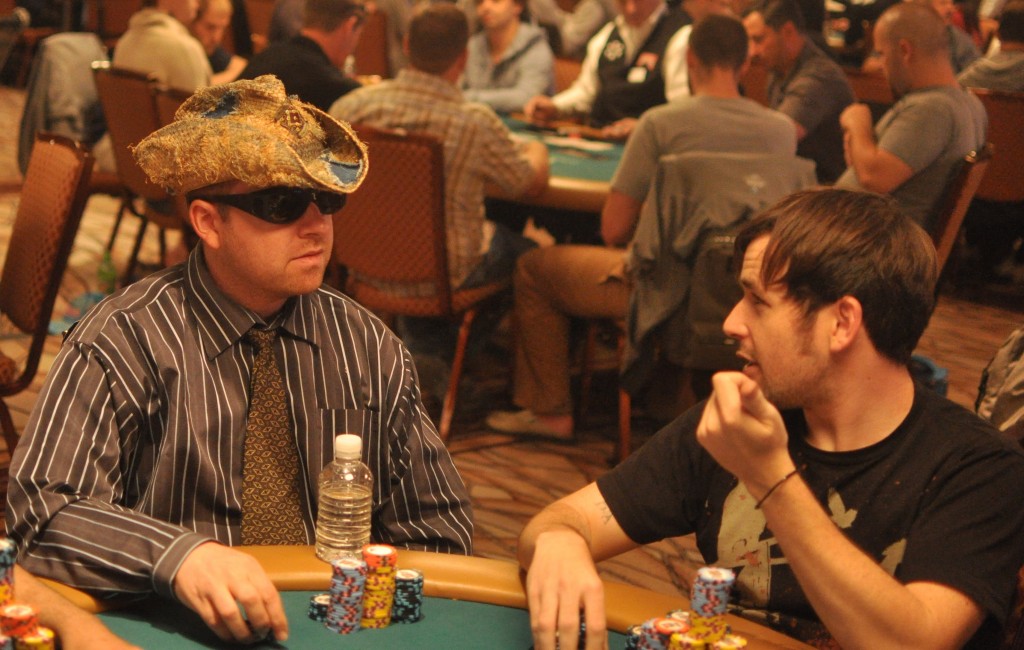 Next up we see the rare 'pink spacesuit'. This gent's afternoon attire consists of a near lethal dose of pink, matching a pink hoody with a pink burberry hat, topped off with some reflective sunglasses and a classic, straight chip stack.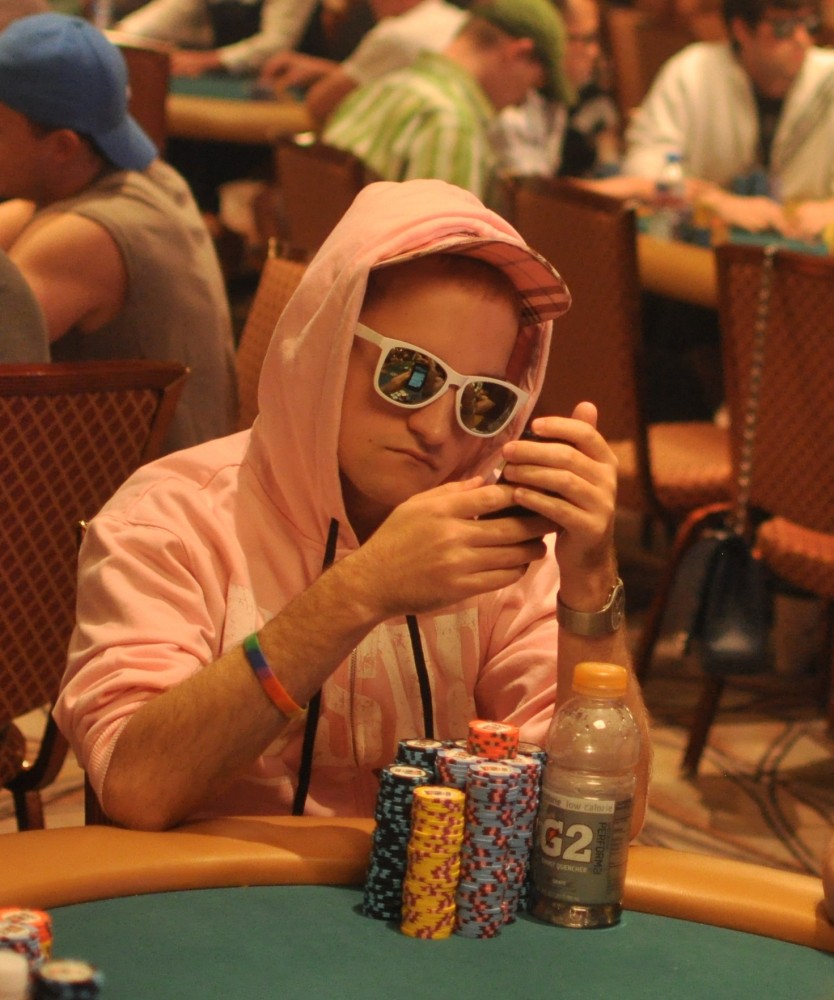 Can You See In Those? - Day 22
He saw this picture of Jason Mercier on twitter wearing the sweetest novelty shades on the circuit. Can you see in them Jason?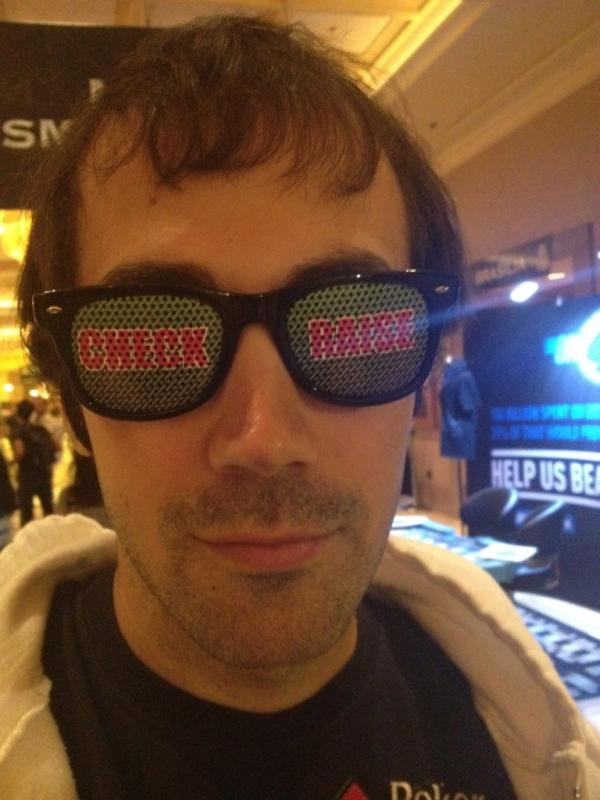 #JustGoodLuck
Check out this picture 2010 WSOP Player of the Year Frank Kassela just tweeted. He tweeted to his friend Gavin Smith
"How am I running now???"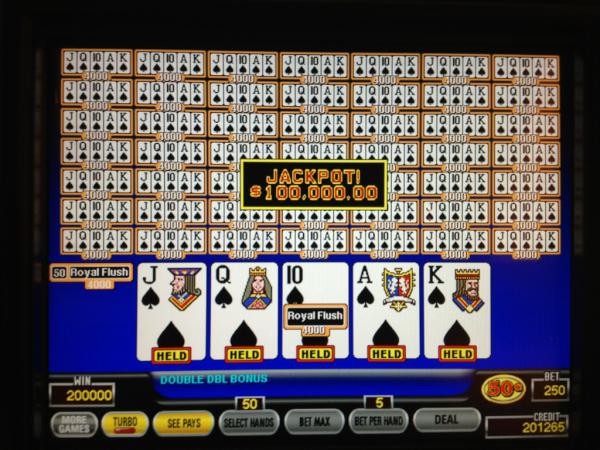 Guess he's running pretty good now...
Railbird Heaven

The field for today's Event #34: $5,000 Pot-Limit Omaha / Six Handed is one of the toughest we've seen so far in the tournaments. While Tom 'durrrr' Dwan still hasn't shown his face in this hemisphere, we're seeing the first of Phil Galfond recently. He completes a trio of the best online nosebleed PLO players in the whole world, who are all playing in today's event.
While right nowPhil 'OMGClayAiken' Galfond, Brian 'Stinger' Hastings and Viktor 'Isildur1' Blom are in far corners of the Brasilia room, everyone is dreaming of a final table with those three duking it out for the bracelet. Everyone knows the history these have online, including the famous day when Brian Hastings beat Viktor Blom for over $4 million, so here's hoping we see some fireworks before the end of the event...
Hellmuth 1-0 For The Series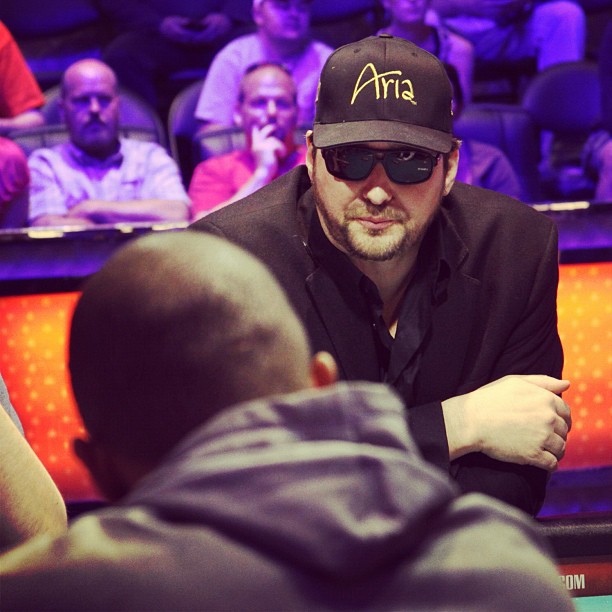 Well, they're at it again. Phil Ivey and Phil Hellmuth are now officially at another final table together, this time at the Event #32: $10,000 H.O.R.S.E. final table. This is Ivey's 4th final table of the series thus far, and Hellmuth has already added a 12th bracelet to his infamous hoard.
Phil Ivey opened the day as the smallest stack, with the bookmakers giving 15/1 on him taking the event down. Unbelievably, Ivey is now second to chips to b and is looking like the favorite to take this down. He has looked in the zone all day at the table, before shooting out the back door to his trailer on the breaks.
With the rail being likely to grow and grow as the night goes on, we'll be sure to keep you posted on what the atmosphere is like at Ivey FT#4
Tweet Of The Day
Marc Karam is on fire with the tweets these past few weeks! We think this is a pretty good idea, so we thought we would post it up here. The World Series Of Poker need to bring in a rule quick to stop clones entering the tournament, because once this idea is out therePhil Ivey's not gonna be safe anywhere!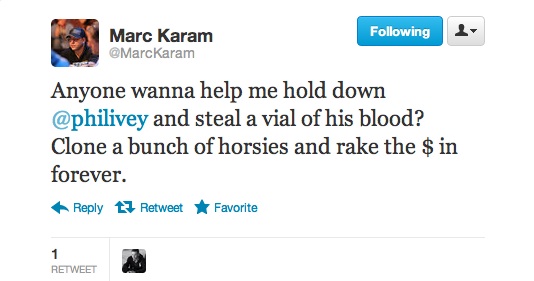 Early Negotiations?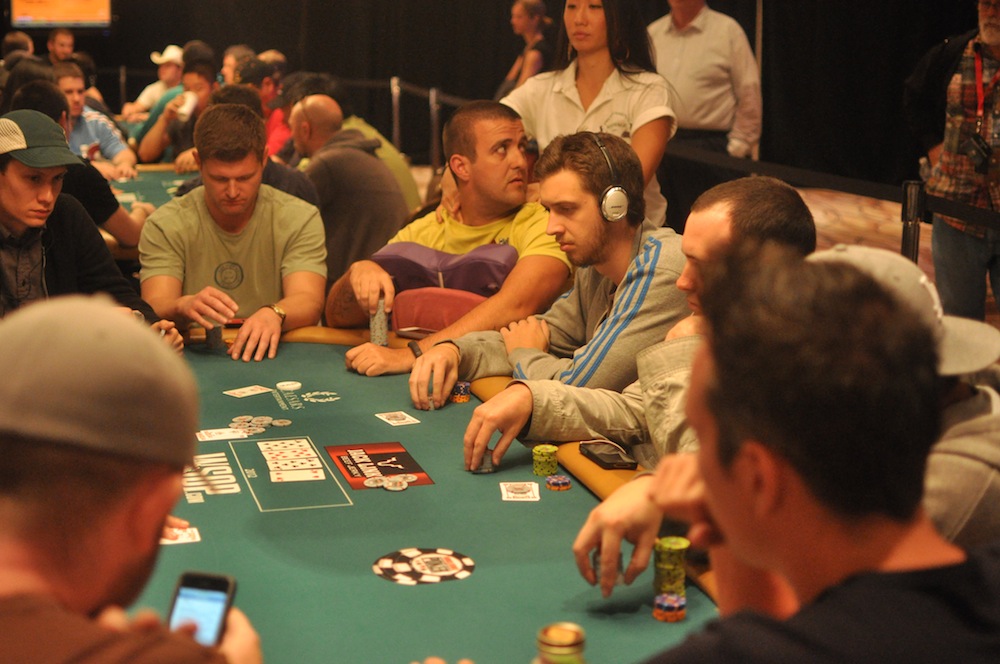 Guess who got drawn together in todays Event #35: $2,500 Mixed Hold'em (Limit/No-Limit)? None other than the would-be tennis rivals Andre Akkari and Lex Veldhuis. Perhaps, with this morning's interview fresh in his mind, Akkari will start negotiations for a tennis prop bet with Veldhuis. We might even swing by the table and give them a gentle reminder before the day is out...
The Railbirds Have Returned: Philapalooza Pt. 2
We've seen some big rails this series so far;Phil Ivey's first final table, his second final table, the seniors championship final table, Phil Hellmuth's 12 bracelet win. It seems as if though this is the biggest rail so far though, as it is a culmination of all the former big rails. We now have Ivey at his third final table of the series and Hellmuth is going for his 13th bracelet already.
Maridu Mayrinck tweeted an interesting statistic about Phil Ivey earlier:
Question: how many days within the last 10 that @philivey played poker was he not at an event that he final tabled? The correct answer is 1

— Maria Mayrinck (@Maridu)
There are nearly 300 people in the "Thunder Dome" for tonight's final table, many of them can't even find seats and are standing along the outer ring: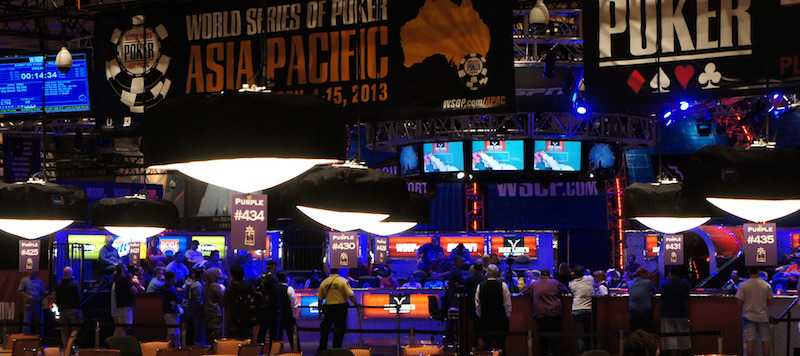 All eyes will be on the arena tonight, as both Phils once again compete for a bracelet on the same night. This final table will also have a huge impact on the player of the year standings as John Monnette, Phil Hellmuth, and Phil Ivey are all in the top ten points leaders for the player of the year race.
What's On Your Head: Day 22
This one is a first: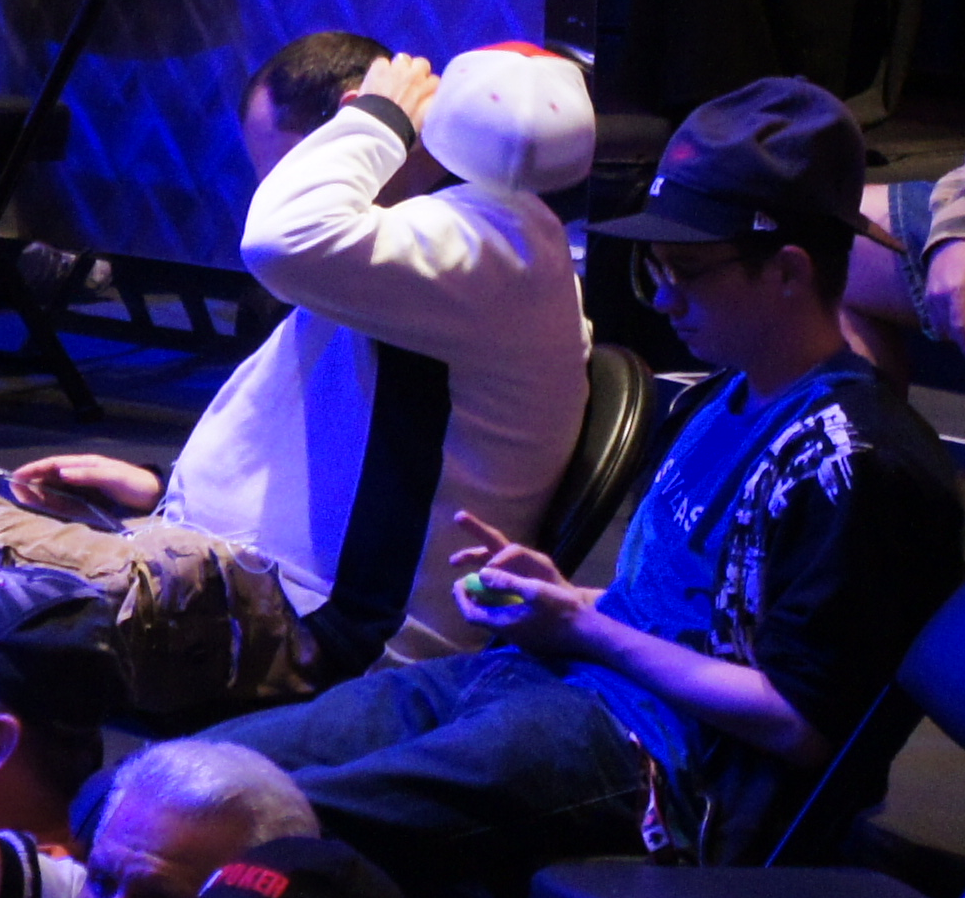 This kid has not one, but two hats on. The only question we could really think of is "why?"
The Chainsaw on the Rail
We saw Allen 'Chainsaw' Kessler on the rail of Event #32 so we decided to grab him and ask him a few questions.
We asked Kessler who he was rooting for at the final table. "I played a lot with Phil Ivey as we were coming up, so I'm rooting for him."
We also asked Kessler who he thought had the best chance of winning. "Well I don't know who has all the chips." So we informed Kessler that Phil Hellmuth and John Monnette were leading the pack.
"I don't think any one can really stop Monnette if he has chips."
We asked Kessler if he was playing any tournaments, or if he was just on the rail today. "I just busted from the mixed hold'em event," Kessler said. "It has the worst structure I've ever seen. We were already playing 300/600 limit in the third hour."
Better luck next time, Chainsaw. We'll see if any other pros are on the huge rail as well and see if we can get them to give us their predictions.
What's On Your Head: Day 22, Part 2
We like to reserve the term, "Straight Up G," for certain occasions.Sebastian Bastian is that certain occasion.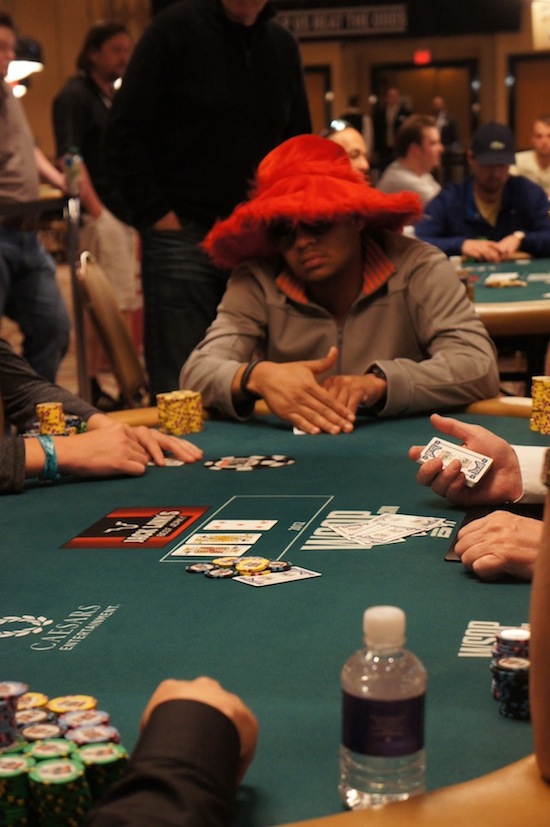 Bastian is currently playing in Event #34: $5,000 Pot-Limit Omaha Six Handed, which started earlier in the day. Currently, Bastian is 10th in chips and we're going to attribute his string of good luck to his lucky, floppy, red hat.
The Other Rail
While many people are still gathered around the Event #32: $10,000 H.O.R.S.E. final table, even after Phil Ivey's elimination in 5th place, there is a whole other crowd gathered around the final table for Event #31: $1,500 No-Limit Hold'em to watch 2009 Main Event winner Joe Cada try to win his second World Series of Poker gold bracelet.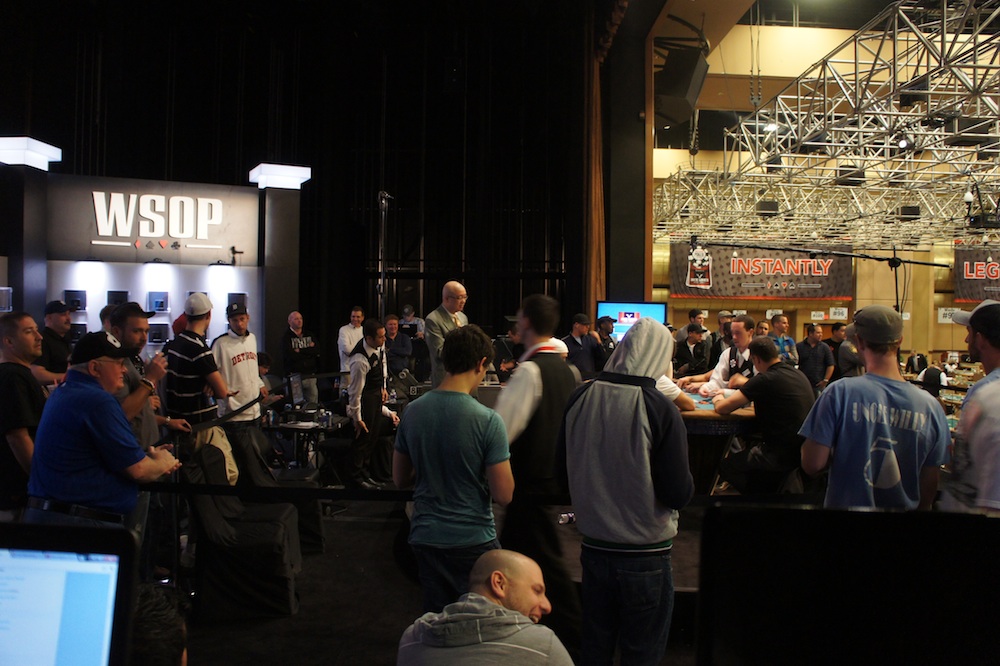 We estimate that at least 90 percent of the rail is drinking as many people are holding beers, and there is empty cans and boxes scattered around the secondary feature table.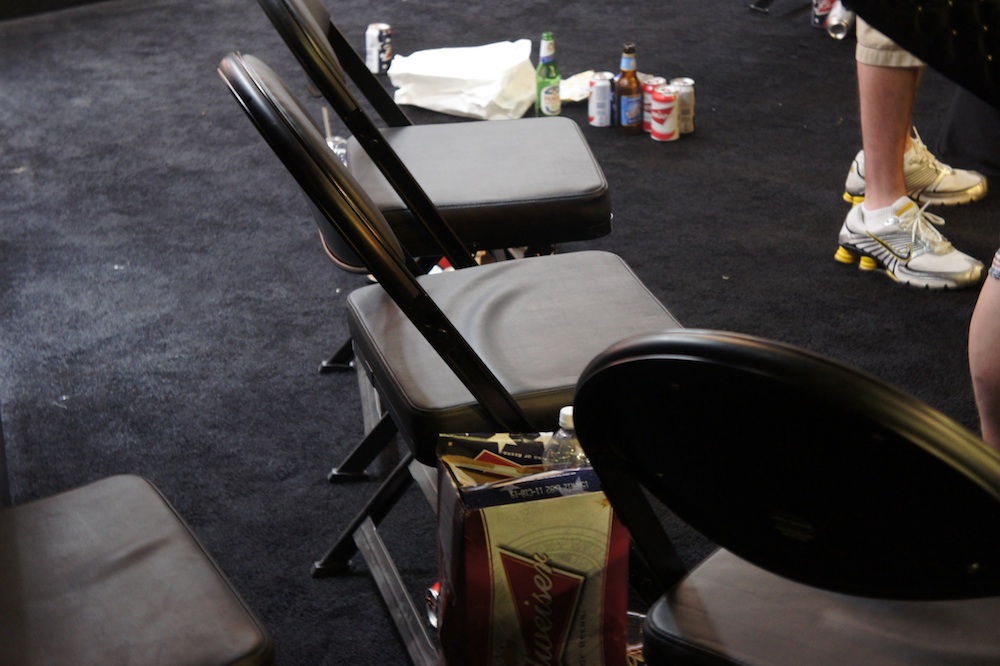 Many of the people on the rail are having fun poking at annoucer Tom Chow, who has a thick asian accent. "We can't tell if you're saying Cada or Carter," one man on the rail yelled.
During one hand, Tom Chow said, "The raise is to 151,000." To which one rail bird yelled, "There isn't any 1,000 chips in play any more."
"Sorry, I meant 150,000," Chow responded, whist everyone on the rail had a good laugh at his expense.
Two particular railbirds, Uncle Willy and Skomojo (as indicated by their shirts), are having a particularly good time, poking fun as Chow as well as making some prop bets for iPads.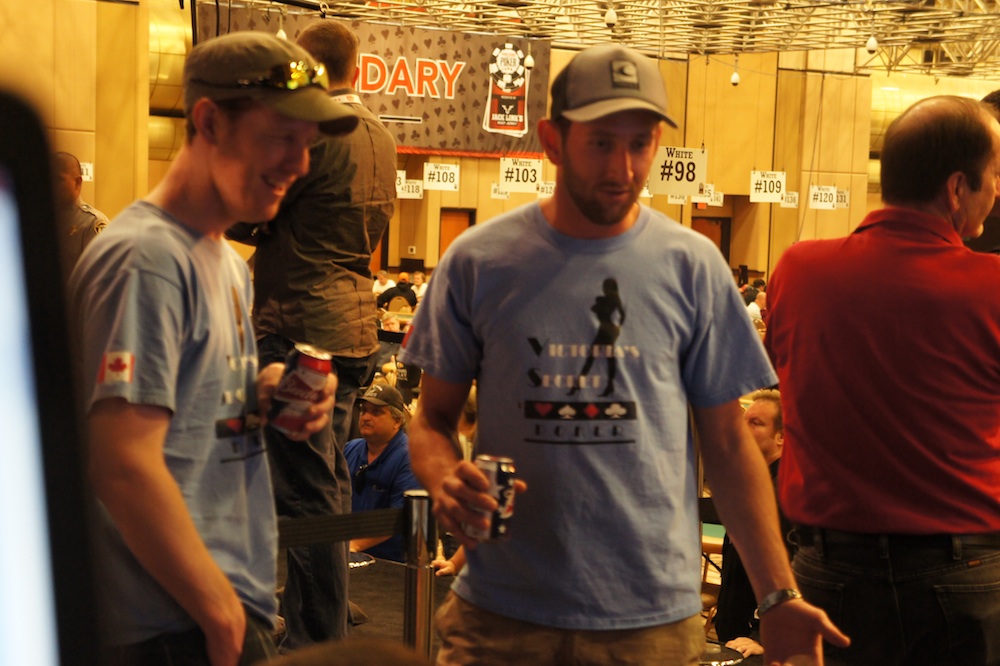 Even 2010 Main Event winner Jonathan Duhamel is rooting for Cada to take home his second bracelet:
While much of the rail is quiet, watching Phil Hellmuth in Event #32, it's obvious where all the fun is at on the rail for Event #31.
Ivey is Losing it
We caught this hand earlier in thelive reporting blog:
The board read and Phil Ivey took his time before opting to check. Huck Seed was next to act and he took a few moments himself, before putting out a bet of 1,400.

The table played the waiting game again, seeing if Ivey would make the call or not. In the end though Ivey measured out the call, and held the necessary chips in his hand. Ivey pump faked a few times with his hands in the air making airplane noises before dropping the chips in the pot with a smile on his face.

Seed flipped over , and Ivey put his hands up in the air with a "oh well" hand gesture and mucked his cards.
We think Ivey might be playing a bit too much. Maybe three final tables in a ten day span was just too much for him.
Heads-Up
There are two intense matches going on right now at the World Series of Poker. David Bakes Baker and John Monnette are heads-up in Event #32: $10,000 H.O.R.S.E. while across the Rio, Joe Cada and Carter Phillips are heads up inEvent #31: $1,500 No-Limit Hold'em.
The rail is still huge as at least a hundred people are standing around the rail to see if Cada can win his second bracelet.
On the other side of the Rio, it looks as if the match is coming to an end between Monnette and Baker. If Monnette can seal the deal it will be his third bracelet, and second of this year, while if Baker wins, it will be his second bracelet. Both matches are extremely intense, with spectators staying extremely quiet between hands, and cheering and shouting when a player wins a pot. The atmosphere in the Pavilion room at the secondary feature table is alive with excitement and energy as Cada aims for his second bracelet.
We Have A Winner!
David Bakes Baker just wonEvent #32: $10,000 H.O.R.S.E. for $451,779 and his second World Series of Poker gold bracelet.
Earlier in the day Sarah Grant was able to catch up with 'Bakes' during a break in the tournament. In the video she asks 'Bakes' about his marching band career and asks him to do his Thriller dance.
Here are some reactions from pros on Baker's win:
Behind every great poker player is an amazing woman! Congrats @DMBakes @Maridu, two very inspirational roomies :)

— Xuan Liu (@xxl23)
I AM SO HAPPY! @DMBakes JUST WON HIS 2ND BRACELET! He is an amazing player, more important he is an amazing person. Ty all for the love

— Maria Mayrinck (@Maridu)
We got a chance to catch up with Maridu Mayrinck, Baker's girlfriend, after the match. Mayrinck was extremely overjoyed for Baker's win.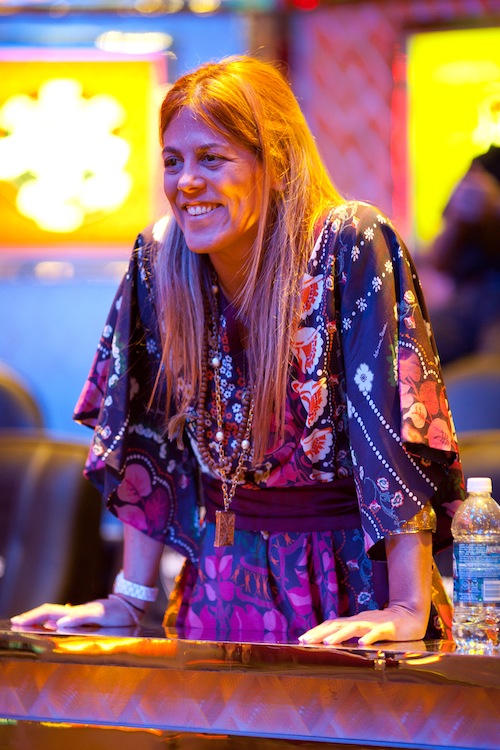 "Isn't this amazing?!" she said. "I can't believe he just won. This is so crazy."
We asked Mayrinck if Baker's win would inspire her performance for the rest of the series.
"He always inspires me," she said.
We asked what the plans were for celebrating Baker's win.
"Him and all his friends want to go to Musashi and get drinks, but I'm so tired, I don't think I can handle that right now. David is bringing his mother outside to get her a cab, then he's coming in to get his box."
In the Pavilion room, Cada and Phillips are still heads up, and it could still go either way.
We encourage everyone to get involved with "The Muck." See something you think is Muck worthy? Send it to the muck@pokernews.com. We accept all media including photos and videos.