Mark "P0ker H0" Kroon Supports "Mama H0" on the Rail During WSOP Event #29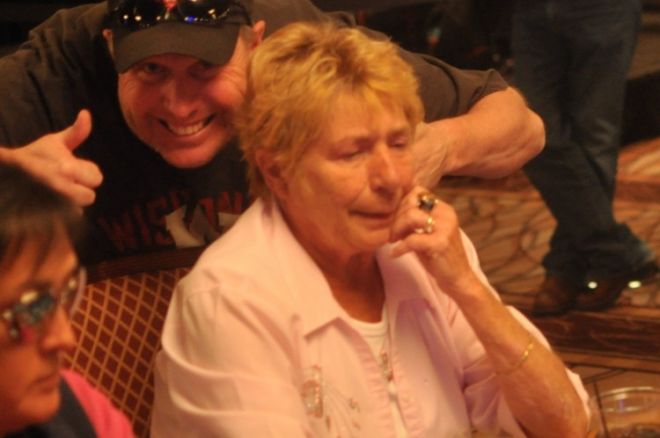 We ran into online poker legend Mark "P0ker H0" Kroon, sweating — of all people — his mother, Marilyn Guess, in Event #29: $1,000 Seniors No-Limit Hold'em Championship. Kroon also played in the Seniors event but busted on Day 1.
Kroon was a fixture in the "hey day" of online poker, accumulating over $1,000,000 in tournament cashes. But our topic of discussion was about his mother's deep run in the Seniors event.
Guess, affectionately pinned with the moniker, "Mama H0," finished 107th out of 4,128 entries and pocketed $3,269.
Kroon was happy to watch her in action.
"She would stand on the rail and watch me all day," Kroon said. So it seems only fitting that "I've stayed here all day railing her."
Have you given your mom any tips?
"She has a lot of chips, but I tell her she can pick up more, especially right before dinner break, cause they all wanna make the break. She hasn't had many showdowns. She's only showed down aces, so she has a good image," Kroon said.
Poker has spanned three generations in the Kroon family. "My grandmother taught me poker. You know, just playing for small stakes at home for fun," Kroon said."She's living her dream," speaking of his mother. "It'll make for the best rail!"
Follow PokerNews on Twitter for up-to-the-minute news.