Team PokerStars Pro Chris Moneymaker Talks 2-7 Lowball Strategy, His WSOP Schedule, and More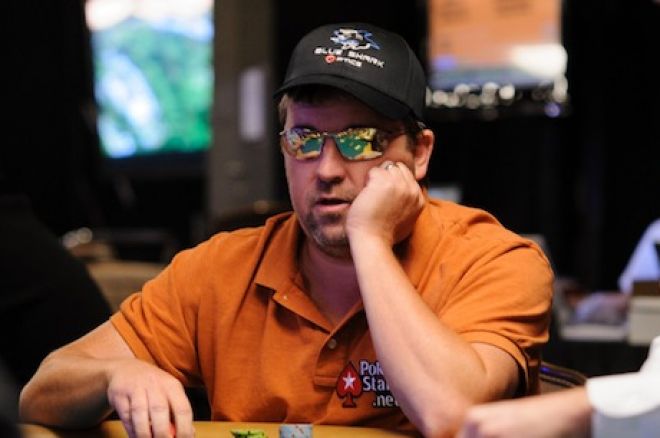 We spotted Team PokerStars Pro Chris Moneymaker a few hours ago at his 2-7 Draw Lowball table. We went back to catch him on dinner break for a chat about 2-7 Draw Lowball strategy, his WSOP schedule, and the state of online poker.
We see you're playing 2-7 Draw Lowball today.
Yeah, I've been playing more mixed games recently, but this is actually my first time playing deuce to seven. I just flew in to [Vegas] today and my plan was to just watch a movie but Raymer [Greg Raymer] said I should play the five o'clock (Event #30: $1,500 2-7 Draw Lowball). I hadn't seen him in over a year so it was nice to catch up.
Did Greg Raymer give you any good tips?
Play tight. Position is utterly the key. Just play pat hands and hands where I don't draw more than one.
How's it been going so far?
Well, I made it to dinner break, [laughs], so that's good. I've been three-betting a ton — in position. My table draw is tough but they've been playing pretty straightforward. I got [Erik] Seidel on my table and a tough opponent on my left.
What WSOP events do you plan on playing this series?
The $1,500 tomorrow (Event #31: $1,500 No-Limit Hold'em). If I don't make day two of this one (2-7 Draw Lowball). The $1K on Sunday (Event #33: $1,000 No-Limit Hold'em). The $5K Pot-Limit Omaha (Event #34: $5,000 Pot-Limit Omaha — Six-Handed). The $3K shootout (Event #36: $3,000 No-Limit Hold'em Shootout) and the mixed game (Event #37: $2,500 Eight-Game Mix). Then I'll fly home back to Tennessee and come back for the Main Event (Event #61: $10,000 No-Limit Hold'em Main Event).
What are your thoughts of being a Team PokerStars Pro in light of Black Friday?
When April 15 happened my biggest concern was about all the money and the potential future of the game, especially with Full Tilt going the way it did. PokerStars is run by business people more than by poker players. They do get consulting by poker players but at its core its run by business people. PokerStars also listens to their players.
Follow PokerNews on Twitter for up-to-the-minute news.