All Mucked Up: 2012 World Series of Poker Day 20 Live Blog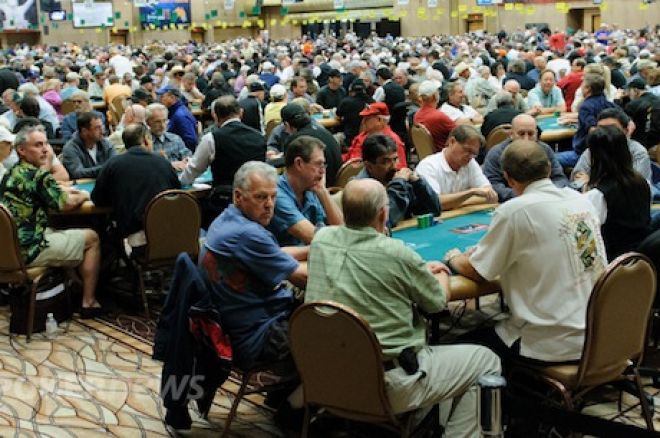 All Mucked Up is a live blog of all the stuff you want to know at the 2012 World Series of Poker, besides hand histories and bad beats. Well, we might add a few in here, everyone loves a good bad beat story — unless it happened to you. Check back often for polls, soundbites, celebrity sightings, and who knows what else!
The Morning Grind
It looks to be a packed day at the Rio as Event #29: $1,000 Seniors No-Limit Championship has already gotten off to a hot start. The Amazon room is filled to the brim with seniors and overflow from Event #31: $1,500 No-Limit Hold'em.
Already this morning we've seen Dennis Phillips, who is still alive in Event #29, Issac Haxton and Jeff Schulman who were both heading to their tables in Event #31. We also saw Robert 'Silly Bands' Croak, who you may remember from the last season of High Stakes Poker, in the registration line.
Speaking of registration, it seems to be the most crowded that it's been for the entire series so far, with a line out the door of the tournament registration room.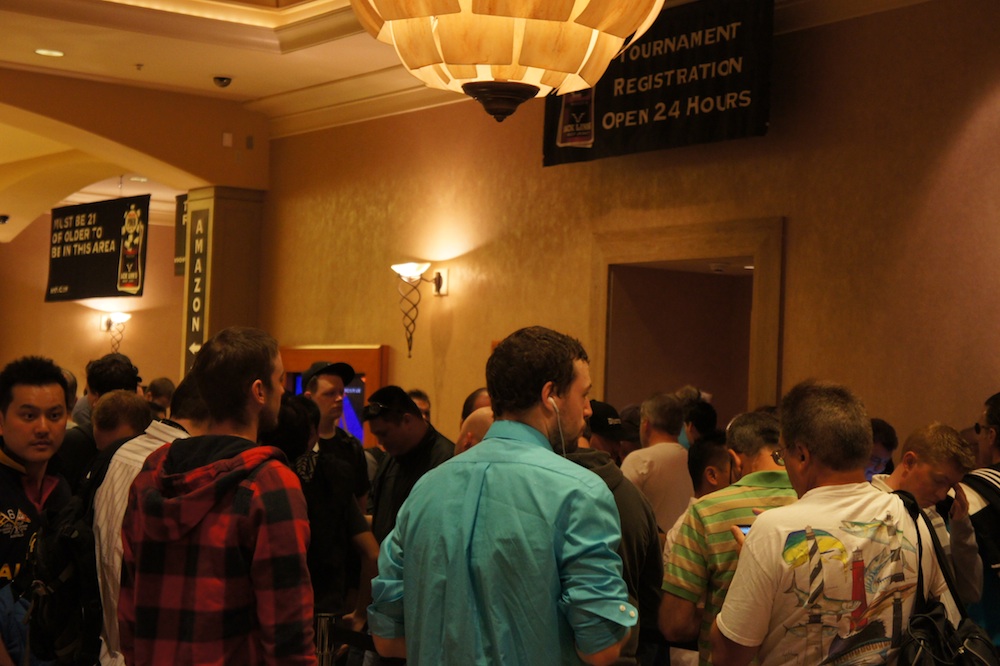 Event #31 could have a huge field, and that means a killer prize pool, so if you want to get a good price on your money, make sure you head down to the Rio before registration ends.
What's on Your Head: Day 20
It's becoming pretty standard to see Kennii Nguyen in the field. Already he has made a final table, and has a runner up finish in Event #19: $1,500 No-Limit Hold'em. He's at it again today, wearing his trademark jester hat in Event #31: $1,500 No-Limit Hold'em.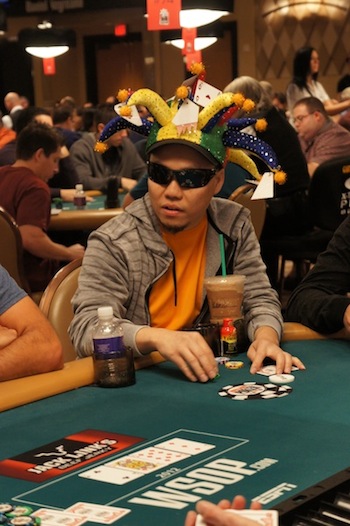 Seeing as it did him well in his last tournament, Nguyen's hat may take him deep again, but only time will tell. Currently, he's leading the points race in the "Hat of the Year" competition, and he's a nearly a shoe in to win.
Can You See With Those Things On? Day 20
We caught this woman in the field of Event #31: $1,500 No-Limit Hold'em as well. She was wearing a pair of shades with the word "Heat" written across the frame, which begs the question, "Can you see with those things on?"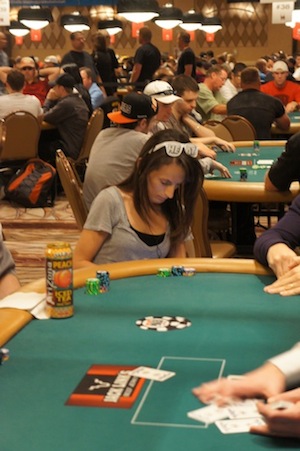 We're going to assume that she's a Miami Heat fan, as game 3 of the Heat and Thunder championship takes place Sunday, tomorrow.
PokerNews Is On The Felt
Uh oh. Everybody watch yourselves. PokerNews has a player in the field once again. Yesterday, Live Reporting Global ManagerDonnie Peters decided to play in Event #30: $1,500 2-7 Lowball.
Today it's Editor Chad Holloway who's in the field.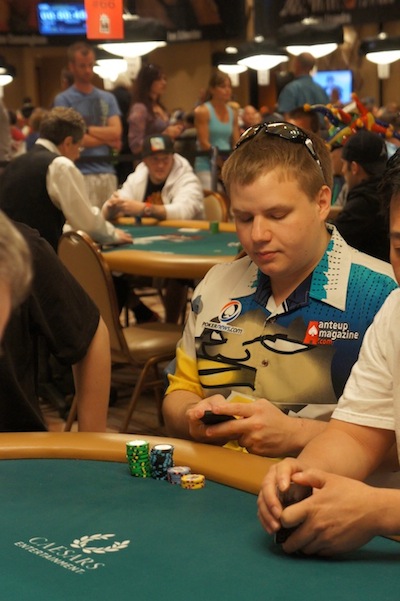 Holloway is wearing his trademark flamboyant bird shirt which he has been caught wearing on multiple occasions. Hopefully his bird shirt will be carrying him to victory. Already it seems as if it may be good luck as Holloway doubled up on his first hand. We'll catch up with Holloway on break and see if he can give us a little taste of what it's like to go from behind the keyboard to on the felt.
This Line is Insane
We mentioned earlier how the registration line was extremely long, even going out of the door and around the corner. If you didn't believe us, here it is again from pro Paul Wasicka:
This line for registration is insane. Knew I should have signed up yesterday.. :(

— Paul Wasicka (@Kwickfish)
These lines really make the place feel more magical, like Disneyland almost.
Turing Water into Whiskey
Tony Dunst had an interesting tweet earlier:
Dude on table attempts to order me a whiskey-water as a joke. Asian waiter misses the joke, and brings a glass of half-water, half-whiskey.

— Tony Dunst (@Bond_18)
We walked by Dunst's table in Event #31 to see if the drink was still there or if he was drinking it, but unfortunately it was already gone.
Redoutfit of the Day
We caught this gentleman playing in Event #29: $1,000 Seniors No-Limit Hold'em Championship wearing a cowboy hat and an all red outfit. He told us that he wanted to be called "Sweet."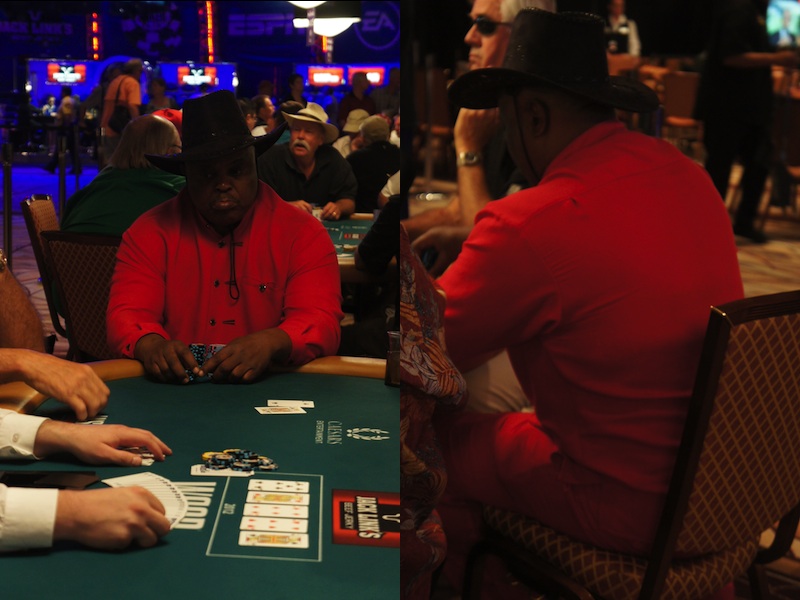 We asked Mr. Sweet what the occasion was for his all red outfit, or Redoutfit. "This is my very first seniors event," Mr. Sweet said. "I came all the way from Columbus, Ohio, and I plan on getting hot today. It's time to take care of business."
"Make sure you come back and get a picture of him doing a table dance later," a tablemate said. "He does a very good country western table dance."
"Did I qualify?" Mr.Sweet asked us as we were leaving. "Did I qualify to be on PokerNews?"
I'm sure that Tony G would say "You've qualified," Mr. Sweet.
As we were walking away, Mr.Sweet left us with some parting words. "Tell them Mr. Sweet said, it's just like a tower of power. Too sweet to be sour."
What's On Your Head: Day 20, Part 2
Meet Gionni Demers: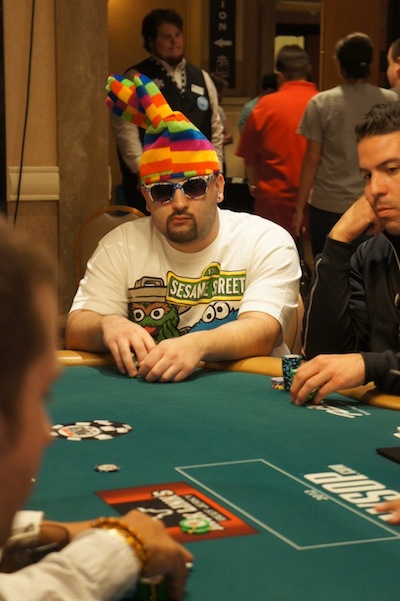 We caught Demers in Event #31: $1,500 No-Limit Hold'em wearing this ridiculous hat.
We asked Demers what the occasion was for the hat, and this time it wasn't just for SNGs (S***s and giggles). Well, technically it was for SNGs, just not those kind.
"Me and my roommates have a home game, a $100 sit and go," Demers told us. "But this week, we added a little side bet, the first person to bust would have to wear this hat."
Poor Demers. Not only did he lose $100, he's stuck all day wearing that ridiculous hat. Demers' roommates are also in the field today, most likely laughing at their friends misfortune while counting his money.
Long Registration Lines Continue
We've been reporting on the long lines of registration today because of Event 31: $1,500 No-Limit Hold'em. Here's a tweet from Team PokerStars Pro Lex Veldhuis about the lines.
Here's a video of the exterior of the registration line:
Here's a video of the interior of the registration windows:
There's over 2,800 players registered at the moment. Would be a good idea for players to register early for subsequent events to avoid the long waits.
Stacks on Stacks on Stacks
Michael Mizrachi is currently crushing Event #30: $1,500 2-7 Lowball. He had 140,000 chips when we went to go see him: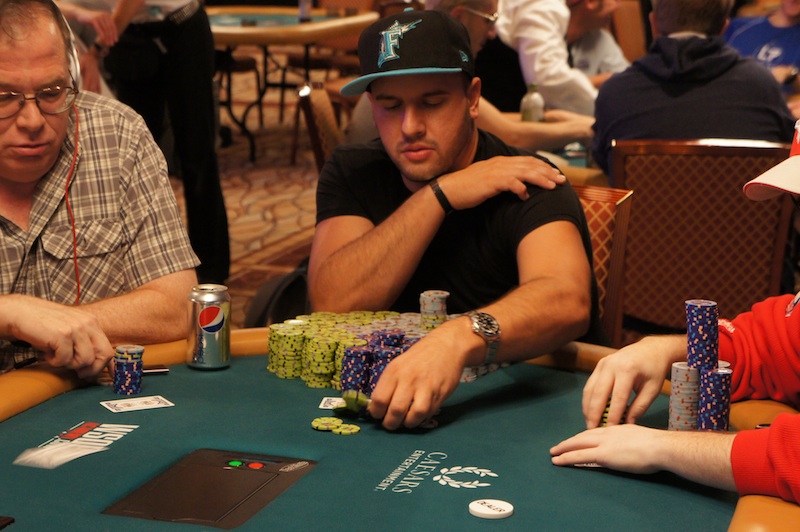 One of our live tournament reporters gave us an interesting tidbit about Mizrachi's stack. With 140,000 in chips, Mizrachi has just below what an average chip stack would be for the final 8 players. With 40 players remaining in Event #30, Mizrachi could just cruise right into day 3. But the game is no-limit, so anything could happen. We don't want to jinx it, so we wont say anything.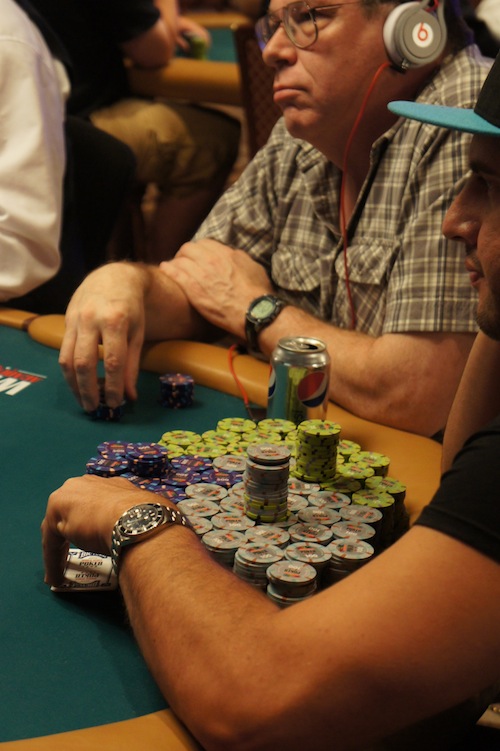 In the picture above, we counted over 40 twenty stacks of chips, but he doesn't seem to be having a problem maneuvering around them to get to his cards.
The Shark is Sleepy
We caughtTeam PokerStars Pro Humberto Brenes taking a nap at the table today: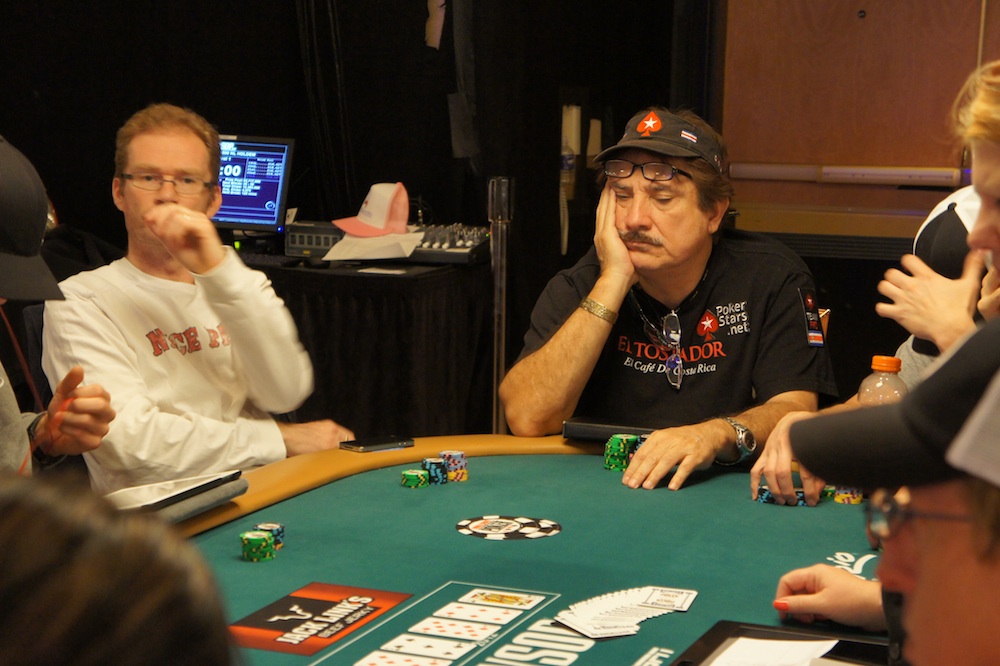 It's no surprise that he's a bit tired, because Brenes played in 2 events yesterday;Event #28: $2,500 No-Limit Hold'em Four Handed, where he cashed, and Event #29: $1,000 Seniors No-Limit Hold'em Championship. Today he decided to hop into Event #31: $1,500 No-Limit Hold'em, but we're not sure that's such a good idea, as he looks half dead.
Hopefully the Shark regains some of his pep, because the game is just not the same without him making theatrics.
What's On Your Head: Day 20, Part 3
Today must be a day for ridiculous hats. We caught this gentleman in Event #29: $1,000 Seniors No-Limit Hold'em Championship.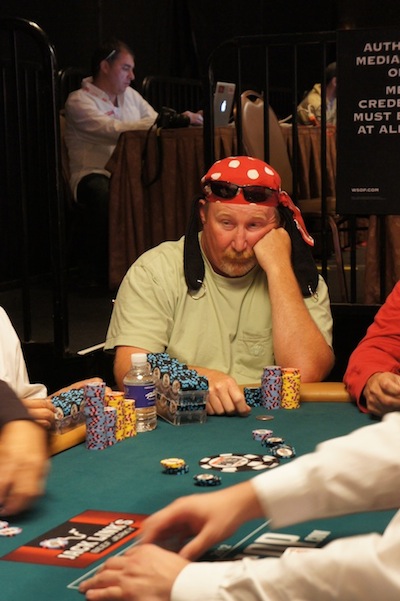 He looks sort of "Goofy" to us.
Oh Lovey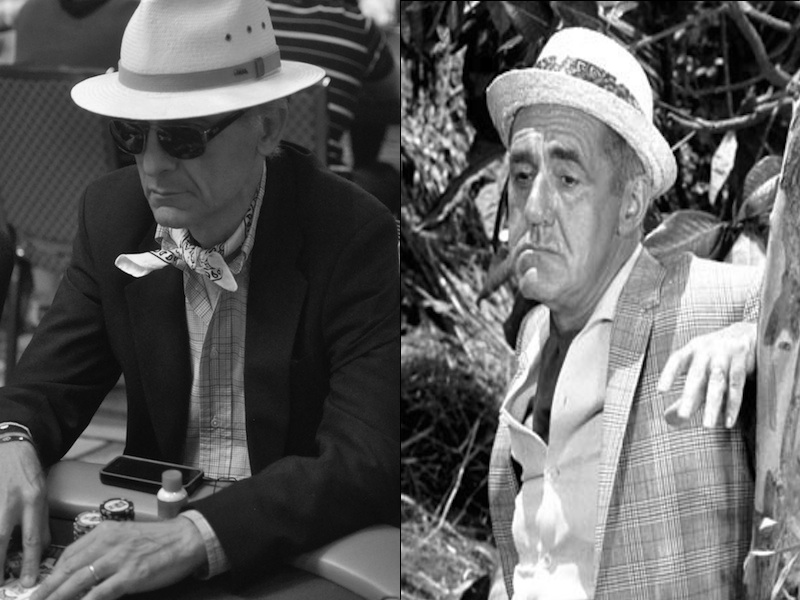 We spotted this gentleman in the $1,500 No-Limit Hold'em event. He bears a striking resemblance to Thurston Howell III from the classic TV show Gilligan's Island. What do you think?
Kling Attracts the Creepers
We saw this tweet fromLauren Kling earlier in the day:
Guy at table asks me to be w him, help raise his daughter, & teach her my morals..also asked if I have tattoos & other weird ?s #SaveMePlz

— lauren kling (@laurenkling)
So we caught up with Kling on break in Event #31: $1,500 No-Limit Hold'em to get a little follow-up.
"Save me," she said to us quietly as she was trying to slip away from her table unnoticed. We wanted to hear a little more about the creeper so we asked her what had happened.
"I don't know how it started, but I got moved here and this guy just started talking to me," she said to us. "He asked me if poker was all I did, and I said, No I used to work for Playboy. And he goes, 'Oh, so you're a model?' and I told him, No, I would never take my clothes off."
Kling continued the story, telling us how the creep kept telling her that she was so perfect, and how good her morals were.
"He asked me if I had any tattoos, and I said no, I wouldn't do that either. And he said something like, 'oh wow, you're just perfect aren't you.' Then he asked me to come and live with him, and to help him raise his daughter to have morals like me. And I just wanted him to leave me alone."
Kling continued telling us the story. "Then he asked me what I was doing for dinner. So I said, 'I'm probably going to do something with my boyfriend.' And he just keeps going, 'Oh how long have you guys been together? Do you have any pictures?'"
We asked Kling if this was the creepiest experience that she's had at the poker table, and she told us it was up there. Hopefully things get better for her. She's still alive in event #31 with 7,200 chips.
Luke Schwartz in the Building
One player who we hadn't seen until today was Luke 'Full Flush' Schwartz. Schwartz was coming out of the tournament registration room, so we asked him if we could talk quickly.
"I'm a bit busy," Schwartz said to us. "Do you know where I could get change for one of these $5,000 chips," he said to us showing us a handfull of chips.
We asked Schwartz what he would be playing for his first event at the series. "I'm just registering for the H.O.R.S.E." he told us.
We asked him if he thought the field would be soft, and have lots of fishes. "Oh yeah, loads of them," he said.
We'll keep tabs on Schwartz and see how he's doing for the rest of the series as he is always good for the game.
#JBL
If you follow Jason Mercier and/or Matt Glantz on Twitter, than you've probably seen them use the hashtag #justbadluck or #JBL - it's basically the newer, cooler version of #whenwillitend. We caught Mercier and Glantz in Event #32: $10,000 H.O.R.S.E. wearing these shirts: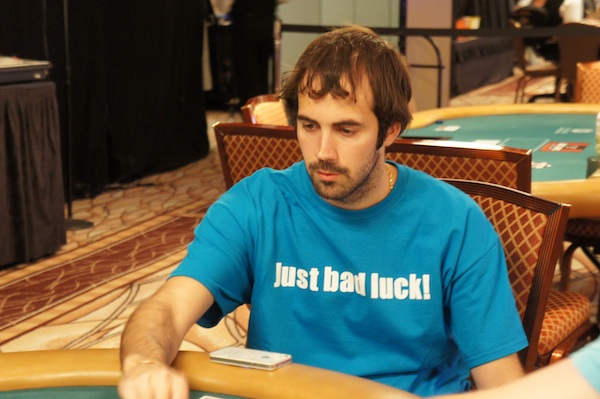 We talked to Mercier who was waiting for his table in the event. He told us that Allen Bari actually had the shirts made for them. We also saw pro Chris Klodnicki wearing a "Just Bad Luck" shirt as well.
Here's Matt Glantz wearing one: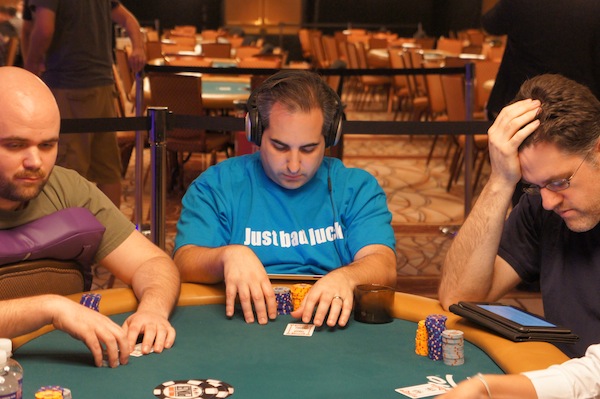 "Just Bad Luck" seems to be the twitter fad of this series, which makes us wonder, #whenwillitend?
Baller Kicks
We saw that Daniel Negreanu had posted a picture of his new shoes on his twitter a few days ago: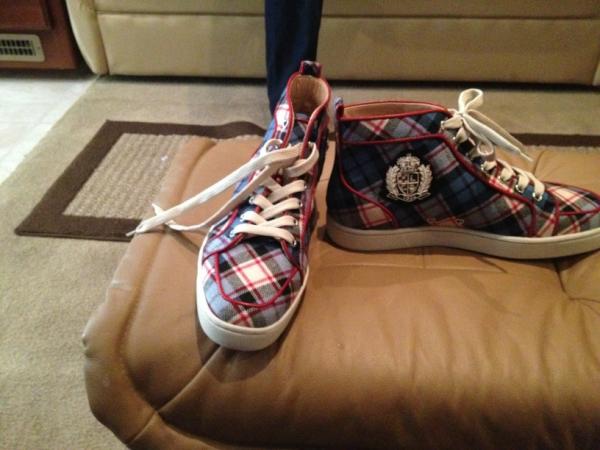 The shoes are a pair made by Christian LouBoutin for men.
A few of us in the PokerNews crew were curious as to how much they cost, so we asked. The actual price of Negreanu's new shoes... -drum roll please- $840. Much less than we expected actually, but still quite high for any pair of shoes.
"No Viktor… You Can Only Raise The Minimum"
We saw on twitter earlier today thatDaniel Negreanu was giving fellow Team Pokerstars Pro Viktor 'Isildur1' Blom elementary lessons on how to play H.O.R.S.E minutes before Event #32: $10,000 H.O.R.S.E. began.
Giving Viktor Blom a crash course in HORSE starting with the rules... This should be interesting he is playing the 10k!

— Daniel Negreanu (@RealKidPoker)
I can't imagine Isildur would stand much of a chance in this stacked field if he didn't even know the rules, so you can thank Negreanu if Blom is in your fantasy draft this summer.
Remember the days when Isildur would viciously berate opponents in chat for min-raising the button? Who knows how tilted he's going to be after several hours of limit betting…
Don't Call It A Comeback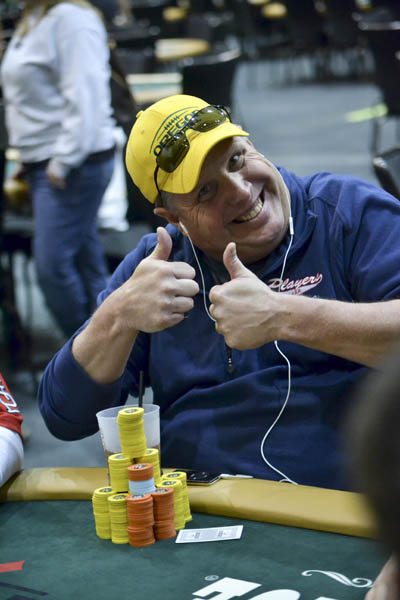 We caught up with Mark "P0ker H0" Kroon in the Amazon room. A former Ultimate Bet pro, Kroon was a fixture in the "heyday" of online poker, accumulating over $1,000,000 in tournament cashes. We chatted with Kroon about what he's been up to.
Do you miss online poker?
Yeah, I made so much online. It was great playing from home. When I was with UB I enjoyed playing the events in Aruba too.
How's the adjustment been Post Black Friday?
I've been playing more live. I enjoy traveling and meeting up with people that I know. Even here at the WSOP I run into Rio staff that I know and a lot of PokerNews friends I've made. I actually like the lifestyle; 10-12 hours grinding online is tough. I like the social aspect of live play.
I understand you've been absent from the WSOP in recent years. What events do you plan on playing this summer?
Well, I played the Seniors event, but busted yesterday. I'm playing the $1,000 No-Limit Hold'em tomorrow, the $100,000 National Championship Freeroll and also playing every (WSOP) Hold'em event.
If The Poker's Not Exciting Enough
The two sides of the Amazon room are in stark contrast this evening. On one side is Event #32: $10,000 H.O.R.S.E., featuring a huge name pro or three at every single table and with the golf showing on big TV's in the background.
On the other side of the room are the dregs of Event #29: $1,500 Seniors No-Limit Hold'em Championship featuring dozens of unknown septuagenarians who are currently tuned into 'Americas Favorite Quiz Show' Jeopardy.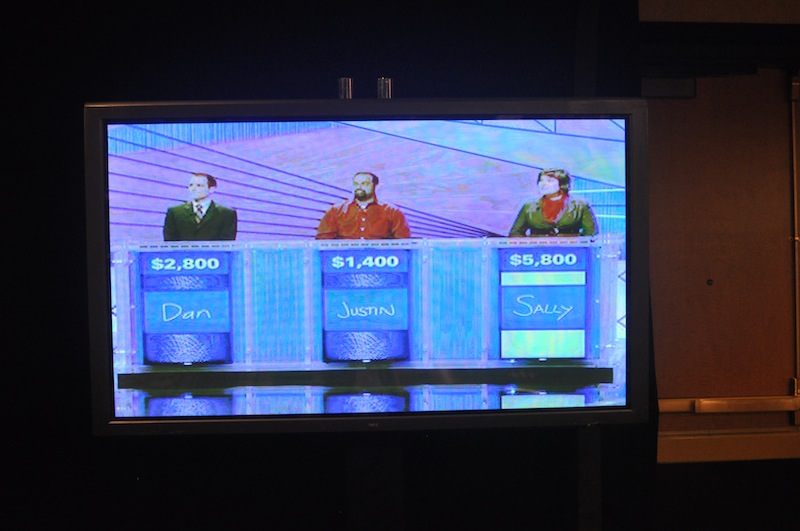 This is smart management by our friends at the WSOP. A possible idea for next year: For the duration of the senior's event, why not change the hallway playlist to feature all classic hits from yesteryear? It would really teleport the whole tournament atmosphere back to the 1950's, and could save this live blogger's sanity in the process.
There's Something About Maridu
Anytime you pass by Maria "Maridu" Mayrinck's table you're bound to hear some great table chatter and today was no exception. She's seated next to Apple executive Scott Young in the $1,500 No-Limit Hold'em event. The topic of discussion was the new MacBook Pro.
"I'm trying to get the new MacBook with retina display but this guy (Scott Young) won't f**king get me one," Mayrinck said in jest.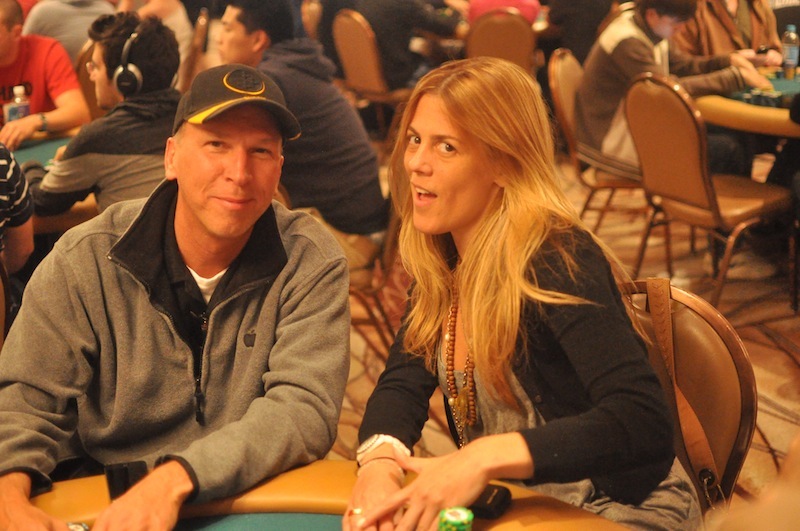 Here's another gem; we just came upon this tweet from Kara Scott, who's playing the same event:

No Gamble No Life
Everyone knows the poker player's stereotypical lifestyle is late nights, miserable mornings and non-stop gambling. Today on my rounds through the Amazon poker room I got into a debate with an editor from another poker media site over what was a favorite all in pre-flop: the lone
, or
.
To settle our debate we decided to run 20 boards a day and out and give 1.25$ a board to the winner every evening for the rest of the series. After 60 boards, our PokerNews hero is up by 2.
The power of the
is that it doesn't need to improve to win – the downside is when the
improves it's a virtual lock, and when the flop comes with an Ace, a 4 or a 5 the
has tremendous equity to make the last two cards a sweat.
Here we are dealing out one of the first boards in the media stand overlooking the Final Table for Event #28: $2,500 No-Limit Hold'em / Four Handed where Timothy Adams takes on Brendon Rubie for a bracelet.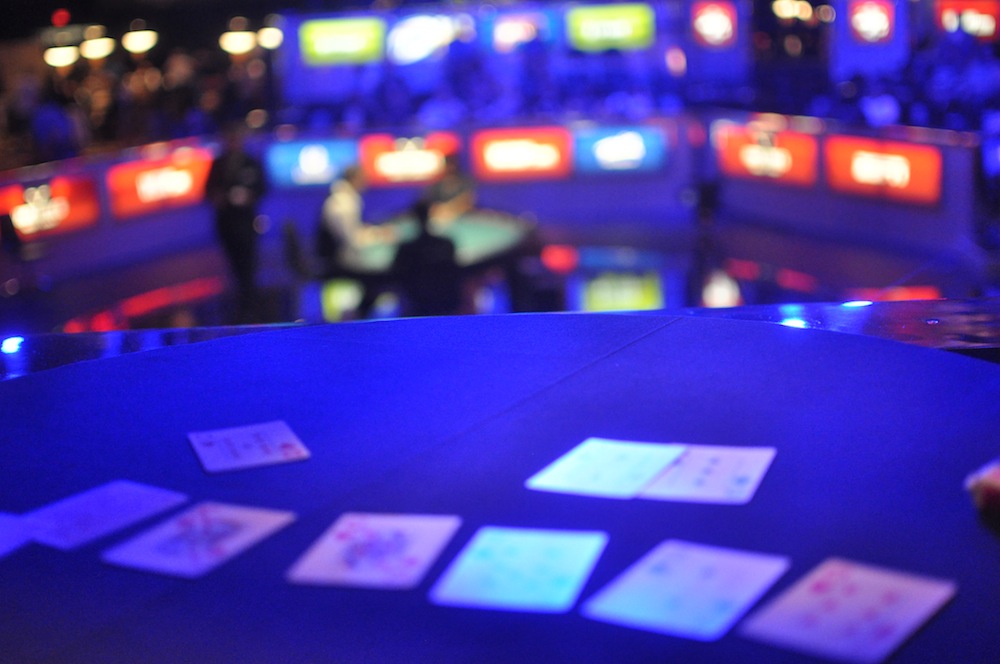 Personally I love my side, and have already sold 10% to a housemate. Another housemate has the over/under on how much will change hands, with the line being 70$. Which side do you think is a favorite,
or
? Which would you want action on?
Poll
What's the Favorite All In Pre-Flop?
It's fun bets like this that makes the poker community unique. We'll keep an eye out for any other interesting prop bets in the coming weeks.
Chip Envy
A huge pot lost for Michael 'the Grinder' Mizrachi has seen him plummet to fourth place, while his neighbor Brandon Cantu increases his chip lead over the field, making the castle he's building look all the more impressive.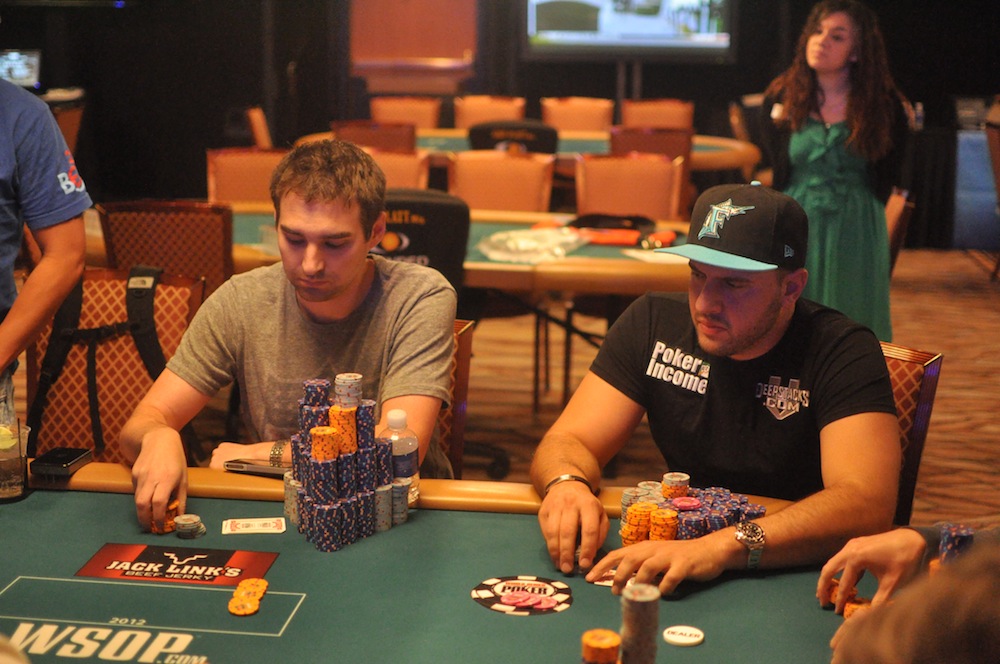 Celebrity Look-Alike
While checking out the field for Event #32 $10,000 H.O.R.S.E. we couldn't help but notice that Scott Seiver is a pretty close double of 'Seth' from the film Superbad. What do you guys think?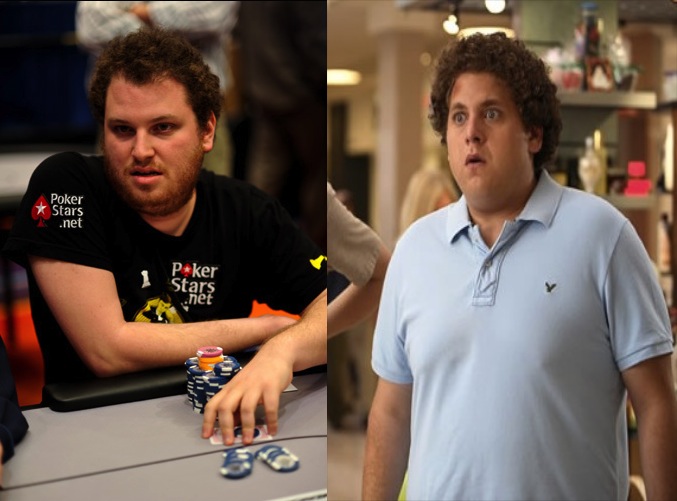 Poll
Does Scott Seiver Look Like Seth From Superbad?
Tweets Of The Day: Day 20
These two tweets are tied for our Tweet Of The Day : Day 20.
This one is Marc Karam's golden rule about living in Las Vegas.
If she looks at you for longer than 2 seconds #timetobail #shesahooker #vegas

— Marc Karam (@MarcKaram)
This one is John D'Agostino's description of the 'banter' between himself and Ivey in Event #32: $10,000 H.O.R.S.E.
Got moved to Ivey's right in the 10k horse, asked him if he remembered the objective at final tables is to win..he was only mildly amused

— John DAgostino (@jdags21)
I think if we had a Bravest Grinder Of The Day award, it would go to John D'Agostino hands down.
Lads, Relax, It's Only The 10k
After spending some time in the back corner of the Amazon room, where a huge percentage of the game's top pro's are playing H.O.R.S.E for the coveted gold bracelet, you can see that to these guys this is just another tournament.
Despite this being a 10k event, where you would expect the atmosphere to be more tense and serious, all the contestants are in jovial form, swapping stories and cracking jokes all the while.
We hung around Scott Seiver's table for a spell to see why the table was such a constant course of amusement for the rail. Scott was talking to some players on the rail about Chinese poker, comparing playing heads-up and three handed. After a minute or two of discussion he says:
"Having said that, I only learned the rules eighteen hours ago"
To a huge laugh from the rail. Bill Chen sitting next to him say's he likes Chinese, at which point someone from the rail calls across:
"Yeah, Bill's Asian, so he loves to gamble"
Seiver leans forward and looks closely at Chen's face and says "Until you said that I didn't actually know he was Asian"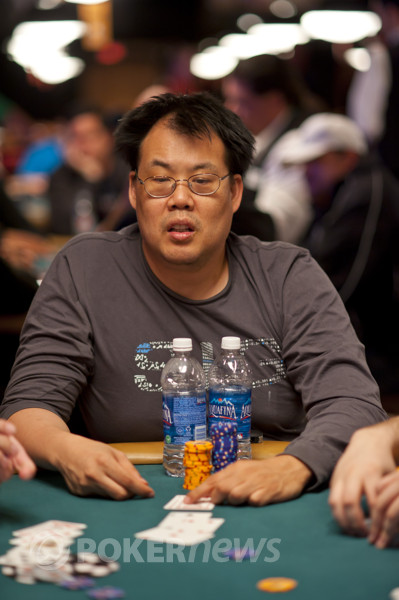 Moving around the rail, we see Todd Brunsen's table having fun and joking about one of the younger players at the table.
"There's no way he's 21" Say's one player. "He just put on the suit to fool the security"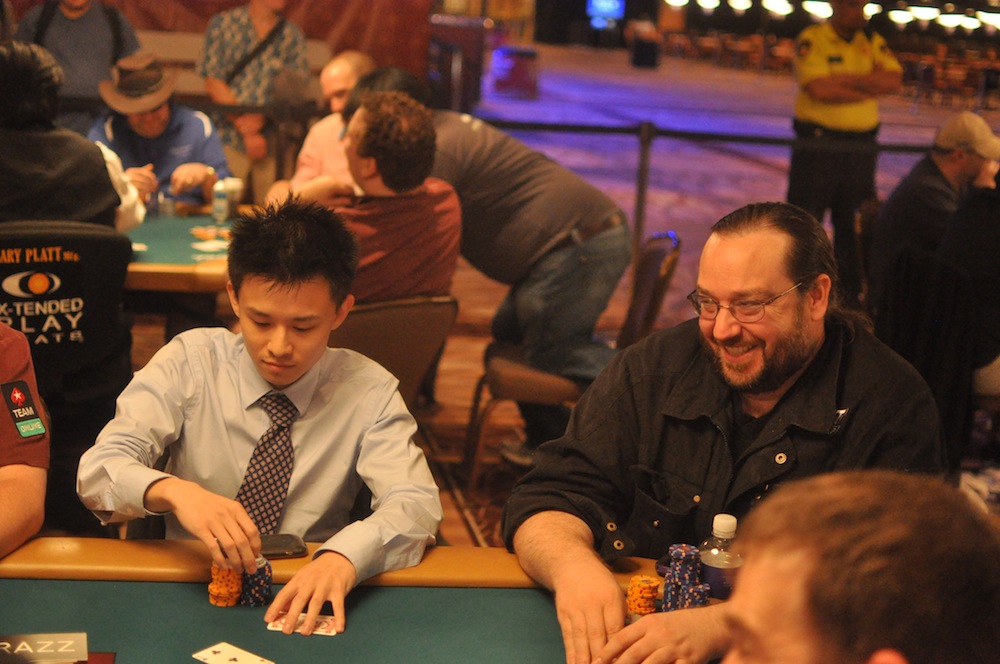 We encourage everyone to get involved with "The Muck." See something you think is Muck worthy? Send it to the muck@pokernews.com. We accept all media including photos and videos.