All Mucked Up: 2012 World Series of Poker Day 24 Live Blog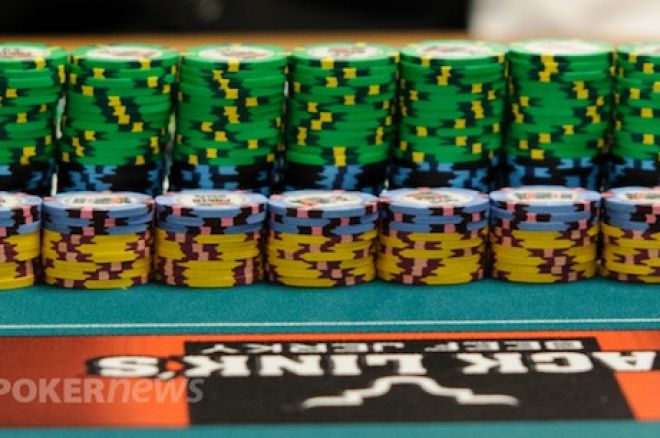 All Mucked Up is a live blog of all the stuff you want to know at the 2012 World Series of Poker, besides hand histories and bad beats. Well, we might add a few in here, everyone loves a good bad beat story — unless it happened to you. Check back often for polls, soundbites, celebrity sightings, and who knows what else!
May The Odds Be Ever In Your Favor
We took a stroll down to the Rio sports book this morning to get the odds on the two big tournaments playing out today, Event #34: $5,000 Pot-Limit Omaha / Six Handed and The Final Table of Event #35: $2,500 Mixed Hold'em (Limit/No-Limit). Here's what they look like:
5k PLO
Hindin @ 10/1
Danchev @ 13/2
MacPhee @ 15/1
Cheong @ 20/1
Le @ 2/1
DeWitt @ 13/2
Bohlman @ 8/1
Kitai @ 7/2
De Maci @ 6/1
Kihara @ 3/2
Winzeler @ 4/1
2.5k Mixed Hold'em
Tryba @ 7/2
Behbehani @ 5/1
Foti @ 12/1
Gathy @ 5/2
Ivey @ 5/1
Wheeler @ 9/1
Golbuff @ 2/1
Cajelais @ 3/1
Van Den Bijgaart @ 3/2
We expect a lot of money to go down on Phil Ivey as people will certainly feel he's due a bracelet...
The betting is open until 12:55 PM local time, so you still have time to come down to the Rio sports book and place bets.
How'd They Do?
Durrrr Tweets Of The Day
Since Tom 'durrrr' Dwan seems to be using twitter a lot more in his absence from the series, we're going to be bringing you the highlights each day until he arrives, which judging by his latest tweets (see how I tie it all in?) might be soon.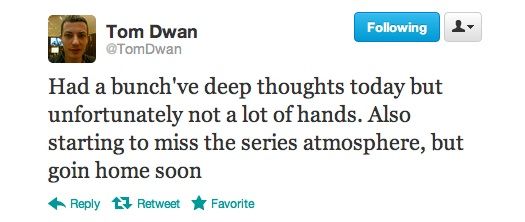 Here durrrr tweets at his friend Phil Galfond, referencing the hat bet that he once lost and saying that there may be another in the near future. Since that's very much our forte here at PokerNews, watch this space.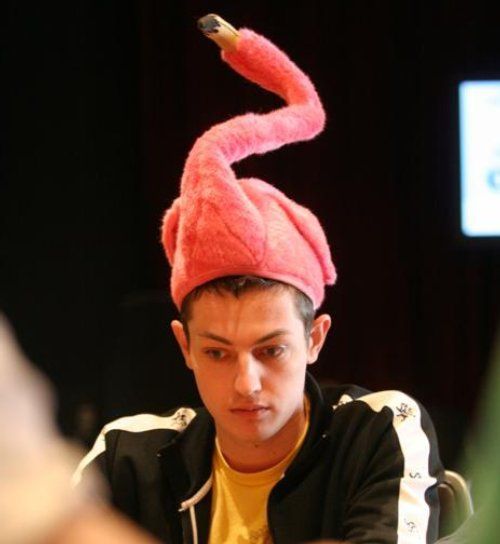 Finally we bring you an actual hand of poker durrrr tweeted.

Poll
What Did durrrr Have? (No Cheating)
Poll
What Did durrrr Do On The River?
Celebrity Look-Alike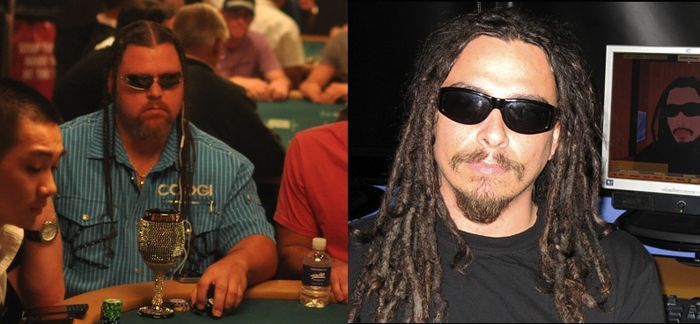 We see this guy playing all the smaller No-Limit Hold'em event, and today we finally realized who he looks like - Munky, the deadlocked member of the band Korn! Except Munky probably doesn't bring the baller diamond stud chalice everywhere with him!
Fashion Faux-Pas: Busted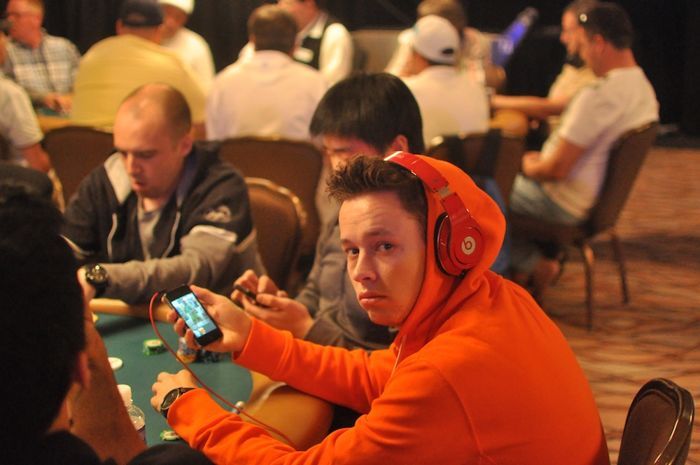 Once again the PokerNews camera crew are an unpopular bunch in the Amazon room! Whenever we go on our rounds to take some pictures, we get venomous stares from the Rio's clientele! This Orange clad gentleman caught us out right just as we took his picture! We were going to pose the question "Why when he got up this morning did he couple his bright orange hoodie with his clashing deep red 'beats' headphones?". We were going to pose that question, but we won't.
What Is It With Girls And Guns?!
We saw these tweets from Liv Boeree and Vanessa Rousso about their day at the gun range in Las Vegas! Also featured in the photos is Maria Ho!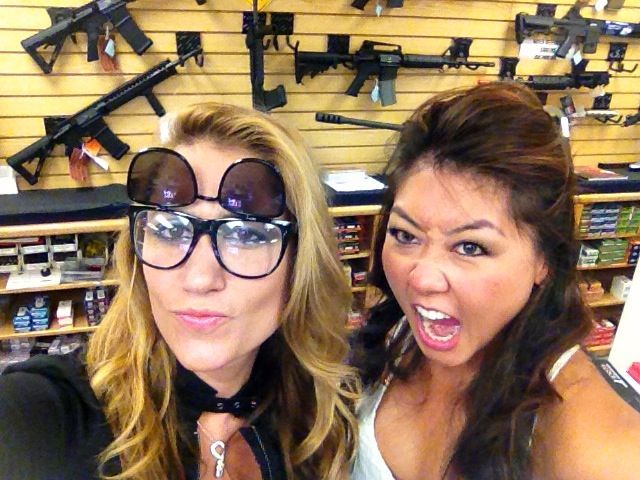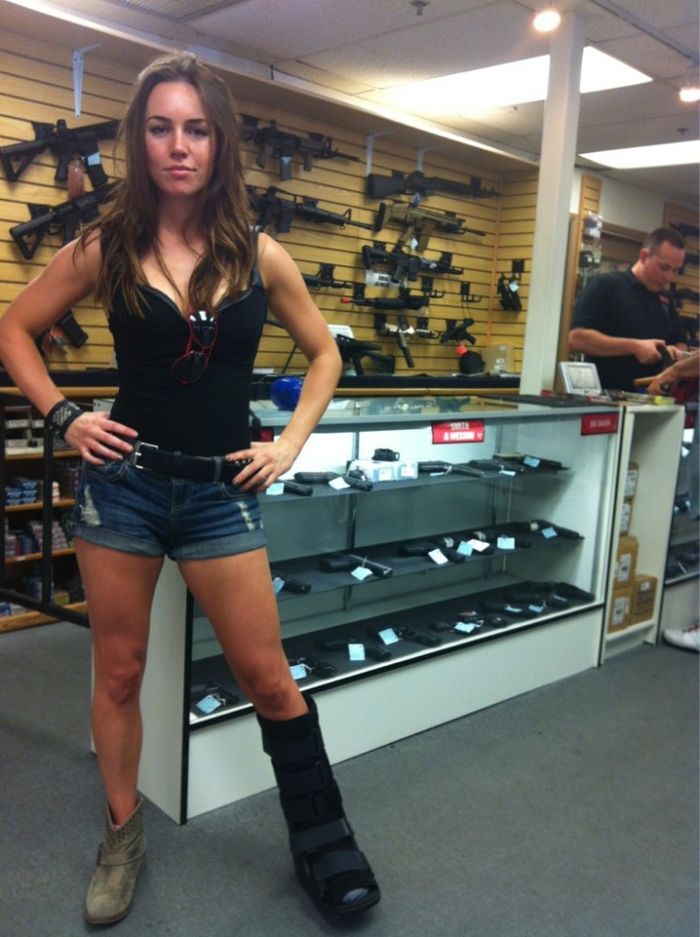 We'll keep you posted on what they're up to, and try to catch up with them tomorrow and ask them how they got on!
The Ivey Files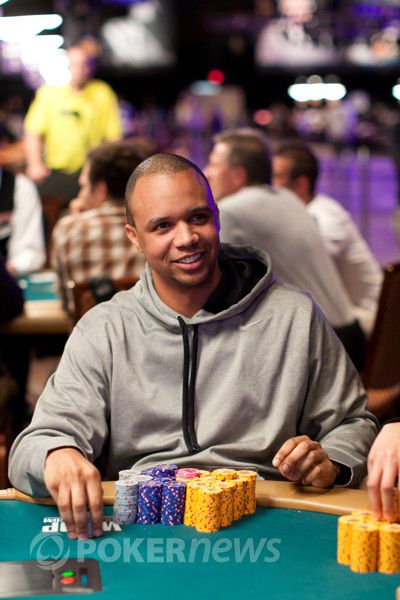 So, obviously Phil Ivey has made his fifth final table of the series. That's old news in our book. Phil Ivey's drive and hunger to win bracelets is well documented. What might be less well documents is how uninterested Ivey is in everything else to do with poker.
We weren't the only ones railing Ivey's final table push last. Big names David Benyamine and Brian'Stinger' Hastings were also on the rail conversing with Ivey inbetween hands. Ivey knows Benyamine well, they've played together for years in the WSOP, on TV and in Bobby's room. Benyamine was heckling Ivey a little bit, in good humor, and Ivey responded with a laugh and some banter of his own.
In contrast, when Stinger wandered over and told Ivey all about his Razz bust (a bad beat story) Ivey seemed entirely uninterested, before responding simply 'bad beat'. Now, nobody likes hearing bad beat stories, they're generic and underwhelming unless they happened to you, but this was something else entirely. It's quite possible, we realized, that Ivey just doesn't know who Stinger is.
As further evidence for Ivey just not caring at all about poker, he apparently met Vanessa Selbst for the first time yesterday. There were some rumors in 2009 that Ivey didn't know Joe Cada won the main event after he busted, because he went home and just never asked who won.
On top of all this, earlier in the series Tom 'kingofcards' Marchese asked Ivey if he wanted to do a swap, and Ivey had no clue what a swap was. Someone once mentioned EV on High Stakes Poker and Ivey asked the other players "What's EV?" before Daniel Negreanu Explained to him that it's expected value.
It's also worth noting that Ivey has worn the same grey Nike hoodie for about a week straight, where as many players are constantly shifting their wardrobe and getting noticed for it.
While the prize money of each event is probably peanuts to Ivey (with the exception of the one drop), there are rumors that he has pretty big bracelets bets on this year to motivate himself to grind harder. According to this tweet he allegedly can win four million with a bracelet win this summer.

PokerNews Podcast
Here's a behind the scenes look at PokerNews HQ, where todays podcast featuring Dan O'Brien was just recorded. We'll post the podcast up here just as soon as its ready.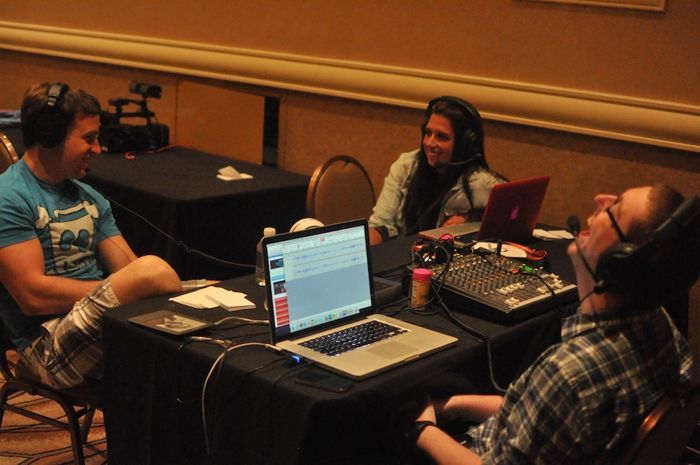 Lex's Level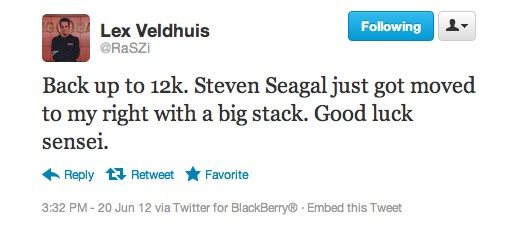 Lex Veldhuis just leveled everyone at PokerNews pretty hard. He tweeted saying that Steven Seagal was sitting on his right, and we went for it hook line and sinker, rushing to the Brasilia room to snap a pic of the eighties movie star. Check out this 'Look-Alike'.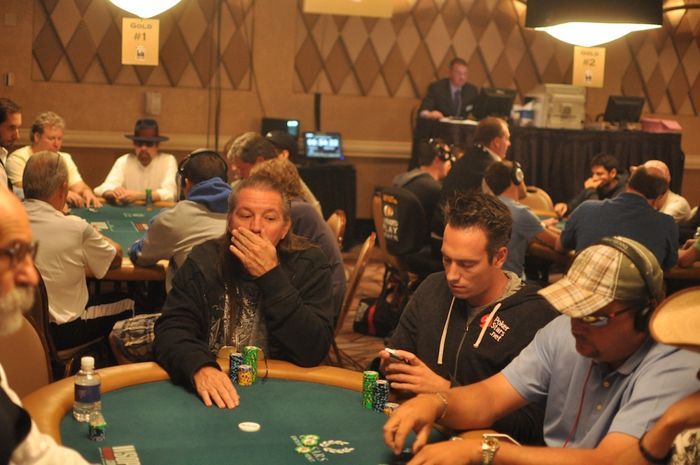 Seen on Break
We saw Kara Scott on break in Event #38: $1,500 No-Limit Hold'em. Apparently, someone had given her a board game titled "Poker Champ."
"So, you're a poker champ?" one dealer asked Scott.
"I guess so," She said. "Some guy just walked up to my table and handed me this."
Apparently, someone gave Ross Boatman a copy of the same game last night while he was playing in a tournament. Must be a British thing.
Can You See With Those Things On: Day 24
This one is a first. We saw a player today with see through sun glasses on: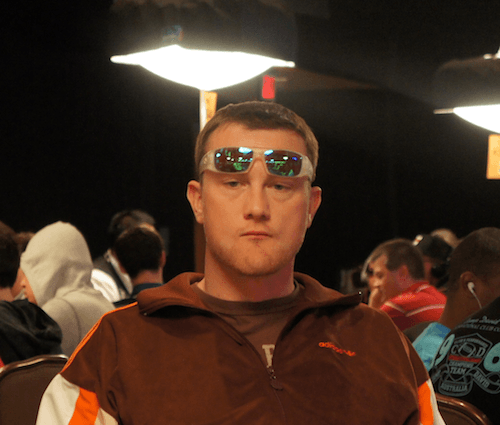 Doesn't that defeat the purpose?
Card Protectors of the Day: Day 24
Seems like the $1,500 no-limit events always bring out the best in hair, hats, outfits, and last but not least card protectors. Here's some good ones that we found today:

This gentleman was using a solid gold Buddha.

We hadn't seen it yet, so we were excited to see that Humberto Brenes had finally brought back his trademark "Chark" as well. Good to see it back.
We'll be sure to bring you any more awesome card protectors that we see throughout the second half of the World Series of Poker.
Girl And Their Guns: Update
Looks like Liv Boeree and Vanessa Rousso are done at the shooting range. They had a bet over who could hit their targets better, and Boeree won so now...

There were lots of replies, but Boeree picked one pretty quickly.

We'll keep an eye out to see if this materializes in the next few days!
Is it +EV to sit like this?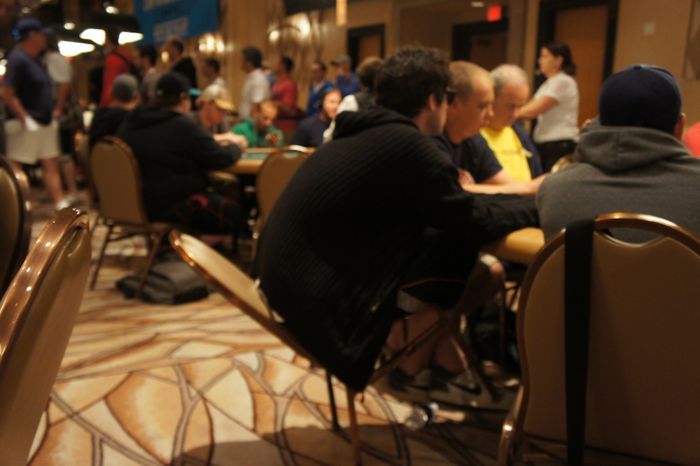 We think not. Don't fall sir. We want to make it through the series without having to call an ambulance.
#RealIveyTweets
After Phil Ivey busted the Mixed Hold'em, people began talking on twitter about his official twitter account. It's the general consensus that Ivey in fact doesn't write those tweets. Here are some more realistic tweets that Ivey would be likely to say:





Ivey wasn't knocked out of the Mixed Hold'em long before he entered Event #38: $1,500 No-Limit Hold'em #WhenWillItEnd.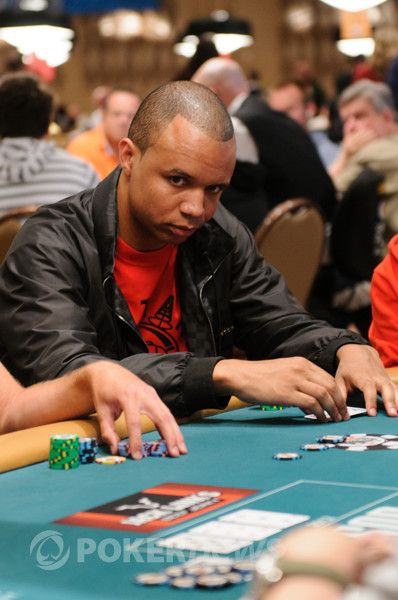 The Card Protector Chronicles
So we've made another trip to the Brasilia room, and as we said earlier, the $1,500 events always bring out the best of the best. Here are some of the better card protectors that we found in the field:

The first one we saw was a jewel encrusted frog that may or may not have cost more than the tournament entry.

The next one we saw was a snow globe, which just seemed a little excessive to us.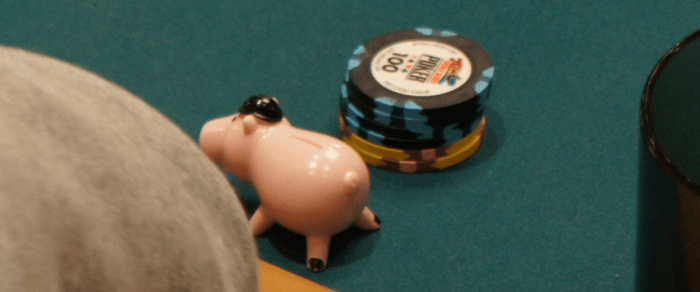 The character Ham from Toy Story also decided to make appearance on this gentlemans cards. He seemed a bit embarrassed and tried to hide his protector, but eventually we were able to snap a quick picture.

The best one we saw as we made our way through the Brasilia room was this dinosaur riding on an iceberg. It doesn't get much better than that.
The Eight-Game Challenge - Day 2 - Answer Key
Yesterday we brought you a series of polls asking what you thought certain pros worst game was in the eight-game mix. As we promised, here are the answers provided from the pros themselves:
Jennifer Harman: Pot-Limit Omaha
Jonathan Duhamel: Stud 8-or-Better
Cyndy Violette: Pot-Limit Omaha
Dwyte Pilgrim: I play all the games well
Brent Hanks: Stud 8-or-Better
Most of the readers were able to guess the right answers, so hats off to you! We'll be sure to bring you more fun and games to play along with as the World Series of Poker goes on.
What's On Your Ears
Headphones are a prevalent accessory used by poker players on the felt. Some use headphones to listen to soothing music to avoid tilt, some may use them to avoid chatter with tablemates, others listen to music to get them in the zone. While roaming through the poker rooms in the Rio we saw an abundance of Beats By Dre headphones, but we also came across some others as well. What do you prefer?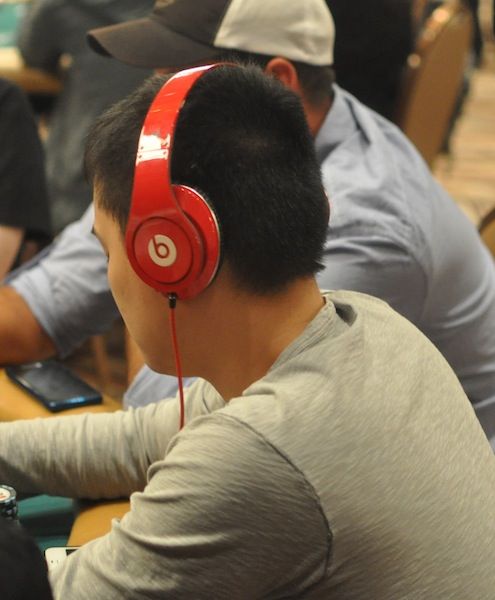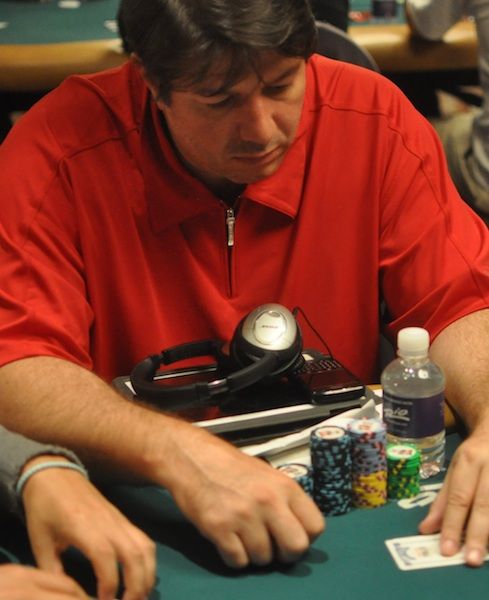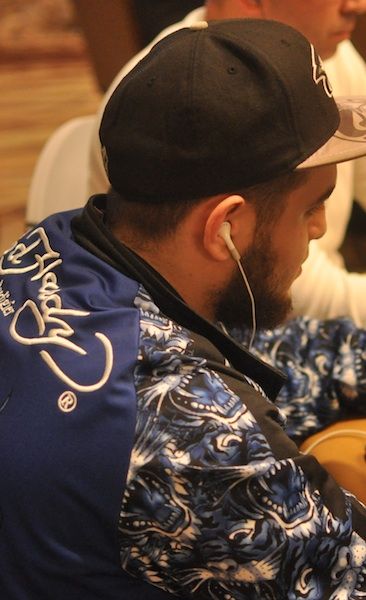 Poll
What Headwear Do You Prefer?
Car Of The Day
We've posted some great car pictures throughout the series. We've run into Aston Martins, BMWs, and Audis in the Rio valet, but this is the first classic muscle car we've posted.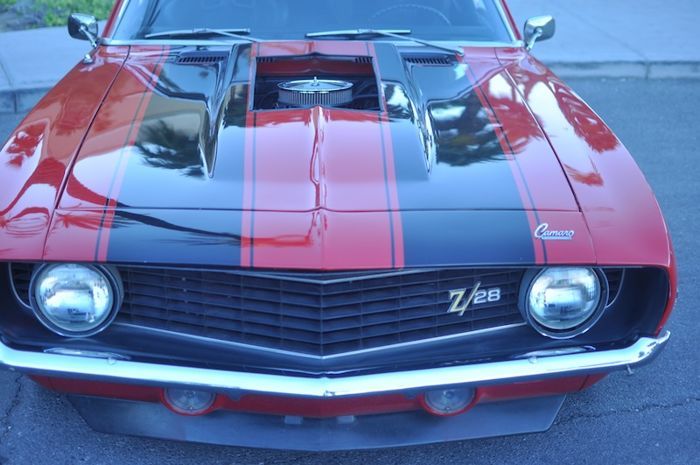 Celebrity Look Alike
Roaming through the Amazon room we came upon Event 37: $2,500 Eight-Game Mix, when we saw this gentleman who bears a striking resemblance to comedian Zach Galifianakis. What do you guys think?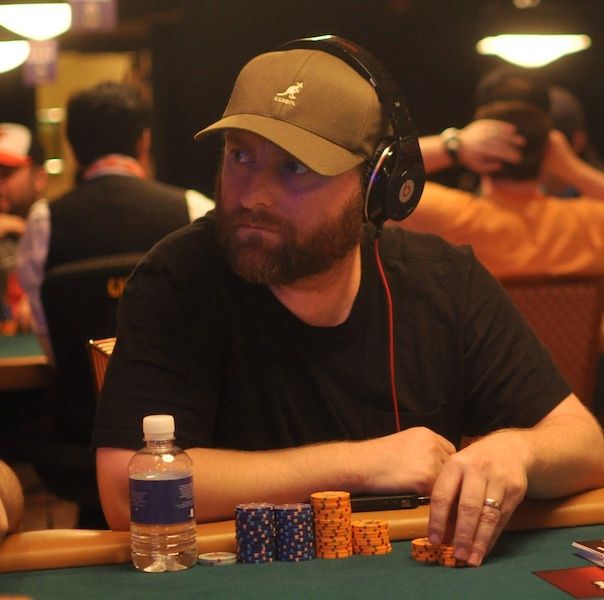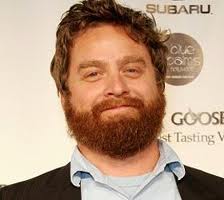 Poll
Does He Look Like Zach Galifianakis?
Beard Of The Day
We've seen some great beards today, including our Galifinakis friend from earlier. That's a gnarly beard sir!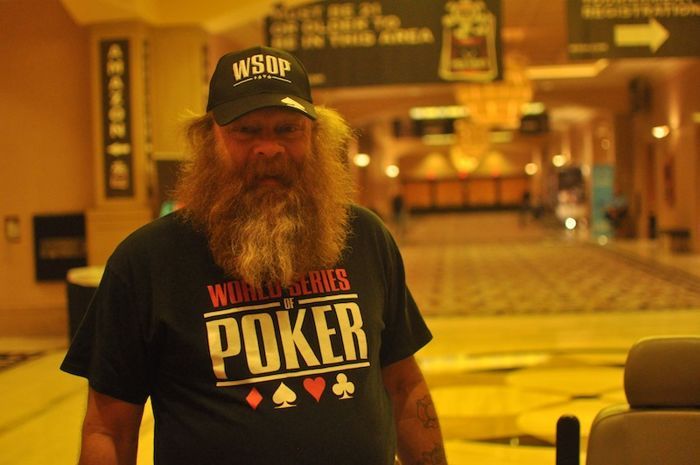 Cash Game Patrol
It's relatively quiet tonight on the tournament front. With only Event 37: $2,500 Eight-Game Mix and Event 38: $1,500 No-Limit Hold'em running we decided to take a look around in the Rio cash game area to see if any notables were playing.
We spotted Erick Lindgren and Robert Williams III in a $25/$50 PLO game. Brandon Cantu is in a $50/$100 Limit Mix game. Team PokerStars Pro Victor Ramdin is seated at a $100/$200 Limit Mix Game. Linda "The First Lady of Poker" Johnson is getting her grind on at a $75/$150 Omaha 8/b game.
Fashion Faux Paus Of The Night
Gotcha! This guy made a dash for the door when he saw us reach for the camera. Fortunately we caught the offender in his wife beater shirt and boxers prancing through the halls. Sorry buddy.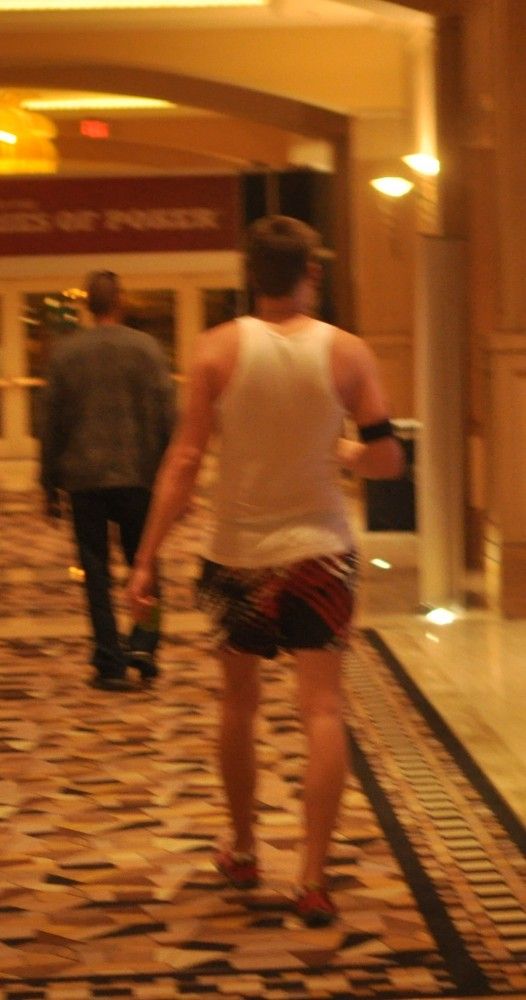 We encourage everyone to get involved with "The Muck." See something you think is Muck worthy? Send it to the muck@pokernews.com. We accept all media including photos and videos.