All Mucked Up: 2012 World Series of Poker Day 23 Live Blog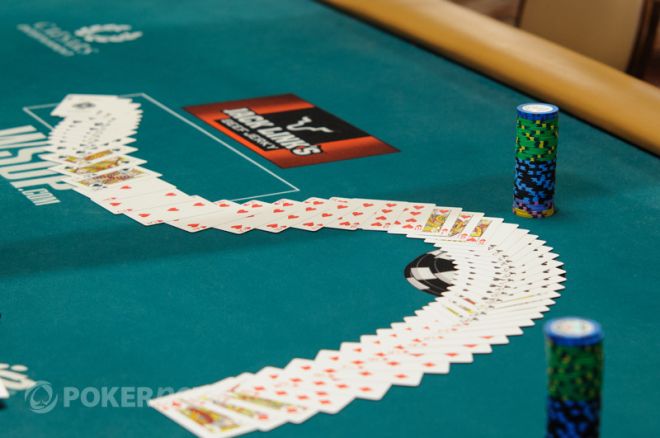 All Mucked Up is a live blog of all the stuff you want to know at the 2012 World Series of Poker, besides hand histories and bad beats. Well, we might add a few in here, everyone loves a good bad beat story — unless it happened to you. Check back often for polls, soundbites, celebrity sightings, and who knows what else!
May The Odds Be Ever In Your Favor
We took a stroll down to the Rio sports book this morning to get the odds on the only final table playing out today, Event #33: $1,000 No-Limit Hold'em. Here's what they look like:
Bradley Kopelson: 9/2
Vincent van der Fluit: 12/1
Max Steinberg: 9/2
Joseph Marzicola: 9/2
Noah Bronstein: 15/1
Matt Stout: 19/2
Ryan Laplante: 16/1
Samuel Gerber: 13/2
Vitaly Meshcheriakov: 4/1
David Nicholson: 11/2
Christopher Shaw: 15/2
Justin Zaki: 12/1
Dylan Hortin: 4/1
Mikhail Timoshin: 17/2
The betting is open until 12:55 PM local time, so you still have time to come down to the Rio sports book and place bets. Tomorrow we'll bring you the odds for Event #34: $5,000 Pot-Limit Omaha Six Handed and Event #35: $2,500 Mixed Limit Hold'em.
Who "Wears" It Better?
We saw this player in the field for Event #36: $3,000 No-Limit Shootout and we had to do a double take. Betrand 'ElkY' Grospellier not wearing gel? No way, it couldn't be. And it was in fact not him. But the two men were definitely sporting the same bright blond hair color.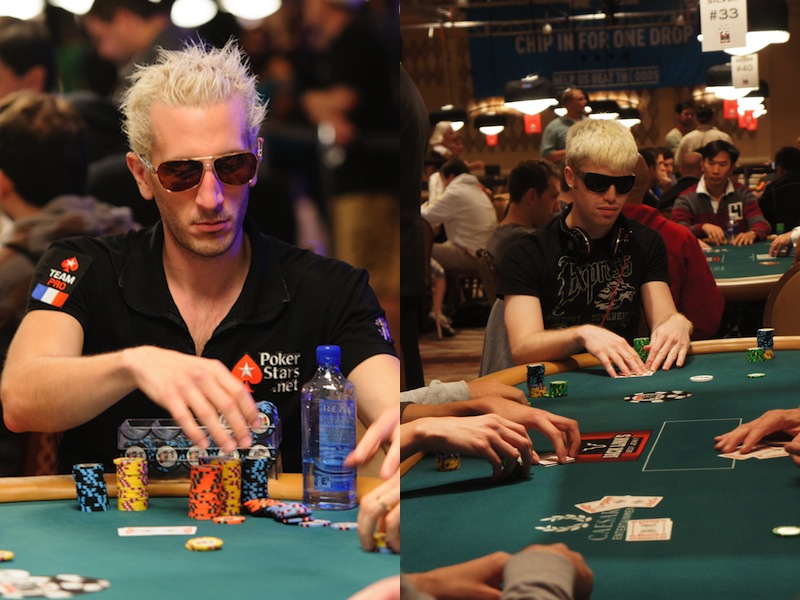 We want to know who you think wears their bleach blond hair better. Let us know in the poll below.
Poll
Who "Wears" Their Bleach Blond Hair Better?
Fashion Faux Pas: Day 23
We saw this gentleman in Event #36: $3,000 No-Limit Shootout.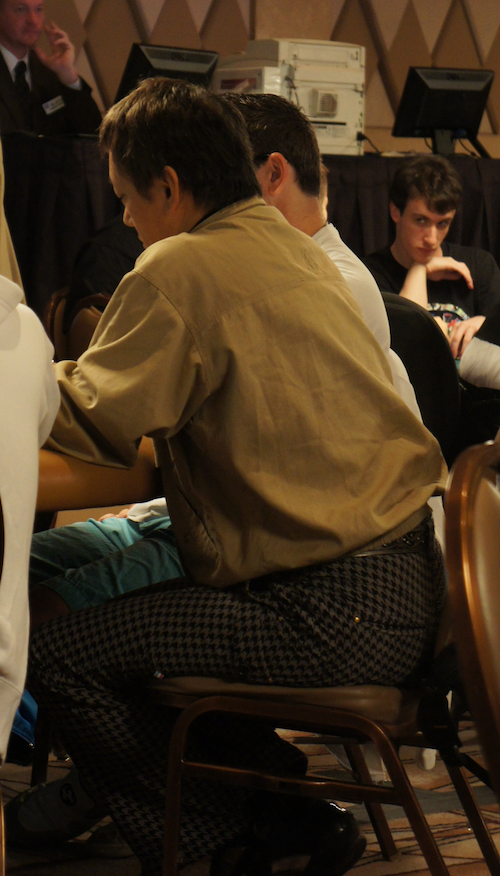 Prop Bets Day 23: Lodden Thinks
We caught some players making an interesting set of prop bets earlier in Event #36: $3,000 No-Limit Shootout. Betrand 'Elky' Grospellier, Chris Klodnicki and Antonio Esfandiari were all playing a game of "Lodden Thinks." If you are unfamiliar with the rules of "Lodden Thinks," then you can watch this video.
In short, a topic is given, one player at the table picks a number, and the other players try to guess that number. The player who is closest wins the money.
When we approached the table, the question was "How much would you have to pay ElkY to legally change his name to Hellmuth for the rest of his life?" One player at the table, whose name was John, selected the number, and put it in his head, then players raised the number until they thought one of them was right.
"You can keep your first name, Betrand, whatever. You can keep ElkY, but you have to have you last name as Hellmuth, and your kids have to take it and everything," Esfandiari explained.
"My kids?!" ElkY said. "So sick."
Eventually the number reached $4.6 million, and Antonio bought. It was revealed that the number was $4.5 million, and Antonio shipped $300 from Klodnicki and Grospellier.
"So ElkY," Esfandiari asked. "How much would it really cost to change your name."
"Meh," ElkY said. "I don't know. I guess 20."
"20 million?!" Esfandiari exclaimed. "Are you serious? It's just a name!"
And with that, players moved on to the next question. "What are the chances of success, from 1-100%, of myself, Klodnicki, and ElkY robbing a bank?" Esfandiari asked. "We have a full year to prepare, we have to remove at least one item from the vault, and we can never be caught."
They Listen, They Really Listen
In prior weeks, we have been asking players what song in the hallways of the Rio tilts them the most, since we hear the same songs played on repeat through out the day. We've also made numerous request that the World Series of Poker changes their playlist. Today we say this tweet from David 'Doc' Sands that shows that maybe, just maybe, the Rio employees are listening to our request.
I am really disappointed with @WSOP. Haven't heard "Call me Maybe" OR "Wide Awake" playing in the bathrooms in over a week #justbadluck?

— David Doc Sands (@Doc_Sands)
We think that would be #JustGoodLuck, 'Doc'.
Shirt Of The Day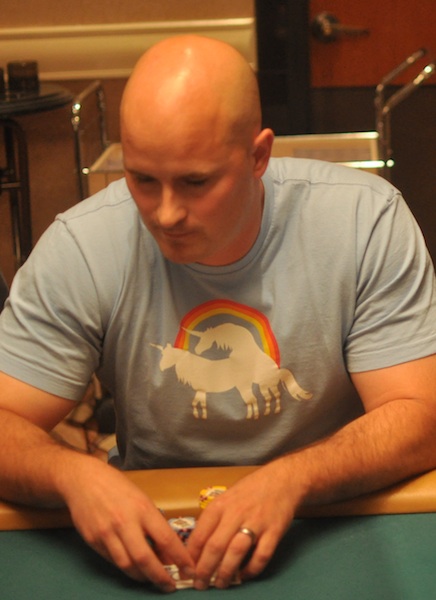 At first glance we thought it was funny to see a man wearing a baby blue unicorn shirt, but upon further inspection…
Ice Rage Wars
We caught up with Galen Hall on the final table rail in Event 33: $1,000 No-Limit Hold'em. He was sweating Ryan Laplante. We wanted to follow up on Hall's tweet from earlier:

"It's an IPad game. We're pretty evenly matched. We like to compete and it gets intense. We had two furious one goal matches," Hall said.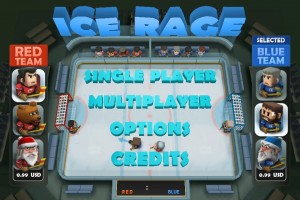 We'll try to catch up with Scott Seiver and find out if there's any interesting prop bets involved.
DoppleCheonger
We caught Joseph Cheong still alive in Event #34: $5,000 Pot-Limit Omaha Six Handed. Sitting next to Cheong was Don Nguyen, and we thought they looked very alike. Both have long black hair, a similar face, are wearing a pair of the exact same glasses, and are super sick at poker.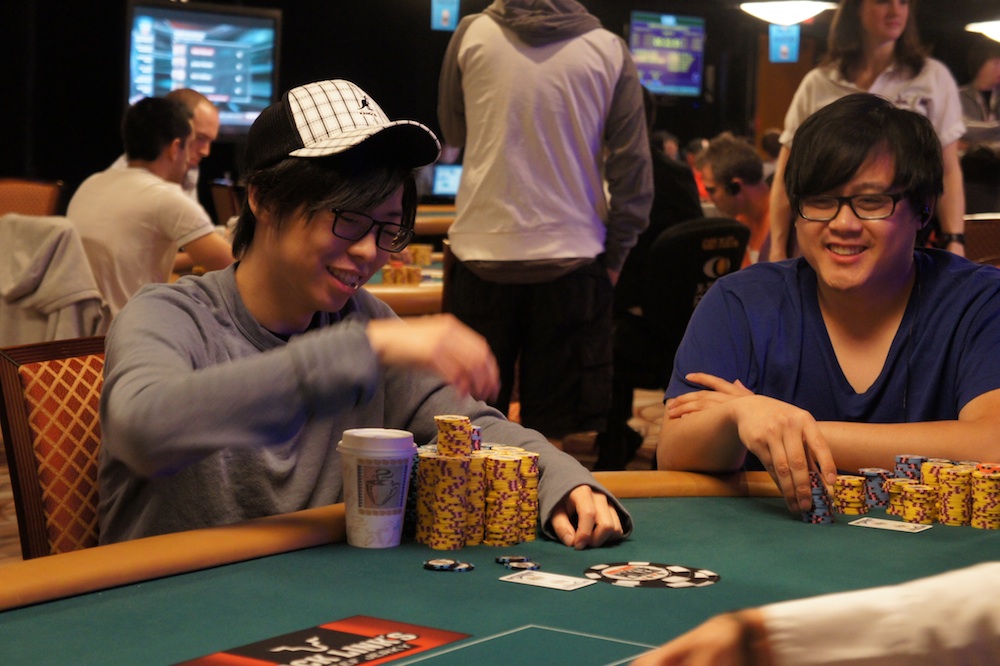 Nguyen may be a bit "healthier", but they definitely look like they could be cut from the same cloth.
What's on Your Head: Day 23
Dan Harrington is still alive inEvent #35: $2,500 Mixed Limit Hold'em, and adorning his head is his trademarked green, Boston Red Sox hat.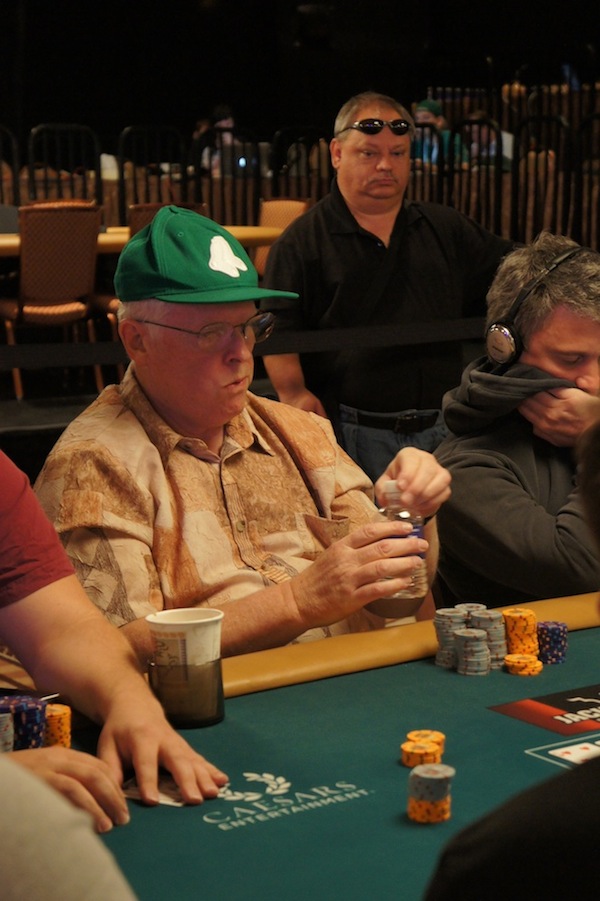 For tradition sake, we're going to award him the Hat of the Day.
Worst Game in Eight-Game-Mix
Event 37: $2,500 Eight-Game Mix is underway. This tournament includes eight variations of poker: 2-7 Triple Draw, Limit-Hold'em, Limit Omaha 8/b, Razz, Limit 7 card stud, Stud 8/b, No-limit Hold'em, Pot-Limit Hold'em.
We spoke to Cindy Violette, Jennifer Harman, and Team PokeStars Pro Jonathan Duhamel before they took their seats for the start of the tournament and asked them what they felt was their worst game of the eight disciplines. We thought it'd b be fun to have the Muck faithful guess.
Poll
Jennifer Harman's Worst Game of 8 Game Mix
Poll
Jonathan Duhamel's worst game in 8 Game Mix
Poll
Cindy Violette's Worst Game in 8 Game Mix
We'll catch up with more pros as the night progresses to get their thoughts and we'll post the answers in tomorrow's edition of The Muck.
Car Of The Day
If you keep up with the Muck (and if not, then you're doing it wrong!) you're familiar with our Car pic of the day feature. We cruise the valet parking lot in search of the coolest cars. Here's today's: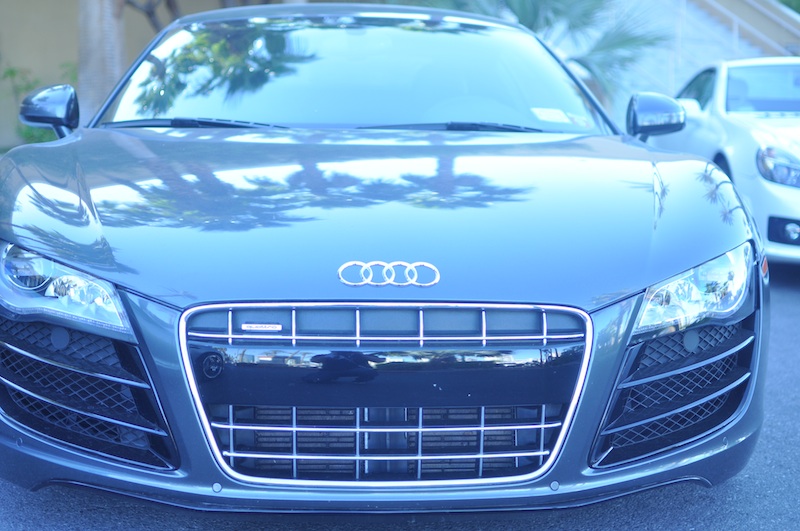 WSOP Blow Ups
It's no secret that the World Series of Poker is an emotional time for the players involved. There is a lot of money on the line, life changing amounts of money. Today, we witnessed one of the most intense blow ups that we've seen so far at the world series. We were in the room of the Event #36: $3,000 No-Limit Hold'em Shootout and we were wandering around checking certain tables for interesting match ups.
One table we saw was heads-up between two players, whose names we won't mention to protect the identity of the players involved. Both players got the money all in and the player with the chip lead lost the hand in a brutal suck out fashion.
He proceeded to throw chips at the dealer, berate the other player, as well as huff and puff.
"I can't believe I keep coming here and putting my money into these f***** crap shoot tournaments against this f***** idiot players."
"You sucked out on me before too, remember?" the other player said.
"I've never even been all in," the angry player said. "F***** moron."
The player proceeded to grab his bag of All American Dave's food and throw it forcefully against the wall, to which the floor was called, but no penalty was issued.
Some of the players at the table suspected that there was some kind of back story behind his anger and frustration.
Truly, this scene paints a picture of how emotional the World Series of Poker can be, and how mentally draining the tournaments are. We'll let you know if we see any more meltdowns in the coming days, as after 35 tournaments, players are bound to be at their wits end.
Worst Game In Eight-Game-Mix : Part 2
Poll
Dwyte Pilgrim's Worst Game in 8 Game Mix
Poll
Brent Hanks' Worst Game In 8 Game Mix
Hellmuth Bash
Rule number one of poker is: If you have a chance to make fun of Phil Hellmuth, you have to make fun of Phil Hellmuth. Today after busting, Hellmuth put out a tweet telling one story, while Christian Harder's tweet about busting him took a slightly different slant on the same story. Cole 'cts' South tweeted this picture today, contrasting the two tweets: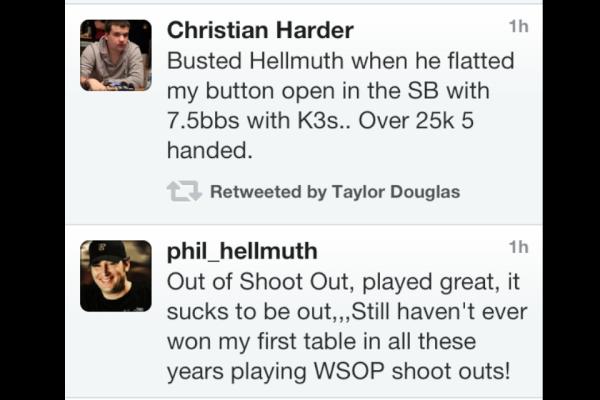 Cash Game Watch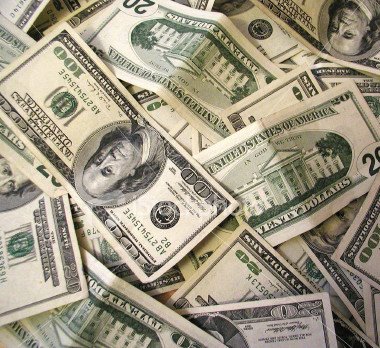 If you bust a tournament there's always the cash games. We went perusing around the cash game area of the Pavilion to see what notables are playing. We found Team PokerStars Pro Lex Veldhuis playing in a $5-$10 Pot-Limit Omaha game andJean-Robert Bellande in a $25-$50 Pot-Limit Omaha table.
Thinly-Veiled Brag Of The Day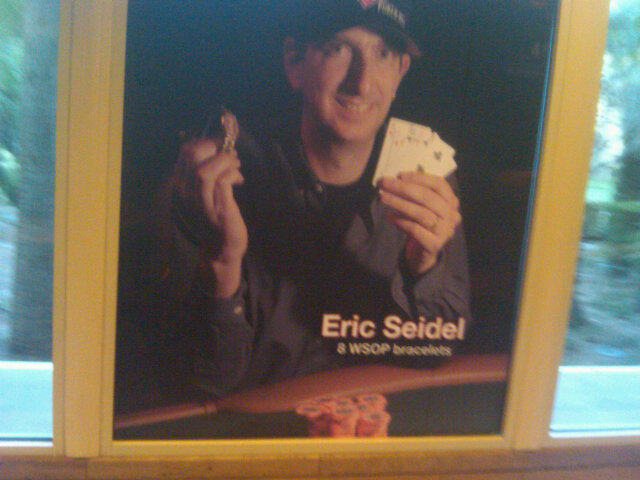 Check out this blatant 8 bracelet brag from Erik Seidel on twitter this evening. Struggling to think of a better reason to tweet a pic of his poster in the Rio, he pulled up the WSOP on the most innocuous of errors – spelling his first name wrong!
Don't be such a spelling nit Erik!
Last Day For Main Event Give-Away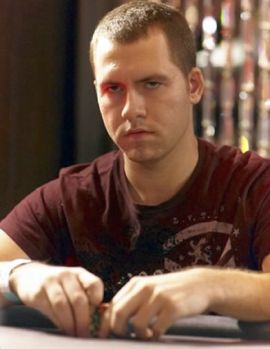 Tomorrow is the last day you can enter Dan 'Jungleman' Cates competition to get a free trip to and seat at this years 10k Main Event!
For some background, incase you missed this, Jungleman is giving away the price of flights, accommodation and entry to the Main Event in a competition. To enter the competition you have to send Cates a video of yourself doing a random act of kindness.
This has been running for a bit under a month now but tomorrow the competition closes and people will vote on what the best video is. We think this is a pretty cool thing Cates is running. There's no sign of him around the Rio at this point in time, but if we can find him in the next few weeks we'll try to get the low-down on this offer.
For more info on the challenge, check out his blog here.
Sideline Report With Matt Stout
We caught up with Matt Stout on dinner break in Event 33: $1,000 No-Limit Hold'em. Despite arriving at the final table as one of the shortest stacks, Stout has grinded his way up and finds himself three-handed and in contention for the bracelet and the $440,238 payday.
We asked him about the journey from short stack to contender and also about thebig flip he won shortly before dinner break after getting called by Joseph Marzicola in a questionable spot with deuces.
Make sure to keep up with the conclusion of the final table by followingPokerNews' live reporting.
The Fashion Police
Our job, if you don't know this yet, is to prowl the mean streets of the Rio casino and if anyone has taken a gamble and deviated from the standard, suburban American wardrobe, we snap a pic of them and embarrass them publicly by posting it up here.
Considering the one thing we have to accomplish every day is to make sure no bright colored hat goes unnoticed, I'm surprised it has taken us until 9:20 tonight to spot this one.
(Actually, the muck featured this hat a few days ago, but it deserves to be here again for sheer flamboyance).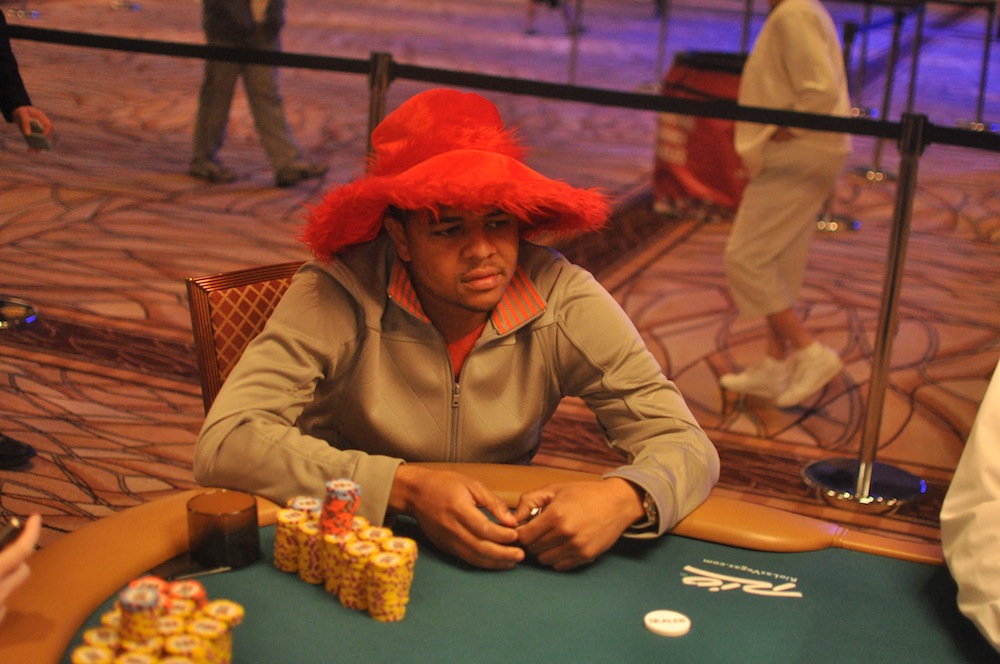 In the last few weeks people have become more and more wary of the PokerNews team and their little black camera. This young gentleman may well have seen us coming, and shelled up in response. We love the geek-chic sweater vest though bro, and so does PokerNews reporter Lynn Gilmartin, quoted in HQ saying 'I love Nerds'. She may have been talking about the purple, sour candies she was eating at the time though…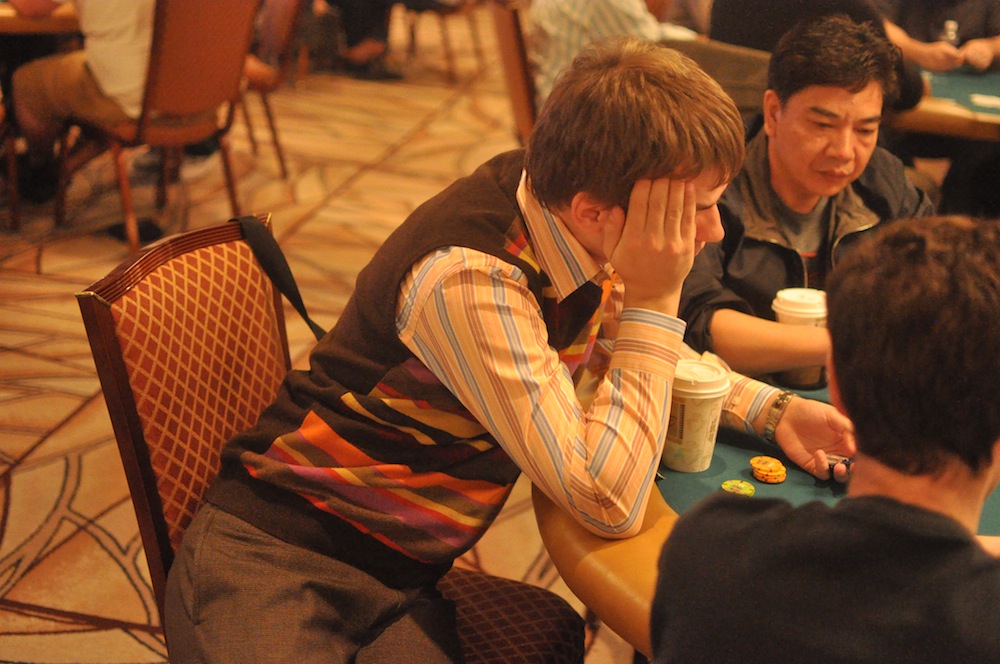 I'm Just A Girl: Part 2
This is our second installment of "I'm Just A Girl," where we ask notable women poker players the lamest lines they hear on the felt.
We caught up Kara Scott on the rail of the Event 37: $2,500 Eight-Game Mix to find out what lame lines she's heard.
"This guy managed to insult me and the dealer at the same time. He asked me if members of the poker media play as bad as poker dealers."
We also followed up on Scott's tweet from a few days ago:
I was going to order a cup of coffee but then @maridu came to say hi & honked my breasts. Twice. At the table. Not so sleepy anymore...

— Kara Scott (@KaraOTR)
When asked how shocked she was whenMaria "Maridu" Mayrinck honked her breasts, Scott said, "On a scale of 1-10, it was an 11!"
Summer Roomies: Part 2
It's been a while since we ran a piece about this summer's room mates, but looking at some recent twitter activity from Cole 'cts' South, we thought it would be a topic worth re-visiting.
South said he came home to these pictures on the fridge, re-enacting the famous scene from the hit poker film 'Rounders'.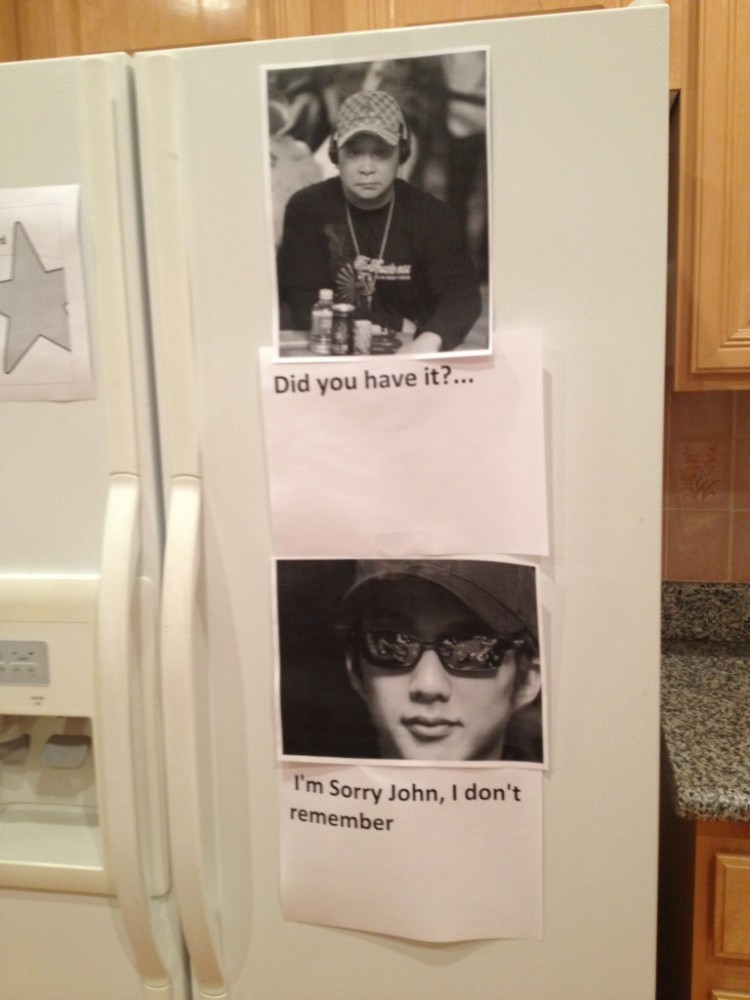 South later tweeted this pic of him playing 'High Stakes Trivial Pursuit' with Brian 'Stinger' Hastings and Mike McNeil.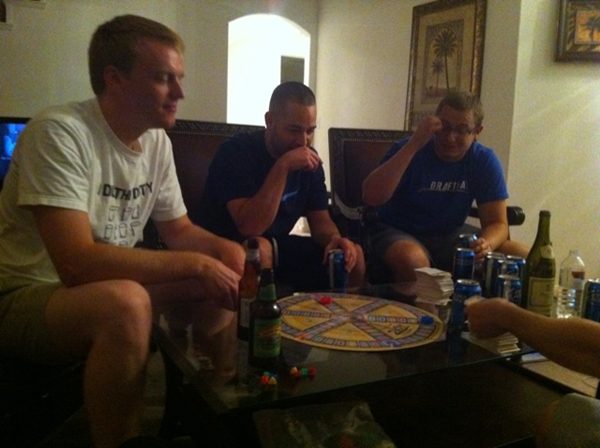 Cole South plays much less poker these days, as he's concentrating on other projects, but there's clearly still a degen in him…
We'll try catch up with cts or stinger in the next couple of days and see how they're enjoying the Vegas poker-house lifestyle!
The Ivey Files
The Night Shift – quickly re-titled: The Ivey Shift. Tonight we're once again watching Phil Ivey go deep in an event. And, once again, his table is where all the railbirds are at. In one funny incident, a fan actually walked inside the tournament area and asked Ivey for a picture.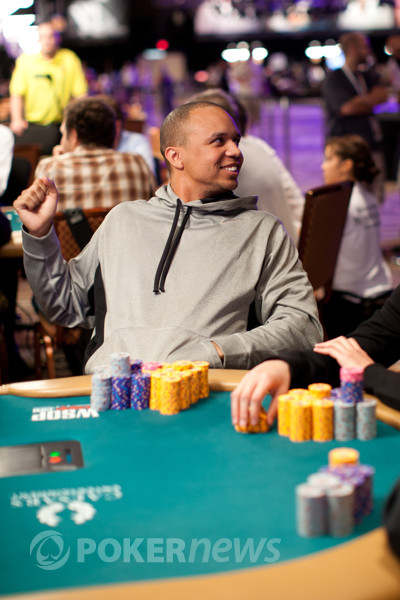 Ivey mania has hit the Rio as this remarkable man just keeps cashing. Even Phil Hellmuth is acknowledging his rivals unbelievable performances.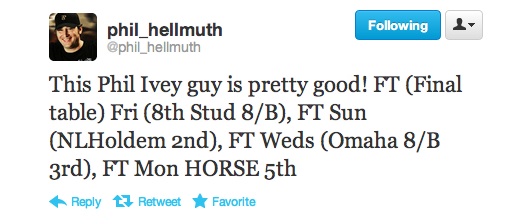 We'll keep you updated on how Ivey's run in Event #35: $2,500 Mixed Hold'em (Limit/No-Limit) is going, and what the atmosphere on the rail is like.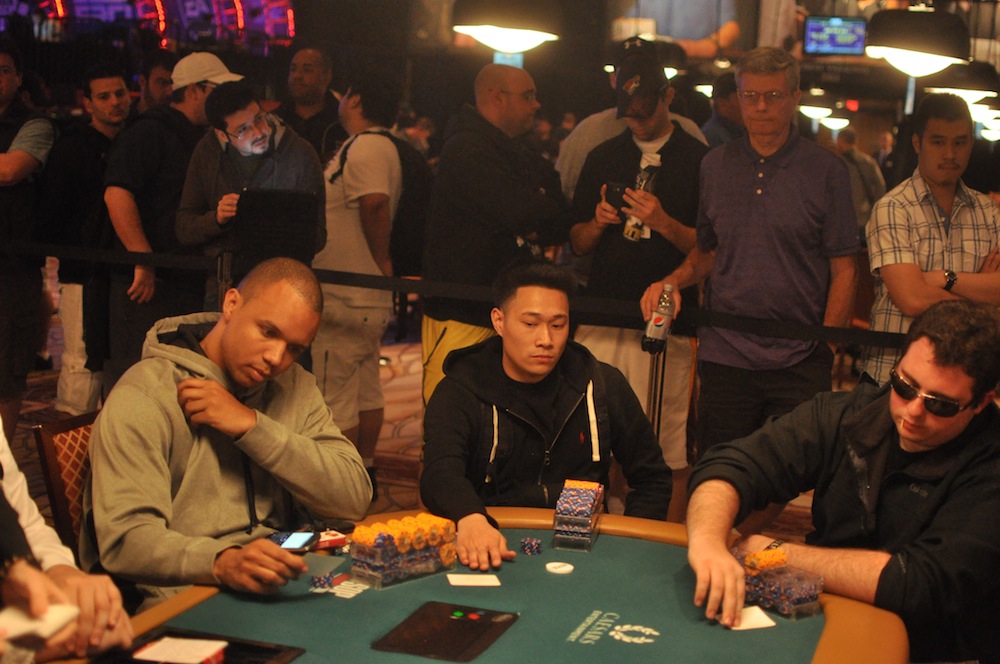 The Eight Game Rumbles On
We caught up with some of the 8-game mix players on their final break of the the day to find out what their favorite and least favorite of the 8 games were.
Bertrand 'Elky' Grospellier told us that he "Loves Stud and Stud 8" but "Can't stand Razz".
Jason Mercier was running back from break, but had time to tell us that he really likes triple draw at the moment, but thinks limit hold'em is boring.
Brian 'Stinger' Hastings was in even more of a rush, but the answers to our questions came quick to his mind as he laughed "I much prefer PLO, and I like Limit Hold'em the least. And it's not even close".
We caught Andrew Robl, who told us that he didn't want to discuss his weakest game at this point, and Andy Bloch who confidently said "It depends on what game my opponents like the least, I can play them all".
The Scotty Nguyen Effect: Episode Two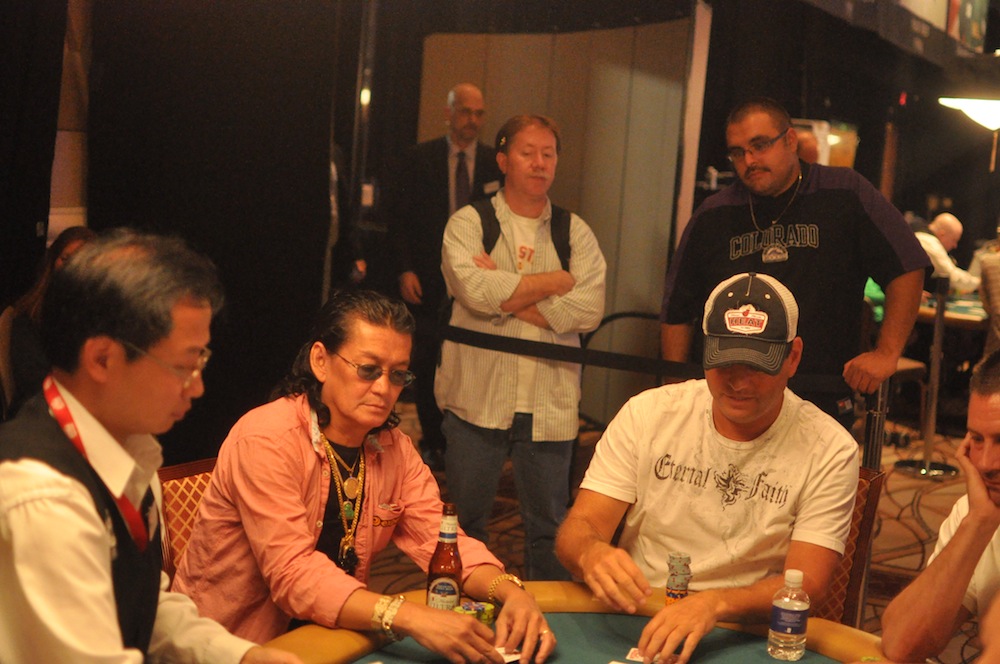 While Phil Ivey's corner of the Amazon room is dominating in terms of railbirds, Scotty Nguyen has scored himself a few tonight, and for good reason. Scotty is constantly chatting with the rail, standing up and posing for pictures, and just now bought a round of beers for anyone on his rail. There's a reason Scotty's one of the most popular guys in poker, and if this keeps up he'll win a few more fans off Ivey before the night is out.
We encourage everyone to get involved with "The Muck." See something you think is Muck worthy? Send it to the muck@pokernews.com. We accept all media including photos and videos.