All Mucked Up: 2012 World Series of Poker Day 26 Live Blog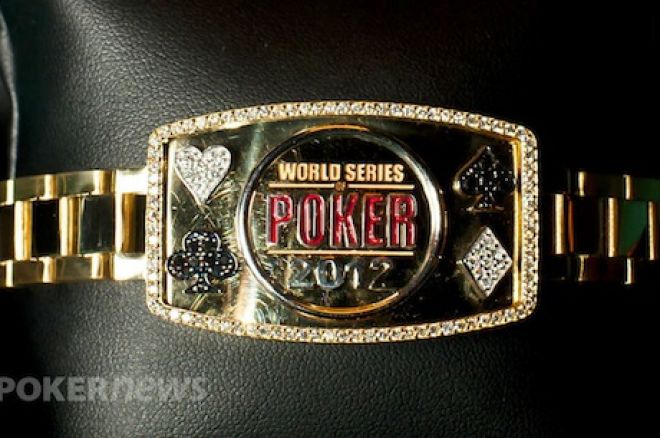 All Mucked Up is a live blog of all the stuff you want to know at the 2012 World Series of Poker, besides hand histories and bad beats. Well, we might add a few in here, everyone loves a good bad beat story — unless it happened to you. Check back often for polls, soundbites, celebrity sightings, and who knows what else!
May The Odds Be Ever In Your Favor
We took a walk down to the sportsbook this morning to take a look at the odds for the only tournament finishing up today. Event #38: $1,500 No-Limit Hold'em. The worst odds belong to chip leader Jeffrey Manza with 7/2 withMarcus Gurley going for 30/1. Also still in the field is Blair Hinkle going at 15/2, Theo Tran going for 12/1, and Miguel Proulx going at 20/1
Jeffrey Manza: 7/2
Dung Nguyen: 7/2
Matthew Pierce: 7/1
Blair Hinkle: 15/2
Kristijonas Andrulis: 15/2
Zachary Korik: 15/2
Mihails Morozovs: 19/2
Michael Borovetz: 10/1
David Pham: 10/1
Bahman Jahanguiri: 12/1
Theo Tran: 12/1
Tyler Patterson: 20/1
Blake Cahail: 12/1
Jesse Wilke: 12/1
Jason Lester: 15/1
Scott Clements: 10/1
Bastian Fischer: 18/1
Miguel Proulx: 20/1
Jia Liu: 20/1
Ricky Crandell: 22/1
Marcus Gurley: 30/1
Once the odds were posted, Tyler Patterson tweeted about his odds:
Rio sportsbook has me at 20/1 to win a bracelet today. I'm 12 of 21 remaining. Almost 30bbs. Seems like a beatable line to me, load up

— Tyler Patterson (@TylerPoker)
We can't tell you who to bet on, but the Rio had a new message posted today for bettors:Poker players involved in the final table cannot wager on the event.
Roached
Vanessa Rousso finally revealed her costume today for the bet she lost a few days ago. Here's what we found:
So it's official...I'm a cockroach for the day! Losing bets to @liv_boeree is always good for a laugh! http://t.co/7dyLOOsY

— Vanessa Rousso (@VanessaRousso)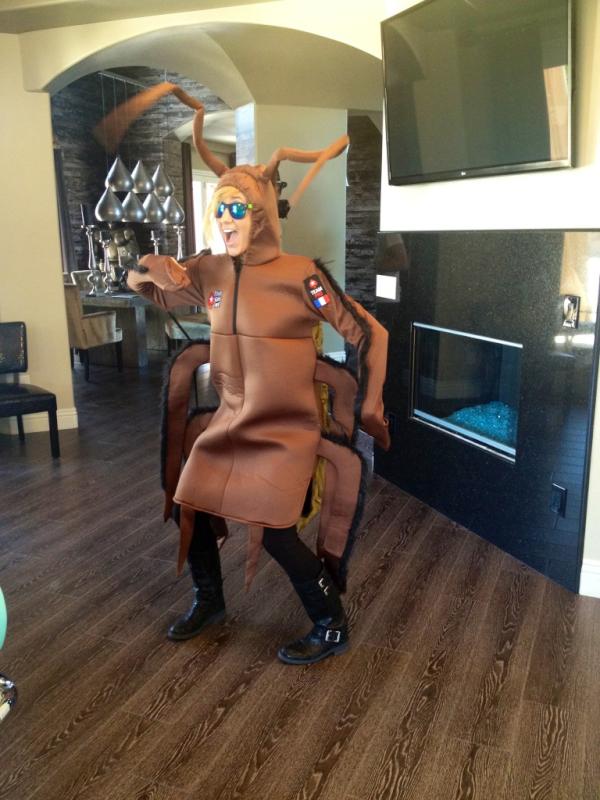 We'll try and grab a few pics of her today, and ask a little more about the bet she lost.
"I didn't think anything could cheer me up today"
Vanessa Rousso, Liv Boeree and Maria Ho were seen coming out of the tournament registration area this morning. Rousso, of course, was holding up her end of the bargain by coming fulled decked out in roach gear.
When we approached Rousso, she did a little dance for us in the roach suit. Walking down the hallways on his way back to registration, was Nick Binger.
"I didn't think anything could cheer me up today," Binger said as he saw Rousso and smiled.
Rousso is being a good sport about the whole ordeal though as she obliged media interviews and cameramen alike. Should be a fun day in the Rio with Rousso in a roach suit. Hopefully, with the series just starting to get exciting, more prop bets will ensue and we'll be able to bring you even more fun and games between the players.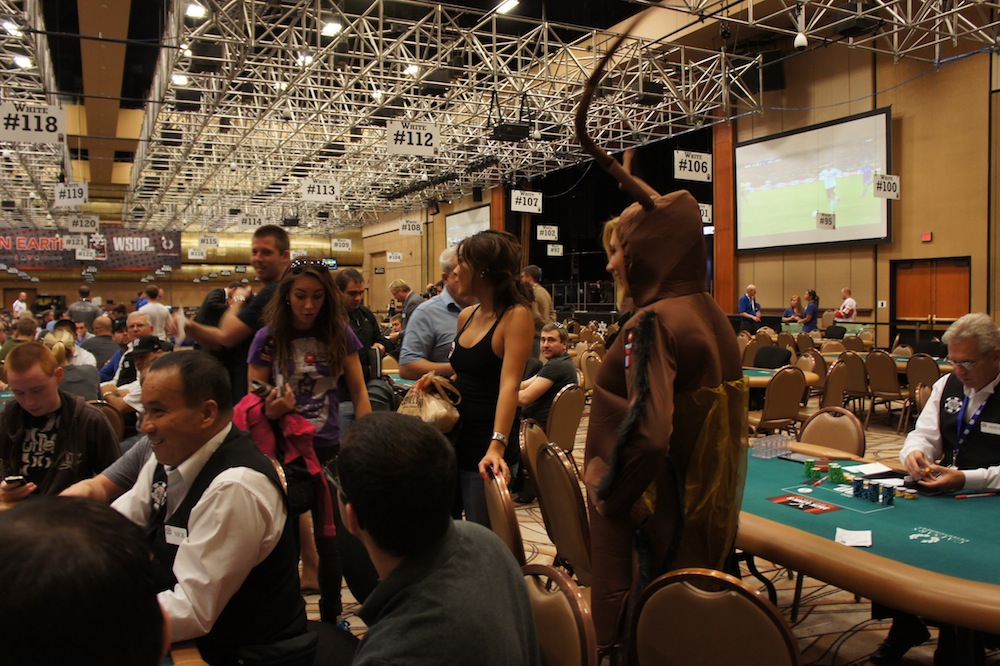 Cracking the Urinal - A Doyle Brunson Tale
For those of you who may have missed the uproar of #RealIveyTweets, we found a couple more gems today between David 'Doc' Sands, and Doyle Brunson. Here they are: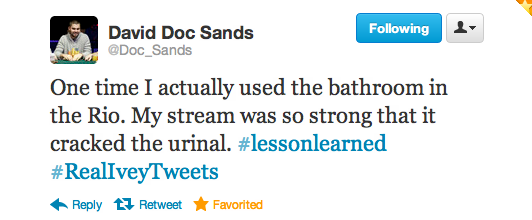 To which Texas Dolly replied:

We'll be sure to share if we see any more good #RealIveyTweets.
On Break in the Event #41: $3,000 No-Limit Hold'em
We were able to catch up quickly withAnnette Obrestad who was on break in Event #41. We talked to her briefly about the field in Event #41 and some tips for an amateur playing the event.
How does this field compare to a $1,500 field?
I just late regged, but so far my table is pretty soft. I don't know how it would compare to a $1,500 event though because I haven't really played many of those. They are just so early, it's hard to get out of bed for them.
What are some tips you could give to an amateur who is playing in an event like this?
Take it easy. Play tight. You can't win a tournament in the first couple of hours. Also, don't try too hard. I see so many people with top pair, and they overplay their hand or just won't fold.
Are there any events that you're looking forward to?
I think there is a 5k coming up, and that should be pretty fun. I haven't really looked at the schedule too much. I try to take it just one day at a time. Other than that, the main event of course.
We'll try to catch up with some more pros when we find them and we'll let you know what they say right here in All Mucked Up.
Who is Uncle Ron?
Among poker playing siblings, the Mizrachi brothers are obviously the most well known. A lesser known group of poker playing siblings are the Hinkle brothers. BothGrant andBlair Hinkle have World Series of Poker bracelets. In 2008, Grant took first place in a $1,500 No-Limit Hold'em event, winning $831,279. Blair followed up by winning a $1,500 No-Limit event later in the same year for $507,613.
The lesser known Hinkle is their younger brother Mason Hinkle. We caught Mason on the rail of Event #38: $1,500 No-Limit Hold'em today, and he was decked out in some "special" attire. Mason was in full character as Uncle Ron to support his brother Blair on the rail.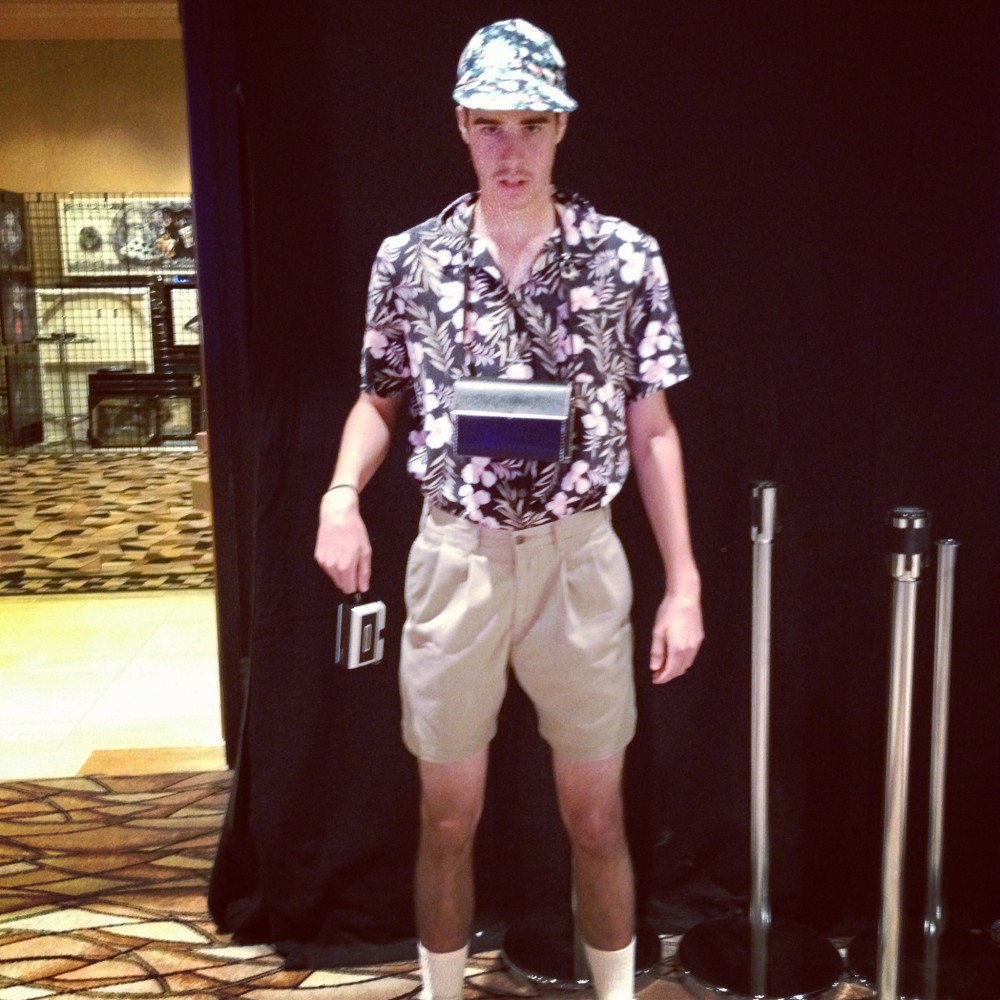 "I'm Uncle Ron," Mason said. "I'm Blair's brother, and his uncle, if that makes any sense. This is my rail bird outfit. I've got long socks, short shorts, and even a little camera so I can update the family back at home."
The outfit was purchased at a thrift store, Mason told us. Apparently, Uncle Ron has been giving Blair tips between hands as well.
"We've come up a with a little strategy," Uncle Ron/Mason said. "Call people. Don't let anybody bluff you. Just call them."
Uncle Ron also gave us a little tidbit about his other brother, Grant.
"My nemesis is Grant Mister Fish. He's always trying to cramp my style at the Monday night home games."
We asked Mason to drop the Uncle Ron act just momentarily and give us a little bit about what it's like to have two bracelet winning brothers.
"After they both won in 2008, I really started to get involved. They taught me a lot of their ways and really helped me out. I could only play online because I was just 18 at the time."
We asked him what it was like to be the only brother without a bracelet. "Actually, I'm not the only brother without a bracelet. We have an older brother who doesn't have one either. He doesn't play as much, just small stakes cash games, but we try to live vicariously through Blair and Grant."
Mason told us that he is going to play an event on Sunday, the $1,000 No-Limit Hold'em, and that he would be wearing an even more spectacular costume, so stay on the look out for that.
Pius, Pius Heinz!!!
2011 Main Event Champion Pius Heinz is in the building for his first tournament of the 2012 World Series of Poker. Currently he's hanging out in the Brasilia room playing in Event #41: $3,000 No-Limit Hold'em with over 12,000 chips.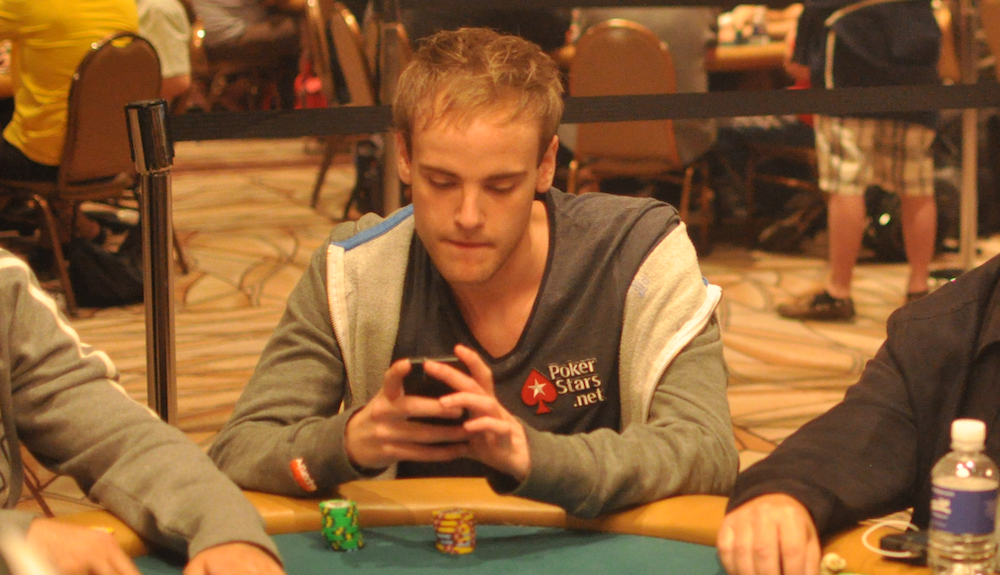 We'll be keeping a close eye on Heinz's progress as he plays in his first event since last year's Main Event.
What's On Your Head: Day 26
We caught this gentleman in Event #42: $2,500 Omaha/Seven Card Stud Hi-Low 8-or-Better wearing a rather interesting straw hat. The hat in question had two alligators on it, coupled with pictures of big poker moments, for example; Jonathan Duhamel winning the main event in 2010. On the pictures were what we assume to be witty captions, but we couldn't get close enough to see them: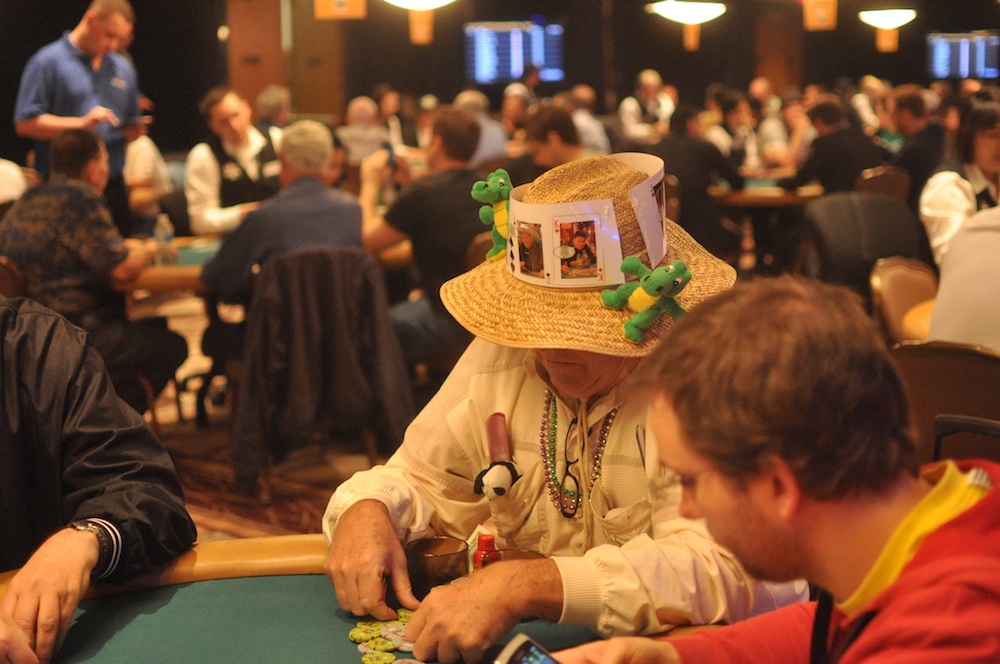 We're sure that this wont be the last of the weird hats to show up, but it's up there as one of the weirdest.
The "Other David Baker"
After a heated heads up battle withGreg Mueller, David Baker became the second player named David Baker to win a bracelet this summer by capturing the title in Event #37: $2,500 Eight Game Mix earlier today. Just days ago, David 'Bakes' Baker became the first of the pair by capturing his bracelet in Event #32: $10,000 H.O.R.S.E.
Plenty of folks have already taken to twitter to make light of the situation. Here's what 'Bakes' girlfriend Maridu Mayrinck had to say:

The only thing that we have to say is this, "Watch out Phils, the David Bakers are coming for you."
The Old Guard
We spotted two old boys from the golden age of High Stakes Poker, Sammy Farha and Joe Hachem, in the Amazon room today.
Farha, who's playing day two of the Event #39: $10,000 Pot-Limit Omaha, is making only his second appearance at the World Series Of Poker this year. PLO is Sammy preferred game, presumably because of the huge amount of gambling it involves. Sammy, shown below without his signature unlit cigarette, was once quoted on High Stakes Poker as saying "If you want to win big, you have to gamble" after winning All-In Pre-Flop with KK vs AA. He can come by PokerNews HQ to make that gamble any time.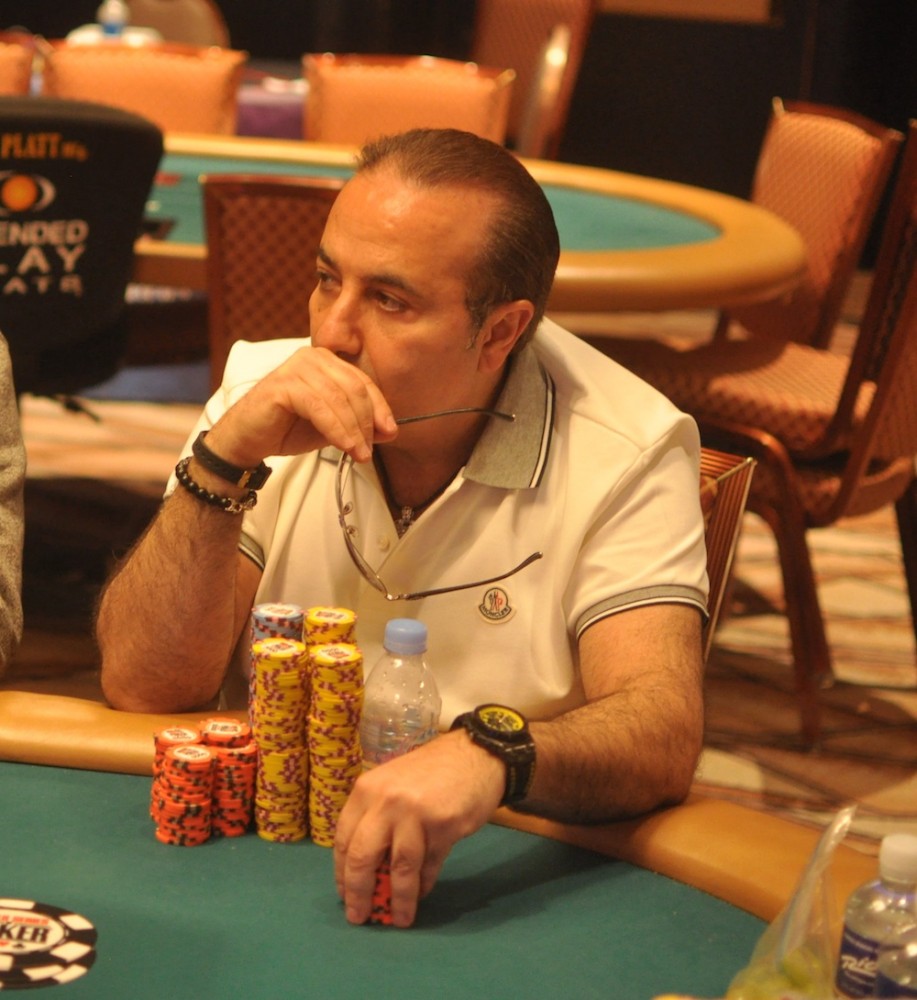 This is the first time we've seen the Australian Joe Hachem this series. Hachem, one of poker's most likable personalities, is playing Event #42: $2,500 Omaha/Seven Card Stud Hi-Low 8 or Better. We'll try catch up with him in the next few days to see how he is doing.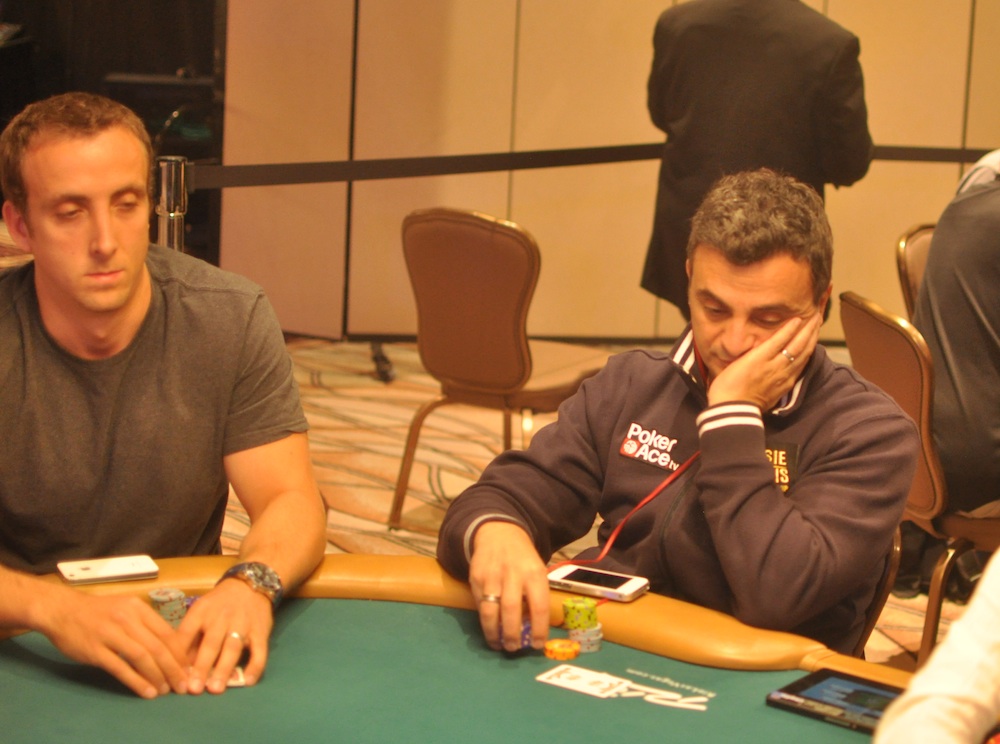 Outfit Of The Day: Day 26
Check out this guy playing in Event #42: $2,500 Omaha/Seven Card Stud Hi-Low 8 or Better. Tough to stare that down in a big pot...
The Card Protector Chronicles: Day 26
Right after dinner break, we did our rounds through the Brasilia room keeping an eye out for any interesting card protectors. We weren't disappointed. Check out this guy's Lizard, which he leaves just far enough on to the table to tilt his opponents, but not so far as to incur a penalty from the floor...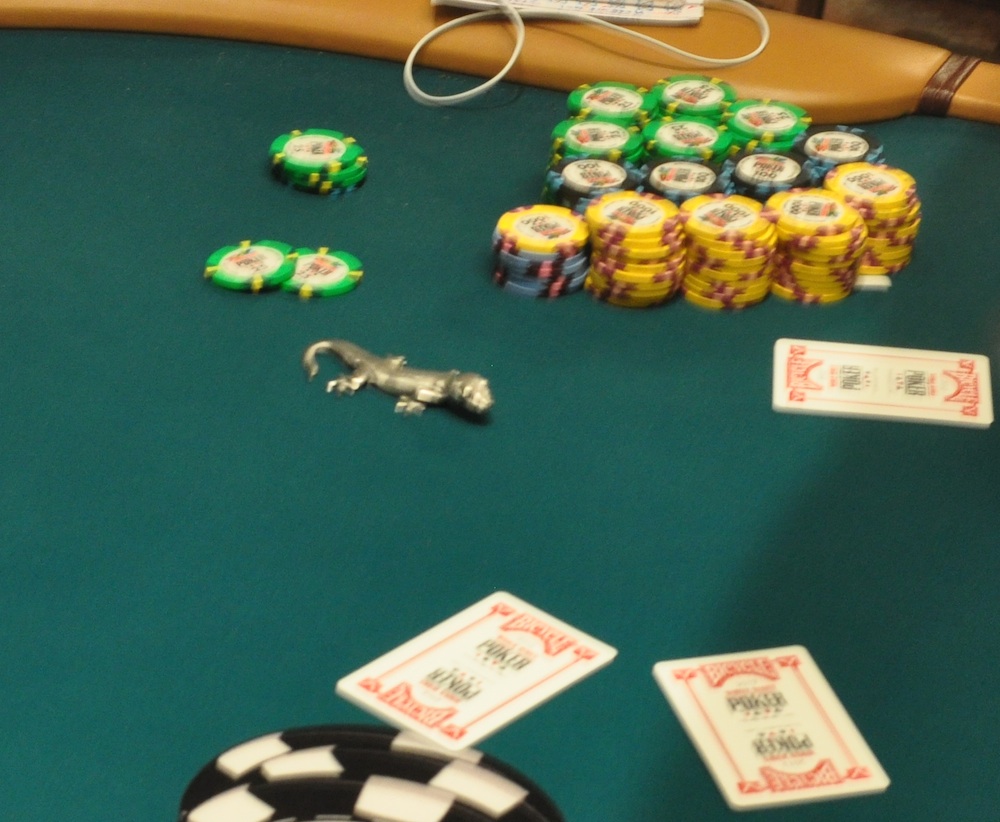 Next we see this character's Turtle sitting atop a small pile of sky-blue chips. The Turtle is more of a mascot then a card protector as it doesn't seem to be leaving its lofty throne when the hero has cards in play - perhaps its official title should be sky-blue chip protector.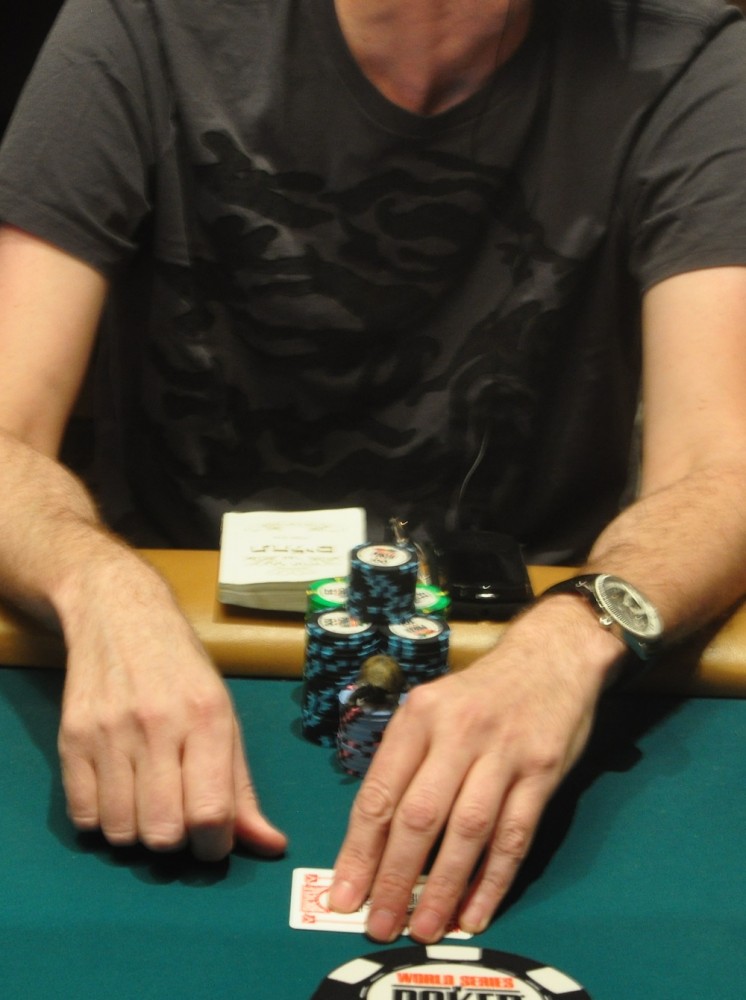 We caught this gentlemen right in the middle of a turbo-muck. Up on top of his chips you can see a Luxor key-ring which he uses to protect his cards. The keyring looks like it lights up like the real Luxor, we're not sure yet if it's an angle to wind up opponents or if the light up feature goes un-utilized during play.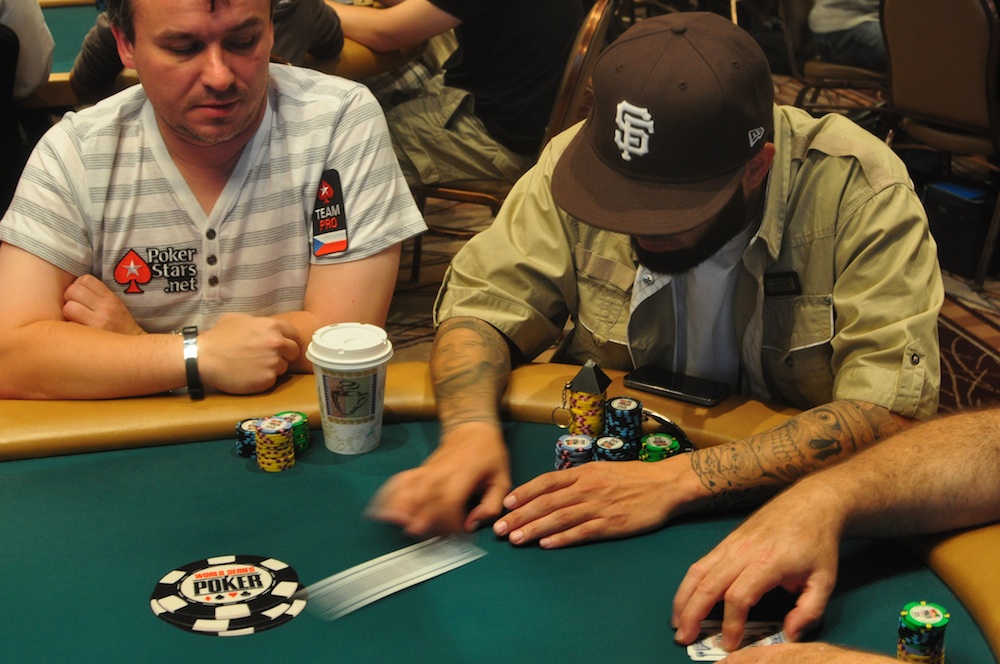 Last but not least: This man isn't short of mascots or other run-good accessories. On top of his chips he has a golden bull, and right in front he has what appears to be a Mini-Faberge Egg.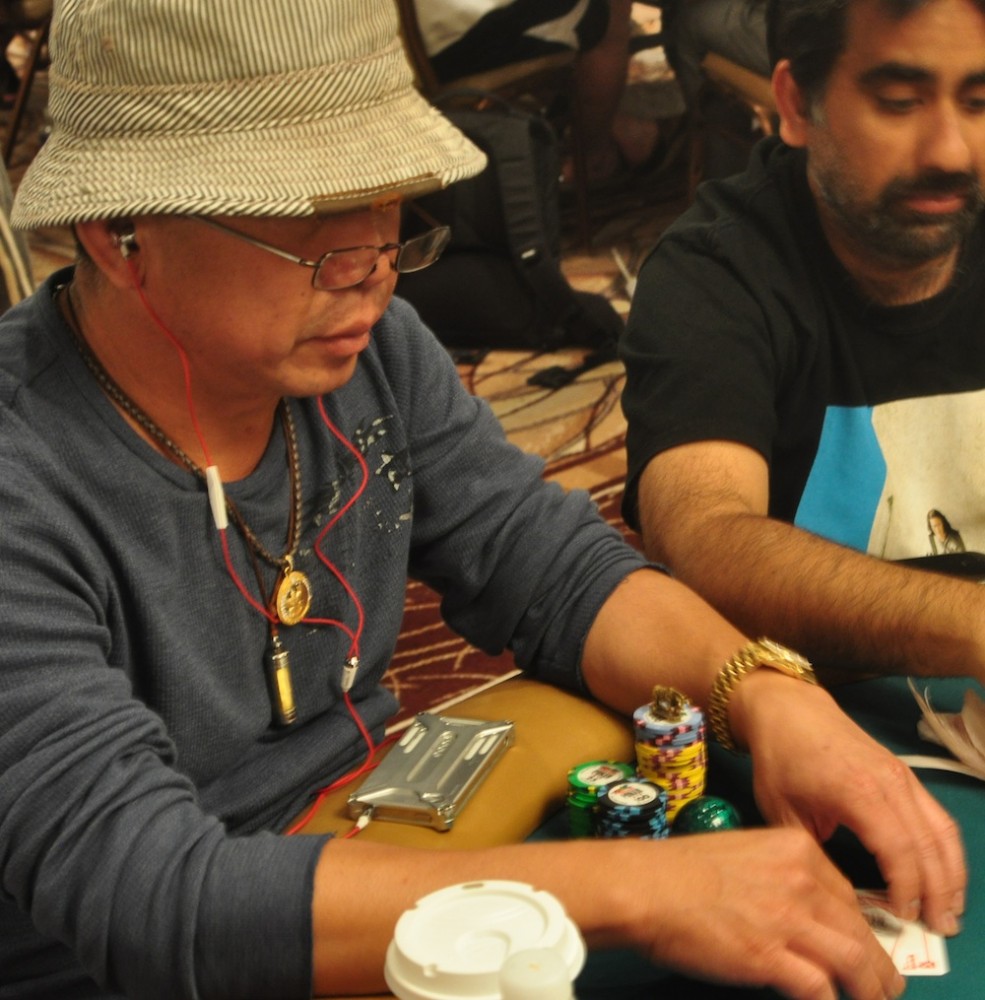 We'll keep snooping around, seeing what objects people use to protect their cards or cheer them on during the series, so stay tuned.
Who's Classier?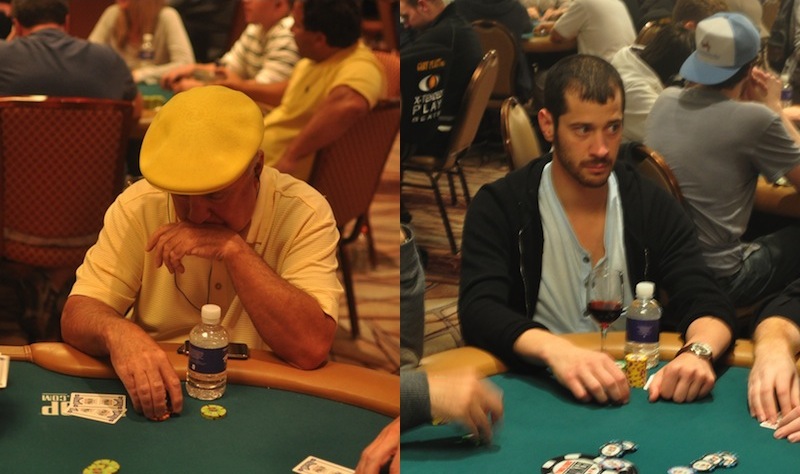 We saw these two guys out in the field for Event #41: $3,000 No-Limit Hold'em. The first gentleman put on his favorite yellow, Titleist polo and matching yellow beret this morning, packed his clubs in the trunk of the car and on the way to the golf course had a huge personality change and decided he wanted to play the the 3k No-Limit event in the Rio today instead of eighteen holes!
The second man wasn't perturbed by the general trend and decided that, if he was going to sit in one spot and sweat small, unsuited, unconnected cards for hours at a time today, we was going to enjoy a glass of Merlot to take the sting out of things.
Castle Building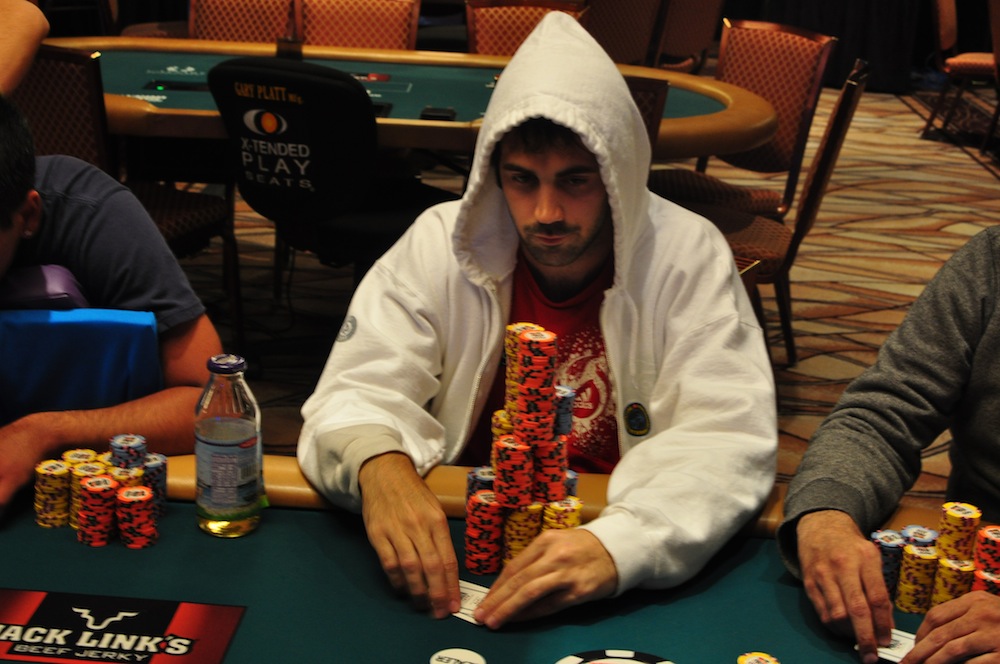 Check out the castleJason Mercier is building in Event #39: $10,000 Pot-Limit Omaha . You can always rely on Mercier to keep building higher and higher, so assuming he doesn't bust, we'll check back later to see what shape it's taking.
Good #ForTheGame
We caught up with some of the biggest names in poker this evening to try and get their reaction to this weeks news: Rafael Nadal joining team PokerStars.
"It's exciting for me" Bertrand 'Elky' Grospellier told us "because he's one of the biggest athletes out there. It has to be good for poker. I'm excited to meet him and hopefully I will get the chance to play with him".
Brian 'Stinger' Hastings shared much the same sentiments
"It's so awesome for the game. Hopefully it will get a lot of positive press, at least in Spain and hopefully in the world. He has such a good image"
David Williams agreed too.
"It's incredible for poker. He's one of the biggest names in the mainstream and hopefully it will open people's eyes to the nature of the game and that poker is for everyone. It's also great to have poker in the mainstream press for something positive so I think a lot of good will come of it".
Finally, one of our muck reporters tweeted Lex Veldhuis to ask him what he thought and if he might trade poker lessons for tennis lessons. This could come in handy if he makes that tennis prop bet he's been talking about the last while.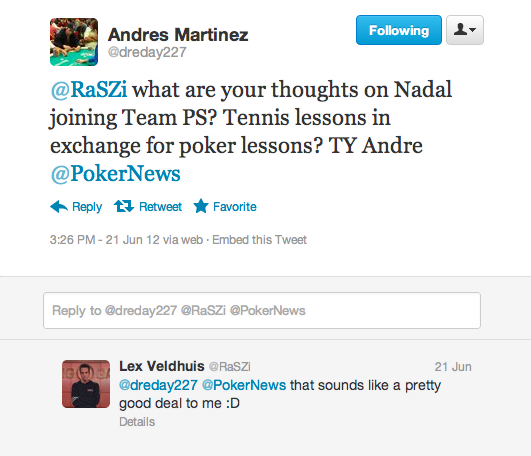 Playing Good, Running Better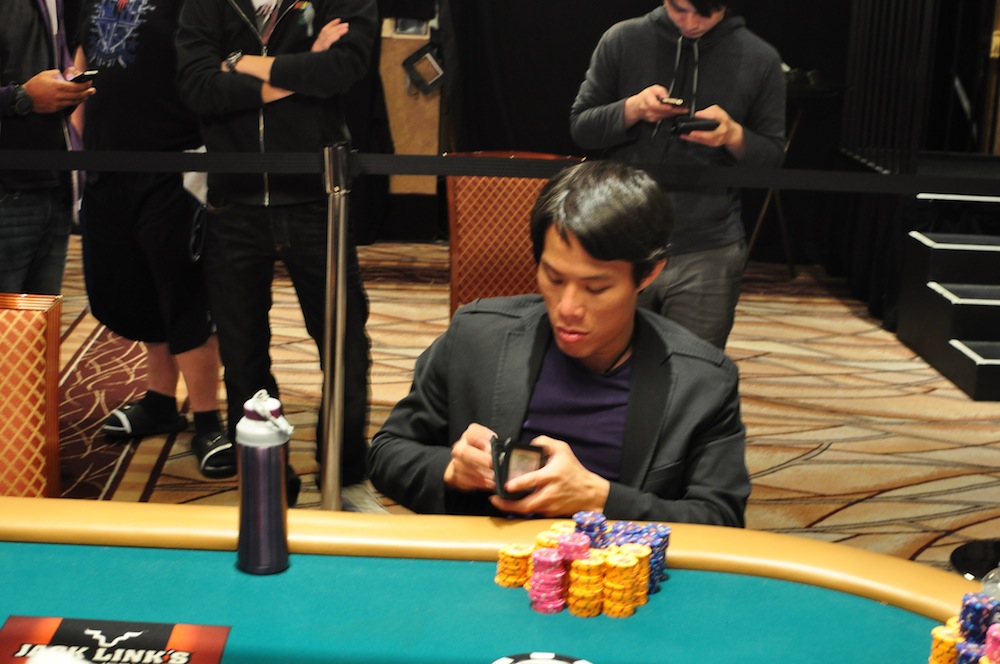 Terrance Chan is considered to be one of the greatest Limit Hold'em players of all time, but sometimes that isn't enough and you have to get lucky to get the big score. He just took the chip lead in Event #40: $2,500 Limit Hold'em after this hand versus Sorel Mizzi.

A Case Of Mistaken Identity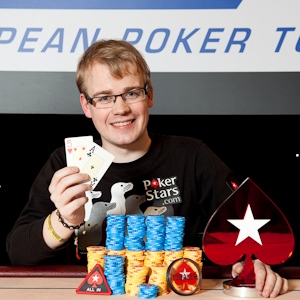 Earlier in the series Mickey 'MementMori' Petersen told us that people mistook other blonde haired/bespectacled young men for him all the time.
"I saw on twitter one day some kid write 'I just busted MementMori'. But I wasn't even playing an event that day. It happens all the time, damn imposters"
We've been keeping a sharp eye out for any Petersen impersonators, and are posting them here to raise awareness. These men are not to be trusted. If you see any more, please, please contact the relevant authorities (PokerNews) immediately.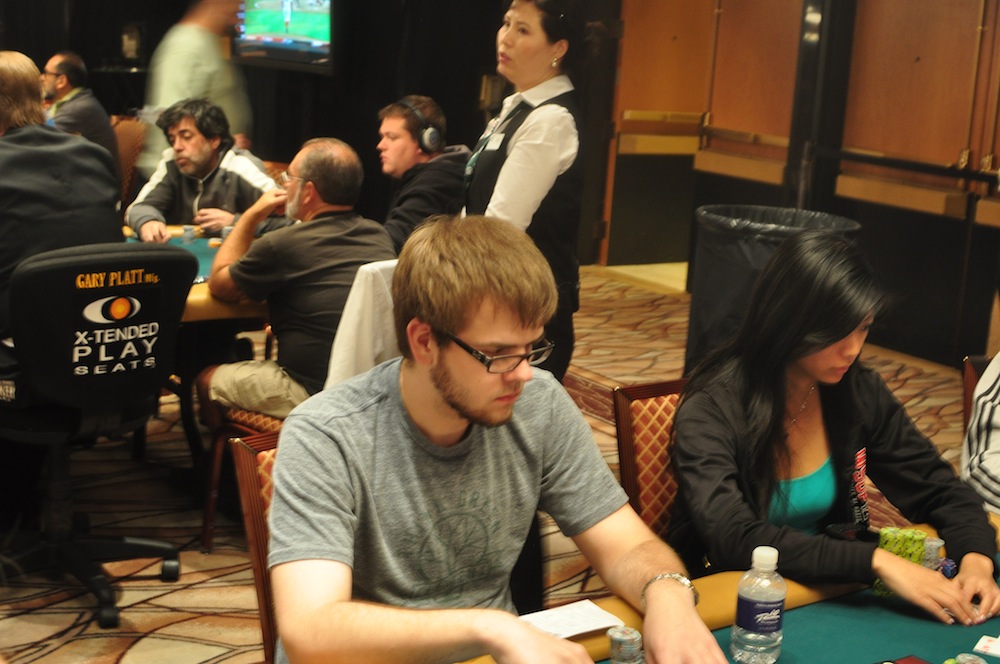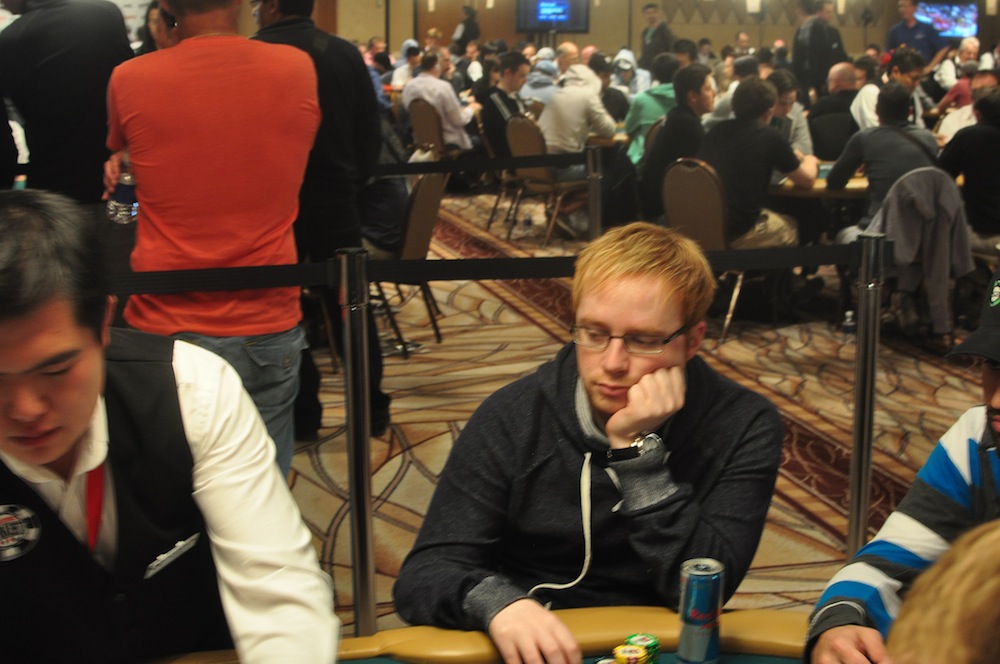 Amazon Atmosphere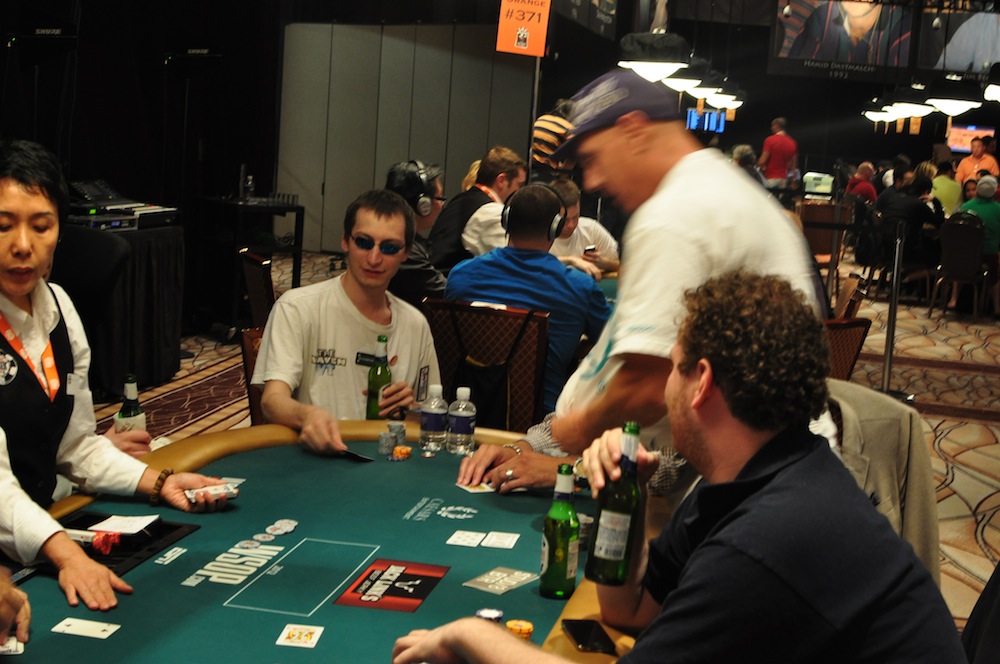 When it gets late at the end of every day, we seem to find ourselves hanging around Scott Seiver's table more than any other. Tonight his table is again the most boisterous, sending laughter rippling across an other wise lethargic Amazon room.
We strolled by to check out what was going on and saw the majority of the table drinking beers and urging the waitress to quickly bring out more.
"What's the fastest beer you can get me?" One grinder asked, before being told they were all the same.
One man spilled his beer all over the table and called suspiciously to the floor:
"Water spill here".
Before trying to dry it with his shirt..
We encourage everyone to get involved with "The Muck." See something you think is Muck worthy? Send it to the muck@pokernews.com. We accept all media including photos and videos.