First Five with 2012 World Series of Poker Bracelet Winner Jan-Peter Jachtmann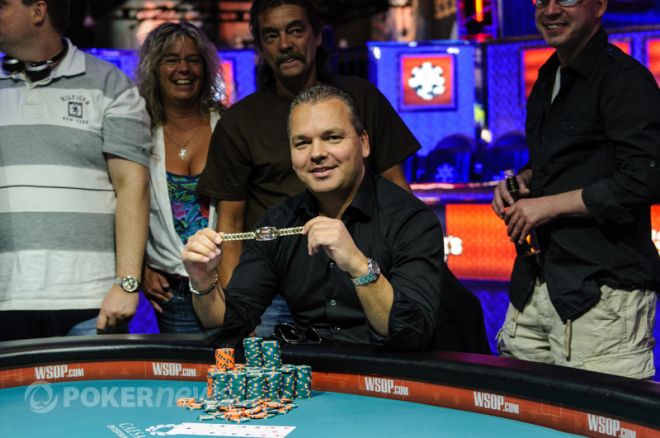 Jan-Peter Jachtmann managed to surpass 293 players and take home the gold bracelet in Event #39: $10,000 Pot-Limit Omaha. Jachtmann is a magazine publisher in Germany where he publishes the largest German print poker publication. This is his first bracelet, and for his win he took home $661,000. Jachtmann has been playing the game for over 20 years and started off playing seven card stud. We were able to catch up with Jachtmann right after his win to get some of his first thoughts on winning a bracelet.
Can you share with us some of the first thoughts that went through your head after winning a bracelet?
The first thought was just like, "Wow. I made it!" You know because I mean I had to hit it. Because I had a straight draw, and I had to hit it, but the ace came and I just thought, "Wow." And then I thought... I think I have to sleep one night and wake up tomorrow, because for me it is still just unreal. I'm happy but I kind of just have to convince myself that it's real. I am happy. I was happy before when I reached the final table. But this is just unreal.
What's one of the first things that you're going to do as a bracelet winner?
Tomorrow I have to fly home to Germany. But before that, I'm going to meet with some friends and party, definitely. We're going to have a party tonight somewhere in Vegas. I definitely will spend a lot of money because I just want to party.
What's the first thing that you're going to buy as a bracelet winner?

I won't really buy anything. I'm not a poor guy. Certainly it's a lot of money. More than I've ever won. Before I won, I think $550,000 in all of the time that I've played. Part of the money will just be used as a bankroll. I don't want to blow it all up. I have my house. I have my car. I don't need anything. I won't buy something big. I'm happy to have it, and we'll see what comes.
Who is the first person that you're going to call and tell about your win?
Actually, I'm glad that everybody watched it online. So they know. Actually, me and my girlfriend, we just split up, so I won't call her. I can't call her actually. Maybe I can. Maybe she is waiting, I don't know. It's a problem a little bit. But I will actually call my mother, she is didn't see so she will probably say, "Whoa, what happened?" The people, my poker friends, and my family, they already know what happened.
What was the first time in the tournament where you really thought to yourself, "Hey, I can win this?"
I thought that I could win it after I had a lot of chips, when I almost had the chip lead then I won the pot against Sammy Farha.
Jachtmann also said that he plans to play in the World Series of Poker Europe in Cannes as his next tournament destination.