All Mucked Up: 2012 World Series of Poker Day 31 Live Blog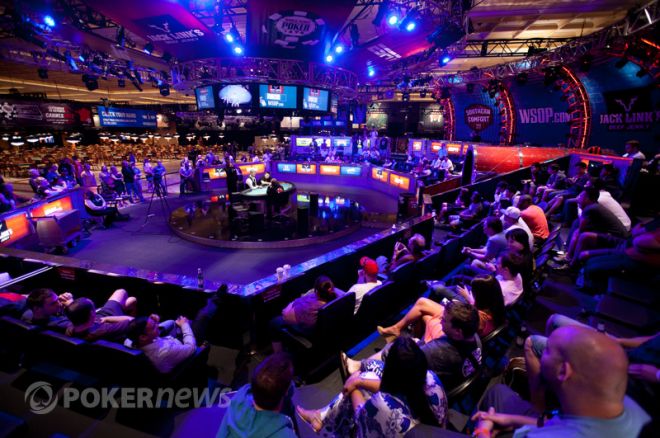 All Mucked Up is a live blog of all the stuff you want to know at the 2012 World Series of Poker, besides hand histories and bad beats. Well, we might add a few in here, everyone loves a good bad beat story — unless it happened to you. Check back often for polls, soundbites, celebrity sightings, and who knows what else!
May The Odds Be Ever In Your Favor
It's been an action packed few days, but a winner must be decided in Event #46: $2,500 No-Limit Hold'em. There are a lot of big name pros thrown in with the budding amateurs in what promises to be an exciting conclusion to the week here at the Rio. The odds are in, let's have a look.
Daniel Chambelain 20/1
Joshua Hillock 11/1
Franis Rusnak 15/1
Konstantin Puchkov 11/1
He Huang 30/1
Philip Meulyzer 30/1
Bradley Lipsey 14/1
Robert Castoire 14/1
Stephen Reynolds 10/1
Willian Reynolds 5/1
Joseph Gualtieri 25/1
William Rogers 20/1
Jeremy Quehen 19/2
Mark Schmid 25/1
Nicholas Augustino 17/1
Fernando Brito 12/1
Larry Duplantis 26/1
Yordan Jeliazkov 11/1
Joey Weissman 4/1
Vanessa Selbst 7/1
Jimmy Fradettedufour 7/1
Joshua Pedraza 40/1
Adria Balaguer 20/1
Fabrizio Gonzalez 25/1
Michael Gagliano 9/2
Notables are Vanessa Selbst @ 7/1, going for her 2nd bracelet, and William Reynolds @ 5/1. Both have a lot of chips and are very experienced at this level. We'll also keep an eye on Larry Duplantis, who we wrote about yesterday. Larry has a physical disability which means a card reader is necessary to help him, and if he were to fight his way to the final table here it would be one of the most inspirational stories ever to come out of the World Series Of Poker.
Betting continues until 12:55 at the Rio sportsbook, so still time for flutter!
Ante Up!
Check out these tweets from pro's playing the brand new Event #49: $1,500 Ante Only No-Limit Hold'em. Players seems to think that policing the format will be messy, but some also seem to be enjoying it after playing the first few hands.
3rd time they have gone over the rules of the ante only tourney in first 10 mins. I'm not entirely sure of them myself. #fuckitwelldoitlive

— Scott Augustine (@Mr_Hoes)
1500 antes only, this format seems fantastic. Well done to whoevers idea it was

— eric froehlich (@efropoker)
We'll catch up with some pros on break and see how they like the tournament after two full levels! We'll also try get the low-down on the strategy for such an event - hopefully Randy 'NanoNoko' Lew will have one worked out for us then!
New tournament today the $1500 ante only. We all ante up preflop and sb acts first, Will make a strategy as I go. #willbeinteresting

— Randy Lew (@nanonoko)
Chill Atmosphere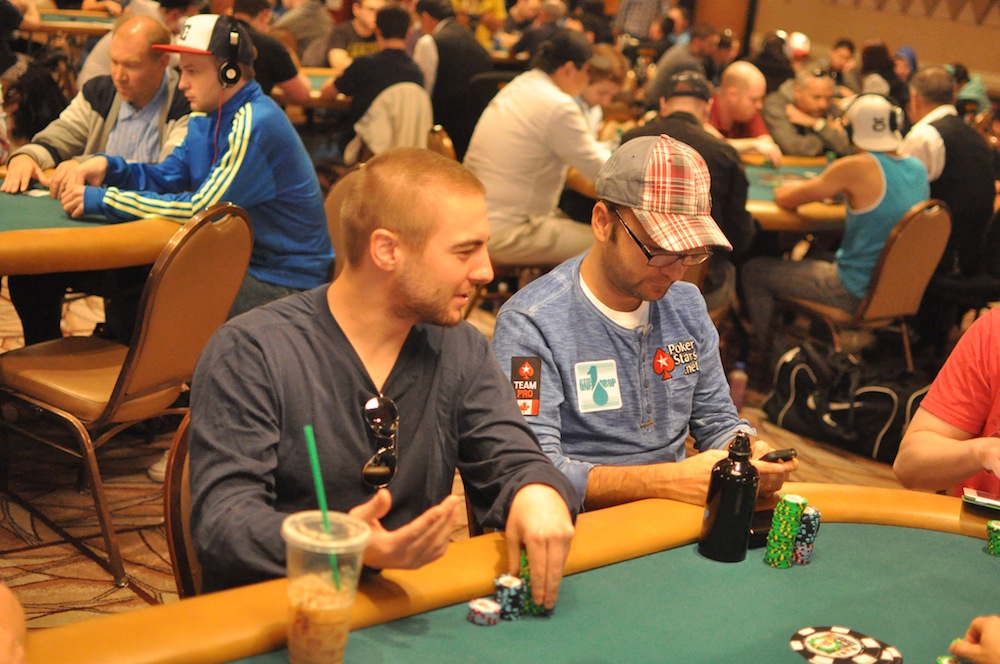 We can tell that the players are having more fun than usual by the hum of conversation around the Brasilia room. Not since the seniors event have we seen such a social element to the game, with players excited to try something different and enjoying the new challenge.
Having more fun in this Ante Only WSOP event than I have all series. What an incredibly cool event! Love it.

— Daniel Negreanu (@RealKidPoker)
Players better enjoy it while they can. With several players already busted a bit into the first level, this one's going to go fast...
Pink Is The New Black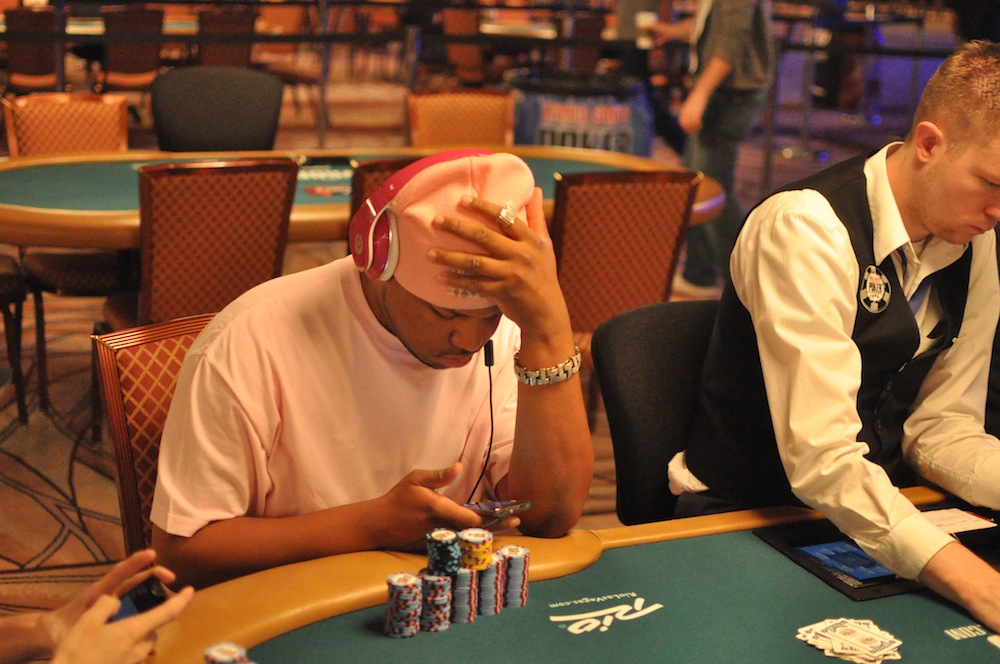 The Muck Paparazzi managed to snap this picture without this guys knowledge, that doesn't happen too often these days! The day 2 players are always a bit more focused on their cards and less focused on our PokerNews hero and the blog of shame. Anyway, we snapped a pic of this guy in all pink in Event #47: $1,500 Pot-Limit Omaha Hi-Low Split-8 or Better and all pink outfits are always worth a post in The Muck!
Ante Up: Part 2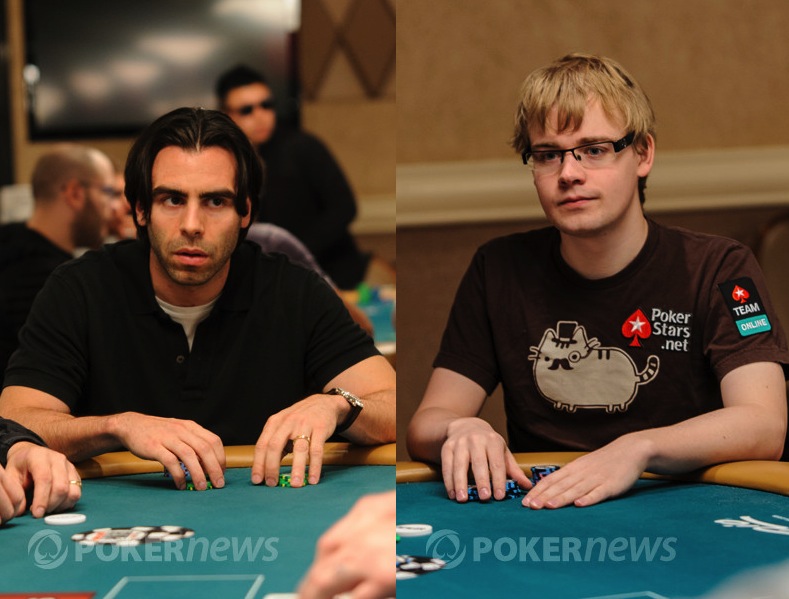 As promised, we spoke to several pros playing in today's Event #49: $1,500 Ante Only No-Limit Hold'em on their break to try find out how they're enjoying this new event, and how they're adapting their play.
Mickey "MementMori" Petersen told us he loved the format.
"Yeah it's a fun format. Obviously everyone is used to playing really standard no-limit hold'em tournaments, there's been 20 of them or something so far, so everyone is used to the standard tournaments and this makes people think. Anything that makes people think is more fun, and can be profitable"
"As far as specific strategy adjustments goes, I think I've been limping more. You only need to put in one chip to see a flop with all these chips. You can limp weak hands and strong hands and balance it a bit like that. People also are trying to adjust their open size, so far some people make it three times the big blind and some people make it seven times the big blind. Everyone's just figuring it out and people are figuring it out different. People were arguing on my table about the correct" Said Petersen, laughing.
The ever-friendly Olivier Busquet had similar sentiments, and some more interesting strategy insight.
"I love it. It's obviously a super-turbo format, there's so much more money in the pot so early on so bets get big, quick. It's a slight change from the normal tournaments, which can get repetitive. Anything that puts people out of their comfort zone is good".
"There are some strategy adjustments I've considered. I think the Button becomes even more powerful in this format. I'll play pretty liberally on the button, limping a lot. It's just powerful because you can control the pot. You just look at how people adjust, how much they raise preflop. Overall I think it's correct to play more hands".
Randy 'NanoNoko' Lew was able to spare some time for us to talk about how his strategy has developed since he tweeted this morning.
"I like the game, but I'm still trying to figure out the strategy. It's tough. What I've gathered so far is people don't defend enough. They don't defend the button like that should. They also open fold way to much, limping is such a viable strategy that you should be limping so wide at this stage of the tournament".
"I think I'd like to see more of this type of tournament, once I get good at it that is. I think there's more skill and room for creativity, so it gives an advantage to the good players. I think there's going to be a higher proportion of good players at the final table in this event than in some other events".
Ante's And Cash Games With iRockHoes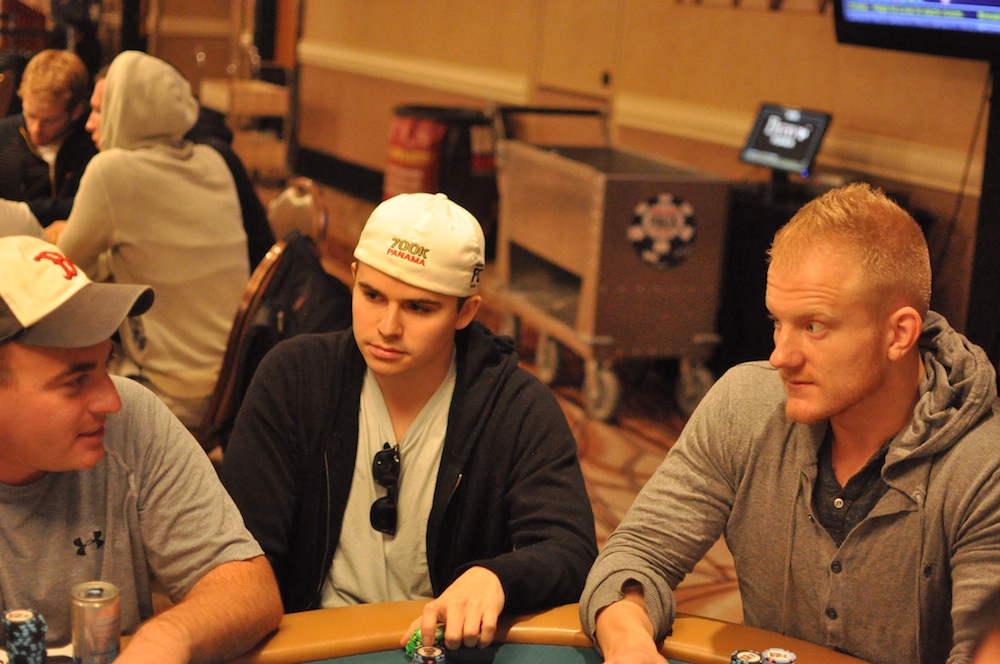 We met up with Scott 'iRockHoes' Augustine in the poker kitchen this afternoon to get his take on the ante event playing today in the Brasilia room.
"It's a fun change up. I'm primarily a cash player so I probably wouldn't play this if it was a big 10k event or something, but I wanted to play this today and just see what it was like".
"I think the most interesting adjustment to make is playing the Small blind position. It's weird, because you act first both before and after the flop, there's almost no incentive to play in the Small Blind. Do you play tight or do you lead big? Different people are adjusting different ways".
"More generally, pot control is so important. The pot will get crazy out of control unless you limp and even then it's going to be big".
"There was a nuts hand on my table. I'm sitting next to Jason Koon and some guy 6 bet shoved A9 over Koon's QQ. There's so much money out there and the pot gets so big that people try to fight for it".
We knew that Augustine was playing in some of the big cash games in the Rio frequently, so we asked him how they were going for him.
"The cash games are really good. I think they're better during the week than on the weekend to be honest. On the weekend someone might buy into 5/10 for $800 dollars. The other day in the early week, a guy bought into my 5/10 table for $20,000, bluffed off $10,000 and just left without a care. That's going to make the game good".
We asked Scott how deep the games are playing, and if he had any interesting hands to share with us.
"The games play insane deep, 300 big blinds all the time. There was a pretty insane hand the other day where we were big blinds deep, over $6,000, and I raised to $50 with 66 after a limp. I got 4 callers, the limper, the button and the small blind. The flop comes KJ6 with no flush draw".
"The limper checks and I check, the button bets 100, the small blind raises to 275, the limper calls, I call, the button makes it 675 and the small blind makes it 1675 and the limper folds. I just had no idea what to do and thought about it for a long time".
"I decided on a fold and showed my hand to my side of the table. They couldn't believe that a fold would be correct, so I made a $50 bet with each of them that It was the right fold".
"I thought that either of them could have JJ in that spot a lot. Live players are superstitious, and often don't like re-raising JJ pre-flop because they think overcard's will come. Also, one guy has 6k. If he doubles up to 12-14k then he's not going to be comfortable, and a lot of the time he's just going to leave. I don't want all that money leaving the table. There are more considerations that just the hands in play, I'm trading a high variance spot for a lower variance spot on a good, deep table".
So what happened?
"Well, they both got it all in and they both had KJ. I would have loved to get it all in versus two KJ's, but I like my play still. I spoke to my room-mate Brian 'Stinger' Hastings last night and he agrees that it was a good fold. Besides, I don't think that play with KJ is good. Getting in $6,000 there is over playing to me. I was surprised. Shows the line between good players in these games, and great players who understand these things a bit better".
What do you guys think of Scott's fold here?
We'll keep an eye on Scott Augustine through the rest of the series, and keep asking around for interesting hands in the big cash games in the Rio.
Celebrity Look-Alike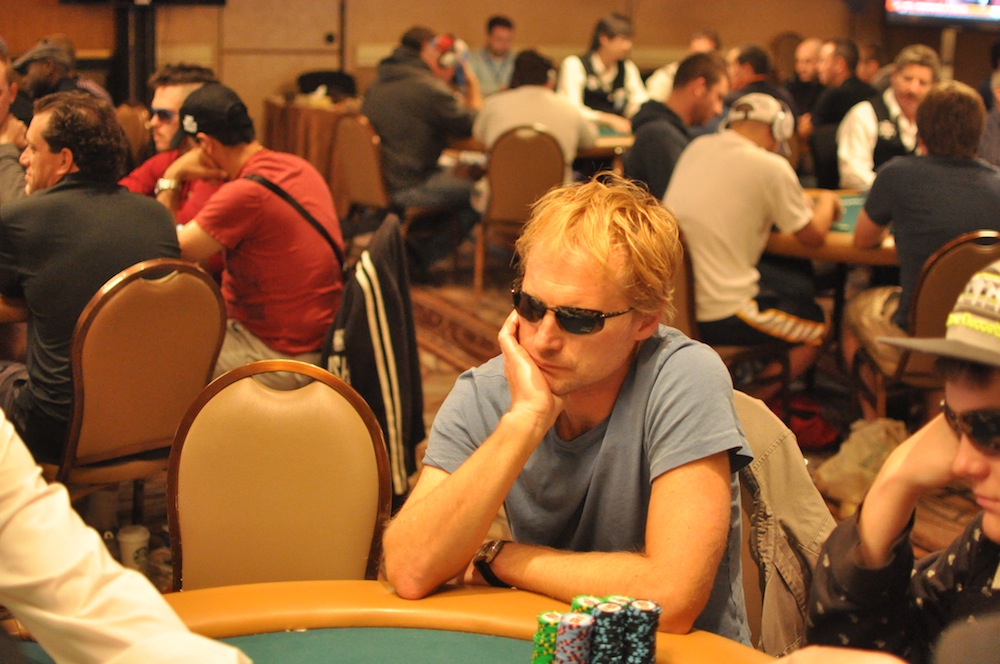 We spotted this Phil Laak look-alike in the brasilia room playing Event #49: $1,500 Ante Only No-Limit Hold'em. We really think he looks like Phil Laak: In fact, the picture was originally taken for a 'Phil Laak Is In The Building' post, until we got a closer look and saw this this man is a shade more weathered in the skin department, and a lot quiet and less charismatic than Laak in the flesh.
Poll
Does This Guy Look Like Phil Laak?
Of course, we'll keep an eye out for the real Phil Laak in the coming weeks!
Phil Ivey :O
Phil Ivey must be the most out-of-the-loop player in the whole of the Rio. Check out this tweet about his late reg for the Ante-Only Hold'em Event!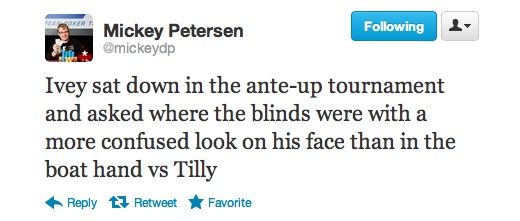 The hand Petersen is referencing can be seen here.
Ante Up: Part 3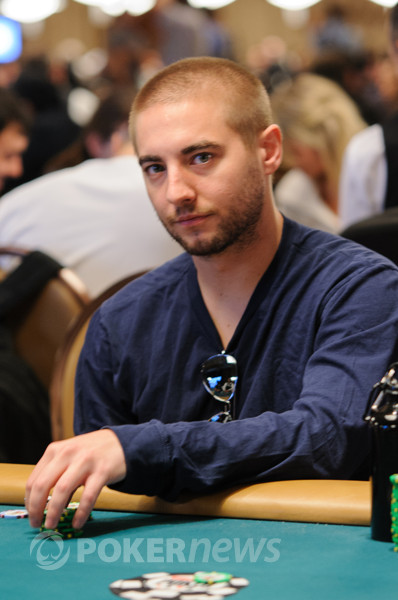 With the field for Event #49: $1,500 Ante Only No-Limit Hold'em shrinking by the minute, we caught up with 2009 Main Event winner Joe Cada and Nosebleed PLO specialist Chance Kornuth to see how they liked the tournament and how they found the game to play.
"I've had fun" Cada told us. "I arrived late, and with the ante's rising it feels like a really fast turbo structure to me, might have been different earlier on. It feels similar to a normal tournament to me, if you just think about the size of the pot and the number of orbits you have left. There is a lot more limping of course, it's impossible to fold in late position with any hand pretty much."
Chance Kornuth was even more upbeat again.
"I thought it was fantastic. It brings the game back to an older form of poker where there are more people to each flop and there's more room for creativity. I'd love to see more of these types of unique games, there are enough straight Hold'em Tourneys. I also would like to see maybe one turbo, but personally I'm not in the 'we need lots of turbos now' camp."
"In terms of specific strategy... I think we all know that there are hands that play well in multiway pots and hands that play well in Heads-Up pots. I just try to get the right hands in the right situations as much as possible. Making that happen is going to make the game easy to play".
Final Table of Event 46
There are currently eight left in Event 46: $2,500 No-Limit Hold'em.Joey "Cotchery89" Weissman currently has the chip lead. What started out as a low-key affair has now turned into a boisterous final table, punctuated by Weissman's elimination of Joshua Pedraza. Here's the reaction of Weissman's rail moments after Pedraza's bust.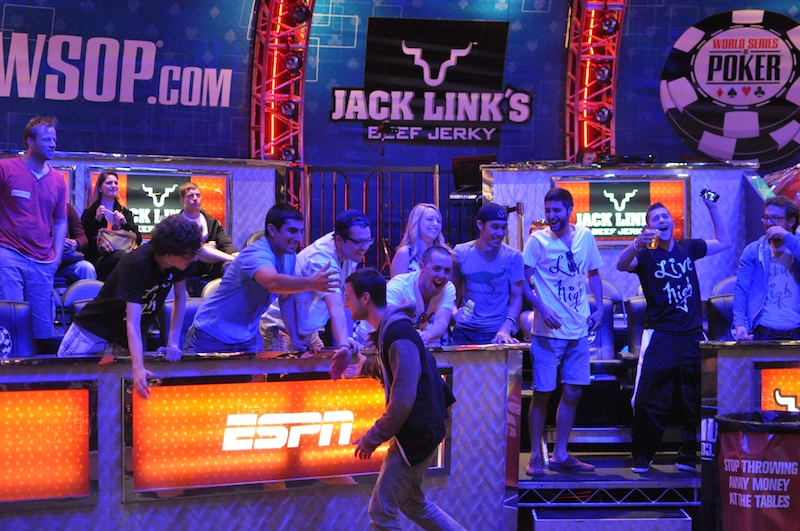 Another notable at this final table is Michael "Gags30" Gagliano. He has a star-studded rail which includes David "doubledave22" D'Alesandro, Partyush "FenwayKing" Buddiga, and 2011 Main Event Champion andTeam PokerStars Pro Pius Heinz.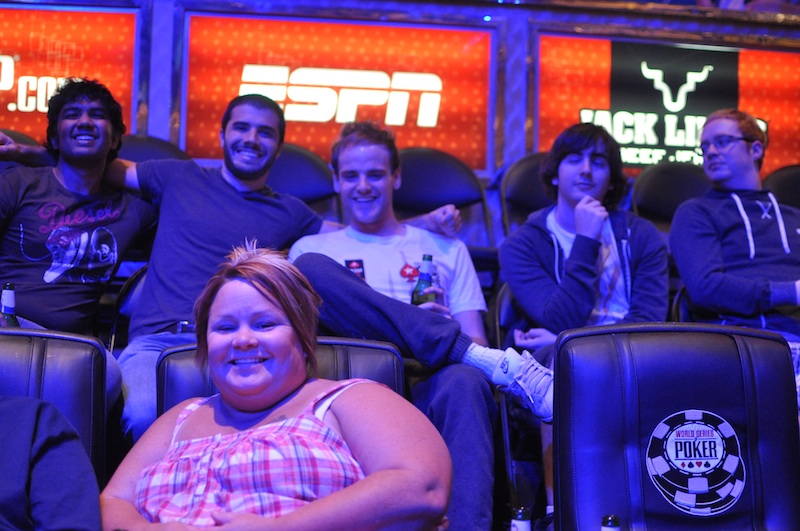 It's not the first time this group has been spotted together at a final table rail. Last year they were here sweating Heinz at his 2011 Main Event final table.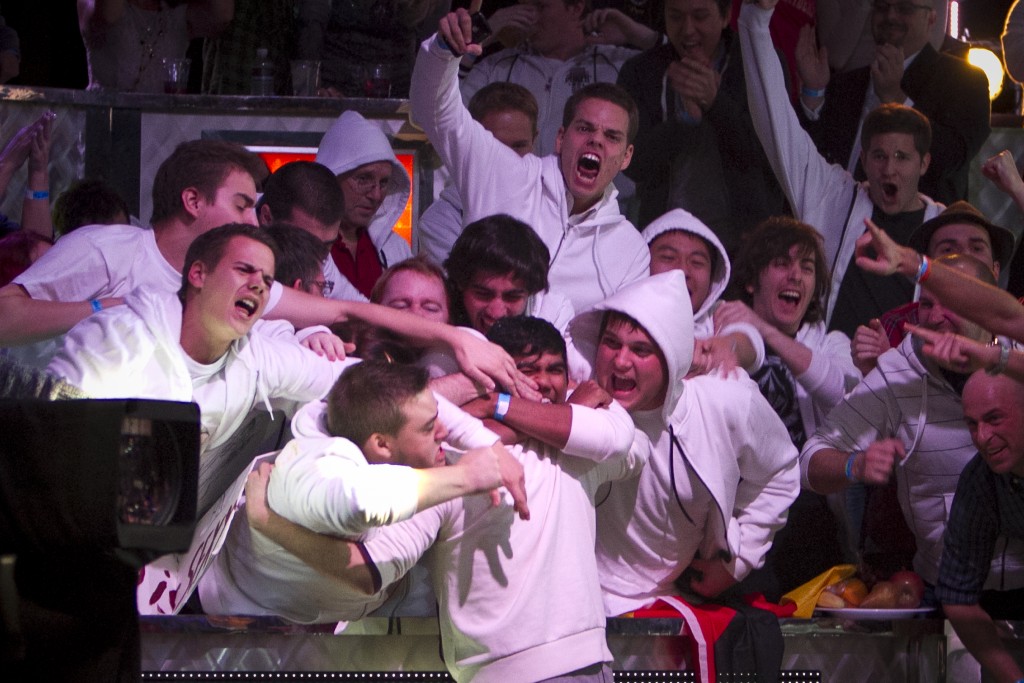 We'll do our best to catch up with them at break to get their thoughts.
Ante Up: Part 4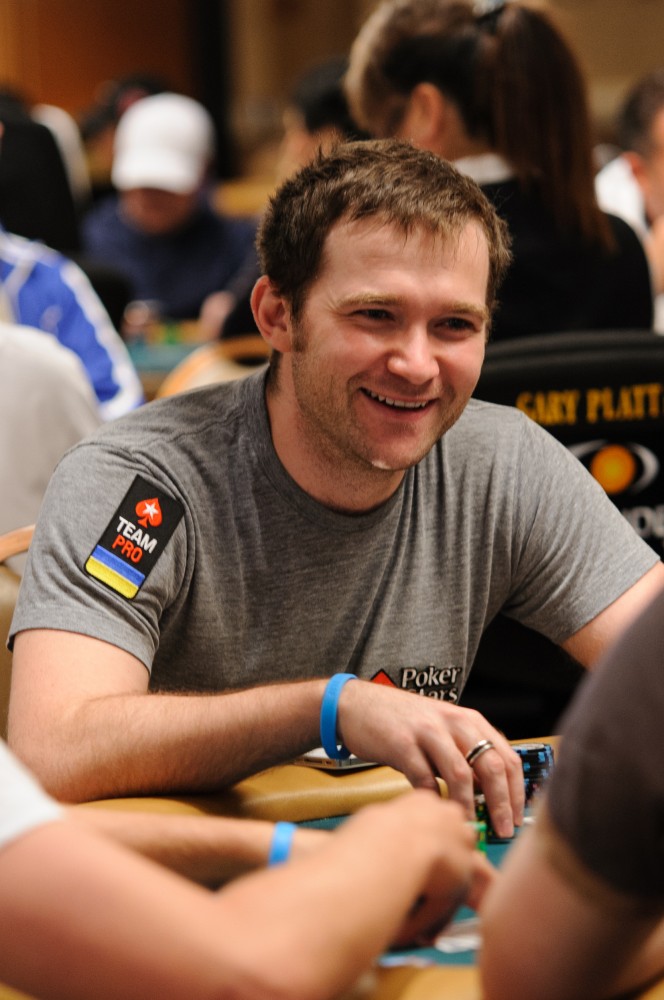 We've been talking to several pros about their approach in Event 48: $1,500 Ante-Only No-Limit Hold'em tournament. We encourage you to scroll up and read the first three parts of Ante Up before proceeding.
We caught up withTeam PokerStars Pro Eugene Katchalov to get his insight.
"I didn't come in with a set strategy," Katchalov said. "I came in with a more of a table dependent approach—more than normal. I'm seeing who's raising, limping, and folding. Everybody's trying to figure it out. It's so new and there's not a lot of info out there yet."
It seems to be working for now. He's currently fifth in chips.
Dinner Break With Joey Weissman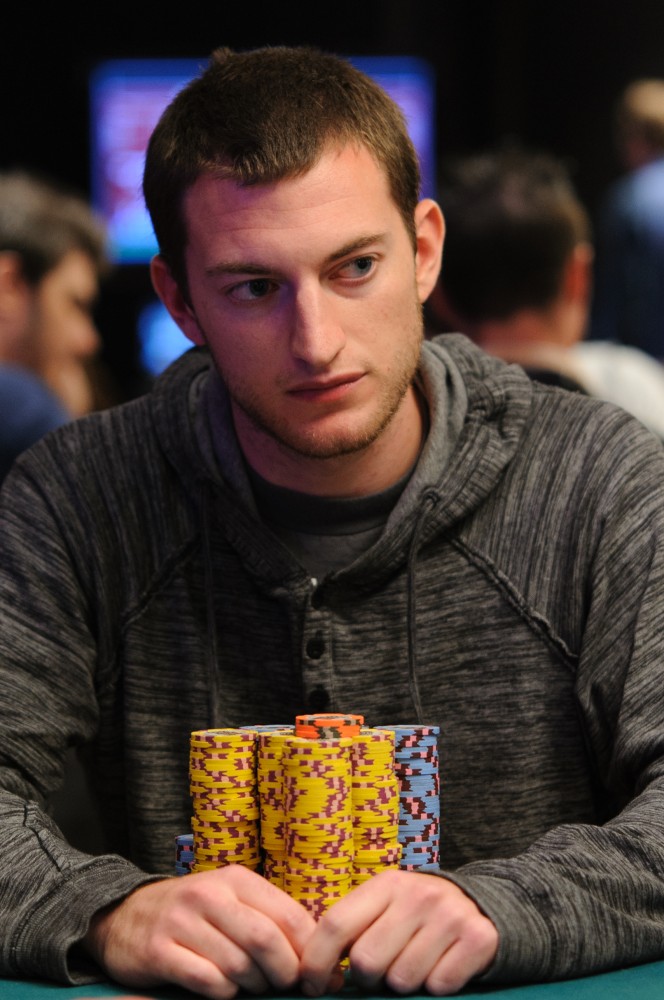 The final table of Event 46: $2,500 No-Limit Hold'em is currently on break. Six players remain and Joey Weissman continues to have the chip lead.
We caught up with Weissman on break to get his thoughts thus far.
"It's been a lot of fun. I'm been very aggressive as i should be with the chips I have. I'm glad a couple of the tougher players have been eliminated."
One of those players was Michael "Gags30" Gagliano who busted in 7th place.
"I have quite a bit of respect for his game," Weissman said. "We've played a lot online."
Guess Gavin's Drink
We snapped a picture of Gavin Smith with his trademark cocktail. We've seen him on multiple occasions with the same drink but could never figure out what it was untill today. Lets see if our readers can figure it out.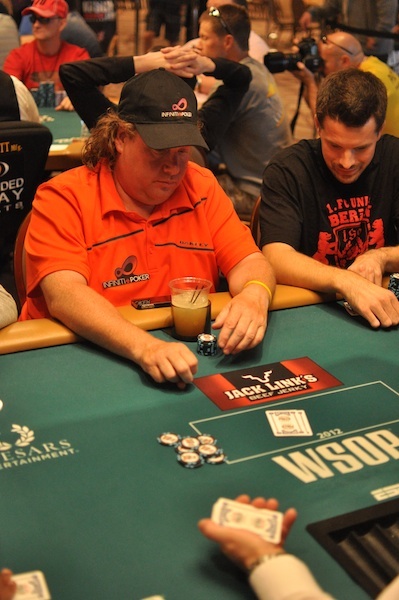 Poll
What's Gavin Smith's Trademark Cocktail?
We'll post the answer in tomorrow's edition of The Muck.
Ronnie Bardah Paying Us A Visit
WSOP 2012 bracelet winner Ronnie Bardah is being interviewed tonight in PokerNews headquarters. He'll be talking about his win in Event 40: $2,500 Limit Hold'em - Six-Handed and his adventures in Thailand. Keep an eye out for the podcast.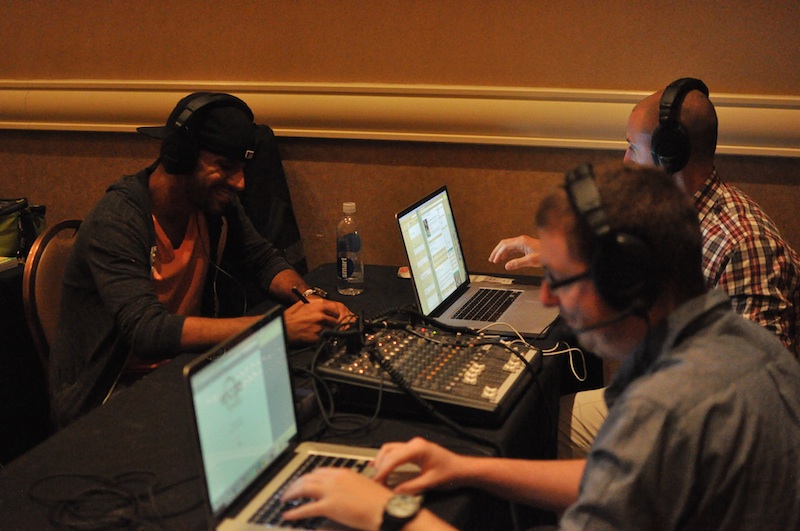 Final Table Bubble $50,000 PPC
Event 45: $50,000 Poker Players Championship is down to nine players.
Here are some shots of the action: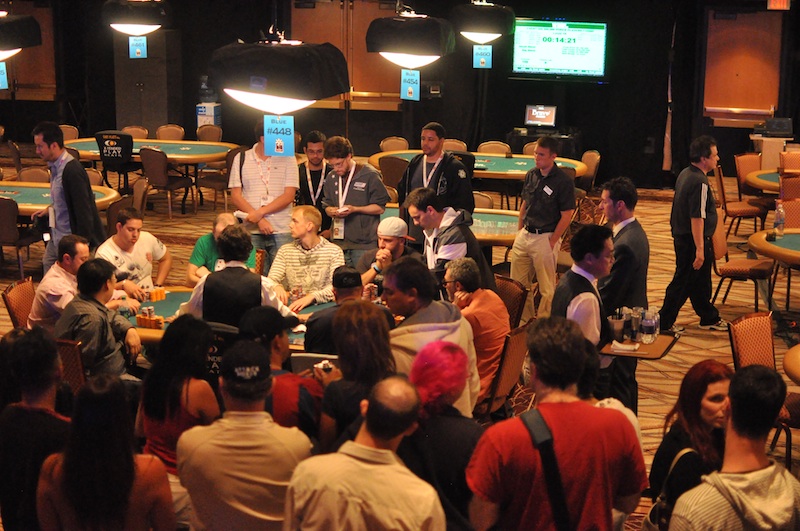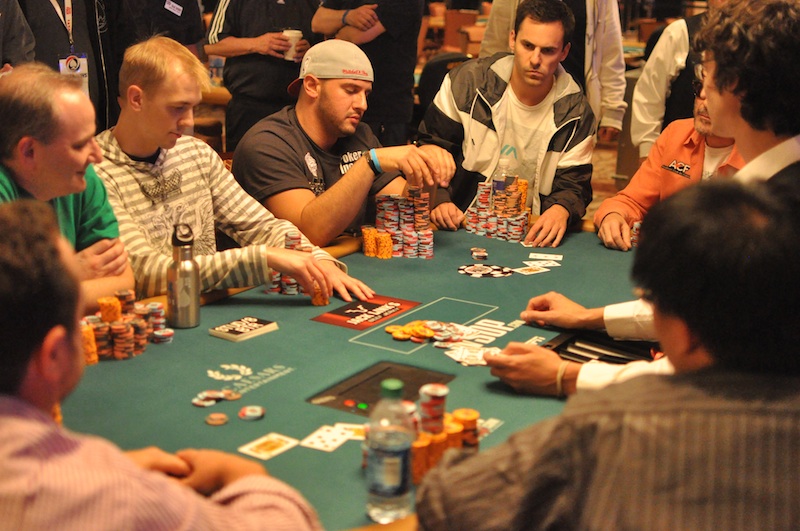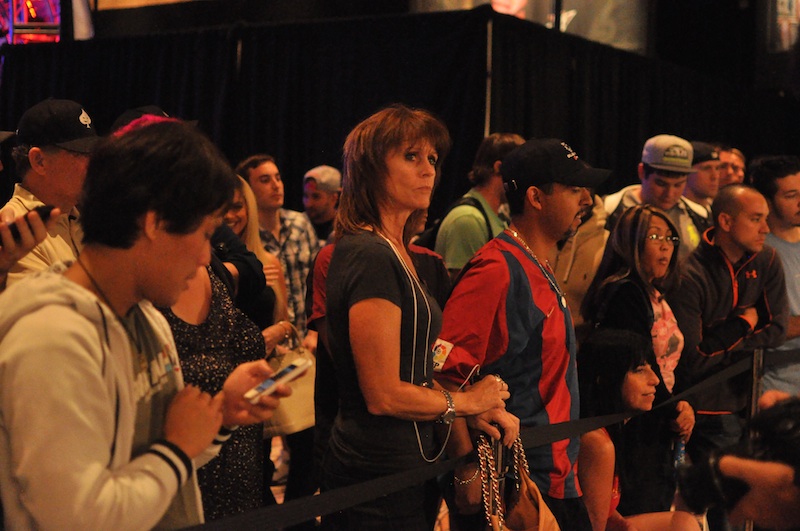 We caught up with spectator Terrance Chan to get his thoughts on the play.
"Pretty hard to say without seeing the cards but nobody is really playing to just move up. David (Oppenheim) and Bruno (Fitoussi) are the short stacks but they haven't been nitting it up to try to squeak into the final table, which is to be expected with a tournament of this magnitude and buy-in ($50,000)."
Action will conclude for the night once the bubble burst (eight handed final table for 8 game mix). Final table will start tomorrow.
The Grinder In One Drop?
David Oppenheim was the final table bubble boy of Event 45: $50,000 Poker Players Championship. The final table will start tomorrow. Michael "The Grinder" Mizrachi will be entering the day as the chip leader.
At an adjacent table we spotted Mizrachi's rail, which included his brothers,Hassan Habib, and his friend "Louie." They were just sitting around, laughing and doing card tricks when Louie approached us and said, "Hey, you want a story for PokerNews?" Of course we snap-called obliged. He then proceeds to tell us that Michael Mizrachi will be playing in the One Drop. He then showed us this check as proof: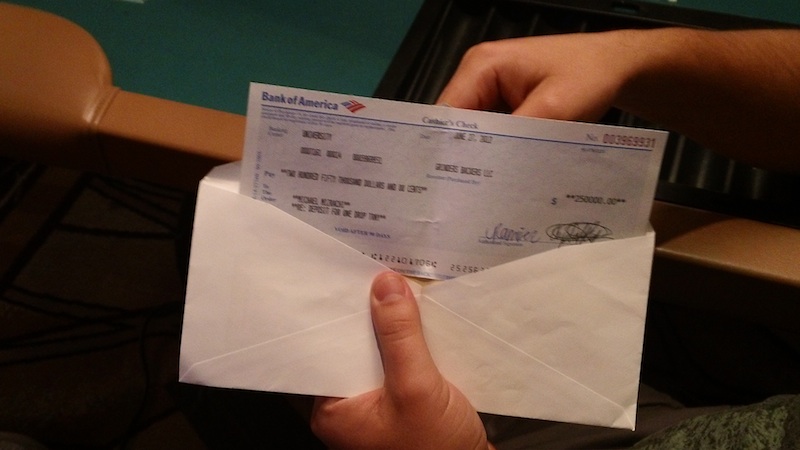 The buy in for One-Drop is$1,000,000, so maybe this is a deposit.
The Grinder In One Drop: Updated
Well, it's official. We just saw this tweet from Michael Mizrachi's twitter:
It's official @TheGrinder44 will be playing the $1,000,000 buy in One Drop event. Here is the deposit check! http://t.co/8KYAFbrx

— The Mizrachi's (@TeamMizrachi)
Night Cap
It's the last level of play in Event 48: $3,000 Limit Hold'em and we were privy to some chatter at a table, featuring Maria Ho, Team PokerStars Pro Jonathan Duhamel, andDwyte Pilgrim.
The money bubble had just burst and judging by the beers Pilgrim and Duhamel were enjoying, the table was in good spirits. Ho was having what appeared to be some wine as well. Both Ho and Pilgrim were lamenting their birthday run-bad when they realized an upcoming tournament falls on their fateful day.
"I don't think I've ever run-good on my birthday," Ho said. "Maybe it's the Poker Gods way of telling me to do something else with my life on my birthday."
Moments later a short-stacked Mario Ho busted, but not before the waiter delivered her night cap.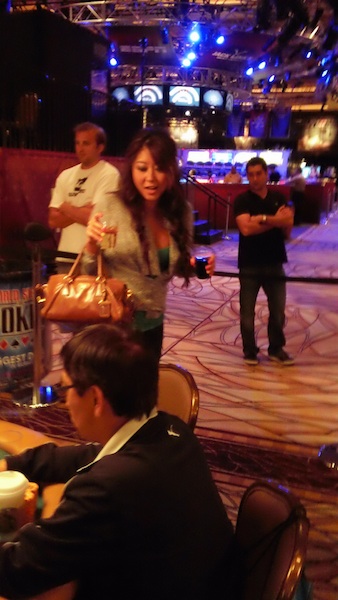 We encourage everyone to get involved with "The Muck." See something you think is Muck worthy Send it to the muck@pokernews.com. We accept all media including photos and videos.