Off the Felt with Lauren Kling: Women Players in Action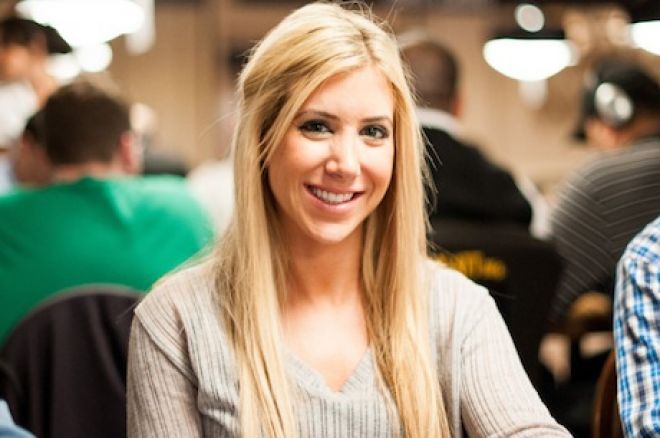 It's only Day 5 of the World Series of Poker and a handful of women players are already making a splash. Is this the year of the woman? We caught up with Lauren Kling to see what they thought of all the women already making their name at this year's WSOP.
Kling is a prominent online player who has several five- and six-figure cashes. She has two runner-up finishes in Ladies' events at the PokerStars Caribbean Adventure.
Trish Baker was heads up in Event #1. Vanessa Selbst made the final table of Event #2. Annette Obrestad made the final 8 of Event #3. Xuan Liu came into Day 3 of Event #4 leading the pack. Just four events, and already four women are making huge runs at the WSOP. Who do you think is next?
Next? I'm not sure. The caliber of play of women nowadays is so much stronger and better than it has ever been before. There are so many great female players who are constantly in contention and final tabling major events. I really think a woman is going to win an open event this year, which would be awesome.
With four strong performances already, what does this mean for women at the WSOP?
It's a great sign for other female poker players, as these four women are proving to the world that women can win and be extremely successful in this industry. I strongly encourage other women, especially those who might not be professional poker players, to come play the $1ks, $1,500s, or any WSOP tournaments they feel comfortable playing.
What does this mean for men at the WSOP? Do they have something to watch out for now?
It definitely affects their ego one way or another. Whether it is positive or negative, that depends on the guy you are asking. There are pretty much two types of men I have encountered in poker: the type who is really happy and thinks women doing well is great for poker, which it is, or the type who is more of a chauvinist and can not stand to be beat by a female, has an ego problem, or some type of female issues. I definitely find this aspect of the game and the psychology behind it very fascinating.
Who got you into poker? Who were your idols? Who did you idolize as a poker player?
I never really idolized anyone. I have always respected Vanessa Rousso and Annette Oberstad. Vanessa was the only female that was constantly grinding the tournament circuit and Anette was the only true female online grinder. Nowadays, there's so many great poker players, male and female, it's hard to pick just one. Things were much different when I was 18!
How did you start getting into poker?
I got into it freshman year of college so rather late, in comparison to most online players. I was playing for five dollars a game in the dorms and ended up getting more into it my senior year of college. Although I was playing recreationally throughout college, senior year when I got more into it, I was flying to Vegas every other weekend, playing cash games. I lived in a sorority and by second semester senior year, I was writing my thesis on poker, teaching a poker and blackjack class, and grinding online in small $24 and $50 tournaments. Half the girls in my sorority would come watch me play and thought it was cool and pretty sure the other half thought I was crazy (laughs). I became totally immersed in it the more I studied, played, and learned.
Years ago, there was a huge gap between men and women players. How do you think the gap has narrowed between men and women over the years?
There is an extensive amount of accessible information and videos on the internet. The gap has narrowed a lot because of the information that is readily avialable to anyone. There are so many training sites, discussion forums, and help available. A lot of the people in the industry who are more experienced and have been around longer are willing to help as well. When I was playing today I was asking Brian Hastings and Scott Seiver about a hand I wasn't sure if I played correctly. Constantly talking to people who are better than you and willing to help or give their input on hands is one of the best ways to improve.
Back in the day, women weren't so welcomed at the poker table. For you and other female players these days, do you feel like women are completely welcomed at the game now? Is there still a stigma? Is there work to be done?
Overall, we are pretty welcomed. Maybe not so much to some of the older players who aren't used to it; there's a generation gap. For the most part the younger players welcome it. They like it and think it's great a woman is willing to battle at the tables and does not fear that she is usually playing against eight men. Can't think of a reason why they wouldn't want to play with females at the table.
What holds women back from playing bigger buy in events?
I think that there are a couple of issues. One is that the fields are a lot tougher. Another is the buy in itself is really expensive for a lot of women who are just starting out or building their bankroll. There are not as many women in poker, so there is a smaller ratio in the bigger events, since the fields aren't as large. Also, I think a lot of women get really nervous or intimidated to play big events. Maybe they'll have someone they have seen on television, like Phil Ivey or Phil Helmuth at their table and that's scary for them. I have spoken to some women in ladies events and smaller buy-ins and those are some of the concerns they have voiced.
The Ladies' World Championship event is only $1,000, compared to $10,000 for other championship events. Should the Ladies' World Championship buy in be raised? Why or why not?
I would like it to change.
What would you like to see it as?
It would be nice if there could be two events. A smaller one that would be $1,000, and then a bigger one that could maybe be a $5,000. It would give the female pros a shot at winning a tournament that started with more than 3,000 chips, which can be kind of a luck fest if you're used to starting with 200-300 big blinds. For females who aren't pros, who are taking shots or trying to be a pro could get the opportunity to build a bigger bankroll. The $1,000 event is great because obviously a ton of women who are comfortable playing lower stakes play it and it gets more recreational players, but it would be nice to see something bigger for the serious professionals or those trying to become professional players.
How do you feel about the men who decide to play in the Ladies' Event?
It's obviously silly. I don't know how else to put it. It's pretty ridiculous overall. If a guy really feels compelled to play in the women's event, then I don't even know what to say! What ends up happening to the men in the field, is the women are going to knock gang up on them, knock them out, and they're just going to feel like an idiot. Last year there were probably nine guys who played, and everytime one got knocked out, everyone was cheering. So if you really feel compelled to play the Ladies Event and you are doing it for an ego boost, you're probably going to get the opposite.
What would it mean for female poker is a woman make the November Nine this year?
It will be incredible when it happens and will really change poker for both men and women. I think it will even get more men into it just because they will see that anyone is truly capable of final tabling and winning The Main. When Chris Moneymaker won, it started the poker boom and I actually believe this could start another. Even if the female is a professional, which obviously in Moneymaker's case he was a recreational player, it will represent a paradigm shift for the poker world and will be truly amazing.
Is this the year of the woman at the WSOP?
Yes, it definitely seems like it so far. Can not wait to see how far we will come by mid-July.