All Mucked Up: 2012 World Series of Poker Day 4 Live Blog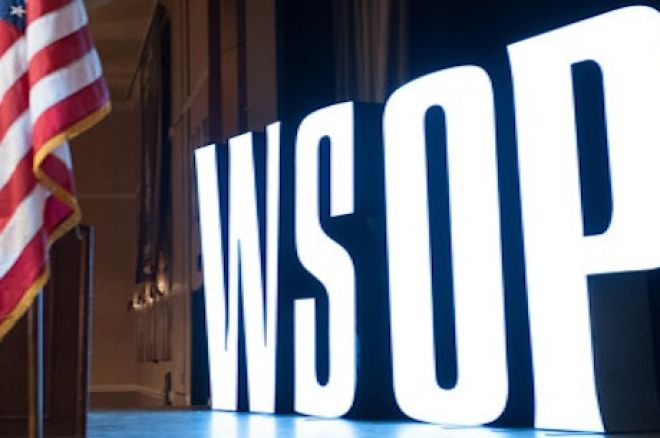 You want to know everything that's happening at the 2012 World Series of Poker and we're going to do our best to keep you in the know. Here we'll answer the hard-hitting questions like, "Are there any celebrities in the field?" Check back often, you never know what you'll find.
The Final Table Radio Show
This morning in the Rio hallways we caught 2008 November Niner Dennis Phillips and Paul Harris with a booth set up. We talked to Phillips and Harris who are recording their radio show, The Final Table Radio Show with Dennis Phillips & Paul Harris, right from the hallway. The duo has been recording interviews and will continue recording interviews for the next few days, Phillips told us. Already making an appearance on the show was Shannon Shorr. Maria Ho will also be making an appearance.
You can listen to the radio show every Tuesday from 3 PM to 4 PM CT on 590 KFNS radio.
Prop Bets
We wanted to get a feel for some of the prop bets going down at this years World Series of Poker, so we talked to Jason Mercier.
"I don't really have anything interesting going on," Mercier said. "But I have some bets against Negreanu andIvey for mutually played events. Just for cashes, final tables, wins, stuff like that."
We also talked to Marvin Rettenmaier, recent winner of the $25k World Poker Tour Championship.
"I've got a lot of money in staking players, but I don't have any prop bets yet," Rettenmaier said. "I'm sure I'll get some though as the series goes on."
The thing that most players seem to be interested in during today's Event #6: $5,000 No-Limit Hold'em Mixed-Max is Chinese Poker. We already caught Mercier and David Williams playing Chinese Poker for an unknown amount per point from two different tables across the Brasilia room. We also heard that Joseph "subiime" Cheong would back against any player who wanted to play Mercier in Chinese Poker as well.
We'll be sure to update our prop bets section as we hear more and more being made throughout the World Series of Poker.
Cheong's Difficult Table Draws Continue
Yesterday we brought you some tweets from Joseph Cheong that described some of his table draw woes. Today is no different as recently he tweeted about his table in Event #6: $5,000 No-Limit Hold'em Mixed-Max. This time, it's not the smells that are bothering him:
Every table in the 5k looks tough. Mine is no different w charder, gray, junglen, mcc and other pros I forget the names of

— Joseph Cheong (@subiime)
We'll keep an eye on Cheong's tweets and seat draws for the rest of the series, so stay tuned.
My Milkshake
Another interesting tweet today came from Daniel Negreanu, who tweeted about a song he had stuck in his head:
Not sure how or why but that song "My Milkshake brings all the boys to the yard" is currently stuck in my head.

— Daniel Negreanu (@RealKidPoker)
We'll catch up with some other pros to see what other songs they can't get out of their head at the tables.
Prop Bets Part Two
Fantasy Poker has been all the rage with players coming into the series, which is why we're not too surprised with this next prop bet that we caught going on in Event #6: $5,000 No-Limit Hold'em Mixed-Max
Gavin Smith, David "Doc" Sands, Scott Clements, and Darren Elias have an interesting prop bet for Saturday's Event #9: $1,500 No-Limit Hold'em Re-Entry.
David "Doc" Sands walked us through the bet. All four of the players have drafted fantasy teams of seven players, five starters, and two alternates for the event. Each player already has themselves on their team. The player whose team cashes for the most money wins $100 from the other three players. If one of their players makes the final table, then they receive $300 from the other three players, and if one of their players wins, they receive $1,000 from each of the other three. All in all they could receive up to $4,200 total for the bet.
The players drafted snake style at their table in the Brasilia room. For the first round, 'Doc' picked Jason Mercier, Clements picked Vanessa Selbst, Elias grabbed Sam Trickett, and Smith took "Chicago Cards." There's a good amount of money on the line so we'll follow this bet when we live report on Event #9 Saturday.
Breaking it Down with Brett Richey
Drawing Thin Part 2
Yesterday, we spoke to some of the pros about their health and fitness regiments. Today we ran into Dave Swanson, who is better known as All-American Dave. He was making some food deliveries for some of his clients, including Ben Lamb, Robert Williams, and Steve Gross. In addition to providing meals, he also trains many of his clients as well, including Antonio Esfandiari, Sorel Mizzi and Ben Lamb.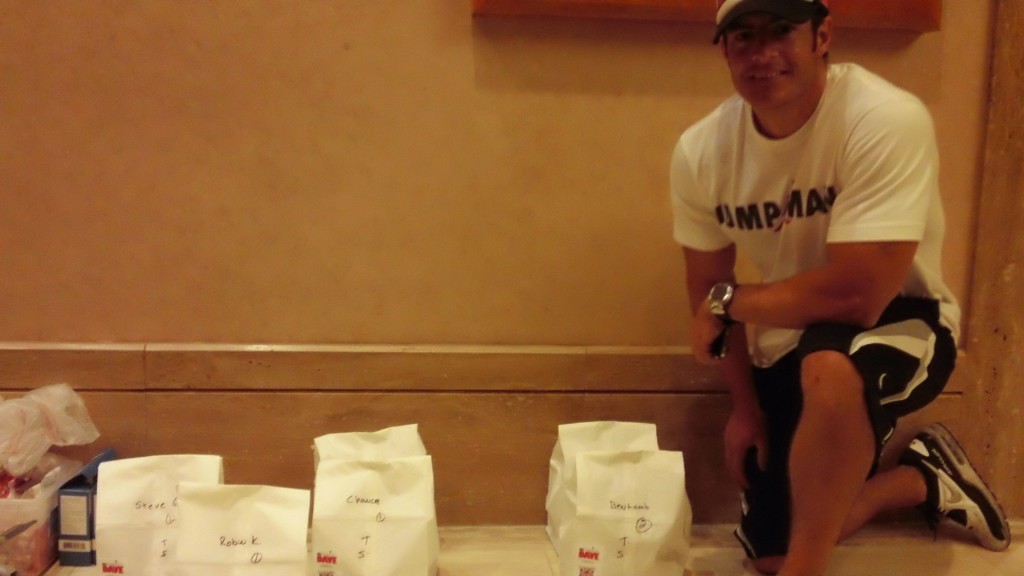 Dave showed us his burger dish.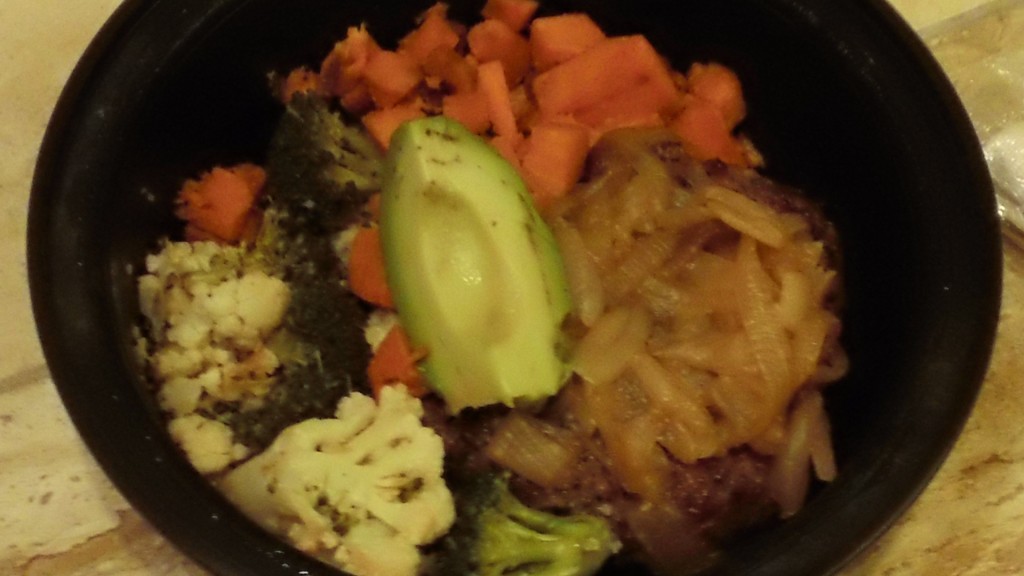 "It's so far beyond any meat you'll find," said Swanson.
Last year at the 2011 WSOP, Kristy Arnett "+]caught up with All-American Dave, so be sure to check out that video.
On Break
We spotted high stakes pro, Chau Giang, on break from the WSOP Event #7, $1500 Seven Card Stud . We asked him if he planned on wearing his cowboy hat, made famous in Sarah Grant's interview with Shaun Deeb.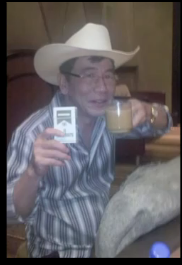 "Oh we'll see," said Giang. The picture above was taken at Bobby's Room. We asked Giang his impressions of Deeb's mixed game skills. "He plays very aggressive, but a very solid player," said Giang.
Drawing Thin Part 3
We reported yesterday of the basketball games Vanessa Selbst, Olivier Busquet, Galen Hall, and Yevgeniy Timoshenko have been lacing up for to stay fit during the WSOP.
Today we discovered Tristan, "Cre8tive", Wade and Faraz, "The Toilet," Jaka plan on showing off their skills on the hard-court as well.
We asked Wade whose poker skills translate best on the court. "I'd like think myself actually. There are a couple of others that are alright too, but I still like my chances."
Jaka was in a hurry to get some sleep for a morning game of hoops after surviving Day 1 of WSOP Event #6, $5,000 No-Limit Hold'em Mixed-Max. "I gotta get up at 10:00am for a game."
With the number of notables in these games, it maybe time for a poker-pro basketball fantasy draft.
We encourage everyone to get involved with "The Muck." See something you think is Muck worthy? Send it to themuck@pokernews.com. We accept all media including photos and videos.