All Mucked Up: 2012 World Series of Poker Day 3 Live Blog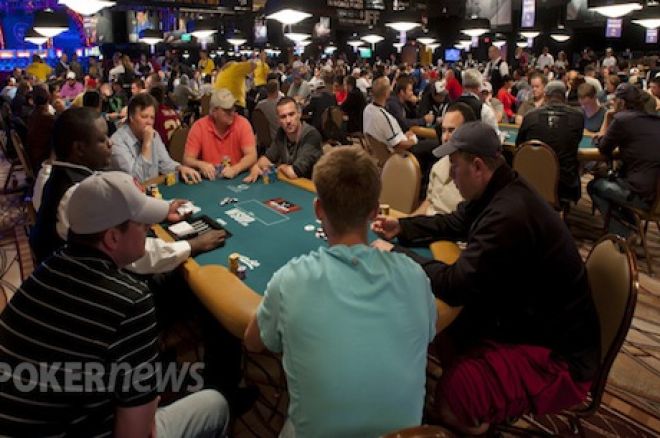 You want to know everything that's happening at the 2012 World Series of Poker and we're going to do our best to keep you in the know. Here we'll answer the hard-hitting questions like, "Are there any celebrities in the field?" Check back often, you never know what you'll find.
Spotted: Executive Director of the WSOP Ty Stewart, UFC Octagon Announcer Bruce Buffer, and Team PokerStars Pro Liv Boeree chatting in the hallway outside the Amazon room. Stewart was showing Boeree a picture of Buffer on ABC News. We're pretty sure it was this one. We didn't get an actual picture of Boeree's reaction, but it looked a little something like this: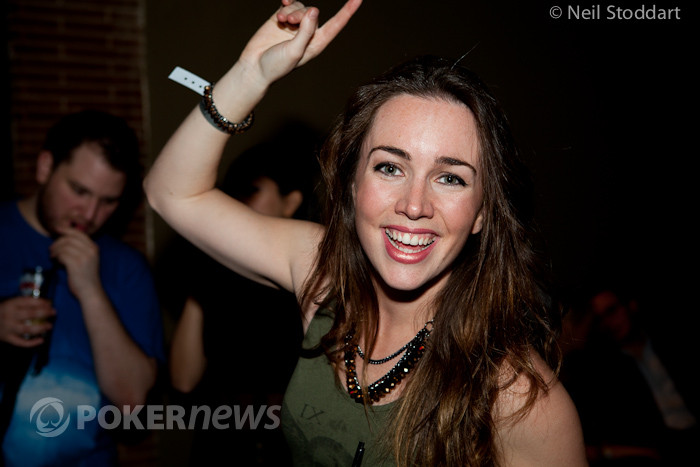 Red Alert: The fire alarm went off in the conference center at around 2:05 p.m. (It scared the crap out of us.) Instead of risking our lives, we sauntered over to our office door to see what was going on in the hallway, expecting mass hysteria. As it turns out, poker players are kind of like the honey badger when fire alarms are going off.
Celebrity Look-Alikes: We took our morning stroll though the Amazon Room to check out Event 3: $3,000 Heads-Up No-Limit Hold'em/Pot-Limit Omaha and were shocked when we passed by Purple Table 431. We did a double take and thought Penn Badgley (Dan Humphrey for all you Gossip Girl fans) was partaking in a little WSOP action. Turns out it wasn't him. It was Justin Smith, who could easily pass as the love child of Badgley and John Mayer.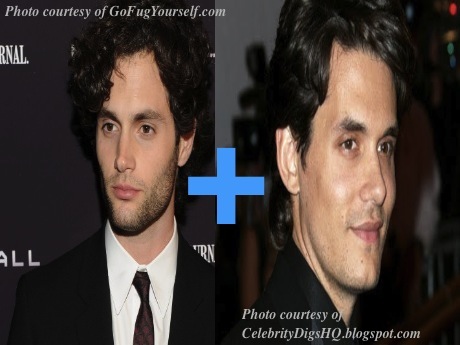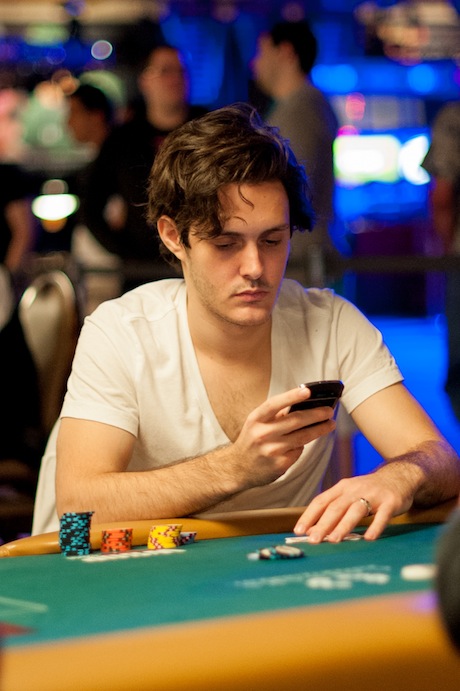 Where in the world is Tom Dwan?
We're already at Event #5 of the World Series of Poker and Tom Dwan is mysteriously, or not so mysteriously, missing. We talked to several pros to see where they thought Dwan was, and where they thought Phil Laak thought Tom Dwan was.
"He's probably somewhere more important to him than the World Series," Antonio Esfandiari said. We also asked Antonio where here thought Phil Laak would say Dwan is. "Phil Laak would probably say that Tom Dwan is at the bank. Cashing in all his money, because he's got too much of it."
Oddly enough, Phill Laak has been absent for the first few events of this series as well, so we asked Antonio where Laak has been. "Phil Laak isn't here because he's got too much money," Antonio said. "He's mucking hands for 85k, he has way too much money to be here."
"I'm sure he's in east Asia somewhere," said Scott Seiver, who was in the hallway on break from the $1,500 Pot Limit Hold 'em event. And for fun we asked Seiver where he thought Laak thinks Dwan was. "Phil Laak would say that Tom Dwan is on a meditation retreat somewhere in Peru, finding his inner Chi."
Chad Brown was making his way back to his table in the $1,500 Pot Limit Hold 'em event as well when he asked him where he thought Tom Dwan was. "If he's not here, he's probably at some huge cash game in Macau. Ivey is here, and a lot of the other pros are here, so he probably thinks he has such a big edge, it's worth more for him to be there." We also asked Chad where he thought Laak would say Dwan was. "Phil's a pretty smart guy. I'm sure he'd say Macau."
In our last attempt, we caught David Williams, who had just won his match in the $3,000 Heads-Up No-Limit Hold'em/Pot-Limit Omaha, and he had the answer we were looking for.
"Oh, I talked to Tom last night," Williams said. "He's in Macau." We asked Williams why Dwan would be in Macau instead playing every event at the series again, as he did last year. "PokerNews has had some reports, you know how Tom has won huge pots in Macau. Something like $4,000,000. Obviously, the amount of money he's winning over there must dwarf the money he would win from a bracelet bet."
Finally, we asked Williams where he thought Laak thought Dwan was. "Phil's a smart guy. He's a little weird, but he knows. He'd say Tom's in Macau."
Who Wore it Best: While roaming the halls of the Rio between the tournament rooms we came across these two gems wearing white on white, or as we like to call them Whioutfits. Maybe they took some fashion advice from Bubba Watson.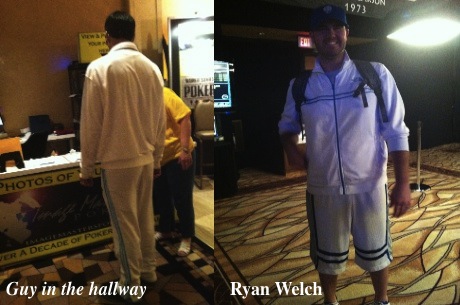 Overheard on the Rail: "Doyle almost ran me over in his wheel chair last year."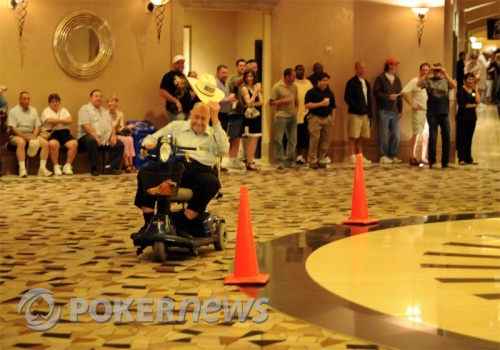 Last night we talked to Liv Boeree about what it's been like living in the same house with three other female pros. Today we caught up with Maria Ho who gave us some some insight on what it's been like in the ladies' house.
"It's been a crazy couple of days," Ho said. "There's still been workers at the house because Rousso just finished up." Vanessa Selbst is also at the final table of Event #2: $1,500 No Limit Hold 'em, so we asked Maria if she thought the house had some "run good" associated with it. "I feel like it does," Ho said. "But we don't want to use it all just yet. We want to spread it around so everyone gets a piece of it."
We also asked Ho who she thought was the messiest in the house. "Liv will admit to you that she is the messiest," Ho said. "So far she's kept the mess to just her room, but I can see it becoming a problem in a couple of weeks."
Finally we asked Ho who she thought the best cook was. "Vanessa Selbst," Ho said. "The morning of the $1,500, Vanessa made omelets for the whole house. She makes a mean breakfast. I guess they were lucky omelets."
Who Ya Got?
L.A. Kings vs. New Jersey Devils
Tonight is the Game #1 of the Stanley Cup, with theL.A. Kings and New Jersey Devils. We talked to some pros to see if they had bets on the game, and who they thought would take home the Stanley Cup.
First, we talked to Gavin Smith and asked if he would be watching the game tonight. "I hope to be playing here tonight," Smith said. So we asked who he thought would win the series, to which he responded, "The Kings." Smith also said he had no bets on the series.
We talked to Chad Brown as well, who admitted that he's not a huge hockey fan. "The Kings are the Cinderella story of this series aren't they?" Brown said. "But it's just like anything, you don't have to be great the whole season. You just need to have a team with a lot of chemistry. The San Antonio Spurs are great evidence of that. In the end it's about chemistry. That's what it takes to be successful."
David Williams said that he would not be watching the game, since the NBA finals are also on tonight, but that he would be rooting for the Kings. We also talked to Jonathan Duhamel last night for the Muck's live blog. Duhamel said that he was a Montreal fan, but that he thought the Kings would win the series.
We'll be sure to keep you updated on what the pros think about any other upcoming sporting events.
Heat vs. Celtics
PokerNews also talked to several pros regarding the Heat and Celtics series going on this week and any bets they had on the series. Here's what they're saying:
Jason Mercier: "I've got money on the series and the Heat to win the championship."
Brent Hanks: "I didn't touch it," Hanks said. "But I would bet the Heat to win by at least ten."
Antonio Esfandiari: "I don't know anything about sports," Esfandiari said. "A bunch of guys throwing a ball in a hoop? I just don't get it."
Andy Frankenberger Said he doesn't bet sports much, but did say he would've picked the Heat to win. "The Heat should be a massive favorite," Frankenberger said. "And I'm from Boston."
Looks like the overwhelming choice from the pros is to bet on the Heat.
Joseph Cheong's Unlucky Seat Draws
If you don't follow Joseph Cheong on Twitter, you definitely should. For the past few days he's been tweeting descriptively about some of his unlucky seat draws. Trust us, it's not because he's scared of his opponents. Check out these tweets:
Bracelet Celebrations
As you may know, the winner of a WSOP event gets to have their native country's national anthem played during the bracelet ceremony. Lets say, in addition to the anthem, you also have the song of your choice played as well, like a hitter in baseball has a walk up song before coming up to the plate. What song would you pick?
We spoke to Brent Hanks, shortly after his Event #2: $1,500, No-Limit Hold'em win. We asked him what song he would want played at his bracelet ceremony. "Everything in its right place, by Radiohead," said Hanks. Congrats Brent. Enjoy!
Stay tuned, as we'll be posting the selections of many of the pros we encounter here at the Rio.
Drawing Thin
It can be challenging staying fit and eating healthy during the WSOP. The hours are long and the grind can take its toll. We'll be asking the pros what fitness and health regiments they follow to stay fit.
Yevgeniy, "Jovial Gent," Timoshenko, has his own way of staying in shape.
"This summer I'll be playing a lot of basketball," Timoshenko said. We asked him if any others pros join him on the court. He said, "Vannesa Selbst, Olivier Busquet, and Galen Hall play as well."
Antonio Esfandiari likes the convenience of All American Dave. Their meals "are cooked and portioned with health and fitness in mind," and they deliver.
"I order food from All American Dave and they deliver it to me here at the Rio," said Antonio.