Who Ya Got: NBA Playoffs 2012 — Oklahoma City Thunder vs. San Antonio Spurs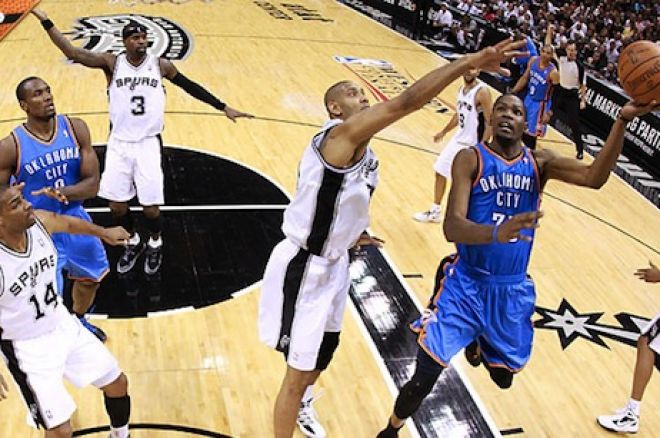 The Oklahoma City Thunder faced the Spurs in San Antonio Tuesday night for game two of the Western Conference Finals, which begs the question, "who ya got" on tonight's game? The Spurs lead the best of seven series 1-0.
While roaming the halls of the Rio we asked several pros who they were betting on.
ESPN commentator, Norman Chad, doesn't care as long as the winner of the series beats either the Heat or the Celtics, "I hate teams with knuckleheads."
Jeff Madsen likes the Spurs in tonight's match. He won't be making any wagers though, "I'm avoiding betting on sports until I win another bracelet."
Bill Chen was making his way to WSOP Event #4: $1,500 Seven Card Stud Hi-Low 8-or-Better event and emphatically endorsed the Spurs, "They haven't lost a game!"
Chad Brown doesn't have a pick but stressed to his students the importance of focusing on poker, "The WSOP only comes around once a year."
Oklahoma Boomer Sooner Doug Lang, says "I'm a big OKC fan, I think OKC is gonna win in seven."
Stay tuned for more of "who ya got" as the NBA playoffs continue.
*Photo courtesy of Sports Illustrated