All Mucked Up: 2012 World Series of Poker Day 2 Live Blog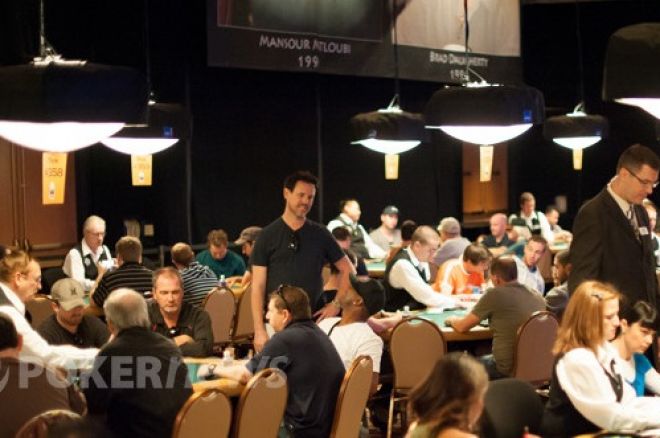 You want to know everything that's happening at the 2012 World Series of Poker and we're going to do our best to keep you in the know. Here we'll answer the hard-hitting questions like, "Are there any celebrities in the field?" Check back often, you never know what you'll find.
Event #3: Heads Up No-Limit Hold'em/Pot-Limit Omaha. With 319 players registered for the event it seemed there would be one lucky player who got a bye in the first round. Turns out lots of players ended up with some similar opponents and a bye. We're not going to say they started copying each other, but come on.
First one down. On to round two! They're making the next match trickier. I have to play person. #WSOP

— Phil Galfond (@PhilGalfond)
3 people have tried to fake me out that they are my opponents... wasn't buying it until elky showed up ... but he was in the wrong seat.

— corey burbick (@coreyburbick)
First opponent not playing very tough so far. #WSOP http://t.co/WaDZLN4K

— Phil Galfond (@PhilGalfond)
Here's a pic of my first round opponent in the $3k HU. GL ME! http://t.co/aIdJdcGg

— Matthew Waxman (@Matthew_Waxman)
Lol played my first match had my opponent down to 2k vs my 16k and then floor came over and we were in wrong seats and ended up both winning

— Eugene Katchalov (@EugeneKatchalov)
On the Break: During the break of Event #2, we caught up with the two giants (literally) in the field, Brent Hanks and Ryan Welch. On top of teaching us how to play tennis (see the picture below), Hanks taught us how to go from "a chip and a chair" to 60,000.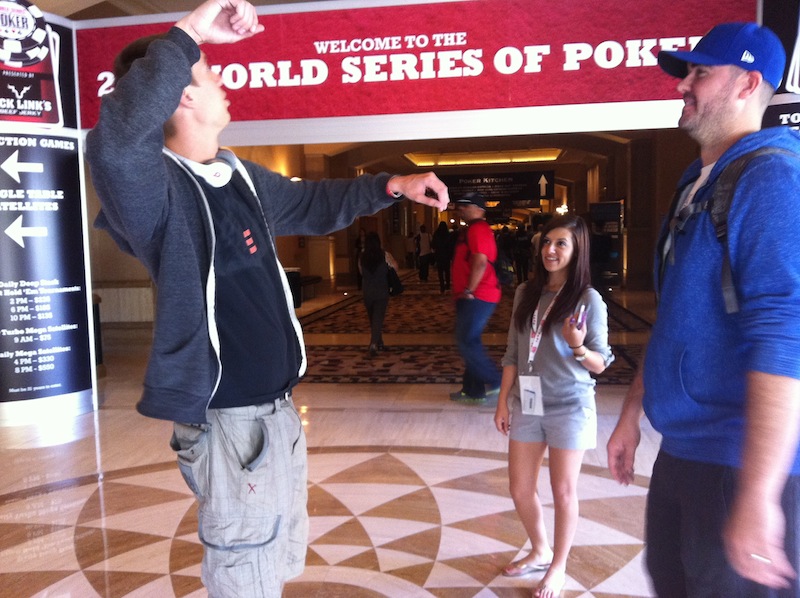 Heads-Up with Busquet: We caught up with Olivier Busquet for a quick chat after he won his first round match in WSOP Event #3: $3,000 Heads-Up No-Limit Hold'em/Pot-Limit.
Will you be doing any commentary work this year? "Not sure, but I'd really love to." He added it would also depend on his schedule as well.
What commentators do you enjoy? He cited Antonio Esfandiari, Isaac Haxton, and the ESPN WSOP duo of Lon McEachern and Norman Chad as some of his favorites. He also gets enjoyment from Scott Huff and Joe Stapleton in the "PokerStars.net, The Big Game. Those guys are really funny."
What do you miss the most about online poker? "Being able to play at home and have dinner with the wife and kids."
Has your game changed at all since playing primarily live poker in a post Black Friday era? "With live poker, I take my time more now," which he says helps him "trust his instincts more."
What team are you rooting for in the NBA playoffs? He says he'd really love for a team from the Western Conference to win it all, ideally the San Antonio Spurs. "I have so much respect for Tim Duncan and Gregg Popovich."
Ballin' at the WSOP: Negreanu's Trailer
How do you play this game?
We caught up with Joseph Cheong who was playing in his first seven card high-low eight-or-better event. He told us it's the first time that he's ever played any form of stud. He said, "I have no idea how to play." There is a precedent though; we reminded him that Cliff "JohnnyBax" Josephy, won a seven card stud bracelet in 2005 without ever playing the game. "That's my hope," he replied.
Cheong's friends talked him into playing the event and he plans on playing "almost everything" this series. He failed our seven-card stud pop-quiz though. We asked him if he knew what the "bring in" is. He replied "A call or a raise?" As long as he remembers that the best five card hand wins, he should be okay.
On the Stud-8 Rail
While walking around the $1,500 Seven Card Stud Hi-Low 8-or-Better event we caught up with Liv Boeree who talked to us a bit about her living situation for the summer. Boeree is living with pros Vanessa Rousso, Vanessa Selbst, and Maria Ho in Rousso's new house.
We asked Boeree who the messiest person in the house is. "Oh that's me without a question," she said. We also asked her who the best cook is to which she responded, "Probably Vanessa Selbst, then Maria."
Luckily, the girls don't have to worry about who takes the longest in the bathroom because all of them have their own suites in the house. "It's the most amazing thing ever," Boeree said. "It's Vanessa's dream house and she has it already when she's just 29."
Finally we asked her when the first party is going to be. "We're having a huge blow out on Friday," Liv said. "We've got ping pong, a golf green, basketball courts, beach volleyball, tennis courts. It's really amazing."
Boeree told us that the next event she plans to play is the pot-limit hold'em tournament on Wednesday.
We also caught up with Jonathan Duhamel who was on the rail for the stud event as well. Duhamel told us that he planned to hop in the event as soon as he got something to eat.
We asked him who he thought would win the Stanley Cup as well, since he is a big hockey fan.
"Oh L.A. for sure," Duhamel said. "I'm a Montreal fan since I'm from there, but they sucked." He also plans to play Wednesday's PLH tournament.