2012 World Series of Poker: Busting Early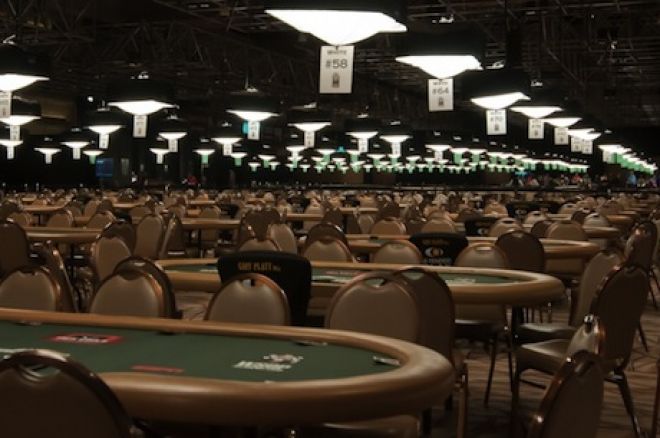 No one ever goes into a World Series of Poker event with plans for later in the day. Why? Because everyone plans on sticking it out through the night and on to Day 2. But what happens when plans change? We caught up with some early bustouts from Day 1 of Event #2: $1,500 No-Limit Hold'em at the WSOP to find out how they were going to fill the rest of their day.
Two-time bracelet winner J.C. Tran told us he likes to hop right back in and play cash games, a little "hair of the dog that bit him."
"I doubt there is any games going right now," Tran said. "But there are some playoff games on TV, so I guess I'll watch those." Tran said the next event he'd be playing is Tuesday's $3,000 PLO Heads Up.
We also spoke with Jeff Madsen, 2006 WSOP Player of the Year, who busted when he ran his ace-king into kings. "I just like to get out of the building," Madsen said. "I just like to see how my friends are doing, then maybe go out and see a movie, or go home."
Xuan Liu also busted out of Event #2 in the first few levels. Liu said that she likes to get some good food, and go back to her apartment to relax. "Diablo just came out, and I've been playing that," Liu said. "So I might go do that."
Joseph "Subiime" Cheong, 2010 November Niner, was one of the other bust outs from earlier today. "I've been going around collecting money people owe me," Cheong joked. "But usually when there is another tournament running, I like to play in those."
And what about when you bust out of the tournament and you've got hunger pangs?
Teddy "Iceman" Monroe recommended the bass fish at Joe's located in the Forum Shops at Caesars. He says, "they treat you like a movie star there." Be prepared to bring an appetite, he says, "you'll need a doggie bag."
We caught up with Xian Liu shortly after she busted WSOP Event #2, when asked what were her favorite eateries, she replied, "Don't wanna give away my secrets," but she recommends Chinatown Vegas for Vietnamese food.
PokerStars Team Pro Jason Mercier says, "There are lots of great sushi places in Vegas," and recommended Oyshi Sushi and the Fix at Bellagio.
Follow PokerNews on Twitter for up-to-the-minute news.