What Would You Do With a One Drop Buy-In?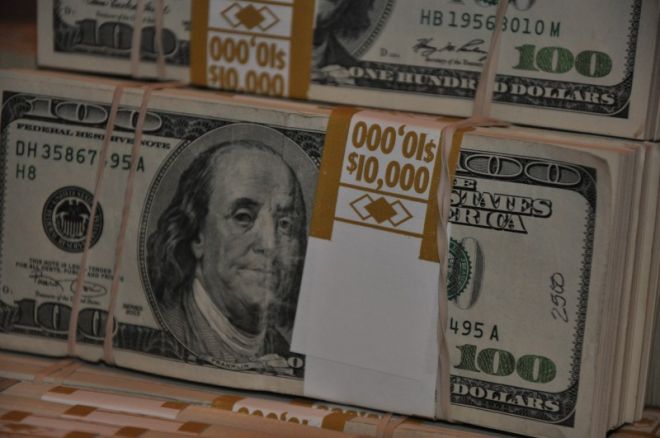 On Sunday, the World Series of Poker will host the $1 Million Big One for One Drop — the largest buy-in poker tournament in history. To put that into perspective, the first Main Event winner to earn $1 million was Brad Daugherty, who won in 1991. Prior to that year, the first-place prize was $895,000 or less, and the first six Main Events had a combined top prize of only $830,000.
We still ogle at six-figure buy-in events — although they're starting to lose their luster — but seven-figures is something else. The Big One is going to be very special, and Sunday can't come soon enough, but the buy-in got us to thinking: What else could we buy with a million dollars?
We'd still set aside $111,111 for charity, but with $888,889 of disposable income, we can assure you that we'd have a blast.
Two Courtside Seats to see the New York Knicks ($6,000)
If you don't like the Knicks, then insert your favorite basketball team. Don't like basketball? Then insert whatever team you like. All-in-all there's nothing like a front row ticket to a professional sporting event, and Madison Square Garden is "The World's Most Famous Arena." It's also the Mecca of basketball, and if you pick a Knicks/Heat game or a Knicks/Laker game, the crowd is going to be absolutely bonkers — even if it's a regular season game. You will also have a chance to chill with poker player Dan Shak and Spike Lee, who both sit courtside for dozens of Knicks games each year.
Two Seats at the 50-Yard Line for the Super Bowl ($11,600)
If the Knicks tickets don't entice you, then this has to pique your interest. The Super Bowl is the most-watched event in American sports, and sitting at the 50-yard line (which is the center of the field for all of you fútbol fans) would be a remarkable experience. Super Bowl weekend is an event in and of itself with all of the parties and expos, and this year the game is in New Orleans — a great party city. If you want to bring two more friends, then double the price and bring them along. After all, when you have $888,889, what's the difference between $11,600 and $23,200?
Ten Main Event Buy-Ins ($100,000)
This list has to have something related to poker, right? The Main Event is the softest $10,000 buy-in event each year — every professional player will tell you that. The upside of winning the event is also unmatched, because the winner not only takes home anywhere from eight to nine million dollars, he or she is also the ambassador for poker, and will forever be remembered as a world champion. Personally, I would gladly take on the role of ambassador for this game, and the title "world champion" sounds pretty sweet.
The worst-case scenario is that I brick all 10 events, and attribute my losses to #JustBadLuck.
A replica of the Ghostbusters car ($80,000)
Back in May, The Sun reported that Paul Harbourne, a 49-year old "geek" from England, created an exact replica of "Ecto 1" — the car from Ghostbusters. Harbourne was forced to look worldwide for the perfect 1959 Cadillac to work on, and spent more than £50,000 on tools, lights, sirens, paint and more. Who needs a Lamborghini, or some kind of fancy, push-to-start whip when you have the car from Ghostbusters? This is absolutely a must-have, and if I have to pay more than the £50,000 Harbourne spent to make it, I will.
Full Tilt Poker (About $3.50)
What? Too soon?
Two 90" LED TVs ($22,000)
Sharp and Mitsubishi have recently debuted 90-inch LED televisions — the biggest in the world — but Sharp's version comes with a few more amenities, including 3D technology, web browsing, Skype capability, and built-in WiFi. Why two, you ask? Because there are always multiple things to watch on television, and DVR doesn't apply to live events — aka sports. So, when your significant other wants to watch something, and you want to watch something else, you can do so peacefully. When someone wants to play video games while the other one watches television, it all works out. And on Sundays, when there's fifteen NFL games on TV, you can catch nearly every play using two TVs and the very popular Redzone Channel.
100 pairs of shoes ($15,000)
The average pair of Nike iD shoes costs $150, so multiply that by 100, and you have $15,000. Shoes are awesome, and you can tell a lot about a person by what kind of shoes they tend to wear. Personally, I like to wear colorful shoes that stand out, but there are also days where I can throw on a casual pair of kicks to keep comfortable. I could easily wear a new pair of shoes each day, making 100 a good number, because I could wear a pair once every three months. If you don't like shoes, spend this money on some other kind of clothing: jackets, hoodies, purses, bags, funny t-shirts, or jewelry.
But please, for the love of Mike Sexton, don't buy basketball shorts and flip flops.
A house in Valencia, CA ($550,000)
Las Vegas is a little daunting, but if I were to buy a house, I would at least buy one close enough that I could come whenever I want. Likewise, I'd prefer to stay on the West Coast because it's the best coast (see what I did there). Valencia, California, is 40 minutes north of Los Angeles, which means it's nice and quiet, and it's also going to be less expensive. A quick Google search produced dozens of homes in our price-range, and it's not like we're trying to ball out and buy a mansion — we can do that when we win the Main Event using one or more of our ten buy-ins. This would obviously be our biggest purchase using the budget, but it's also a good investment because the value of a home (in theory) should increase.
Two giant Ferguson Hill speakers ($20,216.25)
WHAT? WHAT DID YOU SAY? I CAN'T HEAR YOU OVER THESE GIANT SPEAKERS!!
Condo in Canada for Online Poker ($1,900/mo)
Life in America is tough without PokerStars, so finding a place to live outside of the country is a must. Europe and Asia are too far — and the time zone difference is too large — but Montreal, Quebec, Canada, is a perfect spot. It's close, it's hip, and you can get by with just English. In truth, this was a toss up between Toronto and Montreal, but Montreal ultimately won because they have poutine, and poutine is delicious.
A donation to One Drop ($111,111)
Guy Laliberté deserves a ton of credit for heading the One Drop Foundation, and doing everything he can to provide safe, clean water to those in need. Despite being the most basic and most accessible resource in most first-world countries, clean water is a treasure in countless third-world nations, and something needs to be done about it. Most of us will see the Big One for One Drop as a sick event where cold-blooded poker players and rich businessmen battle for millions of dollars, but at the end of the day, it's a great way to raise (at least) $5,333,328 for those in need.
That's how I'd spend my million dollars – how about you?
Follow PokerNews on Twitter for up-to-the-minute news.