The Nightly Turbo: Mike Sexton Blasts Pros, Layoffs at Bodog, and More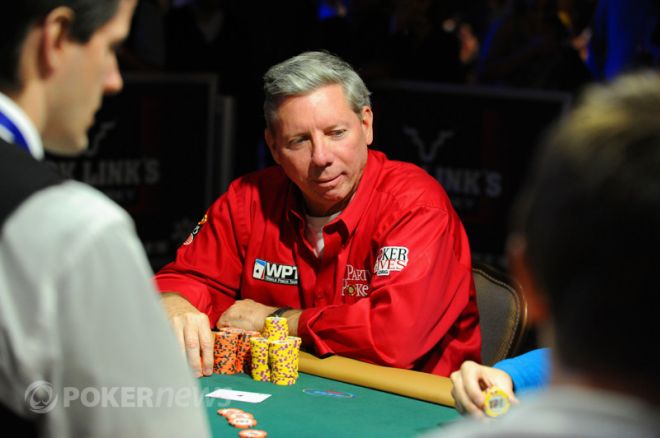 Looking for the day's biggest poker stories? You've come to the right place. In this edition of the Nightly Turbo we're bringing you Mike Sexton's rant against some of his peers, several layoffs at Bodog, and more.
In Case You Missed It
Justin Bonomo was one of countless poker pros affected by the events of Black Friday. Chad Holloway caught up with Bonomo to find out how Black Friday changed his life.
Does traveling to and from poker events have a lasting effect on your sleeping patterns? Lynn Gilmartin suggests ways to manage the onset of jet lag in the latest Stay Stacked.
PokerStars has been feuding with datamining site PokerTableRatings.com for years. PokerStars' Lee Jones gave PokerNews an exclusive interview to discuss the ongoing battle.
Noli Francisco won the World Poker Tour Borgata Poker Open in 2003. What has he been up to lately? Chad Holloway finds out in the latest Where Are They Now piece.
Day 2 of the PokerStars.com European Poker Tour Berlin wrapped up on Wednesday. Anton Wigg finished the day as the chip leader.
The No. 1 thought on U.S. poker players' minds regarding poker is probably online poker legislation and when it's going to happen.Matthew Kredell recently spoke with Congressman Barney Frank in hopes of finding out how close Congress is to passing online poker legislation.
Mike Sexton Calls For Change
Should poker players be forced to adhere to dress codes at televised events? Hall of Famer Mike Sexton thinks so — and he's not alone.
Sexton took to his blog on Wednesday to discuss a number of issues he believes need to be addressed in the poker community. The always-dapper Sexton says he's "disgusted" with the lack of professionalism by some poker pros who live in their "own little worlds."
"At a recent WPT final table, I looked at the six finalists and saw four wearing T-shirts and another in a sweat shirt," wrote Sexton. "At other final tables this season, I've seen players wearing shorts and flip-flops. Look, I played poker for a living for a long time. I understand wanting to be comfortable while you're playing, etc. Is it too much, however, to expect players to wear collared shirts, long pants, and shoes and socks on a televised final table?"
Sexton's blog echoes the opinions stated by Matt Glantz in a blog titled Responsibility in Poker. Glantz singled out the "young guns" of poker who need to take more responsibility for their actions which ultimately reflect poorly on the entire community.
Read Sexton's full blog at PartyPoker.com.
Layoffs at Bodog
Reports surfaced early this week that around 70 employees had been laid off by Bodog. On Wednesday, Bodog confirmed those reports to PokerNews, citing the moves as part of a restructuring effort in the U.K.
"In the U.K. we have undertaken a long period of market analysis and we are now starting to adapt our product to fall in line with those findings," a Bodog representative told PokerNews on Wednesday. "We feel we now have a better understanding of what the U.K. customer wants and the focus now is on re-structuring our business to be better placed to put that information into practice."
It's been a long, trying year for Bodog. In March, the company shut down its operations in Costa Rica after its founder Calvin Ayre was indicted for money laundering and operating an illegal gambling enterprise in the U.S. Ayre set up Bodog headquarters in Costa Rica, where the company handled billions in online gambling transactions. All Costa Rica-based employees were let go and assured they would be given their full proper severance, according to CalvinAyre.com
Montreal Dominating GPI Player of the Year Race
Jonathan Duhamel hasn't cashed in a tournament in over a month, but the former world champ still maintained his big lead in the Global Poker Index Player of the Year standings this week. The award, which is presented by PokerNews, honors the player who has the strongest performance in live tournaments during the calendar year, according to the USA Today Global Poker Index point system.
Duhamel holds a sizable lead over his good friend Samuel Chartier, who jumped seven spots to No. 2 in the rankings this week. Chartier made his fifth final table of 2012 at the Irish Open in Dublin, taking seventh place for $58,625. Despite many deep runs this year, the Montreal native is still seeking his first live win.
Also on the move this week was Andrew Badecker. The American pro had a successful trip to Europe this month, taking 19th in the Irish Open and then 14th in the World Poker Tour Vienna Main Event. Badecker moved up 10 spots to No. 3 in the rankings. He was followed by Erik Cajelais and Bruno Lopes, respectively.
Here's a look at the rest of the Top 10 of the Global Poker Index Player of the Year standings:
GPI Player of the Year Top 10
| Place | Player | Total Score | Change in Rank from Last Week |
| --- | --- | --- | --- |
| 1 | Jonathan Duhamel | 595.68 | -- |
| 2 | Samuel Chartier | 396.50 | +5 |
| 3 | Andrew Badecker | 348.91 | +10 |
| 4 | Erik Cajelais | 342.87 | -2 |
| 5 | Bruno Lopes | 337.27 | -2 |
| 6 | Eui Kim | 327.01 | -2 |
| 7 | Noah Schwartz | 326.05 | -2 |
| 8 | Faraz Jaka | 308.34 | -2 |
| 9 | Oliver Speidel | 300.53 | -1 |
| 10 | Steve O'Dwyer | 290.17 | -1 |
For the full GPI Player of the Year standings, head on over to EpicPoker.com.
HPT Event Cancelled
According to an announcement on the Heartland Poker Tour's website, the HPT event scheduled for June 15 through 24 at Soaring Eagle Casino Resort in Michigan has been cancelled.
The message reads as follows:
Michigan Players: No one is more displeased by the cancellation of our Soaring Eagle event than those of us at HPT. Because of our loyalty to Michigan players, it remains our top priority to reschedule events in one of our most popular states. We ask for your patience as we work hard towards a resolution.
The HPT is currently at the Golden Gates Casino in Colorado and has 10 more events scheduled for this year. For a look at the full slate of HPT events in 2012 and beyond, visit hptpoker.com.
Betsson to Acquire NordicBet
The online gaming world saw another major acquisition take place on Wednesday. Swedish gaming company Betsson announced it has purchased rival gaming provider Nordic Gaming Group (NGG) for an initial price of €65 million, giving Betsson ownership of brands such as NordicBet, Tobet and Triobet.
Betsson says it is acquiring NGG from a number of individuals, including both the founders of the company, members of management and employees, as well as from external investors.
"Through this transaction, Betsson continues to strengthen its Nordic operations and its leading position amongst the private gaming company alternatives in the Nordic region," said Betsson President and CEO Magnus Silfverberg. "In addition, Betsson's brand portfolio is strengthened significantly within the betting segment, as NGG receives approximately fifty percent of its revenues from sportsbook."
The announcement comes just a few days after Unibet purchased Bet24. Unlike that deal, in which Unibet plans to re-brand Bet24's products, NordicBet will continue its day-to-day operations under its existing name.
Read more in Betsson's press release.
A Man of Many Talents
Is there anything Jan Heitmann can't do? Lynn Gilmartin caught the Team PokerStars Pro playing piano in the hallways of the EPT Berlin Main Event on Wednesday.
Follow PokerNews on Twitter for up-to-the-minute news.