The Nightly Turbo: NFL Considers Gambling Ads, PokerStars Signs Italian Pro, and More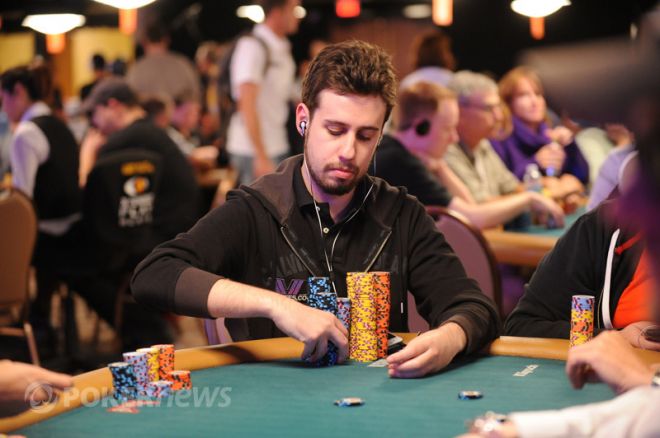 If you're looking for the day's biggest poker news, you've come to the right place. In this edition of the Nightly Turbo, we're bringing you the NFL's sudden shift concerning its gambling ad policy, PokerStars signing a new pro from Italy, and more.
In Case You Missed It
Day 1b of the PokerStars.it European Poker Tour Campione Main Event came to a close on Tuesday. Former EPT Grand Final champion Nicolas Chouity was the chip leader, but many notables survived.
Once the European Poker Tour wraps up in Campione this week, the tour will head to Berlin, Germany. Lynn Gilmartin takes a look at some of the past experiences at EPT Berlin through the PokerNews Video Vault.
Many of poker's best online players never get a chance to shine in the spotlight. We're here to change that. In the inaugural edition of Online Chat, Thiago "@TheDecano" Nishijima talks about his large sum of money stuck on UB, and more.
Daniel Negreanu was back with his Weekly Rant on Wednesday. To hear him discuss his TwoPlusTwo ban and other topics, head over to The Muck.
While visiting The Muck, you can check out on the Final Four of the PokerNews Fan Bracket. Negreanu, Olivier Busquet, Phil Hellmuth and Jason Mercier have emerged from the original field of 64. Don't forget to vote!
No Fun League?
It seems the National Football League has finally opened up to the idea of cashing in on advertising from brick-and-mortar casinos. The Sports Business Journal reported Tuesday that owners could vote as early as this week on allowing casinos to advertise in NFL stadiums, team publications and on club radio broadcasts.
The NFL has long been one of the biggest antagonists of gambling even though sports betting and fantasy football have played a major role in the league's television ratings and revenue boosts over the years.
The league's opposition to gambling also applied to poker. Last February, around 30 NFL players attended a charity poker tournament at the Golden Nugget Casino in Las Vegas, but the NFL got wind of the tournament and forced the players to sit back and watch.
Even if the owners vote to approve casino advertising, there will be restrictions. It's highly unlikely that companies will be able to use NFL logos, and all casinos with sports books will be prohibited from advertising.
"It's an interesting situation, because that's a great segment in which to develop relationships anyway," New York Jets owner Woody Johnson told the New York Post. "But it's also a delicate situation because you'd want to be sensitive to the league's existing policy on gambling."
Read more at the Post.
PokerStars' New Loose Cannon
If you're a fan of the PokerStars.net Big Game, you'll probably recognize the newest member of Team PokerStars Pro. Massimiliano Martinez, who finished as the biggest winner among the "Loose Cannons" in the shows second season, has signed on to represent PokerStars at tournaments around the globe and online.
Most Loose Cannons entered the PokerStars Big Game with little experience playing against top competition, but Martinez already had a pair of impressive wins under his belt, including a victory in a side event at PokerStars EPT San Remo last May. His total winnings on the live circuit exceed $300,000.
Martinez ran over his table during the PokerStars Big Game, and even owned the great Phil Hellmuth on a number of occasions.
On Wednesday, PokerNews' Sarah Grant caught up with Martinez in Campione, Italy, to talk about his new deal:
Duhamel Leads Global Poker Index Player of the Year
Team PokerStars Pro Jonathan Duhamel continued to occupy the top spot in the Global Poker Index Player of the Year standings this week. The award, which is presented by PokerNews, honors the player who has the strongest performance in live tournaments during the calendar year, according to the USA Today Global Poker Index point system.
The top five in the rankings stayed the same this week, with Duhamel holding a sizable lead over Erik Cajelais, Bruno Lopes, Noah Schwartz and Faraz Jaka, respectively. The only change in the top 10 was 2012 Aussie Millions Main Event champ Oliver Speidel, who jumped four spots to No. 7. Speidel recently finished seventh in the ANZPT Sydney Main Event for $41,262.
Here's a look at the rest of the Top 10 of the Global Poker Index Player of the Year standings:
GPI Player of the Year Top 10
| Place | Player | Total Score | Change in Rank from Last Week |
| --- | --- | --- | --- |
| 1 | Jonathan Duhamel | 595.68 | -- |
| 2 | Erik Cajelais | 342.87 | -- |
| 3 | Bruno Lopes | 337.27 | -- |
| 4 | Noah Schwartz | 326.05 | -- |
| 5 | Faraz Jaka | 308.34 | -- |
| 6 | Samuel Chartier | 305.79 | -- |
| 7 | Oliver Speidel | 300.53 | +4 |
| 8 | Jason Koon | 284.24 | -1 |
| 9 | Ruben Visser | 258.03 | -1 |
| 10 | Stephen Chidwick | 248.77 | -1 |
For the full GPI Player of the Year standings, head on over to EpicPoker.com.
Poker on a Boat
In the past two years, the World Poker Tour has expanded with numerous events in European countries. Now, it's hitting international waters on a boat (cue T-Pain).
On Wednesday, the WPT announced a partnership with Cruise Authority and Royal Caribbean International to present the WPT Cruise. The first voyage runs from Sept. 30 through Oct. 7, 2012, and features port stops in popular Caribbean destinations including Mexico, Jamaica, Grand Cayman, and Royal Caribbean's private beach in Haiti.
There won't be a WPT tournament taking place on the 160,000-ton ship, but passengers will be able to compete in cash games, sit-and-go tournaments, ladies-only events and freeroll tournaments. All WPT Cruise passengers will receive a special welcome package containing WPT apparel and merchandise, poker lessons and a free three-month subscription to ClubWPT.com.
Guests will also have the chance meet WPT announcers Mike Sexton and Vince Van Patten, as well as the Royal Flush Girls.
Read more at PokerNews.com.
Push 'em In
A new poker variant is making its debut on Betfair this week. Push 'em is a game designed to create action at the cash-game tables as players are required to buy in for exactly five big blinds. The format doesn't leave a lot of room for creativity, but action junkies will certainly get their fix.
All Push 'em games are six-handed with limits running from $0.05/$0.10 up to $1/$2. If a player loses an all-in confrontation, he or she will be required to post five big blinds to stay at the table. For example, at a $1/2 game, the starting buy-in is $10. Players can't buy in for anything more or less than five big blinds.
If you're interested in playing Push 'em, Martin Harris has written a great strategy guide over at betfair.com. Be sure to check it out.
How Do You Like Your Eggs Cooked?
Easter is coming up, so Laura Cornelius asked the poker pros in Campione how they like their eggs prepared.
Follow PokerNews on Twitter for up-to-the-minute news.