All Mucked Up: 2012 World Series of Poker Day 33 Live Blog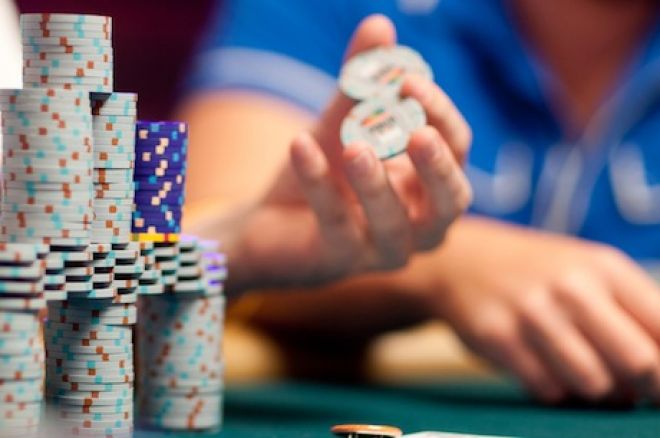 All Mucked Up is a live blog of all the stuff you want to know at the 2012 World Series of Poker, besides hand histories and bad beats. Well, we might add a few in here, everyone loves a good bad beat story — unless it happened to you. Check back often for polls, soundbites, celebrity sightings, and who knows what else!
May The Odds Be Ever In Your Favor
It might be ladies day in the Rio, but there is still one final table going on; Event #49: $1,500 Ante Only No-Limit Hold'em. The table is full of young wizards, so it is still anyone's game. Chip leader Eugene Du Plessis is going at 1/1 odds, but the last time we saw someone at 1/1 they shipped it. Also at the final table is Mike "Timex" McDonald going at 10/1. Here's the full odds sheet:
Seth Davies: 5/2
Sameer Aljanedi: 12/1
Justin Schwartz: 8/1
Eugene Du Plessis: 1/1
Mike McDonald: 10/1
Greg Hobson: 5/2
Mike Sowers: 3/2
John Hays: 9/1
Harrison Gimbel: 6/1
The final table should be an exciting one for this brand new format, so make sure you keep your eyes on the live reporting blog.
It's Ladies Day At The Rio
Today is the day ofEvent #51: $1,000 Ladies No-Limit Hold'em Championship. In the field, PokerNews has four of it's very own.
First up, we have our Director of Strategic Development, Danielle Barille. Danielle can often be found helping out with the PokerNews interns, working on the PokerNews podcast, and doing other odd jobs around the office. We've caught he playing $2/$5 No-Limit here at the Rio a few times too, so she is no fish and shouldn't be taken lightly at the poker table. Danielle also lives in a house full of poker players, including bracelet winner Brent Hanks, so we assume that she is well versed in the game.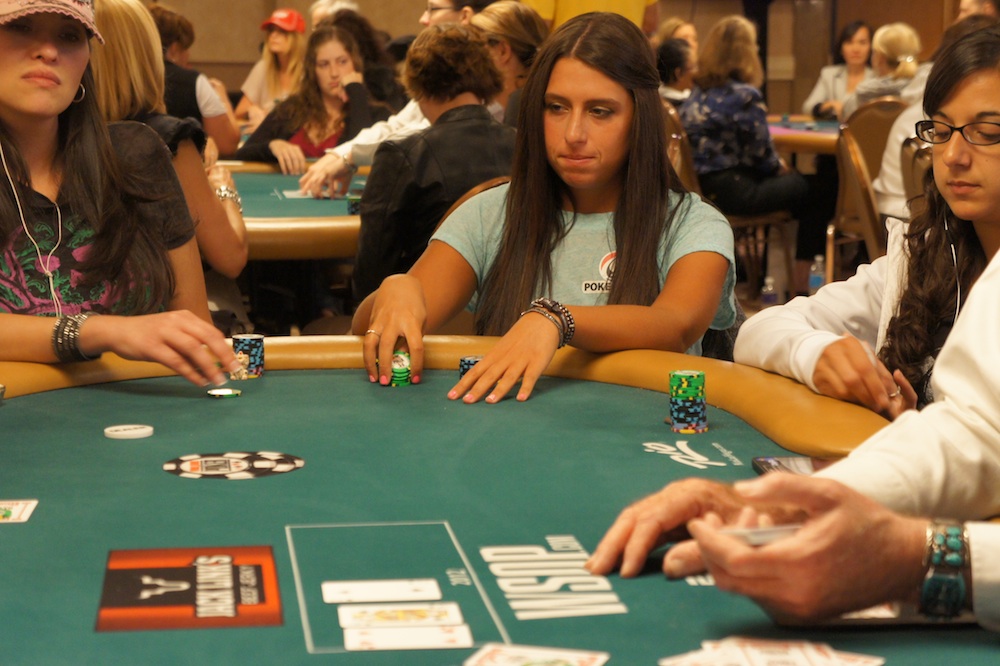 Next up is PokerNews Hostess Sarah Grant. We hear that in her spare time, Sarah loves spending time in Maridu Mayrinck's bed with fellow poker players Lauren Kling andXuan Liu. Sarah is a bit of an action junkie, and loves to see flops. Her favorite players include Gavin Smith and Layne Flack. She may be pretty, but Sarah is a fierce competitor and expected to build up a huge stack, or go home early.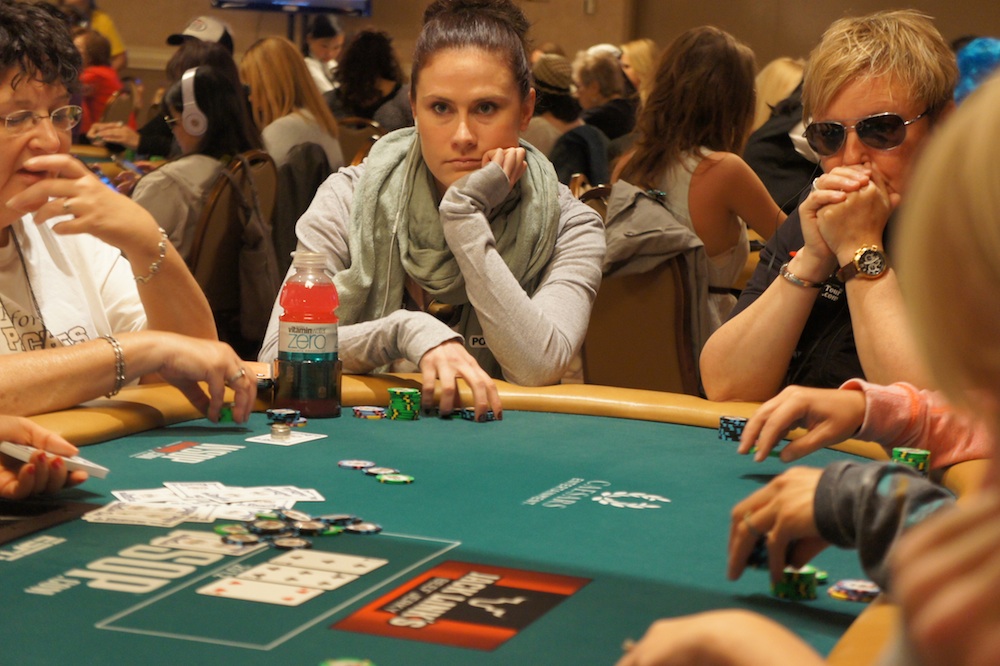 On third we have the crowd favorite, Kristy Arnett. Kristy is well known for her excellent blogging skills, and for helping create PokerNews' brand new series, "The Straddle." In her spare time, Kristy plays a lot of cash games, she makes her own youtube videos, and she has been known to even enter fitness competitions. She already has one cash this year in Event 9: $1,500 No-Limit Hold'em Re-Entry and she hopes to make it two today.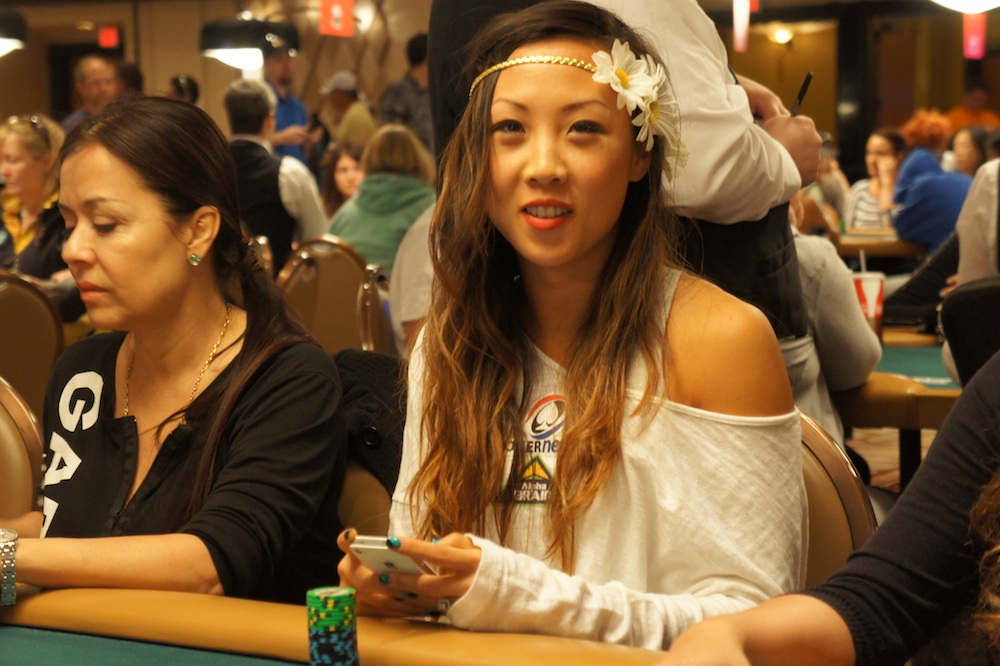 Last but not least is Australian native Lynn Gilmartin. Gilmartin is known to be dating Team PokerStars Pro Angel Guillen, and we're sure he's given her some tips on lasting through a tough field. She is known to be a health and fitness guru as well as a world traveler. She produces multiple blogs for PokerNews on the subjects. Lynn has a passion for animals, and is known to be a animal right activist, but at the table, we hear that she is a bit of an animalher self, so watch out ladies.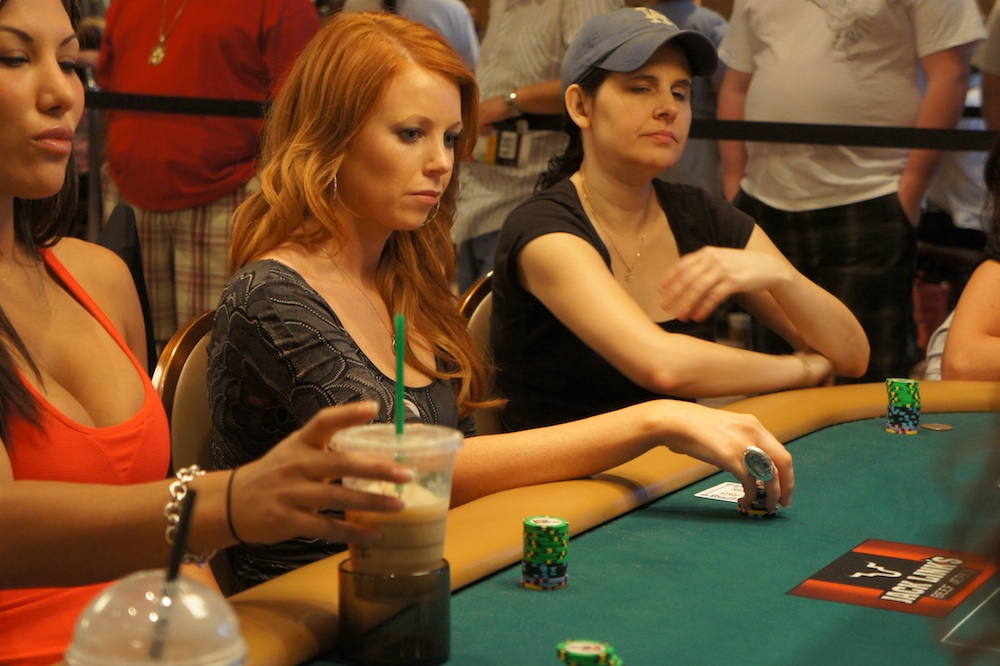 Here at the PokerNews office we've been making last longer bets for which lady we think will last the longest. Now is your chance to let us know what you think in the poll below.
Poll
Which PokerNews Girl Will Last Longest?
Some Of These Things Are Not Like The Others
Maybe you didn't realize that today was a ladies event. Maybe you're only in Vegas for a few days and this was the only event you could afford to buy into. Maybe you lost a prop bet. Maybe you're foreign and you don't understand what the word "Ladies" means. Maybe you even thought you could pick up chicks.
Regardless of the excuse, we have seen nine men so far in the Ladies Championship. Some of them were not ashamed. Some came in full drag.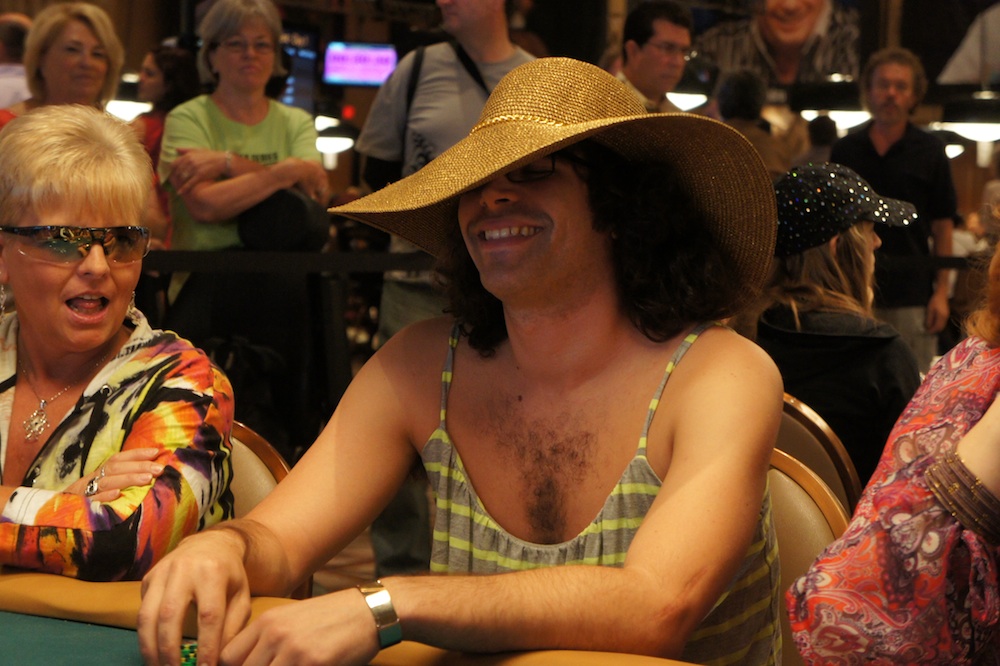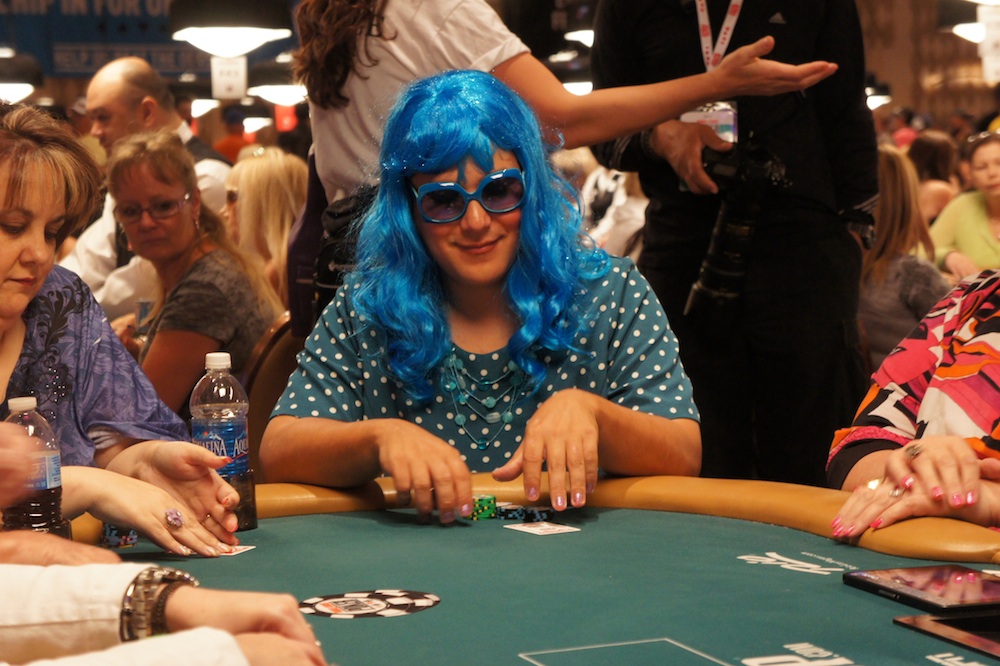 Some of them tried to hide from us: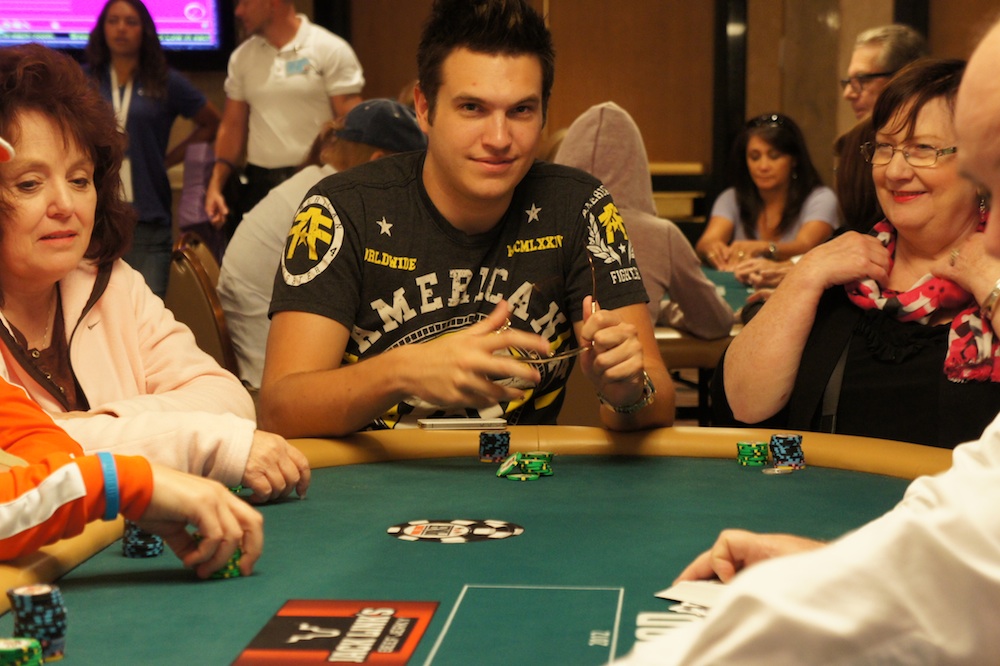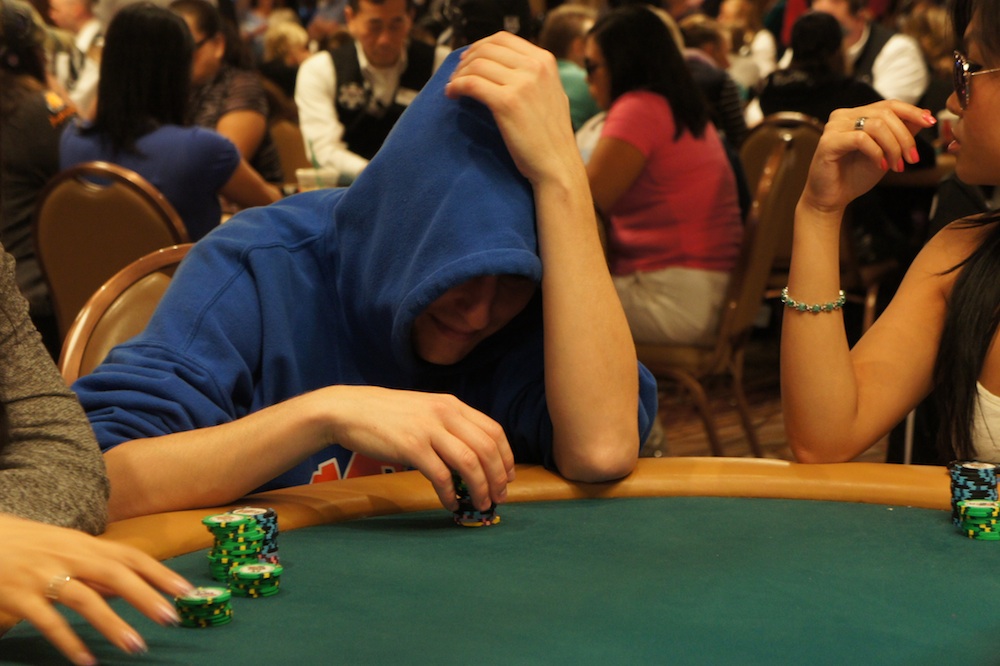 "You're for sure gonna be on PokerNews," one of the ladies at the table joked.
Some of them though, seemed as if they were proud to be jerk. They sat with their heads held high, and were chatting back and forth with the ladies at their table.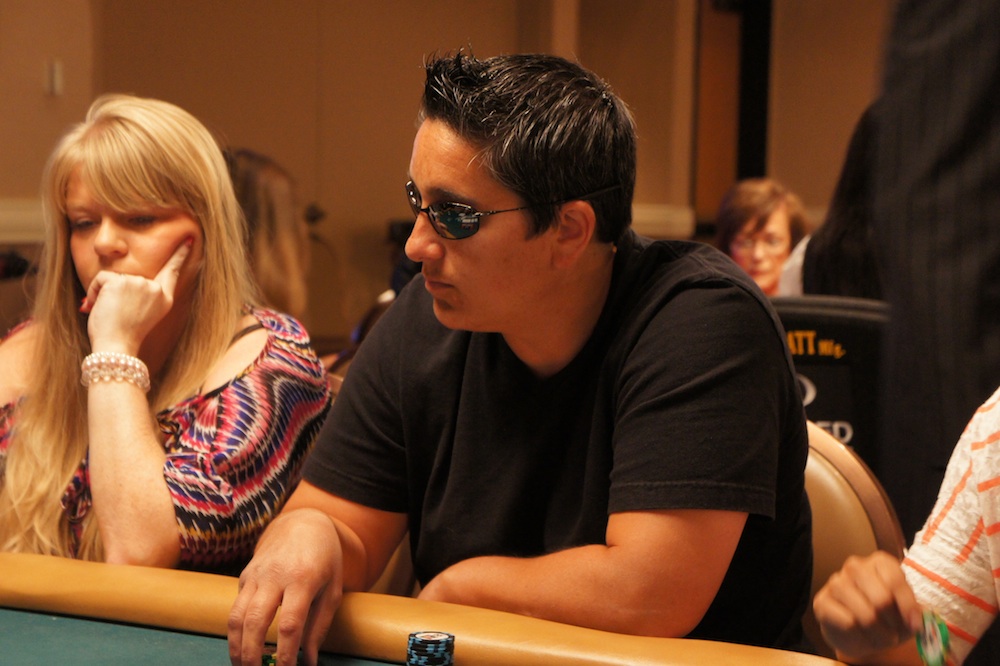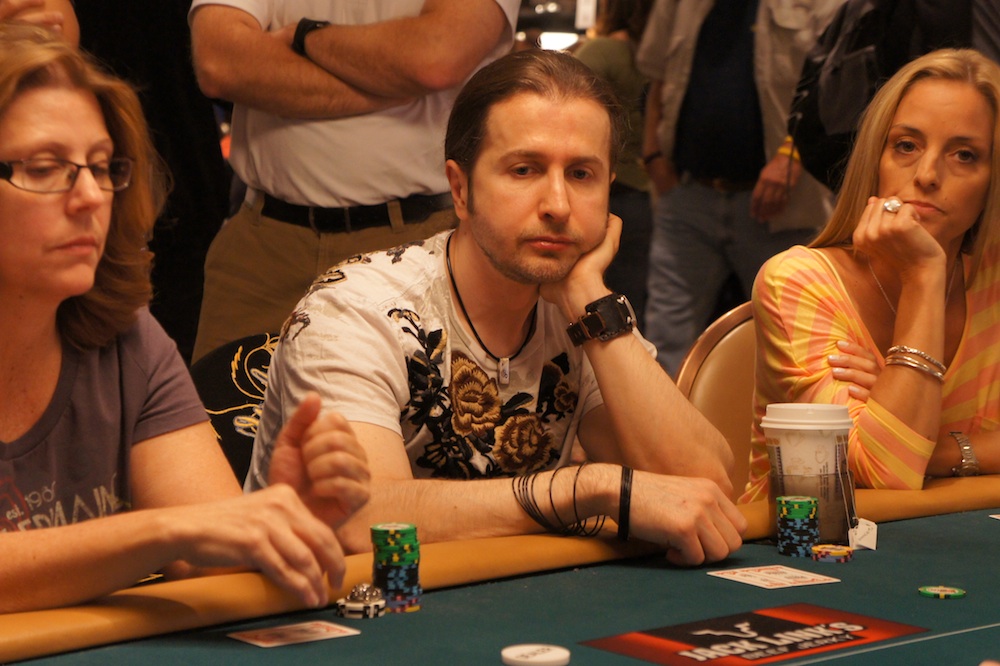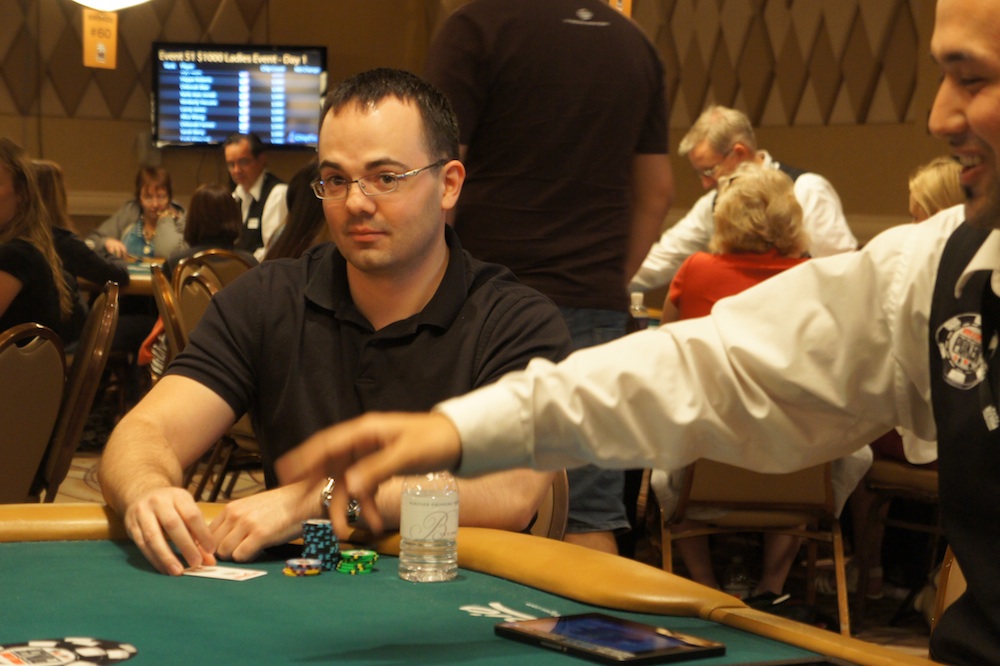 And then we have this jerk who's been playing the ladies event every year since 2010.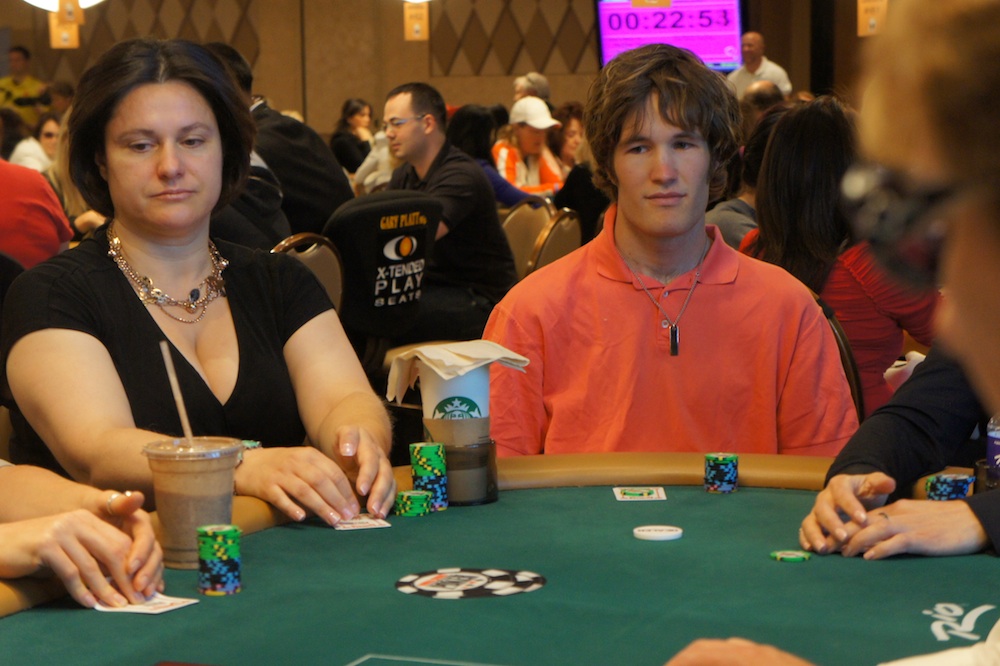 Either way, most of the ladies who have a man at their table seem to be being great sports about it. There is the occasional needle, of course. The ladies, who are a classier bunch, seem to have the mentality that if they want to punish these jerks, than they can do it on the felt, with chips and cards.
It's stupid, it's immature, and it's pointless. But guys are going to play the ladies event every year, and they all have their own reasons for it.
CoCo in for One Drop?
We saw some hilarious joke tweets between Conan O'Brien and Lon McEachern this morning regarding One Drop. In case you missed there, here they are:
Hey, is it too late to stake me in the World Series of Poker? It's $10,000, and I'll lose, but I'll wear a windbreaker with your name on it.

— Conan O'Brien (@ConanOBrien)
@ConanOBrien How about entering the $1,000,000 buy-in event Sunday Co-Co? Thats worth a sponsored windbreaker and thong

— Lon McEachern (@lonmceachern)
CoCo in a Lon McEachern thong? We just can't get the image out of our mind.
Zoot Suit Friday
The floormen in the Amazon are taking part in a special tradition for this year's ladies event. All members of the floor are wearing 1920's zoot suits and pink ties, some equipped with chains, others with boutonnieres and hats. Here's a few pictures of the friendly floormen.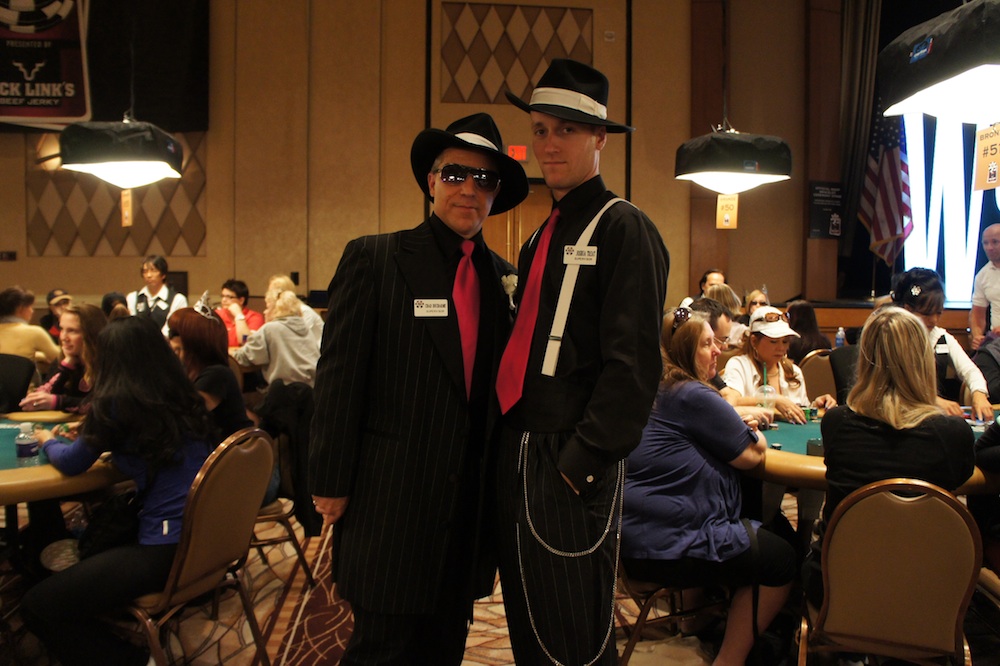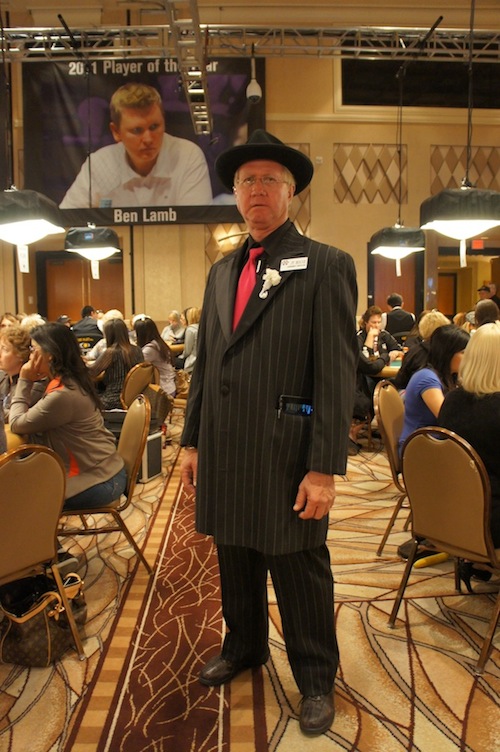 Makes us here at PokerNews wish that we had a bit nicer attire.
Can You See With Those Things On: Day 33
We don't really know if these constitute as glasses, but we saw this woman playing in the ladies event, and we couldn't resist taking a picture to share with the readers.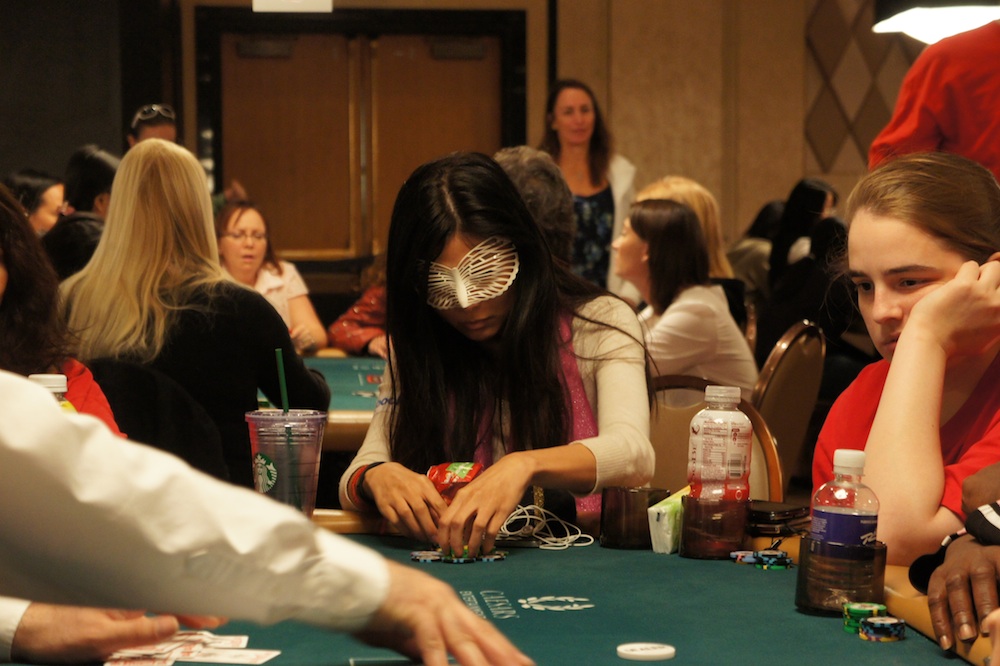 Surely, it must be difficult to see with the mask on, but it's truly one of the most unique pieces of attire that we've seen here at the world series of poker so far. Surely this is a trend that will pick up here in America very soon.
One Drop Sold Out
That's it folks. Seats for The Big One For One Drop $1,000,000 buy-in have sold out. We got wind of this thanks to a tweet from Brian Hastings:
Onedrop sold out. Thanks for everyone who was gonna buy action. Time to bink the satellite!

— Brian Hastings (@brianchastings)
Jamie Gold also put in a tweet about the event's sales:
Huge congratulations to Guy @ONEDROPdotorg and @WSOP for a sold out event. History making will bring awareness #big1drop

— RealJamieGold (@RealJamieGold)
And we also made sure to confirm with the official One Drop twitter page:
RT @allinfor1drop: Chair of ONEDROP and Founder of @Cirque just confirmed that #big1drop is sold out- check this out on Sunday

— ONE DROP (@ONEDROPdotorg)
Good luck to all the entrants, it should be a doozy. Luckily, there is still time to get into the Rio's $25,000 Satellite which will be taking place this Saturday for the last remaining One Drop seat. We'll be sure to post an official list of registrants once we have them.
What A Rail
On the rail of Event #49: $1,500 Antes Only No-Limit Hold'em, we found two friends of Seth Davies. The first one was carrying a giant cardboard cut out of Davies' head.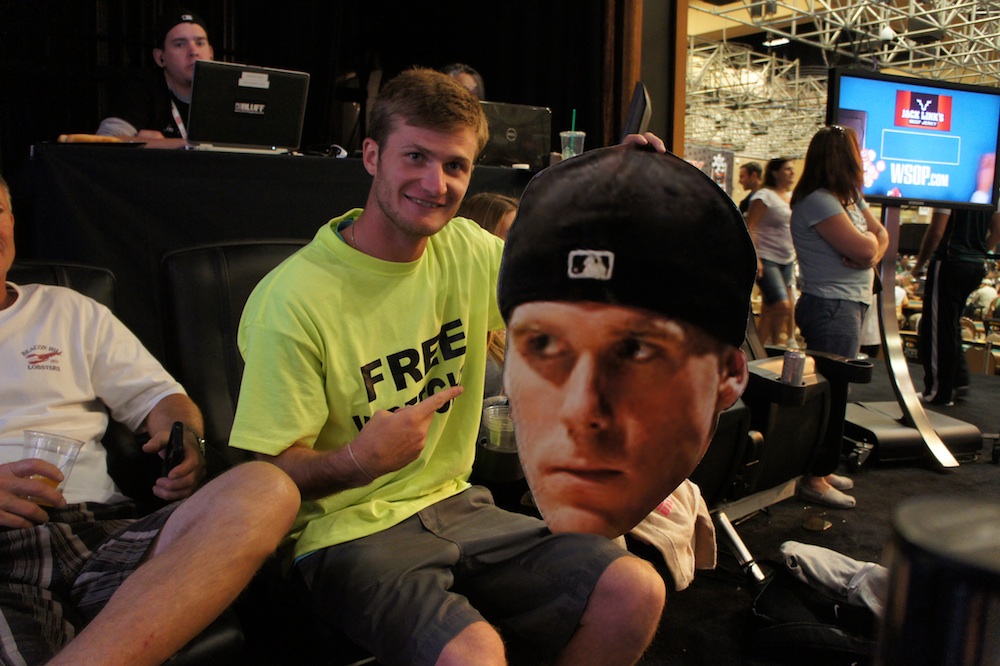 The second was carrying a giant cardboard cutout of Nick Davies, Seth's brother. Nick couldn't make it to the event today, so their friends wanted to show their support by brining a giant cardboard cut out of Seth's brother.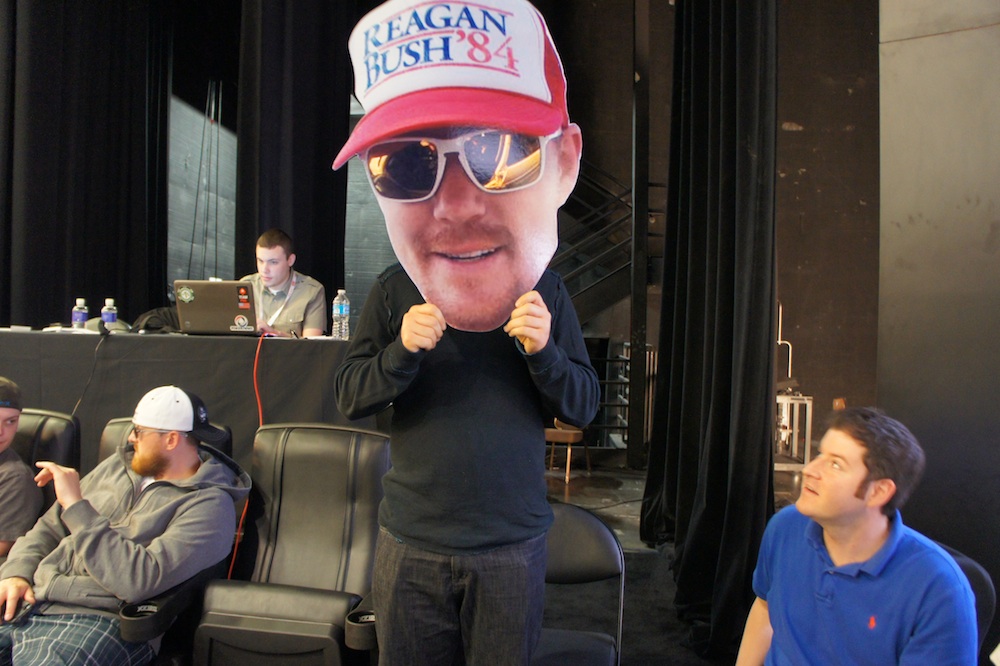 Apparently, all four gentleman have been friends for a very long time and have helped to teach each other how to play poker, lived with each other in Las Vegas, and more. It's refreshing to see such a kind and supportive rail.
On the other side of the rail, Mike Watson had a special photo for Mike "Timex" McDonald.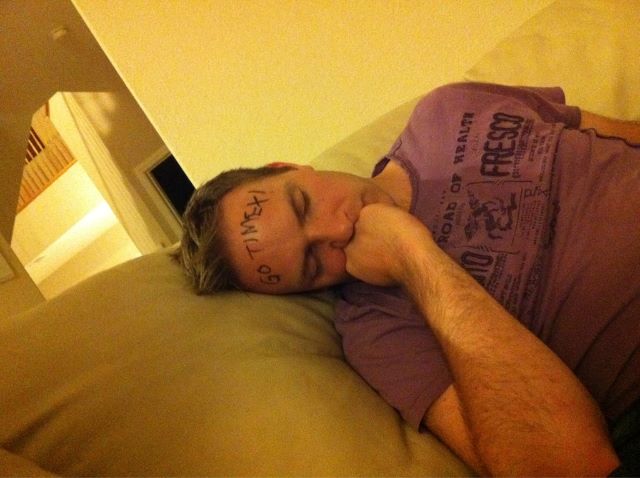 While it may not be as large of a gesture as a huge cardboard head, support is always nice.
Inspirational Tales From the World Series of Poker: Gertrude Schimmel
Today's inspirational tale is that of Gertrude Schimmel. Schimmel is 94 years old and has been playing poker for over 50 years. She doesn't have the best eyesight, or hearing, but she can still play the game better than most.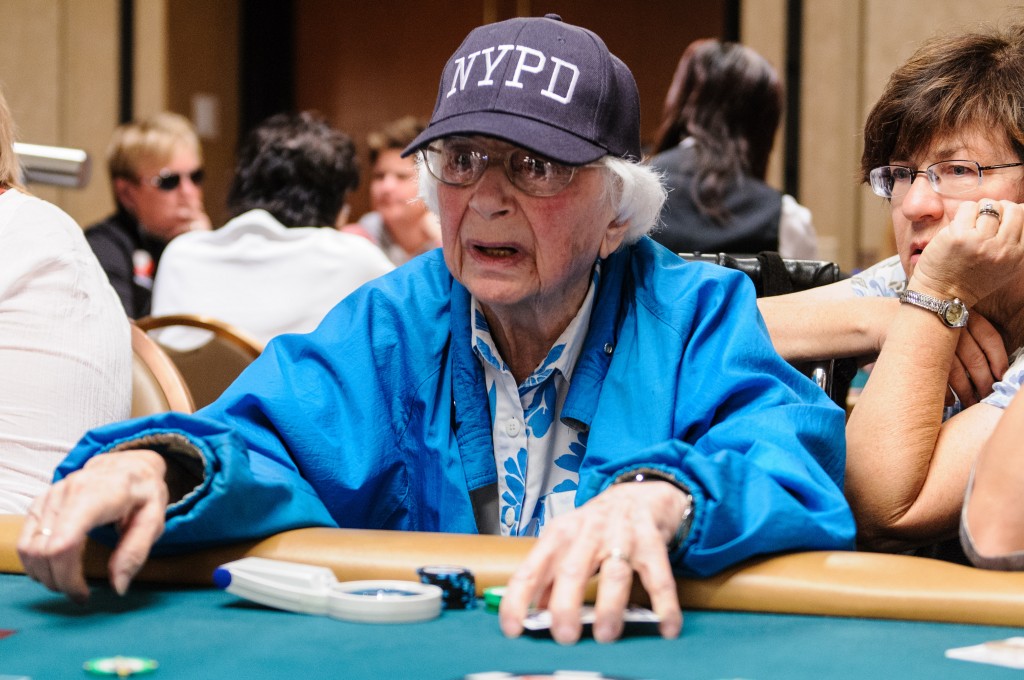 Schimmel is a retired deputy chief inspector of the New York Police Department who used to play at the WSOP regularly. She's cashed five times in the ladies event in the past, including final tabling in 1998 when she finished fourth.
Her niece is here assisting Schimmel a bit with reading the board and following the action. She told us how Schimmel hadn't played at the WSOP in a while, but this year had an idea she wanted to come back again and give it another go.
She also explained how her best game is seven-card stud — which used to be the game here in the ladies event up until 2000. But Schimmel seems to be holding her own just fine thus far in our no-limit hold'em tournament.
It's Man Time
We've given a lot of attention and love to the ladies of today, but there is something we almost overlooked, and no, one of our guys isn't playing the ladies event.
Playing in Event #52: $2,500 10-game mix six handed is one of our very own PokerNews Live Reporters, Remko "HappyFreaked" Rinkema.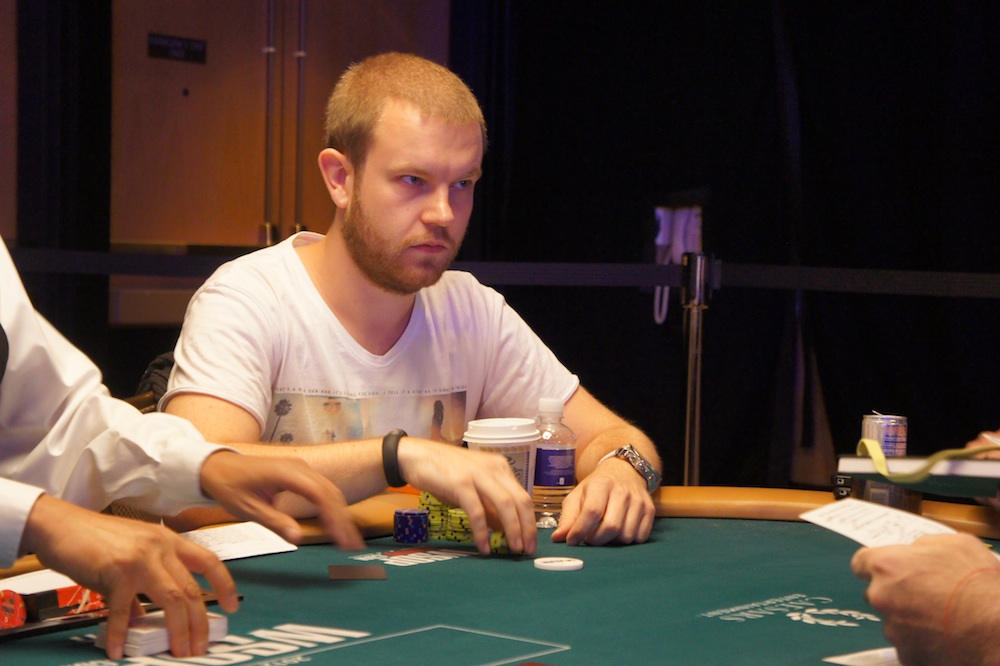 With all the buzz going over the ladies today, we wanted to make sure Rinkema didn't get overlooked. He represents the fifth member of the PokerNews cast playing in a World Series of Poker event today. We'll be sure to keep an eye on his progress as he makes his way through a stacked field. Rinkema is no fish, he has over $30,000 in live tournament earnings including a final table in the Estrellas Poker Tour Madrid Main Event where he took 4th.
Ten Cashes And Counting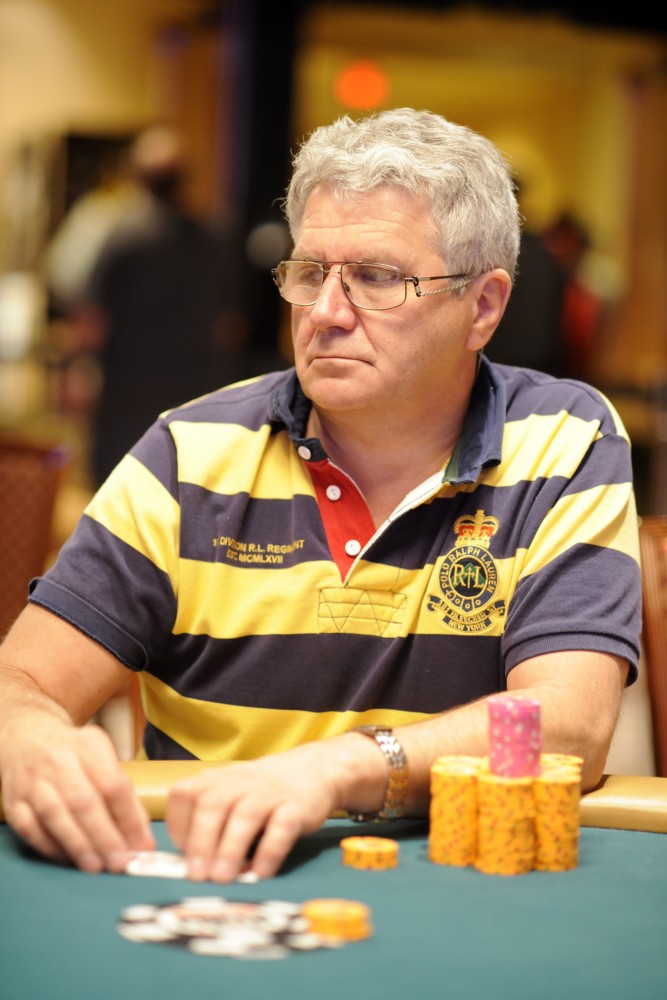 It was announced today in the Amazon room that Konstantin Puchkov, from Russia, earned his tenth cash this series, tying a record set by fellow countryman Nikolay Evadakov. Evadakov passed away on February 6th at the age of 47.
Ante Up: Bryan Slick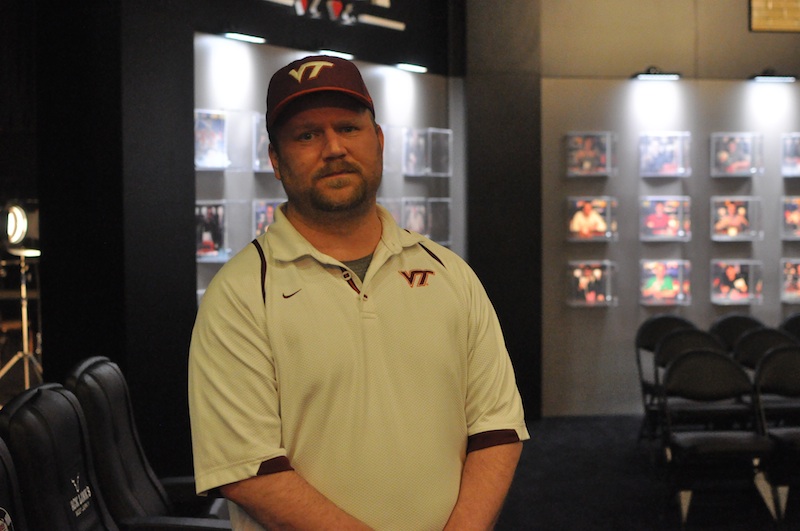 We caught up with Bryan Slick, tournament manager for PokerStars. Slick actually invented the Ante-Only No-Limit Hold'em tournament, which is making its WSOP debut this year. We spoke to him to find out the inspiration for the game.
When did you come up with the idea?
Late 07 early 08 I was trying to think of something new and fresh that could be applied to No-Limit Hold'em. I cut my teeth as a stud player, so the forced action of the antes appealed to me. We thought it was really interesting and finally after it sitting on the shelf for a while it made its debut on April 1st 2008 as part of our April Fools joke on PokerStars.
How does it feel to see the Ante-Only tournament make its WSOP debut?
I wish I was sitting right there (pointing over to Greg "DuckU" Hobson who was getting pictures taken of his win in the Ante-Only tournament). It's a great feeling. I played in the event as well and made a deep run. I busted in 140th place. After we added the Ante-Only tournament to the PokerStars S.C.O.O.P lineup it got great reviews from the players. (Team PokerStars Pro) Daniel Negreanu played it and loved it. He tweeted about it to his millions of followers.
Have you developed any strategies for the game?
Slick laughed and said, "I may have invented the game but I'm by no means an expert in it."
Other players have been raving about the tournament as well so chances are it will be a mainstay for years to come.
Ladies Event Update
If you've been keeping up with today's blog then you know that four of PokerNews' own played in today's Event 51: $1,000 Ladies No-Limit Hold'em Championship. Unfortunately, Danielle Barille, Lynn Gilmartin, and Kristy Arnett have been knocked out but PokerNews hostess Sarah Grant is still alive.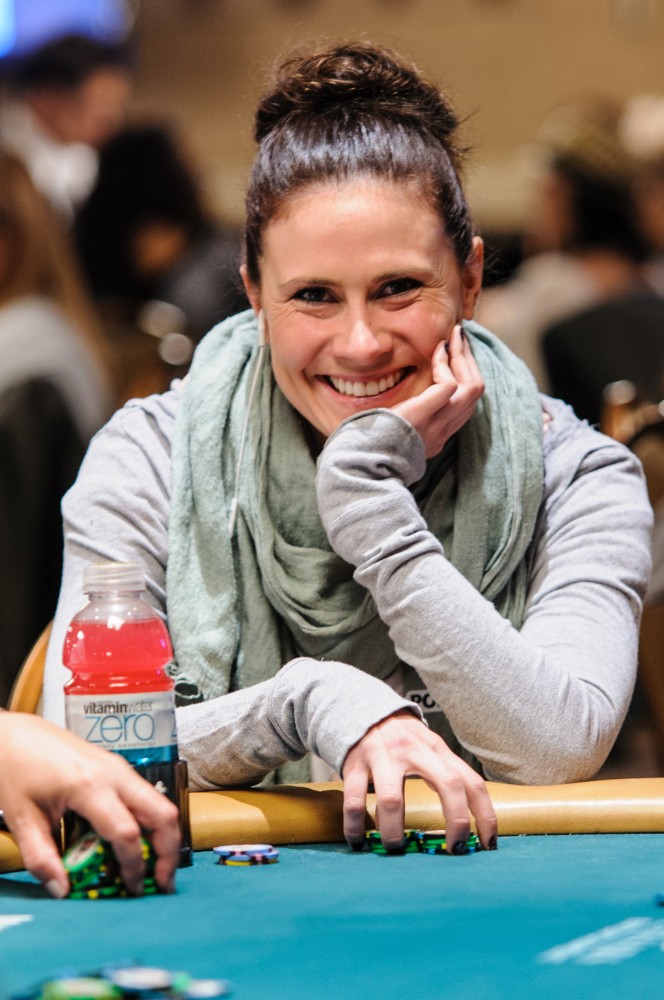 We caught up with Grant at break.
What's your plan heading in after break?
Well, I have about 20 big blinds, so I know I don't have many options right now. I can't really open many pots or call any raises really. I will say this, at my table the ladies have been really scared to call short stack shoves, so I'm gonna look for spots to get it in and chip up.
There's 216 ladies left in the tournament and 117 spots pay. We'll be sure to keep tabs on Grant and report any further developments.
Sneak Peak At One-Drop
The much talked about Event 55: $1,000,000 Big One for One Drop starts this Sunday. Some of the notables scheduled to play include Tom Dwan, Michael Mizrachi, Team PokerStars Pro Jason Mercier, Tom Marchese, and Phil Ivey.
The Rio staff has been in the process of giving the Amazon a makeover in anticipation of the $1 million dollar buy-in tournament.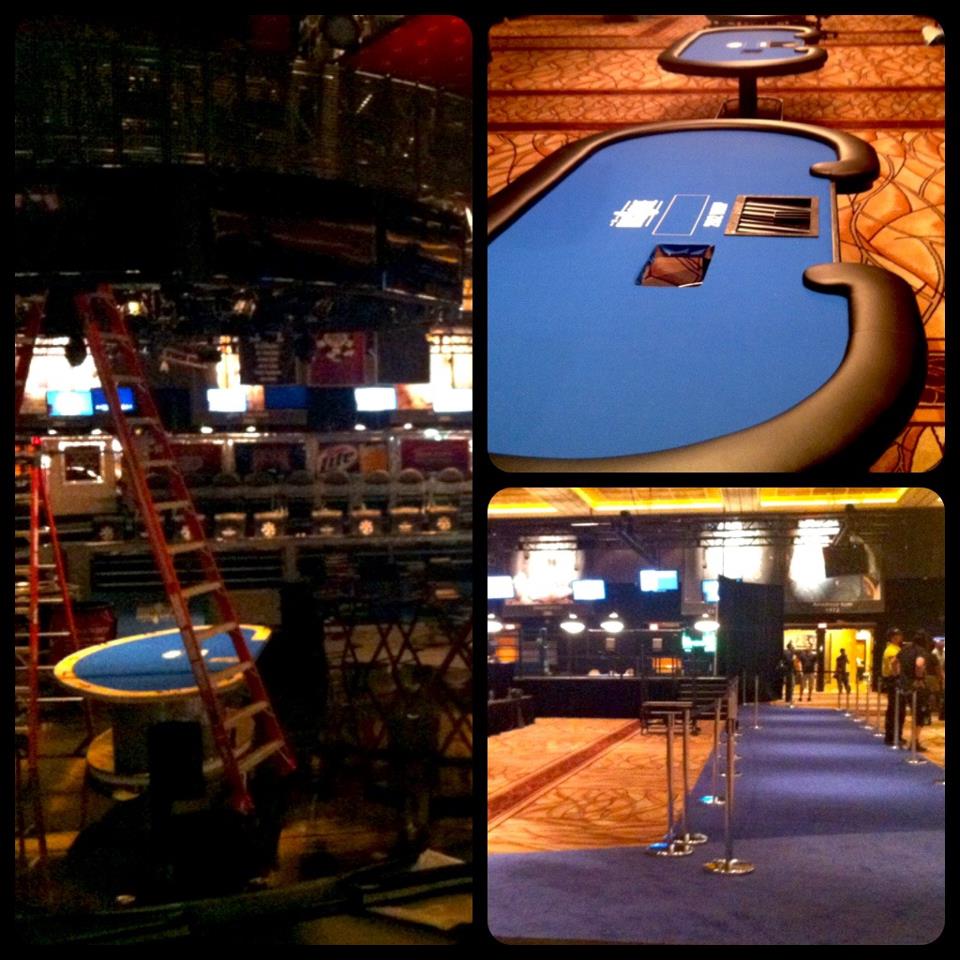 Make sure to tune in to PokerNews for complete coverage of the event.
Who Wore It Better?
It's not uncommon to see men with shaved heads. Some do it for fashion others simply choose to tap out of the fight against male pattern baldness. We spotted three notables in today's Event 52: $2,500 10-Game Mix - Six-Handed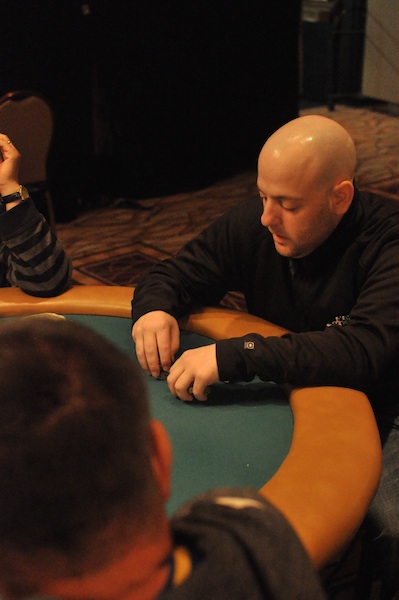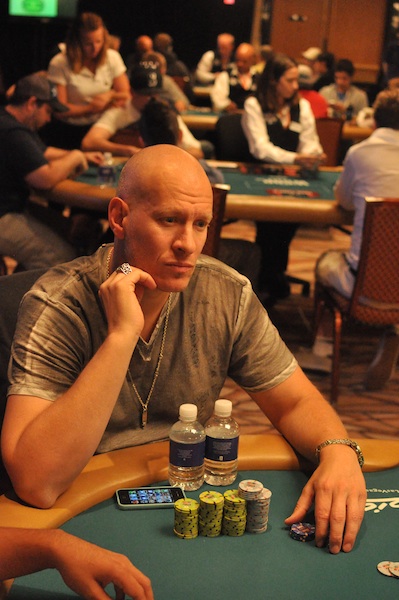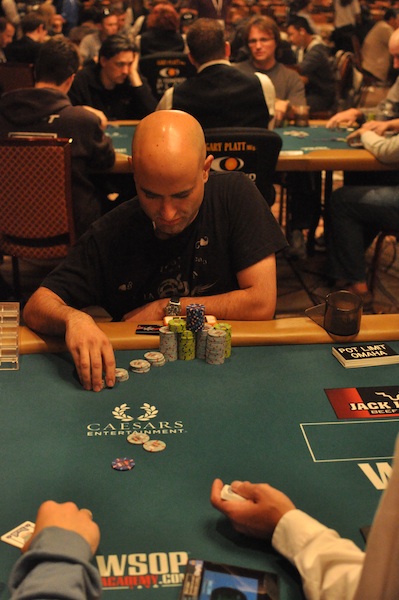 Fashion Run Down
A WSOP Ladies event wouldn't be complete without a fashion run down. Here's some of the more interesting wardrobe choices we came across today.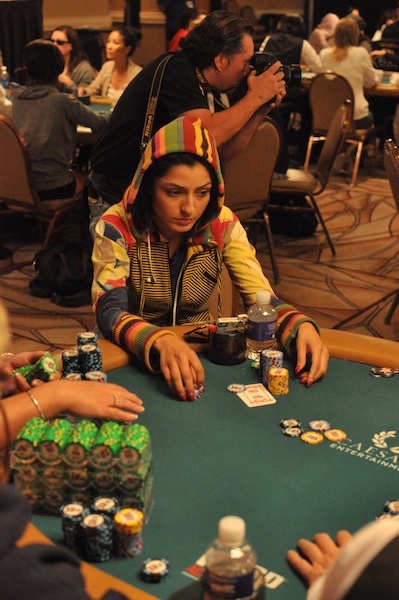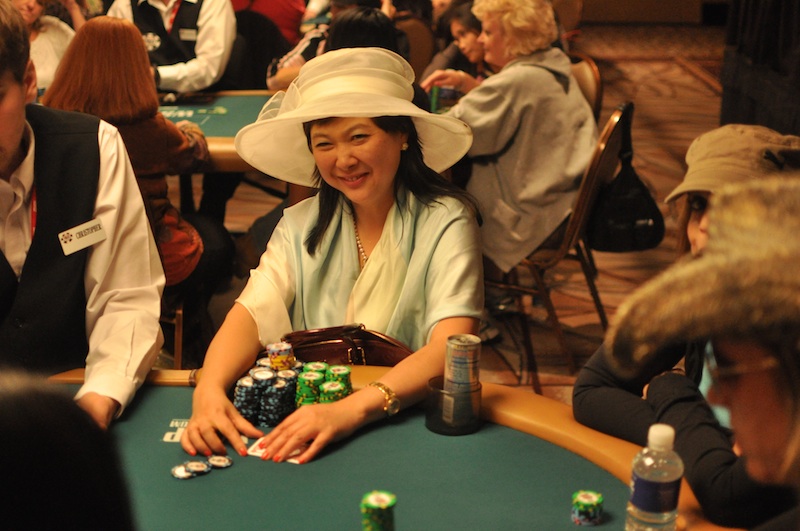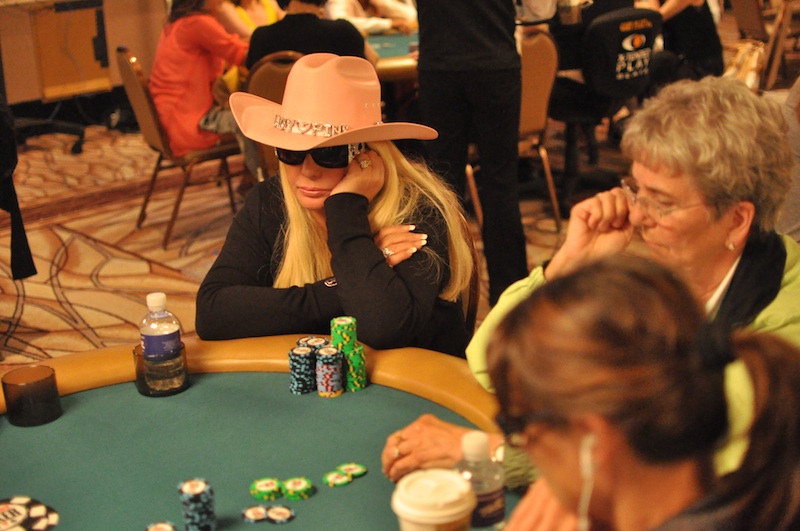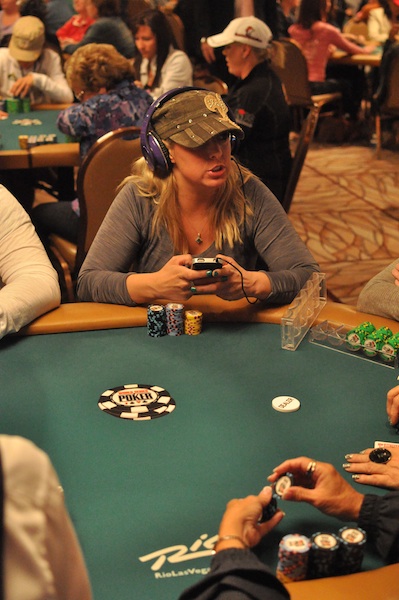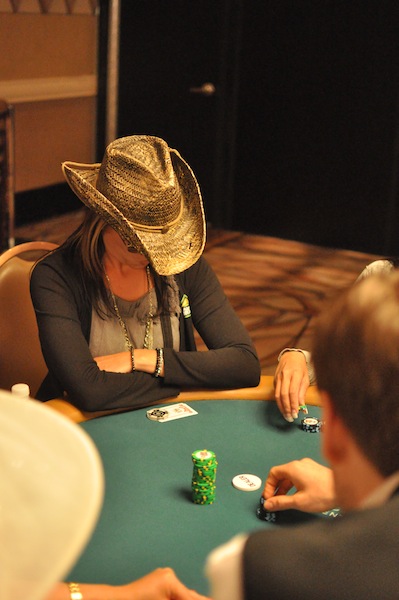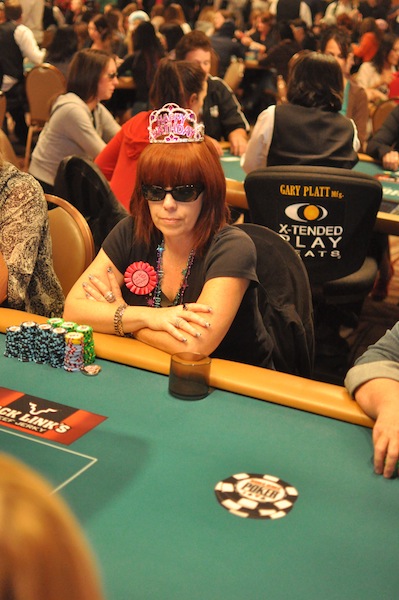 Day 1 Of Ladies Event Concludes
Only 117 are left in Event 51: $1,000 Ladies No-Limit Hold'em Championship. Day two will start on Saturday. Some of the notables still remaining include, J.J. Liu, Erica Schoenberg, Annie LePage, Leo Margets, and last not but not least, our very own Sarah Grant.
Grant is looking forward to day two.
"I'm so excited," exclaimed Grant. "It's my first WSOP event ever. I never played anything over $250. I'm so happy. I paid it myself too (the $1,000 entry fee)."
In addition to this being Grant's first WSOP event, it's also her first WSOP cash. We'll be keeping tabs on Grant on day two.
We encourage everyone to get involved with "The Muck." See something you think is Muck worthy Send it to the muck@pokernews.com. We accept all media including photos and videos.