Putting In Your Dues: Greg Himmelbrand's Journey to Becoming a Poker Millionaire
Being a poker millionaire. It's something most players dream of, but few are able to achieve. Seven-figure scores are few and far between, meaning the best way to earn the "1M" badge on Hendon Mob is the hard way – to grind it out. That's just what 33-year-old Greg Himmelbrand has done over the past five years.
Himmelbrand's story is an aspiring one for the thousands of players putting in their dues hoping for a return. Things started slow for the Queens, New York native, winning just $1,576 and $1,409 in 2011 and 2012 respectively. Then, in 2013, he had a career year with $532,401 in cashes, which he followed up a year later by winning $256,861. So far in 2015, Himmelbrand has improved on that amassing $294,692 in cashes, which includes a Mid-States Poker Tour title and his first World Series of Poker Circuit gold ring. All told, Himmelbrand boasts $1,086,938 in lifetime cashes.
Himmelbrand's Poker Origin
Himmelbrand's poker story really began after he graduated high school. Never having been outside the Tri-State area, Himmelbrand opted to go to college at The Ohio State University. Like so many other students, it took him five years to get his four-year degree, and upon graduating with a Bachelor's of Arts in Psychology, Himmelbrand moved back home.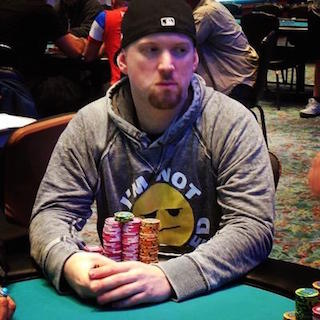 "Prior to leaving for college and during some of the summers that I was home, I had delivered pizza for a local pizzeria, and upon returning home the owners were expanding to an additional location, set to be full-scale restaurant," Himmelbrand explains. "Knowing my restaurant background from working while in college, they made me an offer to manage the place. It was a cool experience as I got to be involved in the setup from the ground up: construction of the place, menu design, and wine tasting. I got a feel of what it was like to open my own place without actually doing so."
It was actually while working at the restaurant that Himmelbrand began to take poker seriously. He had played random dealers choice games growing up – games such as five-card draw, Criss Cross, Follow the Queen and Stud – before catching the poker bug after Chris Moneymaker sparked the poker boom in 2003. From there, it was weekly home games, small tournaments, and time online playing on PokerStars and party poker.
"I had no bankroll management, I'd put $200 on the site and sit down at $1/$2 no-limit with the whole thing," Himmelbrand says with a laugh. "I busted my first two deposits but was lucky enough to run the third $200 deposit up substantially."
After returning home from college, Himmelbrand began playing in the live underground scene two to three days a week, winning roughly $40,000 to supplement his salary. Then after two years, the owners sold their other business to concentrate on the restaurant, which made Himmelbrand's job obsolete. That was in November of 2007, the last time Himmelbrand ever had a "real" job.
"After being let go from the restaurant, I decided to see if I could turn the $40,000 I had won into $100,000+ if I started playing five days instead of two. 2008 started off great for me and I've never looked back since. From 2008-2013 I've played primarily cash games, but with an occasional tournament here and there."
In the summer of 2013, Himmelbrand headed to Vegas during the WSOP, not to play tournaments, but rather to play the cash games. Still, he opted to take a shot at the Caesar's Mega Stack $1,080 Main Event, a tournament that attracted 2,161 entrants and created a prize pool of $2,096,170. Neville Darrell ended up winning that event, but coming in second for $241,060 was Himmelbrand.
"It was during this tournament that I really started to adjust to a tournament mindset from a cash game one," expounds Himmelbrand. "Obvious things like adjusting ranges with stack sizing and blind levels, but also in ways of playing hands, where in a tournament sometimes stack preservation trumps the need to maximize value in each individual hand, so I noticed myself playing a few hands differently, potentially not maximizing value on them, however sacrificing that because the preservation of my stack was more important."
Catching the Tournament Bug
After a profitable trip to Vegas, Himmelbrand returned to the east coast and promptly chopped the Parx Casino Big Stax III four-ways for $43,456. Two months later, he topped a field of 2,899 entrants to win the Borgata Fall Poker Open $560 Deep Stack for $243,630, to date the largest cash of his career. It was safe to say Himmelbrand caught the tournament bug.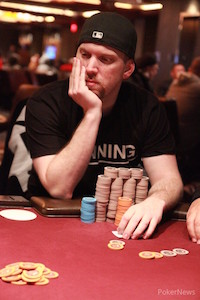 "I played 37 live tournaments in 2014 and cashed in 14 for a total of $257,000," he says with a bit of disbelief. Indeed, his year got off to a good start with a second-place finish in the Sands Deep Stack Extravaganza for $41,869, and bookended the year with a second-place finish in the Parx Big Stax for $47,148. In between he won a Wynn Summer Classic event for $68,786, and came in the top 100 in the WSOP Main Event (he finished 99th for $61,313).
"I guess bittersweet is the best word to describe it," Himmelbrand says of his WSOP run. "I made a deep run and won some money, which is obviously great, but I was also in a huge spot with the potential for life-changing status and I didn't pull through. You can play perfect poker and just never get a chance to be in this spot again. There are seven days of avoiding coolers, bad beats, cold decks, and winning coin flips. I wasn't content with the result, but I can't say I was disappointed either because I legitimately believe that I played the best poker I could play."
Even so, Himmelbrand admits he often looks back on the event, which included playing with the likes of Brian Roberts, Maria Ho, and eventual champ Martin Jacobson.
"With under 100 players remaining I ended up rejamming the
from the big blind for 25 BBs over a loose-aggressive players open and another short-stacked player's shove. The LAG called with
and the short stack held
. Obviously an unfortunate spot to run into the top of both of their ranges."
Himmelbrand picked up a gutshot on a
flop that contained a single spade.
"The sole person on the rail for me screamed 'Ace or Queen,' and I turned around and told him 'don't be greedy... the three of spades is a great card,'" Himmelbrand recounts. "I almost was right, as the turn came the
, adding a flush draw to my gutshot and ace."
Unfortunately for Himmelbrand, the river was a non-spade eight and he was eliminated. Making matters worse, the hand, which took place on the secondary feature table, didn't make the ESPN cut.
"How a hand like that, that was made for TV didn't make the cut, I don't know," Himmelbrand says with a shake of his head. While the that tournament may have been bittersweet, the pain was eased by what has turned out to be a bountiful 2015.
Becoming a Mid-States Poker Tour Champion
It started in February when he navigated a field of 2,403 to finish runner-up to Jesse Mills in the WSOP Circuit Horseshoe Baltimore Event #2 $365 No-Limit Hold'em for $66,900. Two months later, he became a Mid-States Poker Tour champ after winning the MSPT Maryland for $72,910.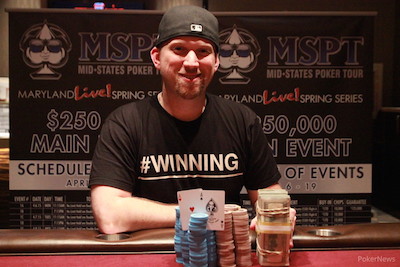 "The MSPT puts on a great tournament," Himmelbrand gushes. "I would really like to play in some more of their events. This MSPT was pretty exciting to win because of the competition at the end. I ended up being three handed with Blake Bohn and Justin Liberto, the two other most accomplished players at that final table. They both were also to my immediate left for the duration of the final table, giving me a serious positional disadvantage for the entire table. So to over come that positional disadvantage, as well as end up eliminating Bohn in third and then beating Liberto, an absolute monster, heads up was definitely a great accomplishment."
Himmelbrand went on to finish fifth in the WSOP Circuit Foxwoods Main Event for $31,431, had a quiet summer during the WSOP, and then returned to the Horseshoe Baltimore for another Circuit stop. Amazingly, Himmelbrand went on to top a field of 1,649 to win the very same event he had finished second in earlier in the year.
"I thought I navigated this final table extremely well and put myself in a great position to win," Himmelbrand said modestly. "I wish there was something that differentiated a winner of a 1,650-person tournament than some of the other ring events that have 100 people, because in my opinion it takes away some of the prestige, but nonetheless it was a great feeling."
So what's contributed to Himmelbrand's recent run of success? According to him, it's a combination of a lot of things.
"Improving my game every day and making on the spot adjustments based on my table. I think I've gotten very good at minimizing my mistakes, and switching gears depending on who I'm at the table with. I'm naturally more of a tight aggressive style player by nature, but I've gotten comfortable playing a loose aggressive style when the table or chip stacks/dynamics indicate its best to do so. Against lower levels players, I've learned to not to level myself and simply dumb it down. Just let them make mistakes and let the game come to me."
Himmelbrand continues: "Against higher level players, I've learned to always vary my post flop lines so it's extremely difficult to hand read against me, and to mix my preflop range up enough to the point where it always leaves them guessing. If there are tough players at the table, I generally try and avoid them, particularly if it's easy to do, but I'm also not afraid to exploit them if I am in an advantageous position."
Himmelbrand, who has either won or chopped 10 of the dozen final tables he's made, has proven he's one of poker's rising stars. Be sure to keep an eye out for him on the tournament circuit, which includes plans for a trip to the upcoming WSOP Circuit Hammond.
"I'll also be looking for lucrative stops on the Heartland Poker Tour or MSPT to close out the year," Himmelbrand concludes.
Follow Himmelbrand on Twitter @GregHPoker.
Want to stay atop all the latest in the poker world? If so, make sure to get PokerNews updates on your social media outlets. Follow us on Twitter and find us on both Facebook and Google+!