Aaron Mermelstein Battles Whirlwind of Adversity En Route To Becoming a WPT Champ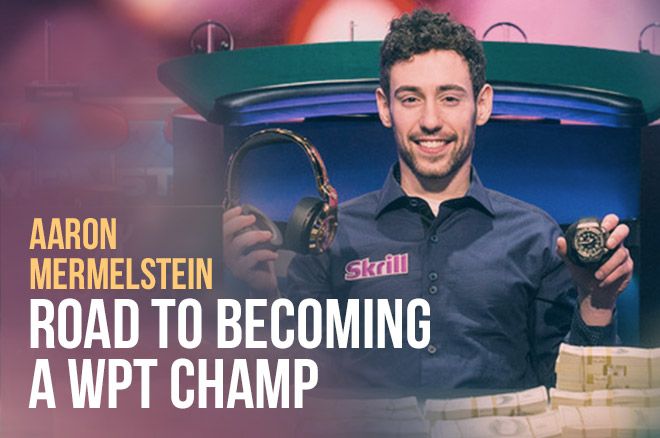 There's no denying the World Poker Tour makes superstars. Jonathan Little, Faraz Jaka, Joe Serock, Matt Salsberg, and Anthony Zinno are just some of the players who made a name for themselves on the WPT. Another player who sprung to prominence on the tour was 28-year-old Aaron Mermelstein, who earlier this year won the WPT Borgata Winter Open for $712,305.
While he was previously unknown to the masses, Mermelstein developed a solid reputation up and down the East Coast, and those who knew him weren't surprised to see him win. What's more, Mermelstein capitalized on the win by pursuing opportunities that come after winning a major, such as traveling the circuit and playing on Poker Night in America. If ever there was a Cinderella story in today's poker world, Mermelstein fit the mold.
More than 35 years ago, Mermelstein's parents left the former USSR — what is now modern day Ukraine — for the United States. The couple eventually settled in Philadelphia, which is where Mermelstein was born on April 30, 1987. Interestingly, Mermelstein's older sister, Anita, currently works as VIP Manager of Murmur inside Borgata.
As for poker, Mermelstein discovered the game a few years before he turned 18.
"So you hear a lot of poker players credit Chris Moneymaker for helping them to transition into poker, I actually got started after watching Robert Varkonyi win on ESPN the year before," explains Mermelstein. "It's cliché now, but I couldn't believe you could make that much playing a game. At the time I was playing Sega Genesis for hours a day, so I thought why not play a game you could actually make money in?"
Mermelstein continued: "I remember seeing an advertisement for partypoker and signing up that day. It seemed almost immediately I was able to have success. I won two $5 or $10 tourneys for $5,000 each, and it seemed like such an easy game for me."
Indeed, Mermelstein's success continued when he wound up winning a 16,000-entry freeroll that awarded the winner a seat into the inaugural World Series of Poker $50,000 Poker Players' Championship, and the other eight final table participants a seat into the WSOP Main Event. Mermelstein had a deal to sell the seat to another player at the table for $40,000, but much to his dismay it wasn't transferable.
"Unfortunately, due to the terms of the freeroll I was not able to sell my seat, and I was not 21 so they were not able to compensate me at all," Mermelstein reflects. "This devastated me and then the UIGEA came along and got rid of poker not long after, so I kind of was out of poker for a little bit."
With his poker career cut short, Mermelstein attended Penn State University, where he ultimately graduated with a degree in Business Management. It was during his time in college that he got reacquainted with online poker.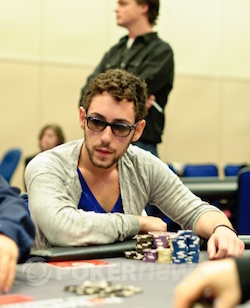 "I can't remember exactly when I got back into the online poker scene, but I believe it was my junior year in college, so in about 2008," says Mermelstein. "I deposited onto Full Tilt and PokerStars. The game definitely advanced since the last time I played online, so I took time out to read some books and watch videos."
After a year of easing his way back in the game, Mermelstein broke through when he placed fourth in the Sunday Million for roughly $90,000, which got him back up and running with a workable bankroll. Then, in 2010, he finished runner-up in a WCOOP four-max event for $70,000.
Despite his success in multi-table tournaments, Mermelstein opted to shift gears and focus on heads-up cash and sit-and-gos (SNGs).
"I remember being pretty successful in those heads-up SNGs that were under $1K, but then kept on moving up in stakes and taking shots that didn't support my bankroll," Mermelstein admits. "I can remember even playing a few $5K SNGs with Jonathan Jaffe, even though I maybe only had 30 buy-ins to my name at that level. It's funny to think about it now, but none of my friends at that time came from poker, so I had no one around me preaching bankroll management."
It was around that time that Black Friday struck, which very well may have saved Mermelstein's online bankroll.
"I was tired of the online grind and really want to challenge myself to see what I could do with my degree and how I would like to be in the workforce," says Mermelstein. "I withdrew my entire roll from PokerStars and decided I was going to go all in on the WSOP that year. This would be the first year of me being in a casino for the summer and I didn't know anyone else out there. So I did what anyone does the first time they are out in Vegas for the first time — I partied and played in the pits and I did so until I completed depleted my roll and then some."
Fresh off a losing summer where he failed to notch even a single WSOP cash, Mermelstein worked for his father at a boarding home for the elderly before finding a job as an executive recruiter in Philadelphia then New York. That was Mermelstein's life for the better part of three years before he was laid off in August of 2014 — he also played recreationally in home games and on unregulated online sites.
"At this point, I was having a lot of success in cash games and online, and I decided to focus more of my energy on live poker," says Mermelstein.
It immediately paid off, as in November of 2014 he shipped Event #11: $300 No-Limit Hold'em Deepstack at the Borgata Fall Poker Open for $39,663. But, it was another high for Mermelstein that would see him come crashing down.
"As part of a backing arrangement for all of the tourneys I played that series, I was left with around $20,000," explains Mermelstein. "I took the money in all cash and ended up at a friend's place for a party. In another not-so-smart decision, I trusted this friend and left my bag full of money in his closet when we went out to the club. I didn't make it back to my friend's house until the next morning, and by that time the bag, and my bankroll, had been stolen from me. Obviously trusting friends with large sums of money is not something anyone should be doing, and I've learned my lesson."
With his back against the wall once again, Mermelstein turned to online poker and was fortunate enough to win an online tournament a few weeks later. With around a $30,000 bankroll, Mermelstein turned his attention to January's WPT Borgata Winter Open, a tournament that ended up attracting 989 players and created a $3,165,789 prize pool.
Mermelstein plopped down the $3,500 buy-in, and amazingly he won the event for $712,305 by topping a tough final table that included Justin Liberto (6th - $140,878), Esther Taylor-Brady (5th - $174,118), Shawn Cunix (4th - $212,108), Randy Pfeifer (3rd - $253,263), and Eugene Todd (2nd - $419,467).
"My best memories from the WPT are having my parents and close friends in the crowd behind me," says Mermelstein. "There was something really special about being in my home casino and having all my people behind me. Winning a WPT is special enough, but to have them there is something I will always remember. I'm really happy that I was not only able to positively change my financial situation, but that of those who believed in me."
As for his winnings, Mermelstein plans to use some of it to purchase real estate in Philadelphia "when the timing is right." He also plans to pursue a few non-poker business ventures. Of course, playing more poker was also in the cards.
Since etching his name on the WPT Champions' Cup, Mermelstein has amassed a slew of scores including $14,550 for a fifth-place finish in April's Borgata Spring Poker Open Event #10: $1,000 Six-Max No-Limit Hold'em; $30,780 for a third-place finish in the Latin American Poker Tour Panama High Roller; and $31,150 for winning the Seminole Hard Rock Poker Open Event #4: $1,100 No-Limit Hold'em in early August.
"It felt great to book a win after a really tough summer," Mermelstein says of the SHRPO win. "From a $10K heads-up disaster to going from chip leader in the Main Event for a short time to busting 30 away from the money, it was a tough summer. I really wasn't even going to play much and was just using SHRPO as a stopgap before my trip to Panama, so it was a nice bonus."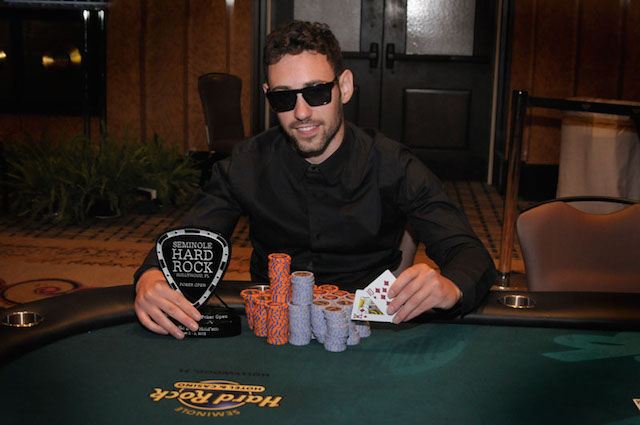 Indeed, Mermelstein traveled to Panama to play in a small poker series as well as cash games, an ideal plan for a single man flush with cash.
"I think it's really difficult to be in a relationship if you're going to be traveling from one place to another quite often," Mermelstein says of his relationship status. "Being in the right relationship is tough. It can potentially help your game, but a lot of times they work as a major distraction, so I choose to be single until I plan on staying in one place for a long time."
Right now, Mermelstein intends to stay on the East Coast for a bit in order to play upcoming WPT events at Maryland Live! and Borgata, which not surprisingly is his favorite place to play.
"I believe Borgata has been the best poker room in the Northeast for a long time now," he says. "Great tournaments run there all the time, and the cash-game action has always been solid. The Director of Poker Operations, Tab Duchateau, does an excellent job at listening to what the players want working hard at making the right adjustments."
Few players experience the whirlwind success that Mermelstein has in the last year, but if there's one takeaway from his story it's that good things take time. Mermelstein's ascension to poker stardom seemingly came overnight, but in reality his road to becoming a WPT champion was a decade in the making.
Want to stay atop all the latest in the poker world? If so, make sure to get PokerNews updates on your social media outlets. Follow us on Twitter and find us on both Facebook and Google+!