The Experience of a Lifetime: Shannon Shorr Summits Mount Kilimanjaro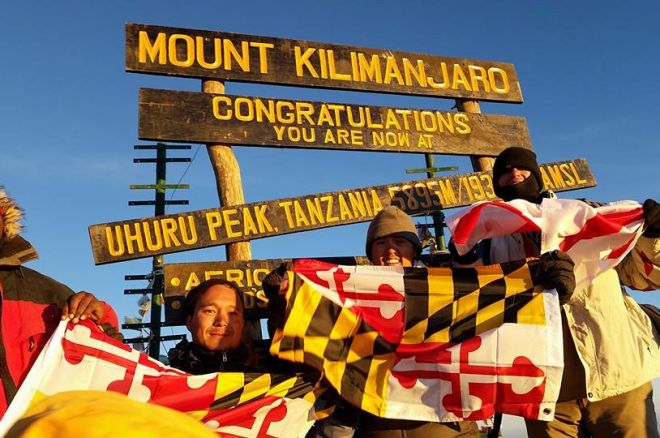 Every year, tens of thousands of players descend on the annual World Series of Poker with high hopes of capturing poker glory. Since 2006, few players have put in as much volume in their valiant quest over Shannon Shorr, who has amassed 32 WSOP cashes for $1,424,720, though a gold bracelet has thus far proved elusive.
Shorr had a respectable four cashes at the 2014 WSOP, but that could have been more if he had played a full schedule. Instead, Shorr made the difficult decision to take two weeks off from the game's biggest festival to attend the World Cup in Brazil. That resulted in Shorr playing just 21 events, which was a career low.
Instead of spending his time in Vegas' Rio All-Suite Hotel & Casino, Shorr traveled to the actual Rio — Rio de Janeiro in South America. While there, he attended the Spain-versus-Chile game with his friends Jesse Yaginuma, Adam Geyer, and Byron Kaverman. From there, it was on to Salvador for two more games — Spain versus Netherlands and Germany versus Portugal.
"The World Cup was the coolest, man, it was such an experience," Shorr told PokerNews just before the 2014 WSOP reached its November Nine hiatus. "Normally, I'm toward the top for number of WSOP events played, so it was a tough decision to get away from it, but I think I finally reached a maturity level and a balance where I can do that. It was the experience of a lifetime."
While an experience of a lifetime like the World Cup would be enough for some, Shorr didn't stop there. Along with Jesse and Paul Yaginuma, Shorr set his sights on climbing the highest freestanding mountain in the world — Africa's Mount Kilimanjaro.
"Jesse was sort of planning a big goal for 2014 and settled on that one," Shorr said of the expedition's origin. "He asked me if I wanted to go along. I generally like challenges and trying to do things, so I said why not."
Preparing to Climb Africa's Highest Mountain
While Shorr and Jesse were busy at the World Cup, Paul had his hands full with the busywork. He found a company in Tanzania called Ultimate Kilimanjaro to guide them up the mountain, booked daylong flights, and waited for his brother and Shorr to cut their checks.
"I guess we'll have like five guys carrying stuff around for us," Shorr said when asked about his expectations. "It should be a pretty transformative experience. Might as well do it while I'm young. It timed up in the sense that August is kind of a slow month poker wise, so that worked in our favor. I think the weather is going to work in our favor."
As Shorr began to ponder the impending trip, the seriousness of it all, coupled with his unpreparedness, seemed to strike him.
"I'm embarrassingly unprepared," said Shorr. "I have been doing a lot of mediating to get my mind right. I want to be really healthy heading into it. I also bought some new hiking boots and hiking socks, so that's about the extent of it. I've hiked very casually with friends, whether it's been in L.A. or Vegas. I don't have a ton of experience."
Indeed, Shorr, who runs frequently to stay in shape, admitted that his most challenging physical experiment up to that point was running a half marathon.
"I like to think that my stamina is where it already needs to be," Shorr said. "I run a lot and take care of myself, but the altitude should be another issue. I did a little camping when I was younger in Alabama. I love the outdoors, I love nature, and so I'm excited about that aspect of it."
What he lacked in experience, Shorr more than made up for with enthusiasm.
"I've never been to Africa, he said. "I'm excited about it. Actually, I was just thinking last night after I visit, Antarctica will be the only continent I haven't touched. I tend to look at all of my life experiences and try to grow from them, whether it's poker or anything else I'm doing. I think everything you do sort of shapes you as a person, so you have to try to get the good out of everything. I'm hoping to get out there and experience it, be in it, be present. I'm always digging to find out what the true me is, and I think this is going to help."
The Battle and Experience
Shorr departed Alabama on July 31, and 22 hours later he arrived in Tanzania. Unfortunately for him, those new hiking boots and socks he bought didn't make it.
"I arrived to Kilimanjaro airport in Tanzania to the nightmare that only my duffel bag had arrived," Shorr explained*. "Additionally, I'd packed a huge suitcase that included my daypack and much of the essential gear I needed, perhaps most importantly my broken-in hiking boots. My concern became real while waiting with many others in the lost baggage line in the third-world country — watching workers document all of the claims with paper and pen. I filed my claim and was told that my baggage was most likely in Amsterdam and wouldn't arrive in time for my hike, which was to begin in just thirteen hours."
Fortunately, Shorr was able to replace those items in Africa, and the next day the trio packed into a van with 14 others to make the 90-minute trip to the mountain. Once they arrived, they set about their journey as the porters sprung ahead to set up camp.
"They scurry up and down the mountain at a pace you won't believe until you see it with your own eyes," Shorr said. "They balance or lightly support gear on their head in addition to wearing backpacks, tents, folding tables, and all kinds of other stuff. Even guys that weren't particularly big or were slightly overweight were getting after it. It was, in two words, humbling and inspiring."
"It wasn't until late day two that we actually got a view of the peak that we'd attempt to conquer," said Shorr. "It was a cool feeling not thinking, but knowing that the guys and I were going to summit."
After six days of averaging four hours of hiking per day — which Shorr describes in depth in his blog — the faction reached the final leg of their ascent. As the clock ticked over to 12:01 a.m. on Friday, August 8, the climbing party prepared for their push to the summit. Thirty minutes later they were on their way.
"We began the steep ascent of the mountain in the dark night lit up only by an unforgettable view of the full moon and stars and by all of us hikers' headlamps in a line," Shorr recalled. "The view was literally something from another world. It is one of the reasons you should book your Kilimanjaro trip as soon as possible. We trekked and trekked and trekked for over four hours and I can speak for all of us when I say that we were physically and mentally exhausted. Still, there was no chance of us coming up short."
At 6:34 a.m., all three men accomplished their goal as they stood — with flags from their home states — 19,341 feet above sea level. The triumvirate spent 15 minutes atop Mount Kilimanjaro celebrating the feat, and while their goal may have been reached, they still needed to get down the mountain. Still, what took seven days to climb would take less than a day to descend.
"The real struggle of the trip for me was coming down the mountain," Shorr said. "Having never really experienced altitude, I really got hit at the summit and had some difficulty skating down the initial 2.5 hours of the mountain. My headache was pounding and I was completely exhausted. Thanks to Jesse and Paul's motivation, I eventually made it."
The Aftermath
They say there's no rest for the wicked, and that was certainly the case for Shorr. After returning to the hotel, the first order of business was showers. The Yaginumas and Shorr flipped coins to determine the showering order, with the brothers getting the better end of the deal. After cleaning up, the three headed down to the hotel lobby for some celebratory beers. Just when they were about to call it a night, the very men who guided them up the mountain roped the three into hitting up the club.
"We were just about to walk upstairs and get sleep when our guides and newfound friends Ewald and Amadeus pulled up in a vehicle outside the hotel," Shorr concluded. "We all piled in a car and headed out to the nearby Moshi, Tanzania bars/nightclubs. We took over the dance floor with our favorite porter, Peter. I finally slept after 2 a.m. in what amounted to the craziest 24 hours of my life."
Shorr, who followed up the climb by going straight to the European Poker Tour Barcelona, recently released an 11-minute video created by Paul Yaginuma documenting their trip. Check it out:
*Some of Shorr's quotes and photos are taken from shannonshorr.com with his permission.
Get all the latest PokerNews updates on your social media outlets. Follow us on Twitter and find us on both Facebook and Google+!
Executive Editor US, PokerNews Podcast co-host & 2013 WSOP Bracelet Winner.