Mike "Little Man" Sica Passes Away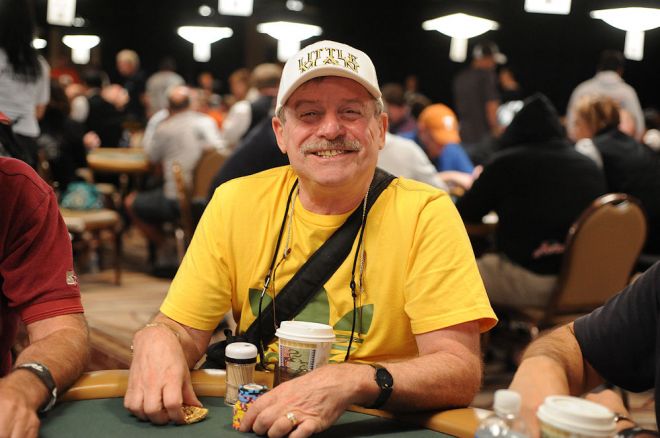 On Wednesday, Nov. 13, 2013, East Coast poker professional and World Series of Poker gold bracelet winner Mike "Little Man" Sica passed away at age 69.
A former teacher with a large passion for poker and an even larger heart and lovable personality, Sica was diagnosed with cancer in April. This news came to the surface when Sica traveled to the WSOP Circuit Harrah's Philadelphia event that month, an event where Sica would earn the last cash of his career.
Sica told the WSOP Circuit Blog, "I had come back from playing at the Borgata and had a bad pain in my neck. After the doctors ran some tests, they told me it was cancer."
In 2004, Sica won the $3,000 No-Limit Hold'em event at the WSOP, earning $503,160 and grabbing the largest non-Main Event bracelet at the time in WSOP history. Over his career, Sica earned over $1.3 million and was a staple in poker events all over the U.S.
Sica was always seen with a giant smile on his face, completely contradicting his "little" nickname. He was often decked out in a matching outfit from head to toe that included a custom hat reading "Little Man" on the front and a colorful jumpsuit. While many may think it was the attire that often made him stand out in a room full of poker players, those who know of Sica knew it was his vibrant personality and overly kind persona that really separated him from the pack.
Always equipped with a fresh container of toothpicks, Little Man possessed an extremely big heart and was one of the nicest people to enter the poker world. He will be deeply missed.
The poker world will not be the same anymore. My dear friend Mike Sica passed on today. He will be remembered and missed. I LUV U MIKE ! RIP

— Will Failla (@WILLFAILLA)
Just heard the Mike "Little Man" Sica has passed. One of the most genuinely nice guys in the poker world. RIP my friend…. #GodBless

— Jay WhoJedi Newnum (@WhoJedi)
Besides his stature, there was nothing little about Mike Sica. Big smile, big personality, but most importantly he had the biggest heart RIP

— Vinny Pahuja (@vinpahuja)
Very sad 2 hear of Mike "Little Man" Sica's passing. I often called him my "Poker Grandpa." Honestly 1 of the nicest ppl I've ever met. #RIP

— Matt Stout (@MattStoutPoker)
Rest in peace to 2004 @WSOP bracelet winner Mike "Little Man" Sica. An overly nice man who always went out of his way to say hello. #RIP

— Rich Ryan (@RichTRyan)
Saddened by Mike Sica's passing. Had pleasure of meeting "Little Man" right when I entered poker. He was always genuine and will be missed.

— Shannon Shorr (@ShannonShorr)
Chomping on a toothpick in honor of Mike Littleman Sica, one of the nicest guys ever #RIPmyfriend

— Cliff Josephy (@JohnnyBaxPoker)
Mike Sica may have been the nicest guy I've ever met. always had a smile on his face and carried an amazingly infectious joy about him. RIP.

— Jason Somerville (@JasonSomerville)
Just heard terrible news that Lil man Mike Sica just passed.I love that guy .My heart hurts really bad. RIP mike.See you on the other side

— Ronnie Bardah (@RonnieBardah)
RIP Mike "Little Man" Sica. No exaggeration-- one of the nicest, friendliest, and enjoyable guys I have ever played poker with.

— Christian Harder (@realcharder30)
Just heard that Mike "LittleMan" Sica passed away. For yrs, saw him in AC, Foxwoods & Wsop. Always happy & a gentleman. #WillBeMissed #fb

— Bernard Lee (@BernardLeePoker)
Sica was never a man to let poker get him down, and that is evidenced in this post from the 2012 WSOP. Sica was eliminated in the action, but stood up from the table, smiled, patted our reporter on the back and said, "Sometimes you eat the bear and sometimes the bear eats you."
Our condolences go out to friends and family of Sica. May you rest in peace, Little Man.
Get all the latest PokerNews updates on your social media outlets. Follow us on Twitter and like us on Facebook now!