Finding Balance: Poker and Family Life with Jeremy Ausmus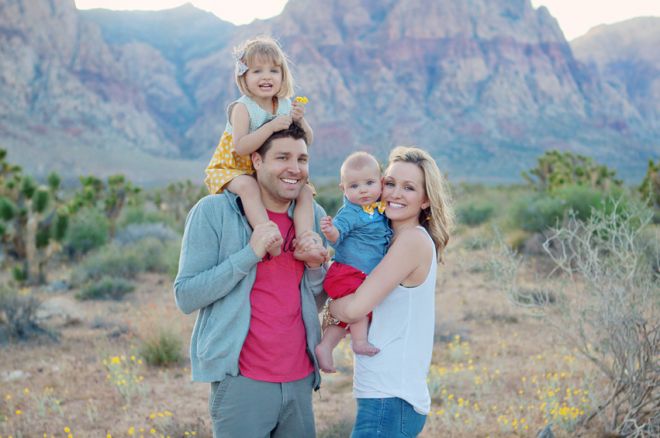 It can be a difficult feat for anyone to work a nine-to-five job, while trying to maintain a healthy marriage and raise a young family. If the job is playing poker, it turns even trickier.
Professional tournament players typically travel the globe, jetting from one tournament to another, be it for the European Poker Tour, the Asia-Pacific Poker Tour, or just traveling nationally for the World Poker Tour or World Series of Poker Circuit events.
Most professional poker players will admit that their profession is difficult enough without throwing in the additional pressure of supporting a family. The money pressures and the nuances of an unpredictable schedule can prove challenging for an unmarried professional trying to maintain a healthy work-life balance. For a married pro, trying to juggle the work-life-family balance can be almost impossible.
One player who has managed to pull off this difficult feat is 2012 October Niner and Ultimate Poker Pro Jeremy Ausmus. Not only is he a successful all-around player with nearly $3.5 million in live tournament earnings and a winning cash-game rate, he is also an attentive husband and father of two children.
Ausmus moved to Las Vegas to pursue a career on the felt after graduating from Colorado State University in 2005. Although he met his future wife, Adria, while in college, it took another two years, while Ausmus was getting established, before she joined him in Vegas.
"As a player," Ausmus explains, "it was easier maintaining a long-distance relationship. On her days off I would fly to her or she would come to Vegas, and we would both stay for four or five days at a time."
Eventually, Adria moved to Vegas, and the couple wed in 2009, which was followed by the birth of their first child a year later.
"That first year of marriage was great because we traveled for most of the year as newlyweds," says Ausmus. "We got married in Mexico and honeymooned there as well." The two also traveled to Europe for EPT London and then visited Paris and Rome. "Looking back, it was [certainly] easier to travel [before we had kids]," Ausmus says a bit wistfully.
Following the birth of Calia, Ausmus quickly realized that his free-roaming lifestyle wasn't going to cut it any longer. "After having a child, you realize you just can't travel whenever and wherever you want."
Now with two kids, 3-year-old Calia and 1-year-old Kai, Ausmus has learned to adapt to his new role as a father. "Truth is, playing a poker tournament for 12 to 14 hours a day is really a piece of cake compared to staying home and taking care of kids." Especially since the Ausmus family makes due without a nanny! "Obviously my wife handles more than me, but I make it a point to be around and contribute quite a bit," he says.
So what's the secret? Creating a normal daily routine is key. A typical day for Ausmus goes like this: get up, have breakfast, tend to the kids, have lunch, cash games for four hours, come home, family dinner, bed.
Even with the poker part, it sounds almost mundane, doesn't it?
Ausmus understands the importance of sticking to a structured schedule in order to bring balance not only to his life but also to the life of his family. One tip he shares is the value of concentrating on one thing at a time. When Ausmus is at home with his family, he gives them his full attention. "I don't ever check the games on Bravo or talk to any of the floor guys from the poker rooms." His focus is similarly tunnel-visioned when playing poker. "I play for the designated four-to-six hours and stay focused until it's time to leave."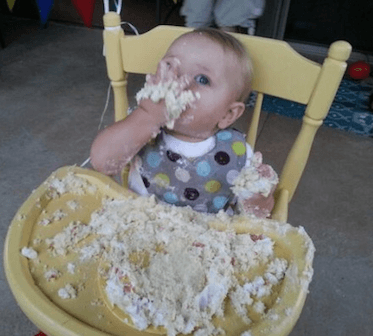 Digital technology has helped increase the Ausmus family's scheduling efficiency. "[Adria and I] have this calendar system that syncs with my phone, her phone, and our computer so we can always see what's on the agenda for that day or the following week. It helps keep our information clean and accurate."
Not only is their calendar electronic, their baby monitor is a state-of-the-art hand-held. Ausmus can be outside enjoying the afternoon with his wife while keeping tabs on his kids inside the house.
For a poker player, as for any parent, logistics can be conquered with foresight and organization. But what about variance? What about the bad runs that even the most seasoned pros sometimes have to endure? To Jeremy's wife, the downswings are just part of the job.
"I am very aware of the downswings of the game, and of course it is human nature to be bummed about losing money. But even when Jeremy comes home after a bad day, neither of us are too affected by it," Adria says.
Even so, to avoid having his decision-making affected by outside responsibilities when playing a high-variance game, a husband and father of two needs a good cushion. "We plan ahead and have always had a large nest egg," Adria says. "That really helps minimize the stress and worry." Ausmus agrees. "I've always just played within my bankroll so the swings are always relative to my bankroll. Since I do that, a worst-case scenario day, although not fun, is never that big of a deal."
What if it's not just a day or two, but a sustained bad run?
"Then," says Ausmus, "it would be time to step down in stakes to protect the bankroll. [As it is] I'm only risking 5 percent or so of my bankroll at the most each day, [so if I lose it] it really isn't too big of deal in the big picture." Keeping in mind that Ausmus plays mid-to-high stakes for a living, it means that "my living expenses and such are a much smaller percentage of my money compared to someone who is playing lower stakes like $2/$5 for a living. I got through those days when I didn't have a family; it would've been a lot harder to do if I was supporting them then."
Balance home and work, check. Manage your bankroll, check. Still. It can't be as easy as all that. What is it really like having a husband as a professional poker player?
"When I met Jeremy," Adria says, "he was already a poker player. As I got to know him and had the chance to watch his career blossom, I learned that the way he handled himself was in line with what I was comfortable with. He was calm, honest, hard working, financially responsible, and also had little to no desire to do any other forms of gambling. He set aside money in the event of big downswings, and was conservative about moving up to the next level. I felt like he always kept his financial responsibilities in mind and never took any risks that worried me. He is doing what he loves and providing us with a great life. It works for us."
Adria is also quick to mention the many perks that come with Jeremy's career choice. "The flexibility is amazing. He can take off for a couple of months or we can vacation in the middle of the week if we want." The best part, she says, "is that he loves his job. He is always excited and willing to 'work.'"
Surely there have to be some downsides? "At this point, I know what two weeks without him feels like. Actually, I know what six weeks without him feels like, because during the WSOP he plays so many tournaments that we hardly see him. His routine during that time is basically eat, sleep, poker, repeat. I try to stay busy with the kids, but I also give myself breaks. If I need a nap, I'll take one. If I'd rather not cook, I'll pick up dinner. Jeremy and I try to stay connected and involved in what is happening in each other's world and we make it work."
Trust and understanding seem to be the key ingredients for the couple. Ausmus makes it clear that Adria is well aware of the highs as well as the pitfalls. "She trusts the decisions I make at the tables and that lets her rest easy."
Lately, Ausmus has made the conscious decision to cut back a bit more to spend additional time at home instead of on the felt. Recently, he took to Twitter to ask, "What are the five tournament series most worth traveling for outside of Las Vegas?" When asked why he feels the need to cut back if his life is already well balanced, Jeremy emphasizes that being involved in his children's lives is his number one priority. "[I want to see] every bit of trouble they get themselves into," he says.
[IMG storage="527291a106496.jpg" wh="600x800" align="right"]Jeremy and Adria's oldest, Calia[/IMG] For the remainder of 2013, the WSOP Europe was his last big poker trip. Next year, he plans to be more efficient with his traveling and play mostly EPT tournaments because he finds the structure to be more accommodating to his lifestyle. "The way they are structured I don't have to be gone as long. I think I can make more money per trip and be gone less because they have their Main Event at the start of the series rather than at the end like the WSOP."
As of late, there has been a spate of players getting engaged and married — players like [B][URL="https://www.pokernews.com/poker-players/david-sands/"+]David "Doc" Sands[/URL][/B], [B][URL="https://www.pokernews.com/poker-players/shaun-deeb/"+]Shaun Deeb[/URL][/B], and [B][URL="https://www.pokernews.com/poker-players/david-williams/"+]David Williams[/URL][/B], to name a few. Ausmus had this piece of wisdom to offer them: "Any traveling you want to do, do it now. And know that it is okay to make some sacrifices with your poker career in order to build something greater — a family."
One of those sacrifices is not traveling with the kids. "Mixing poker trips and family trips sounds great on the surface, but it's not good at all. If the kids were five- and seven-years-old, then it would be easier, but at this age you have to pack strollers, diapers, toys, etcetera." It's clear that Ausmus is speaking from experience because his voice grows animated and his arms start waving as he tells of his son eating sand and rocks from the beach. "Obviously we haven't followed our own advice," he laughs, "but honestly it can be a nightmare."
Some people might argue that if you want to climb to the top of the poker mountain, trying to maintain a balanced family life could prove an impediment to those ambitions. Ausmus doesn't strenuously dispute this line of thought. "I'm not trying to be the best player in the world," he admits. "I'm doing this to support my family. Having a family and being there for them as a great father and husband is a pretty good recipe for winning, too."
[B][I]Jeremy Ausmus' Tips for Poker Dads (and Moms):[/I][/B]
[LIST][*]Explicitly acknowledge priorities: If factors like health and family rank below your poker career goals, then maybe your long-term priorities don't line up with having a family.
[*]Set and enforce boundaries: Maintaining work-life-family balance requires setting boundaries. Ausmus explains that he and his wife abide by a set schedule. If you plan to play live cash games every day from 4-10 p.m., then enforce that time frame and don't stray from it. To take it even further, if you want "life" time then consider setting time into your calendar, and set reminders/alarms. As Ausmus puts it, "Discipline and self-control is what works when you have a family or are thinking of starting a family."
[*]Communicate: In any field of work, including poker, both spouses need to know the stress level and work load of the other. Things like the shared/synced calendar are helpful in that regard. But open communication is paramount. If either spouse feels overwhelmed or stressed, openly expressing that to his/her partner is a must.
[*]Continuously adapt: Life as newlyweds differs greatly from life with a child and even more from life with two children. Recognize that achieving work-life balance is a never-ending process. It's okay to make mistakes because they can help you evolve as a partner, a parent, and even as a poker player.
[*]Trust and honesty: Having poker as a career is not for the faint of heart. Being able to talk to one another about the ups and downs can only help build a stronger relationship. Understanding the game and being honest about the status of your bankroll will not only save your sanity but also save your partner's.[/LIST]
[I]For news, updates, and more follow PokerNews on [URL="http://www.twitter.com/pokernews"+]Twitter[/URL] and [URL="http://www.facebook.com/pokernewsdotcom"+]Facebook[/URL].[/I]