Off the Felt with Kristy Arnett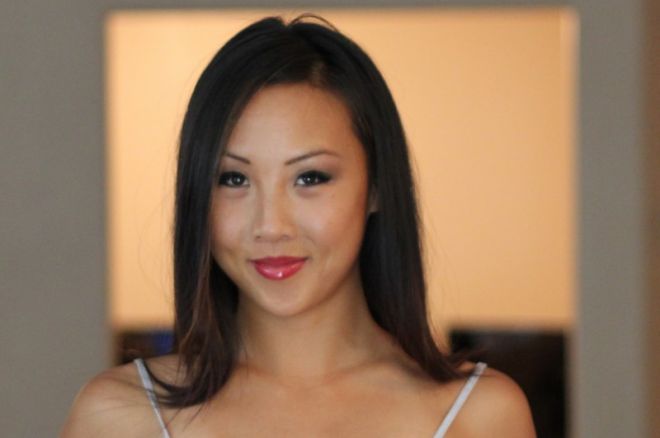 Off the Felt is interviewing your favorite people in the poker industry to find out more about their lives — you've got it — off the felt. We recently sat down with Kristy Arnett to talk a little poker, sushi, and triathlons.
How did you get your start playing poker?
I started playing poker when I was a sophomore in college after being introduced to the game by my boyfriend at the time. I started crashing home games pretty quickly because I was obsessed with it. I played $5 tournaments with my college baseball team and after a couple of years, eventually started playing in underground cash games and tournaments all over Fort Wayne. The types of places I was hanging out at weren't too typical for an underage-college girl, but I loved it.
As a PokerNews hostess you've been able to travel to a lot of great places around the world. Where is your favorite place that you've had the opportunity to play poker?
It's true that I've gotten to travel to great places for my job, but usually, I don't get to play while I'm there. However, I will say that the Aviation Club de France in Paris was quite an experience. You have to buy a membership to get in, but once you have it, you are fingerprint ID'ed at the front! It's like James Bond type stuff. I felt kind of baller going there to play. Also, the cash games are really soft. French players are typically characterized as loose passive, and top pair was good in a 600 big blind pot.
What was your favorite moment at the WSOP this year?
My favorite moment at this year's WSOP was playing an open $1,000 buy-in no-limit hold'em event. I played the ladies event the two years prior, but never an open event just because I never had the time. It was so fun, and I felt like I played pretty well. It came down to a flip after I four-bet shoved tens into ace-king, so I couldn't be too upset. There's just something about the vibe, energy and excitement at the WSOP that doesn't compare anywhere else.
You write a lot of strategy pieces, what's the best poker advice you've ever gotten?
Wow, I've had so many light bulbs go off for me that it's hard to pick just one. I'd say that the most broad but important piece of advice I've gotten is to network with players who you think are better than you. It's amazing how quickly and seamlessly your game improves just by talking poker with players above you in skill level. If you aren't a social butterfly, then use forums. It's difficult to sift through, but the best way is to get involved in the discussion. Other players will find faults in your logic much quicker than you will by yourself.
Who do you look up to as a good role model in the poker community?
Career wise, I look up to Kara Scott. She is talented on and off the felt, ridiculously classy, and genuinely one of the nicest people I've ever met. As far as players go, I look up to players like Jason Mercier. His poker success is obviously incredible, but he's also still grounded. In addition, he's beyond friendly with the media, so he makes my job pretty easy.
What are some of your hobbies away from the table?
I'm a pretty avid writer and try to keep up with my personal blog when I can. I've also gotten into new challenges like running and triathlons. I plan on running a full marathon in January, and my ultimate goal is to someday complete the Ironman Triathlon. One step at time though.
Where is your favorite place to eat in Vegas?
I could name standard Vegas restaurants like Cut, or Sen of Japan, but I'd say my favorite place is Sumo Sushi 2. You can get the all-you-can-eat for $26, and the food is delicious. You can also opt for the all-you-can-drink, which includes cold sake and draft beer for $15.
Would you rather have a closet full of shoes or full of clothes?
Shoes is the easy choice, assuming that I still get to wear some sort of clothes and not have to go naked if I don't pick a closet full of clothes. You can dress up any outfit with an attractive pair of shoes, but no matter how cute an outfit is, it never looks right if you don't have great shoes to match.
Have you ever been involved in a ridiculous prop bet?
I'm not a huge prop bettor because I'm somewhat of a gambling nit away from poker, but I did engage in one with Donnie Peters from PokerNews. We prop-bet on finishing the workout program called Insanity, which is basically 60 days of the most vigorous and cardio-intense workouts imaginable. If either of us missed a day, we had to pay up. Luckily, we both made it through the two months, and the results were pretty incredible. I was in such good shape that my husband said I was beating up soccer moms in my weekly soccer league. Whoops!
What's the creepiest thing that has ever happened to you at the table?
My husband and I were approached by a man we were playing with and asked if we'd like to "swing" with him and his hot wife. It was flattering, but kind of a creepy.
Where is your favorite place to play poker in Las Vegas?
My favorite place to play poker is Aria. The staff is so incredible and professional. The tables are comfortable, the room is beautiful and decently spacious, and the comps are unrivaled. Right now, you get $2 an hour and $3 an hour between 0500 to 1000. The Venetian is a very close second. The room is much bigger, so a little less personal for regular players.
Any hidden talents?
I guess it's not really a hidden talent anymore since I've done it in a poker video, but I can do a front flip on a soccer ball and throw it really, really far. I can also play the flute, but no, I never went to bad camp.
If you could be in any artist's music video who would it be?
I would be in a Beyonce video so I could dance and shake my butt in the name of girl power.
Any predictions on who is going to win the Superbowl this year?
Well, my problem is that I usually bet with my heart instead of my head, so why change now? The Dallas Cowboys are going to win the Superbowl.
If you weren't in the poker industry what would you be doing?
I have no idea. Maybe I'd be a news reporter or writing for some kind of magazine. One thing I do know is that I wouldn't be having as much fun as I am now.
Follow PokerNews on Twitter for up-to-the-minute news.