Doyle Brunson Enters Super Seniors; Doubtful for $50,000 Poker Players' Championship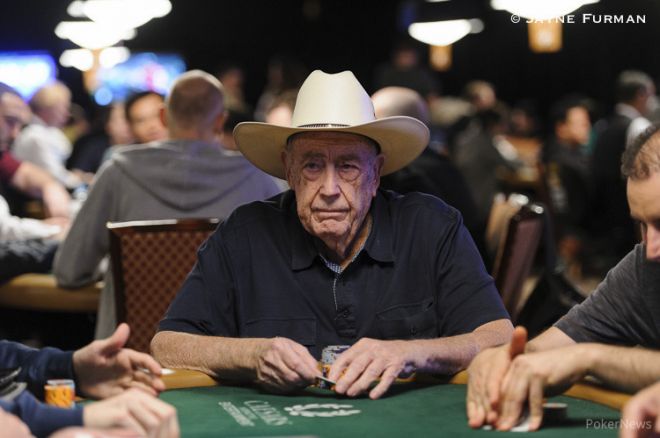 Doyle Brunson needs no introduction, he's a living legend after all. Despite that, the 10-time bracelet winner still got one this evening when he showed up to the 2015 World Series of Poker for the very first time.
For the past few years Brunson has opted to skip the WSOP (with the exception of the $50,000 Poker Players' Championship) in favor of cash games at Bellagio and ARIA, which allow him to set his own hours and avoid the tournament grind. However, earlier today Brunson sent out a tweet indicating he would be playing Event #43: $1,000 Super Seniors No-Limit Hold'em, though no one knew whether or not he was serious.
Gonna stumble into the Rio for a late sign up in the super seniors event. Hope I know some of the old timers there.#gulp

— Doyle Brunson (@TexDolly)
As it turned out, Brunson was dead serious and late registered the event after the dinner break. It was then that WSOP Media Director Nolan Dalla introduced Brunson to the a roomful of his peers, who subsequently gave him a standing ovation. It was a welcomed return for Brunson, who last played a WSOP event in 2014 when he late registered the $50,000 Poker Players' Championship before the start of play on Day 2.
As for his last WSOP cash, that came back in 2013 when he placed 409th in the WSOP Main Event, which gave him a record of cashing in the "Big One" four decades straight. Before that, it was a 17th-place finish in the 2009 WSOP Europe Main Event for £32,198.
Just before jumping into the Super Seniors, Brunson was kind enough to do a short interview with PokerNews.
PokerNews: We saw a tweet that you were going to fire in the Super Seniors event. Is that true?
Brunson: I'm gonna get in there and give it a shot. I'm gonna be on fast track.
If that doesn't work out can we expect to see you jump in the $50,000 Poker Players' Championship?
I don't know. I'm thinking I would like to, but the hours are so late, you know. My wife has been sick, and she don't go to sleep until I come home, so I probably won't play it, as much as I'd like to.
As someone who used to play it all the time, how do you feel about two new games – Badugi and no-limit 2-7 lowball – being added to the mix?
I love it because I like both games. I actually like all lowball games because most of the players don't play too good, even the main players. They don't have enough experience in it.
How are the cash games in Vegas this summer?
The cash games have been good. I've played, I guess everyday, except for when my wife was in the hospital I missed five or six days, otherwise I've played everyday for a couple of months.
Poker Hall of Fame nominations are now open. Last year Bob Hooks was nominated. He's one of the old timers you spent a lot of time with back in the day. Can you tell us a little bit about the man who helped get the WSOP going back in the early days?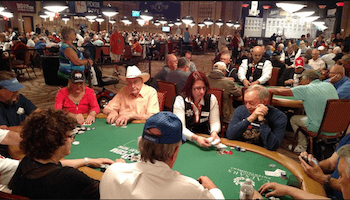 Bob was one of the most entertaining guys I was ever around. He's just so full of bullshit. He's just laughing all the time. He could win more out of a small poker game than anybody I've ever seen. In the real tough games he wasn't as dominate, but when he played against weak players he could really hypnotize them in some way.
I guess we came out here about the same time, then he decided he was going to go back home. He was very instrumental in getting poker going in those days. I think he should be in the poker hall of fame, that's what I think. Everybody don't know the old timers, and they don't really know what the contribution he made was really important. I think they should honor him. I understand modern day players get more publicity, but he deserves it, he should be in there.
Rumor has it Bob Hooks and Brian "Sailor" Roberts chopped the 1975 World Series of Poker Main Event despite it being played winner take all back then. Is that true?
Like Benny Binion said, you can't tell people what to do with their own money.
Want to stay atop all the latest from the 2015 WSOP? If so, make sure to get PokerNews updates on your social media outlets. Follow us on Twitter and find us on both Facebook and Google+!
Executive Editor US, PokerNews Podcast co-host & 2013 WSOP Bracelet Winner.