Former MLB All-Star Turned PBA50 Pro Bowler Goes Deep in WSOP Seniors Event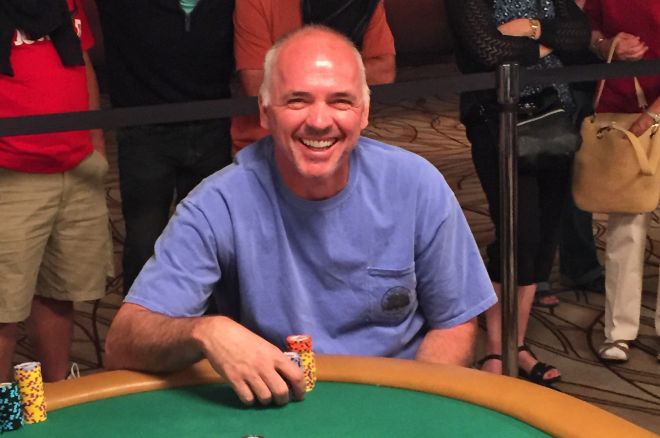 A one-time all-star pitcher in the show, John Burkett found success on the mounds of Major League Baseball parks across the country. After hanging up his glove, he's found more on the lanes of bowling alleys across America, now a member of the PBA50 senior tour. Saturday, he found success at the 2015 World Series of Poker, cashing in the $1,000 Seniors No-Limit Hold'em Championship and running deep into Day 2.
"This is great," he told PokerNews. "I've never made it through a field this big before. That's kind of the first step right?"
The former San Francisco Giants, Florida Marlins, Texas Rangers, Atlanta Braves, and Boston Red Sox starter, who played 14 seasons in the majors compiling 166 wins, got bit by the poker bug after he left baseball.
"We played on the plane a little bit," he said about his days in the show. "The guys would knock down a middle seat down and get a game going, but I didn't play all that much. When I retired from baseball in 2003 I really started playing and I got totally addicted to it. I played a lot of home games and online on PokerStars."
Alongside other players from his home game, Burkett has now made a few trips to Las Vegas for the WSOP, once playing in the Main Event, a $1,500 no-limit hold'em bracelet event, and regularly taking shots in the Daily Deepstacks.
He turned 50 this year, and in addition to joining pro bowling's senior tour, he felt he had to come take a shot at what is annually one of the WSOP's most well attended events.
"This year with the bowling I don't really have a lot of time, but I just had to play this," he said. "I had heard about it for years and now that I'm 50 I had to come out. It's really cool."
Although Burkett was always the guy organizing NFL pools and NCCA tournament brackets back in MLB clubhouses, the 1993 and 2001 National League All-Star doesn't consider himself a gambler.
"Five dollar blackjack is about the extent of my gambling," he said. "Poker's not gambling, you know that, but maybe this is, in a field this big."
According to Burkett, the strategy side of poker has a lot of similarities to his days back on the mound.
"I tell people all the time that poker has so much in common with baseball," he said. "Especially when you're a starting pitcher. When you face Tony Gwynn in the first inning, you know you're gonna face him two, three or four times throughout the game. When he steps and you get him out with a fastball low and away that first time, you'd better not try that again. He's going to be ready for it. Poker is the same kind of thing. When you extract chips from somebody a certain way, that triggers in their mind to say 'OK, I'm going be aware of that next time.' You've got to figure out a different way to navigate and get the chips from them. The mental game is very similar."
That's the reason Burkett says he loves the poker.
"I think that's what attracted me to poker in the first place," he said. "It's fun to constantly try to work that angle."
Burkett said he's pretty much read every book on poker after becoming literally obsessed with the game in 2003. Back in the tournament he was busy three betting pros who might not think he knows how to play, crushing the bubble and getting ready to call light against any short stack's shove after it burst like a seasoned veteran.
In short, Burkett says he's playing to win.
"I'm not here to just to make the money or something," he said. "I want to win it. I want to be up there. Hopefully we can get a little run good and make something happen."
Regardless of how it ends up, one can safely wager you'll see Burkett back at the WSOP again.
"We tell people all the time at our home game that you've got to come out here, you can't even imagine what its like," he said. "It's a trip that I have to make every year to play at least a couple of tournaments."
Want to stay atop all the latest from the 2015 WSOP? If so, make sure to get PokerNews updates on your social media outlets. Follow us on Twitter and find us on both Facebook and Google+!