Qui Nguyen Wins 2016 World Series of Poker Main Event for $8 Million!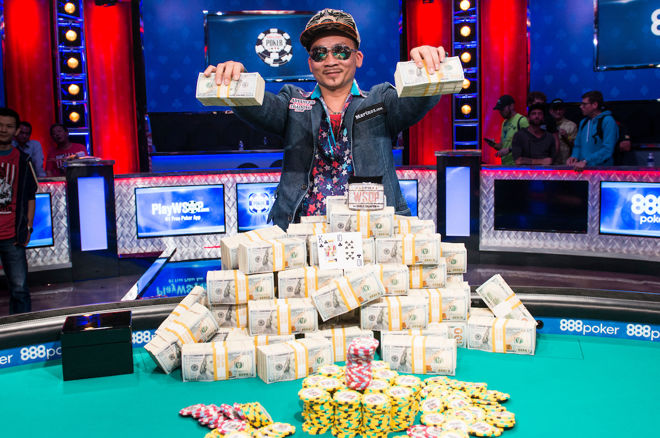 Vietnamese-American Qui Nguyen won the 2016 World Series of Poker Main Event early Wednesday morning. On the final day of battle at the final table, the 39-year-old Nguyen defeated both Cliff Josephy and Gordon Vayo to capture the coveted WSOP bracelet and bundles of cash worth over $8,000,000.
The start of the day was action-packed with Josephy doubling up in the first hand, only to lose 90 percent of his stack four hands later. Josephy made a comeback but eventually exited in third place anyway, leaving the heads-up part to Vayo and Nguyen. They played heads-up for several hours before Nguyen ultimately knocked out a short-stacked Vayo with king-ten versus jack-ten.
| Position | Player | Country | Prize |
| --- | --- | --- | --- |
| 1 | Qui Nguyen | United States | $8,005,310 |
| 2 | Gordon Vayo | United States | $4,661,228 |
| 3 | Cliff Josephy | United States | $3,453,035 |
| 4 | Michael Ruane | United States | $2,576,003 |
| 5 | Vojtěch Růžička | Czech Republic | $1,935,288 |
| 6 | Kenny Hallaert | Belgium | $1,464,258 |
| 7 | Griffin Benger | Canada | $1,250,190 |
| 8 | Jerry Wong | United States | $1,100,076 |
| 9 | Fernando Pons | Spain | $1,000,000 |
The final day of play started with three players still in contention for the title, after four players had been eliminated on the first two days of play at the final table of WSOP. Nguyen led with a massive stack of 165 big blinds, over twice as much as both Josephy and Vayo. Here's how they lined up as play got underway on the final day:
| Seat | Player | Country | Chip Count | Big Blinds |
| --- | --- | --- | --- | --- |
| 1 | Qui Nguyen | United States | 197,600,000 | 165 |
| 2 | Cliff Josephy | United States | 50,000,000 | 42 |
| 3 | Gordon Vayo | United States | 89,000,000 | 74 |
As soon as tournament director Jack Effel asked the dealer to shuffle up and deal and the ESPN cameras got rolling, the players got right into it. What followed was one of the most intense and action-packed set of hands ever seen at a World Series of Poker Main Event final table.
Right in the first hand, Josephy doubled through Nguyen. Wearing a hat and sunglasses for the first time this tournament, Josephy successfully five-bet shoved with ace-queen as Nguyen called with ace-four. The latter was drawing dead by the time the turn came out and Josephy started stacking.
While the first hand of the final day was a dream coming true for Josephy, the fifth hand of play would be the complete opposite. The nightmare for Josephy started with him raising and getting called by Vayo. Nguyen squeezed and both Josephy and Vayo wanted to see a flop and called. The flop came king-three-deuce rainbow and Nguyen bet just shy of 10 million. Josephy and Vayo called, growing the pot immensely. A four hit the turn and Vayo and Nguyen checked before Josephy bet 21 million. Vayo shoved for 75 million and Nguyen folded before Josephy eventually called. Vayo showed a set of threes and Josephy raised his arms in the air, realizing he had just a single out with his set of deuces. A blank on the river resulted in a monstrous 200 million stack for Vayo while Josephy was left with just eight big blinds.
On the very next hand, Josephy doubled through Nguyen and repeated that feat not much later, this time with a suck out, to get back to the stack size he had started the day with. While Josephy had "his" chips back and seemed composed, in the end, he would still be next to go. He lost a big pot against Nguyen when he tried to bluff him off of top pair unsuccessfully. The remainder of his stack went in minutes later, getting it in with queen-three against the king-six of Vayo. Both paired up on the flop and as the turn and river blanked, Josephy had to say his goodbyes.
With that, the tournament was down to heads-up play and the bundles of cash were brought out to the table.
| Player | Chip Count | Big Blinds |
| --- | --- | --- |
| Gordon Vayo | 200,300,000 | 125 |
| Qui Nguyen | 136,300,000 | 85 |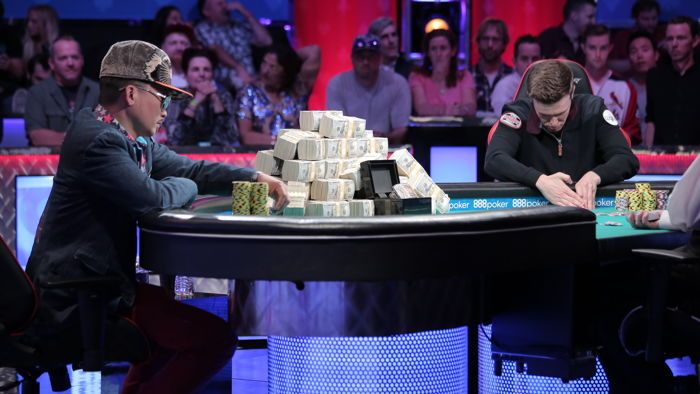 Vayo led, but not for long. What followed was as entertaining a heads-up match as any. Vayo and Nguyen played as fast paced as before. Nguyen even snap shoved a couple of times.
While the cards were not initially favoring Vayo, the commentary team over on ESPN wondered out loud why he was playing so passively in certain spots. He folded the better hand more than once and seemed hesitant to bet even when he made his hand. In the meantime, Nguyen chipped away at his opponent time and time again, only to ultimately double him up every single time, failing to find the knockout blow.
One of the most intense hands for the two got all the chips in the middle on a queen-high board. Nguyen had by far the best hand with ace-queen while Vayo had just queen-five for top-pair with not much of a kicker. Vayo, once again, put his arm around Nguyen and together they awaited their fate. Spades on the turn and river made Vayo a miraculous runner-runner flush and the two gladiators went back to their corners to fight on.
While the two were jovial and friendly with each other as soon as all the chips were in the middle, there were still decisions to be made and the atmosphere was tense. Nguyen looked cold-blooded when putting Vayo to the ultimate test, staring at his opponent without any emotion from behind his sunglasses and trademark raccoon hat. Vayo's body language gave away his emotions and the commentators and railbirds on Twitter said he didn't look happy to be where he was.
Eventually, Vayo was grinded down again and made a stand. He pushed his last 18 big blinds with jack-ten suited over a button raise by Nguyen only to get called by the dominating king-ten. Vayo flopped a double gutshot, but his draw would fail to complete. After blanks on the turn and river, Vayo made his exit in second place, good for $4,661,228.
Nguyen, the self-proclaimed gambler born in Vietnam but now living in Las Vegas, is now the new World Series of Poker champion and he took home $8,005,310. Nguyen said he would donate a portion of his winnings to the Wounded Warrior Project, a military and veteran charity service organization empowering injured veterans and their families.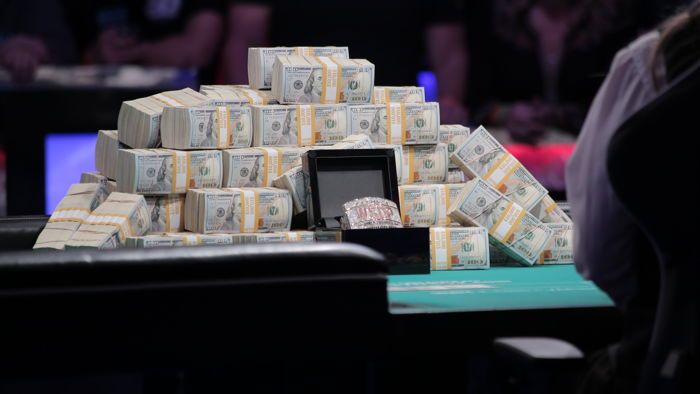 * Winner photo courtesy of Jayne Furman, WSOP.com