Your Guide to the 2016 November Nine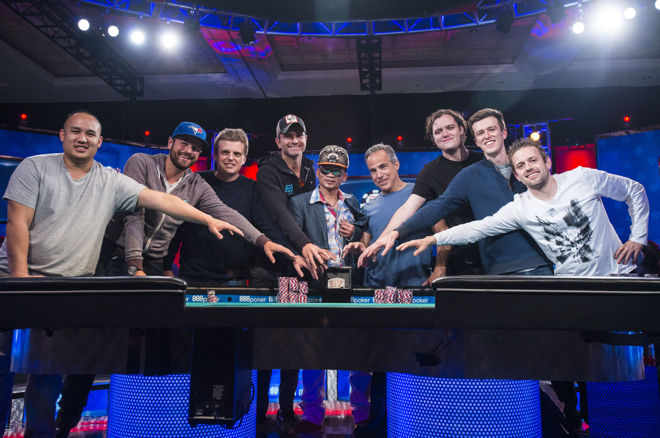 The 2016 World Series of Poker Main Event final table was set back in July, but the final nine players will now resume play to battle it out for $8,000,000 and the most coveted title in all of poker. Looking back, Cliff "JohnnyBax" Josephy finished with the chip lead after bagging up 74.6 million in chips.
Here's the schedule:
| Date | Time ET | Channel |
| --- | --- | --- |
| Oct. 30 | 8:30 p.m. | ESPN |
| | 8 p.m. | ESPN2 |
| Oct. 31 | 8 p.m. | ESPN2 |
| Nov. 1 | 9 p.m. | ESPN |
Here is the final table:
| Seat | Player | Country | Chips |
| --- | --- | --- | --- |
| 1 | Griffin Benger | Canada | 26,175,000 |
| 2 | Vojtech Ruzicka | Czech Republic | 27,300,000 |
| 3 | Fernando Pons | Spain | 6,150,000 |
| 4 | Qui Nguyen | USA | 67,295,000 |
| 5 | Cliff Josephy | USA | 74,600,000 |
| 6 | Michael Ruane | USA | 31,600,000 |
| 7 | Gordon Vayo | USA | 49,375,000 |
| 8 | Kenny Hallaert | Belgium | 43,325,000 |
| 9 | Jerry Wong | USA | 10,175,000 |
We provided profiles on each of the players moving into the November Nine. Here's the highlight reel for each player.
Griffin Benger
The Counter-Strike champion reflects on how he burned out early in his poker career, his time in the Global Poker League as a commentator and calling himself 'predominantly lazy.'
"To be forced to watch and pay attention to the best poker players in the world 18 hours a week for eight weeks, it was the ultimate crash course training to play like one of the best in the world," Benger said to Herring. "I feel incredibly grateful and lucky to have stumbled into such an opportunity because it's the best learning tool. It was a beautiful experience."
Vojtech Ruzicka
Ruzicka was having a bad summer, but his luck turned around when he became $1 million richer. His poker career began eight years ago when he was studying math in college and began grinding online. He's sure of one thing when it comes to the Main Event final table, and it's that he'll have the typical boisterous European support crew.
"I think I'll have a big rail," he said. "[The Czech] community is pretty tight, everybody was really supportive. A lot of players have pieces of me. It's a once-in-a-lifetime shot."
Fernando Pons
Pons is a 37-year-old manager in a retail corporation about whom little is known about. He qualified for the Main Event in a €30 satellite online at 888poker and locked up a six-figure sum.
"The first thing I did was call my wife," said Pons, who could be seen in an emotional conversation on the phone after most of the chaos had cleared around the main stage in the aftermath of the final elimination of the summer. "This changed my life. I never imagined it, it's a dream."
Things are still looking up for the amateur who has already won.
Qui Nguyen
Qui Nguyen is a throwback. While the young, whip-smart, math-savvy kid with expertise in shove charts and game theory might be the modern poker prototype, Nguyen gambles a lot.
The Vietnamese import who now resides in Las Vegas – the only local to make the final table – has surprised even himself with this epic run.
"This is so crazy right now; I really did not expect this to happen," a giddy Nguyen said in the aftermath of the final elimination. "It's amazing."
Cliff Josephy
This New York stock broker who made his way into poker first as a hobby and playing hearts on his computer in 2003, will be the oldest, wisest player in the November Nine. At this point though, he has to be the favorite.
"It was like any other day at the office," Josephy said. "The lights don't bother me; the cameras don't bother me. The only thing that bothered me was the stalling and we took care of that. It's unbelievable how well things went for me."
Michael Ruane
Life has come full circle for Ruane. From familiar poker beginnings, watching poker on TV and playing with friends, Ruane played second best to his brother and began traveling for poker after Vegas in 2011.
Now, on what he estimates to be his fourth or fifth WSOP Main Event, Ruane has hit the jackpot, finding the big payoff in just a few tournaments that many players spend a lifetime chasing.
"It's the most incredible moment of my life by far," he said.
Gordon Vayo
Vayo has already had the chance of a lifetime. Now he's living the dream.
"It was just crazy," he said. "Someone described it as positive tilt and I think that was a really apt description. I was a complete basket case. I couldn't even fathom that I had won this hand in such a crucial spot in such a massive tournament."
He started playing poker after the Moneymaker boom in home games with friends and was backed by Josephy after quitting high school. He'll sit between two experienced, tough players with tons of chips.
Kenny Hallaert
Hallaeart may learn best by example. He watched his friends play the November Nine and works primarily as a tournament director. He considers himself a recreational player because it's not his primary form of income. He gets the best of both worlds. He's ready to play fearlessly and go for the win.
"I'm not going to dream already of eight million and a bracelet," he said. "I don't look at the money. It sounds stupid, but I know I made $1 million now. Obviously, that's a lot of money. I've never in my life played for this kind of money and I probably never will."
Jerry Wong
Jerry Wong is far from a household name, but he's a hell of a poker player. In the latter days of the WSOP Main Event, Jerry Wong tried to be one thing: A creature of habit. If his results are any indication, he has both the game and the big stage experience to be a factor.
"[I'm going to] simplify my life so I can put all of my mental energy into poker [and] try not to think too much about the outside stuff," he said.
PokerNews wants to make sure your caught up for the ninth November Nine. Here's our latest coverage.
Usually looking into the past can provide insights for the future. Take a look at the players, stories and key hands from the past November Nines before we delve into the future.

The wait is over. The plan is straightforward. Nine players remaining will play down to four, return the next day to play down to two and a champion will be crowned Tuesday, Nov. 1. It'll all play out live on-delay on ESPN or ESPN 2. How it will all go down is another story altogether.

Our series of simulations from Advanced Poker Training had artificial intelligence bots programmed based on player bios and playing styles to predict who will win the final table. APT is now taking on Qui Nguyen; that's how game changing these simulations are.

The role of November Niners has changed with the advent of live streaming coverage. This year's players have to choose their rail wisely. Explore the concept in this Throwback Thursday.
Stay with PokerNews for the duration of the tournament for the best coverage and live reporting. Live updates will also be available on WSOP.com.
Watch the broadcast on the WatchESPN App in North America and via www.ESPNPlayer.com in Europe and Africa. Click here for a full list of viewing options outside the US.