The 2016 November Nine: Seat 7, Gordon Vayo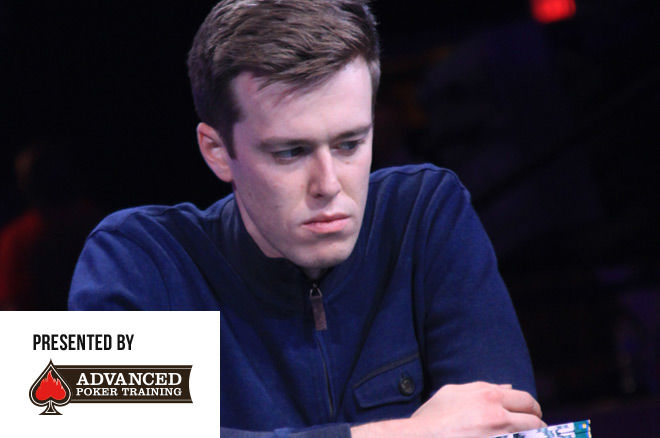 Each week leading into the World Series of Poker final table, we'll profile one player who will be vying for the championship. Our profiles are sponsored by Advanced Poker Training, one of the world's top poker training sites. At AdvancedPokerTraining.com, you can play up to 500 hands per hour of full-ring, six-max, Sit & Go or full MTTs against thousands of intelligent computerized opponents with instant advice, weekly training plans and much more. It's the fastest way to ignite your game!
For Gordon Vayo, making the November Nine of the 2016 World Series of Poker Main Event is the culmination of his life's work.
That's true in both the sense of poker being the work he's chosen for his life and this being the pinnacle of that work. And because it's literally what Vayo has spent almost half of his life doing.
"I've been working my whole life for this," he said after finishing the final day of play. "I feel like I'm in kind of a dream world; it hasn't really sunk in yet."
His whole life might not sound like a terribly long time, but the now-27-year-old first made his mark on the game playing underage online. So, although Vayo is the youngest of the November Nine, he is also one of the most experienced, having been around more than a decade.
The poker origins of the man who would become known online as "Holla@yoboy" began in modest home games with friends after the Moneymaker boom. Many of Vayo's buddies were older and it was easier to get money online back in those days.
"I gave a dude at the home game $100 to send me on partypoker," Vayo told PokerNews' Remko Rinkema. "I would run it up and send him back the money, then lose it."
Then, while staying with a friend's family in Florida one summer, Vayo had a breakthrough. He and his buddy had a couple thousand dollars on iPoker and decided to try some heads-up games. Before they knew it, they had made over $10,000 in a week. Vayo decided it was time to get serious.
He found his first strategy forum on a site called WPTfan.com, where he began to sharpen his game with the help of others. He eventually discovered more mainstream sites, TwoPlusTwo and PocketFives, but the normal ebbs and flows of a poker bankroll eventually left him broke.
Without the means to use his poker skills to profit, Vayo found himself in a bit of a quandary. So he reached out to a legend of the online game, a man whom Vayo will be sitting with when the Main Event resumes, Cliff "JohnnyBax" Josephy.
At that time, Josephy was well-known for keeping a stable of players under his bankroll and Vayo decided his only recourse was to see if Josephy would be interested in backing him. The two came to an agreement and Vayo got back to his winning ways. Both men profited, though Vayo stressed that Josephy was none the wiser that he was backing a kid who had quit attending high school.
"He did not know I was underage," Vayo said. "I had such respect for Cliff, so for him to have such confidence in me made me feel like I'm meant to be here."
Vayo went on to rack up more than $1.4 million in cashes on PokerStars, according to PocketFives, ascending as high as the No. 15 overall ranking.
Nowadays, he's transitioned into mostly pot-limit Omaha cash games, playing both live and online. Vayo doesn't put in much volume on the live tournament scene, and in fact, he felt his live no-limit game was faltering a bit coming into the WSOP. The summer grind proved a bit frustrating, as Vayo racked up seven cashes but continually came up short at the end, managing to only break even.
"I had a lot of days where I would bust in the last level, that kind of thing," he said. "I saved all my run good for this tournament, which was incredible."
How He Got Here
| Day | Final Chip Count | Rank |
| --- | --- | --- |
| 1c | 120,400 | 262/3,252 |
| 2 | 112,000 | 1,277/2,166 |
| 3 | 189,000 | 592/800 |
| 4 | 1,180,000 | 127/251 |
| 5 | 3,420,000 | 40/80 |
| 6 | 8,795,000 | 17/27 |
| 7 | 49,375,000 | 3/9 |
Gordon Vayo's WSOP Main Event was the epitome of a quiet grind for the first five days as he just kind of chugged along, not really making waves one way or the other as he continued to bag around the middle of the pack for the most part.
A major turning point would come late in Day 6. The pot in question was such a monumental and unlikely victory for Vayo that it left the 27-year-old veteran of countless hands euphoric.
Level 30 (80,000/160,000/20,000) was underway and Michael Niwinski raised to 350,000. Jonas Lauck, a German player with over $1.3 million in cashes, made it 875,000 from the button. Vayo woke up with
in the big blind. He shipped it for 4,755,000 and Lauck snapped him off for nearly all of his own stack with
after Niwinski folded.
It was the worst-case scenario for Vayo, but a
flop did deliver hope as a jack would now give him a straight. No time to wait as a
banged off on the turn to leave Lauck desperately needing a king to chop. The
river sealed it for Vayo and he turned a hand with about six percent equity into new tournament life with an abundance of firepower.
"I'm still completely floating from the ace-king against aces hand," he said the day after bagging for the final time. " I still can't get over that; I still can't believe I won the hand."
Vayo was left feeling a bit numb. All he could manage to do for the rest of Day 6 was play tight poker and put his chips in a bag.
"It was just crazy," he said. "Someone described it as positive tilt and I think that was a really apt description. I was a complete basket case. I couldn't even fathom that I had won this hand in such a crucial spot in such a massive tournament."
At that point, Vayo felt that he was basically freerolling the tournament, having gotten so incredibly lucky to even have a pulse remaining. That took all of the pressure off Day 7, so he wasn't worried or frustrated when he failed to get anything going for a few hours and slid down in the counts to the point where he was often shoving all in preflop in pots that he played.
When the blinds hit 200,000/400,000/50,000, it was go time for Vayo at under 20 big blinds. He first doubled with 10s against the
of Jerry Wong. Then, Andrew Christoforou squeezed all in for 7,150,000 after Vayo opened early and got one caller. Vayo had aces and isolated, easily winning against his opponent's
.
The heater continued for Vayo as he cracked William Kassouf's aces with
by making a flush with his jack for a medium pot. Then Vayo flopped a straight defending his big blind with
against Wong for another nice pot. He picked up
and busted Niwinski when the latter jammed
. Vayo improbably found himself in the chip lead in short order.
The former online wunderkind cooled off a bit after that, but did bust John Cynn in 11th with
against
to get the final table underway.
What to Watch For
In a way, Vayo is going to feel like he has traveled back in time when he sits down for the November Nine to play for $8 million.
"What year is it?" Vayo asked with a laugh, referring to going back to war against guys like Griffin "Flush_Entity" Benger, a regular in the tournaments Vayo used to grind online. "I feel like I'm in 2008 or something. Jerry [Wong] is an OG online player too and so is Mike Ruane. Cliff was my first-ever backer."
Vayo has the advantage of sitting to the left of Ruane and Josephy, so he will have position on two tough, experienced players who also have plenty of chips. And while two other tough players, Kenny Hallaert and Wong, sit on Vayo's left, Vayo at least has the advantage of a stack that covers them, so they will be the ones at risk in any big confrontations.
Things could get a little tricky dealing with shorter-stacked Wong, who will be able to attack Vayo's opens a little more liberally, but his stack size also handcuffs Hallaert a bit in terms of coming after Vayo.
In terms of preparation, Vayo listed a number of things in his plans: running simulations, getting practice reps by traveling to some tournaments, and most of all, doing homework centered around independent chip model (ICM) situations.
One thing he won't be doing is resting on his laurels. Vayo prefers to stay active.
"I've seen people in the past that have taken time off and it really confuses me," he said.
The ICM homework will come with a coach whom Vayo hired. The simulations will be done with the help of sharp poker-playing friends. Vayo also hopes can emulate the styles of his November Nine opponents.
His poker playing has been going well, to say the least. Vayo has hit the live circuit hard, and in early September, he came out with the lion's share of a five-way chop in the 1,054-player WinStar River Poker Series $2,500 Main Event for $587,120.
Whether that will prove to be a mere appetizer on the way to an $8 million main course — one that's been a lifetime in the making — remains to be seen.
Be sure to check out our sponsor AdvancedPokerTraining.com for some of the best poker training in the world.
Be sure to complete your PokerNews experience by checking out an overview of our mobile and tablet apps here. Stay on top of the poker world from your phone with our mobile iOS and Android app, or fire up our iPad app on your tablet. You can also update your own chip counts from poker tournaments around  the world with MyStack on both Android and iOS.