Emotions Run High for Gaelle Baumann, Last Woman Standing in 2016 WSOP Main Event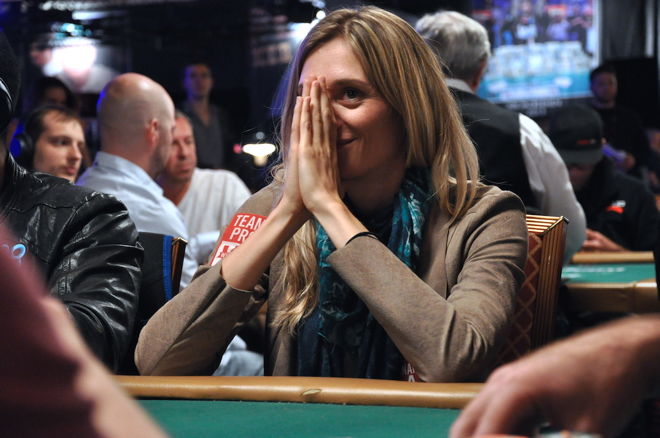 The honor of "last woman standing in the 2016 WSOP Main Event" presumably won't mean much to Gaelle Baumann, having been there before in 2012, falling short of the November Nine by just one spot in 10th place. This year, Baumann fell two days short of poker's biggest final table, but the pain of walking down the long, empty Rio hallways was just as tough.
She was the first woman to be the overall chip leader in the World Series of Poker Main Event at the start of Day 3 in 2012, and the run that followed in 2012 ultimately resulted in one of the biggest heartbreaks in poker when she finished on the November Nine bubble.
Now, four years later, Baumann was back. But again, she ultimately fell short, this time in 102nd place for $49,108.
Baumann started playing poker in 2007. After making her mark as a cash-game player, she burst onto the tournament scene in 2012. Before her epic Main Event run, Baumann finished 15th in the WSOP Ladies Championship event, and ever since she's been a fixture on the international poker tournament circuit.
"I had a bigger stack four years ago, so it was a bit easier," Baumann said when we caught up with her during the dinner break of Day 5 on Saturday. "Yesterday as well, I had a pretty tough day and at the end of the day I doubled up to be above average. Right now I have 600K, and if I double up I won't be as far from the average stack. I'll try to do that, and we'll see how it goes."
Baumann was seated at the ESPN feature table for the entirety of the day leading up to the dinner break, when she got moved to one of the outer tables.
"It's true that on the feature table you play a lot less hands," she said. "I was starting to get a bit frustrated because things were so slow, and I need to see hands because I'm so short stacked. I only saw eight-three, five-four, so no hands at all. I just didn't hit any flops, and the table wasn't too good for me with many big-stacked aggressive players on my left. I just a few pots and grinded down, so I'm not doing well today. I'm really short stacked and it hasn't been a great day for me yet. I'm still here, and I'll try to double up after the break."
Four years ago, Baumann made her first big run as a live tournament player, but a much bigger change drastically altered her outlook on life. In June of 2015, Baumann gave birth to her first child, and with her boyfriend on the rail and her little daughter sleeping the night away in a Las Vegas hotel room, babysat by her father, Baumann played her heart out.
"I'm a lot more focused than four years ago," Baumann said. "Live tournaments were all new for me back then, and now that I have more experienced I feel a lot better, and less pressure. The feeling is better."
With a potential run to the November Nine looming in the distance, we asked how long the feeling of missing out lingered when she finished 10th in 2012.
"It's not gone," Baumann laughed, before quickly adding, "I'm kidding. It was just a couple of days and after that you start to think it's amazing what happened.
"When you bust, it's of course a disappointment, when you get so close but after that you can't complain about finishing 10th in the Main Event."
Baumann had a very supportive rail during her run in 2016, but her extra motivation came from 13-month-old Léa, who'll look back on the run her mom made at some point in her life with a lot of respect and appreciation.
"My life has changed a lot," she said. "It didn't change my play, but my life has changed completely. I'm not playing for the same reasons anymore, and obviously I'm getting less sleep.
"It's great, I absolutely love it."
After the dinner break, Baumann's table was moved away from the spotlights, but the change of scenery did not change the hands she was dealt. Baumann told our French colleagues from Winmax, her sponsor, that king-nine was the best hand she got dealt in five hours, and one double up aside she couldn't get anything going.
"Actually, I think I am even more disappointed than four years ago, it's crazy," a dejected Baumann said in the Rio hallways to French media colleague Steven Liardeaux.
Tears welled up in her eyes as Baumann walked down the long hallway that understandably felt even longer on this July night during which nothing went her way.
*Photo courtesy of Winamax.
Want to stay atop all the latest in the poker world? If so, make sure to get PokerNews updates on your social media outlets. Follow us on Twitter and find us on both Facebook and Google+!