Two Bracelets and Over 400 Cashes Make the Unknown Randy Holland a True Poker Treasure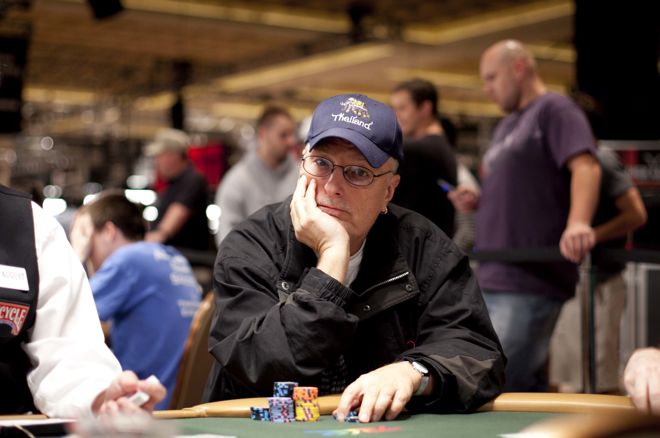 "I don't think anybody's done that for 10 years," Randy Holland laughed when a player from his table in the $1,500 Seven-Card Stud event at the 2016 World Series of Poker jokingly asked him for his autograph as we interviewed him for this article.
"Good one," Holland smiled as the player walked away, and he started talking about his lengthy poker career.
While most first-timers at the WSOP who capture the illustrious gold are forever engraved into our minds, included in tournament reporting, and discussed in stories for years to come, every now and then there's a gem that slips through the cracks. That is how one could describe Randy Holland.
A soft spoken, thoughtful, kind 64-year-old from Los Angeles, California via Calgary, Alberta and Tallahassee, Florida, Holland's name almost seems to be forgotten in poker. New members of media coverage teams and poker fans don't recognize the former lawyer, and with his last WSOP bracelet dating back to the year 2000 it's hard to put any of the blame on them.
When looking at Holland's results however, it's hard to deny the impressive longevity of his career. There's just two players in the entire world that have more live tournament cashes than Holland, who's got 404 total results on his HendonMob page. With $3.5 million in live tournament earnings — his biggest cash being just $177,460 — Holland's easily the most unknown player with a list of results this long.
"The longevity of it, and hopefully I've handled myself with a little bit of grace during that period and I don't think I've made too many enemies in the poker world," Holland remarks as the proudest moment of his poker career, and it's exemplary for his demeanor.
"You go through life and nobody's going to remember how many cashes you've had 25 years from now," he said. "I'm just pleased with the way my life has turned out. I've met my wife in a casino and we've been married for 18 years. That's one of the things I'm most proud off."
With a poker career that stretches across three decades, Holland has plenty of stories to tell, and if a few runs would've turned into his favor we might be looking at his name the way we do at Allen Cunningham, David Pham, Freddy Deeb, and David Chiu's.
"I was fairly fortunate though, and Paradise Poker treated me very well for a number of years," Holland said when we asked about missing out on becoming a poker celebrity through being a big part of the game in the early 2000s. "It's just not my personality; I'm quiet and introverted. People who have more antics and talk at the table more get more attention. I'm fine with that because that's not me."
In the years leading up to the poker boom in 2003, Holland has a streak going of 10 straight years with more than six figures in live tournament earnings, and he extended that streak for another five before having a down year in 2009. A streak like that isn't worth much nowadays with a plethora of events with that buy-in size, but all the way throughout the nineties Holland was among the most successful tournament players.
Becoming the Pro, But Not Recommending It
Peaking at 37th on poker's all-time money list, Holland's had his share of results, and it all started in the early nineties.
"I went to the World Series of Poker for the first time in 1993, and I cashed in the very first event I played, which was a limit hold'em tournament," he said. "I was working as a lawyer in Florida — appointed by the state controller — and I worked as the director of finance for the state controller's office.
"After that, I started going over to Mississippi on the weekends and I really caught the poker bug. I was playing 80-90 hours a week back then, and it's not like that anymore now. I'm happy to take as many days off as I can. I was younger back then and I just got really into it, but I was still already in my forties when I started. The games were very good in Mississippi and because of that I got to go to Europe, and the games were new there so it was really good. I had some good fortune along the way — and it must've been really good those first couple of years — because I decided not to go back to Tallahassee to work."
Despite Holland's successes, he wouldn't recommend the life of a professional poker player to anyone, at least not at a young age.
"It's a big a change [becoming a poker pro after having been a lawyer]," he said. "I wouldn't recommend it to anyone young. I'm really glad that I had a life before poker, and as they say, 'Don't make your hobby your profession,' but it worked out for me. It's not rocket science, and I've been doing it for 23 years now — and it does get boring sometimes — but it's still something I really like to do.
"Poker has given me the opportunity to go visit Las Vegas often and go on 18 poker cruises," Holland said. "I've traveled to Europe more than 15 times, and I get to see people I know in all those places. I don't travel as much as I used to, but it afforded me the opportunity to see and do other things. Then again, I wouldn't recommend it to anyone young. Go have another life before poker, and that worked out really well for me."
Holland cashed outside the United States for the first time in 1995, when he notched up results in Austria, the Netherlands, and France.
"I remember going to Amsterdam three years in a row in the early nineties," he said. "Poker was a lot of fun back in those years and a lot different. That's partly also because I was younger, and we had a very fun group of people that would travel everywhere. You knew almost everyone that played the tournaments, we hung out, and it was very sociable. I don't know if it's different now because I'm older, or because we're in a different time, or because the group of people that played back then was much smaller."
Holland Might've Been Juanda or Seidel
Holland came up in poker with a lot of legends of the game, as he eludes to with regards to swapping action and having a backing arrangement with John Juanda and Erik Seidel.
"John Juanda and I started off back in the day trading five percent in tournaments," he said. "I did okay, and we were pretty even for a number of years, but then all of a sudden he started hitting some big tournaments. After that he, and Erik Seidel offered to back me for a while, which worked out really well. In the agreement, they put up half of the money, and I put up the other half so it didn't feel like I had a boss. They were great to work with and it was great to see their success."
Holland used to be a regular in the big games around the U.S. and Europe, but nowadays he finds himself taking a step back from the biggest action. Currently you can find Holland in $20/$40 through $40/$80 mixed games, where a lot of money can still be won.
Flash forward to 2016, and Holland has three WSOP cashes and 10 in total around town, mostly in lower buy-in tournaments. Holland came close to winning his third WSOP bracelet in the $1,500 Seven-Card Stud event, as he ultimately finished in 12th place for $5,438. He hadn't been this close to winning a bracelet since 2008 when he finished 13th in the $1,500 H.O.R.S.E. event.
"I still think that I'm an above-average player, but I no longer compete at the elite level, playing the $10,000 events," Holland said. "I'm not trying to do that anymore. I'm here to pass the time and make a few bucks here and there.
"I'm older, so I feel like I make more mistakes, but I'd love to close one out and get another bracelet. That would be really great. I hope I'm not at the end of my career. I still feel like I can play, and certainly another bracelet would be great."
Want to stay atop all the latest in the poker world? If so, make sure to get PokerNews updates on your social media outlets. Follow us on Twitter and find us on both Facebook and Google+!