Just "Killing Time": Johnny World Gets Bracelet No. 4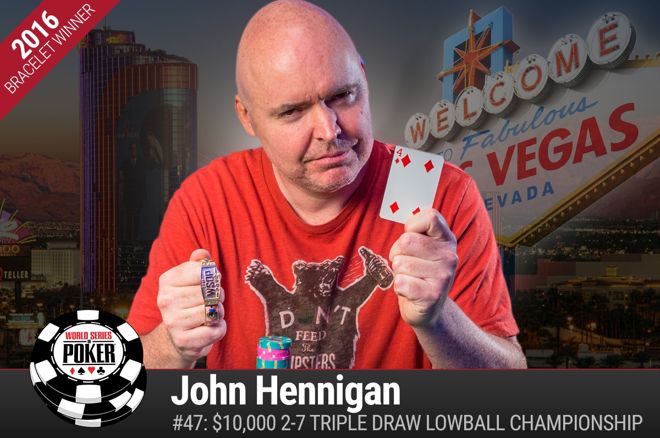 John "World" Hennigan joined the ranks of four-time World Series of Poker gold bracelet winners by taking town Event #47: $10,000 2-7 Triple Draw Championship for $320,103 on Wednesday at the 2016 WSOP.
After the win, Hennigan claimed he only played because he needed a breather from high-stakes cash sessions that have kept him stuck and out of most of the action at the WSOP this summer, echoing what Phil Galfond recently told PokerNews.
"Those games are so big, it's hard to concentrate on tournaments," Hennigan said. "I was just really out of gas in the cash games, so I just came over here to kill time. I registered for this at midnight, which is foolish, you give up so many levels. But that's what I did and I'm glad I did it."
Final Table Results
| Place | Player | Hometown | Prize |
| --- | --- | --- | --- |
| 1 | John Hennigan | Las Vegas, NV | $320,103 |
| 2 | Michael Gathy | Brussels, Belgium | $197,838 |
| 3 | JC Tran | Sacramento, CA | $142,547 |
| 4 | Chris Klodnicki | Philadelphia, PA | $102,910 |
| 5 | Viacheslav Zhukov | Stary Oskol, Russia | $74,439 |
| 6 | Abe Mosseri | Longboat Key, FL | $53,951 |
Hennigan ended up doing a little more than just killing time, topping a star-studded field of 125 players for his first bracelet since winning the 2014 WSOP $50,000 Poker Players' Championship for just over $1.5 million. Though this win was far less lucrative, Hennigan said the thrill never dies.
"It never gets old," he said. "The reason we play a lot of these tournaments is because it's such a great thrill when you get deep in them. It's great to compete, and there's really nothing like that thrill of being at the final table."
Hennigan plays a famously low volume for the most part when it comes to tournament poker. Nonetheless, he's managed to put together a sparkling career with the aforementioned four bracelets, a World Poker Tour title, and more than $6.7 million in career tournament earnings.
Hennigan says it gets tougher to add to that lofty tally every year. The occasional ultra-green University of Arizona professor might ship a bracelet, but Hennigan says the fields he's playing in appear get more savvy every year.
That's a major change from yesteryear when the legend of Johnny World was initially born.
"With great, high-caliber players these days, you just don't expect to win any more," he admitted. "Twenty years ago, with shorter fields, there were only a handful of great players. Today, it's just flooded. Every time you sit down with somebody you don't know, they're probably great."
Plenty of tough competition stood in the way of Hennigan and bracelet No. 4. Even on Day 3, with just nine players in contention to start the day, the likes of Abe Mosseri, Viacheslav Zhukov, Chris Klodnicki, and JC Tran populated the field. And by the time Hennigan navigated past that gauntlet, he had fellow three-time bracelet winner Michael Gathy to contend with.
So how did Hennigan get the job done yet again? One might think the legend was razor-sharp, and at the top of his game, but he assured that wasn't the case at all, firing off a self-deprecating assessment of his performance.
"Normally, I walk away from a tournament and I think about how good I played or whatever, but not this time," Hennigan said. "It's like stepping in cow shit.
"I just didn't really play that well. I got very lucky in this tournament. I stepped through the raindrops at the right times. When I tried a big bluff, it worked and I made so many hands."
Hennigan added that despite the win, he won't be getting caught up in the bracelet chase any time soon. He doesn't appear to have any sort of goal for himself as far as how many he wants to put on the mantle, and he doesn't envision himself setting any sort of records.
"I've got four, which is a great accomplishment, and I'm proud of it," he said. "But, those guys, they have 10, 12, 14, and I don't think I'm going to be catching that any time soon."
As the 2016 WSOP rolls on, be sure to stay tuned to PokerNews for continued coverage, brought to you by our sponsors, 888poker.
Want to stay atop all the latest in the poker world? If so, make sure to get PokerNews updates on your social media outlets. Follow us on Twitter and find us on both Facebook and Google+!