Felipe "Mojave" Ramos Aims To Inspire a Nation Through Poker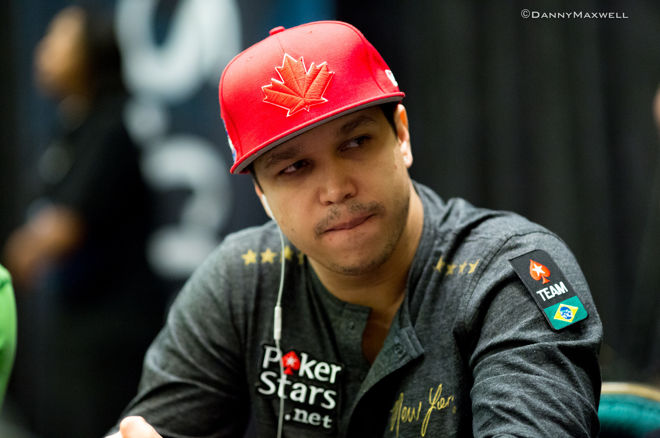 Brazilian poker pro Felipe 'Mojave' Ramos doesn't have a single no-limit hold'em cash at the 2016 World Series of Poker.
What "Mojave" does have — Mojave his nickname everyone refers to him as — is four cashes in Las Vegas in events outside of the Cadillac of poker.
9th in the $10,000 Omaha Hi-Low Championship for $30,965
14th in the $10,000 Seven-Card Stud Championship for $14,500
15th in the $10,000 Seven-Card Stud Hi-Low Championship for $16,981
24th in the $2,500 Mixed Triple Draw Lowball for $5,078
Surely, Mojave was hoping for a bracelet or two, like any other player playing a heavy schedule at the WSOP, but for one of Brazil's most successful players poker is about more than winning titles.
Ramos has been on a unique mission, as he referred to it himself when we talked to him in the Amazon Room of the Rio All-Suite Hotel & Casino, to not only win at poker but also expose the game to as many people as possible in his home country of Brazil.
Brazil is one of poker's budding markets, and Ramos was cast for the lead role alongside football superstars Neymar Jr, Ronaldo, and Andre Akkari.
Ramos told us more about his journey to become a regular in the biggest WSOP tournaments, and how he's been promoting more than just no-limit hold'em to a poker audience that's newer to the game to begin with.
"I've played a big schedule this year at the WSOP as I see this as going to another level in my poker career," he said. "This is my ninth year at the World Series of Poker, and while most of the people that play here get staked or sell action, I just wanted to climb the stakes by myself.
"I feel like I'm climbing the stakes still, and this is another step and I hope I can keep going further. It's really tough, and I know I'm facing a lot of small fields with big names, but I feel good about it because I play a lot of mixed games online. I think that I actually have more hours played in these games than most of the players in the fields. That has to count for something."
While Mojave hasn't been multi-tabling to overexert himself, he did play a lot of events. Ramos made his debut on the $50,000 Poker Players' Championship and he's currently battling in the $25,000 Pot Limit Omaha High Roller where he made Day 2 with 115,500 in chips. As a player with lots of pot-limit Omaha results over the years, the $25,000 PLO is somewhat of a sub-Main Event with the $111,111 High Roller for One Drop on his schedule as well.
"It's very hard to be a favorite in this kind of event," Ramos said about the $50,000 PPC. "That's why I'm not scared. That's why I play and face any of the big names. I don't think I'm on the same level of those guys, of course not, but as I said I'm climbing. I'm very conscious of that, plus I think that playing these events is such an inspiration for my people back home.
"We don't have a lot of mixed-game players, or people that play a very big WSOP schedule, and I think I'm the only one who's playing as much as I do. In the $10K Deuce I was the only Brazilian, and in some others as well, and Andre Akkari was the only other one in the $10K Stud, and he's obviously a great stud player."
With 63,000 followers on Instagram, 30,000 on Twitter and Facebook, and an unknown legion of Brazilian poker fans on his Snapchat, Mojave is one of the fan favorites for people in Brazil looking to catch a glimpse of the poker-player lifestyle To that end, Mojave's truly letting people live through him.
"I'm trying to show people in Brazil that there's more to poker than no-limit hold'em," he said. "People see me as an inspiration, as I've shown to them that you can build a career and make it to the World Series of Poker. When I went to the WSOP for the first time, I had already been a poker pro for quite some time. Prior to that, I had winnings online and I'd won a Brazilian Series of Poker event, and I thought that I wasn't ready for the World Series.
"I stayed at home, and people less experienced than I was went to the WSOP. I thought that I couldn't go there and win. Nowadays, I feel like I can win, and because of that I will win. I've been studying so much and I'm very prepared for the big moments. People that see me here think, 'If he can do it, I can do it as well.'"
All of this stems from Mojave's close involvement with organizing the first-ever live PLO tournament in Brazil back in 2010, and something happened there that really inspired him to embark on this journey of sharing his knowledge and passion for the game going forward.
"People weren't used to playing PLO, and at that very first event in Brazil there were many people reading the magazine article I wrote about basic PLO strategy because they had no experience in the game. Because of things like this, I feel like people are following in my footsteps, they want to know what I'm doing and they want to play poker.
"I feel blessed when I hear from people that they want to play poker because I'm showing them what I'm doing and what I have achieved. I'm on a mission. That was so special — seeing people reading my article while playing PLO for the first time — that made my life and my job special."
Through streaming on Twitch, Ramos has made an even stronger connection with aspiring poker players in Brazil, and he added that they loved seeing him play not only no-limit hold'em, but also mixed games.
"During the Spring Championship of Online Poker, I streamed two Sundays in a row and made deep runs in big events. The very next Sunday I was streaming again and reached the weekly H.O.R.S.E. final table on PokerStars. The stream was popular, people were watching no-limit holdem, but I changed my main table to the weekly H.O.R.S.E. so people could get a feel for how I play. I wanted to show people that this is what the other games are like, and I told them, 'If you can't beat this tournament you can't play the World Series of Poker.'So you need to start cash games and tournaments like this one.'
"When I put the H.O.R.S.E. tournament on the stream, I thought that people would say, 'Put the Sunday Million back on!' But they actually said, 'This is awesome! Explain the games again!' People actually wanted to learn those games themselves. Now that I'm playing the WSOP, people are constantly asking me when the next mixed-game streams will be. Whenever I get back home I will stream, and it's great to know that mixed games are popular and people want to watch it. We are making people enjoy it, and that's the biggest achievement a poker player can have, enjoying playing. That way you can take your losses better, and you can get more value from your winnings."
Want to stay atop all the latest in the poker world? If so, make sure to get PokerNews updates on your social media outlets. Follow us on Twitter and find us on both Facebook and Google+!